Are you ready for an adorable embroidery hoop Christmas wreath tutorial? I know, it isn't even Thanksgiving yet. BUT I love to start getting my Christmas decor ready early. That way, I am ready to deck the halls once Thanksgiving is over.
This year, I am doing something extra special for the Christmas season on my blog. I am part of a holiday DIY/Decor blog hop. Each week, 26 bloggers (myself included), will be sharing our best holiday DIYs with all of you.
Check back each Monday for a new craft tutorial by me and a chance to blog hop to 25 other amazing blogger's sites to see their inspirational ideas. Then, on Wednesday, I will be sharing a round-up of my favorite projects from the blog hop.
There will be a theme each week. And this week, our theme is door decor. Next week, we'll all be sharing wooden projects. So don't miss my post next Monday!
Below my project tutorial, there is a link-up of all of the Deck the Home Door Decor projects from the week. So don't forget to check it out for some fantastic door decor ideas! So even if you're not crazy about my tutorial, keep scrolling to find an idea that fits your style.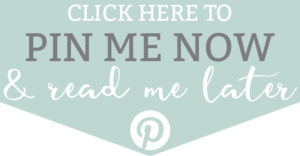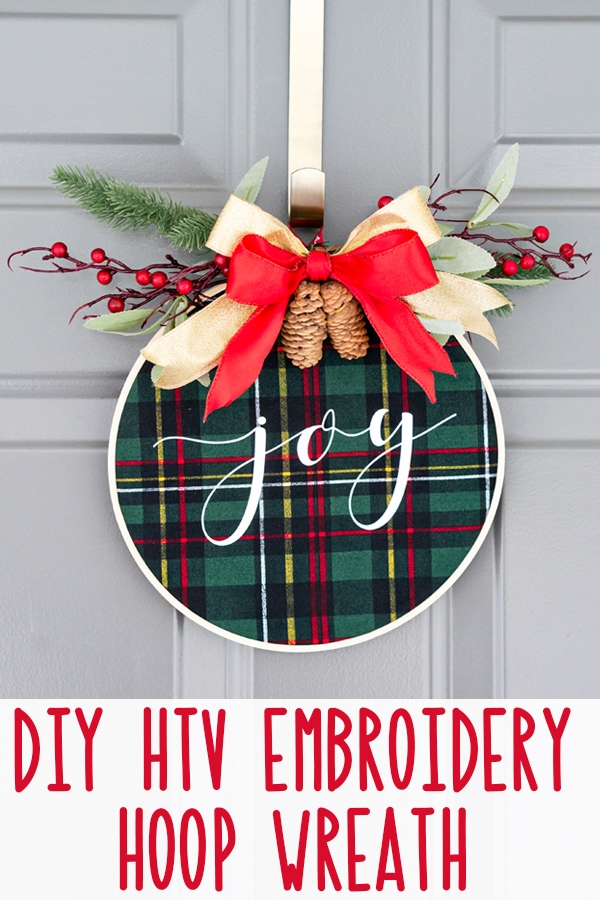 Embroidery Hoop Christmas Wreath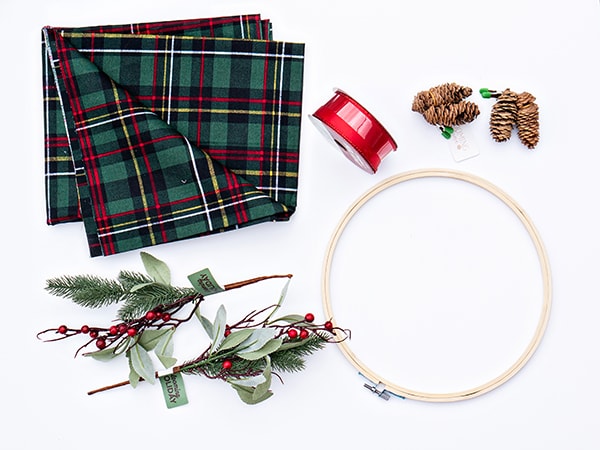 Materials
Embroidery hoop (choose the size you'd like your wreath to be)
Fabric that is larger than the size of your hoop
Ribbon
Embellishments
Hot glue
HTV
Directions
Place your embroidery hoop on your fabric. Trim your fabric to be just slightly larger than your hoop (it will make it easier to work with).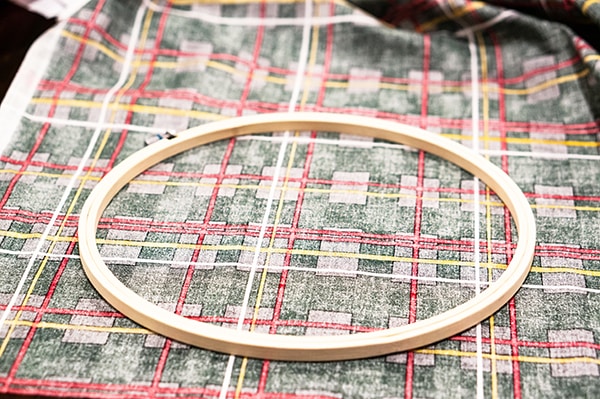 2. Design your cut file. Make sure it is smaller than the width of your hoop. (You can download my simple joy SVG at the end of this post).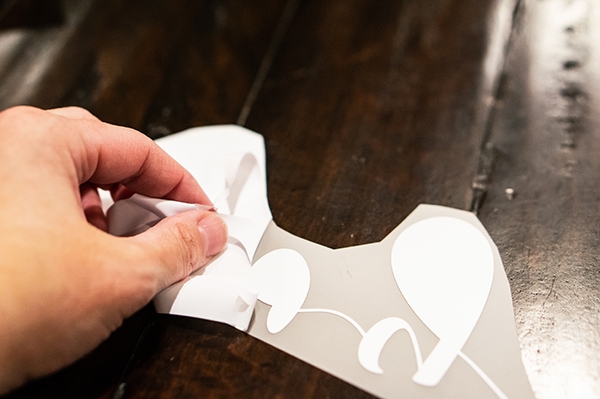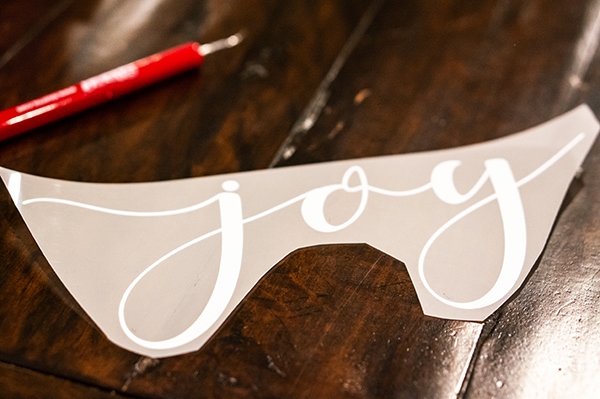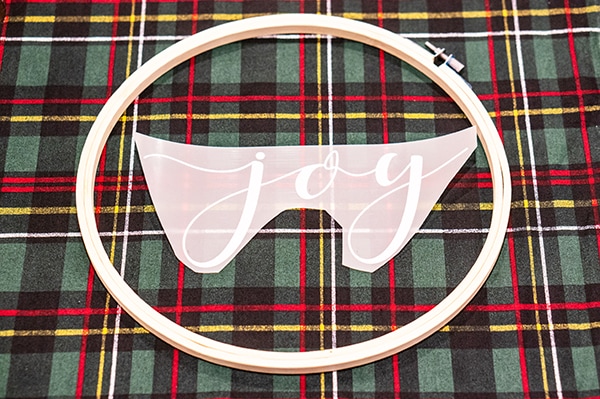 3. Heatpress your design into the middle of your fabric.
4. Once your design is pressed and cooled, place the fabric in the hoop. Make sure to take the time to get the design placement where you want it. Keep the tightening device at the top and center of the design to attach your swag to later.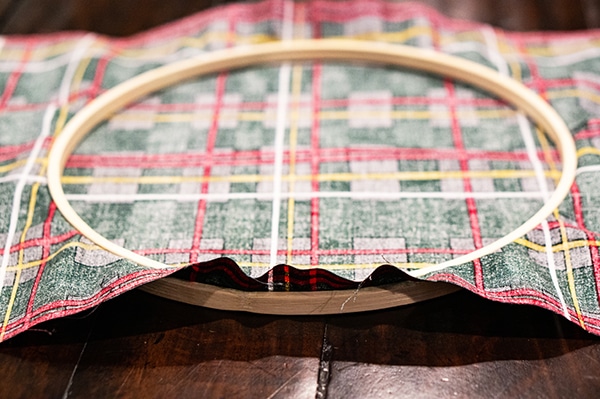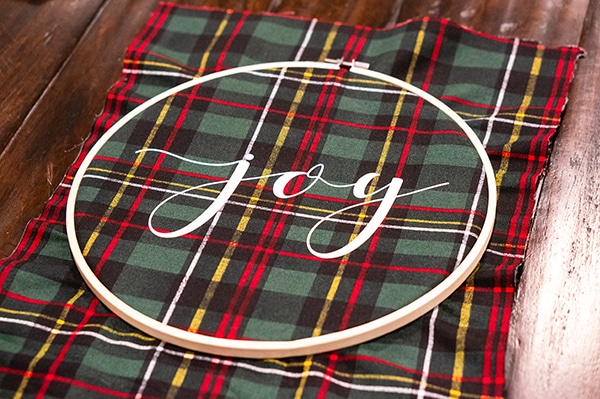 5. Trim the excess fabric off the embroidery hoop.
6. Create a bow using ribbon. I used two different ribbon colors to create a layered effect.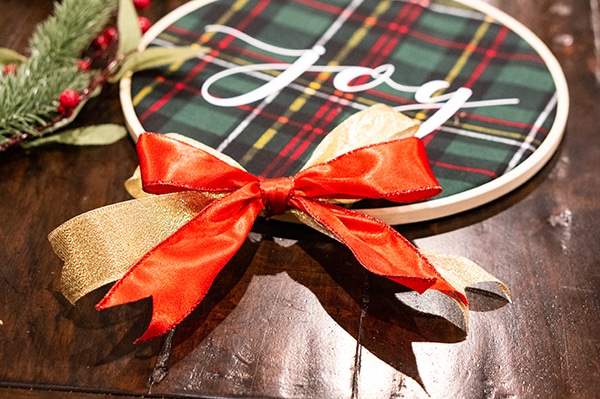 7. Use your embellishments to create a small swag for your wreath. Use floral wire or hot glue to attach the pieces to each other. If needed, trim embellishment to make them work together.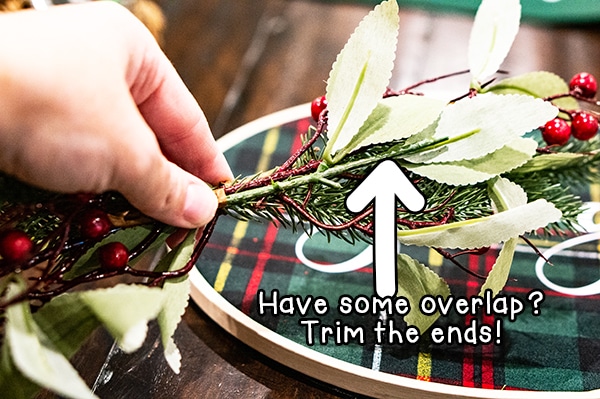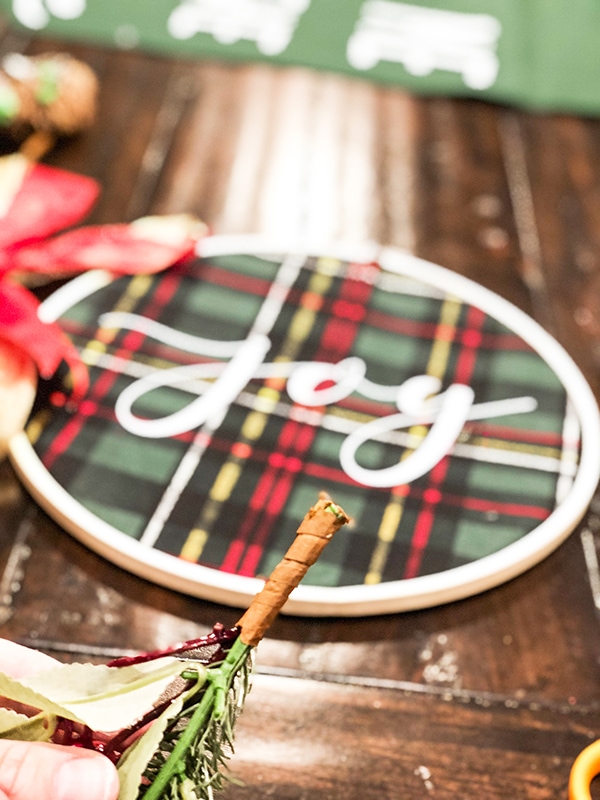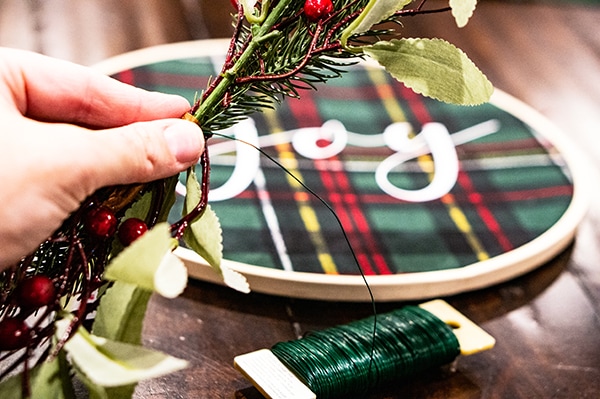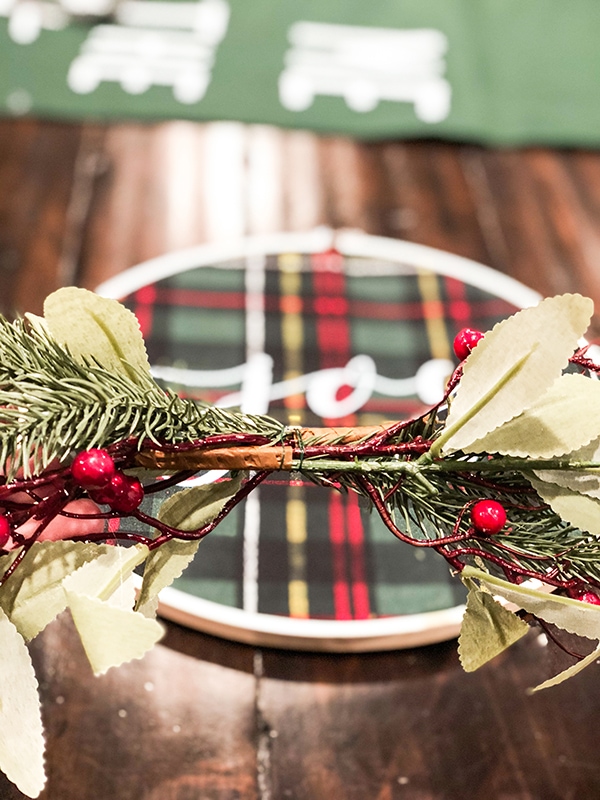 8. Attach floral wire to the back of the bow by slipping in through the back or by wrapping it around the excess of the ribbon. Use a long piece of floral wire so that it can not only attach the bow to the swag but also the swag and bow to the wreath.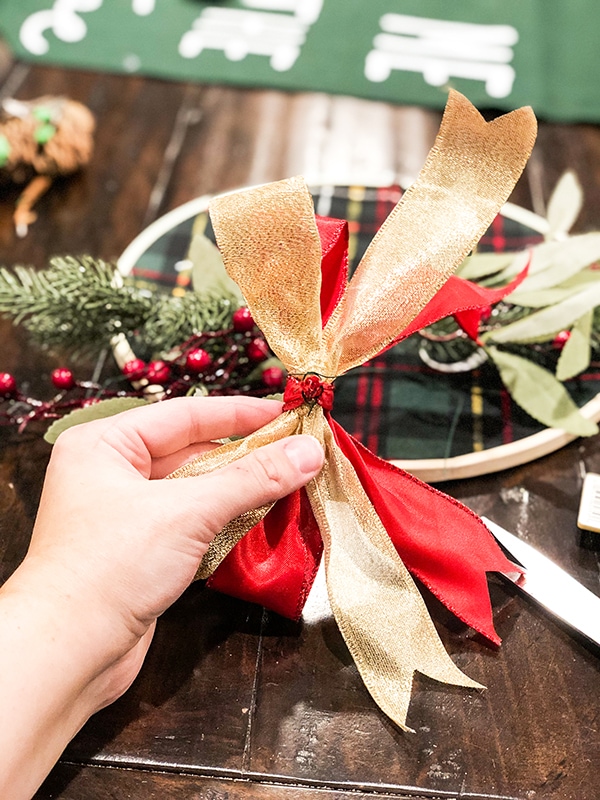 9. Using the floral wire you've attached to the ribbon, attach the bow to the front of your swag. Make sure to leave extra floral wire on the back of the ribbon. Don't cut it off yet.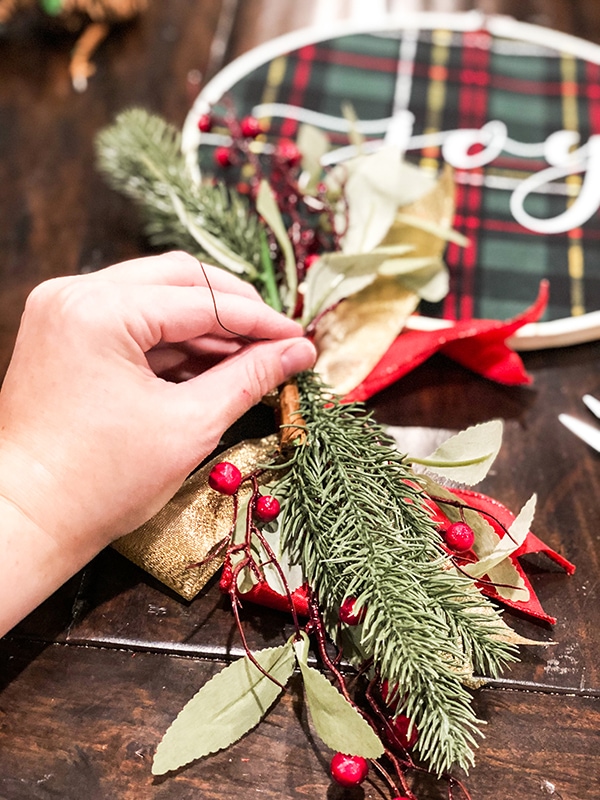 10. Using the remaining floral wire, attach the swag and bow to the wreath. It's best to do this at the top over the tightening device.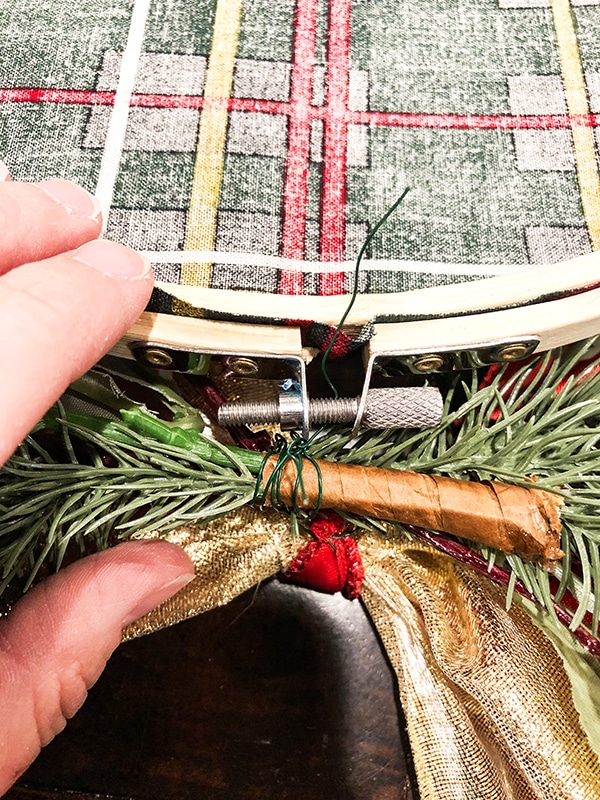 11. Use a smaller ribbon to create a hook for your wreath. Simply glue the two ends of a ribbon together to create a loop.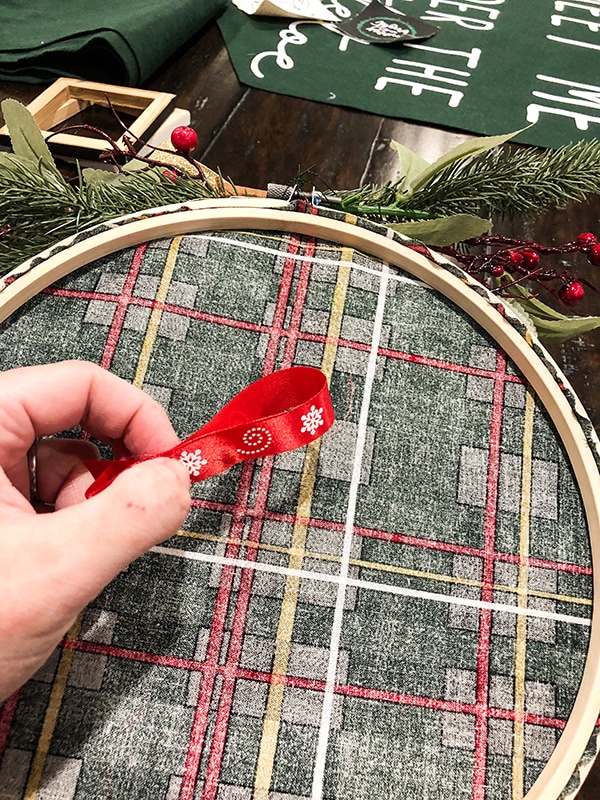 12. Then, glue the end of the loop onto the back of the embroidery hoop at the top center. It's best to glue onto the wood hoop directly below the tightener.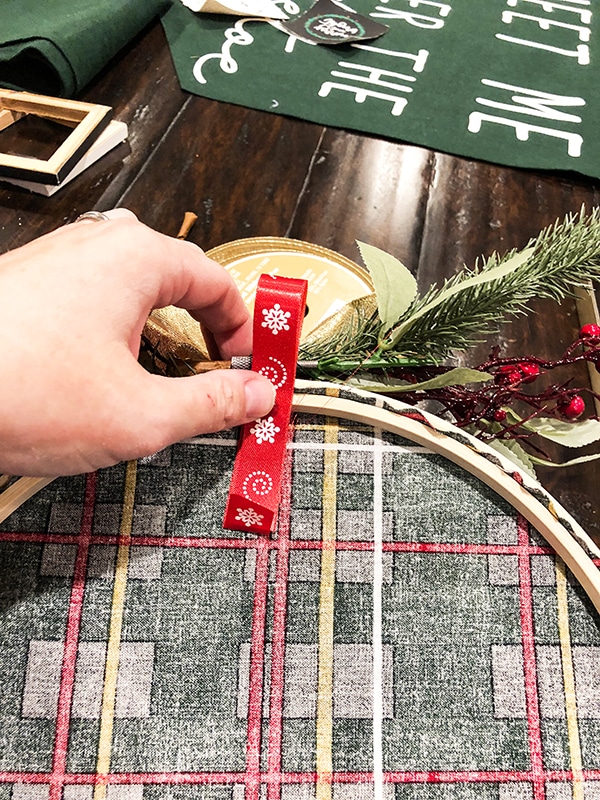 13. Add any additional embellishments using hot glue, let dry, and then hang! (I added a little pinecone clip to the center of mine.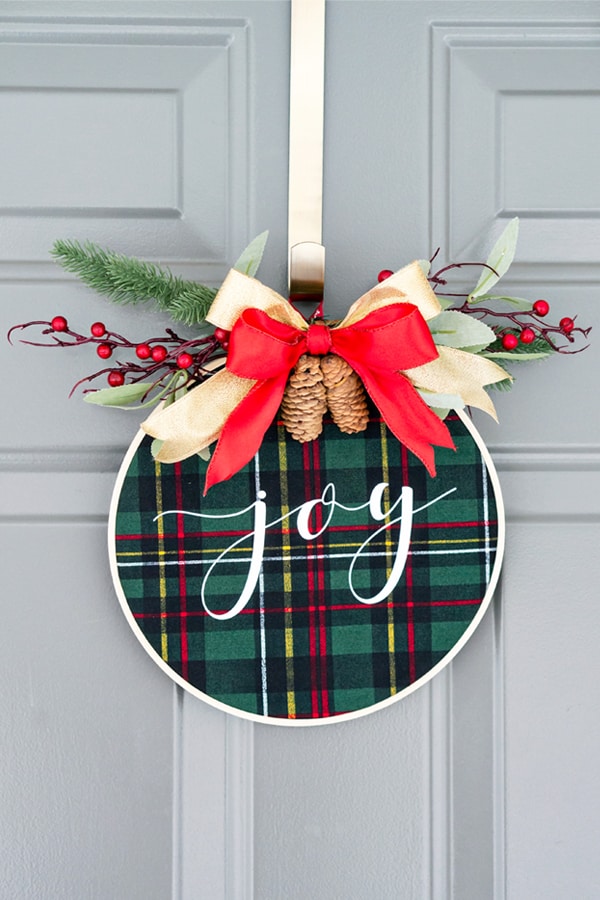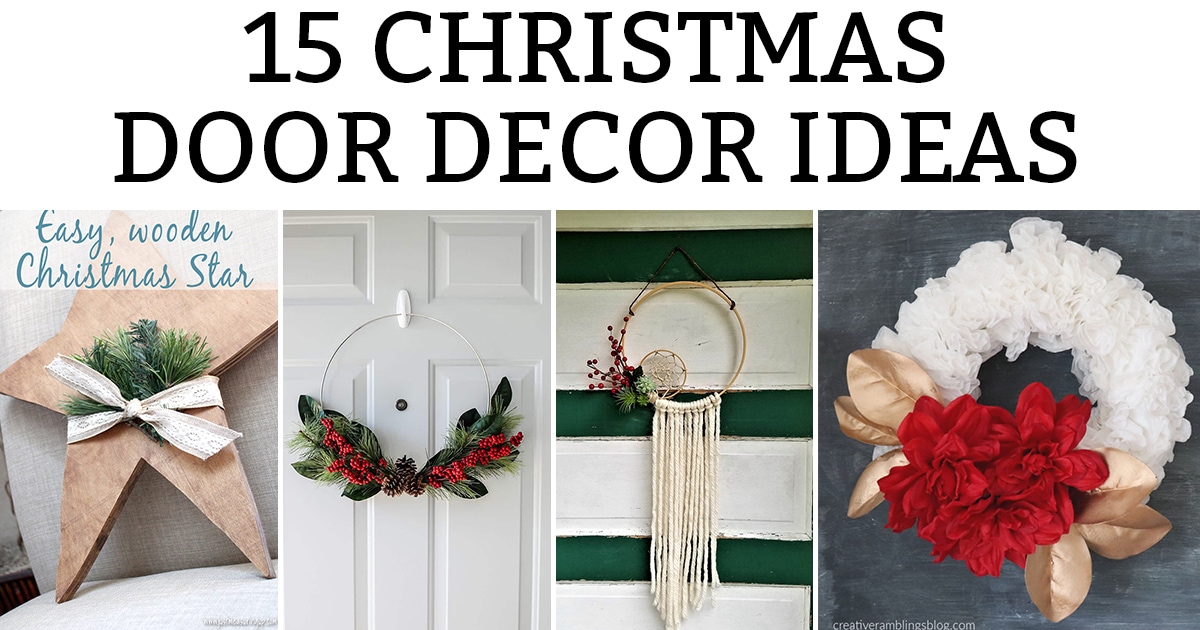 FREE Joy and Noel Cut Files for Mom Envy Members
Want an easy cut file for your wreath? I have two simple SVG and Silhouette files available to download for FREE including the Joy file, you see above. Files are for personal use only and may not be used commercially in any way. To download, sign up here for the password! HINT: If you're interested in more SVG files, make sure to sign up for the "All Things Mom Envy" group. Once you're signed up, download below using your members-only password.