Print off one of these 10 free printable teacher appreciation cards you can color to show your teacher how thankful you are for all of their hard work this year. Cards with a handwritten note are a great way to show a child's teacher what a wonderful teacher they are. A heartfelt note will always mean more to a teacher than anything else.
But instead of just picking some generic card from the store, do something different for your child's teacher this year. There are always so few greeting cards for teacher appreciation in the store anyway – so why not make your teacher a custom card instead. Then you can go the extra mile, and have your child color their own card!
With 10 free printable cards include, you'll find one that is the perfect fit for your favorite teacher. Each card has a different design and black and white image to color in.
The inside of each card is blank and waiting for your child (or you) to add sweet messages to. I always love to have my children write stuff themselves but I always add my own note for the teacher.
Your child can customize the card by choosing the teacher's favorite colors – no matter if they like bright colors, neutral colors, or pale colors. The card can be colored in any way the child would like and they can add a teacher's name to the card. Plus, they could even add some extra doodles to enhance the design of the card.
Sometimes you may not have it in your budget for a big large gift. One of these cards and a gift card or some small gifts or even just one of these cards alone would make a special gift for a teacher. The best way to say thanks to a teacher is by telling them how much you appreciate them.
If you're looking for gifts ideas, check out my list of gifts teachers really want.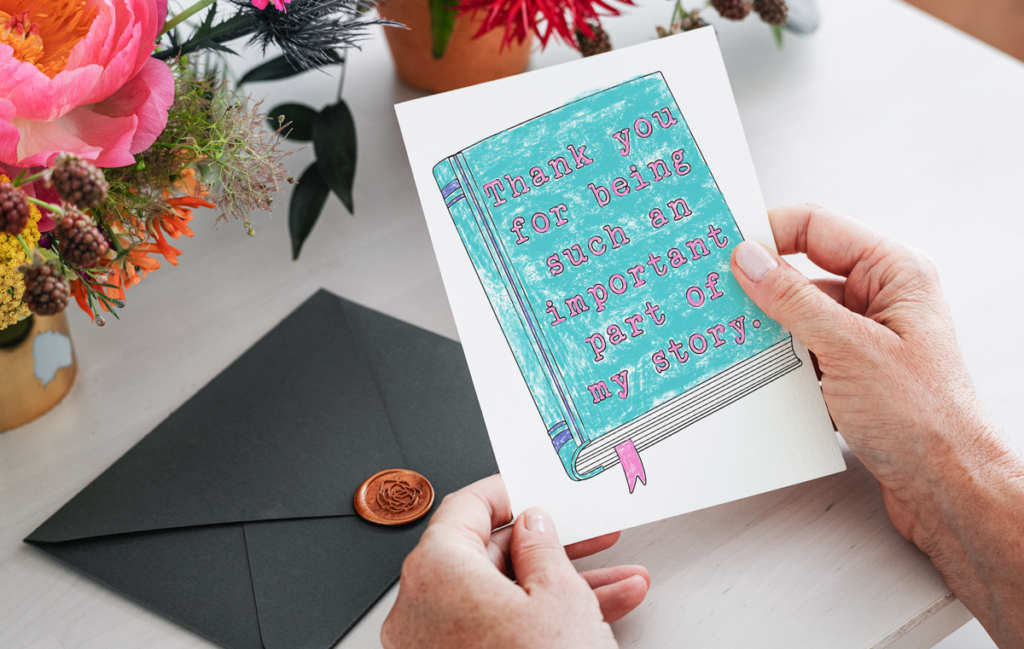 As an Amazon Associate, I earn from qualifying purchases. I am also an affiliate for xTool, the HP ink program, ShareaSale, and CJ Networks. Click here to read more.
Different Cards for Different Teachers
​As a former teacher and current parent of young children, I understand that not all teachers are the same.
There are cards to fit both types of teachers. There are cards for the amazing teacher you wish your child could have again next year.
Then, there are teachers that your child overall had a good year with but maybe not quite as good as previous years with other teachers. So a simple thank you card is best.
Even if you have a teacher that hasn't been your favorite, you still understand it's the hardest job and you still appreciate the time they spent teaching your child this year.
What Does Each Card Design Look Like?
​Each card has a simple black and white design and outline text that can be colored in. Here are the designs of each card.
First, this card only simply says Thank You with an open book with flowers, butterflies, and hearts, coming out of the pages of the open book. With such a simple message, it makes it really versatile. It can be used for any teacher.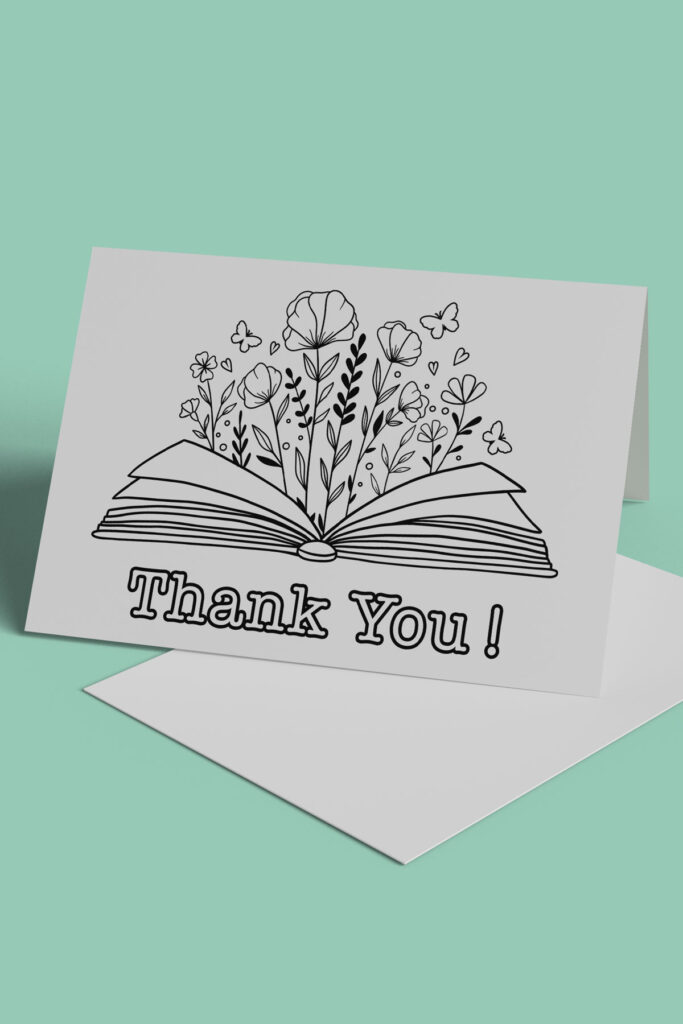 This next card has one of my favorite quotes for a teacher. It says, "Thank you for being such an important part of my story" and the quote is within the cover of a book. This one is meant for a special teacher for sure.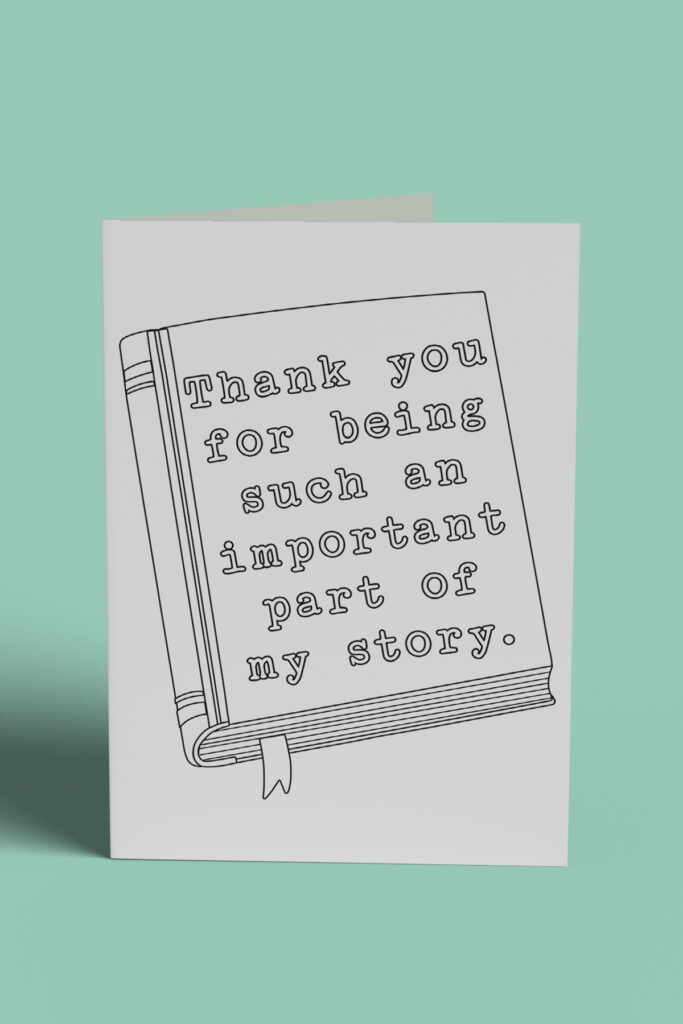 This cute card features two bees: one bee is holding a flower like it is about to give it to the other bee. It says, "Thank you for bee-ing a great teacher!"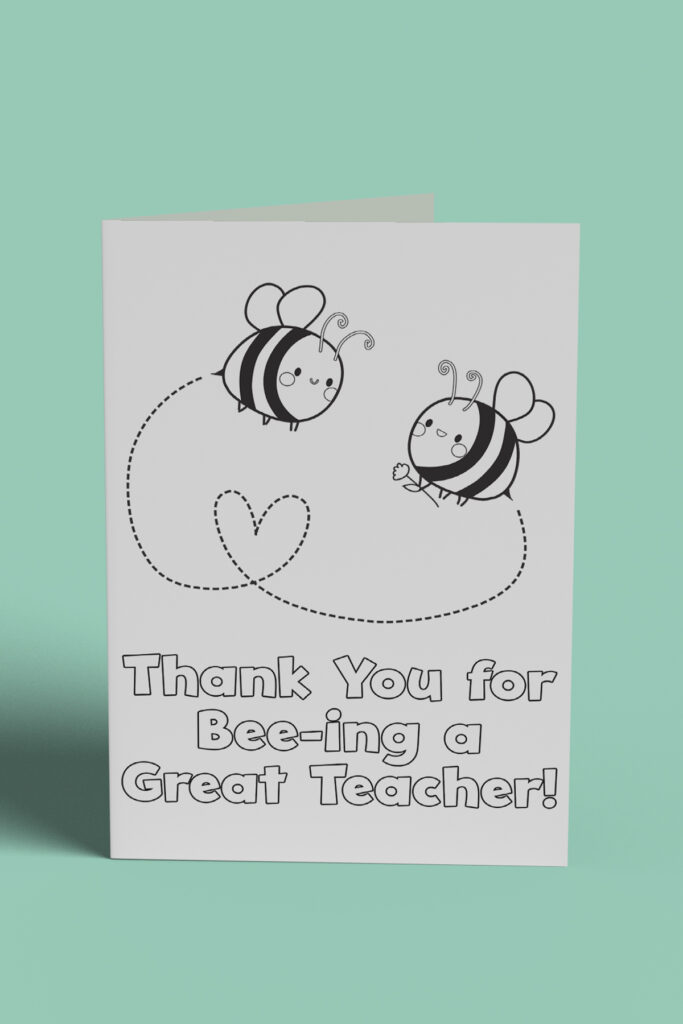 Next up is a card with a doodle style that says, "Best Teacher Ever" with a pair of glasses that has a pencil in one of the lenses and an apple in the other lens.
Then, there is a card with a cute world with a smile holding their hands above their head in the shape of a heart with the greeting, "you're the best teacher in the world!"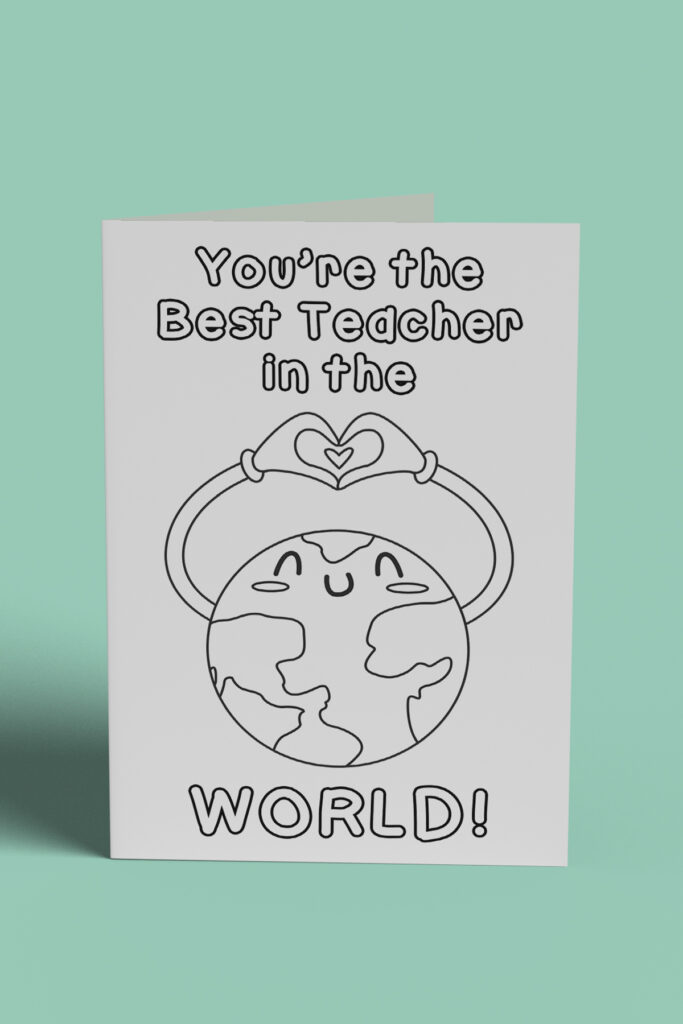 Next, is another simple card with just the greeting, "thank you." The words are surrounded by greenery, flowers, books, pencils, and other school tools.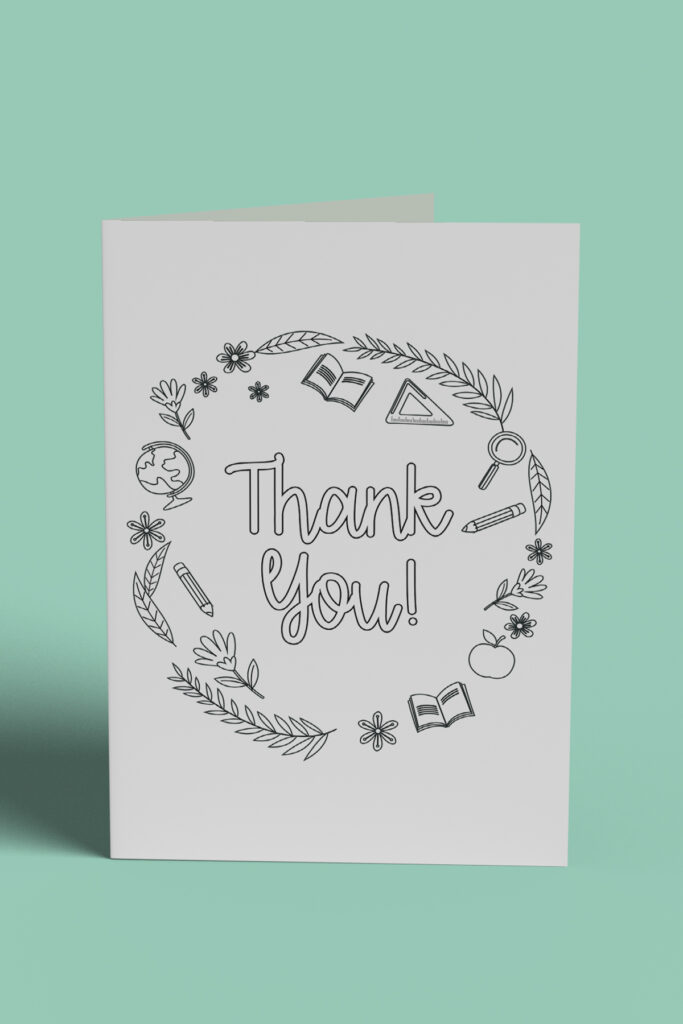 This card has the quote, "teaching is a work of heart" with a sweet pencil-shaped heart around the word heart.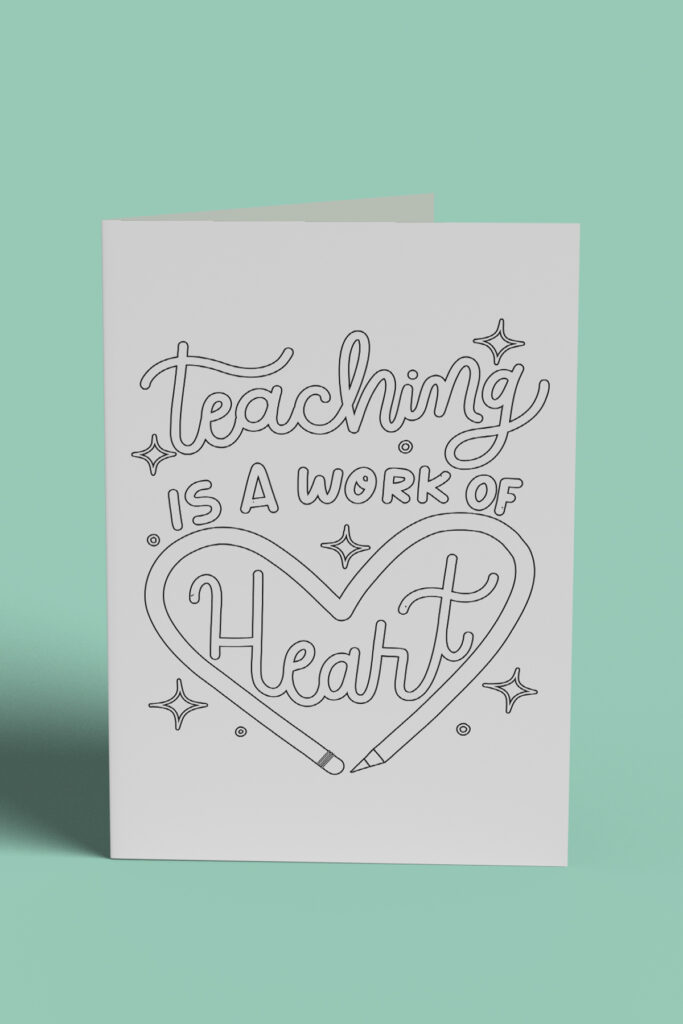 Look how cute this card is! It has a rainbow that includes one of the rainbow beams made out of a pencil. In the middle of the bottom center of the rainbow is an apple with a heart cut out of the center of it. Below that it says, "teach, love, inspire."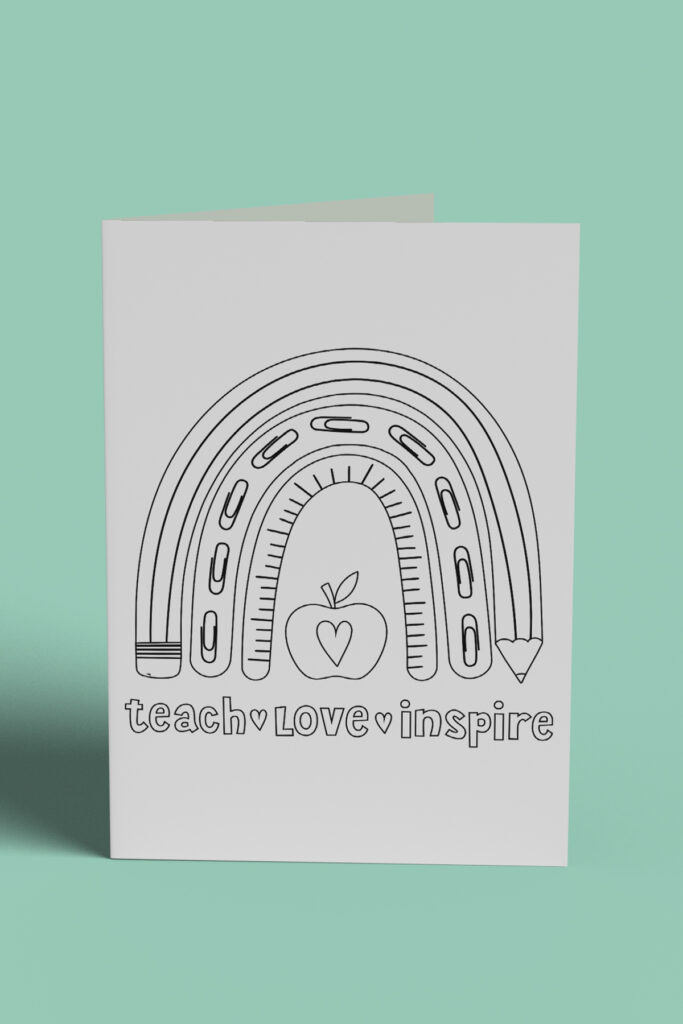 Next is another card that simply says, "thank you!" It is surrounded by school supplies and two children's faces.
Last, is the perfect card for a coffee-loving teacher. Pair this card with a gift shop from Starbucks or a local coffee shop, for the perfect gift. There is a quote that includes 2 coffee puns, it says, "thanks a latte! You've bean a GREAT teacher!" Plus, it has a cute coffee cup doodle with a heart on the heat protecting sleeve.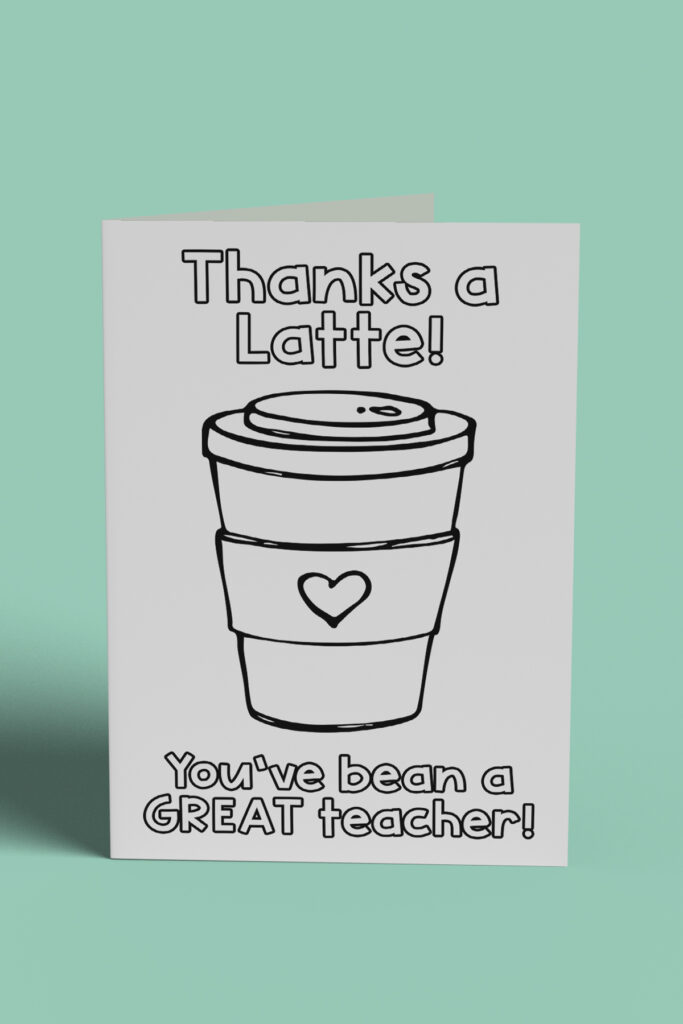 ​Use the Cards Any Time of Year!
The cards were designed with Teacher Appreciation Week and the end of the school year in mind but honestly, they can be used anytime of the year.
Are the Cards only for Classroom Teachers?
No! Some of the designs are general thank you cards for anyone in the education profession including a school administrator, special education teacher, paraeducator, assistant, front office administrative assistant, etc.
Can the Cards be Used as Coloring Pages?
Yes! You could easily print these cards as cute teacher appreciation coloring pages instead. So if you need a cute coloring page to use on teacher appreciation day (maybe for your students to make for a specials teacher like art, music, etc. or a co-teacher or student teacher), then these will work as a coloring sheet instead.
What Paper Should the Teacher Cards be Printed on?
For best results, I suggest printing the cards on white cardstock. If you choose a different color card stock, the colors may not turn out as bright when colored in.
Can I Print Multiple Cards to Use with My Class?
​Of course! You can print cards for your entire class to use. These would be the perfect way to have your class show appreciation at the end of the year for a student teacher.
You can print off one card for everyone to color and sign or, you can print off multiple copies of each style of card and let students choose their card. They can add their own notes. It would be such an inexpensive yet thoughtful way to say thanks.
Where Can I Print the Cards?
You can print a teacher appreciation color card (or cards) at home on a home printer or you can print them at a local print shop (like Office Depot). Because the designs only use black ink, they can be printed anywhere.
What File Types are Included?
The cards come as both a printable PDF file and JPG file.
Looking for More Free Printables?
Mom Envy has hundreds of free printables including teacher appreciation printables, cards, kid activities, organizational freebies, and more. All you have to do is sign up for the Free Mom Envy club to gain access to all of the them. Just enter your e-mail address and your name and you're in!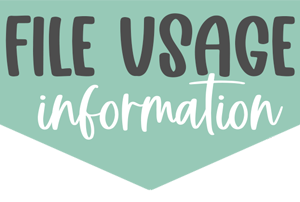 Copyright MOM ENVY 2023. Files may be used for personal use only. No commercial use of the file is available. Files may not be directly shared within Facebook groups, on websites, or in any other way. If using for educational purposes, the file may be printed and copied for classroom use. A link to the web page to download the files may be shared as well as one photo. The file may not be printed and then sold (including local yard sale sites and groups or at local craft fairs). The images may not be used in any way other than to share with a link to the original web page.