Let's get straight to the point, our former kitchen was hideous. It was straight out of the 1980's in all of it's cherry oak-cabinet glory. It would have fit right in with all of the Property Brothers' befores.
But when we walked into our home with our optimistic rose colored glasses, we saw nothing but potential. All I could see were the numerous Pinterest projects I could finally complete with my possible new kitchen (I could actually click I tried it for once!)
Five years later, our kitchen is not so 1980's. Honestly, when I gathered these pictures for this post, I could not believe how different it looked. I cannot wait to show you the transformation.
Are you ready to see the before? It looks like it could have been the set for Family Ties.
1980's Kitchen Remodel – The Before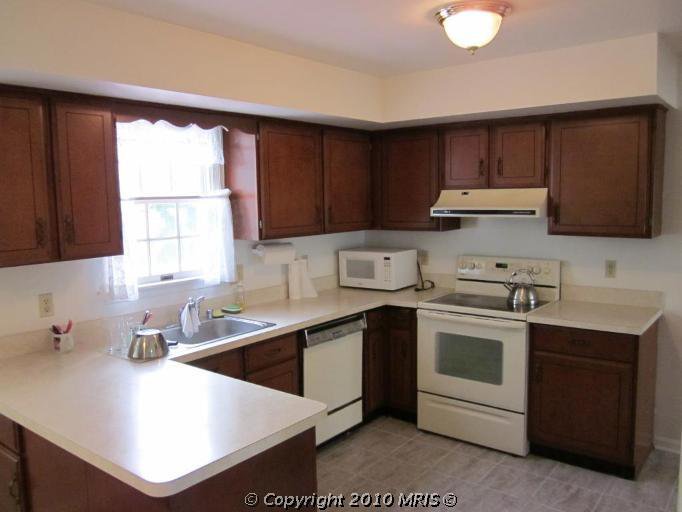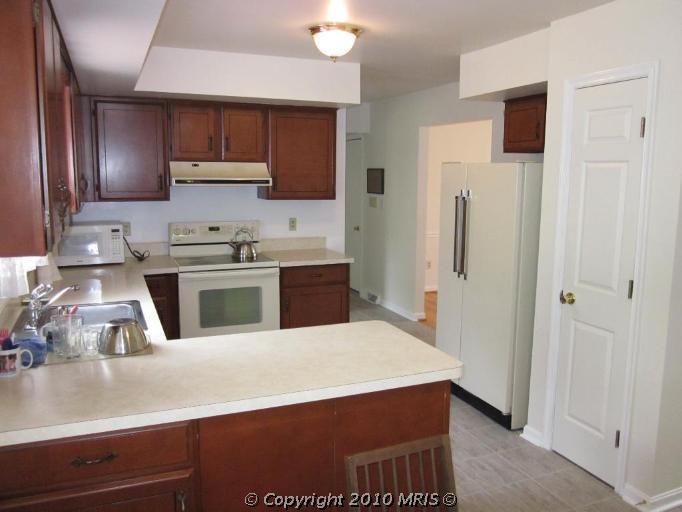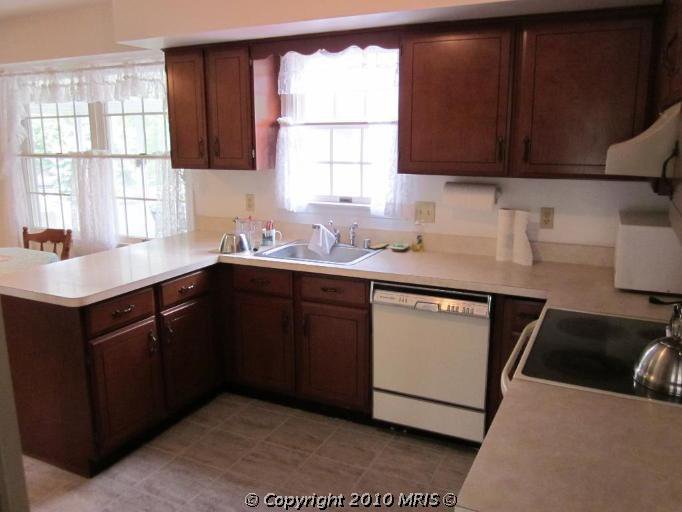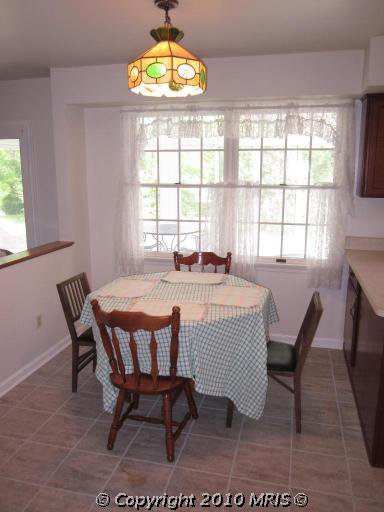 The kitchen consisted of cherry oak cabinets that had good bones. They are real wood, not laminate. We looked into replacing them but the cost was just too much for our budget. And every cabinet we looked at was laminate.
Next, the counters were covered with the original Formica. Formica has come a long way in recent years but this Formica was stained and covered in scratches.
The windows were covered with lace curtains and a Tiffany-inspired lamp hung over the kitchen table. The scallops over the kitchen sink were definitely not my style.
The flooring was actually not too bad. But it was a vinyl tile that just didn't fit the overall look I wanted.
While the kitchen was not my style, it was a blank slate. The ideas were swirling through my head and I had a plan in place before we even officially owned it.
The 1980's Kitchen Remodel Plan
Unlike our bathroom remodel, this one was going to take a little more work. And parts of it were just completed recently.
One thing about me is that I can be pretty indecisive (my husband is reading this saying, no really). I had an idea of what I wanted but when it came to selecting a paint color, tile, etc., it took some time for me to decide.
The overall look I wanted was a simple, traditional white kitchen. There are so many beautiful styles of kitchens out there but my heart always goes back to simple and bright white.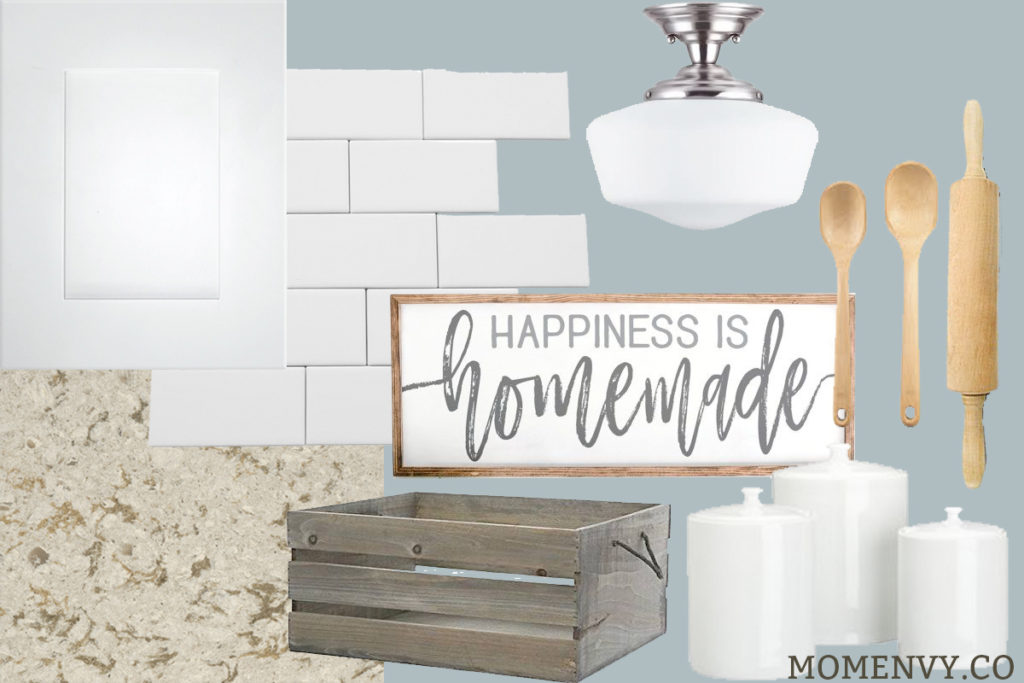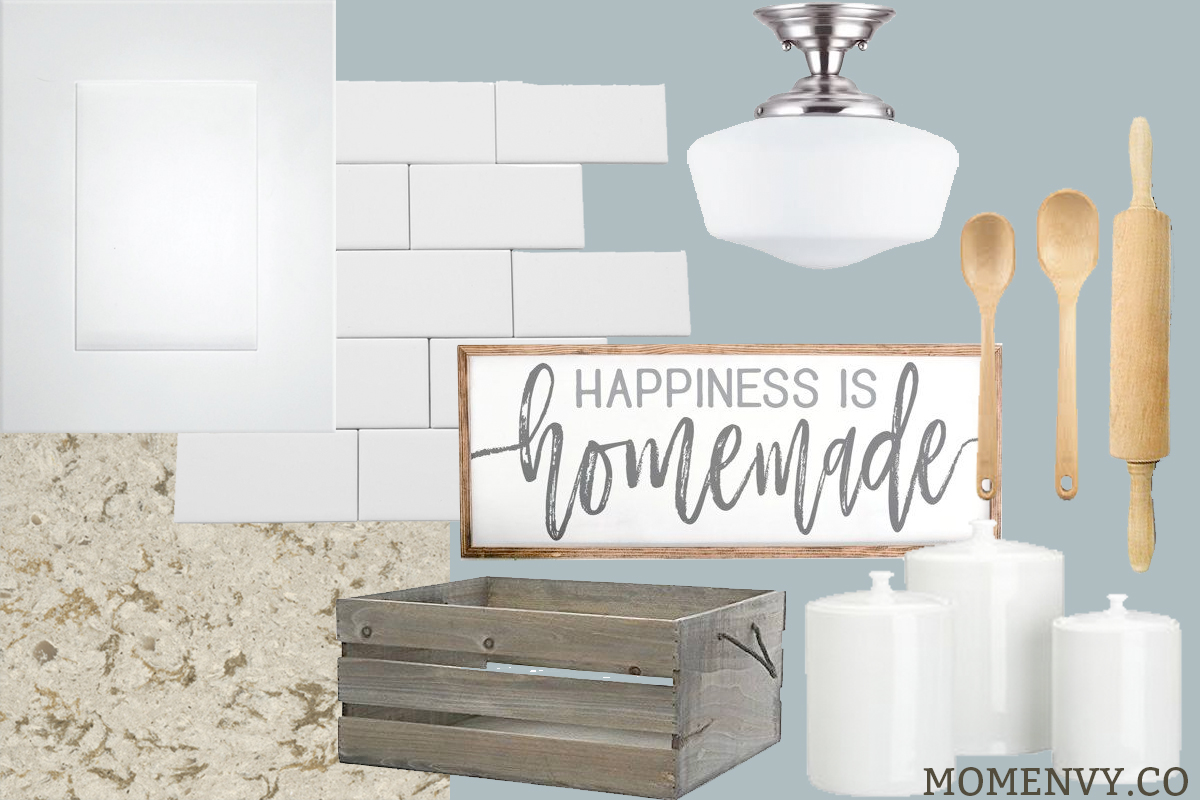 The Beginning Stages of the Remodel
Next week, I plan to focus my post on how we painted our cabinets since that was the biggest portion of the renovation. There were other small projects we were able to complete ourselves but some of the bigger projects we hired professionals.
The first project we hired professionals for was our flooring. We wanted continuous flooring throughout the first floor (minus the playroom). We chose a dark hardwood (we replaced these about five years ago and at the time, I had to have the dark wood).
The other big project we hired out for was the countertops. After looking at our options, I knew I wanted to go with a quartz countertop surface.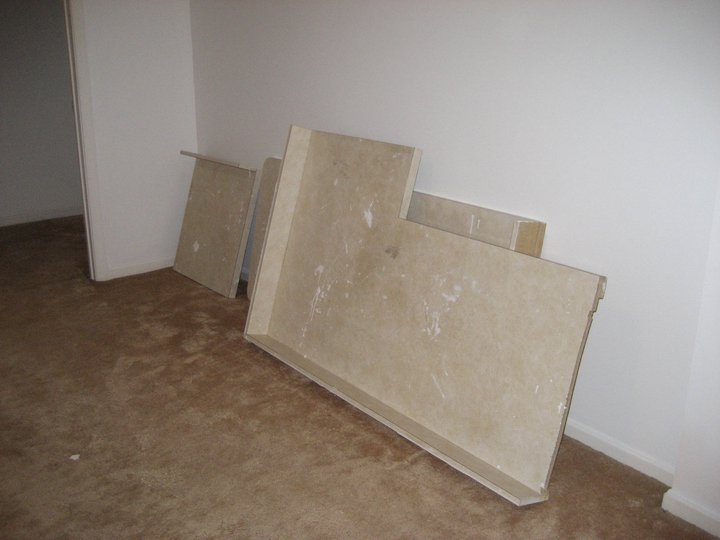 If you're looking to purchase counters, I would highly suggest looking into quartz. While it can be a little more expensive than other products (depending on the color/brand you select), it is maintenance free and completely durable. It has easily held up to two crazy boys and heavy baking.
The Wall Must Go
The first big project we did ourselves was to take down the half-wall between the family room and the eat-in kitchen area. I knew that the wall would be pointless and would make placing my furniture in the family room difficult.
In addition, we love to throw big parties. I liked the idea of being able to open the family room and/or kitchen eat-in area up if needed.
So when my parents were over helping me in the kitchen one day (while my husband and his parents worked on painting our Master Bedroom), I asked him to take it down. So while I worked on the kitchen cabinets, my Dad and Mom worked on the wall.
If we were going to do it, it was better to have it down before the flooring was laid. It wasn't hard for him to take down but he had to be careful because there was electric running in the wall.
He used a reciprocating saw to cut the drywall in line with the frame around the window.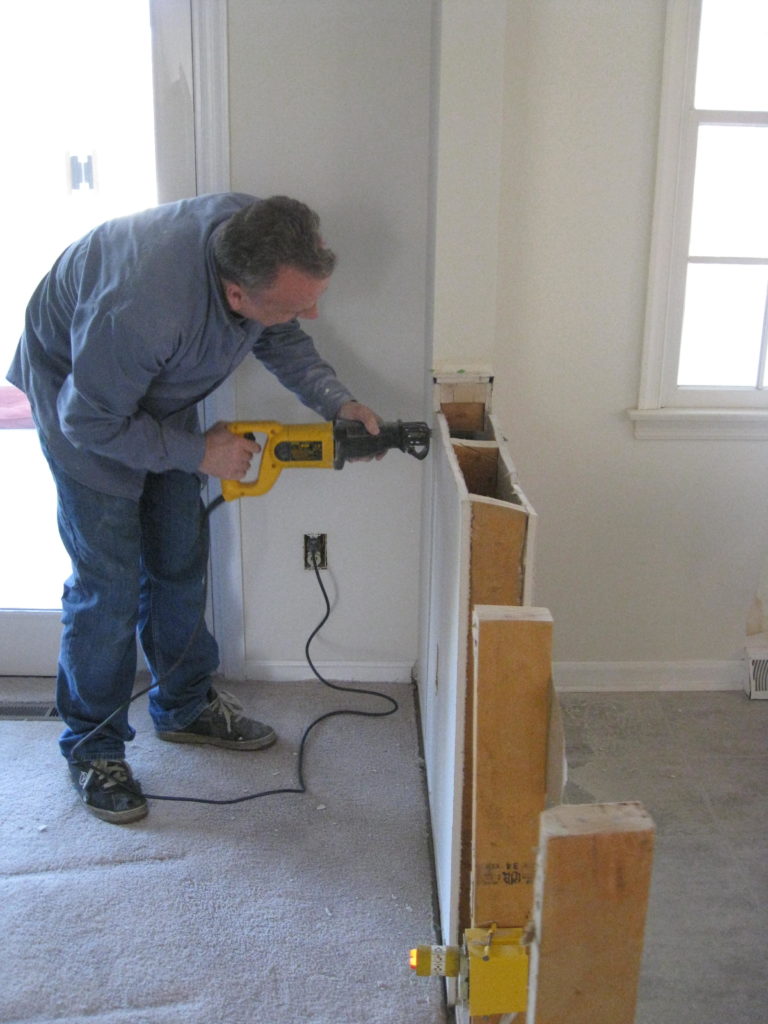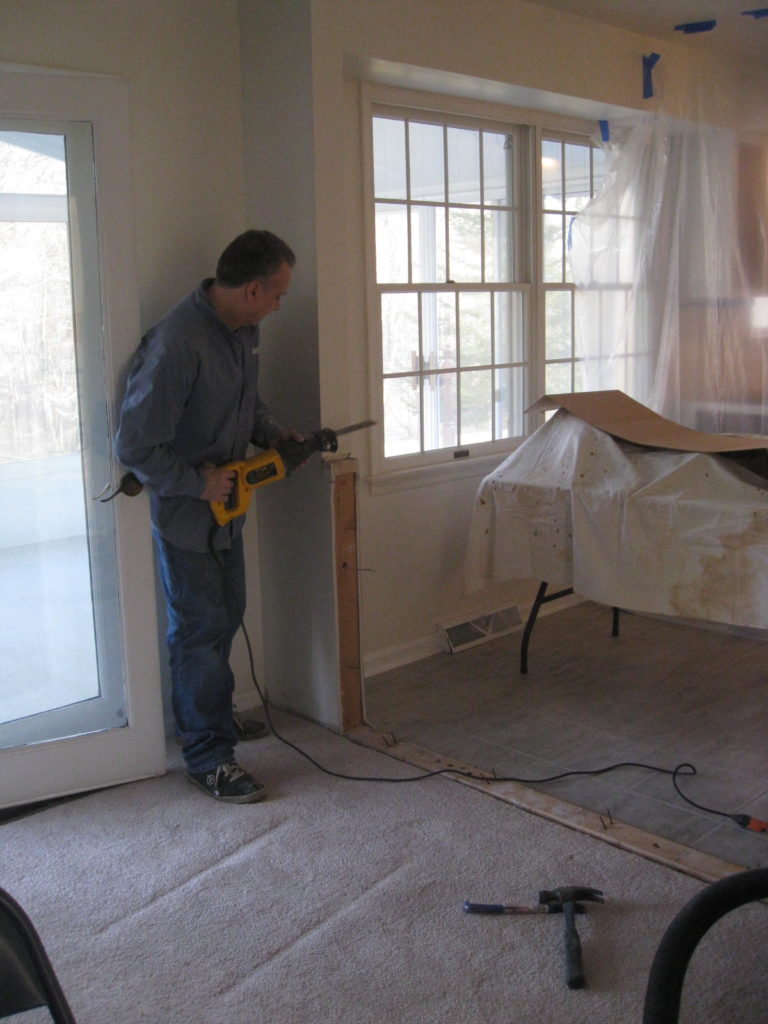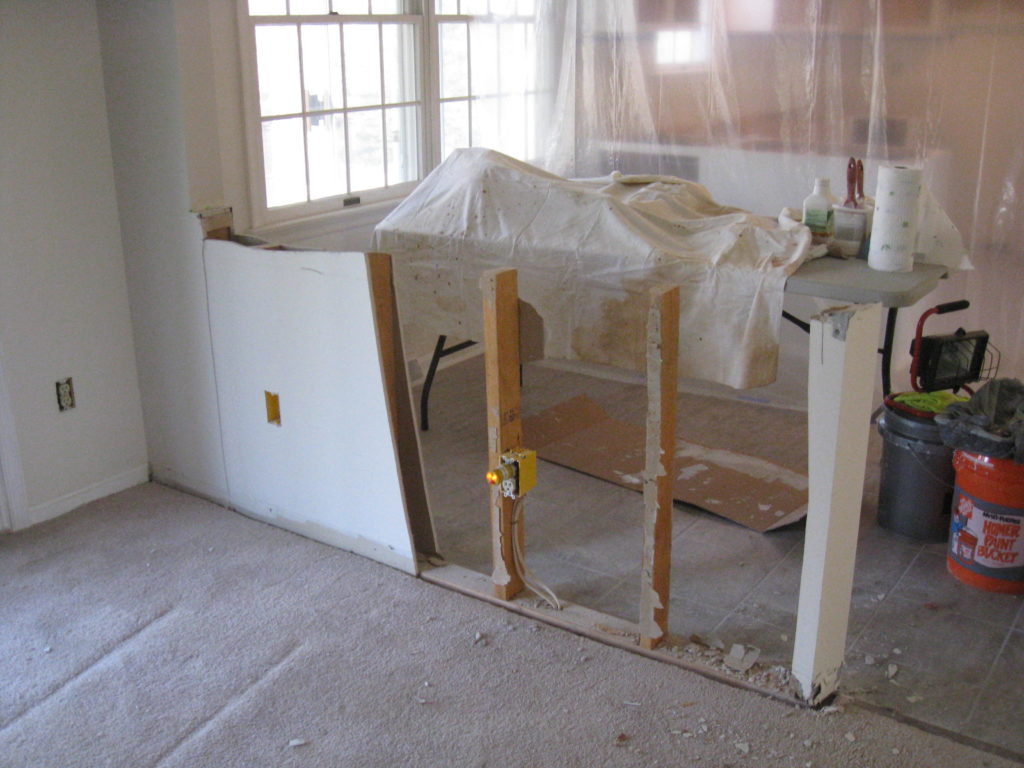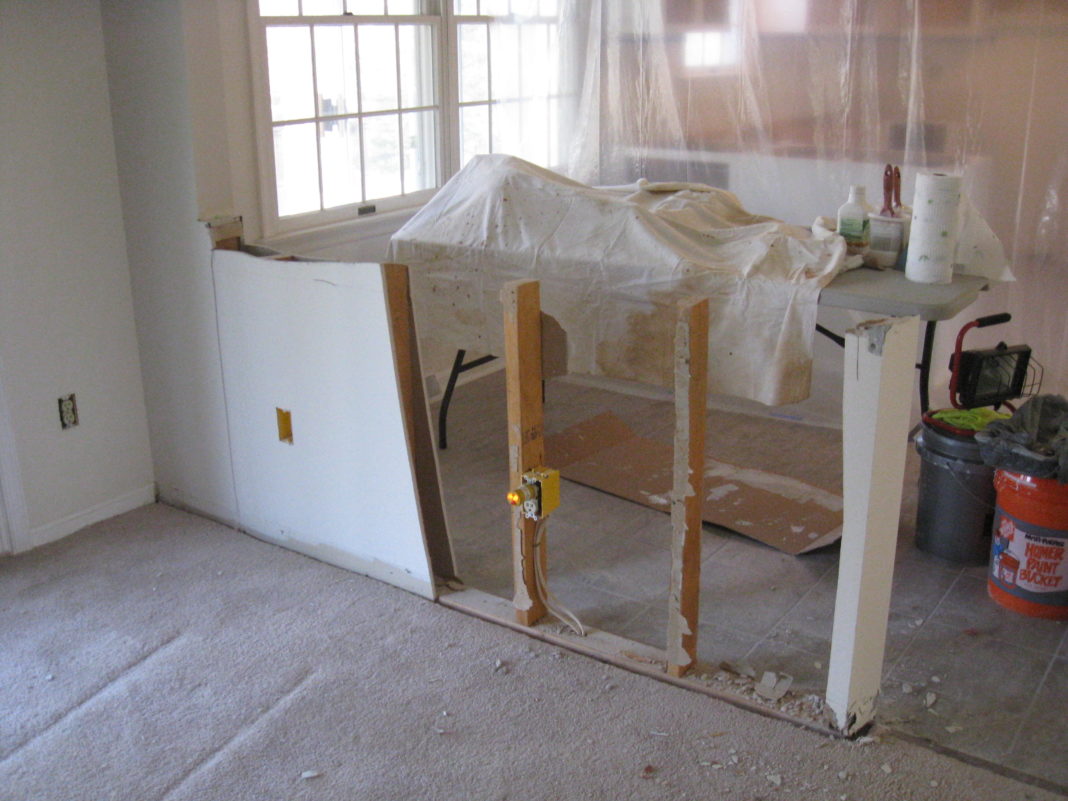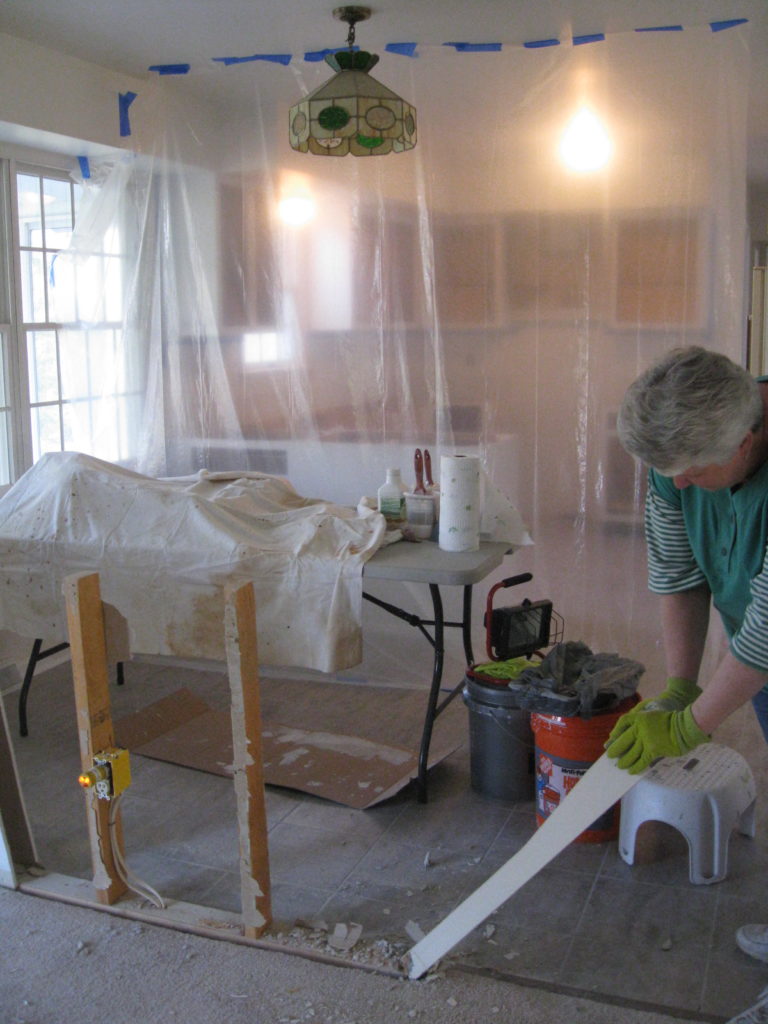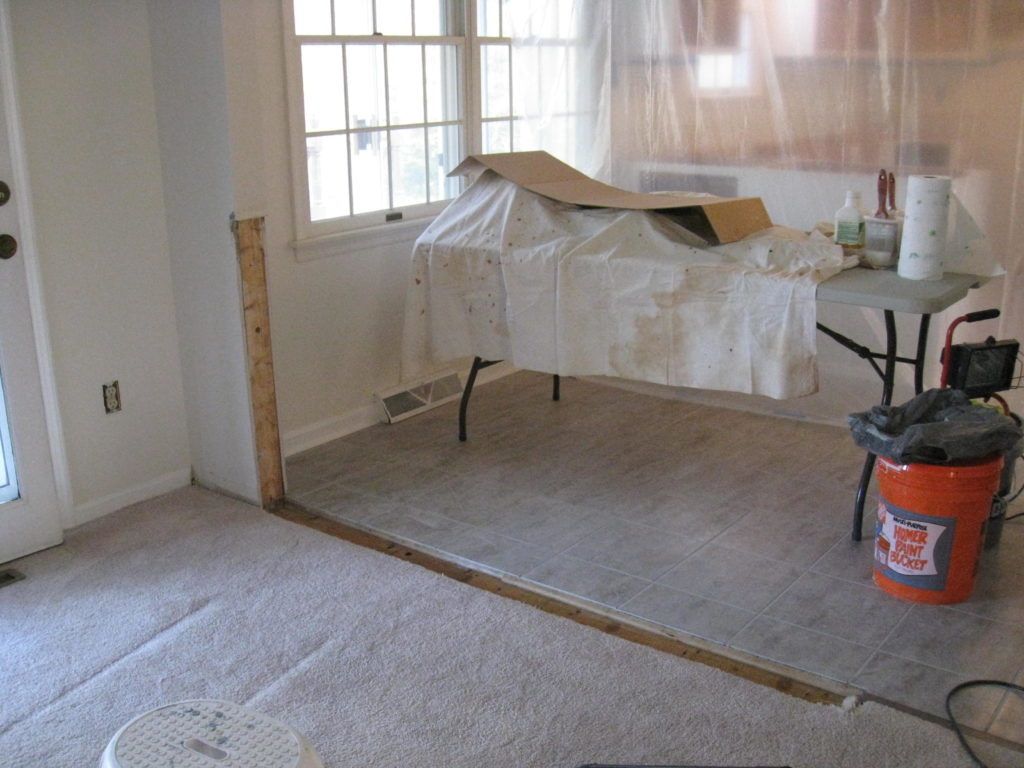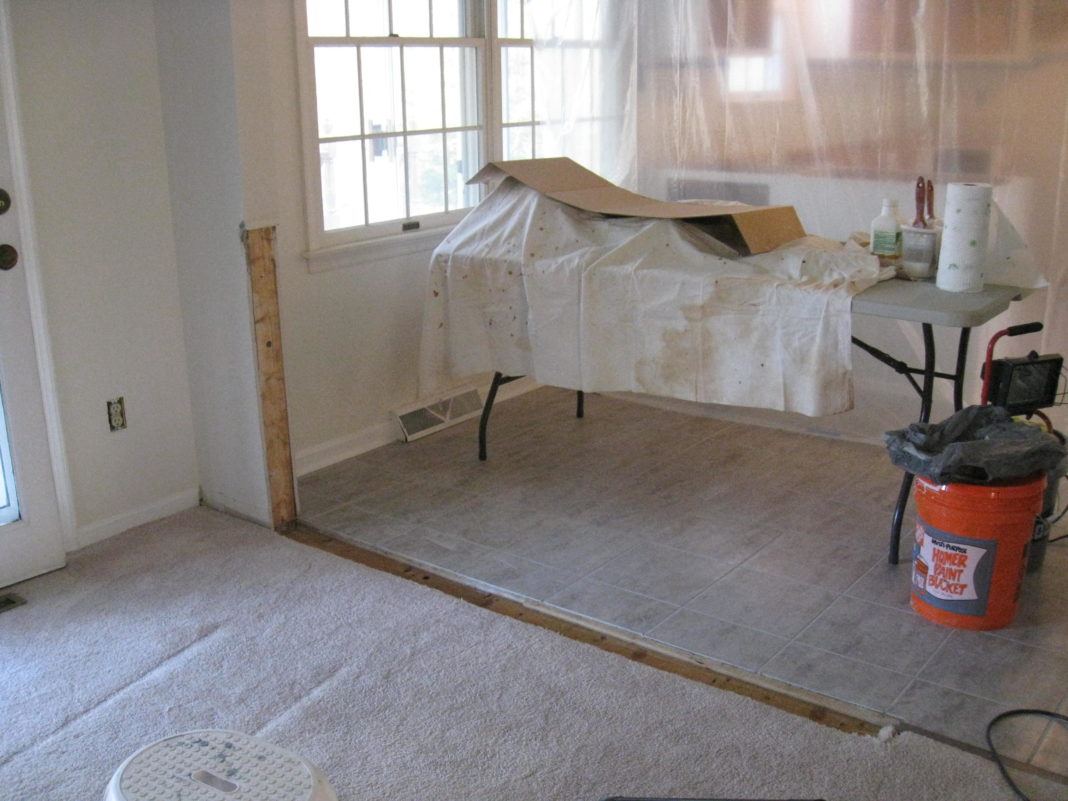 Once he was done cutting the wood frame, my Mom and Dad removed the framing pieces. Then, my Dad patched and repaired the drywall.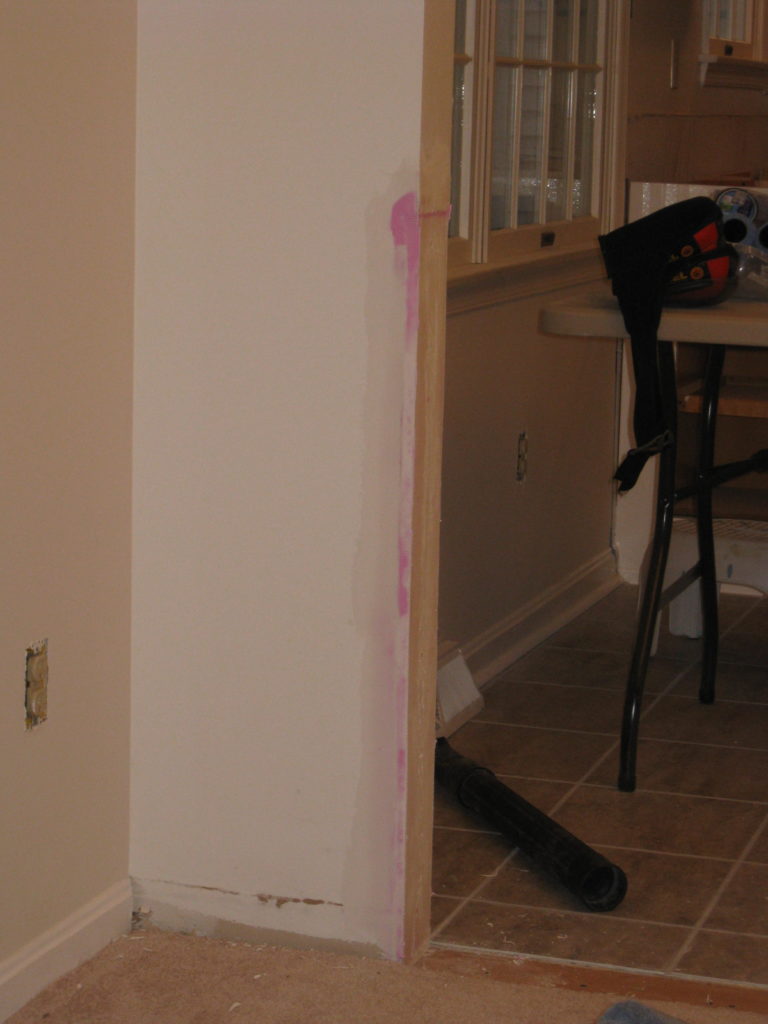 One way we were able to save a little bit of money is my Dad kept the baseboards and was able to reuse them. It wasn't a lot but it did save some money and time.
The Paint
After we finished prepping the wall, we painted the entire main living space a soft grayish blue color. I had originally picked out a darker, grayer blue, but my husband wanted lighter. We eventually met in the middle with Respite Blue from Sherwin Williams (we love Sherwin Williams paint).
The Lights
Now the lights in our 1980's kitchen remodel have changed. When we first moved in, Chip and Joanna were not on HGTV. I was a little more into a transitional look between traditional and contemporary.
When I purchased my original lights, I loved them. But, since owning them, I have found the cream-colored shades make the room dark and also cast a yellow color on my kitchen cabinets (which no white kitchen cabinet owners want).
So we changed to traditional schoolhouse lights (which I will show later in the reveal). They gave the kitchen more of a farmhouse feel than a contemporary one.
Here are the first set of lights. The first one is from Overstock. The others are no longer available but they were from One Kings Lane.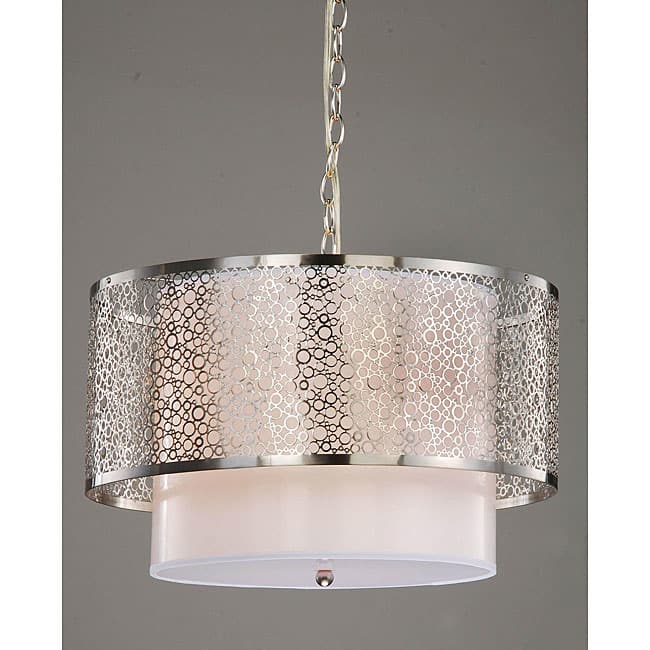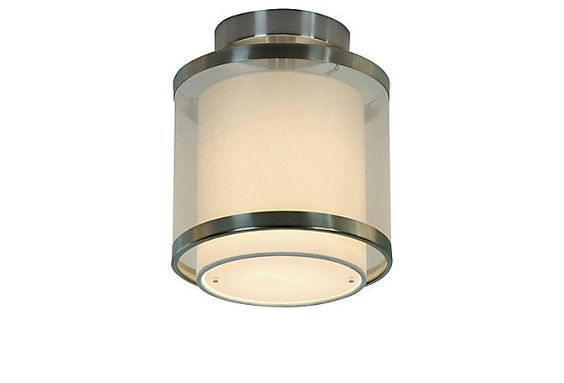 The Appliances
We chose to go with stainless steel appliances, despite a future of smudgey little fingerprints. I am not going to lie, they get messy looking quick. But, when they're clean, they look great.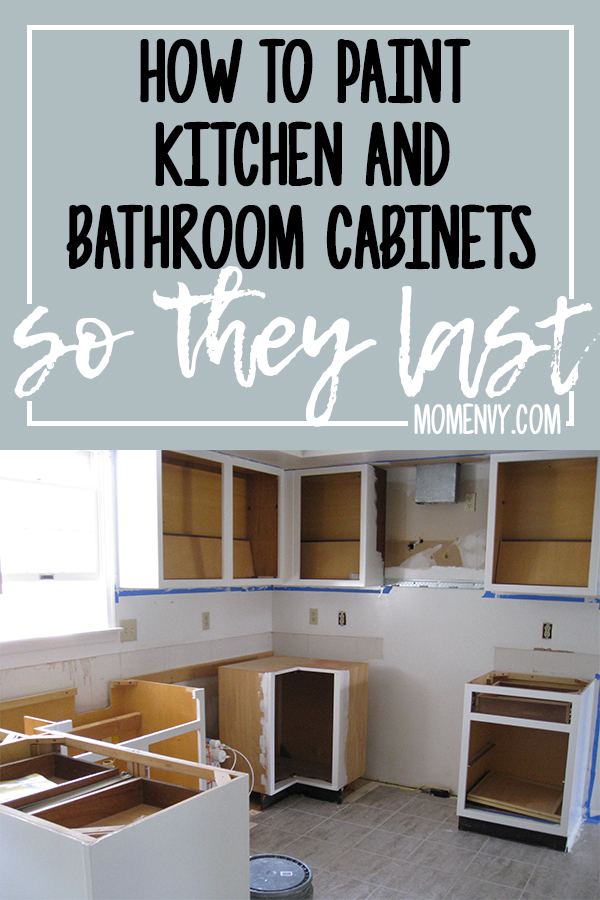 Click here for Part 2: How to Redo Kitchen Cabinets – So they Last. I refinished the kitchen cabinets. You won't believe how easy it was to take the cabinets out of the 80's and into the present day with just a little bit of paint. I can't wait for you to see it!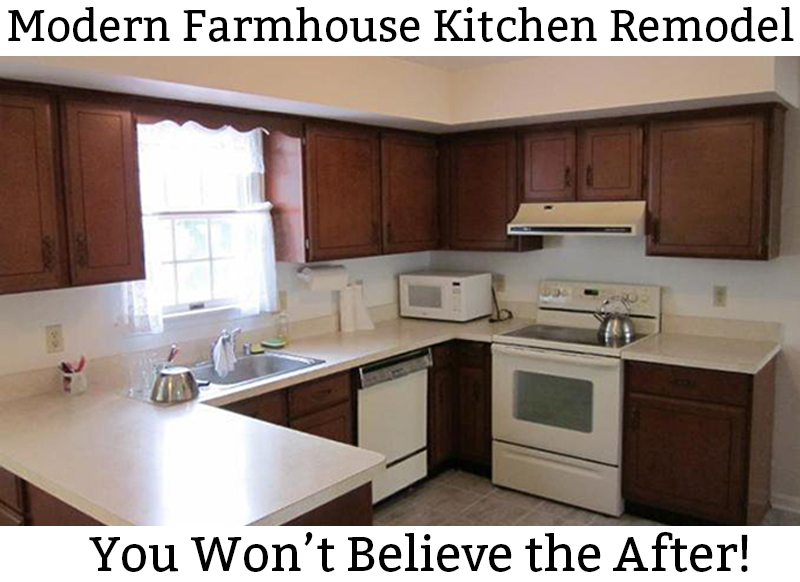 Ready to see the After?? Click here to see the final kitchen.