As I enter our nearby Carter's, I have one goal. To find a nicer outfit for my boys and a few pairs of pants (since they've both recently had growth spurts, again). As usual, I am sent to a far back corner to the tiny world of boy's clothes for my two and four-year-olds. I turn and ask the associate if this is it, knowing full well that the answer will be yes. She, of course, explains that these three racks of clothes are all they have, but if I'd like, I can purchase something online and have it shipped to the store for free or shipped to my home. No thank you, I reply. I'd like to actually see the clothes in person.
You see, boy moms have one major disadvantage than girl Moms. Our clothing selection. I feel as if I am always on the search for boys clothes. As a girl myself, I never knew that boys and men had such few options compared to girls and women. Do I really want to buy another blue polo for my sons to wear for a special occasion? It seems like my only real clothing options are no different than the ones already hanging in smaller sizes in the closets at my home.
If you're a girl Mom, you may have never noticed the difference in clothing selection for girls and boys. There are rows and rows of girls clothes compared to a couple of racks for boys. Although I have two boys, I have been blessed with two nieces and friends with girls. When shopping for girls, there appear to be endless options for clothes and accessories compared to what I am used to (although the length of their shorts and dresses astonish me, that's a post for another day).
Now, I am extremely blessed because my Mom purchases most of the clothes my boys wear. She loves to shop for her grandchildren and buying clothes makes her happy and us happy, too. She currently has two granddaughters, two grandsons, and one grandson on the way. She is constantly baffled at the clothes she can purchase for my nieces compared to the clothes she finds for my boys. We're both constantly asking each other, where are all of the boy clothes? And it's no surprise that often times when she buys something, I already own it or she purchased it previously in another size.
When I'm out shopping, most of the time, managers will tell me to go shopping online because I will have more options. But sometimes, you don't want to shop online. When it's time for me to purchase an outfit for Christmas, Easter, or other special occasions, I much prefer to see the clothes in person (mostly because I want to coordinate my boy's outfits despite my husband's pleas not to). But even if I give up and search online, my options are still far less than those of a girl mom. And it's not just clothing. It's also accessories. I mean, wouldn't it be fun if we had a bow equivalent for boys? I'll be honest, if I had a girl, she'd have the biggest bows in town because I find them so darn cute.
If you really stop and thinking about it, pretty much all that's available for boys are polos, some varying plaid/striped shirts, some sports-themed t-shirts, a few character-themed shirts (depending on the store), some jeans, and basic pants/shorts. That's about it. For shoes, we have even fewer options. And don't even get me started on accessories.
In my some of my recent shopping trips, I have gone as far as to ask the manager about getting more boy clothes in stock. Our Kohl's is the worst; I am lucky if they have two racks total of toddler boy clothes. On top of that, their corporate requires that they organize clothes by brand which means that the boy clothes are thrown on the same rack as girl clothes by the same brand. I almost always need to ask for help to find anything my boys. And chances are, even if I find something I like, they won't have it in the size(s) I need. After my last failed attempt, I have had to write off Kohl's for toddler boy clothes.
Eventually, I've heard that when your kids are older, the selection difference isn't as bad. As babies, anything I put on them was cute because it was so tiny (and it was so precious to see them in grown up looking men's clothes). But right now, at the toddler/preschool stage, I feel like I am just putting my kids in the same outfit every single day. Now, maybe if my budget was a little bigger, I'd have a few other options. But I can't bring myself to spend $30+ for a shirt that's just going to get covered in yogurt in a matter of seconds.
The only real positive in the lack of clothing options is that I save a lot of money. My husband always joked that if we had a girl, he would have had to get another job to pay for all of the clothes and accessories I would have bought. While I like keeping our wallets a little fuller, I'd like to at least have the option to purchase a bunch of ridiculously cute outfits for my boys to wear.
Any other boy Moms out there struggle when they go clothes shopping? Have you found any stores that are better than others? Do you have any stores that you avoid now because their selection is so thin? I'd love to hear from you.
Looking for some products perfect for boy moms? Check out must-have boy mom survival list!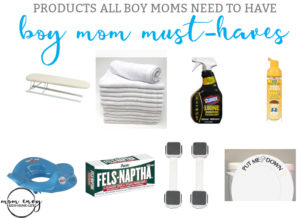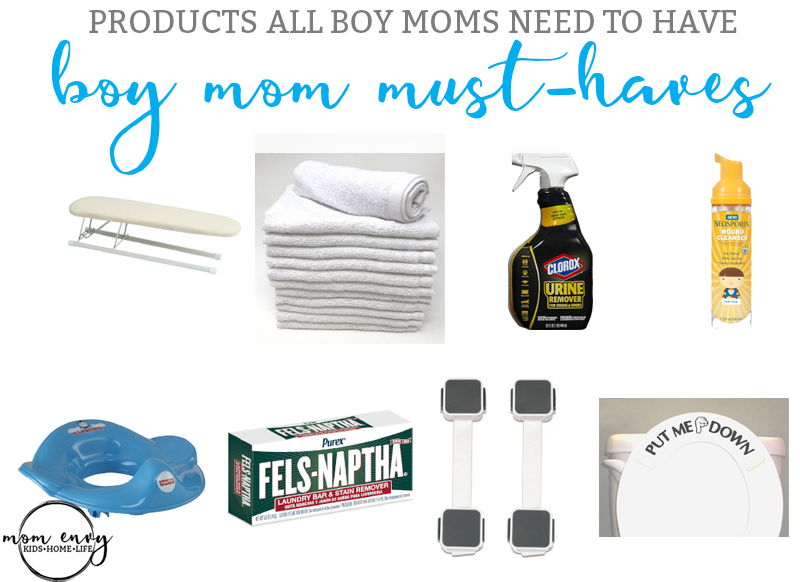 Special thanks to my husband for giving me the idea for me to write this post. While shopping on vacation, I turned to him frustrated again at the lack of choices of clothes for our boys compared to girls. He chimed right in to say, that's a great idea for your blog. I promised I would give him credit for his idea. So here you go love. 😉