Nothing says Happy Father's Day like an adorable Father's Day Questionnaire. This free Father's Day questionnaire makes a special gift for Dad or Grandpa.
Kids answer a list of questions all about Dad's favorite things, Dad's job, and what they like best about them. Plus, there is a small space for children to draw a picture of their dad.
You could even skip the Father's Day card with this sweet Father's Day printable. It's way more fun than a greeting card bought at the store. You could even fold it in half and the child could decorate the front like it is a card.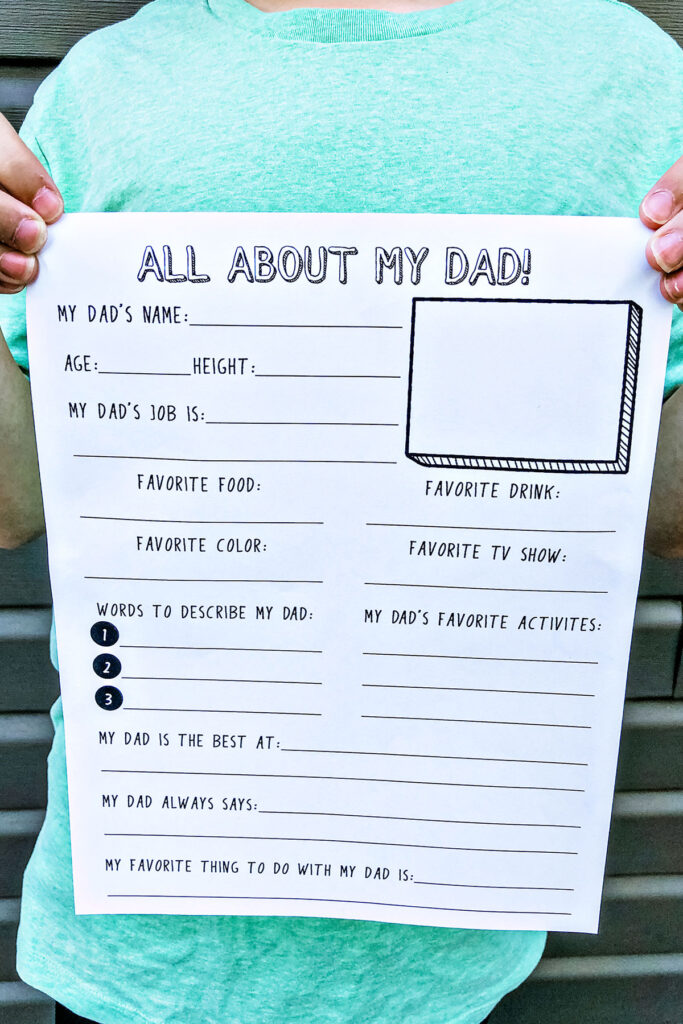 I love having my children complete a fun father's day questionnaire or a Mother's Day questionnaire each year. It makes a great keepsake for parents and grandparents to keep and look back on for years to come.
Father's Day is the perfect time to celebrate Dad (and Grandpa) and all of his hard work. He deserves to be honored and appreciated. This All About Dad survey is a fantastic way for children to express their love. Plus, it's so much fun to Dad's face and how much dad laughs at all of the responses.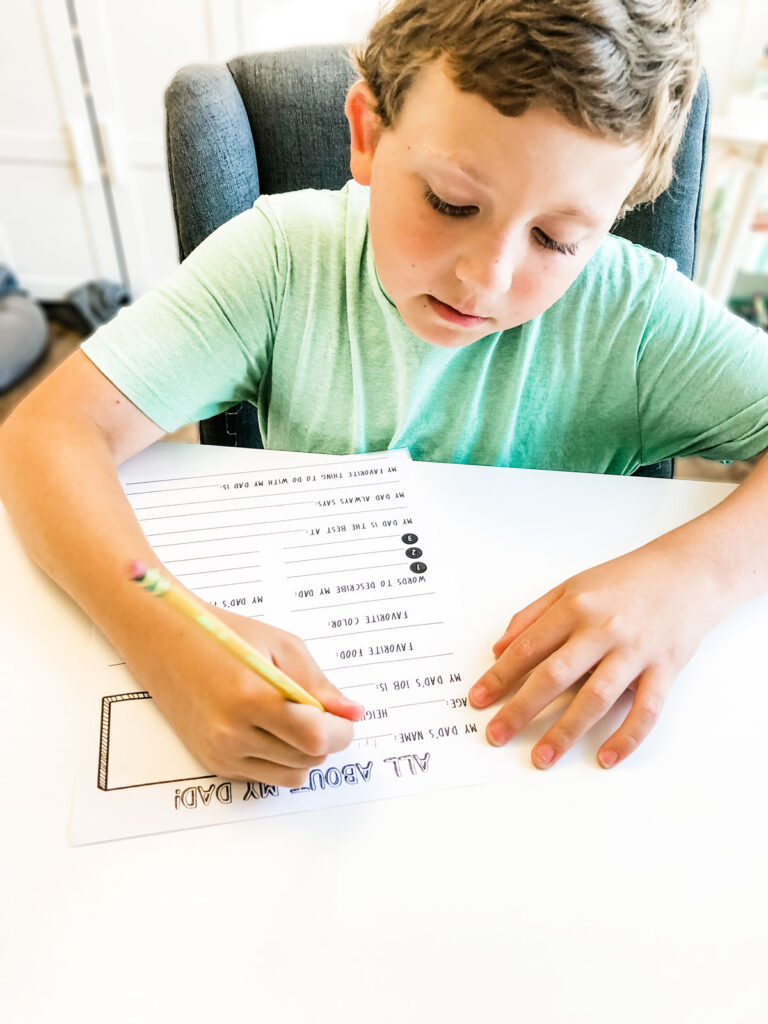 What Age is the Father's Day Survey for?
You can start it with young kids all the way through teenagers. Even if a child can't write yet, you can fill in the answers for them.
Older kids can easily complete the fun questionnaire on their own without help. The questions are easy to read and there is plenty of space for them to fill in the blanks.
What Type of Questions Are on the Printable Questionnaire?
There are a lot of fun questions for children to fill out about their dad or grandpa. Here is what the questionnaire looks like with all of its questions.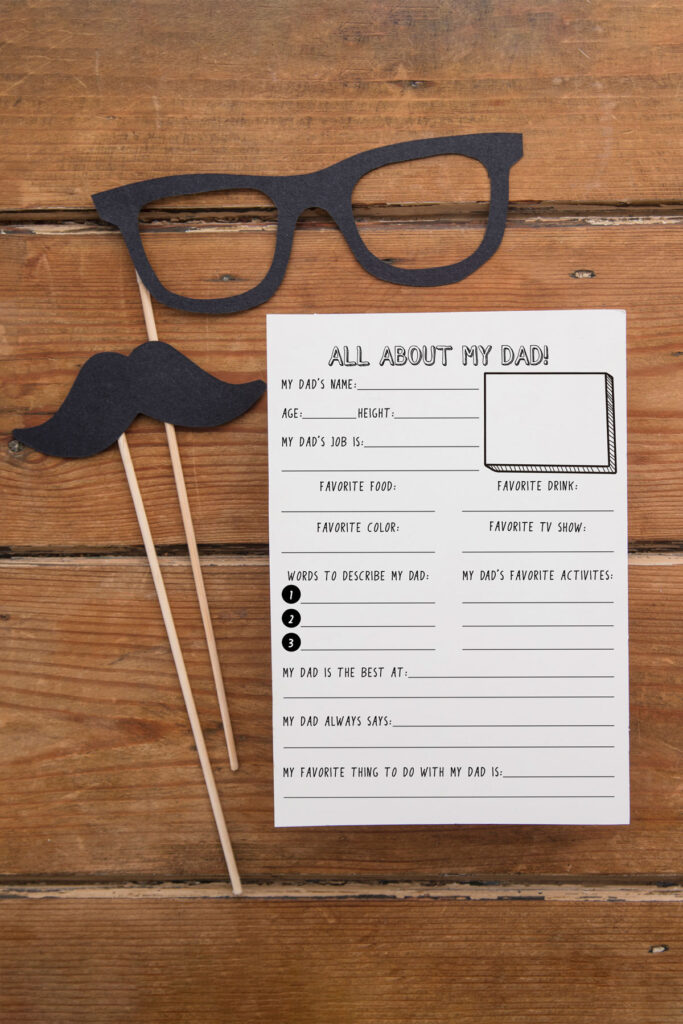 Are there Different Printable Father's Day Questionnaires Available?
Yes! There are two different versions that you can download in this set.
One option is meant for a Dad. The second option is a Grandpa questionnaire.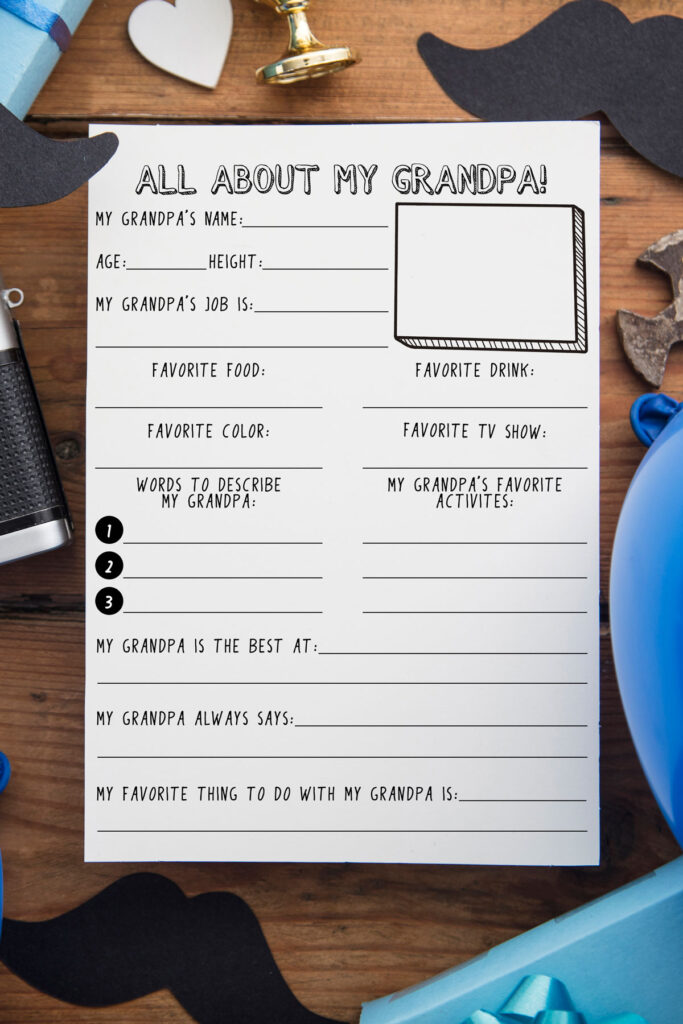 What File Types Does the Dad Questionnaire Come In?
It comes in PDF file format and JPG format. You can get both at the bottom of this post.
Is the Questionnaire Only for Father's Day?
No! While it is called a Father's Day questionnaire, it can be used for Dad's birthday or Grandpa's birthday instead. Or for another fun occasion.
Tip for Multiple Children Completing the Free All About My Dad Printable
Do you have more than one child? It's the perfect gift idea for all children. BUT, I have one big suggestion after years of experience.
Make sure the children complete the questionnaire away from each other. This ensures that each child gives their own answers instead of copying all of the fun answers their siblings provide.
Having all of the children give this as a fun gift, makes adorable keepsakes from each child. It's a simple way to see how children grow and change each year and how their relationship with their Dad grows and changes, too!
Can This be Used at School or Sunday School?
Yes, while this is available for personal use only, that also includes printing multiple copies to be used in a classroom setting.
Trying to think of a Father's Day craft to complete with a class full of children can be stressful. This can easily be done with a huge group of children,
It's easy to complete in advance of Father's Day before school lets out. Children can easily place it in an envelope, seal it, and keep it until Father's Day.
Looking for more free printables for Father's Day?
Check out all of the freebies we have here at Mom Envy for Father's Day. Visit our Father's Day category to see many more Father's Day crafts, printables, and ideas.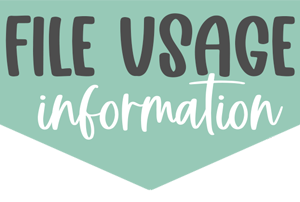 Copyright MOM ENVY 2022. Files may be used for personal use only. No commercial use of the file is available. Files may not be directly shared within Facebook groups, on websites, or in any other way. If using for educational purposes, the file may be printed and copied for classroom use. A link to the web page to download the files may be shared as well as one photo. The file may not be printed and then sold (including local yard sale sites and groups or at local craft fairs). The images may not be used in any way other than to share with a link to the original web page.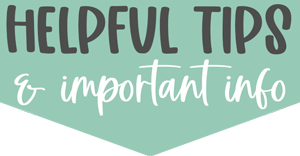 Tips for Downloading the Free Files
Below is an arrow that says Download Below. Underneath that is a large image that says Click to Download the free files.
Once you click that, you will enter the members-only password and click submit.
The page will reload the same image and now when you click the image that says Click to Download the free files, it will open the Google Drive folder containing the free files.
How do you get a members-only password?

You can sign up here to be a free Mom Envy club member.
The password will be sent to you within a few minutes. Make sure to check your spam and/or junk folder if you don't see it.
Already a member but forgot the password? Don't sign up again. Look at the end of any newsletter from me for the free password or just send me an e-mail here: [email protected]