This set of 13 free printable teacher appreciation tags work perfectly for teacher appreciation week, the end of the school year, or any teacher gifts throughout the school year. Finding thoughtful gifts for your child's teacher can be daunting – you don't want to give them something they'll never use (I'm looking at your crayon wreath), but you also want the gift to be a little more special than just a Starbucks gift card.
The best part is that if you have enough in your budget to do a gift card and a small gift – these free printable gift tags are perfect. Each tag is designed to go with small gifts. That way you can still give a Target gift card (or their other favorite spot) along with this gift.
If you have a small budget, this is a great gift to still show your favorite teacher that you are thinking about them and appreciate them. Many of the free teacher appreciation gift tags pair great with an inexpensive item (such as a bag of chips or popcorn). And, since the gift tags are completely free, the only additional money you'll need to spend is on the paper and ink.
As a former teacher, I can tell you that we love any and all gifts. But, we especially love practical gifts (no matter how small their size or cost is). And what's great about each of these gifts is that they are practical. They each go with either a treat or snack or school supplies. Plus, there is a generic thank you tag that can go with any gift.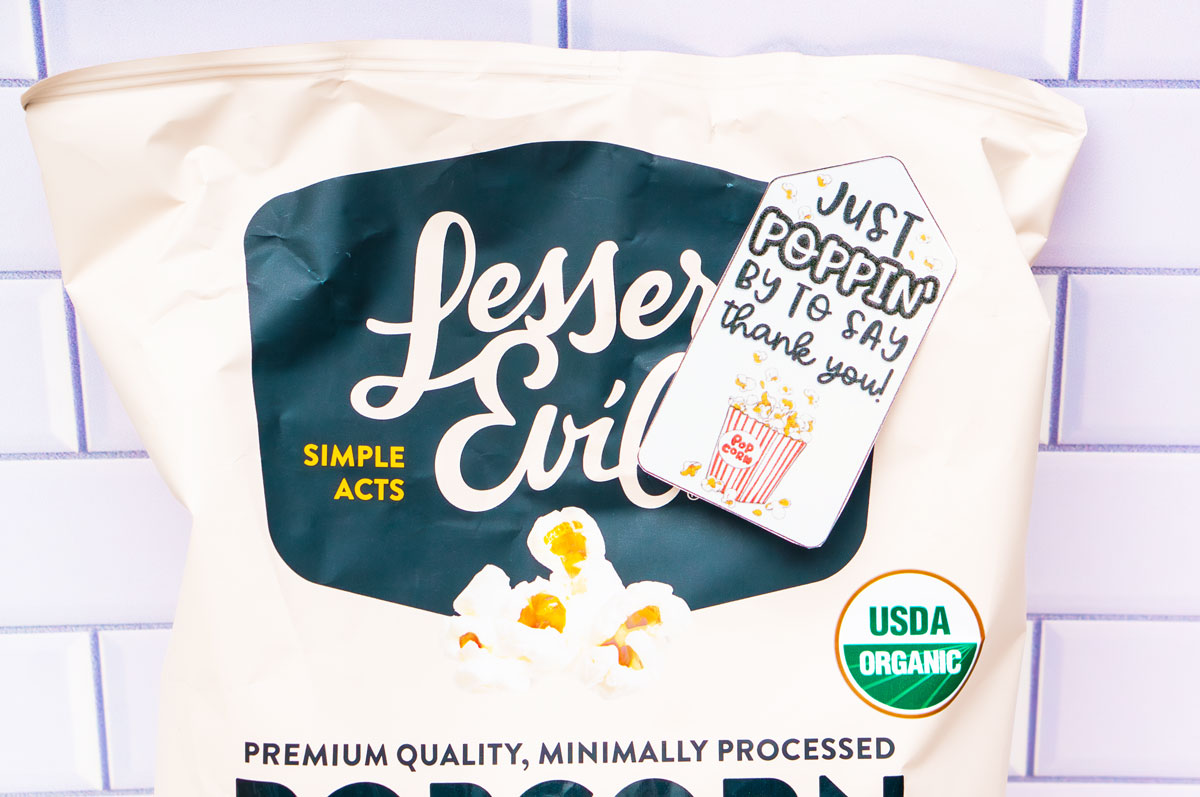 As an Amazon Associate, I earn from qualifying purchases. I am also an affiliate for xTool, the HP ink program, ShareaSale, and CJ Networks. Click here to read more.
Are the Gift Tags Only for Teacher Appreciation Week?
No! The gift tags can be used for any time of year. In addition to teacher appreciation week, they are great to add to end of the year gifts, holidays or Christmas gift, first week of school, or gifts for a random Tuesday.
Teacher Appreciation Gifts for the Whole School
If you are a PTA (PTO, PTSA, etc) member and are looking for a way to show all of your school's wonderful teachers that you are thankful for all of their hard work, many of the printable teacher gift tags would work great for a small, inexpensive gift that can fit into your budget.
​
Are the Tags Only for Teachers?
No! Many of the tags would work well for bus drivers, administrators, guidance counselors, paraeducators, and other support staff.
13 Unique Designs to Match DIY Teacher Gifts
Each free printable tag has a different design to match a teacher appreciation gift idea. Some you only need just the item while others are meant to go on a gift basket filled with little gifts.
My favorite thing is to use puns and you'll see that I used a lot of them in this set of free tags.
Are the gift tags needed to go with each gift? No, the gifts stand alone as they are. BUT, the gift tags add a personal touch. Why not put in a little extra effort for a special teacher?
What Do the Gift Tags Look Like?
Let's take a look at each cute gift tag that is included in this set. I have included both an image of the gift tag alone and paired with examples of coordinating gift ideas.
Pretzel Gift Tag
This gift tag can be attached to a bag of pretzels, soft pretzels, or a basket full of different types of pretzels.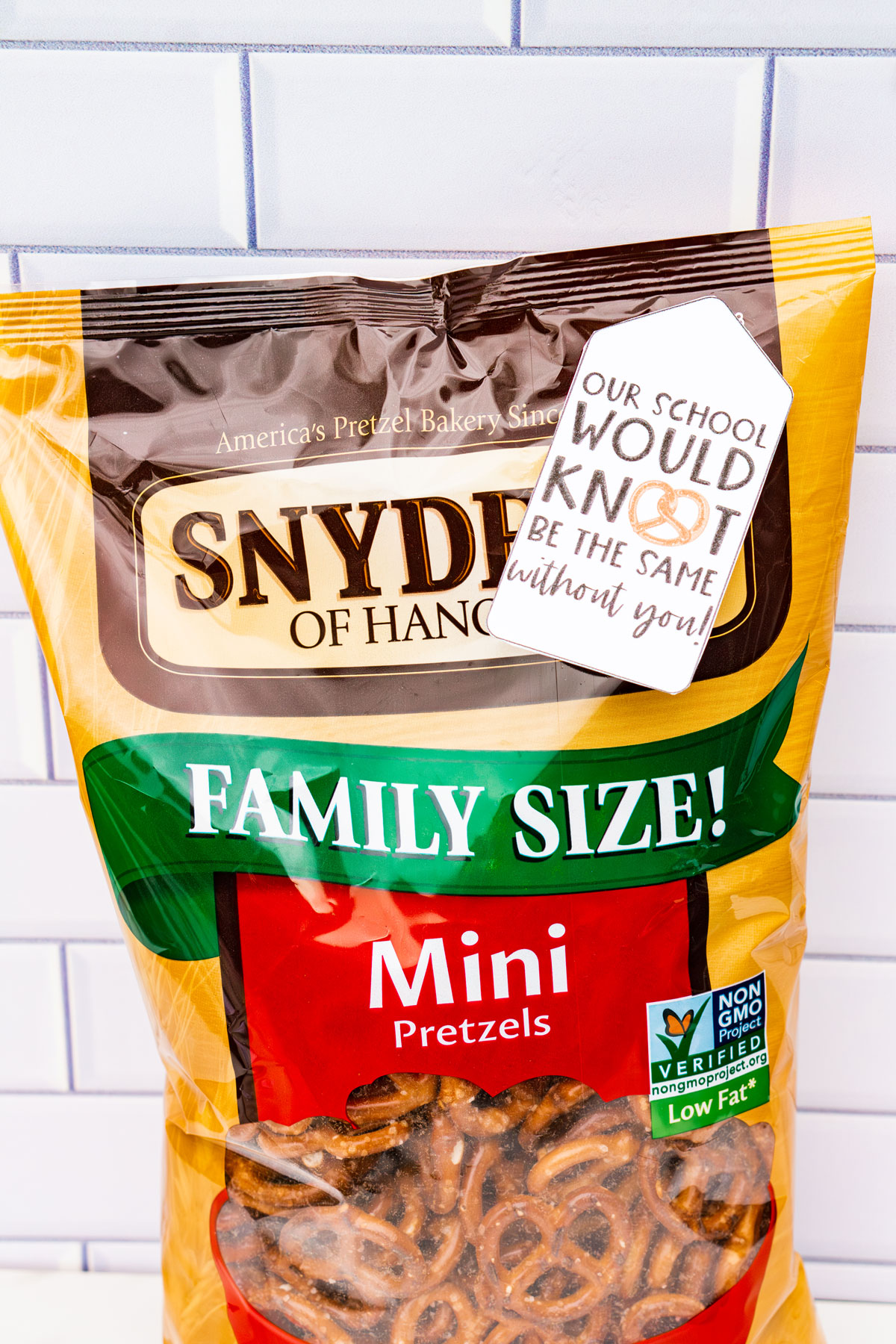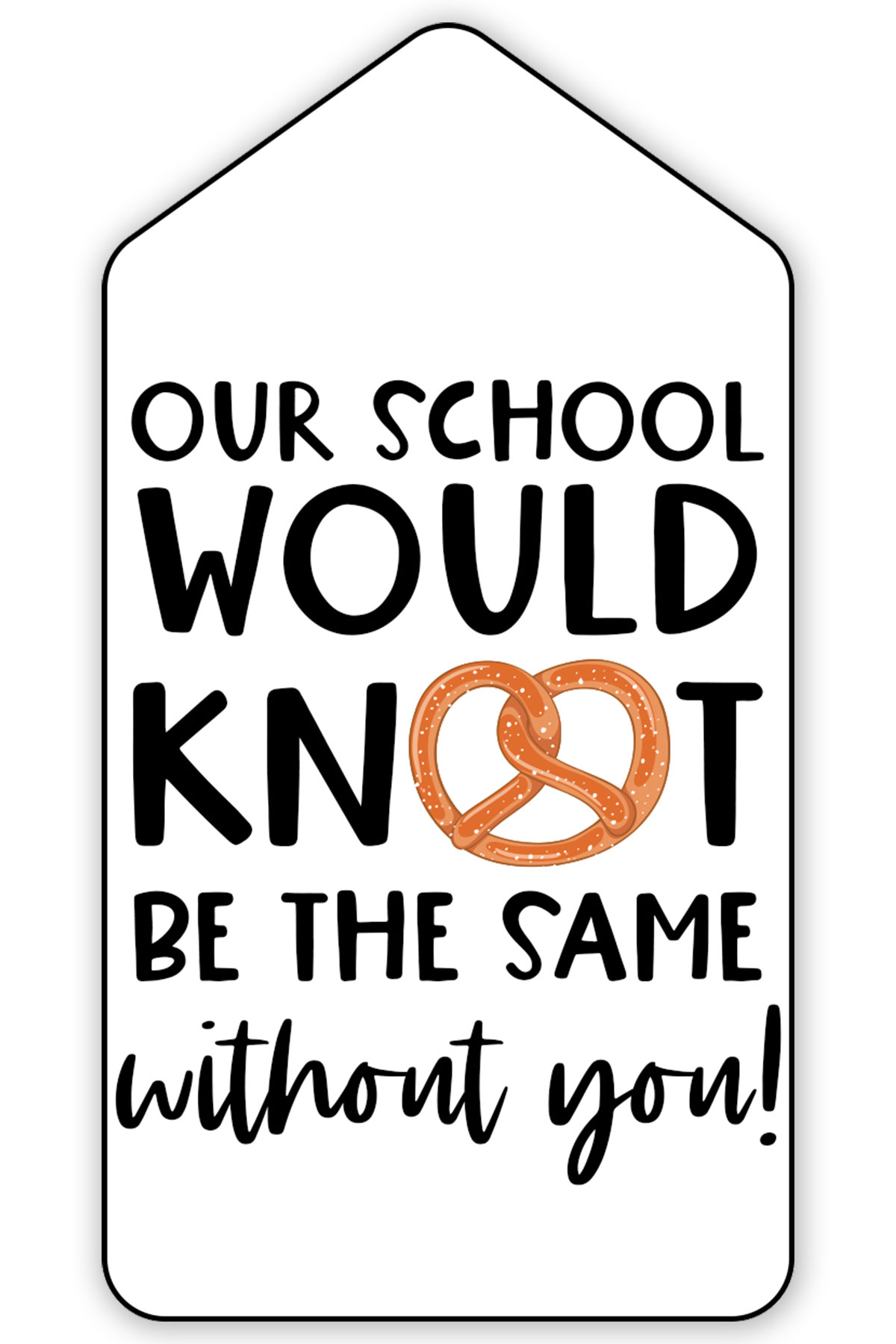 Trail Mix Gift Tag
Trail mix is a great alternative to candy and treats. You can find mixes that add a little candy or none at all. Or, if your teacher loves the outdoors, you can pair this tag with a gift card to a park (not all parks of course need gift cards but many throughout the states do).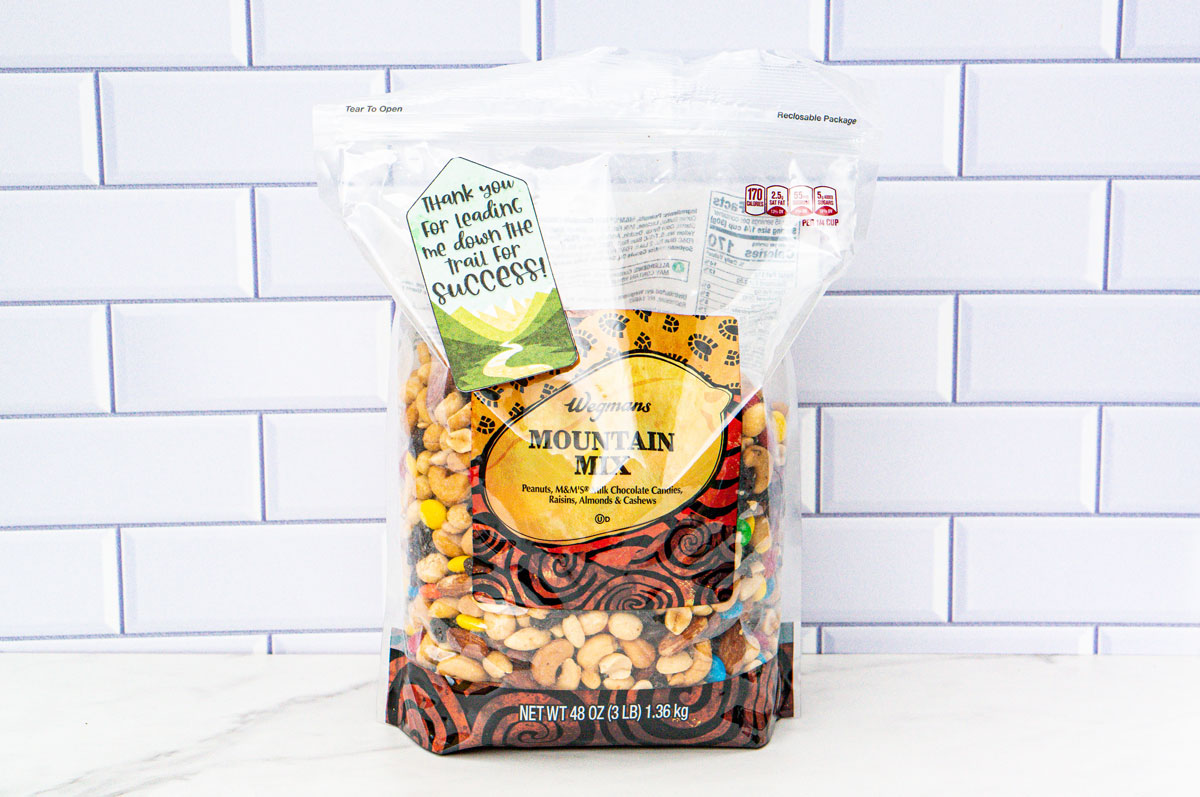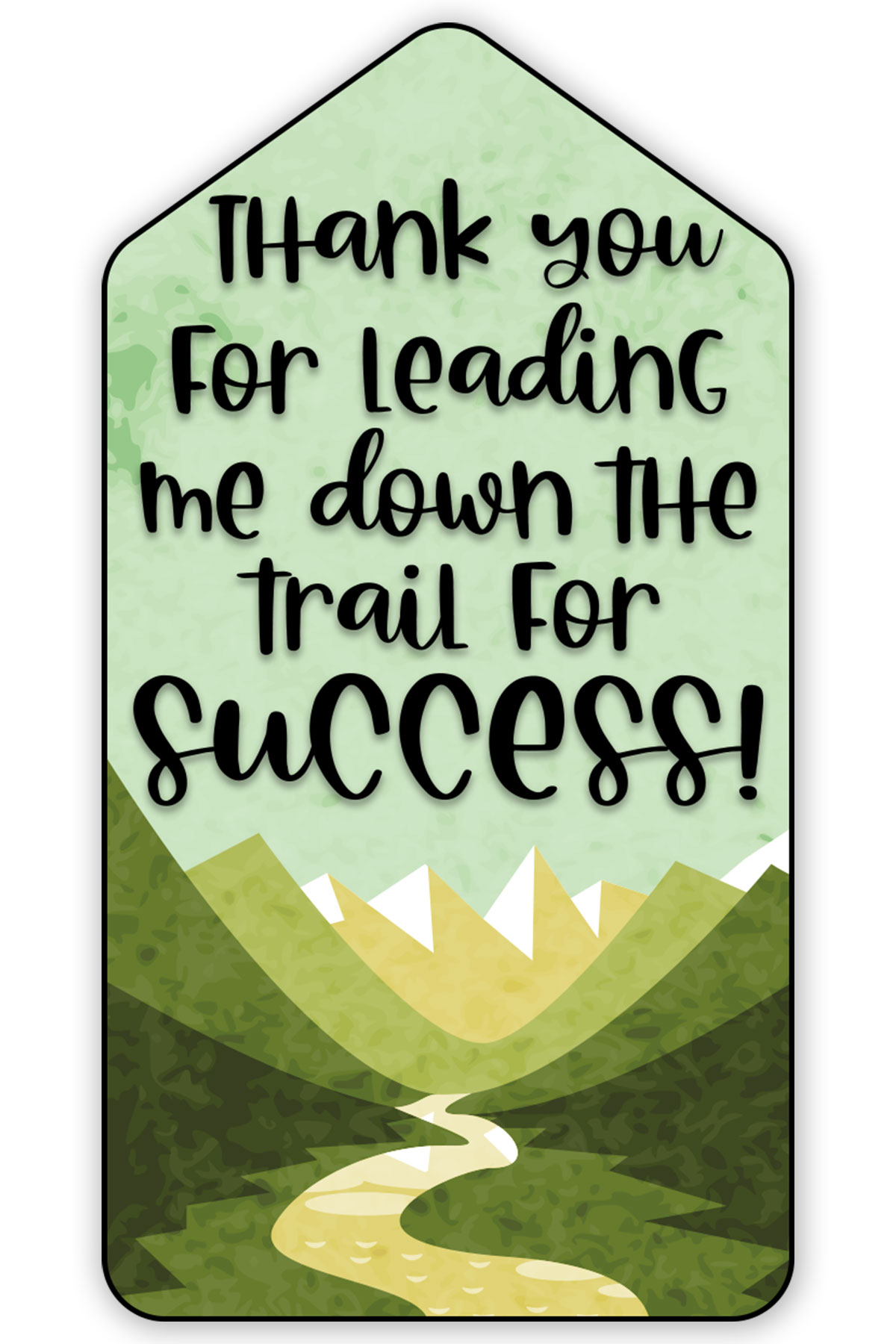 Chocolate Gift Tag
This next gift tag is a sweet gift for a chocolate loving teacher. You can create a gift basket full of different candy bars or just attach the tag to a box of chocolates.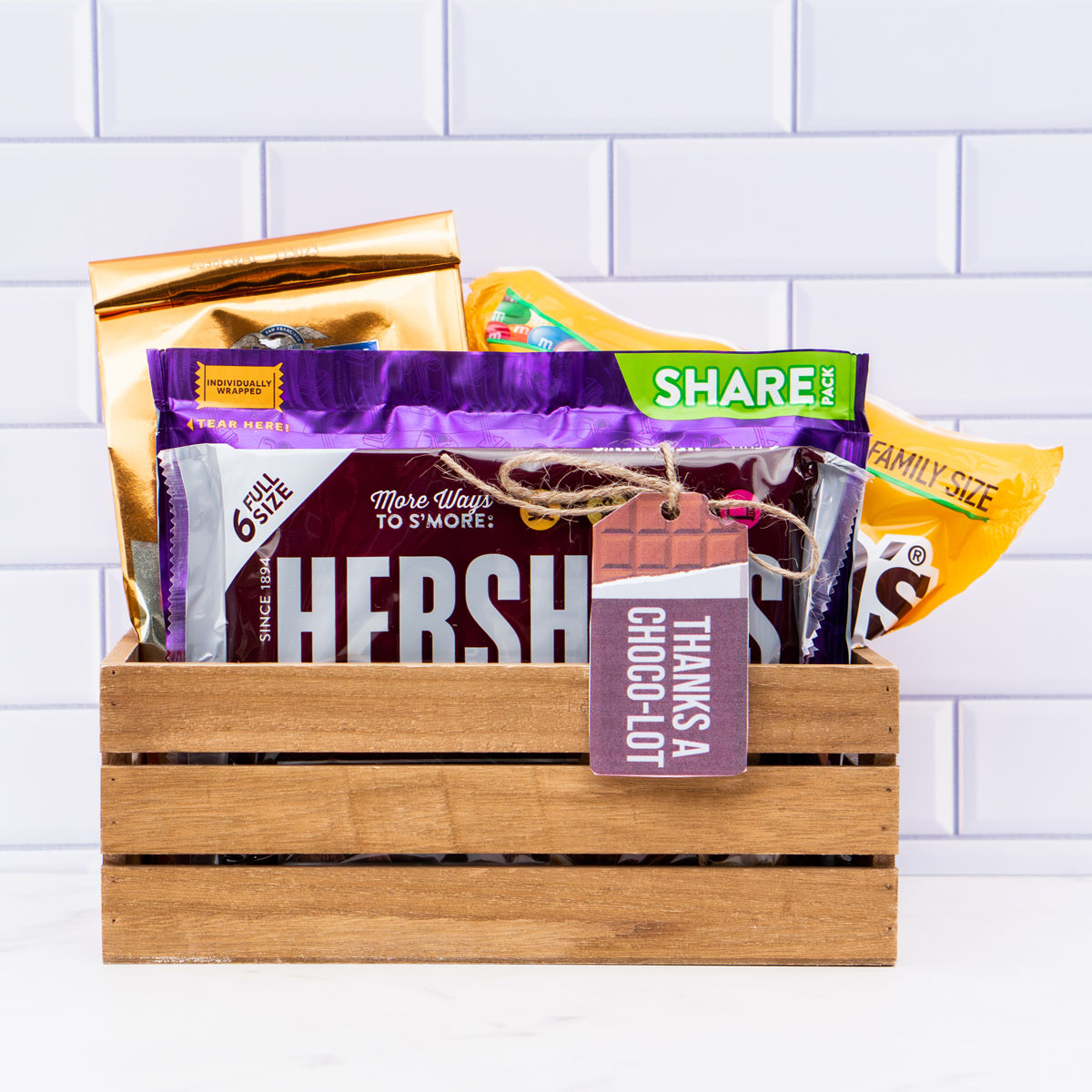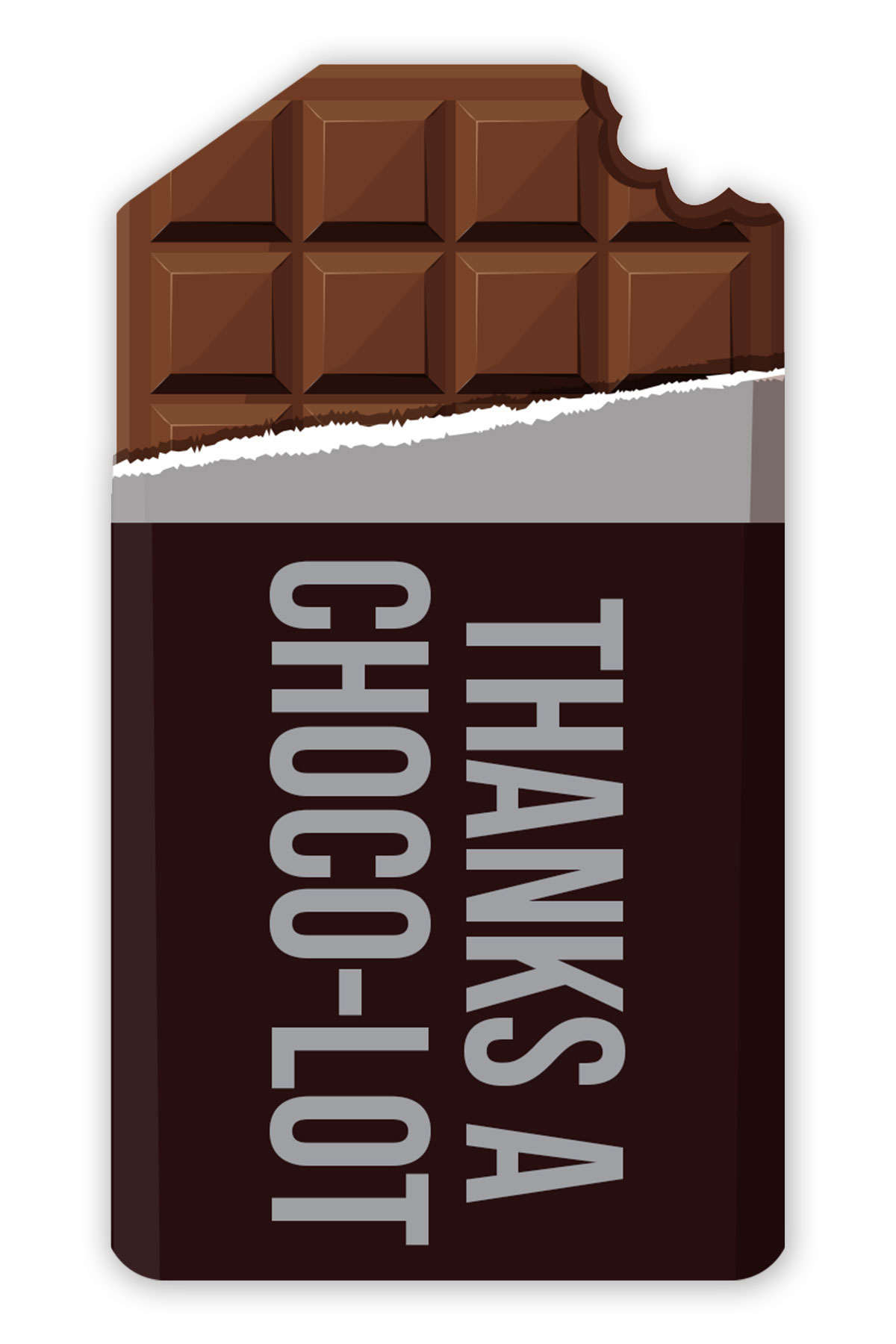 Flair Pens Gift Tags
Fair pens are a favorite for many teachers. This is such an easy gift idea because all you need to do is buy a pack of flair pens, print the label, and attach it.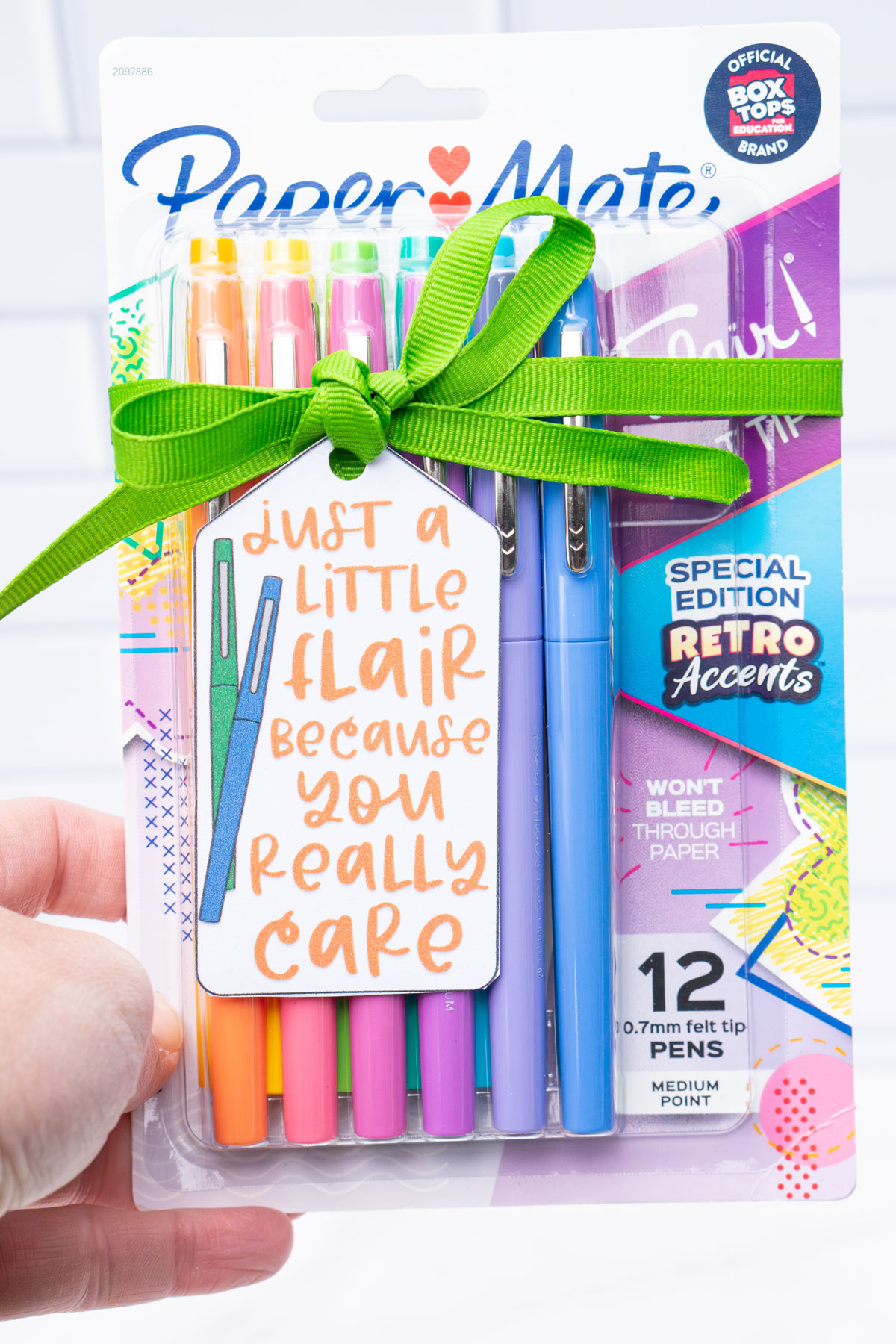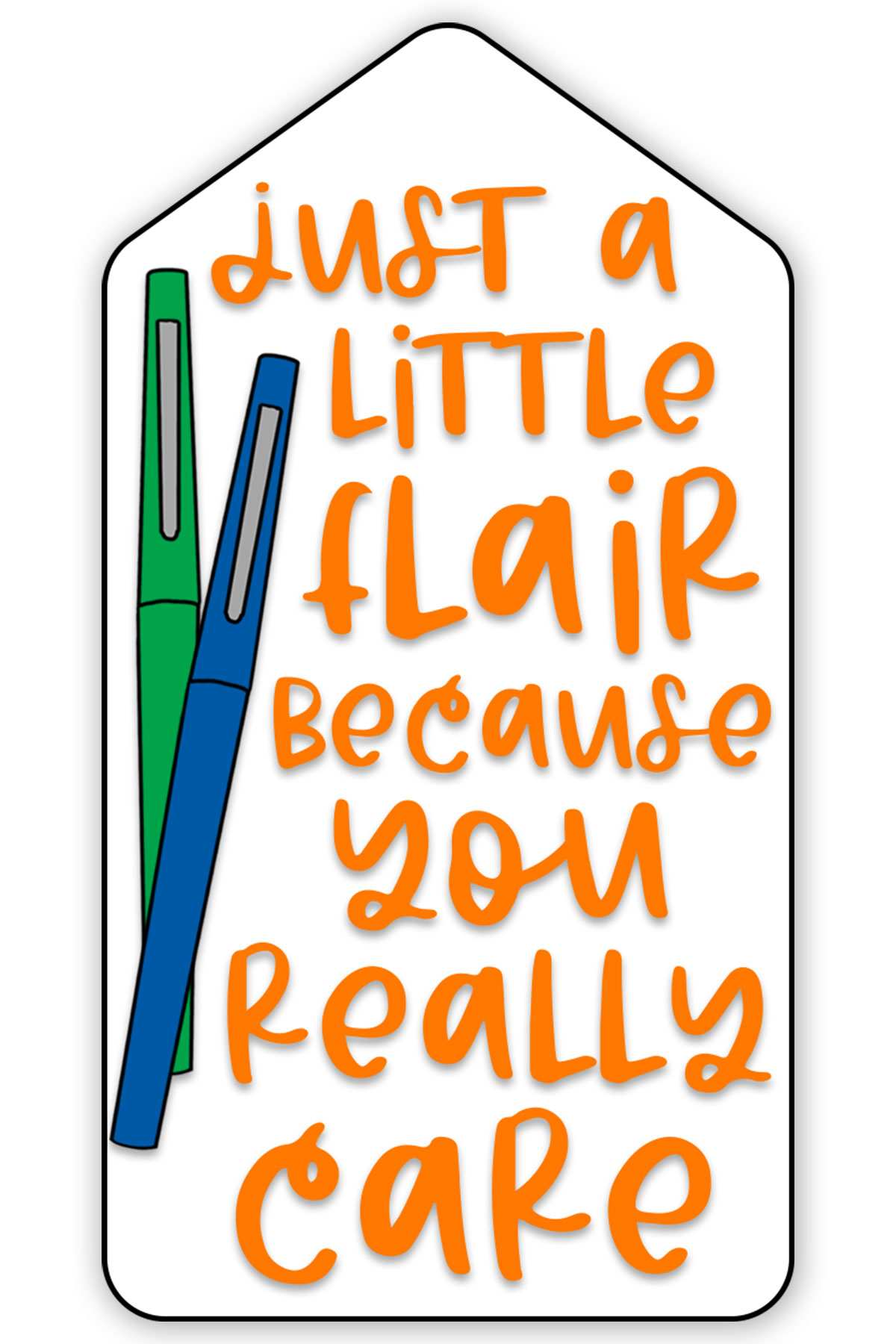 Nacho Average Teacher Gift Tag
Punny, right? I told you I loved my puns and this one is a favorite for sure. This is one of those creative ideas I totally saw someone else do first and knew I had to include it within my free set of tags. Just pair some tortilla chips with some salsa and queso and you've got a super quick gift that a lot of teachers would love.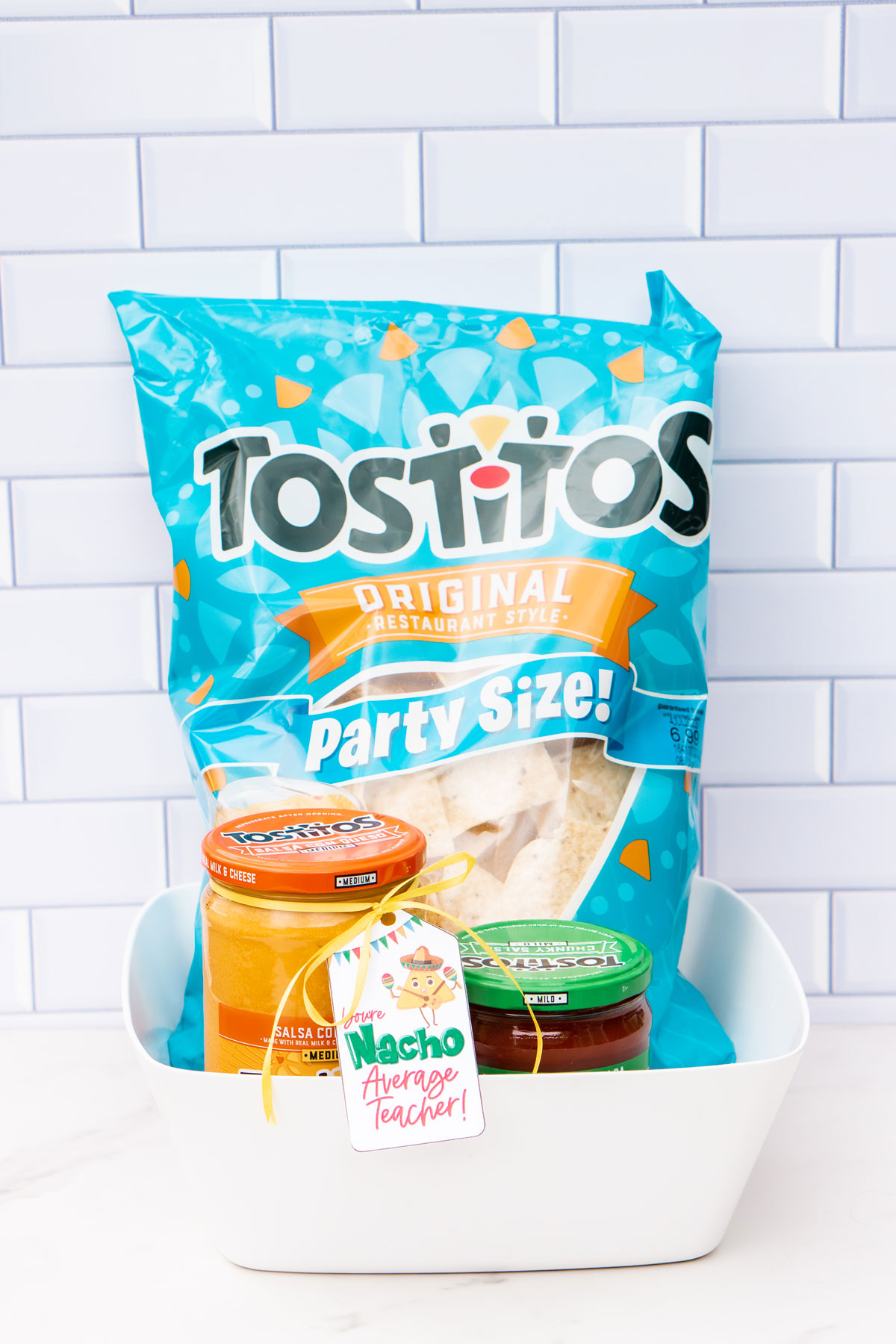 Bag of Chips Gift Tag
This is a great option for busy moms or to give out to all of the staff in a school. Just add the tag to any bag of chip and you're done.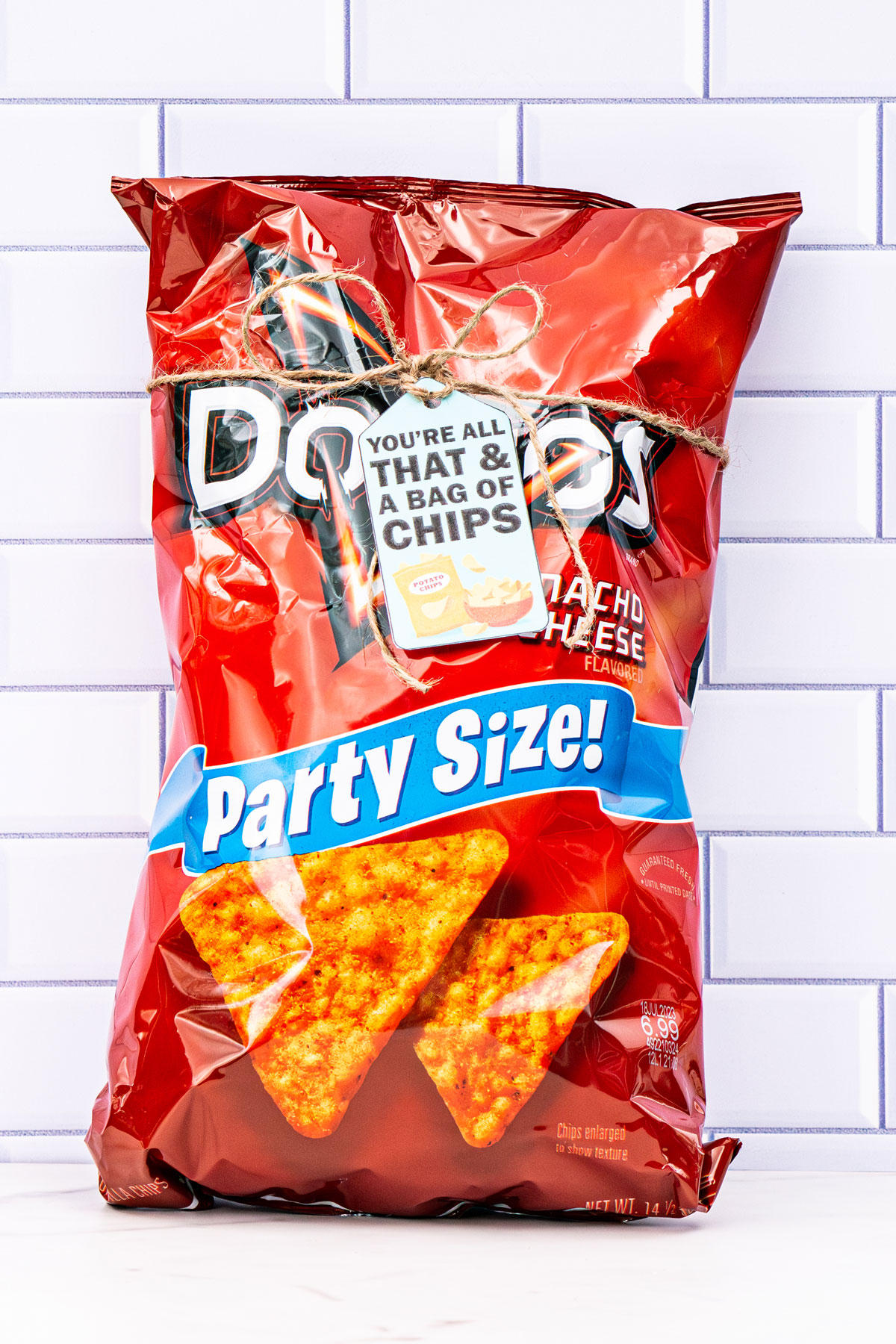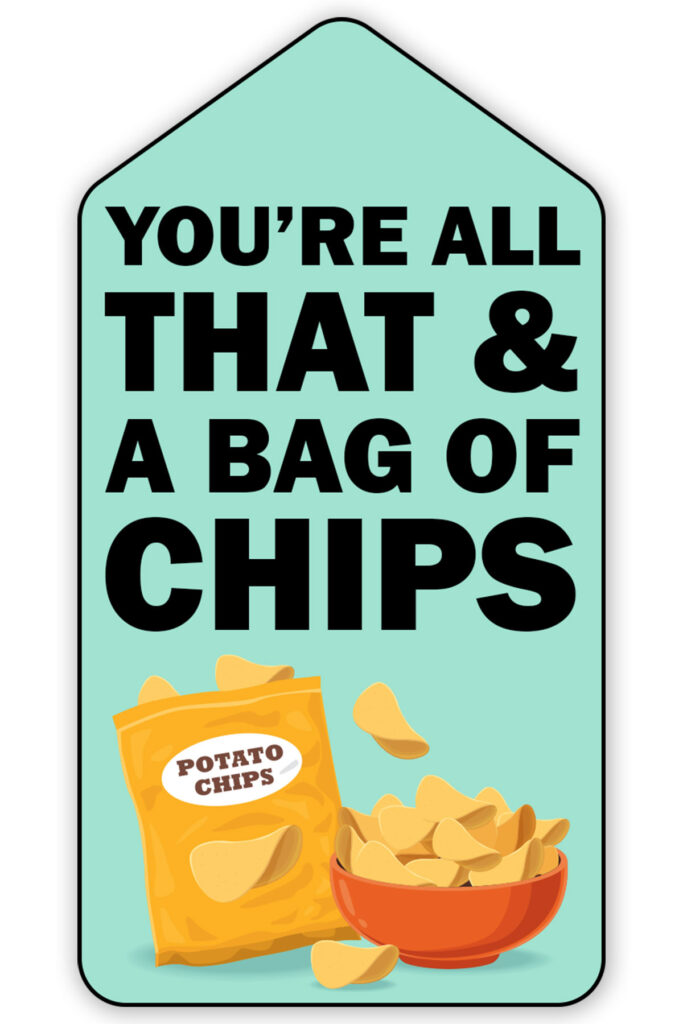 S'mores Gift Tag
Create a S'mores themed gift basket and tie on this tag. I love this gift for summertime for teachers with children because you're not just giving them a treat, you're giving them items they can use to make a memory with their own children.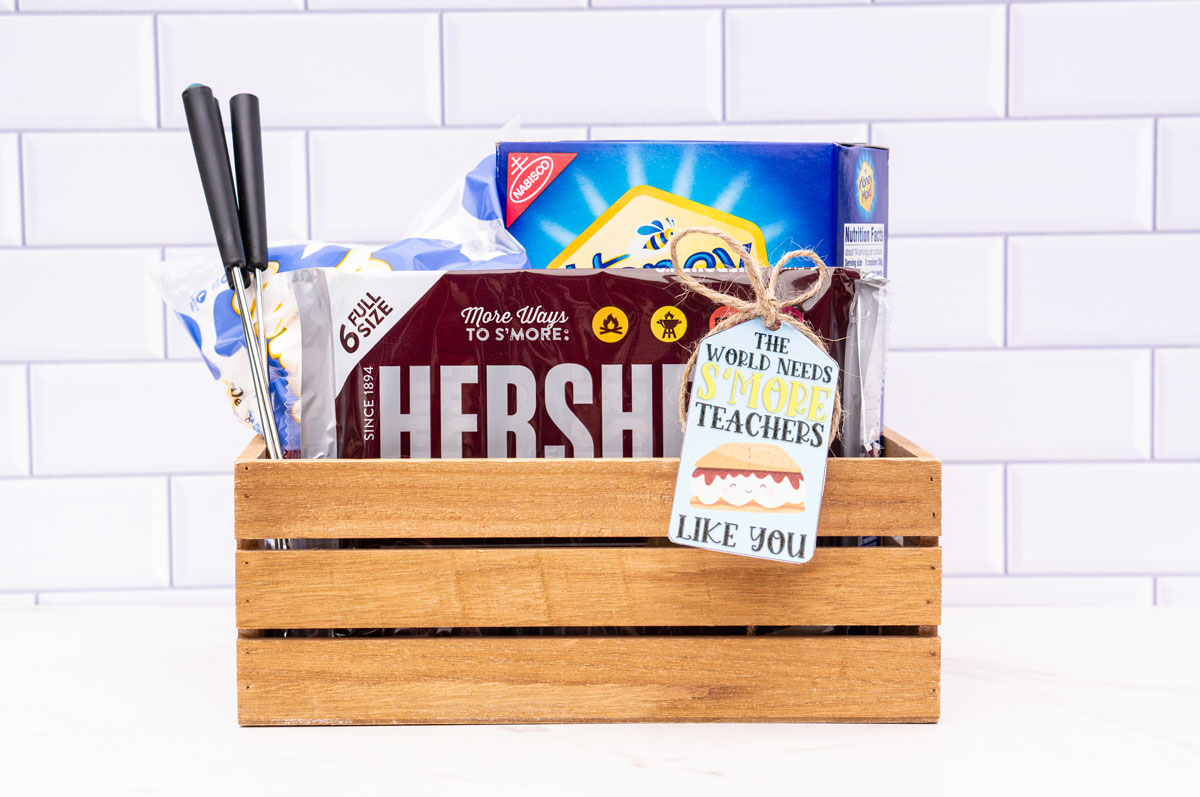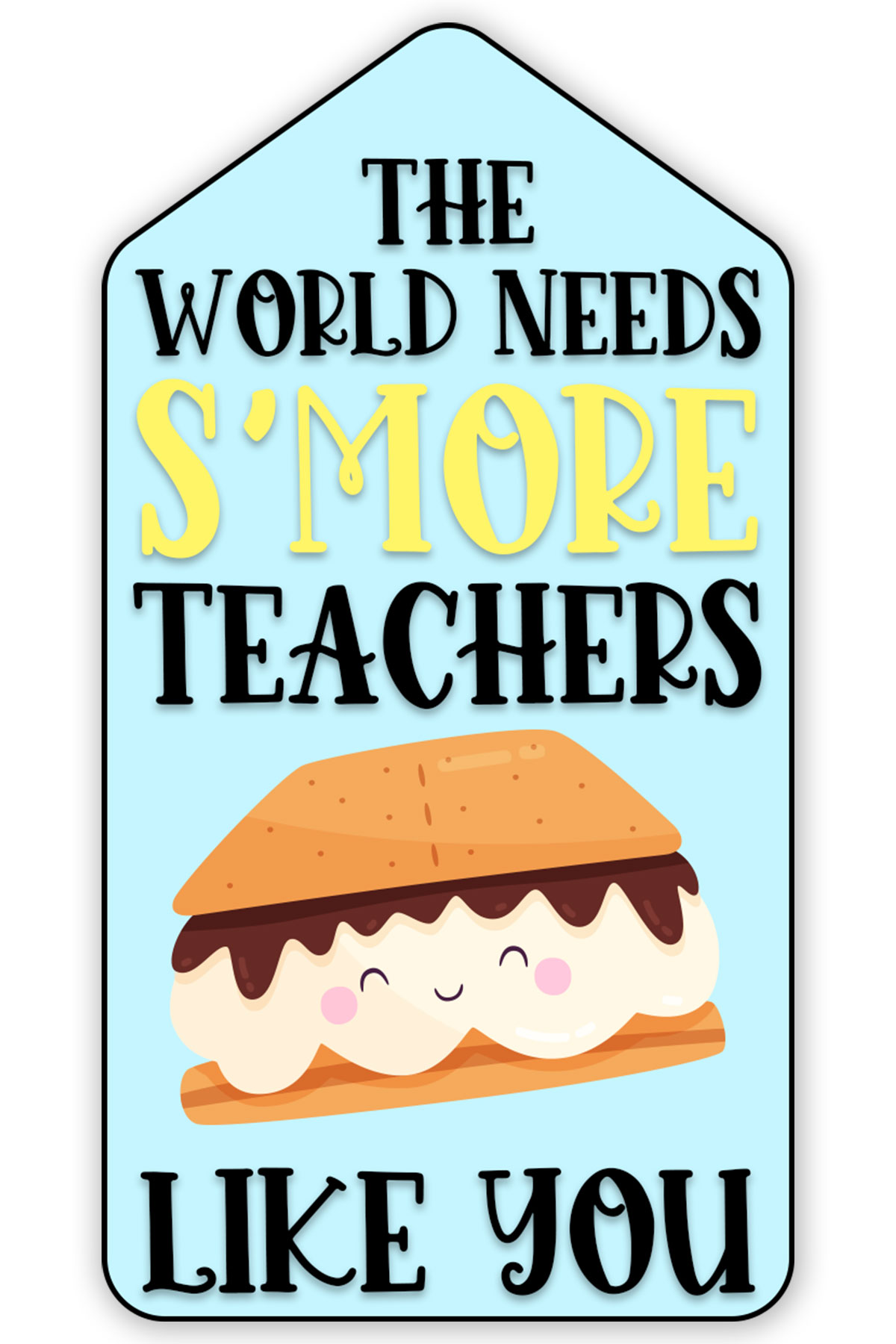 Starburst Gift Tag
What a fun teacher gift for a Starburst loving teacher? It's designed to match the label perfectly.
Later in the post, I'll show you an alternative where you put the Starburst in a jar instead of leaving them in their package.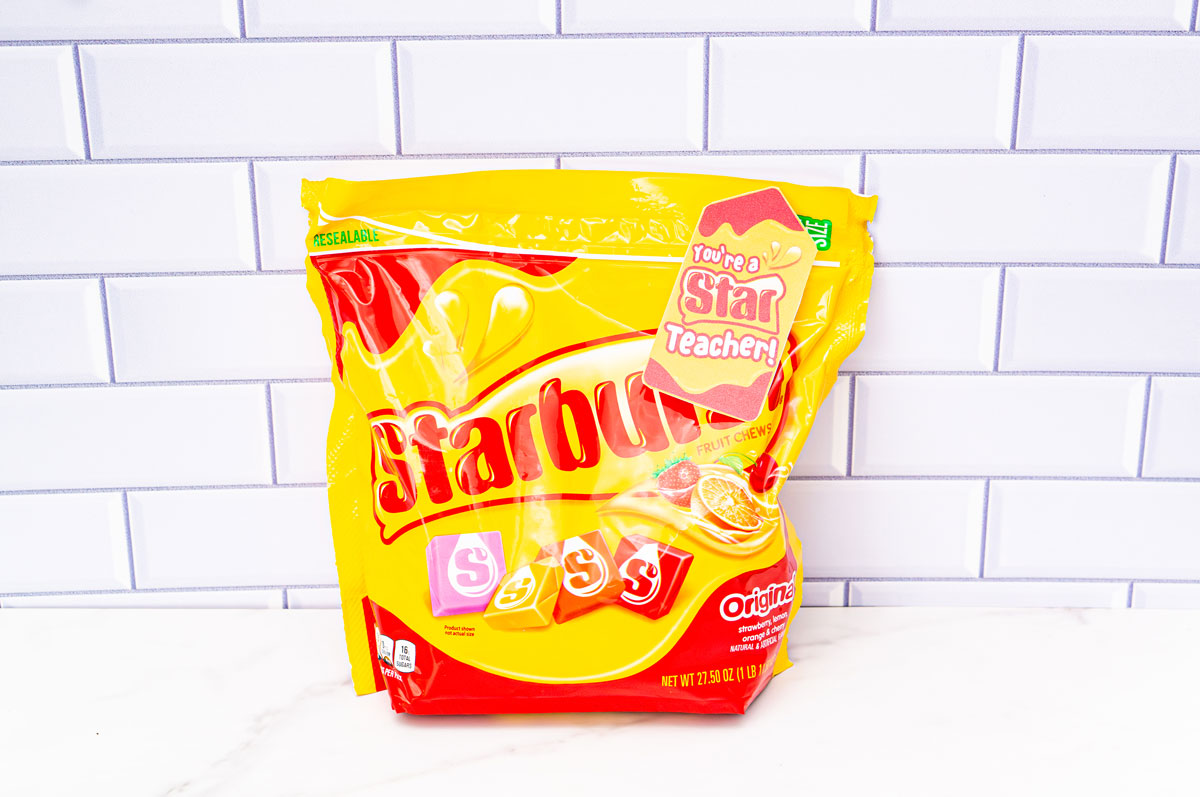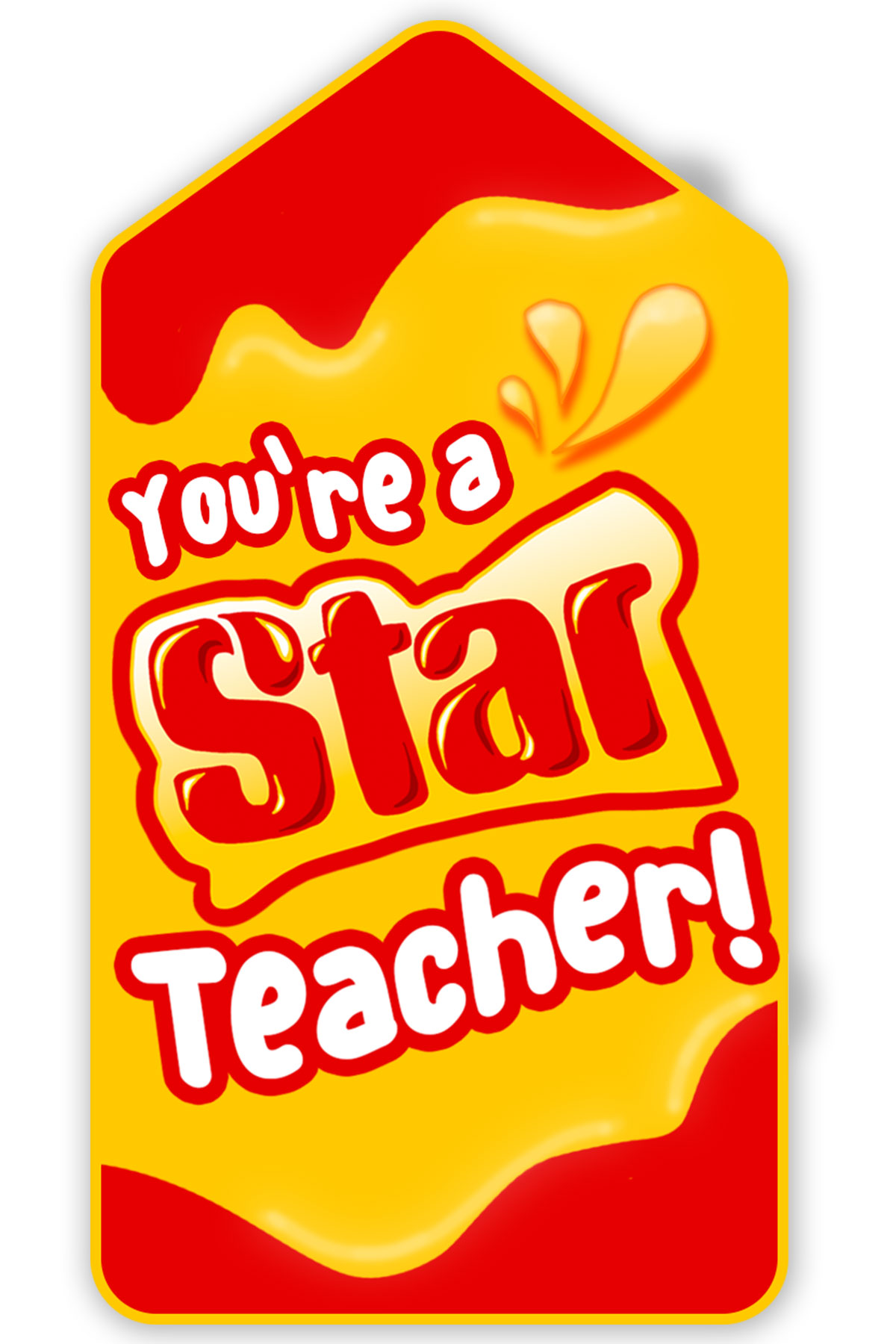 Book Gift Tag
So I have to admit, I have used this quote more than once on my site because I absolutely love it for teachers. Add the tag to a bin full of books or a single book. If you are looking for a folding card with this same quote, you can find it here or here.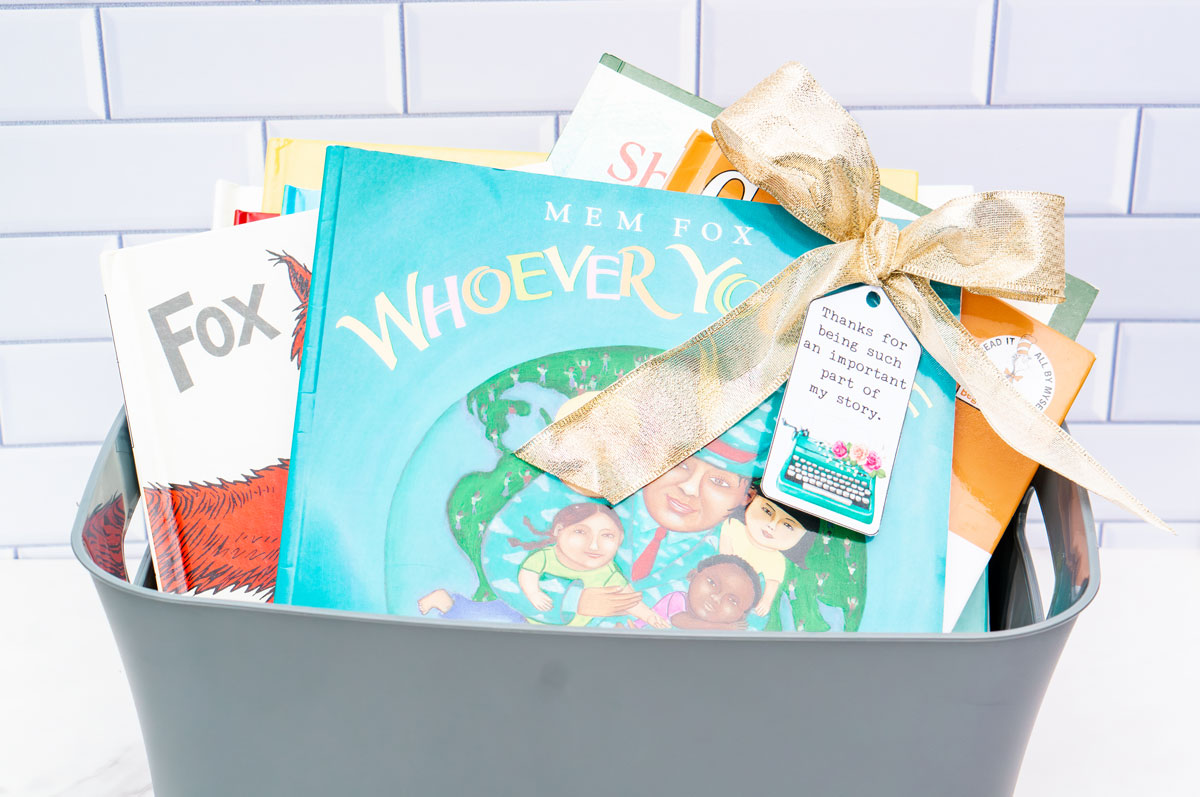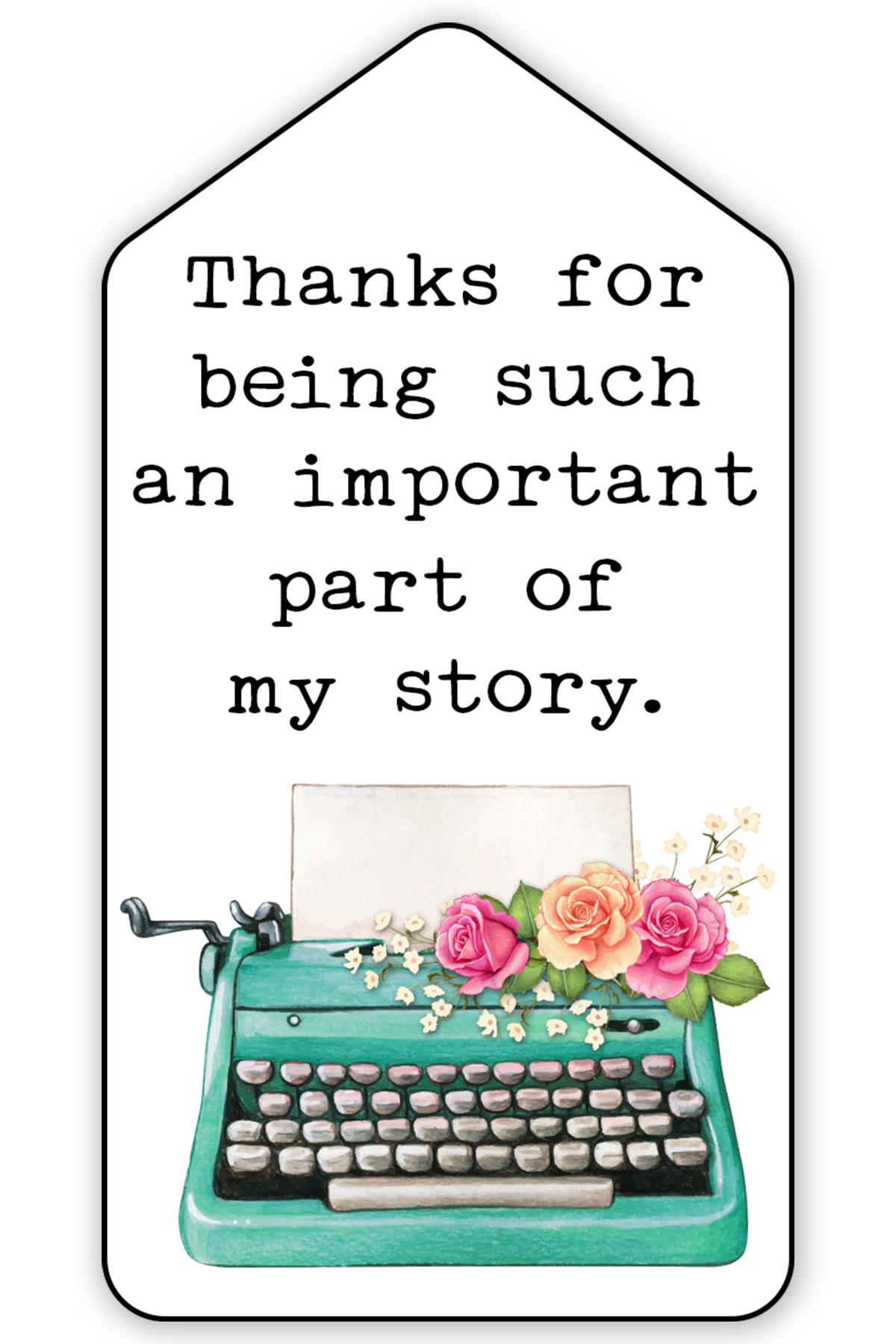 If you would prefer not to have the flowers, this second version of the tag is included.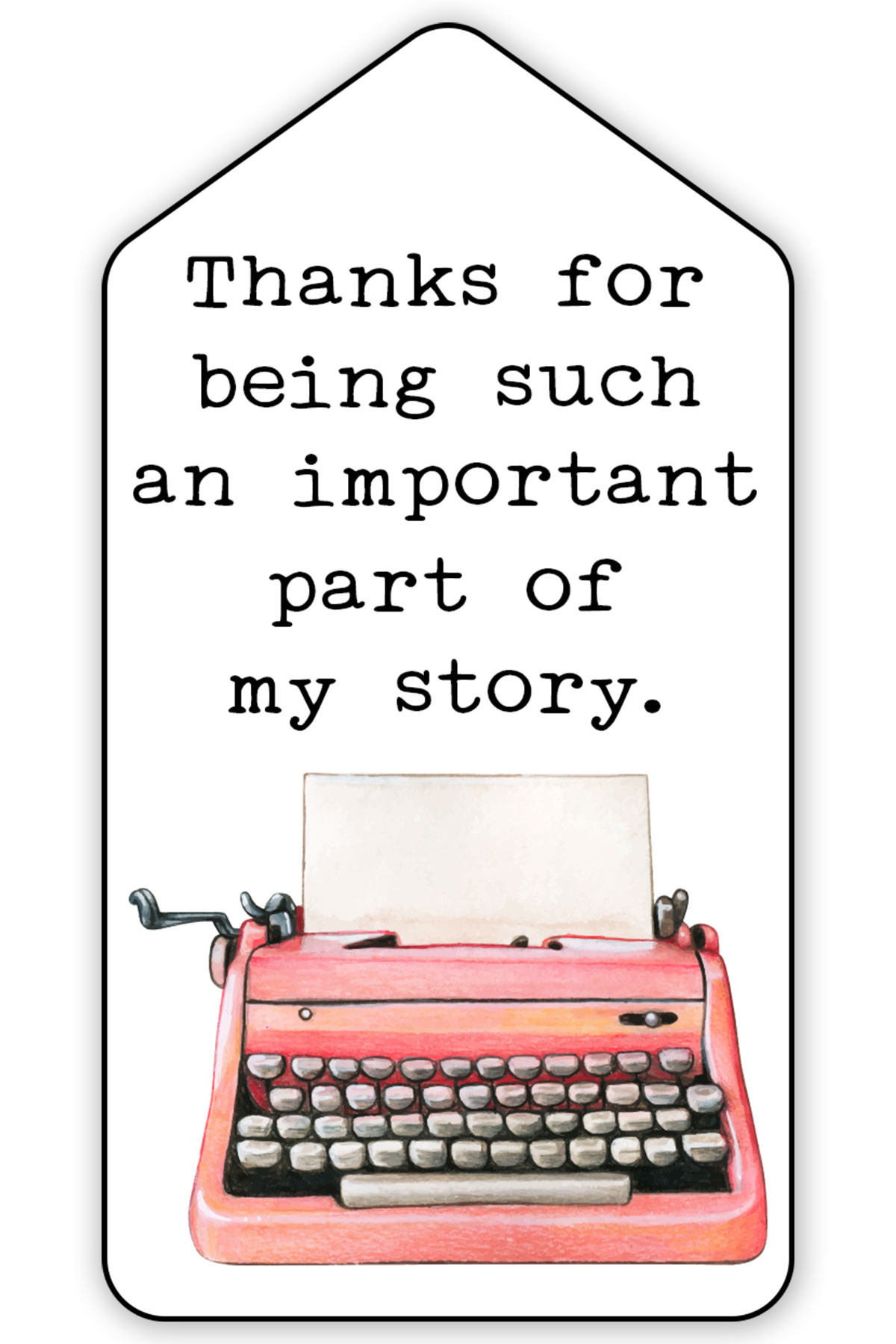 Donut Gift Tag
Add this tag to donuts or donut holes for a delish gift for your kid's teachers.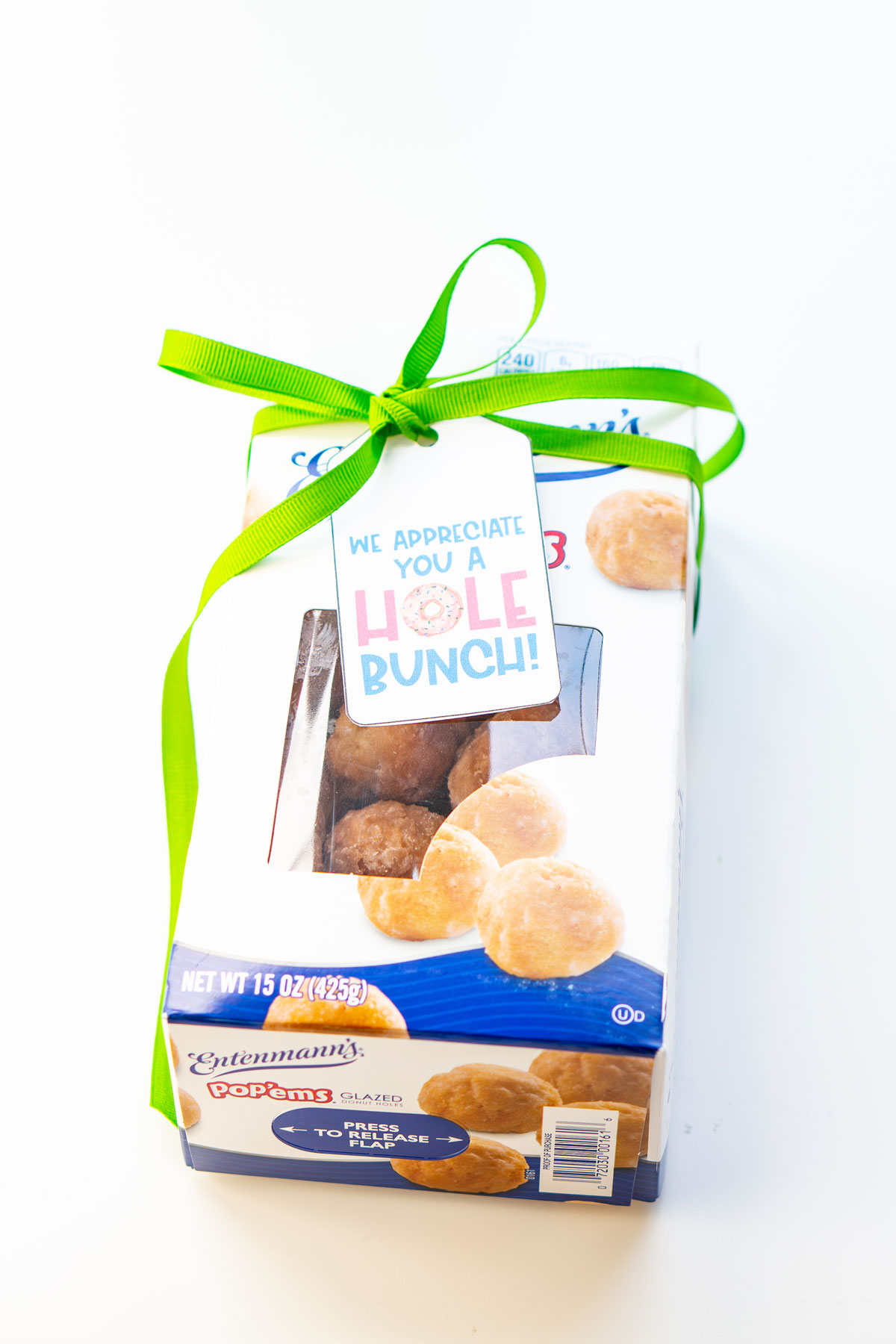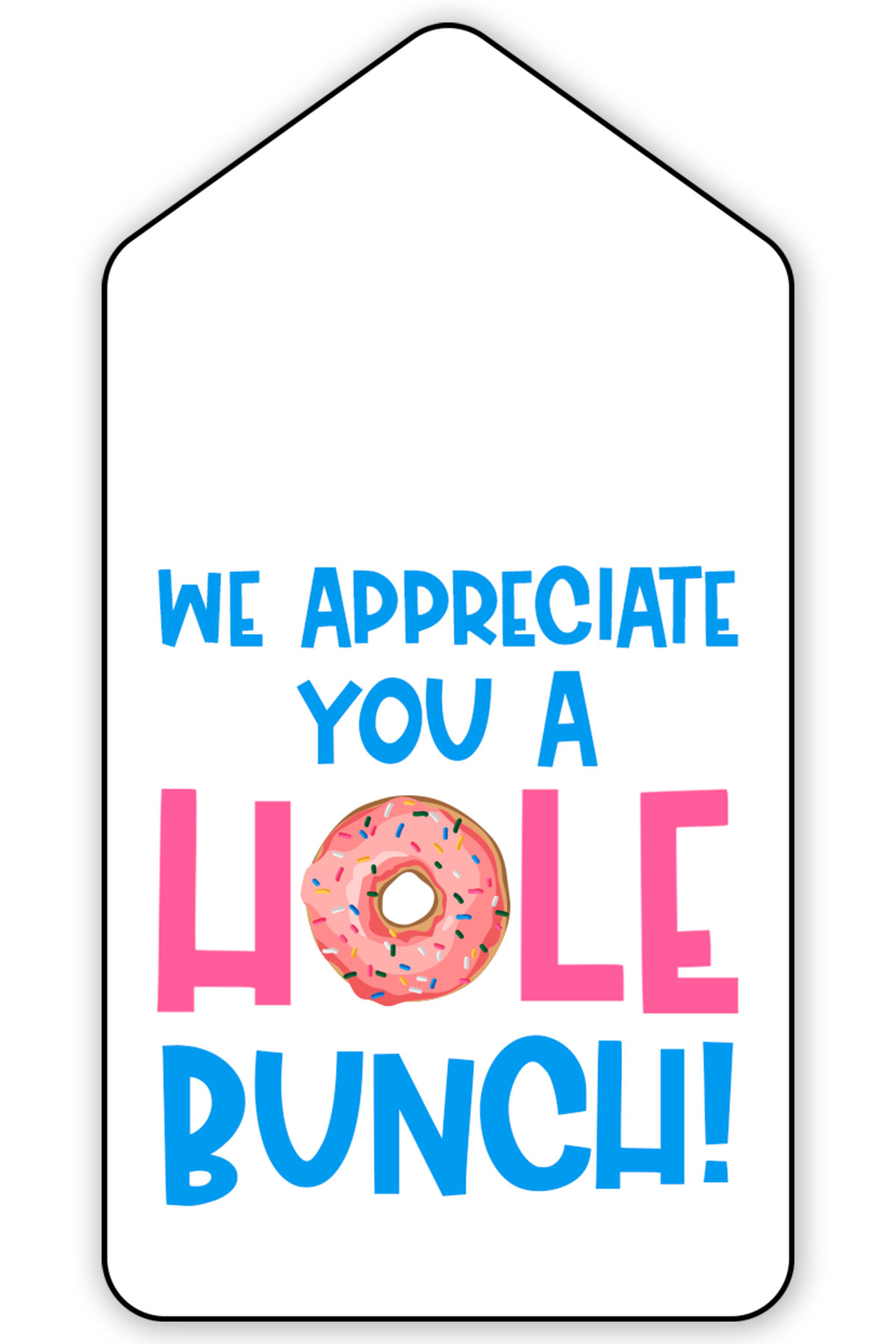 Mint Gift Tags
Mints are a the perfect gift you could give out to all of your staff because they are inexpensive and mints are actually great for productivity. You can add the tag to a bag of mints or put the mints in a jar for an extra special touch.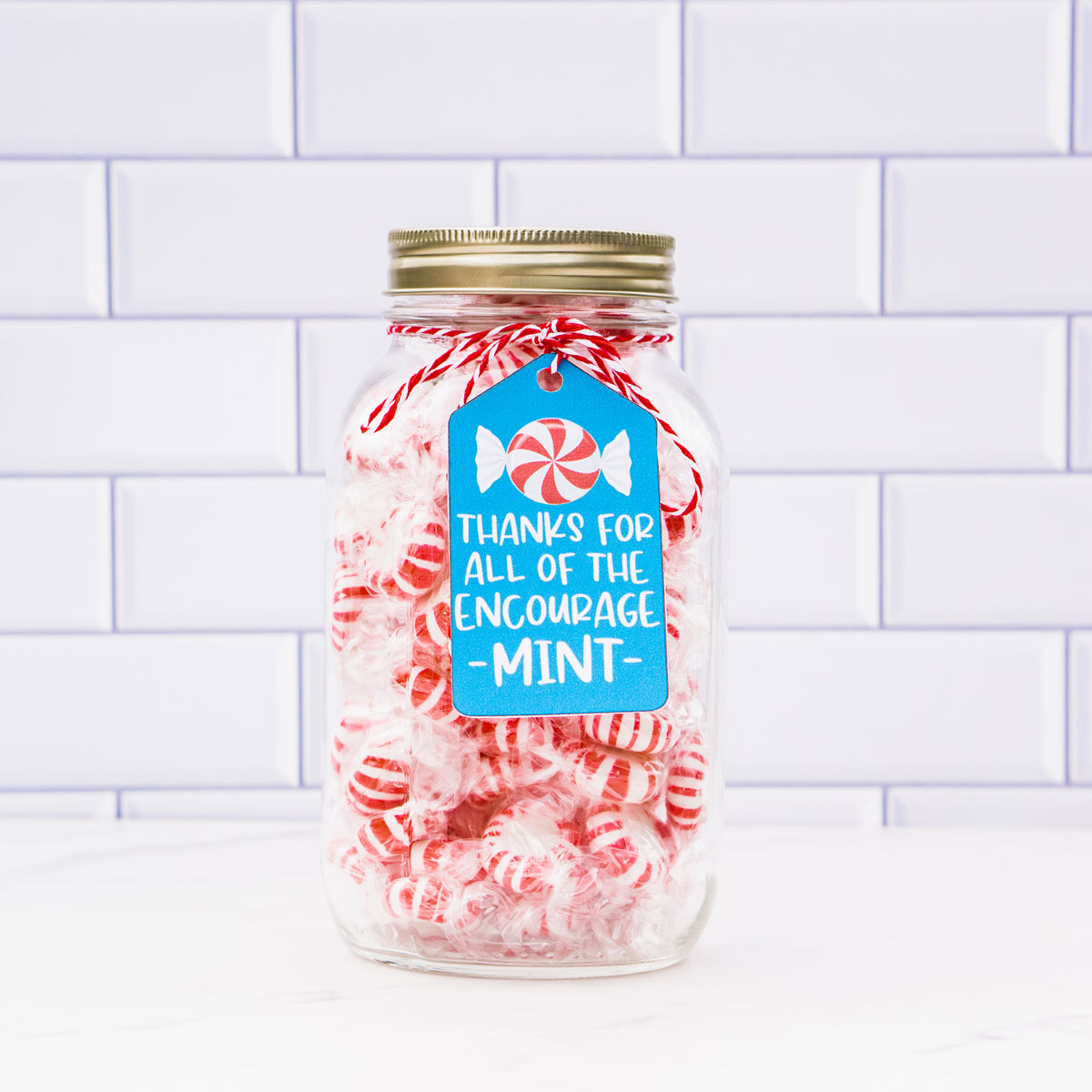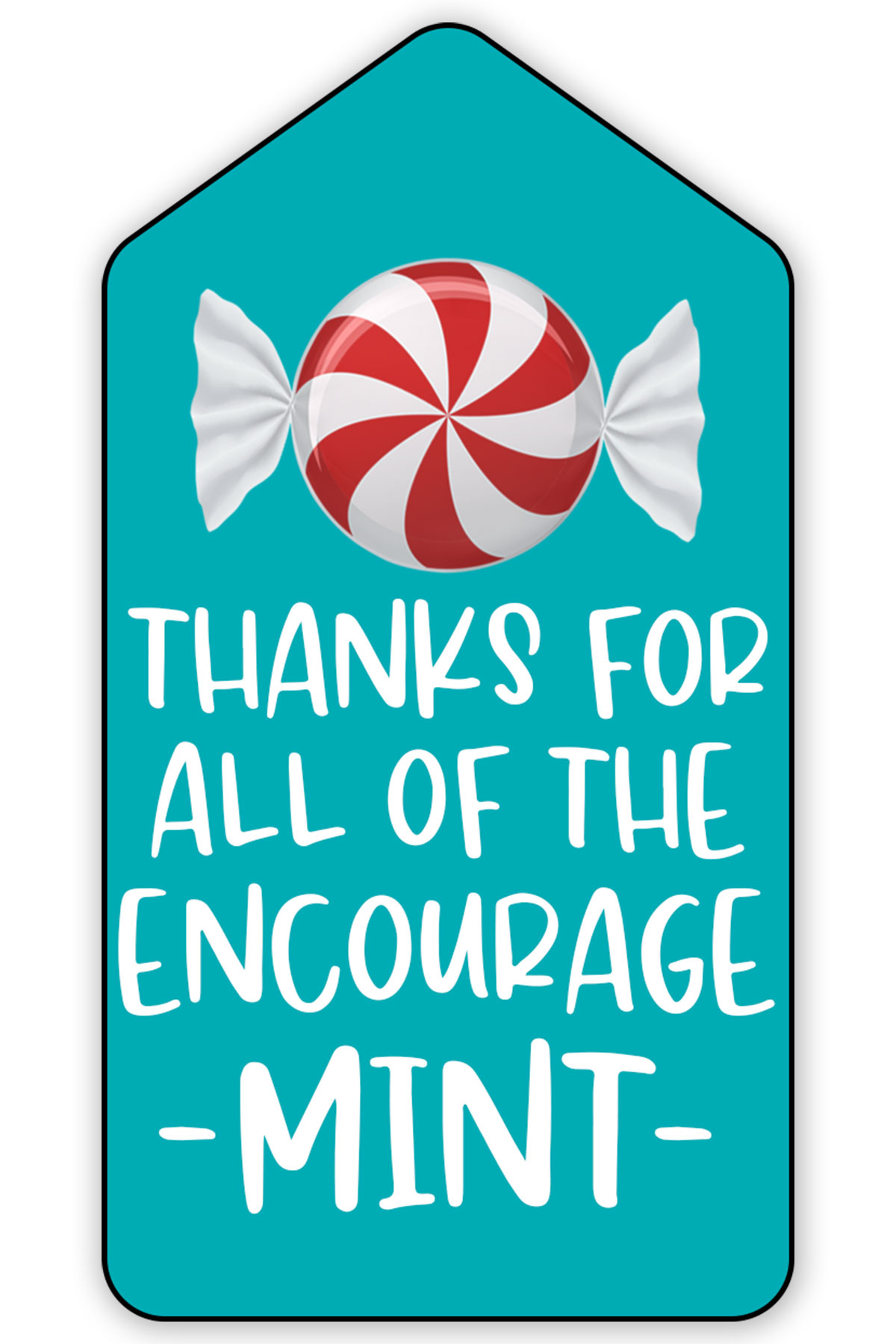 Popcorn Gift Tag
There are quite a few fun ways to use this free gift tag. You can add it to a bag of popcorn, a box of popcorn, a popcorn bowl full of popcorn and seasonings, or make a special gift basket with everything your teacher needs for an at-home movie night.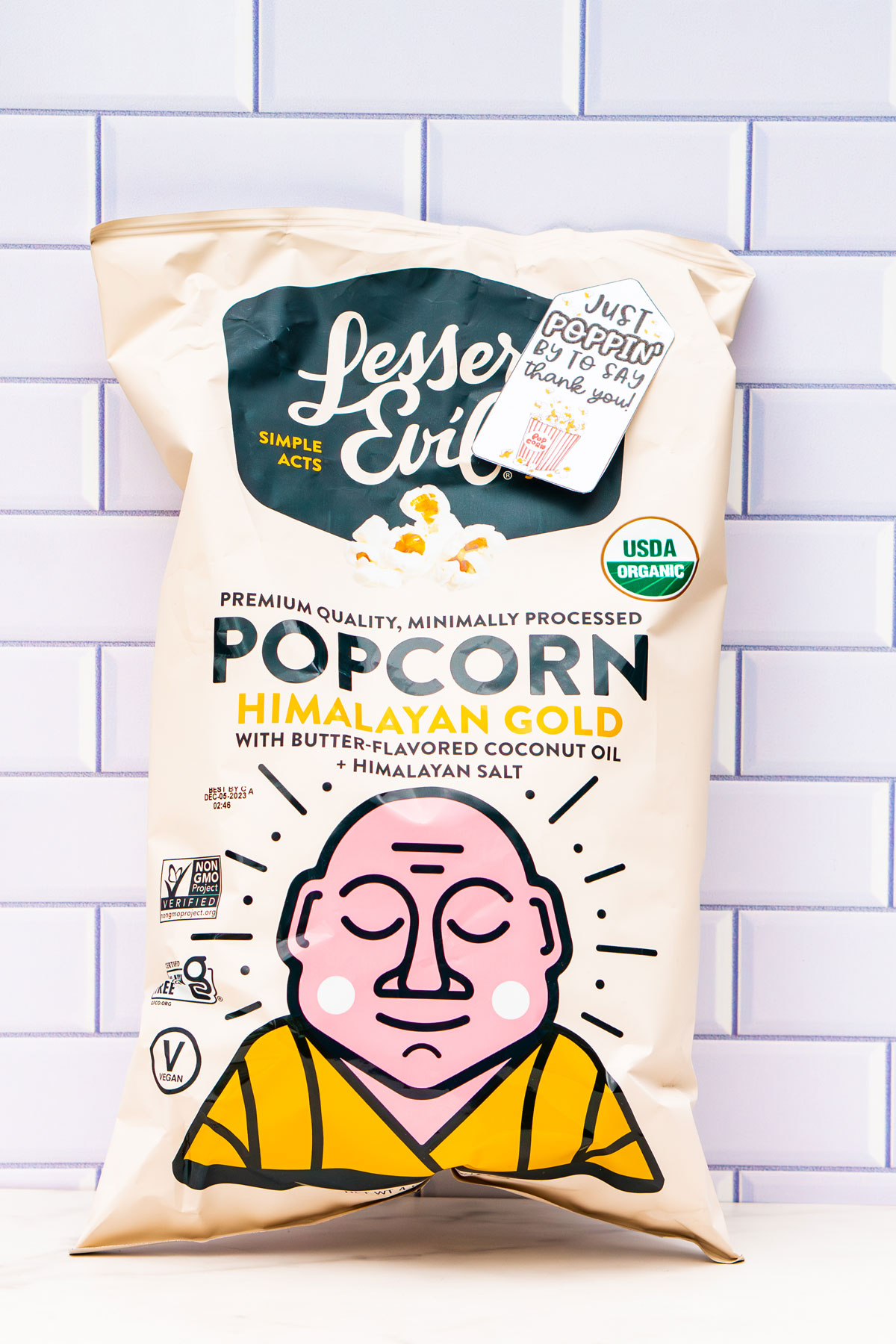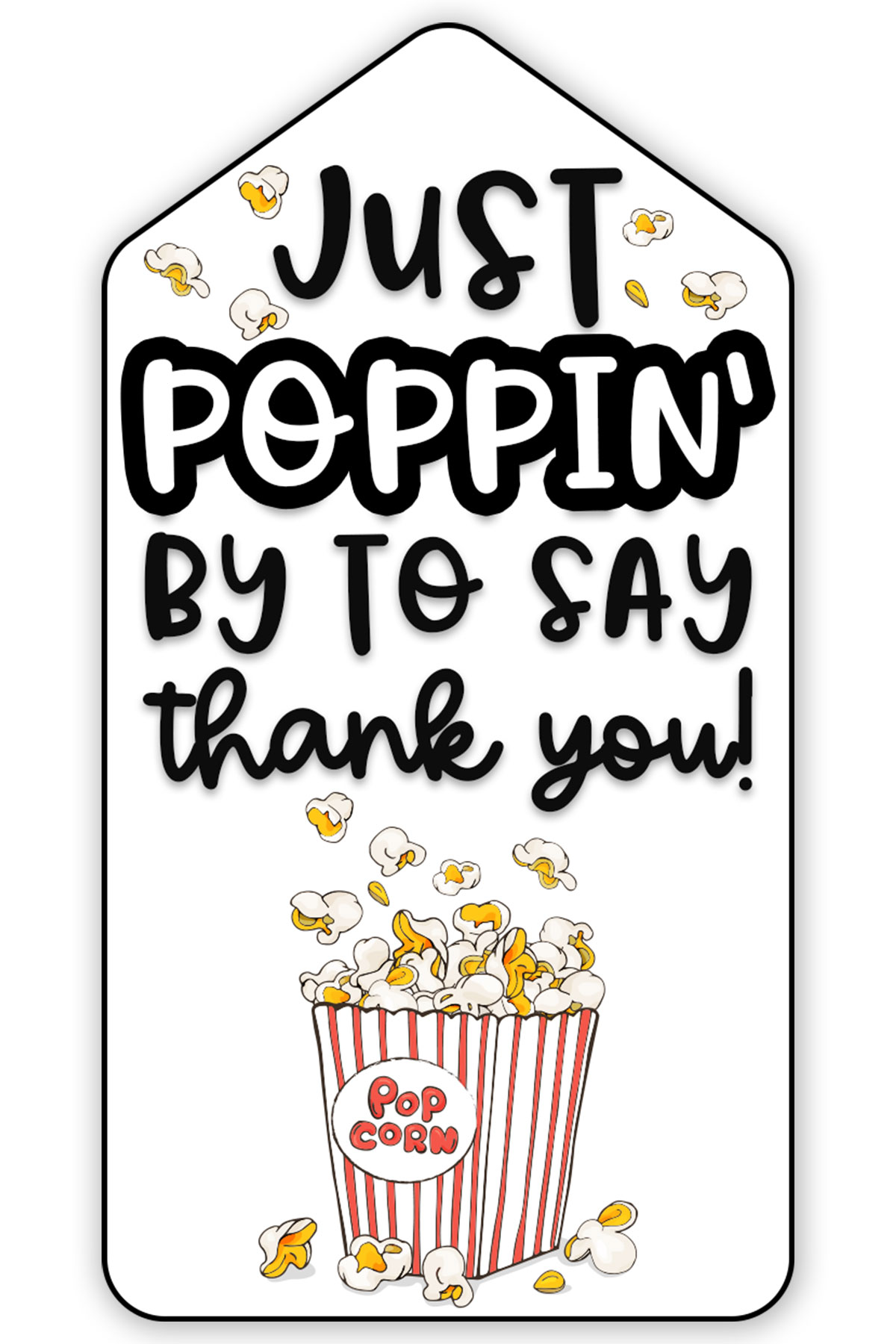 Apple Thank You Generic Gift Tag
Lastly, this tag is a generic tag that can be used for any gift. You can make a basket of school supplies (paper clips, hand sanitizer, fun pens, post its, etc), a gift card, homemade gift, etc.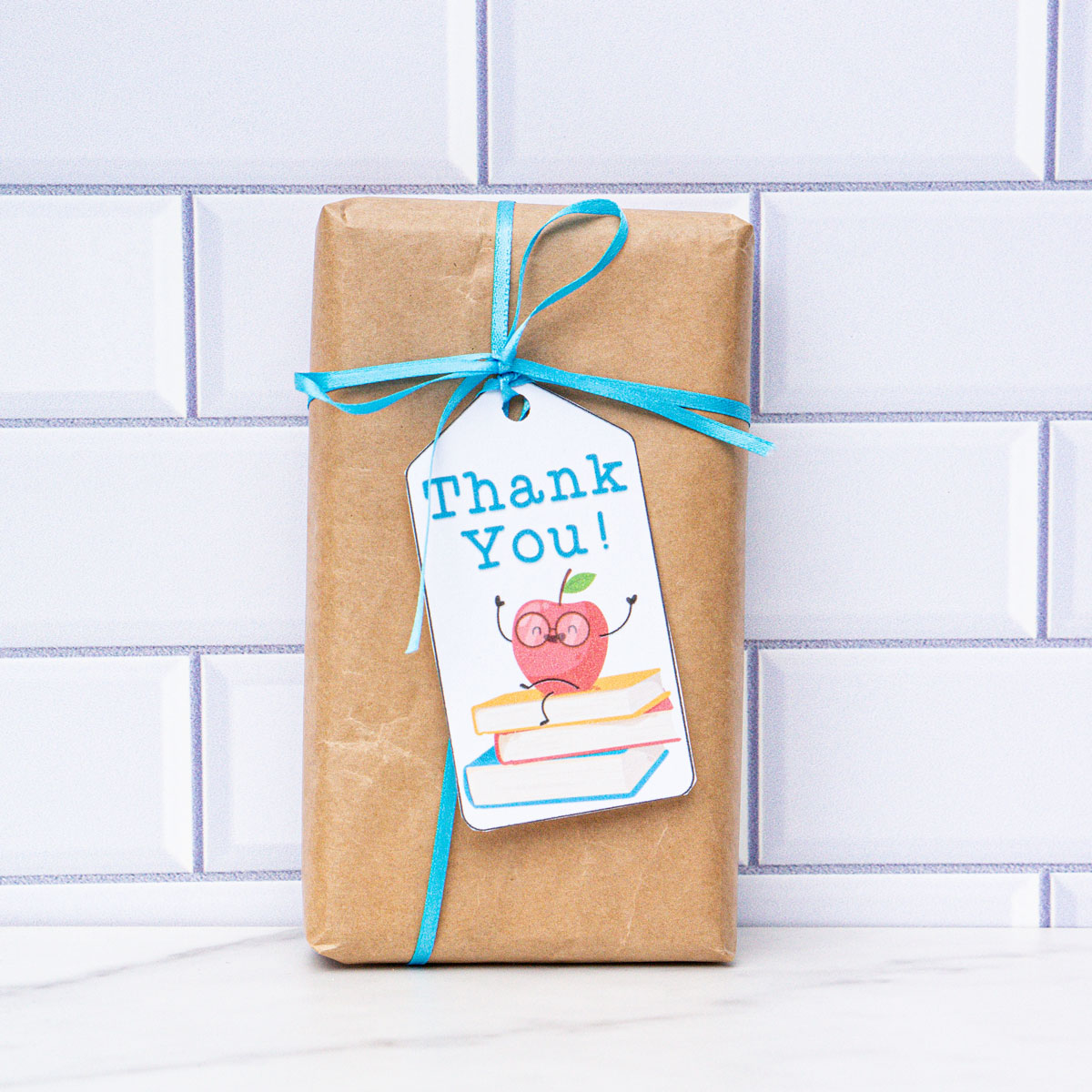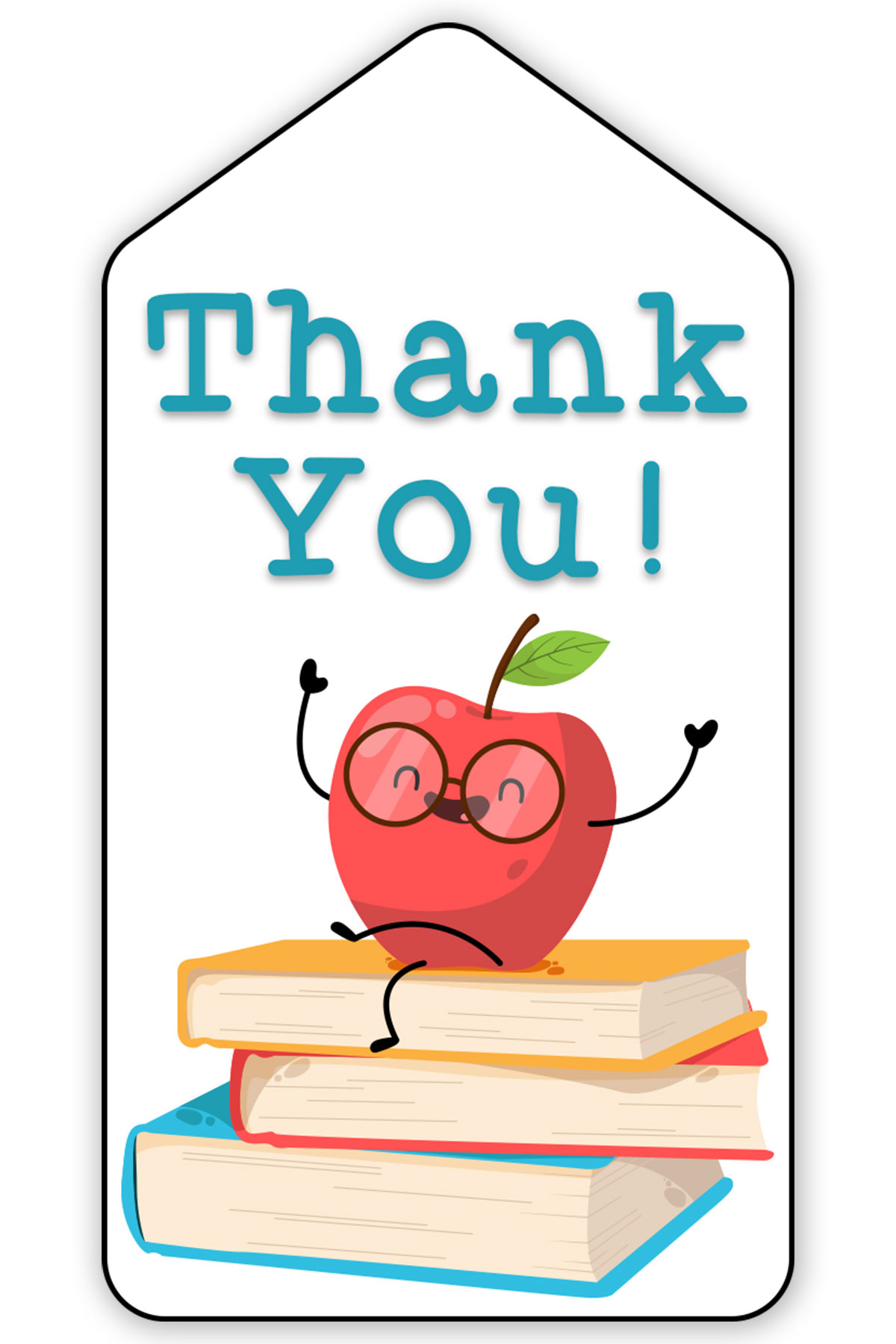 How Do you Download the Gift Tags?
To get the tags for free, you just have to be a FREE Mom Envy club member. When you're a member, you'll get the password to access all of Mom Envy's over 300 free printables!
You can subscribe to Mom Envy's free club here. Then, you can click here to access the free gift tags or you can download them at the end of this post by clicking the large click to download image.
​How Do You Attach the Tags?
You have 2 choices. You can hole punch the tag at the top and tie it onto a string or ribbon. Or, you can just add some tape to the back and attach it to the gift.
​Add a Note on the Back
If you would like to have your children add sweet notes on the backs, make sure to attach the tag with a string or ribbon instead of taping it.
You can also have your child add the teacher's name and sign their name on the tag (if there is room – some designs there is more room than others). Here is an example of the name added to the donut tag.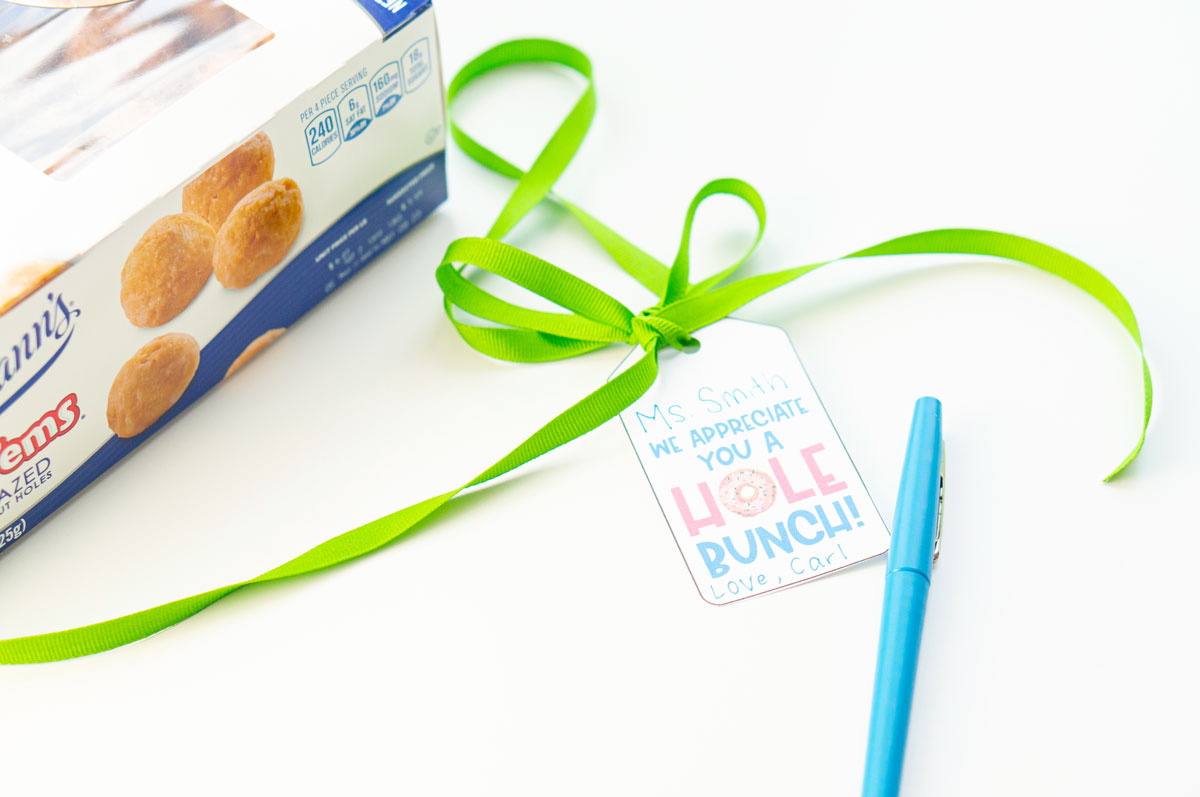 What Type of Paper Should I use for the Gift Tags?
For the best quality possible, I suggest using white card stock to print your tags on.
Where Can I Print the Tags?
You can print the free teacher gift tags at home on a home printer (I suggest the HP ink program to save SO much money on ink). Or, you can send them to a local print shop to have them printed.
What File Types are Included?
You'll get a single page printable pdf for each of the gift tags included in the set.
Use a Mason Jar to add an Extra Special Touch
Instead of leaving small candy or other small items in their original packaging, take them out and place them in a mason jar. Then, just tie a bow around the jar and add the tag. The extra step will make your gift look adorable and special.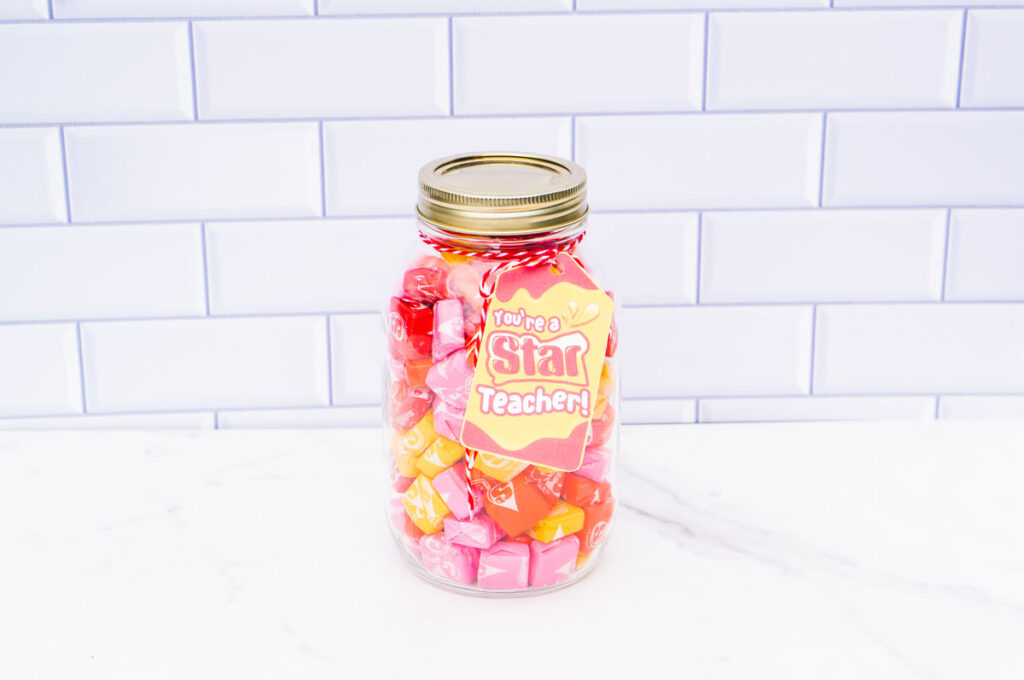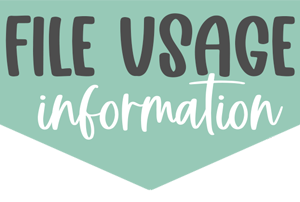 Copyright MOM ENVY 2023. Files may be used for personal use only. No commercial use of the file is available. Files may not be directly shared within Facebook groups, on websites, or in any other way. If using for educational purposes, the file may be printed and copied for classroom use. A link to the web page to download the files may be shared as well as one photo. The file may not be printed and then sold (including local yard sale sites and groups or at local craft fairs). The images may not be used in any way other than to share with a link to the original web page.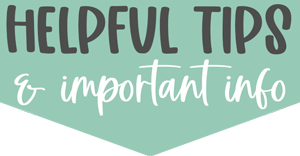 Tips for Downloading the Free Files
Below is an arrow that says Download Below. Underneath that is a large image that says Click to Download the free files.
Once you click that, you will enter the members-only password and click submit.
The page will reload the same image and now when you click the image that says Click to Download the free files, it will open the Google Drive folder containing the free files.
How do you get a members-only password?

You can sign up here to be a free Mom Envy club member.
The password will be sent to you within a few minutes. Make sure to check your spam and/or junk folder if you don't see it.
Already a member but forgot the password? Don't sign up again. Look at the end of any newsletter from me for the free password or just send me an e-mail here: [email protected]