Use this Thanksgiving word search printable to entertain your kids this Thanksgiving season. Whether you are a parent, teacher, day care provider, room parent, grandparent, etc. this is a quick and easy printable game to entertain kids of any age.
It's the perfect activity to put at each child's place at Thanksgiving dinner. Or, use it during the long road trip to Grandma's house. If you're a teacher – you could use it as a fun classroom activity.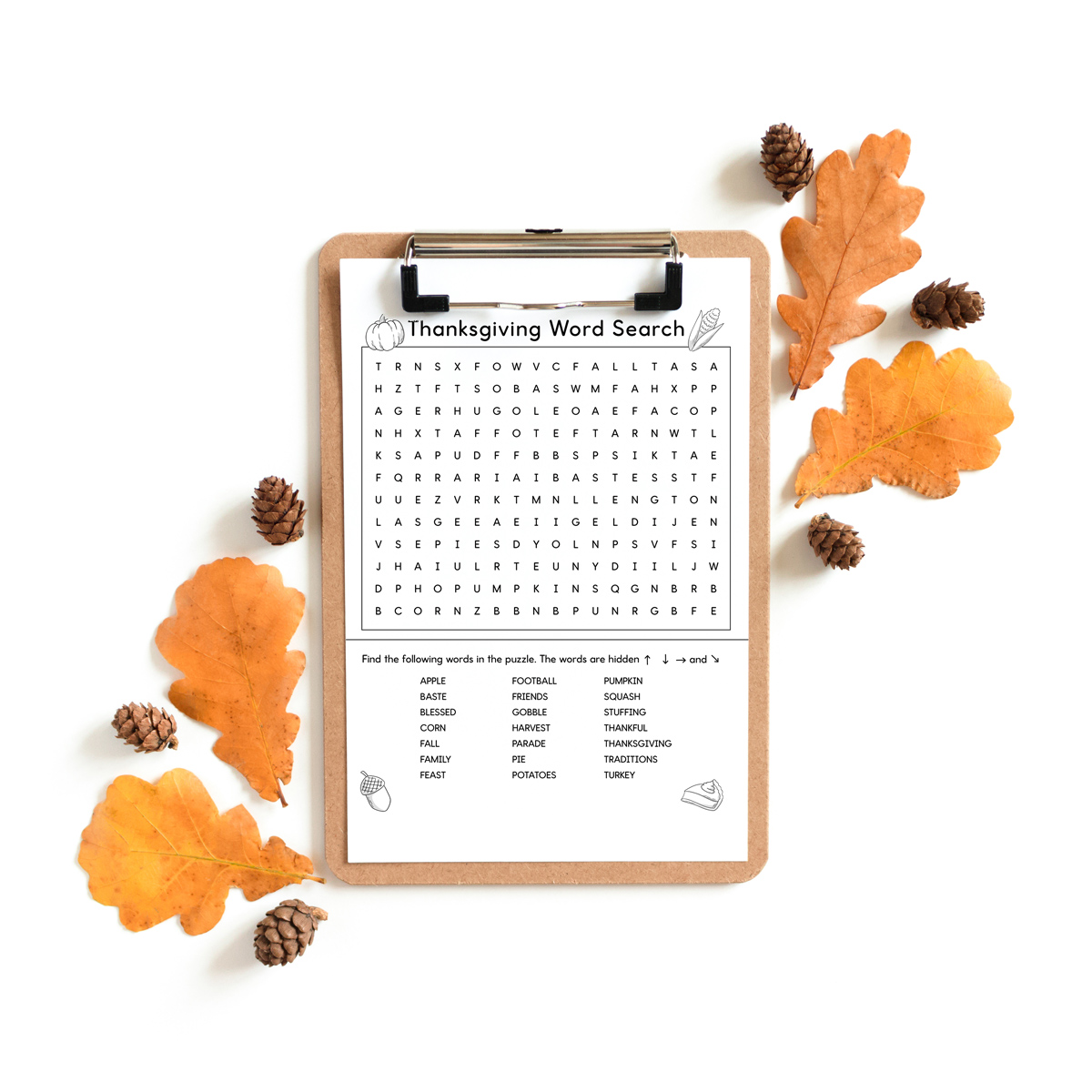 This free printable Thanksgiving word search includes all Thanksgiving words and cute Thanksgiving clip art. It's a fun activity to help celebrate Thanksgiving or provide some downtime for children (or even adults).
Word search games are more than just a busy activity. Often times that is what they are thought of – especially in the classroom.
But in reality, they offer surprising benefits. They help with letter and word recognition, spelling skills, noticing letter patterns, vocabulary, reducing screen time, problem solving skills, and they keep your brain active. Word search puzzles can even be a great way for children to socialize with each other as they work together to find hidden words.
Unlike crossword puzzles, word searches can be performed by younger kids. Included in this set of Thanksgiving word search puzzles are 3 levels, including one meant for little kids. Not every Thanksgiving game can be played by older kids and younger kids together – but by printing the various levels included, you can have all kids working on the same type of Thanksgiving activity.
If you're a teacher, this is a great activity to have printed and ready during the holiday season. If you're preparing early, you may even have time to send it to your school system's print shop (if you have one). Or, if you have a classroom interactive whiteboard, you could make it a class activity and have children come up to the screen to circle words on the board.
There are so many reasons as a teacher that you could use this Thanksgiving word find. If you have some downtime, indoor recess, harvest party, need some quiet time, or you have an unexpected sick day (gotta love that cold and flu season), using a printable word search puzzle could be the perfect way to keep kids active and quiet.
If you're a parent, it's a great option for a quick activity during Thanksgiving break. Or, as stated above, to use while traveling. Print off some coloring pages, this word search, and other Thanksgiving printables to create a mini packet of activities to provide a non-screen option while traveling. You could also print them off to use as an activity on Thanksgiving day for all of the children.
As you near Thanksgiving, things can get a bit hectic in the classroom or at home. Word searches can be a fun way to keep kids of all ages entertained. Plus, it will give you a bit of quiet time, too.
What is Included in the Set of Thanksgiving Word Searches?
3 word search puzzles come in this set in varying difficulties – easy, medium, and hard.
Here is what the easy Thanksgiving word search looks like.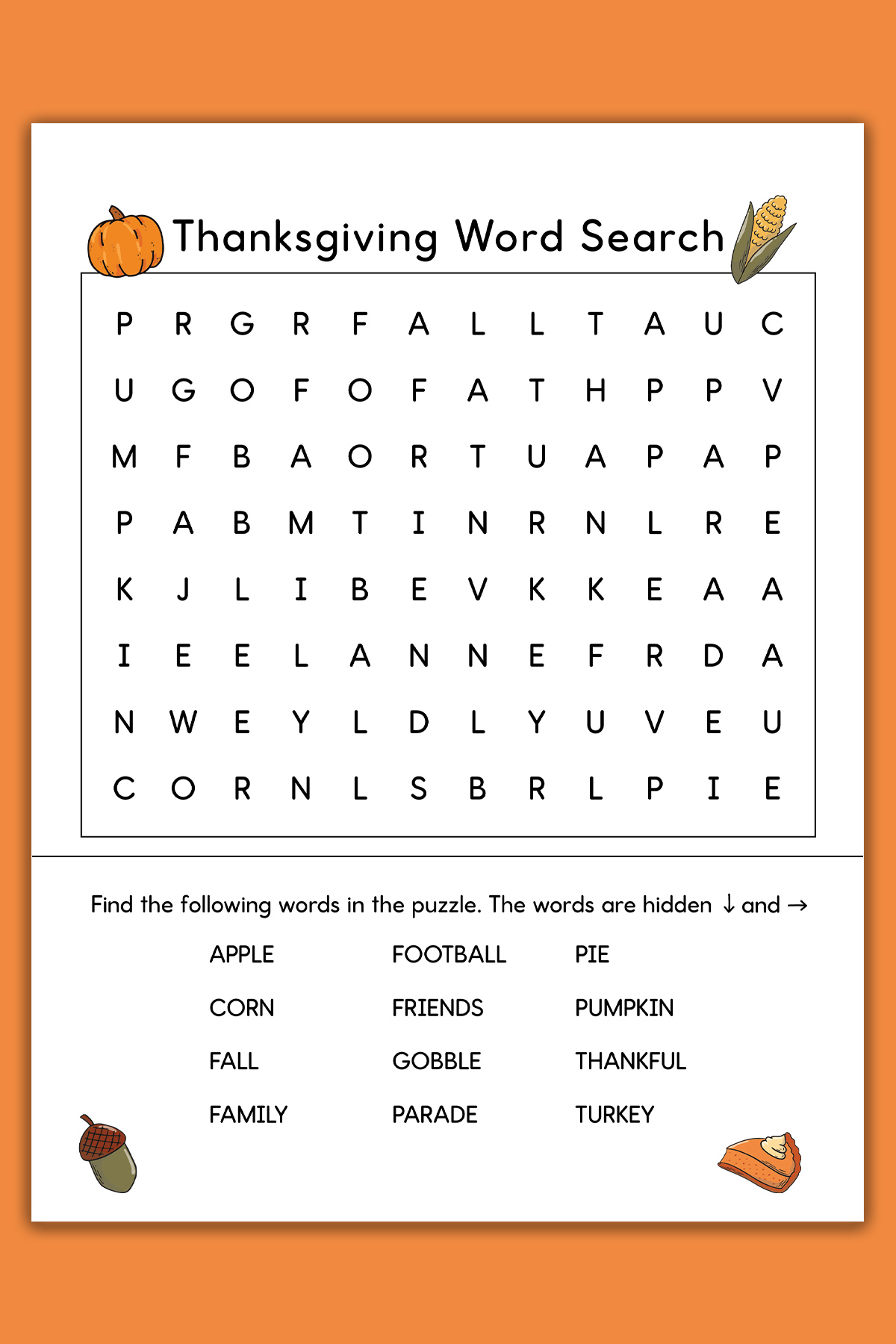 This is what the medium level word search looks like.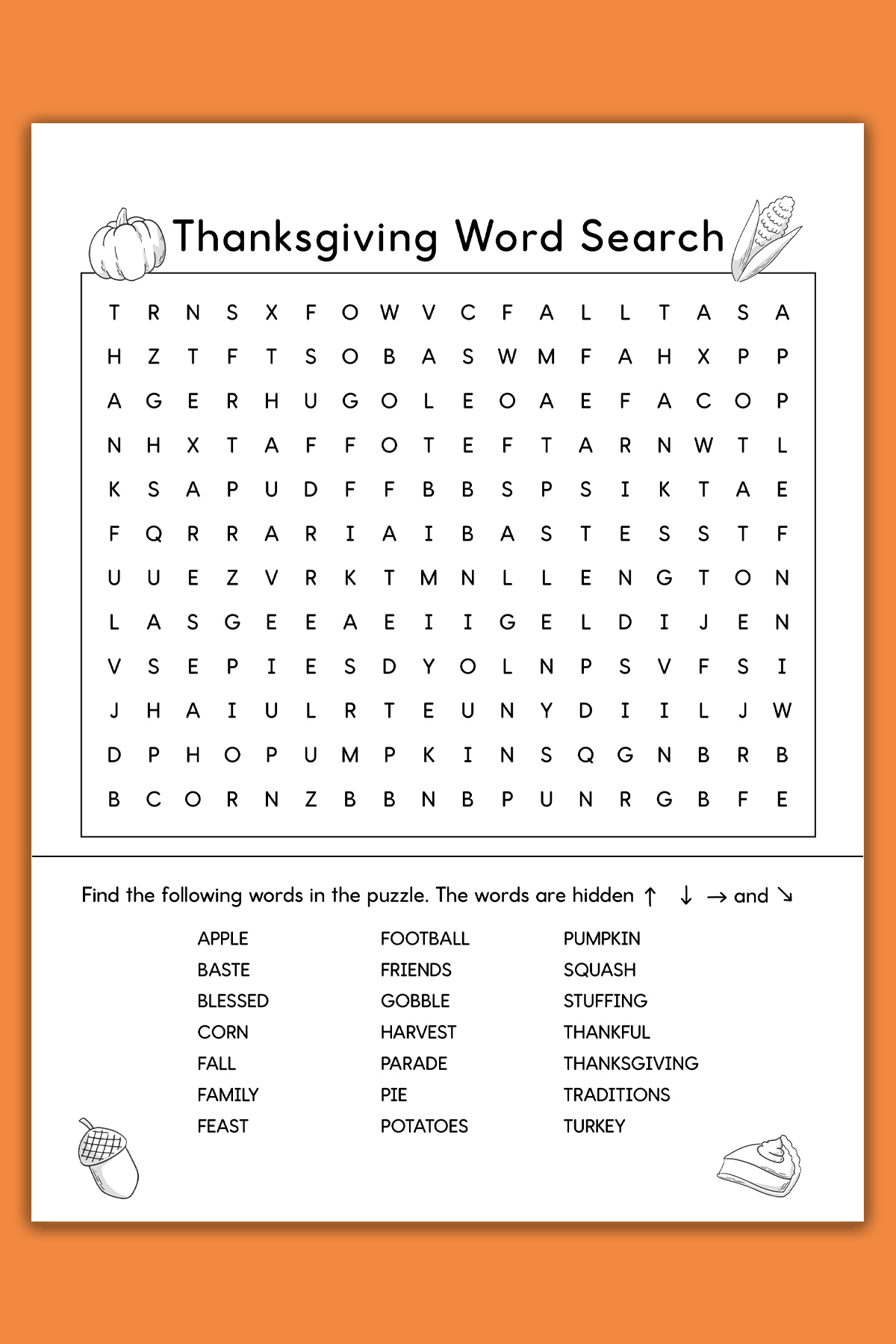 Finally, this is what the hardest word search level looks like.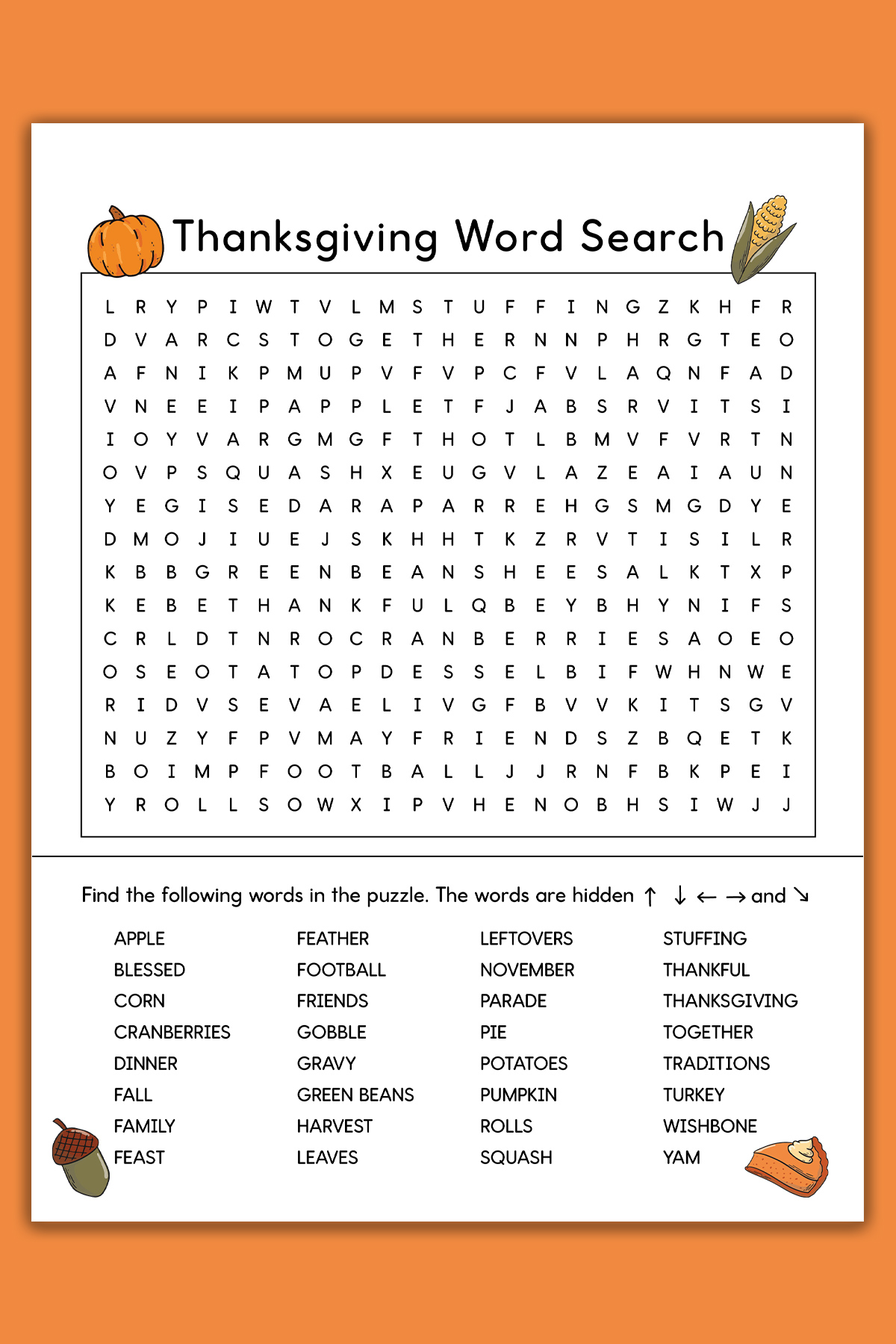 What Age is Each Level Meant for?
The easy level is great for younger children – kindergarten to 1st grade age. The medium level is for kids ages 2nd grade to 4th grade. And the hard level is for older children, 3rd grade and up.
Is an Answer Key Included?
Yes! You can still find the words yourself but an answer sheet has been provided for all 3 levels. You can pick and choose which difficulty level works best for your kids or students (or print off more than one level of difficulty to provide a modified version for people of all ages).
This is an example of how one of the answer keys looks.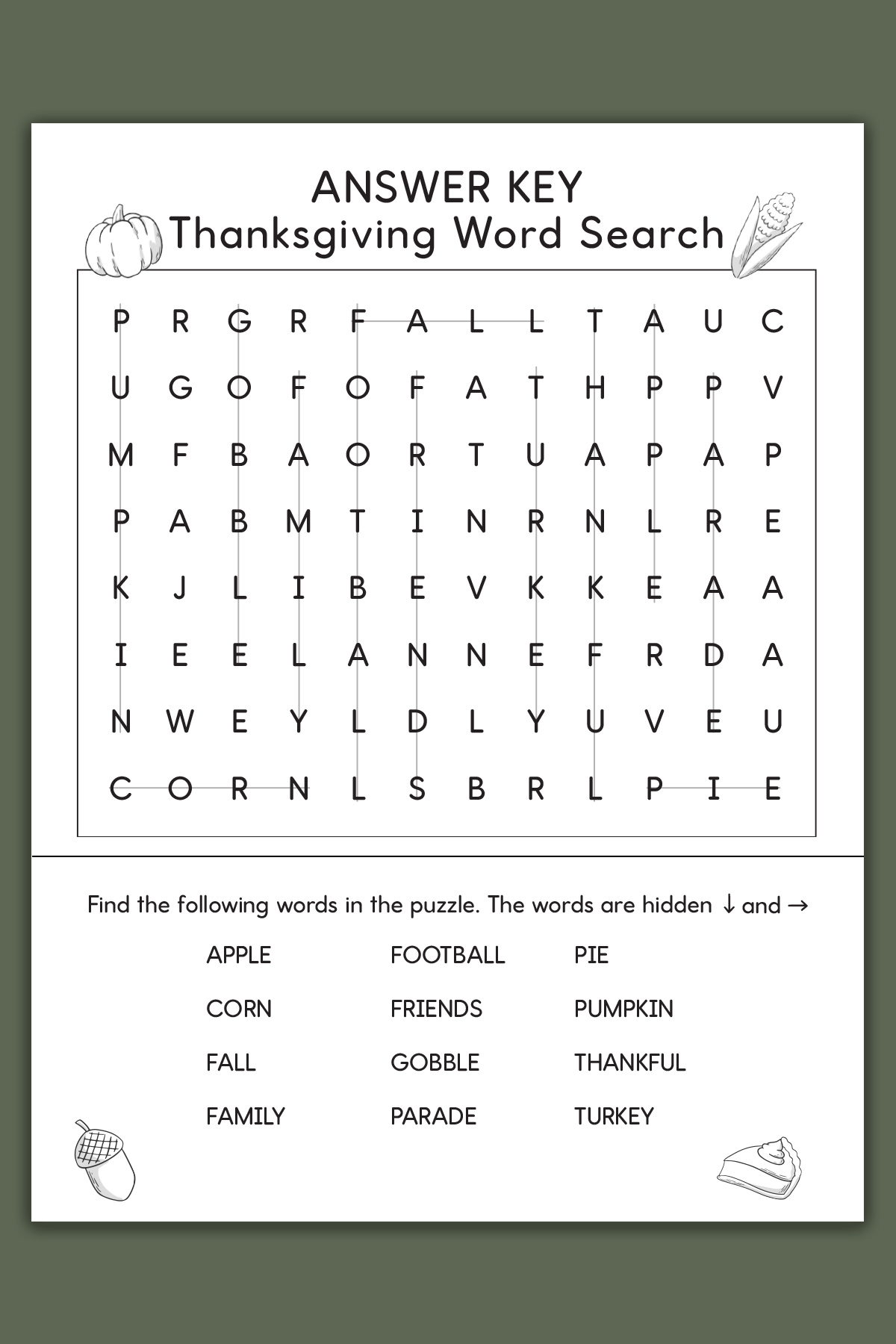 What Type of Words are Included?
There are Thanksgiving themed words in the printable puzzle. The word list includes words such as Thanksgiving, pie, harvest, parade, turkey, and more.
What paper sizes are included?
All three versions of the word search are in US letter size.
What File Format is Included?
The free Thanksgiving word search set comes in pdf format.
Looking for more Free Printables?
Mom Envy has over 200 free printables ready to download on our site. Just become a free member to get access to the members-only password.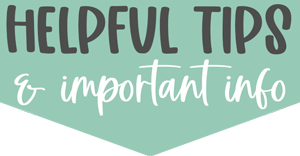 Tips for Downloading the Free Files
Below is an arrow that says Download Below. Underneath that is a large image that says Click to Download the free files.
Once you click that, you will enter the members-only password and click submit.
The page will reload the same image and now when you click the image that says Click to Download the free files, it will open the Google Drive folder containing the free files.
How do you get a members-only password?

You can sign up here to be a free Mom Envy club member.
The password will be sent to you within a few minutes. Make sure to check your spam and/or junk folder if you don't see it.
Already a member but forgot the password? Don't sign up again. Look at the end of any newsletter from me for the free password or just send me an e-mail here: [email protected]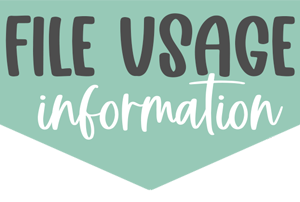 Copyright MOM ENVY 2022. Files may be used for personal use only. No commercial use of the file is available. Files may not be directly shared within Facebook groups, on websites, or in any other way. If using for educational purposes, the file may be printed and copied for classroom use. A link to the web page to download the files may be shared as well as one photo. The file may not be printed and then sold (including local yard sale sites and groups or at local craft fairs). The images may not be used in any way other than to share with a link to the original web page.