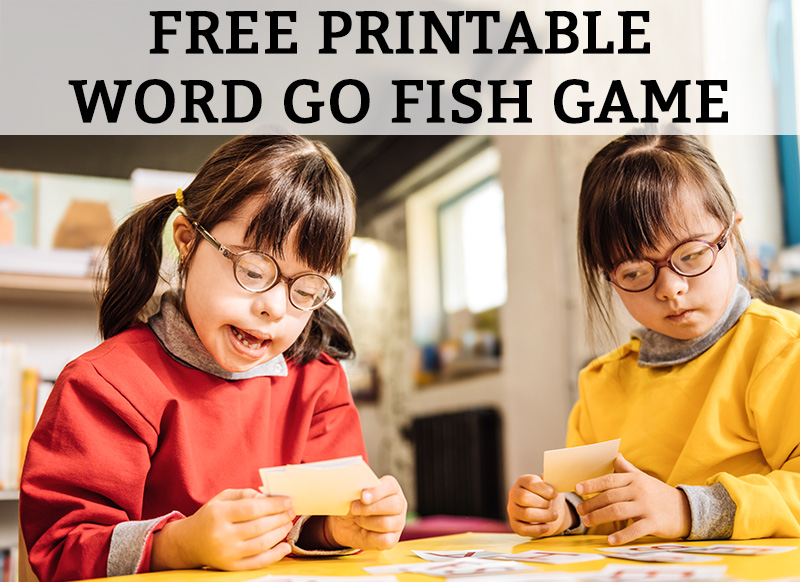 Word Go Fish is a simple game I created for centers years ago. It uses sight word cards in a game of Go Fish.
In addition to playing Word Fish with the cards, I also use the same cards for Memory. It's a versatile game that you can print once and use in two different ways.
What's Included?
Direction cards
Blank cards
Preprimer cards
Primer cards
First-grade cards
Second-grade cards
Third-grade cards
Card backs
Tips for Playing Word Go Fish or Word Memory
Create some sort of back for the cards. If not, the cards will be see-through. You can do this by:

Printing memory card or word fish backs and then glue onto the back of each sight word card sheet and then cut out.
OR just simply glue the printed pages onto pieces of cardstock or construction paper and then cut it out (just glue the whole sheet and then cut, it's easier!)

Print on cardstock for added durability
Laminate the cards so they last longer
Send the files home with a parent or have a parent volunteer in school make them!
Materials Needed to Play Word Go Fish & Memory
2 copies of your level's sight words cards per group of students (they need to make matches in both games so you will need 2 copies to make a match).
1 copy of directions per center
Word Go Fish Directions
2-4 players per game
Deal 5 cards to each player
Place the remaining cards facedown in a pile
Player 1 asks another player if they have a matching card to one in their hand
If the player has the requested card, they give it to player 1. This makes a pair and the player puts the pair down in their pair pile.
If the player doesn't have the card, they say "Word Fish" and player 1 takes a card from the pile and places it in their hand. If it makes a pair, they can put the pair into their pair pile.
Repeat the process for each player.
When there are no cards left in the deck, the player with the most pairs wins!
Sight Word Memory Directions
2-4 players per game
Shuffle the cards.
Lay all of the cards facedown in rows.
Player 1 flips 2 cards over.
If they make a match, they keep the cards and put them into a pile.
If they don't match, flip the cards back over.
Repeat with the remaining players.
When there are no cards left, the player with the most pairs wins!
Word Go Fish and Sight Word Memory Free Files
Blank Sight Word Card (customize with your own sight words)
Pre-primer Dolch Cards (preschool/kindergarten)
Primer Dolch Cards (kindergarten)