Have you ever played any would you rather Thanksgiving games? It is such a fun activity for the whole family to play. Even if you've never played the classic edition, you'll love this Thanksgiving edition.
After you've spent the day watching the Macy's Thanksgiving day parade, watching whatever NFL football game is on TV, or even the dog bowl, you'll be thankful to get some screen free entertainment for your family.
Would you rather play a round of would you rather Thanksgiving or do the turkey trot or play a game of flag football? If you'd rather spend the day inside, try this game out as a way to get some interaction going among your guests.
Unlike many Thanksgiving activities, this one is the perfect activity for most ages and activity level. The littlest ones may not be able to play but everyone around the adult table can play for sure. If you've got kids ages 4 and up at the kid table, most of them could play as well.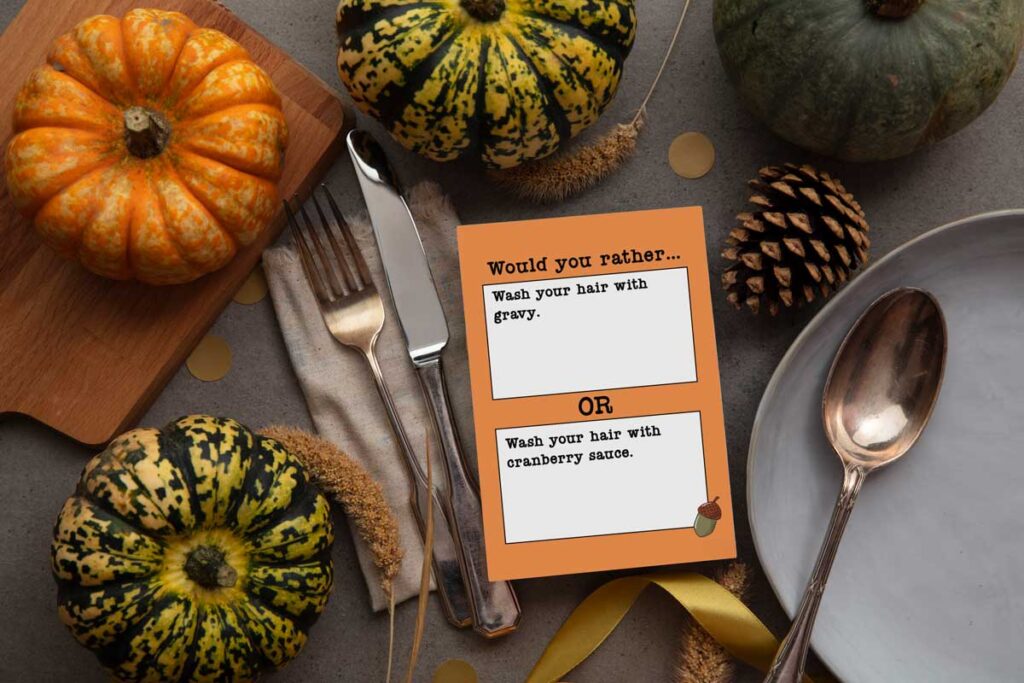 Any Answer Goes
One thing I love about this game is that there are no wrong answers. Any answer you give for a question is correct because it's your own opinion. So you won't have any kids upset that they got the wrong answer.
Even though it's called a game, in reality, it's more of a conversation starter for the entire group of guests at your Thanksgiving. As you're sitting around the Thanksgiving table awkwardly trying to figure out what to talk about besides the weather, you can grab this free printable and start asking away.
It's seriously a great way to take a boring conversation and turn it into a fun one that will give you memories that will last with you the rest of your life. While some questions are a little more serious, there are plenty of silly questions that will get people really thinking (and laughing).
What are the rules of this fun Thanksgiving game?
Simple! You pull out one of the Would you Rather cards and ask the table, would you rather do "activity 1" or "activity 2."
It's that simple. You take turns going around the table (or couch) and answering what you would rather do. It's the perfect game to get the entire family involved.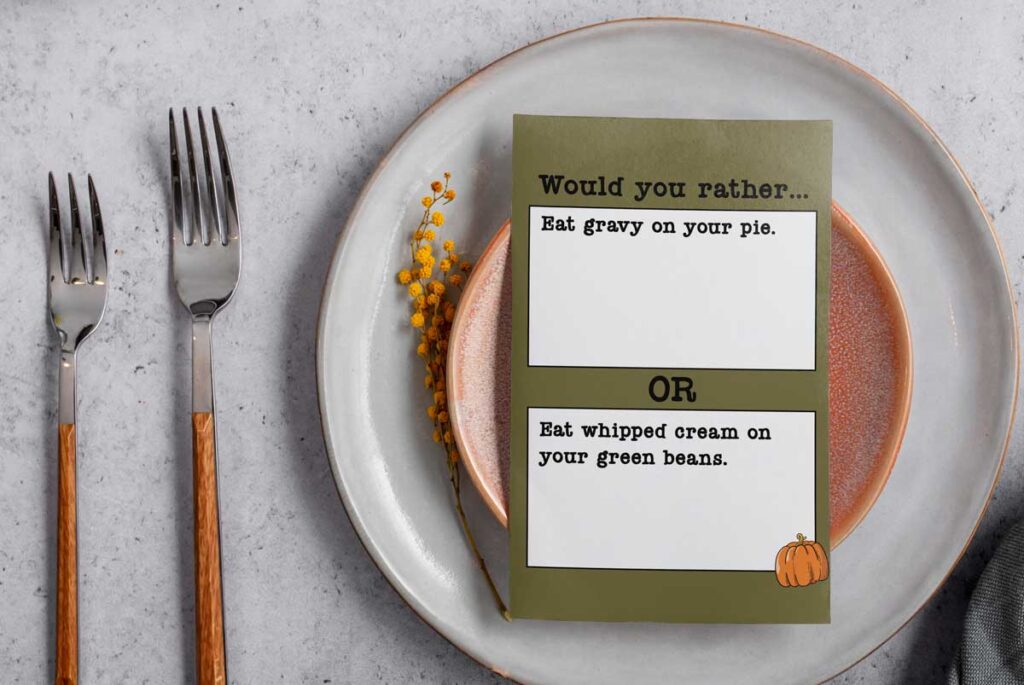 What Ages Can Play the Game?
While the classic game is often geared a little more toward adults, this fun game is family friendly. It can even be played at the kid's table. I would suggest playing with kids 4 and up (or at least children that have some conversation skills).
Is the Game Thanksgiving Themed?
Yes! This game has 20 would you rather Thanksgiving questions. Having themed questions makes the game so much fun. They're all about Thanksgiving food, black Friday shopping, and other seasonal topics.
What do the Game Cards Look Like?
Here is what the 5 pages of game cards look like. Don't save these to print, they are in low resolution. Grab from for free at the end of this blog post.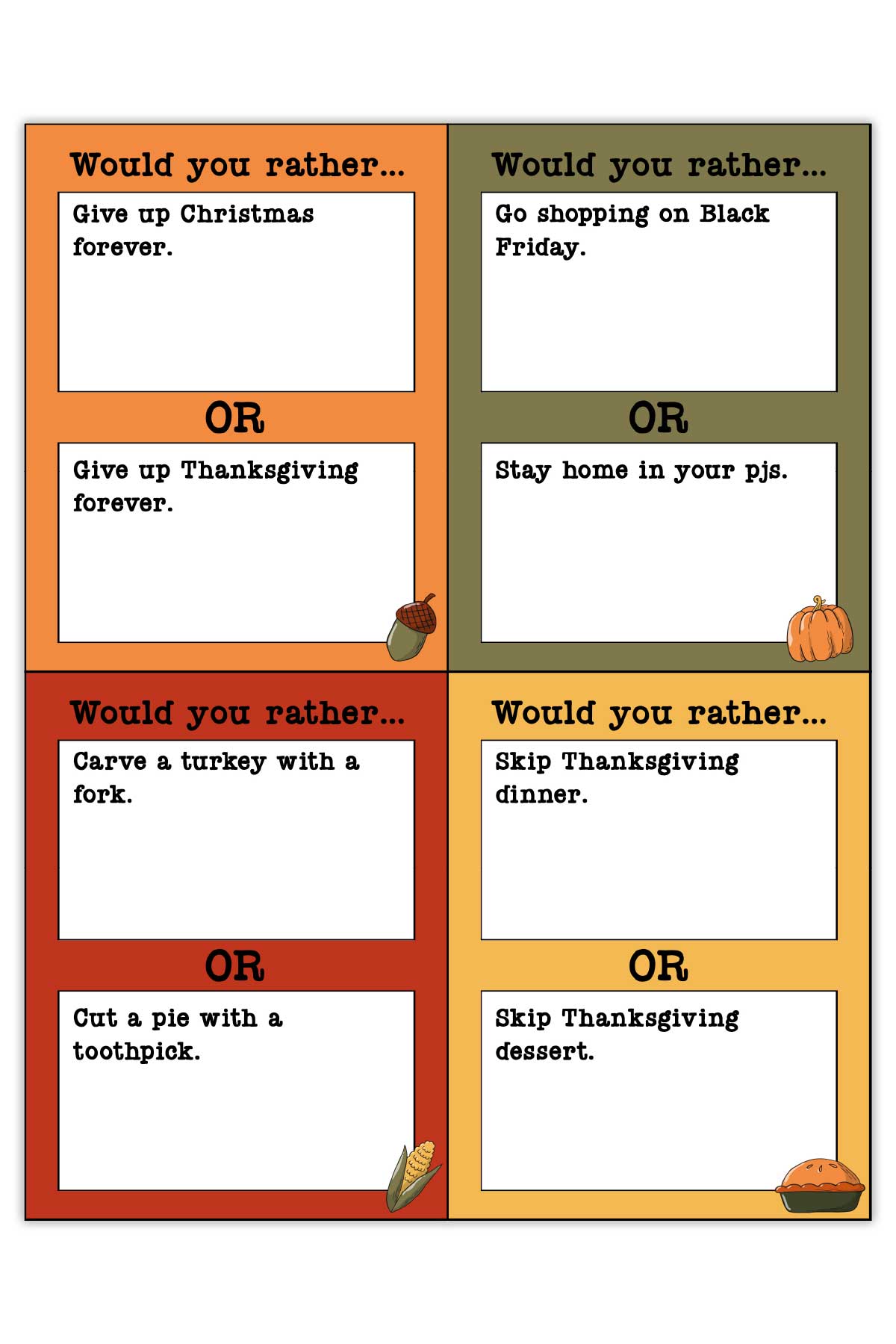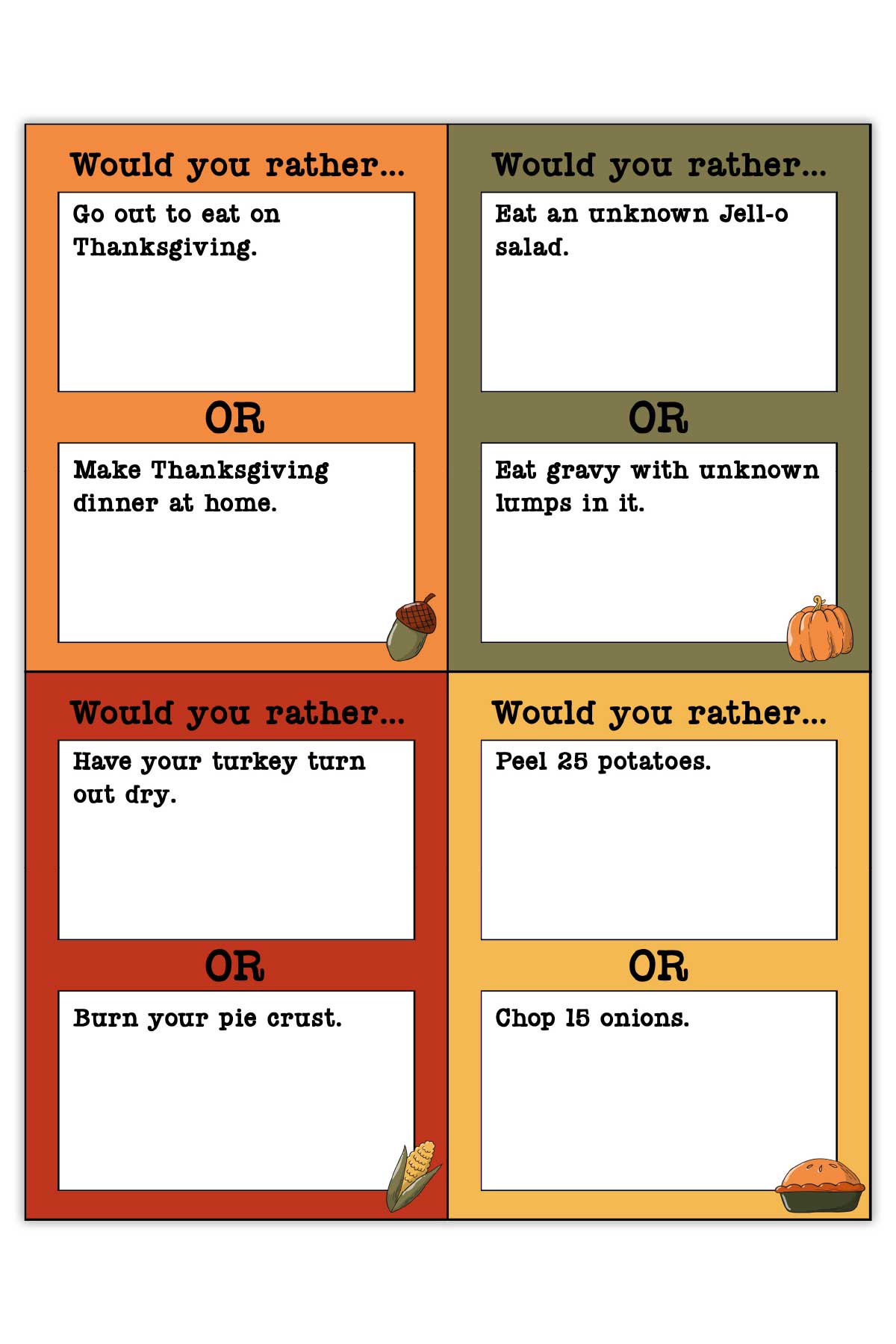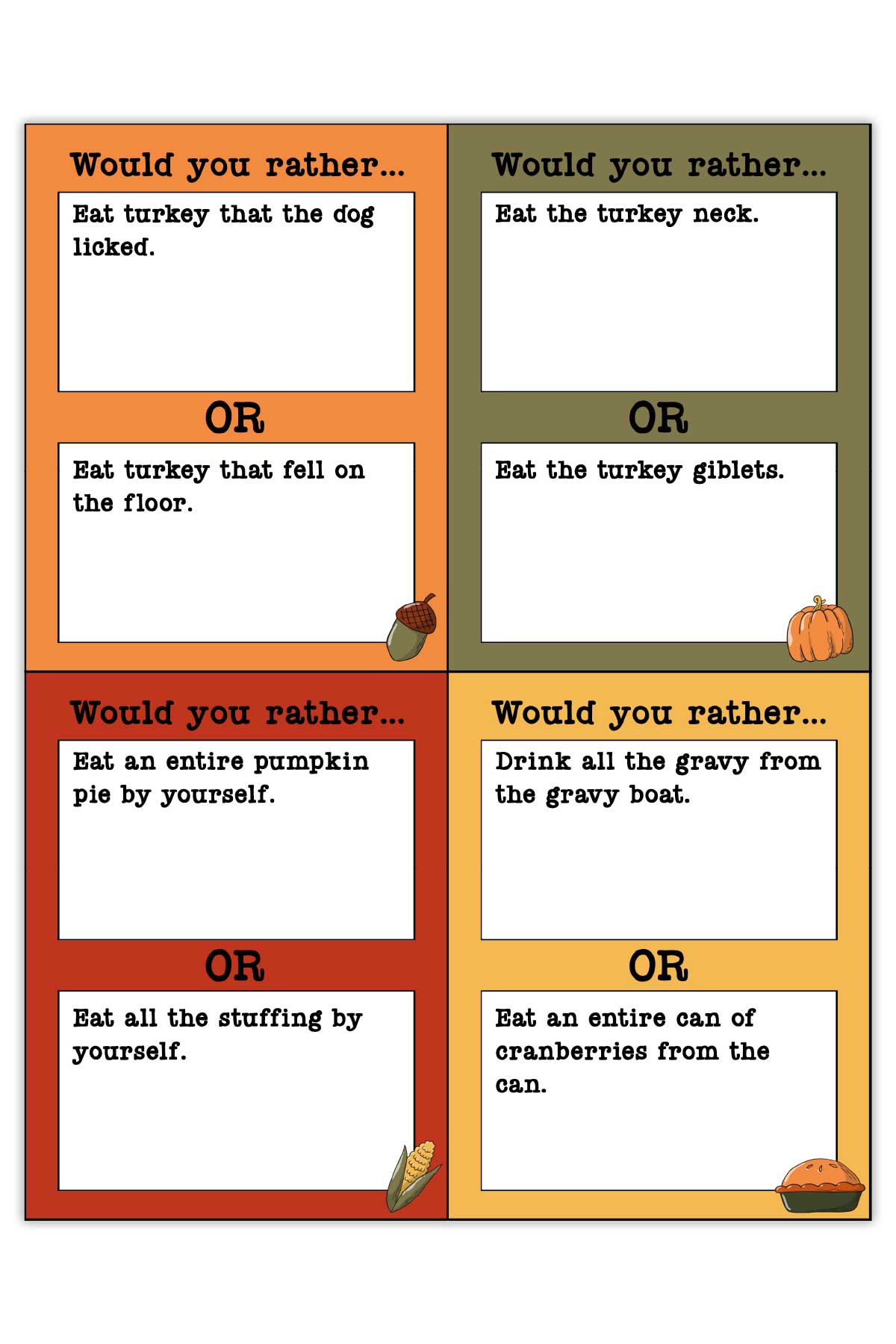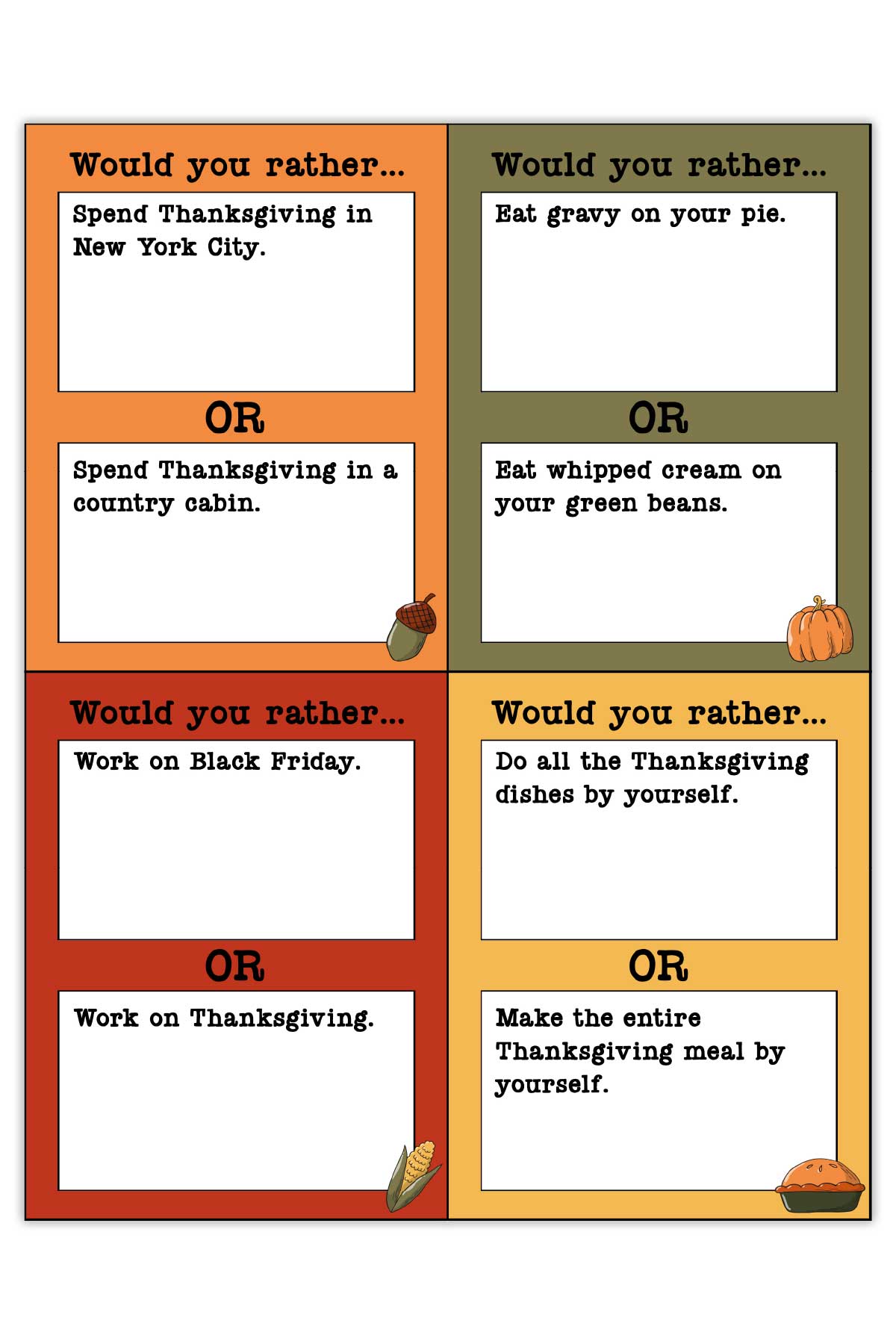 When Should the Thanksgiving Would you Rather Game be Played?
It can be played anytime – before Thanksgiving even. Here are some suggestions for when it would be fun to play.
Before Thanksgiving
Hosting a fall party or friendsgiving? Having a November dinner party with a few close friends? This game is sure to inspire some fun dinner conversations.
Even if you aren't hosting a big fall dinner, you can still play this game at the family dinner table before or after turkey day.
On Thanksgiving Day
I love to use it as a Thanksgiving icebreaker game. Sometimes big family holiday meals can be stressful.
By breaking out a great icebreaker game like these would you rather questions, you'll get everyone feeling more at ease and comfortable. Plus, you'll probably all be laughing after not long.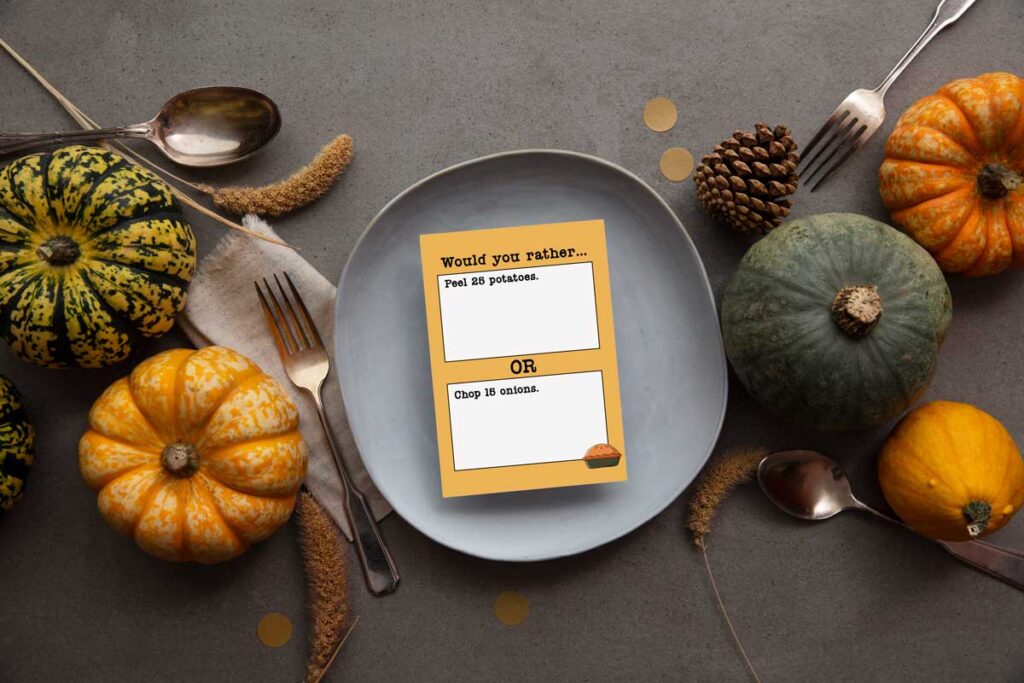 Should you Play the Game with a Small or Large Group?
You can play it with a small group like your immediate family or you can play it with all of your family members from all over the place.
Not Just for Families
We've talked a lot about playing this game with your family. But in reality, this game can be played with friends, at a work party, in school, etc.
Making Memories
One of my favorite things about the would you rather questions is that they can often be silly. These fun conversation starters gets people really laughing and leads to some really wonderful family fun memories. Everyone will have an awesome Thanksgiving that will be remembered.
What is Included in the Thanksgiving Would you Rather Games Set
You'll get 20 question cards printed across 5 letter size pages. They come in PDF format.
Are there Digital Files Included?
Yes and no. While there is no specific digital version of the questions (like PowerPoint or Google Slides), you could still use the files digitally.
All you'd need to do is open the PDF file on a computer, laptop, iPad, phone, or any other device you can open pdf files on. Then, if your device has the ability to either mirror onto a screen or hook up to a television screen or projector screen, you can project the questions on the screen.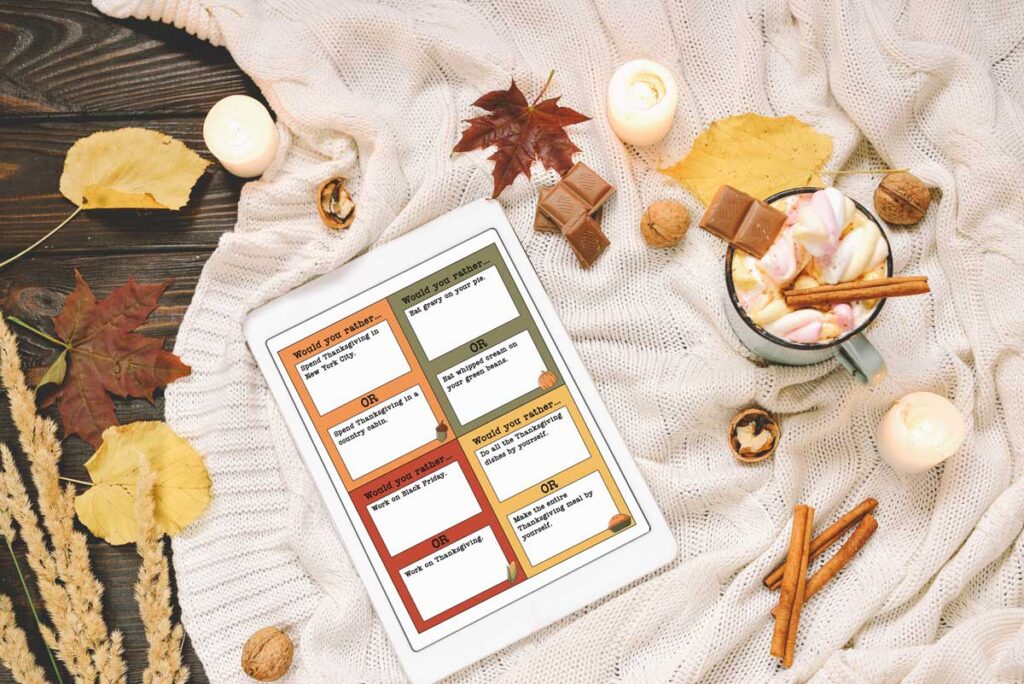 Can you Skip a Question?
That's up to you and your family. But, in my opinion, everyone should answer each question. You could always make a rule about how many you can skip.
Making people think outside of the box and a bit uncomfortable is actually one of the best things about the game. It pushes people out of their comfort zones or really makes them think.
What Questions are Included?
Here are the questions you can look forward to within the game. While you could just read the questions from here or from a piece of paper you scribble them on, you can grab a free download of the question cards at the end of this post (they are super cute).
Would you rather give up Christmas forever or give up Thanksgiving forever?
Would you rather go shopping on Black Friday or stay home in your pjs?
Would you rather carve a turkey with a fork or cut a pie with a toothpick?
Would you rather skip Thanksgiving dinner or skip Thanksgiving dessert?
Would you rather go out to eat on Thanksgiving or make Thanksgiving dinner at home?
Would you rather eat an unknown Jell-o salad or eat gravy with unknown lumps in it?
Would you rather have your turkey turn out dry OR burn your pie crust?
Would you rather peel 25 potatoes or chop 15 onions?
Would you rather eat turkey that the dog licked or eat turkey that fell on the floor?
Would you rather eat the turkey neck or eat the turkey giblets?
Would you rather eat an entire pumpkin pie by yourself or eat all the stuffing by yourself?
Would you rather drink all the gravy from the gravy boat or eat an entire can of cranberries from the can?
Would you rather spend Thanksgiving in New York City or spend Thanksgiving in a country cabin?
Would you rather eat gravy on your pie or eat whipped cream on your green beans?
Would you rather work on Black Friday or work on Thanksgiving?
Would you rather do all the Thanksgiving dishes by yourself or make the entire Thanksgiving meal by yourself?
Would you rather wash your hair with gravy or wash your hair with cranberry sauce?
Would you rather eat Thanksgiving dinner with your family or eat Thanksgiving dinner with a celebrity of your choice?
Would you rather be on a Thanksgiving parade float or be a character balloon handler?
Would you rather eat your entire Thanksgiving dinner without utensils or eat your entire Thanksgiving dinner standing up?
More Free Thanksgiving Printables
If you're looking for another family friendly Thanksgiving game, you can also check out our Thanksgiving Bingo.
Where can you Download the Files?
If you're already a member, it's an instant download from either this link or at the end of the page. If you're not a member yet, you'll just need to subscribe to my free Mom Envy e-mail club.
All you'll need to do is enter your email address to get our members-only password that will get you access to hundreds of free printables.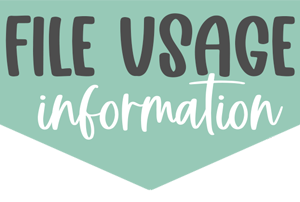 Copyright MOM ENVY 2022. Files may be used for personal use only. No commercial use of the file is available. Files may not be directly shared within Facebook groups, on websites, or in any other way. If using for educational purposes, the file may be printed and copied for classroom use. A link to the web page to download the files may be shared as well as one photo. The file may not be printed and then sold (including local yard sale sites and groups or at local craft fairs). The images may not be used in any way other than to share with a link to the original web page.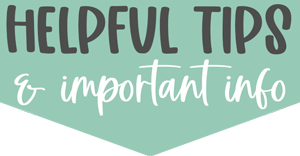 Tips for Downloading the Free Files
Below is an arrow that says Download Below. Underneath that is a large image that says Click to Download the free files.
Once you click that, you will enter the members-only password and click submit.
The page will reload the same image and now when you click the image that says Click to Download the free files, it will open the Google Drive folder containing the free files.
How do you get a members-only password?

You can sign up here to be a free Mom Envy club member.
The password will be sent to you within a few minutes. Make sure to check your spam and/or junk folder if you don't see it.
Already a member but forgot the password? Don't sign up again. Look at the end of any newsletter from me for the free password or just send me an e-mail here: [email protected]