I have the ultimate set of printable birthday tags for you today. It comes with 102 free printable gift tags that come in one digital download as a single pdf file (or, you have the option to download the individual pngs for each tag).
You get 102 different designs included in this set of free printable tags. They come in many different colors, different themes, and different styles. With so many different tags, you're sure to find one that perfectly matches your gift bag or wrapping paper.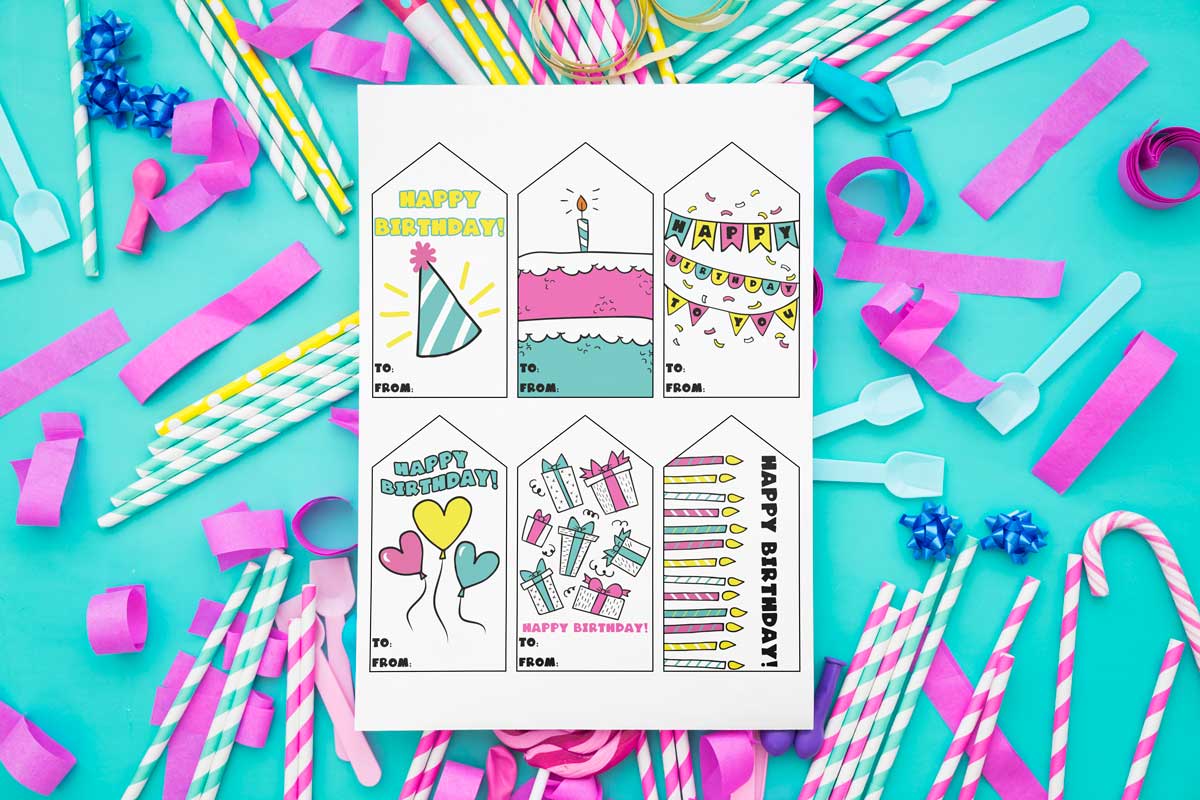 As an Amazon Associate, I earn from qualifying purchases. I am also an affiliate for xTool, the HP ink program, ShareaSale, and CJ Networks. Click here to read more.
Why Use a Gift Tag Instead of a Birthday Card?
There are many reasons to use a gift tag instead of a birthday card or in addition to a card.
First off, birthday cards have gotten so expensive. Why not save some money and use a birthday gift tag instead? Free printables are a great option for keeping costs down.
Sometimes you are giving a really simple and inexpensive gift to an acquaintance, co-worker, etc. and a simple gift tag would be a better option than a card. How cute would one of these tags be attached to some birthday treats like candy bars or cookies?
Or, if you still want to get a birthday card (like one of my free printable funny birthday cards), gift tags can still be really helpful. How often do you get gifts that have lost their card?
You're stuck unsure of which gift goes with which card. Using the free Happy Birthday tags is the perfect way to ensure that the recipient knows who your gift is from.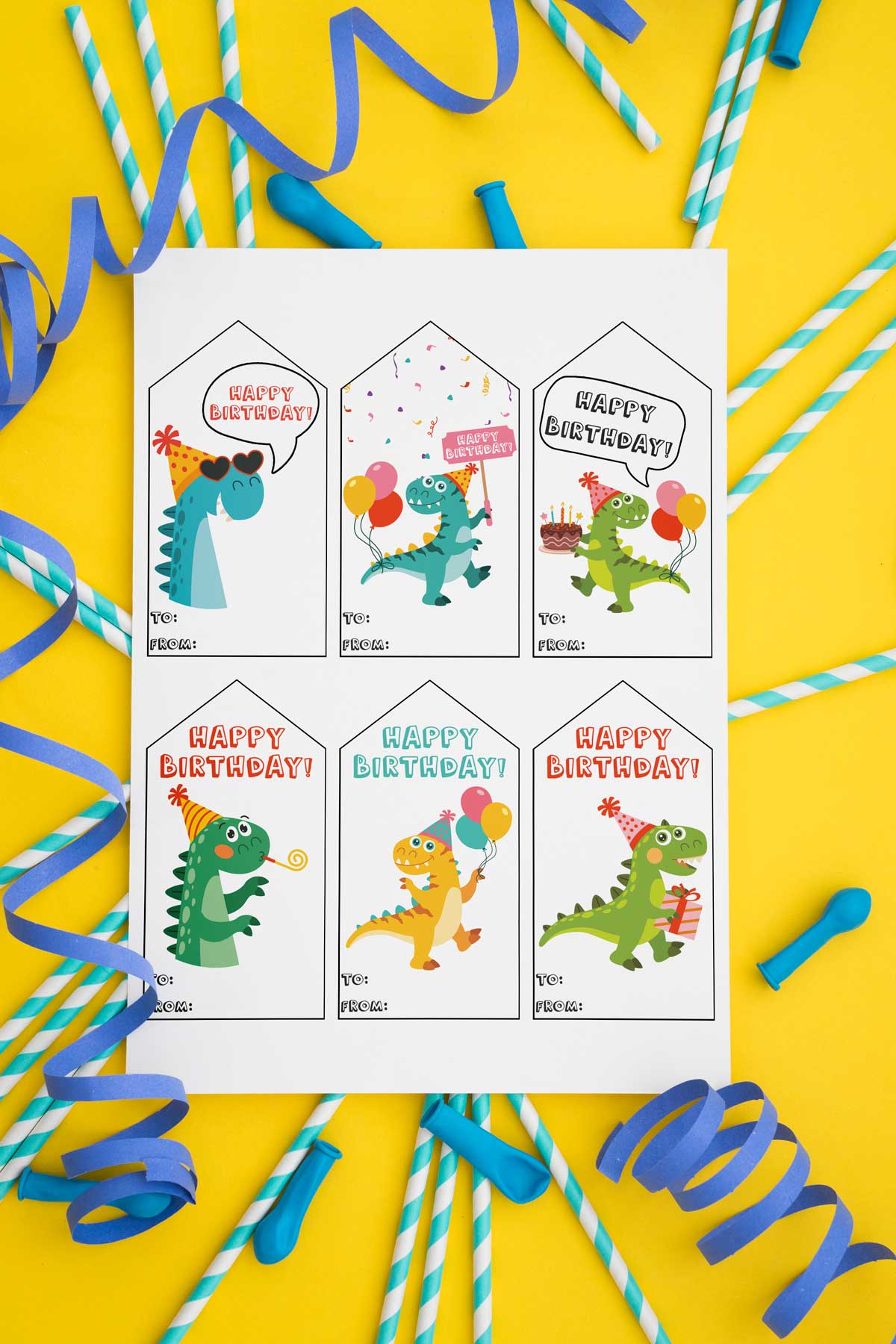 ​
How Can You Download the Free Printable Birthday Tags?
All you have to do to access the tags are sign up for Mom Envy's free e-mail club (click here). This will get you access to the members-only password that will allow you to download all 102 birthday tags in one printable pdf file.
Once you're a member, you can click here to access the download page. Or, you can scroll down to the end of the blog post and click on the large Click to Download image.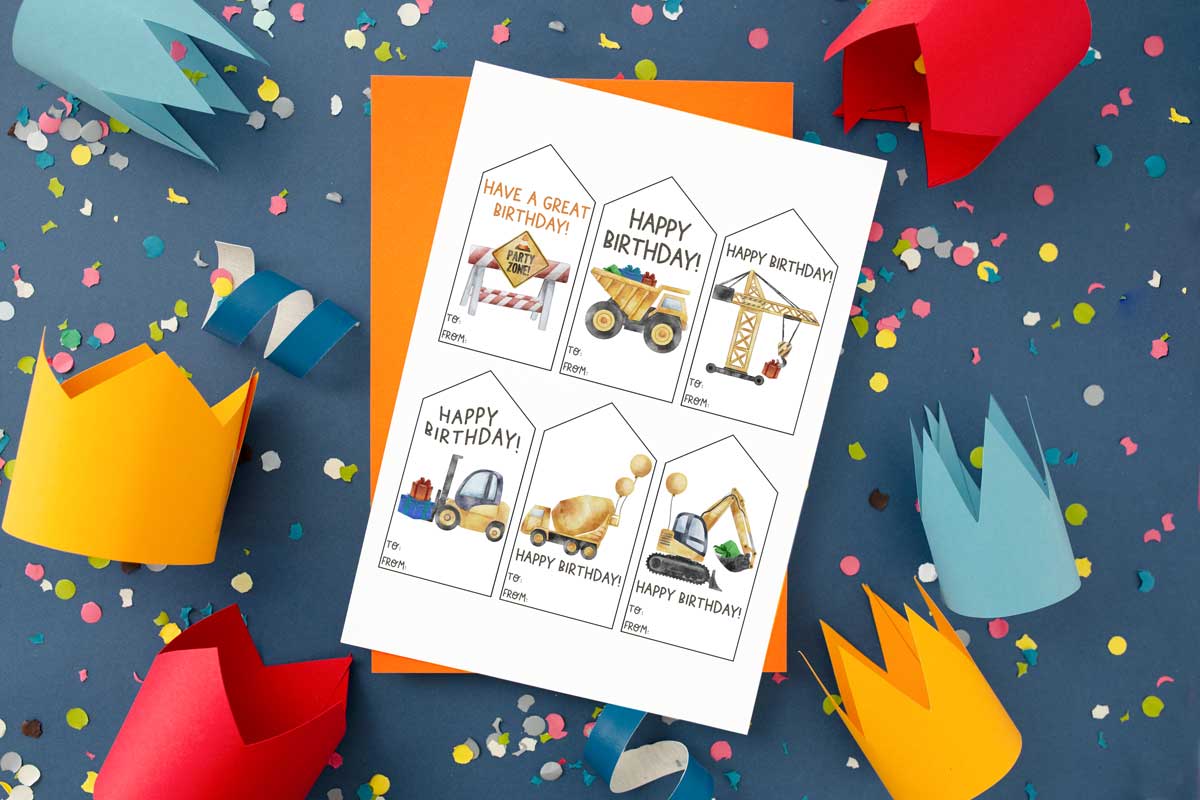 What Age Are the Free Printable Birthday Gift Tags for?
With so many options, the birthday person can be any age. The majority are geared toward children but there are still many options for teens and adults as well. Plus, some of the designs can work for any age.
What Do the Birthday Tags Look Like?
Each set of tags has a different theme. Here is what all of the unique birthday tags look like.
First up is this adorable set of animal birthday tags. Their bright bold colors yet simple designs make them work for kids or adults young at heart.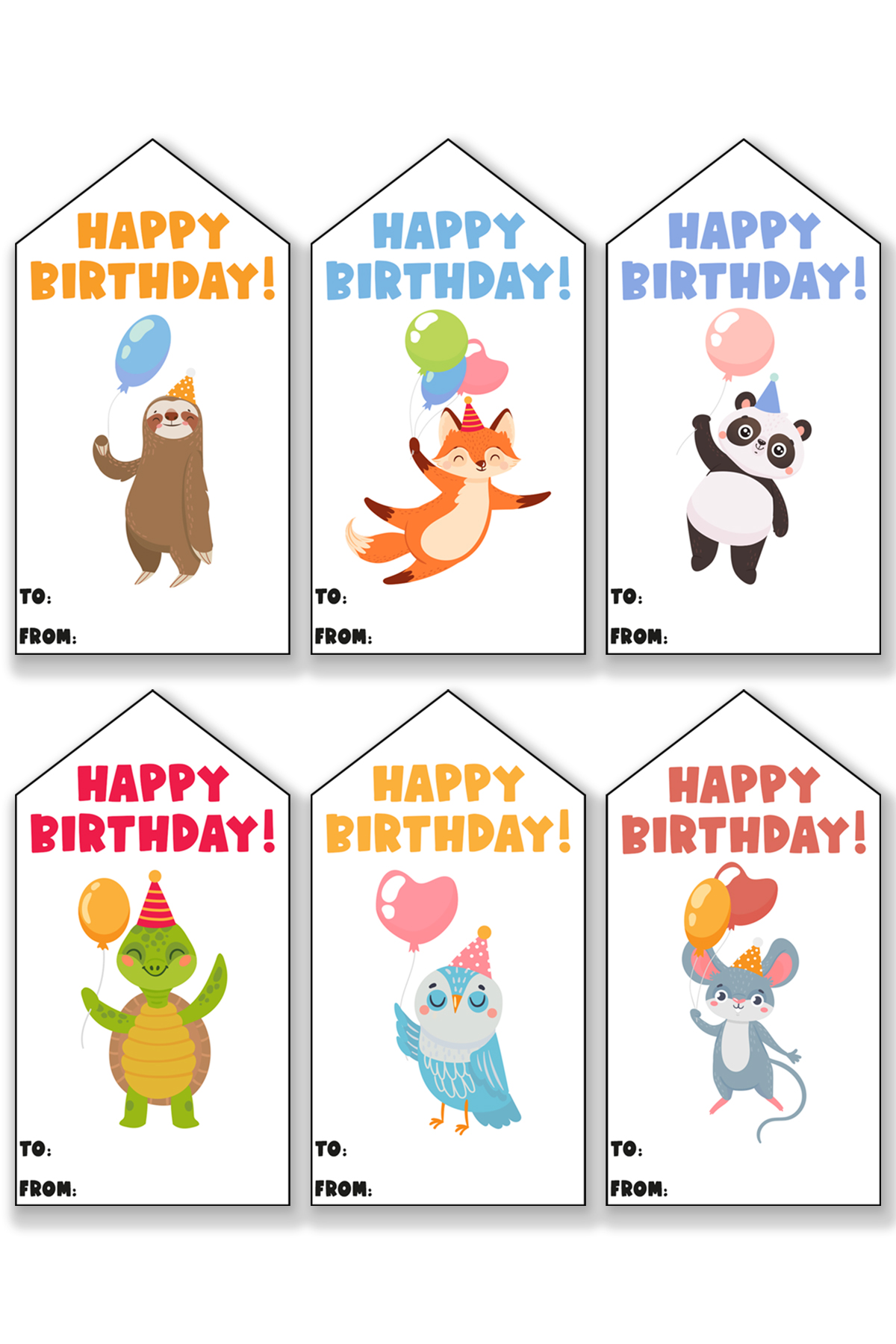 Do you have any cat loving family members or friends? These cat birthday gift tags would be perfect for them.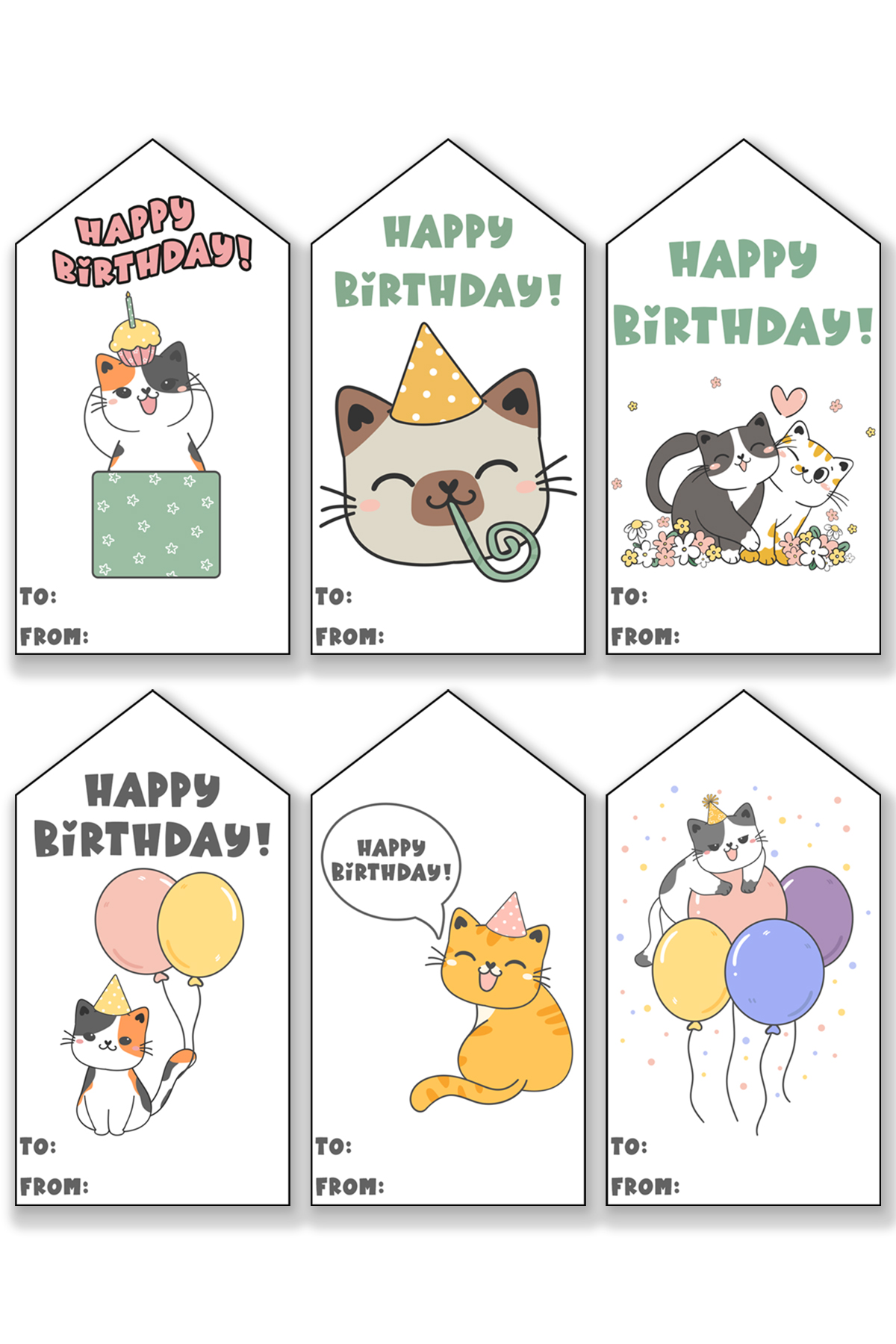 This next gift tag set would be really popular in my household. It's a construction-themed birthday gift tag set.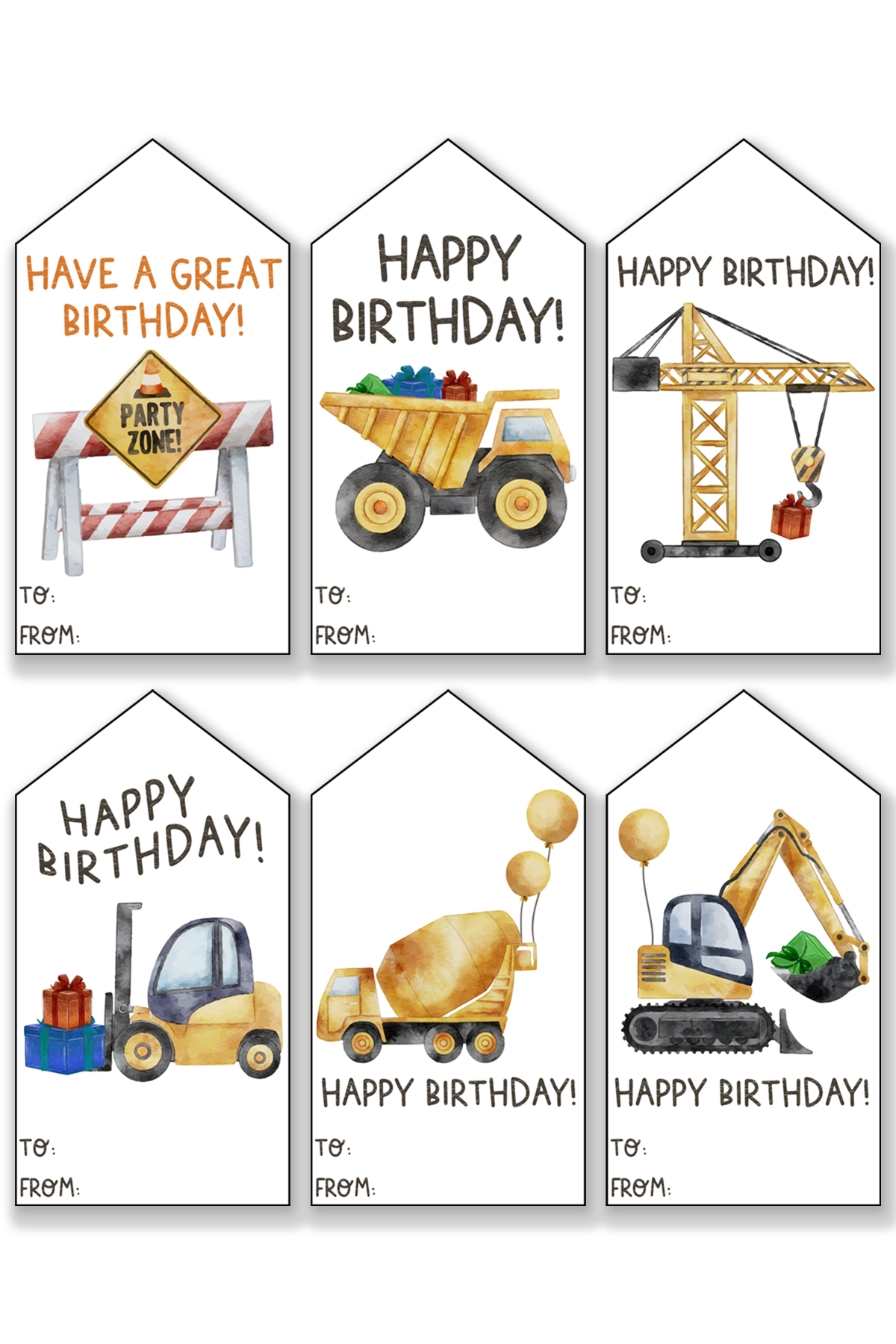 This group of free printable Happy Birthday gift tags is generic enough that they could work for anyone. They're just cupcakes in various bright colors.
How fun are these dinosaur themed birthday tags? Each gift tag sports a different dinosaur.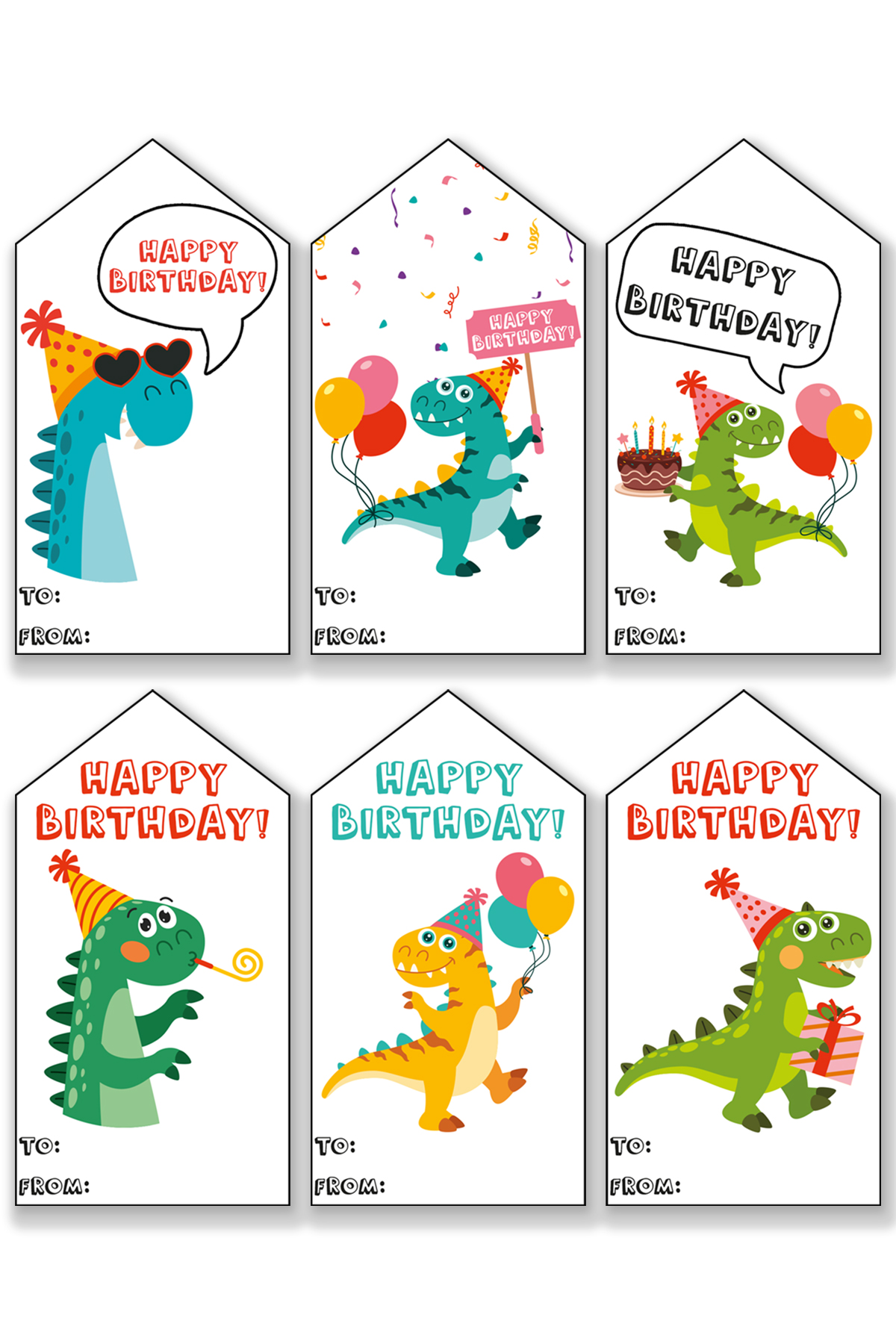 If your friend or family member is a dog person rather than a cat person, we have them covered, too. My personal favorite is the fluffy dog in the top right corner.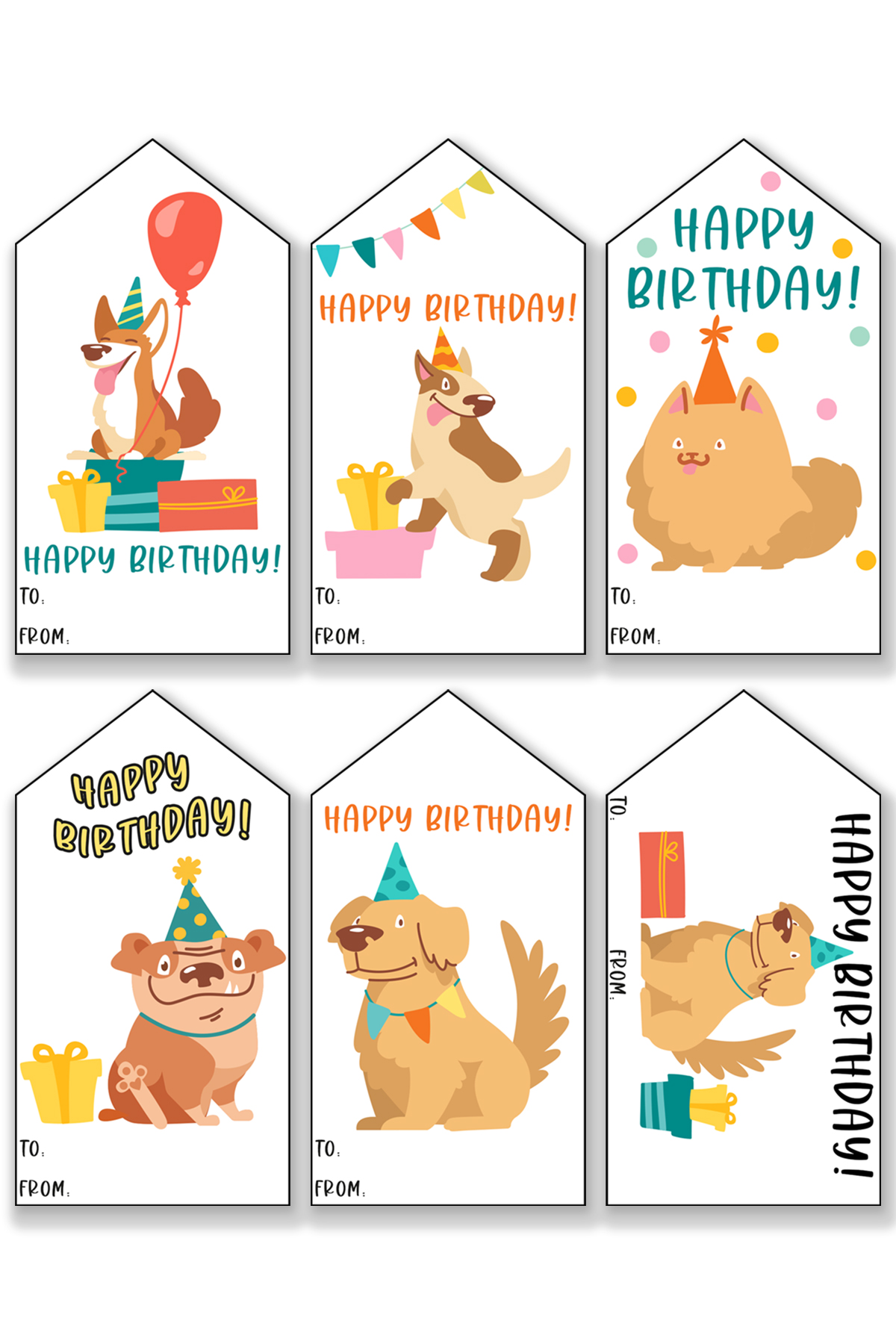 These sweet floral watercolor birthday gift tags would be so pretty attached to mason jars filled with fresh flowers.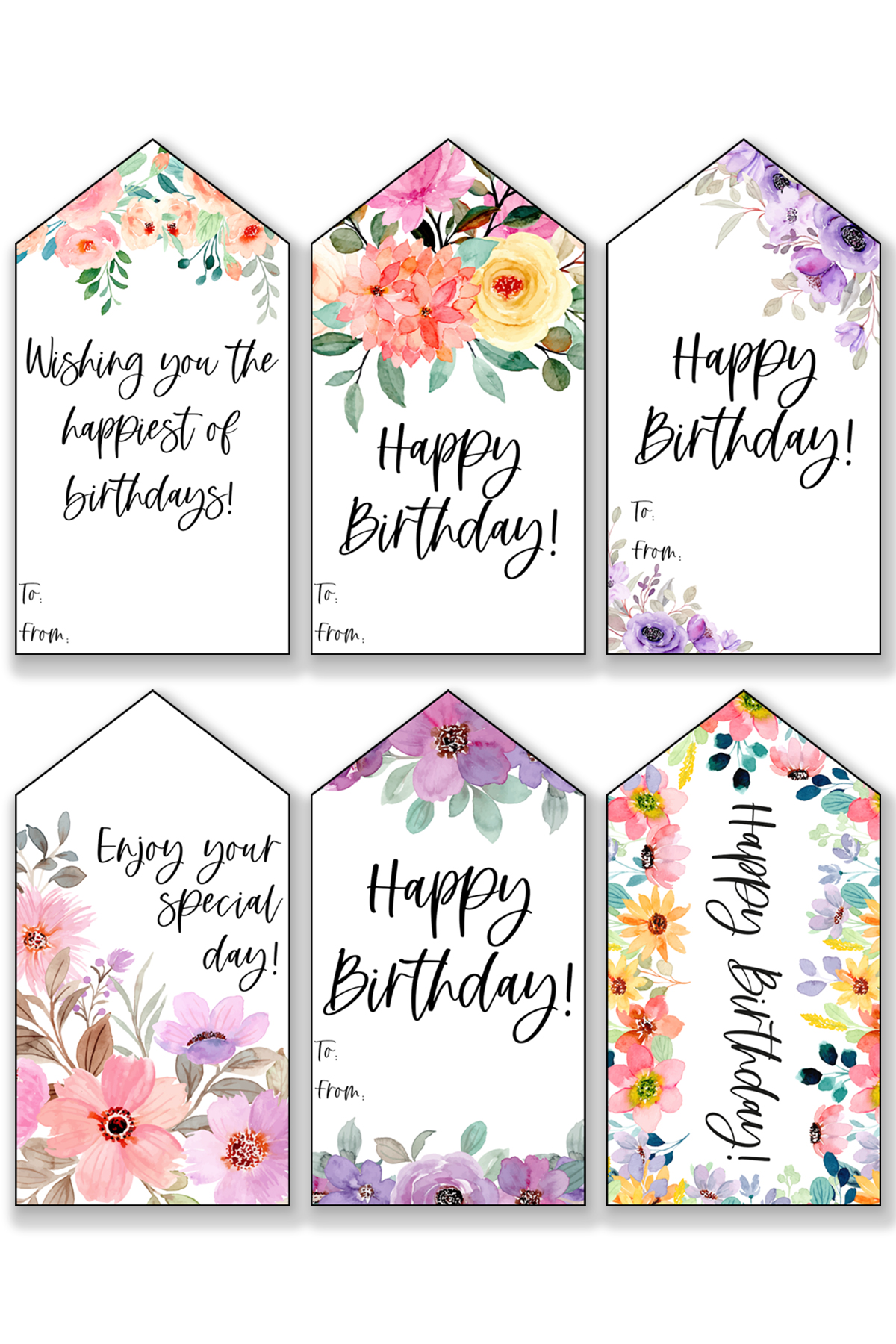 Mermaids are still a big deal for so many young children. Download this set of 6 different mermaid-themed gift tags.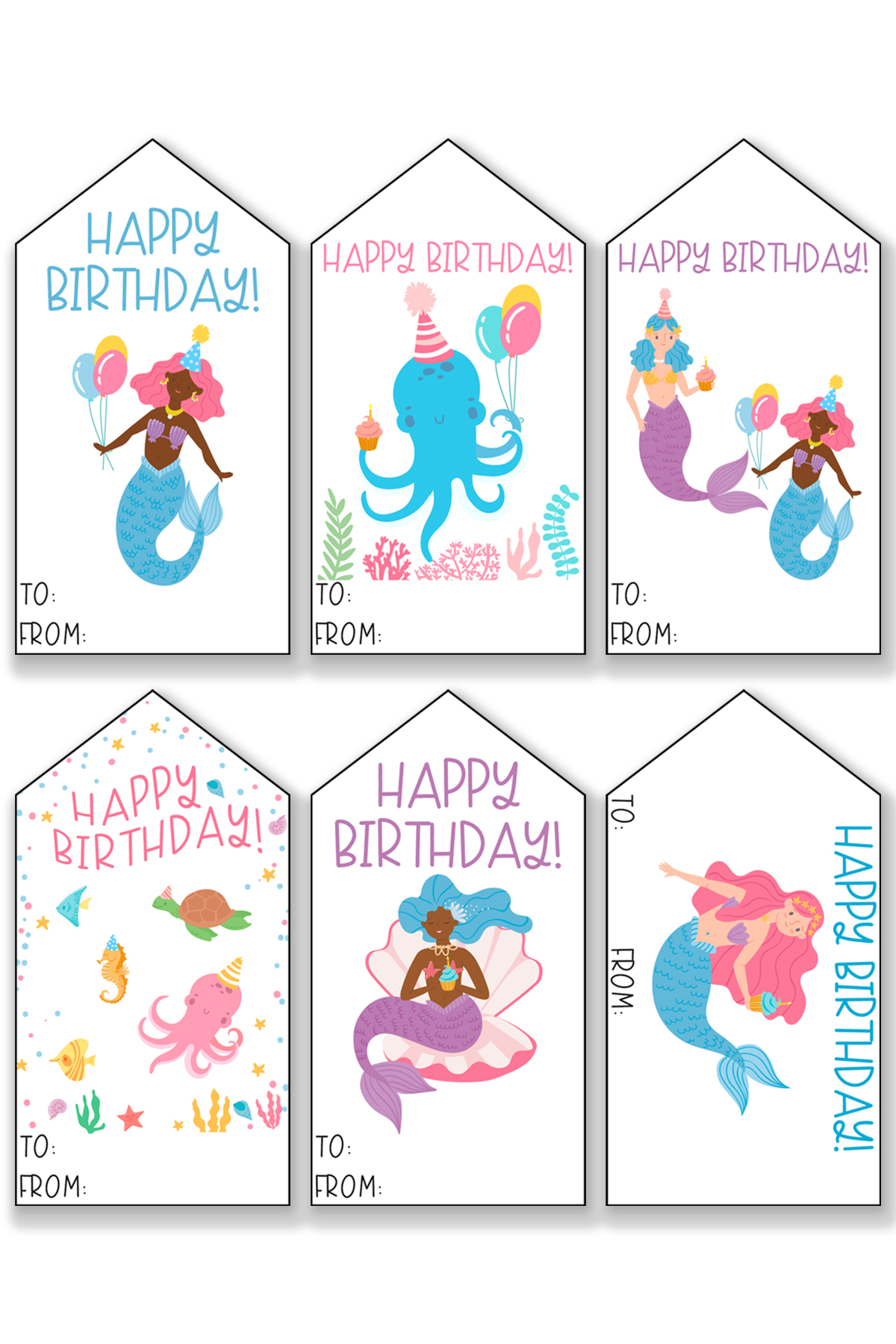 Monsters are always a fun addition to any gift bag. The monsters are on the cuter side and not scary at all.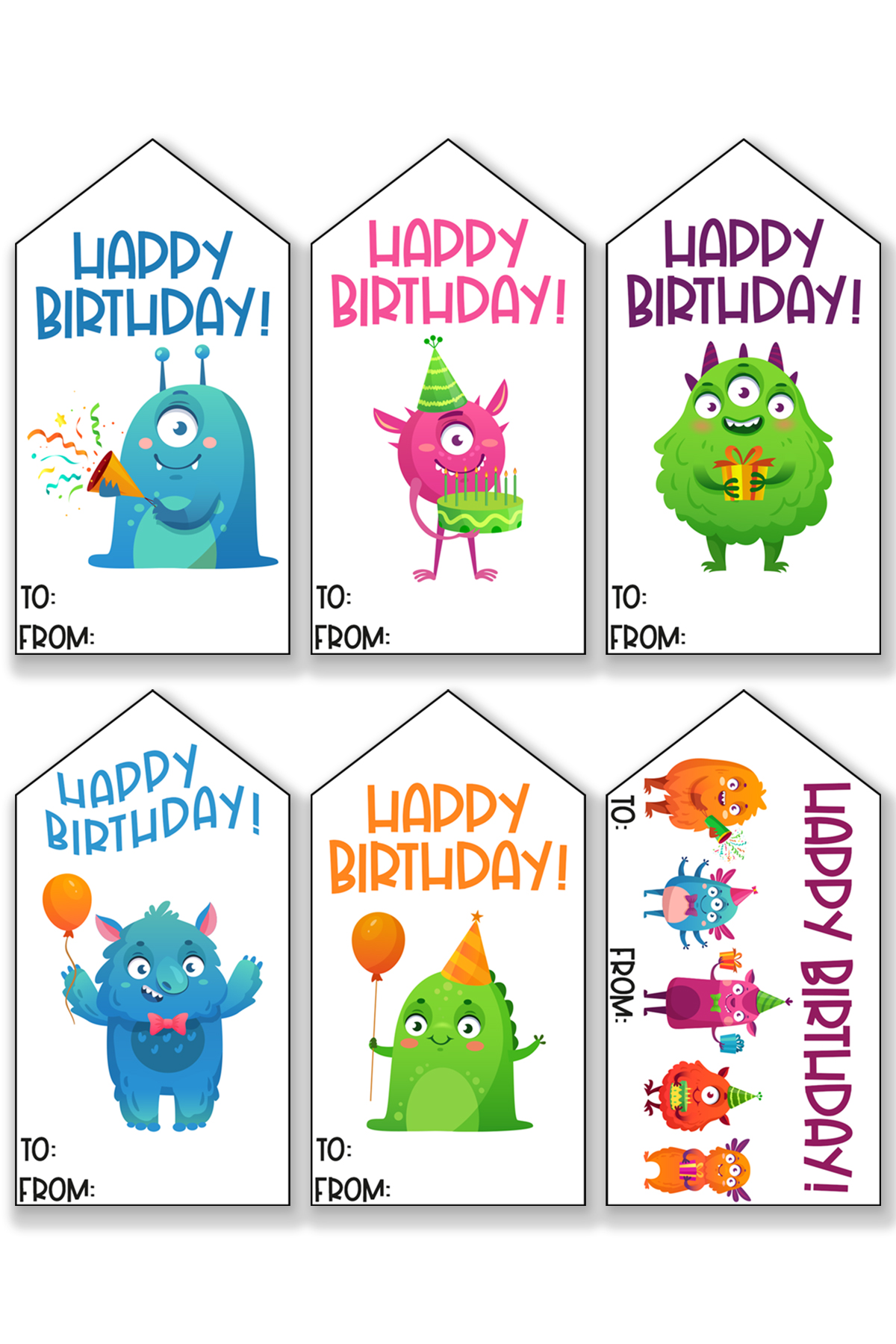 Want a tag with some retro vibes? This set of retro-inspired birthday tags is so much fun.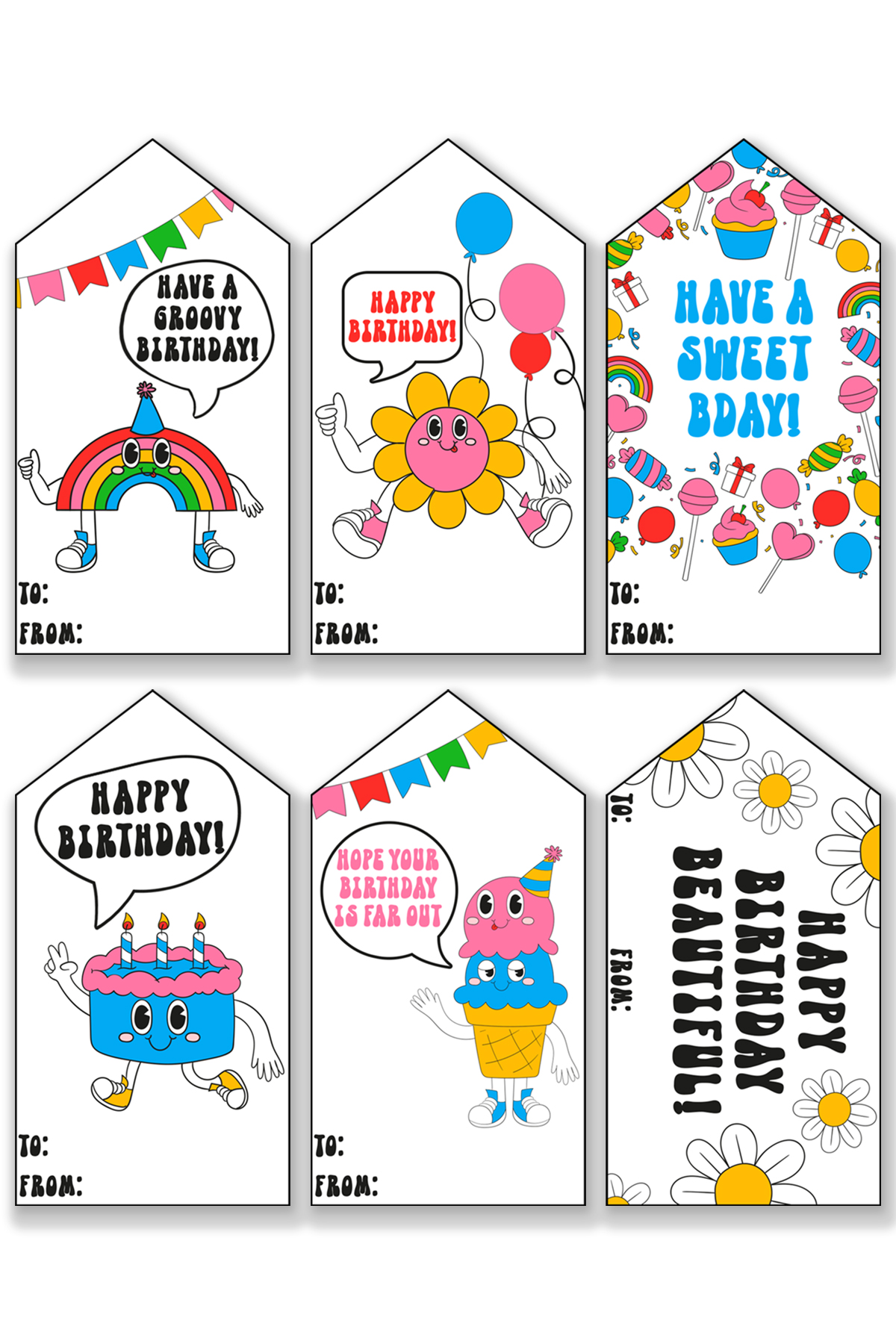 These sharks are friendly, not scary and they make an adorable gift tag. Look how cute each of the gift tags are? Unlike the other tags which are white gift tags as a base, this set has an ocean blue backdrop.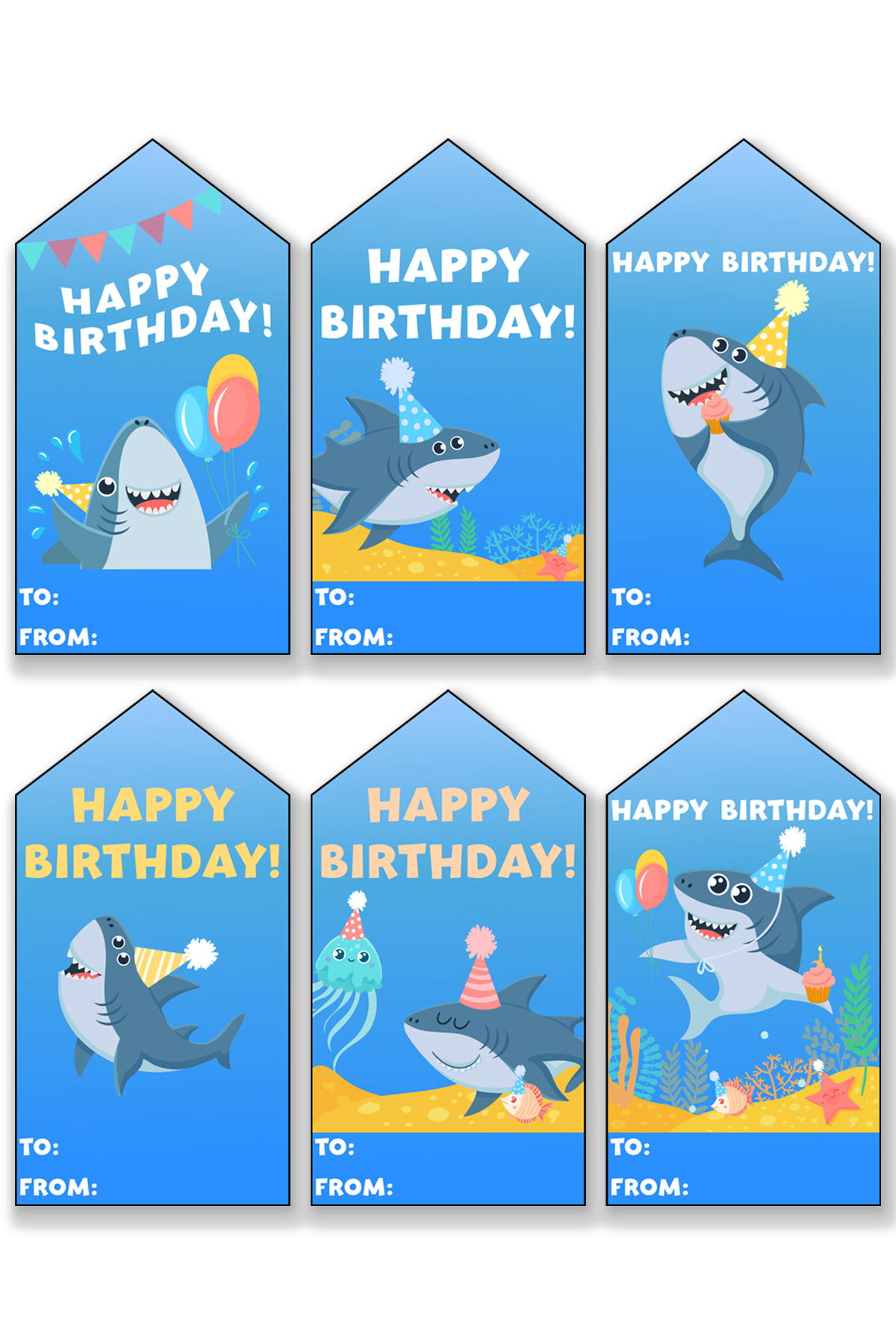 You'll get even more animals with this adorable set of free birthday gift tags. Each quirky yet adorable animal is full of personality and makes these gift tags a great option for any age.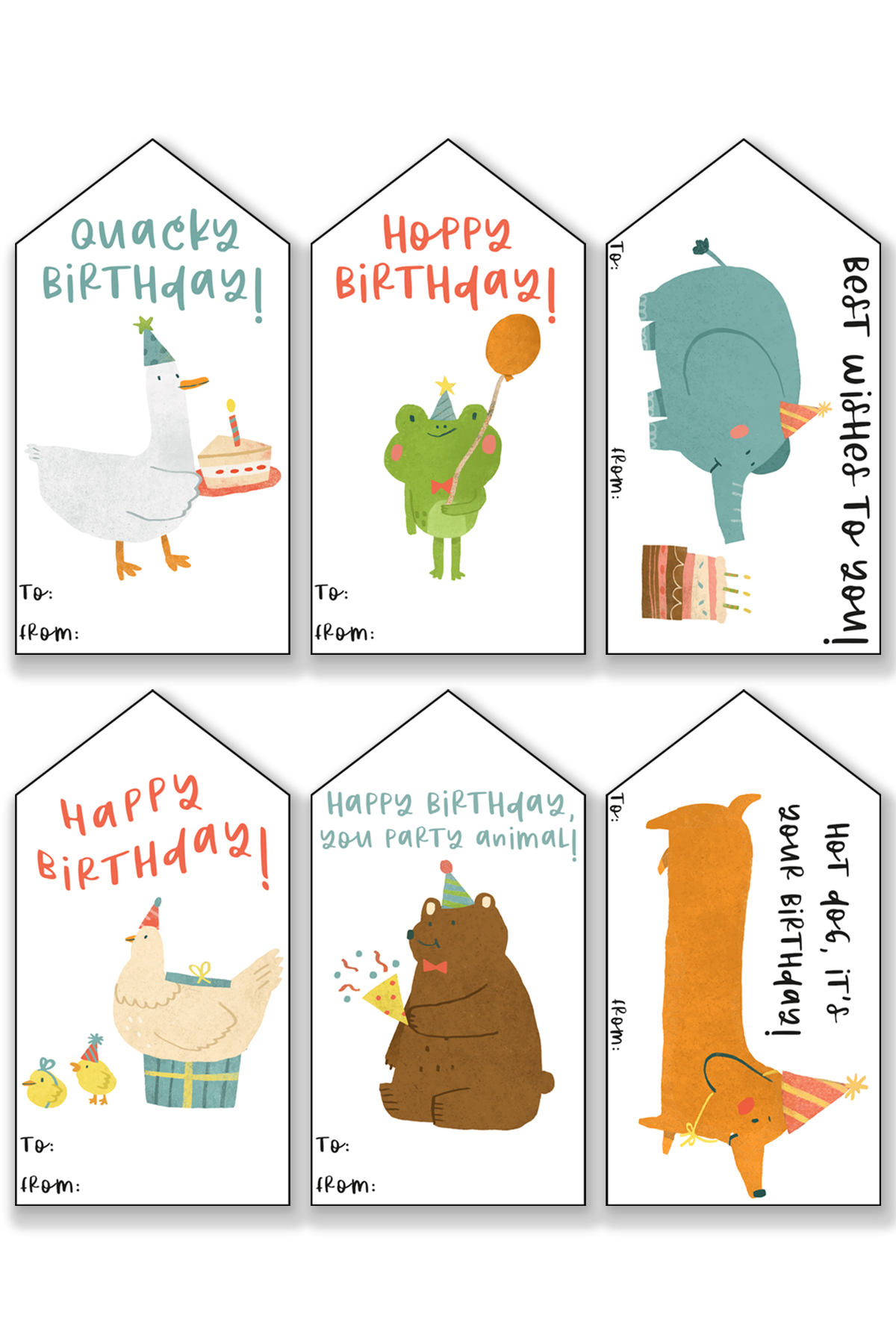 Next, you get another set of generic, basic printable birthday tags. It uses fun colors and cutesy birthday graphics like a birthday cake, cupcake, balloons, and more.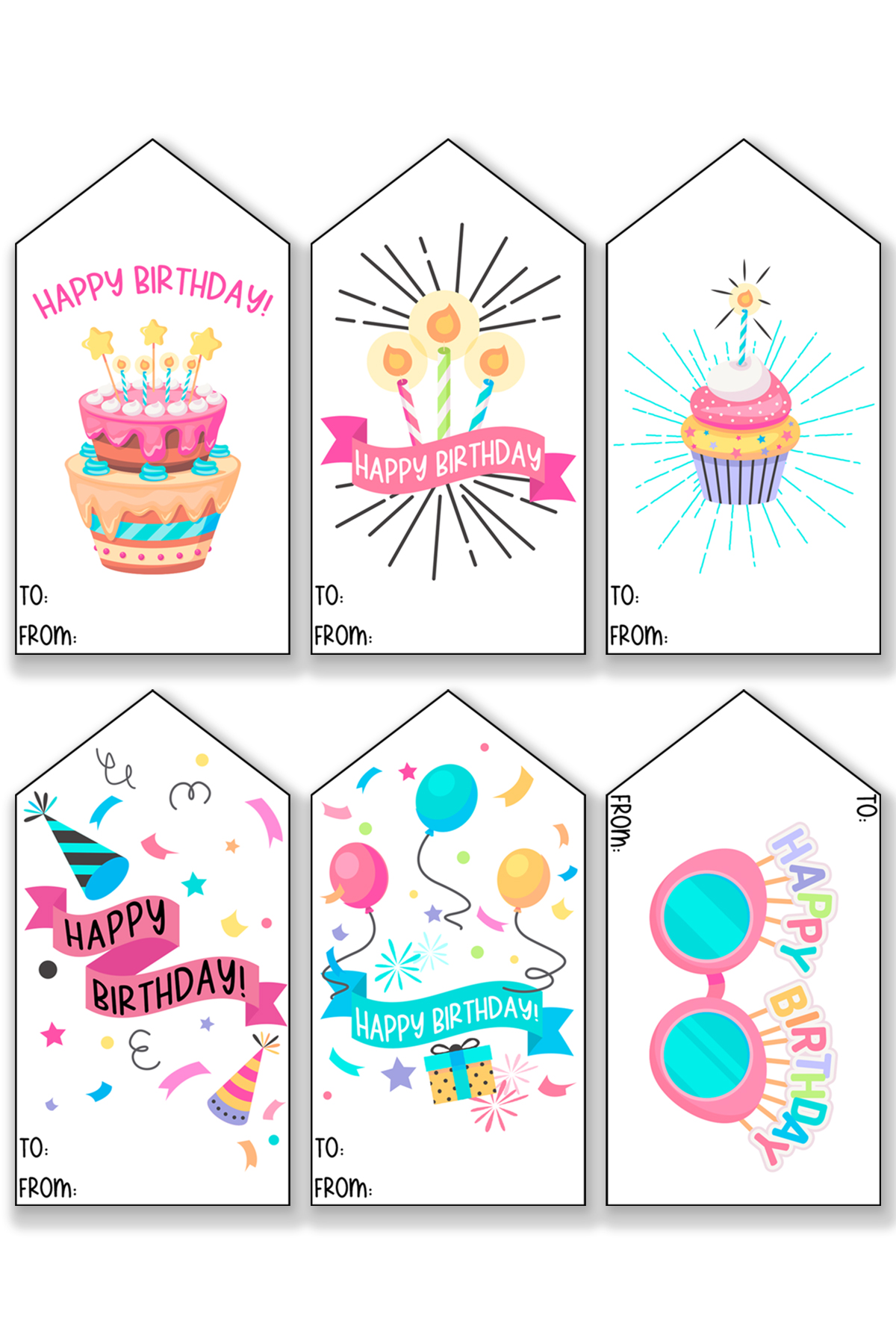 This set of bright birthday tags may be my favorite. I love the top center free birthday tag with its brightly colored birthday cake.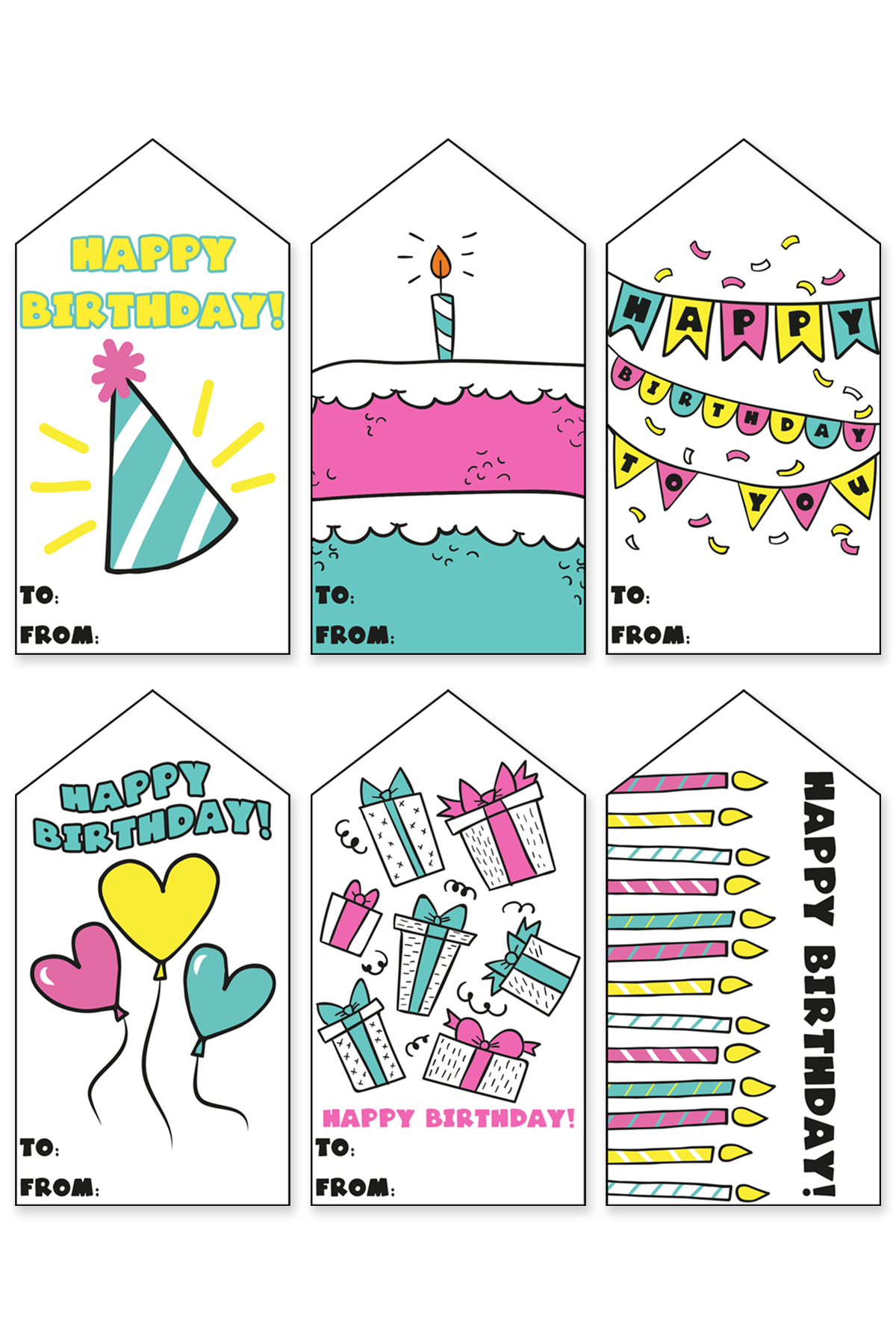 ​Does your gift receiver love vehicles of any kind? Print and cut these fun transportation birthday tags: you'll get a firetruck, tractor, train, truck, car, and plane.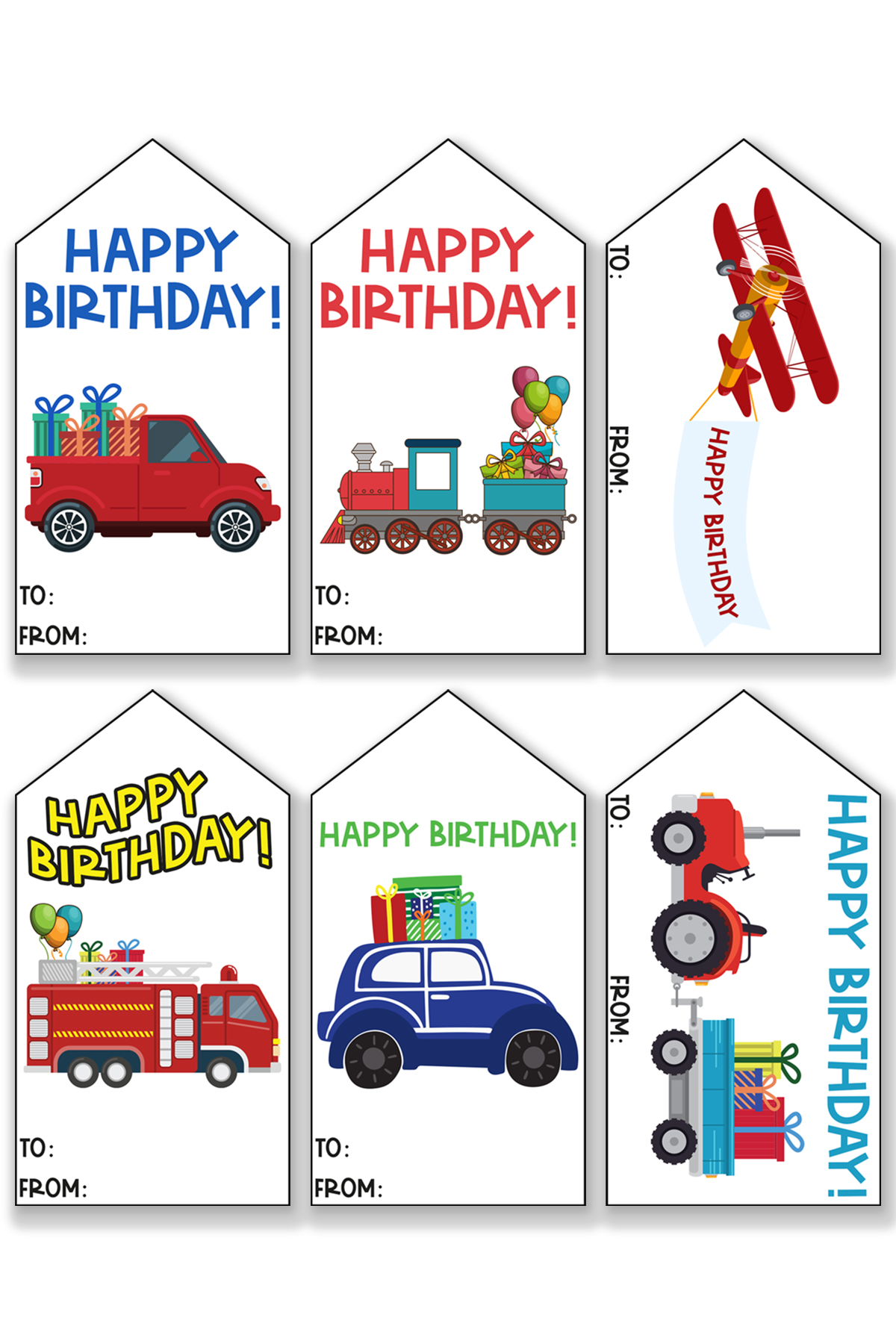 The colors in these unicorn birthday gift tags are so soft yet fun. They'd really stand out printed on basic white card stock.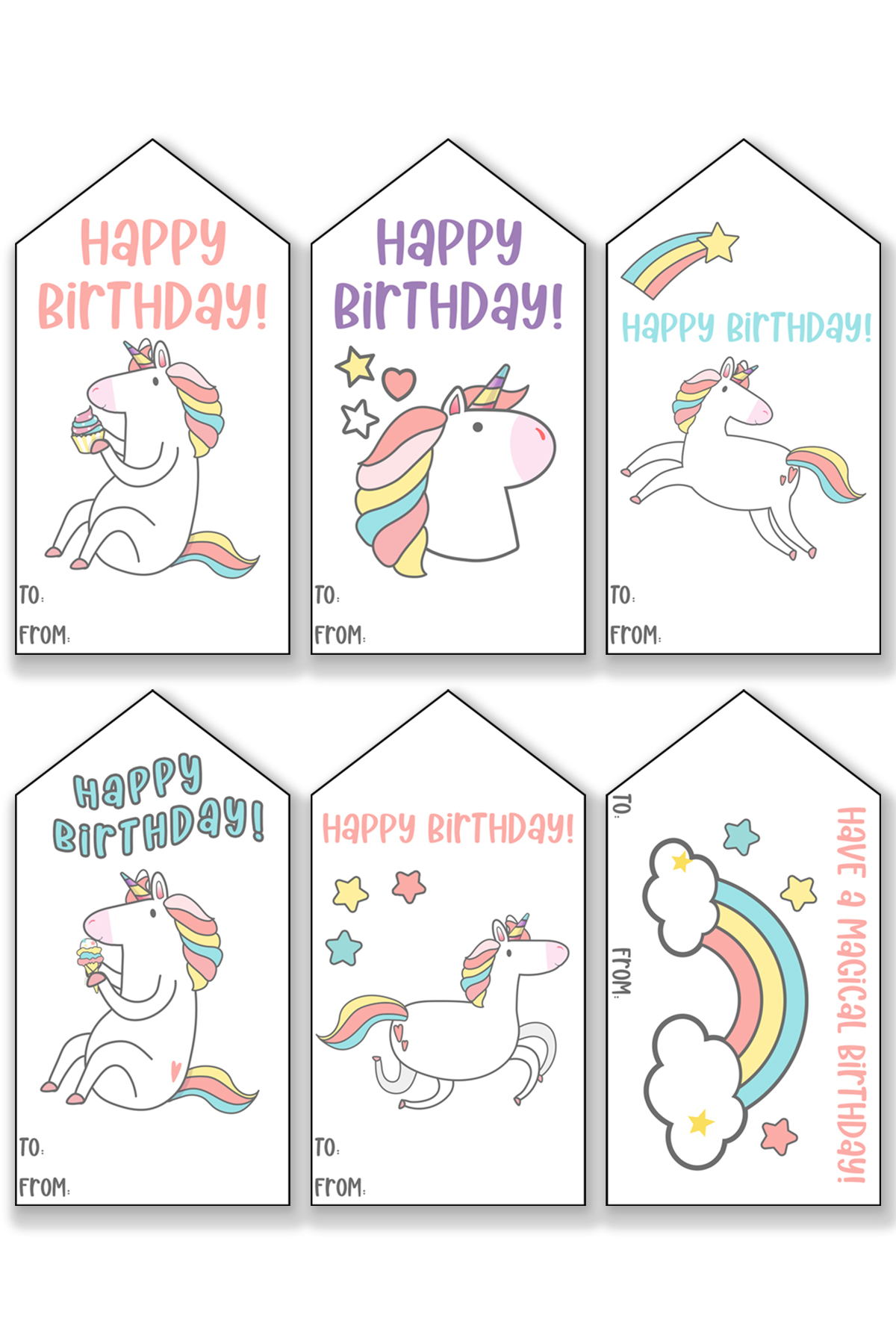 Lastly, you get this set of watercolor generic birthday designs. Again, they can work with most any birthday theme.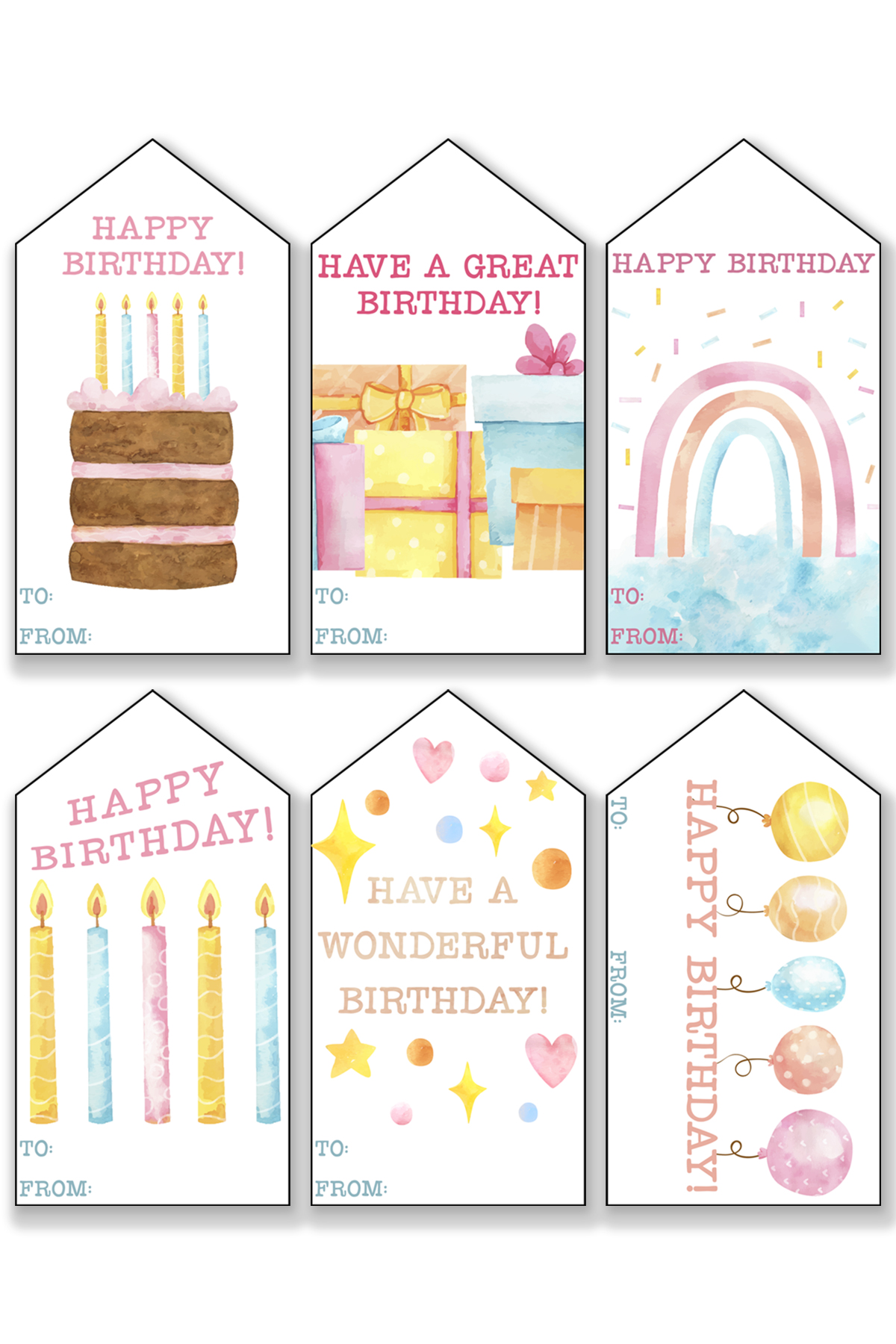 What Paper Should the Birthday Tags Be Printed On?
For best results, I suggest that the tags are printed on white cardstock. While they can be printed on printer paper, cardstock paper is sturdier and will make the tag look more professional.
​Set Up for Easy Cutting
These tags are set up so they are easy to cut. They are butted up against each other so that you have less cuts than if they were separated.
Should the Tags Be Hole Punched or Taped?
​You can easily use the gift tags as a hanging birthday gift tag or just attach the tag with tape. If you are creating a hanging tag, just cut out the tag and punch a hole in the top center of the tag.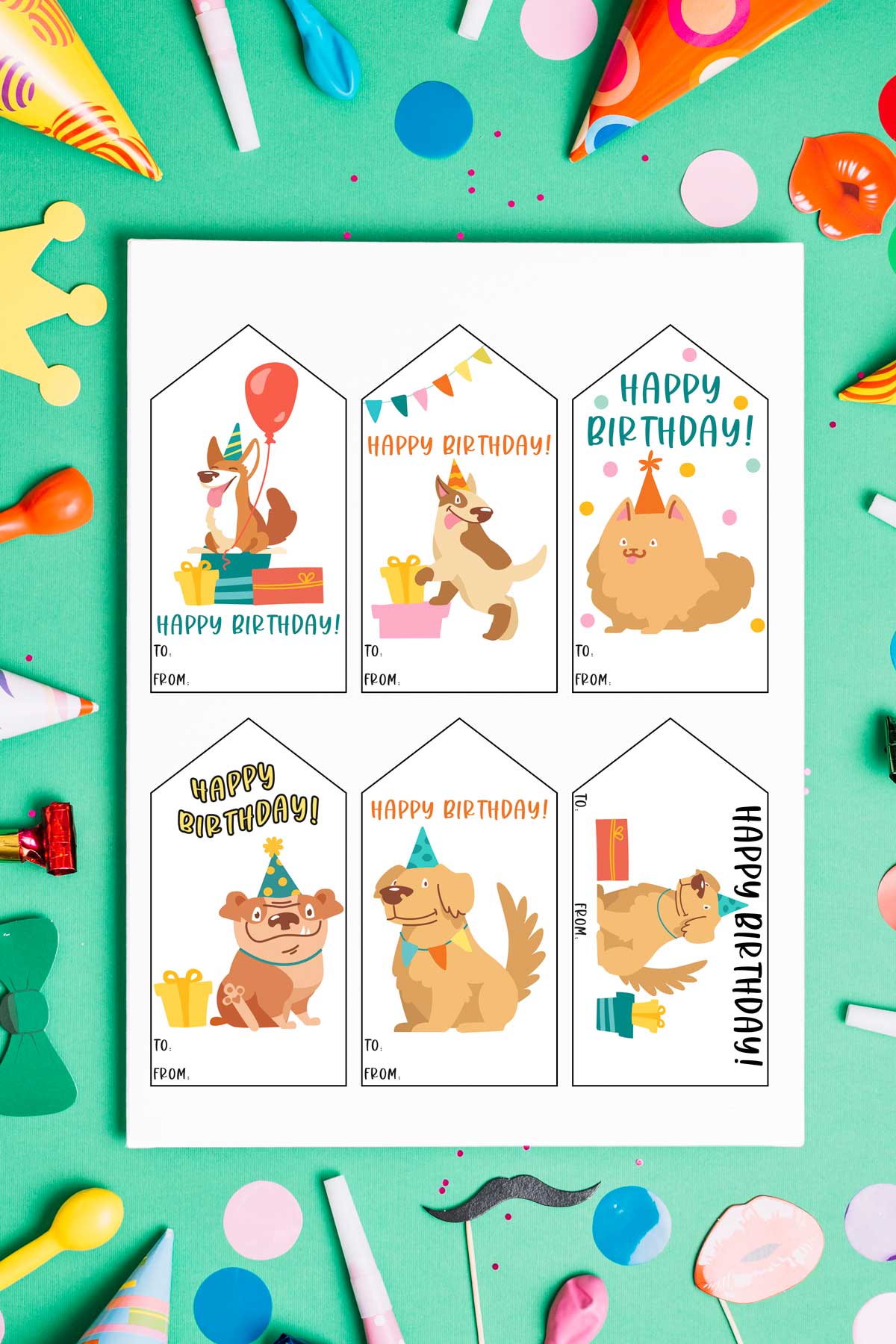 What Size are the Gift Tags?
The gift tags are designed to print on a standard US Letter Size sheet. There are 6 tags per page that are each approximately 1.2 inches wide by 2.3 inches tall.
Can I Print the Birthday Tags in a Smaller Size?
Yes, you definitely can print smaller tags. I love to print these tags off 2 to a page to get smaller tags that are great for smaller gifts.
Are the Tags Only for Birthdays?
Yes, these tags are designed to be used for birthdays only. Due to their design, they wouldn't work during the holiday season, for weddings, a baby shower, etc. They're only meant for birthdays.
What File Types are Included?
You'll get a pdf file with all 17 pages of free birthday tags. Or, you can download the individual PNG files for each tag.
Get Access to Over 300 Free Printables & Digital Files Here at Mom Envy!
Did you know that Mom Envy has over 300 free files you can get access to for FREE? Click here to see all of our free printables and digital files. If you aren't a member, click here to sign up to become a free member with your email address.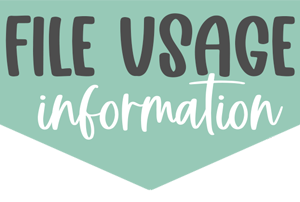 Copyright MOM ENVY 2023. Files may be used for personal use only. No commercial use of the file is available. Files may not be directly shared within Facebook groups, on websites, or in any other way. If using for educational purposes, the file may be printed and copied for classroom use. A link to the web page to download the files may be shared as well as one photo. The file may not be printed and then sold (including local yard sale sites and groups or at local craft fairs). The images may not be used in any way other than to share with a link to the original web page.