This recipe is the result of leftovers from our Extreme Patriotic Milkshakes. When creating my milkshakes, I had leftover melted white chocolate and patriotic M & M's. I didn't want the melted chocolate to go to waste, so I decided to make a candy bark. But I wanted to add a little extra something. In our house, we always have pretzels. So I decided to add some broke up pretzel pieces. If you don't have any pretzels pieces on hand, that's okay. The best part about a bark recipe is that you can add anything you want. You could add various types of candy, dried fruit (dried cranberries and blueberries would continue the patriotic theme), broken up animal crackers, graham cracker pieces, or various nuts.
Looking for another easy Patriotic dessert? Check out the Extreme Patriotic Milkshake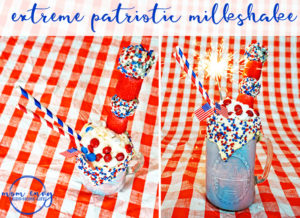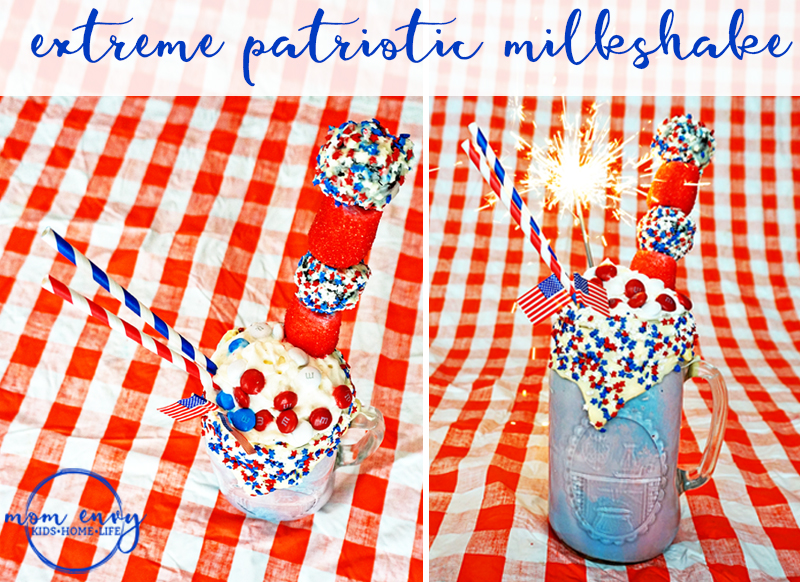 .
Patriotic Candy Bark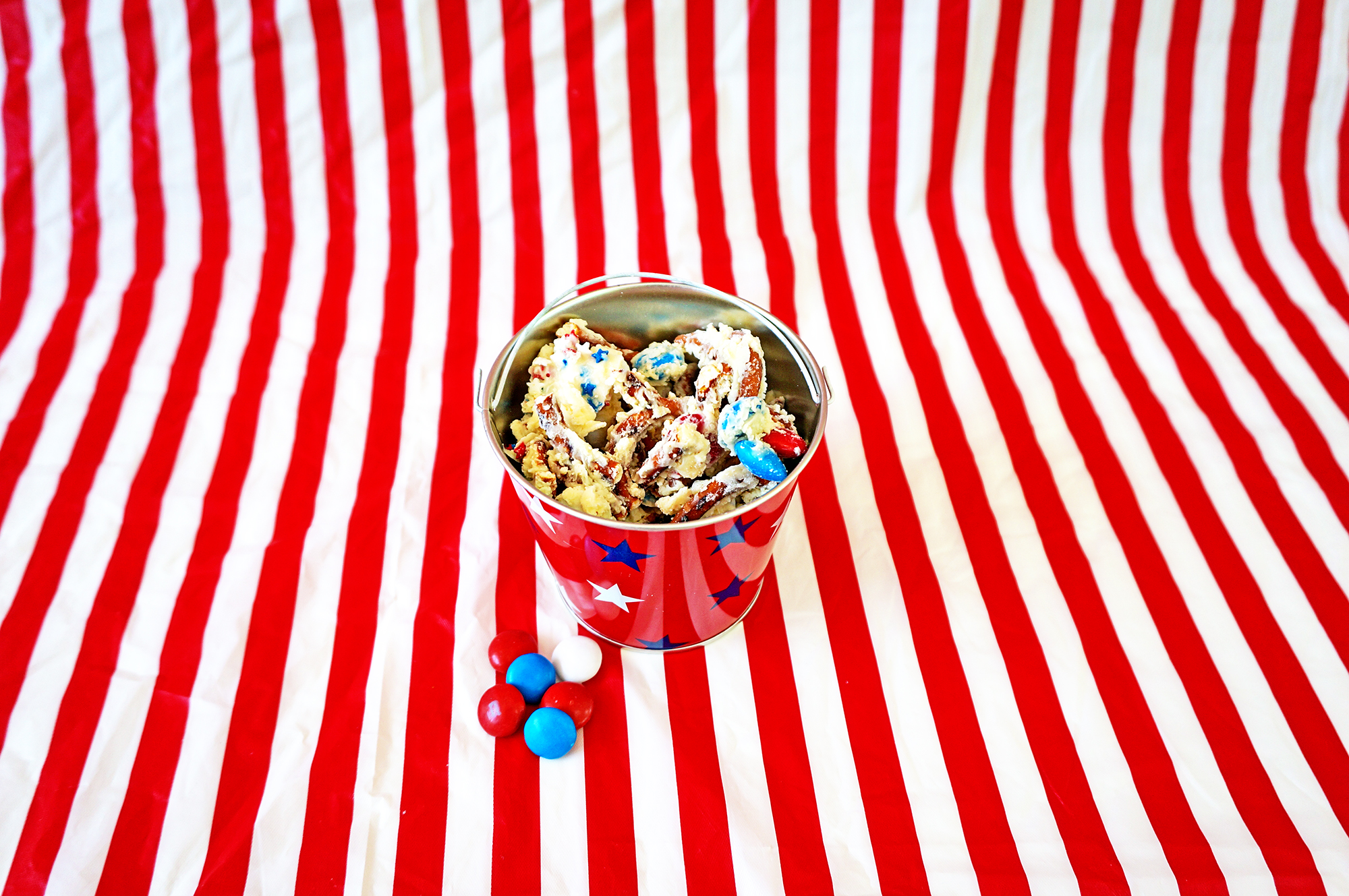 Materials:
Parchment paper
Spatula or offset spatula
Jelly Roll pan or Cookie Sheet
Microwave safe large bowl
Ingredients
White chocolate
Pretzels broken into small pieces
M &M's
Patriotic Sprinkles
Other options include:
Candy
Dried fruit
Animal Crackers broken into small pieces
Graham Crackers broken into small pieces
*Amounts depened on desired amount. I used the leftover from my milkshake. For a full recipe, use one full bag of white chocolate and about 1/4 cup of each mix-in.
Directions
Line a jelly roll or cookie sheet with parchment paper.
Melt the white chocolate in the microwave at 30-second intervals until melted. (Stir after each 30-second interval).
Mix in the pretzels, sprinkles, and M & M candy (or other mix-in ingredients) into the melted white chocolate.
Using a spatula, spread the white chocolate mixture onto the lined sheet pan.
Allow time to set.
Once set, use hands or a knife to break the bark into smaller pieces.
Serve.
Interested in saving this recipe for later? Pin me!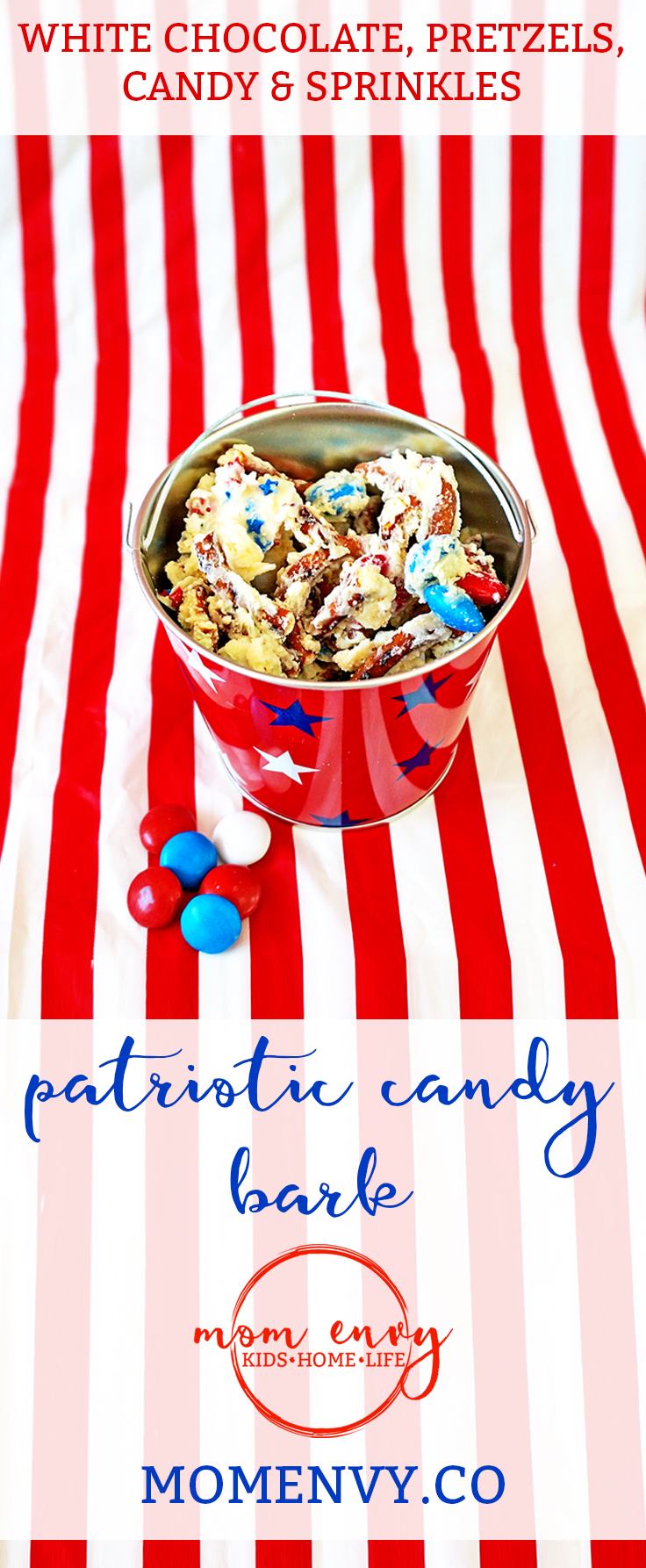 Disclosure: This post contains affiliate links for Amazon products, which means that if you click on one of the product links, I may receive a small endorsement. This is what helps keep my page and freebies, free for my readers. All items that I share are ones that I believe in and stand behind. I am Amazon Prime obsessed – I shop there more than anywhere else. While I use affiliate links, I did not receive any products for free in return for advertising or a review.