Looking for a new Christmas cookie recipe? I have 55 different options from some of the best bloggers around. You're bound to find a new family favorite! Do you have a favorite Christmas cookie recipe? I'd love to try it out. Tell me about it in the comments below!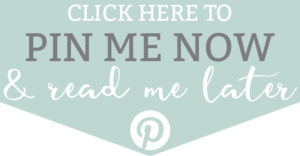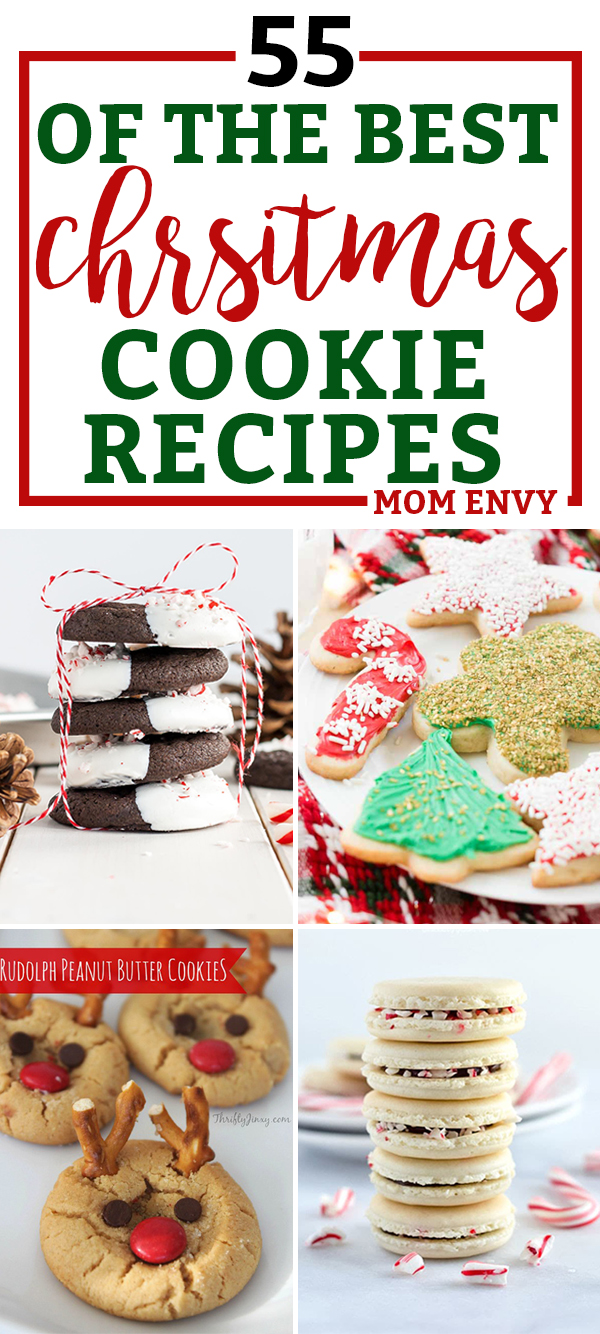 55 Of the Best Christmas Cookie Recipes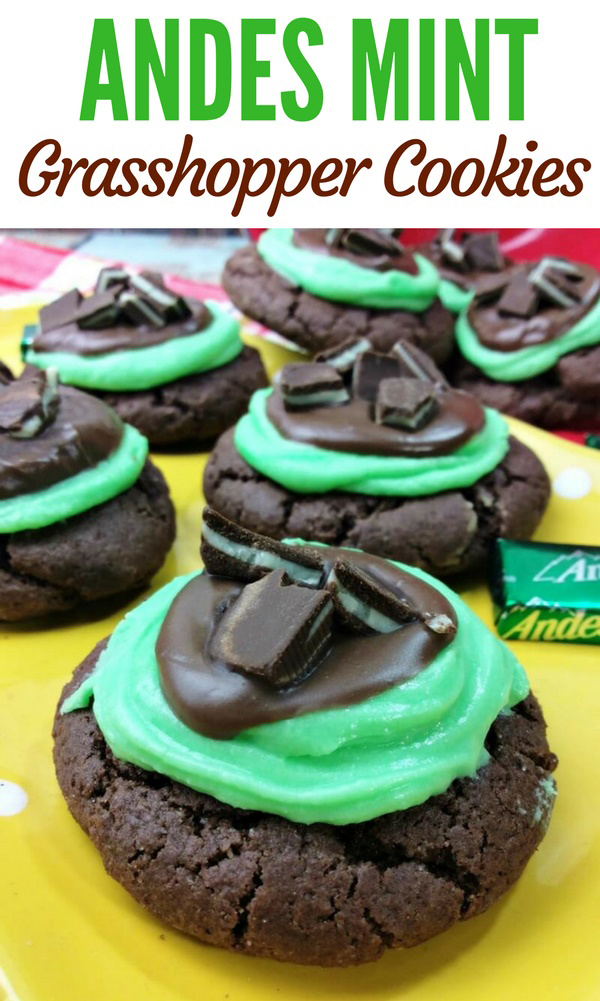 Andes Mint Grasshopper Cookies from Crayons and Cravings
Mint and chocolate are a perfect pairing for Christmas cookies. The bright green color is a total show-stopper.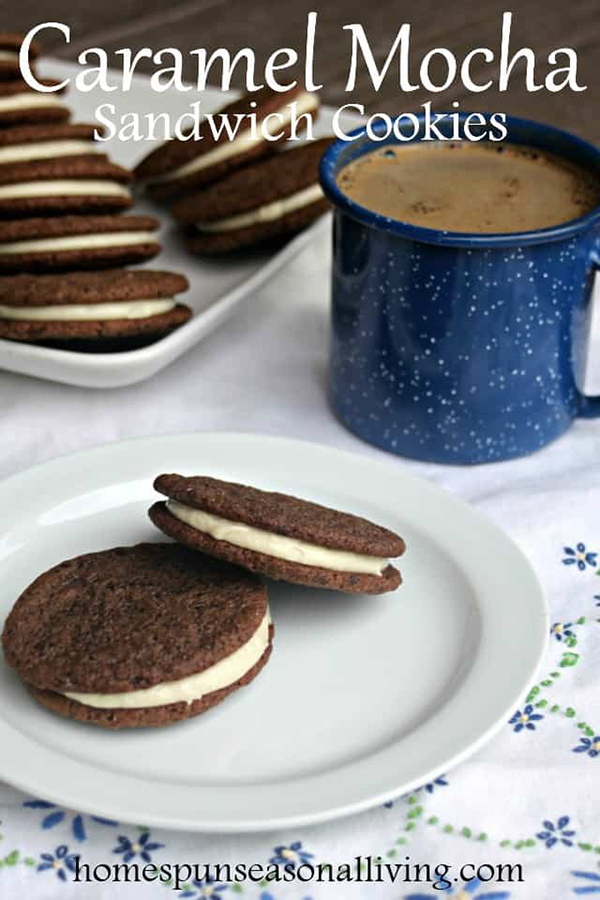 Homespun Seasonal Living's Caramel Mocha Sandwich Cookies
These are a delicious mocha version of your favorite sandwich cookie. To make them even more Christmassy, you could roll the sides in colored sprinkles.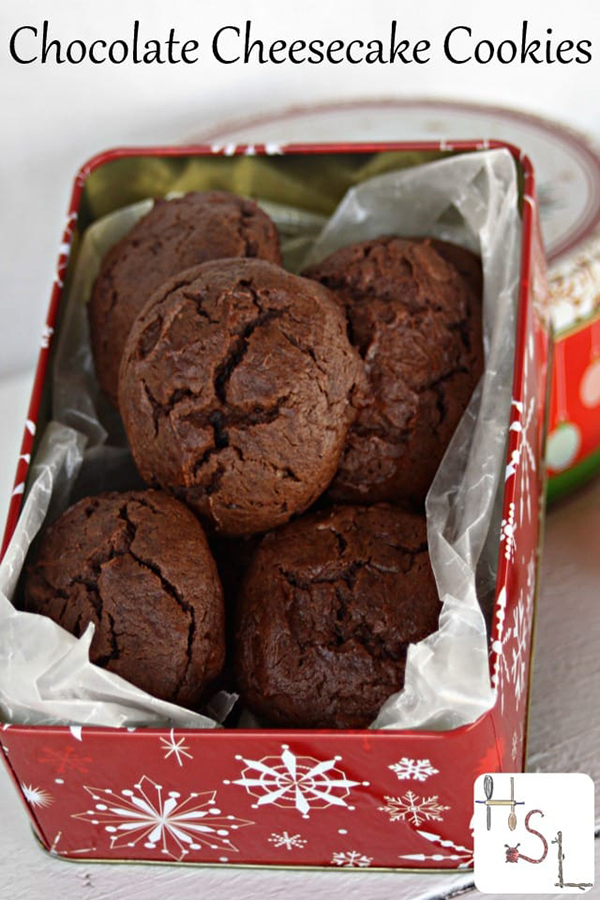 Homespun Seasonal Living's Chocolate Cheesecake Cookies
Want cookie with that's rich and chocolately? Then try out these chocolate cheesecake cookies. You won't be disappointed.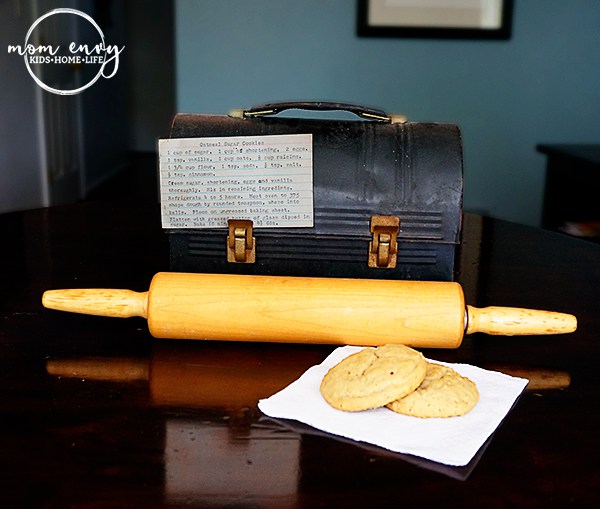 Sugar Oatmeal Cookies from Mom Envy
These sugar oatmeal cookies are a family favorite in our house. It's my Grandma's recipe from years ago. These cookies are soft thanks to the oatmeal.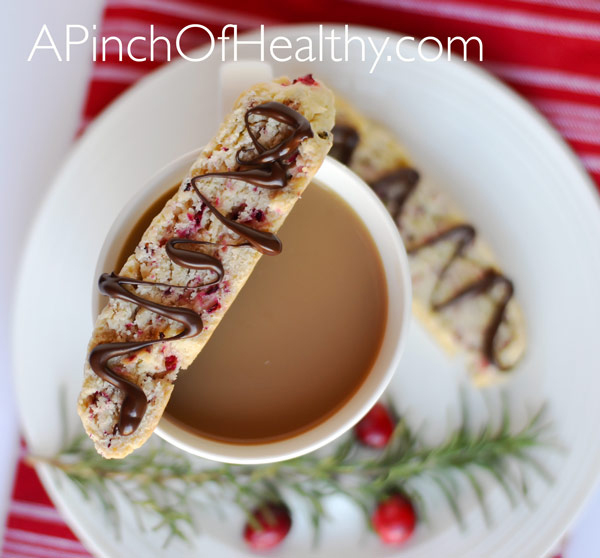 A Pinch of Healthy's Christmas Biscotti with Cranberries, Rosemary, and Dark Chocolate
I wish I had these guys at my Christmas coffee bar. The flavors and colors make these the perfect festive coffee sidekick.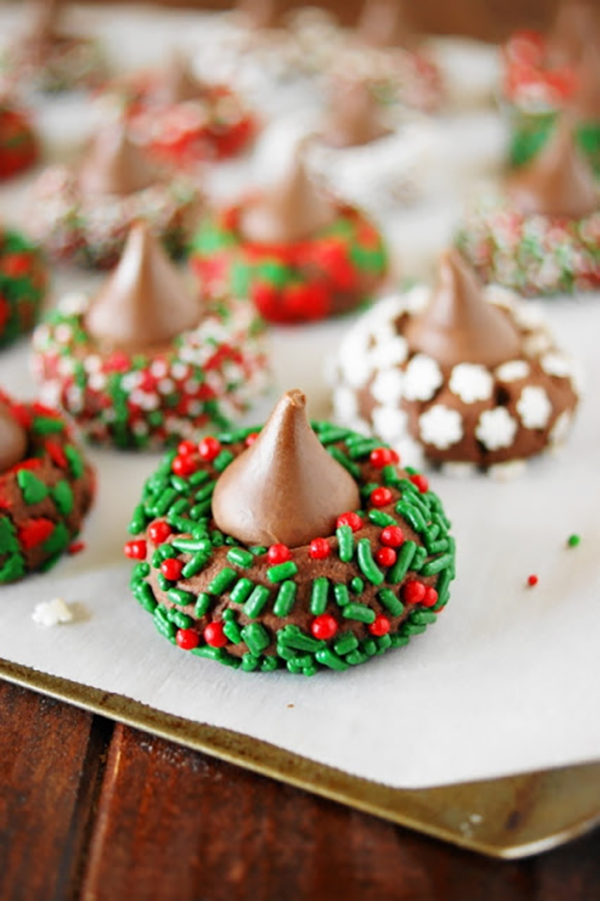 The Kitchen is My Playground's Christmas Chocolate Kiss Cookies
Kiss cookies are a traditional favorite for many families at Christmas. Tracey changes the recipe up by changing the cookie dough to a chocolate dough base.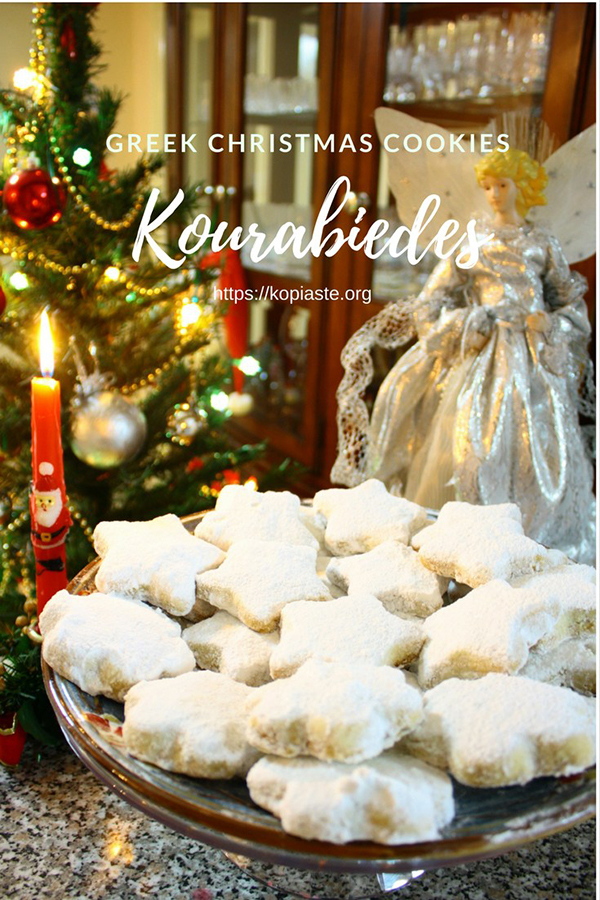 Greek Christmas Cookies Kourabiedes from Kopiaste
Even if your family isn't Greek, they'll still love these cookies that are similar to a shortbread. They can be cut into fun shapes and are decorated with a sugar coating.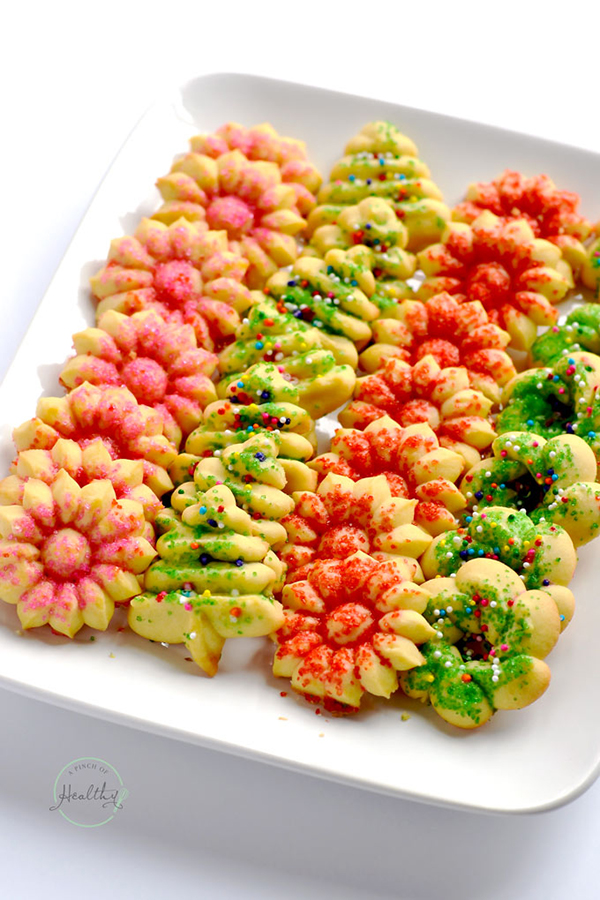 A Pinch of Healthy's Christmas Spritz Cookies
Has your family ever made spritz cookies? They are a great traditional cookie for a reason – they are simple and yummy.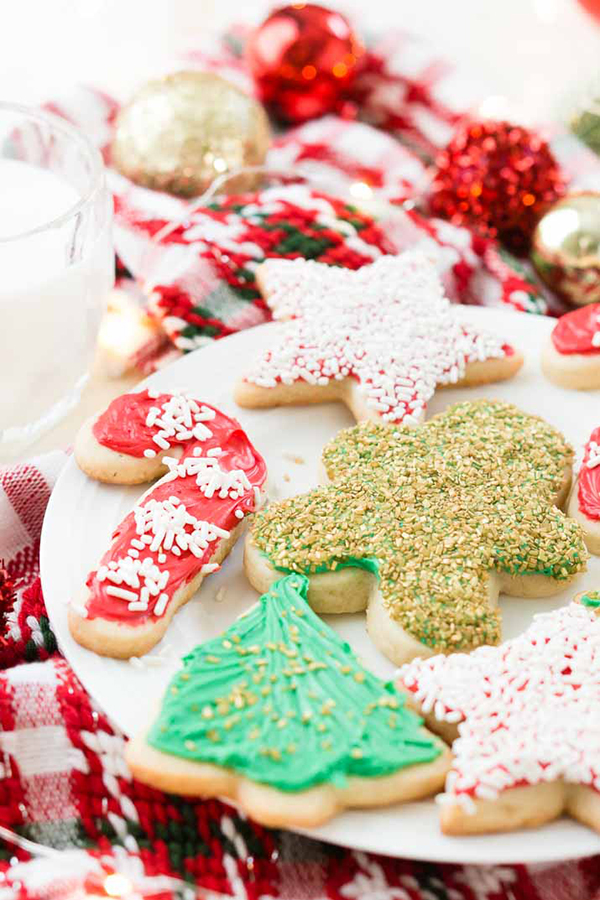 Sugar and Soul Co's Classic Sugar Cookie Recipe
Finding a go-to sugar cookie recipe can be difficult – especially if you want to make rolled sugar cookies. Check out Rebecca's recipe for cookies just like Grandma used to make!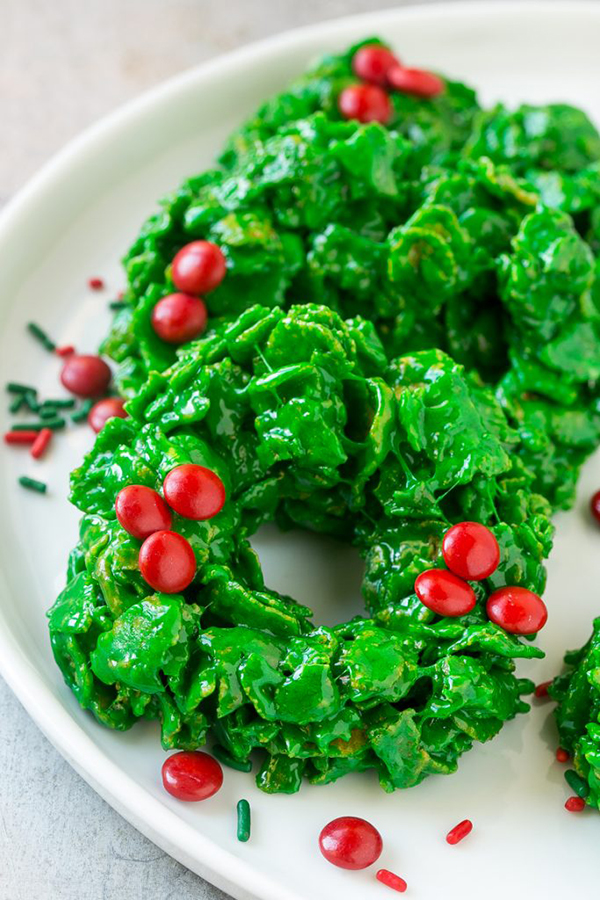 Dinner at the Zoo's Christmas Wreath Cookies
If you're looking for a kid-friendly cookie, these are it. These no-bake cookies are the perfect recipe to get your little ones involved this holiday season.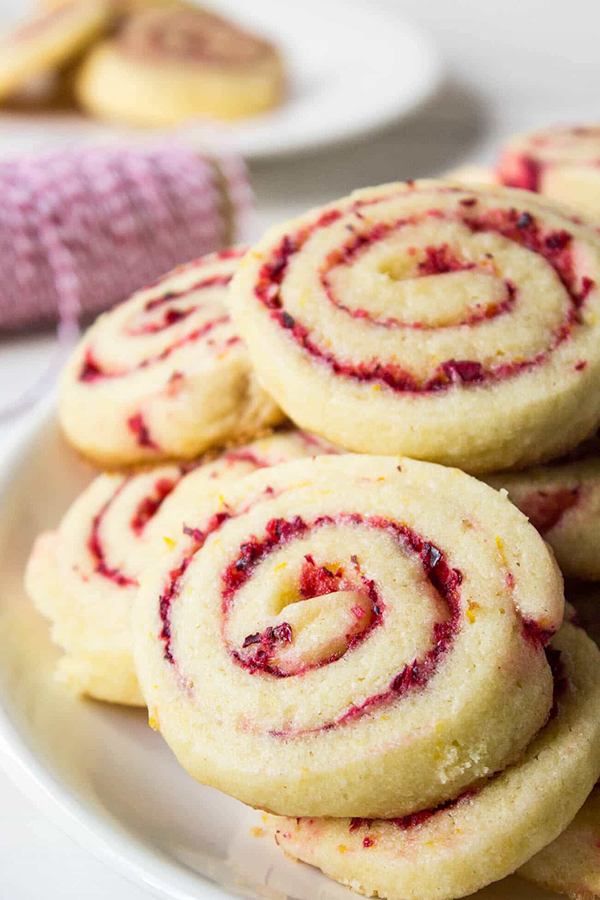 Beyond the Chicken Coop's Cranberry Orange Swirl Cookies
These unique cookies will look extra special at on your cookie platter this year. The cranberry and orange pair so well together with this simple dough.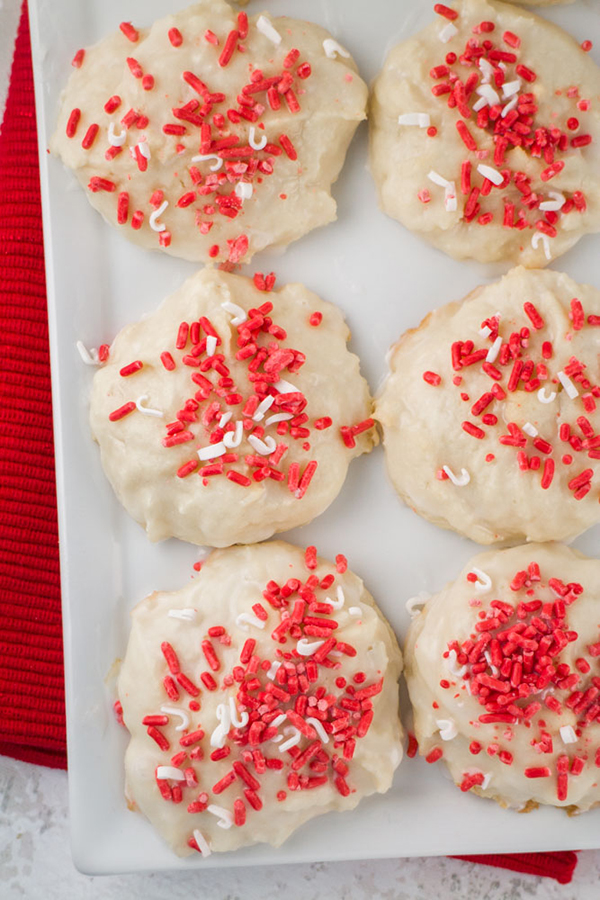 Cream Cheese Christmas Sugar Cookies from Brooklyn Farm Girl
These super soft cookies are made festive with colorful sprinkles. They're topped with a simple sugary frosting to make them even tastier.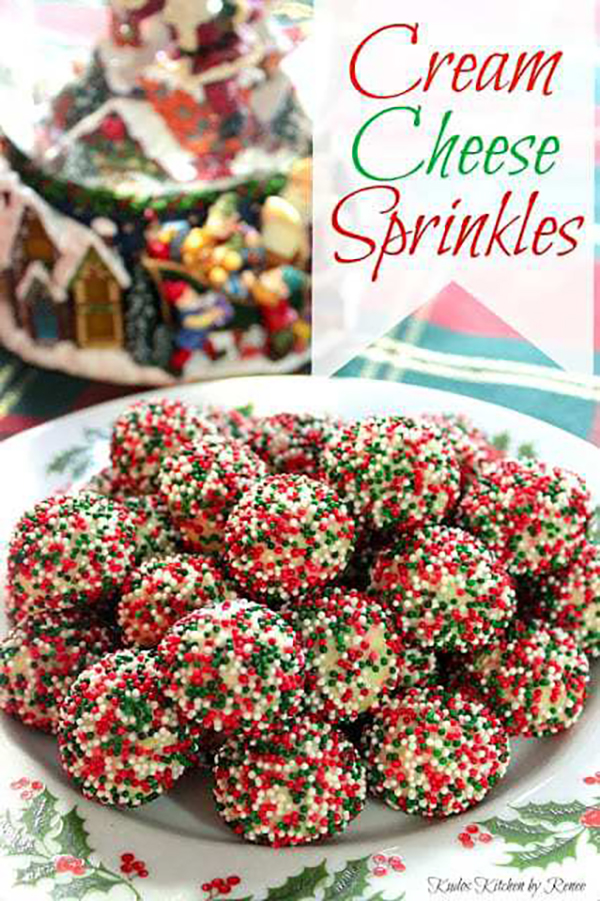 Cream Cheese Sprinkle Cookies from Kudos Kitchen by Renee
Could these cream cheese sprinkle cookies be any cuter? They'd look adorable in a tin as a gift this holiday season.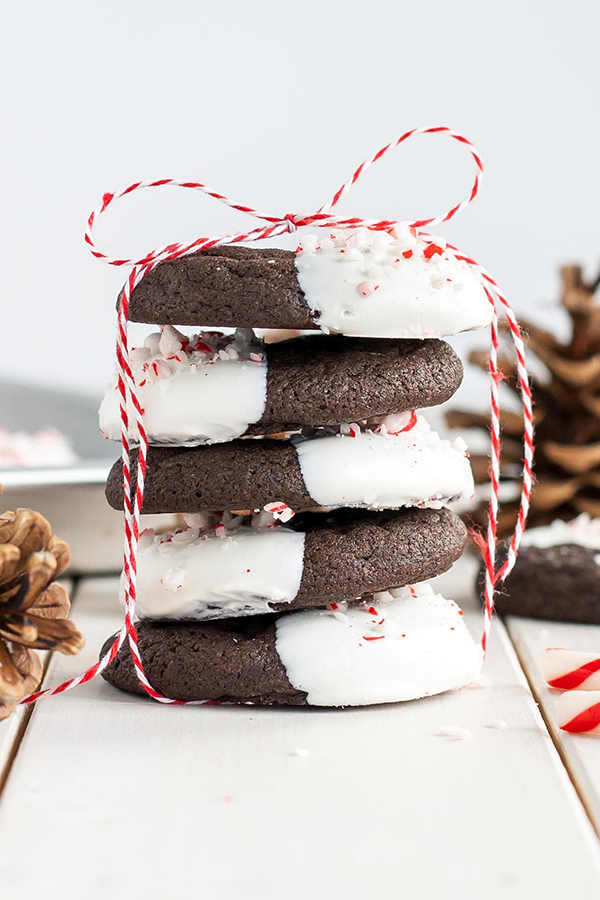 Dark Chocolate Candy Cane Cookies from Liv for Cake
If you love chocolate and peppermint, you'll love these delicious cookies. The cookie itself is similar to an Oreo but with a peppermint twist.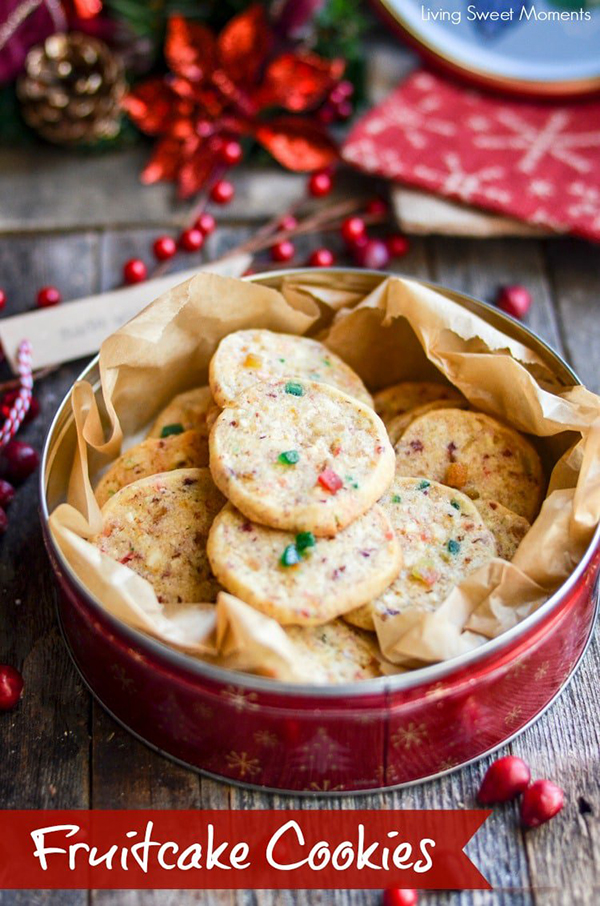 Fruitcake Cookies from Living Sweet Moments
These cookies are such a fun twist on traditional fruitcake. Instead of cake, all of the flavors are bundled up in a cookie package.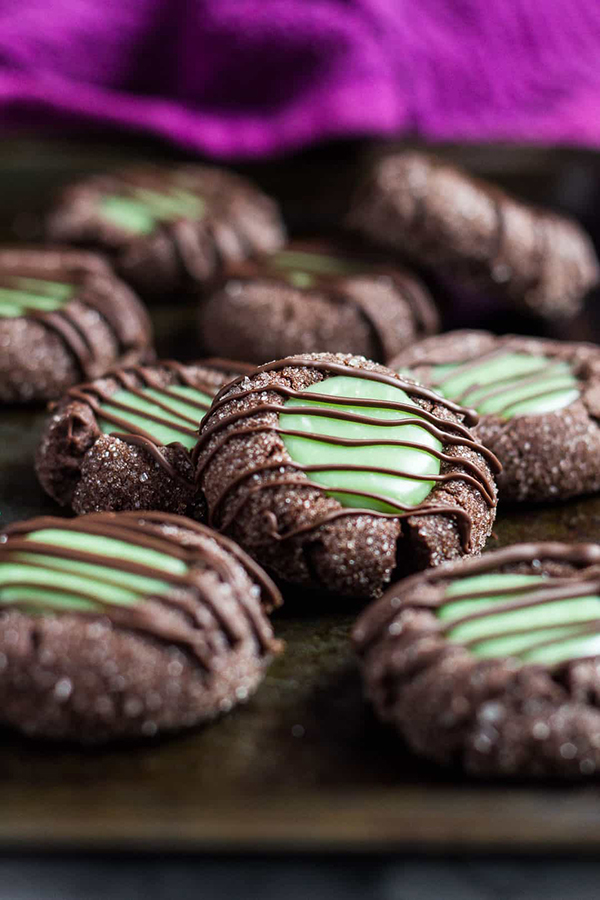 Mint Chocolate Thumbprint Cookies from Marsha's Baking Addiction
These rich chocolate cookies are filled with a sweet white chocolate mint ganache. The soft chocolate cookies are mint-infused as well.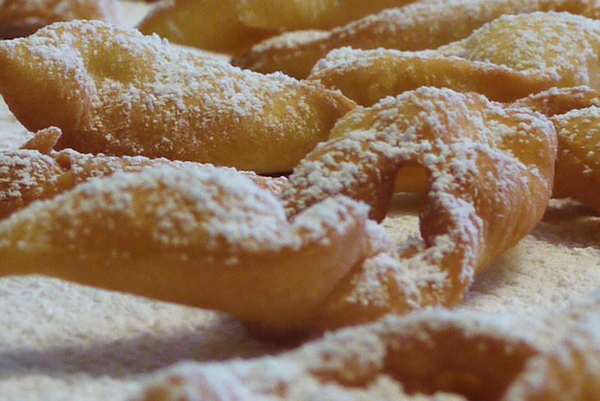 Kruschiki (Chruschiki) Polish Bow Ties from Learning and Yearning
Kruschiki is a traditional Polish cookie. They are slightly sweet and light, airy and crispy. This recipe has a special place in my heart because my Dad grew up in Poland.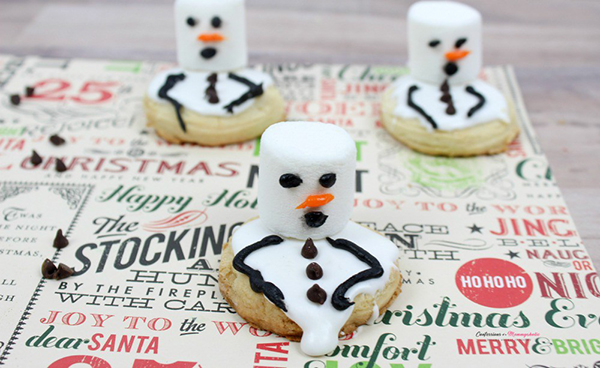 Melting Snowmen Cookies from Confessions of a Mommyholic
Aren't these cookies adorable? Kids (and adults) will love these adorable winter cookies.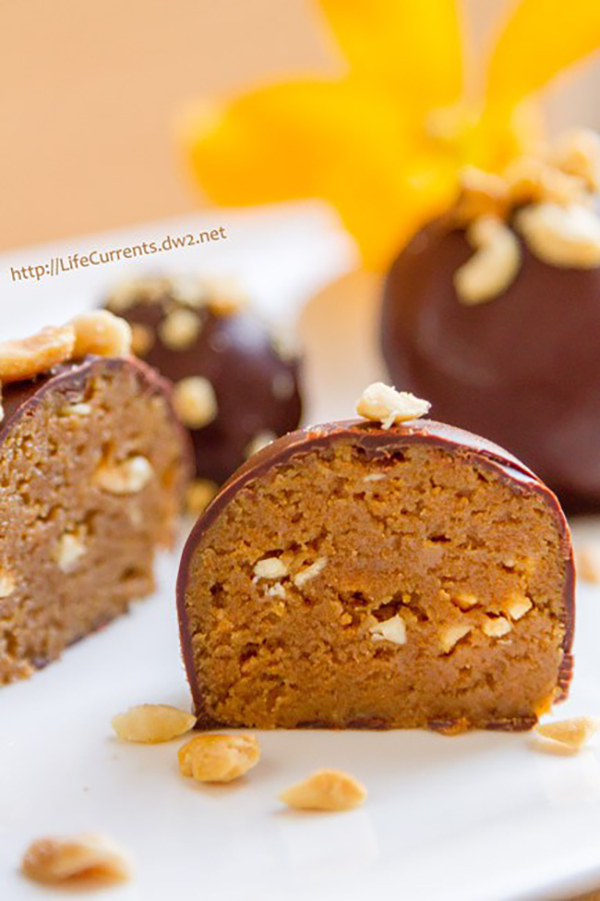 No Bake Peanut Butter Cookie Truffles from Life Currents
These cookies have not only peanut butter but Biscoff biscuits (cookie butter if you can't find the actual biscuits) as well. The best part about these cookie truffles is they're no bake making them super easy and great to make with kids.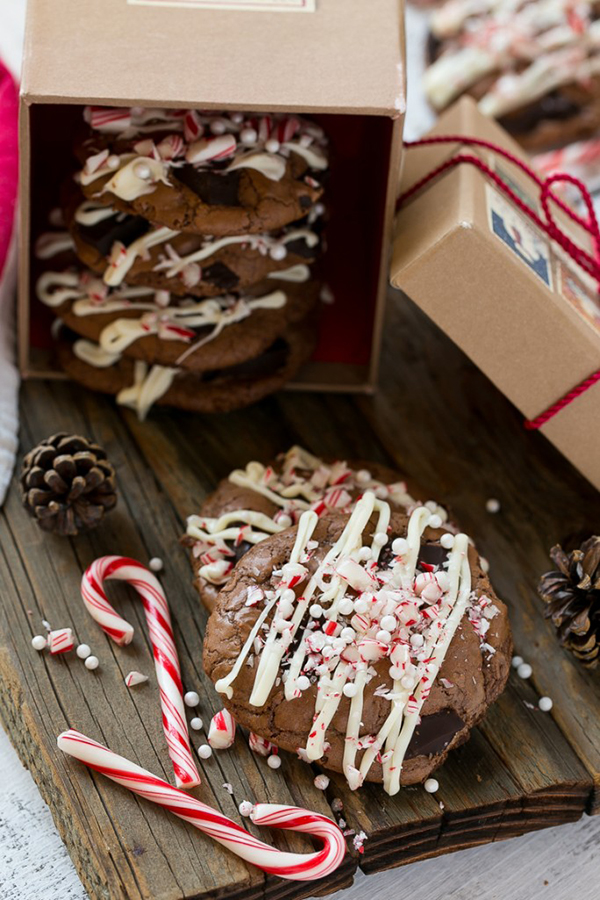 Pennywise Mama's Peppermint Double Chocolate Chunk Cookies
If you're looking for an easy cookie this holiday season, you'll love these semi-homemade cookies. They start with a storebought cookie mix and end with a fun frosting using peppermint mocha coffee creamer.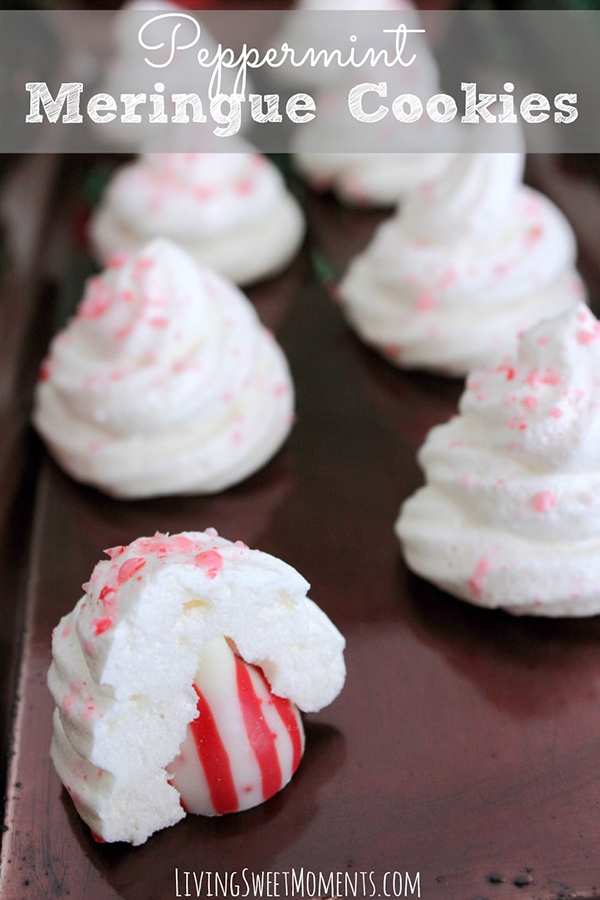 Peppermint Meringue Cookies from Living Sweet Moments
These meringue cookies are easy to make and have a fun little surprise inside. While they look pillowy soft, they're actually a crunchy cookie.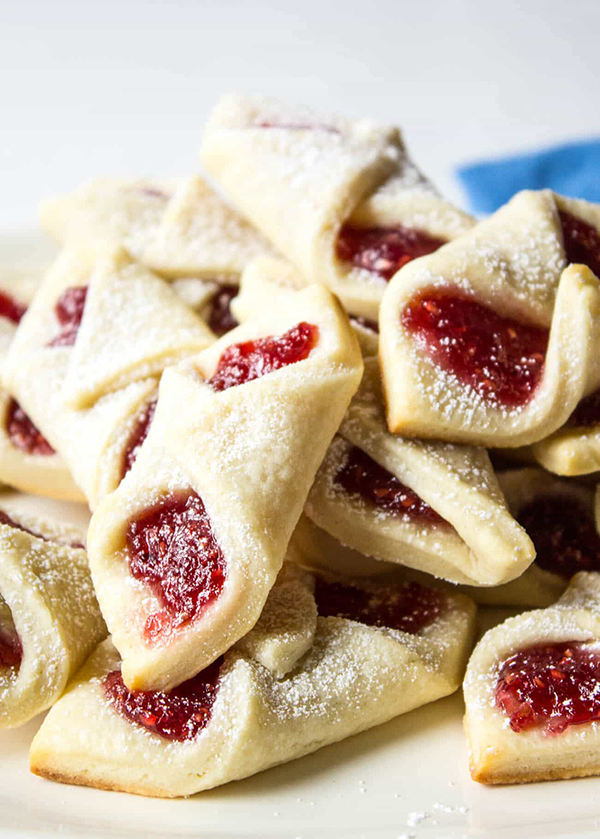 Raspberry Bow Tie Cookies from Beyond the Chicken Coop
These festive cookies are a show stopper. They're elegant and look much more complicated than they actually are (which always impress the guests!)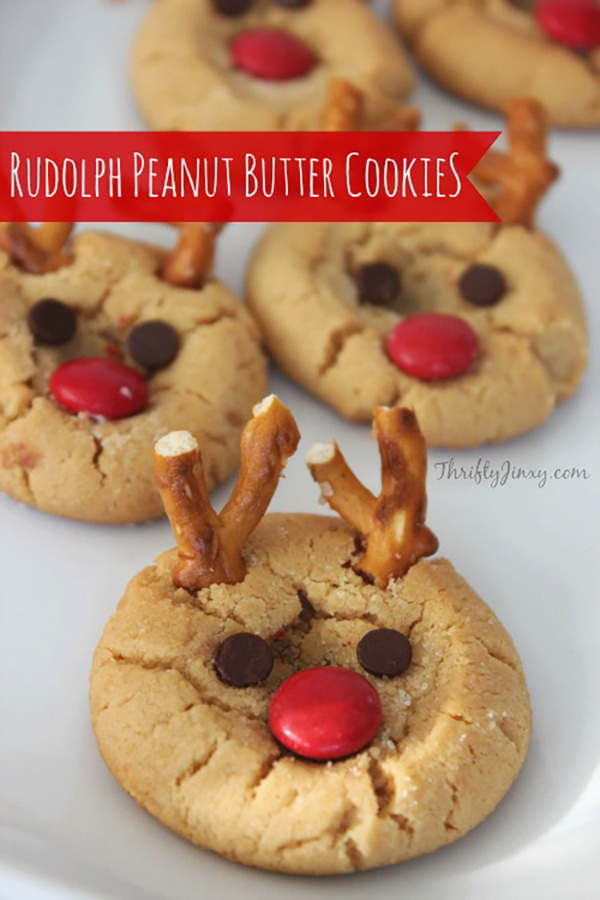 Thrifty Jinxy's Rudolph Peanut Butter Cookie Recipe
These kid-friendly cookies (okay, almost all cookies are kid-friendly but these really are), are simply adorable. Create a cute and simple Rudolph that Santa would love to receive on Christmas night.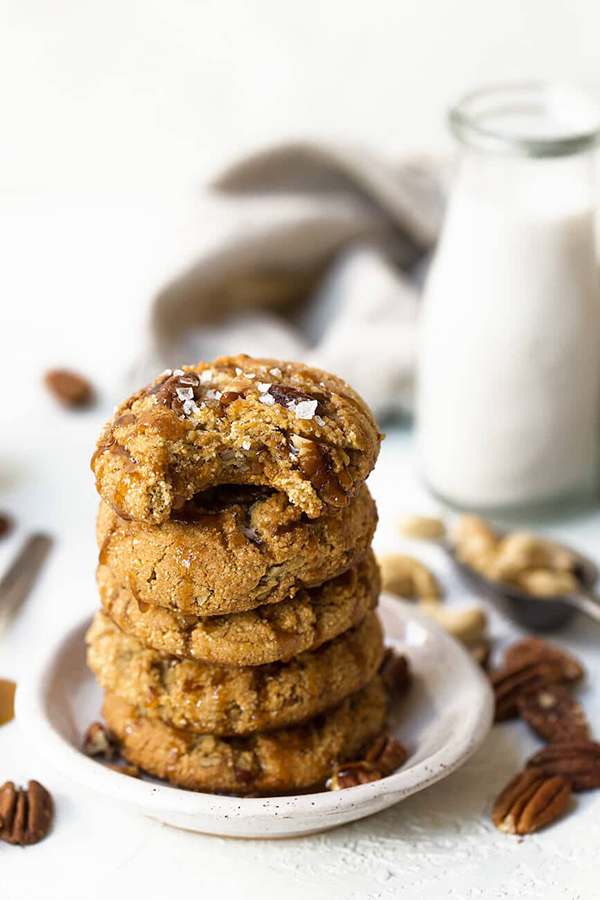 Salted Caramel Pecan Cookies from The Movement Menu
These cookies are a little more adult-friendly than the last ones. They're a fun combination of salty and sweet. Believe it or not, these are gluten and dairy free.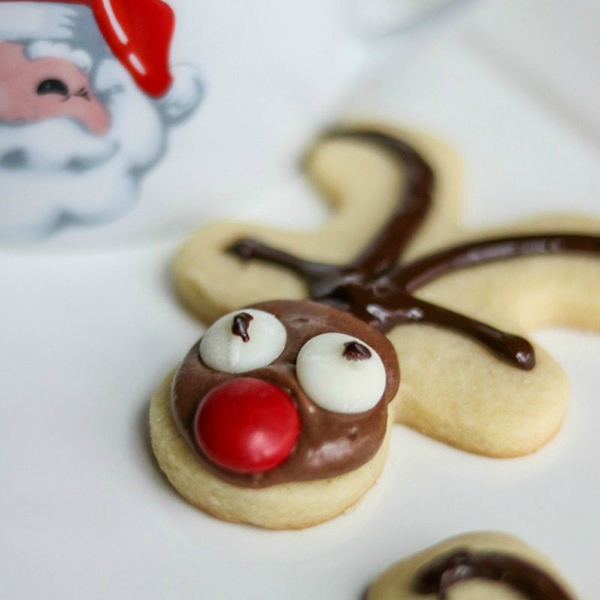 Reindeer Sugar Cookies from A Mind"Full" Mom
Can you tell what cookie cutter Kristen used to make these cookies? I'll give you a hint, they're not meant to be reindeer. If you're still having trouble, try turning your phone (or computer…although that's a bit harder) upside down.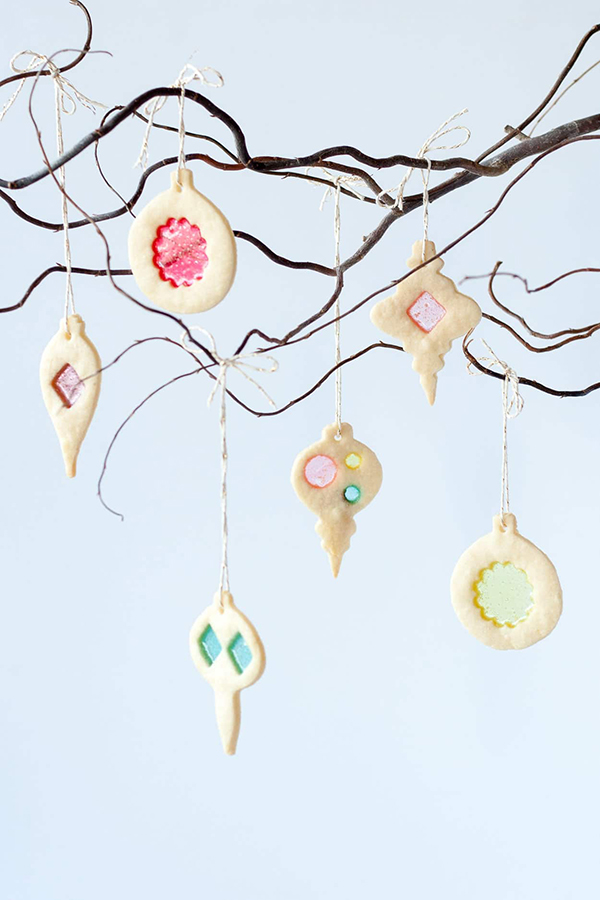 Stained Glass Cookies from Liv for Cake
These cookies are almost too pretty to eat. They'd make such a beautiful gift wrapped carefully in tin. The cookie dough itself is a simple sugar cookie.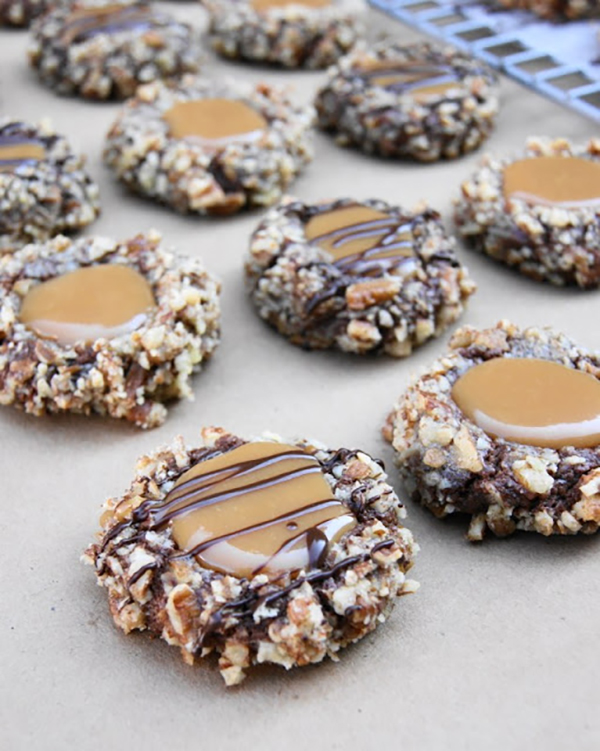 Insanely Delicious Turtle Cookies from The Kitchen is My Playground
That center looks amazing – don't you just want to bite into this one? Tracey even shows you on video how to make these delectable cookies.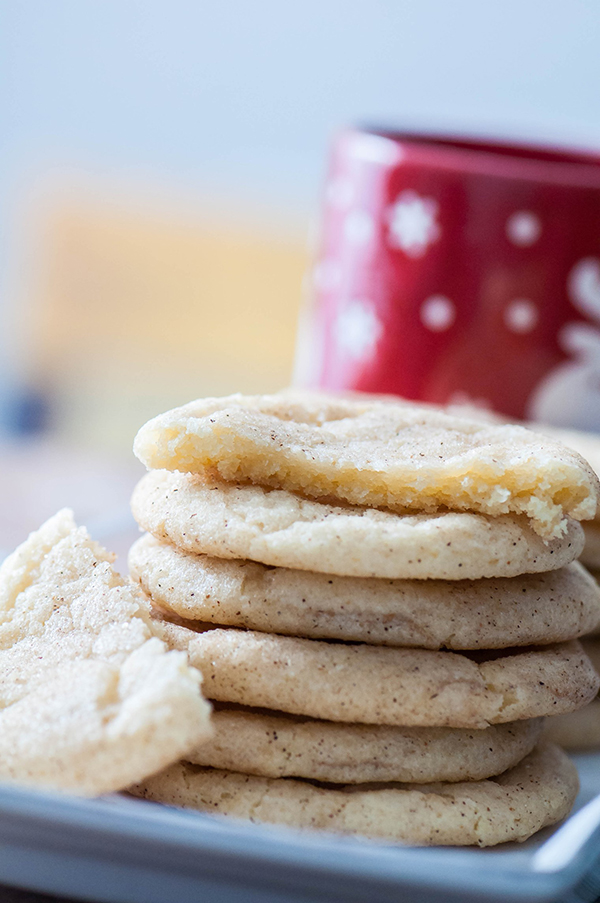 Chai Spice Snickerdoodles from Meg's Everyday Indulgence
Getting snickerdooles just right can be so hard – and it seems like people either want them soft and chewy or crunchy. These chai spice snickerdooles are a unique twist on a classic (often forgotten about), Christmas cookie.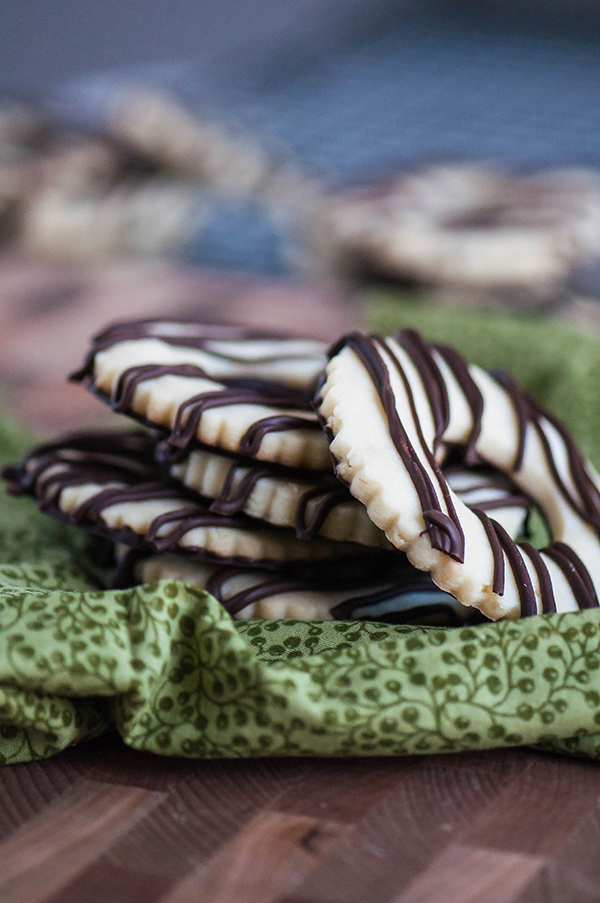 Homemade Fudge Stripe Cookies from Meg's Everyday Indulgence
Yep, with this recipe, you can make your own fudge stripe cookies. You don't need the Keebler's elves on this one, you can make them easily at your home with this delicious recipe.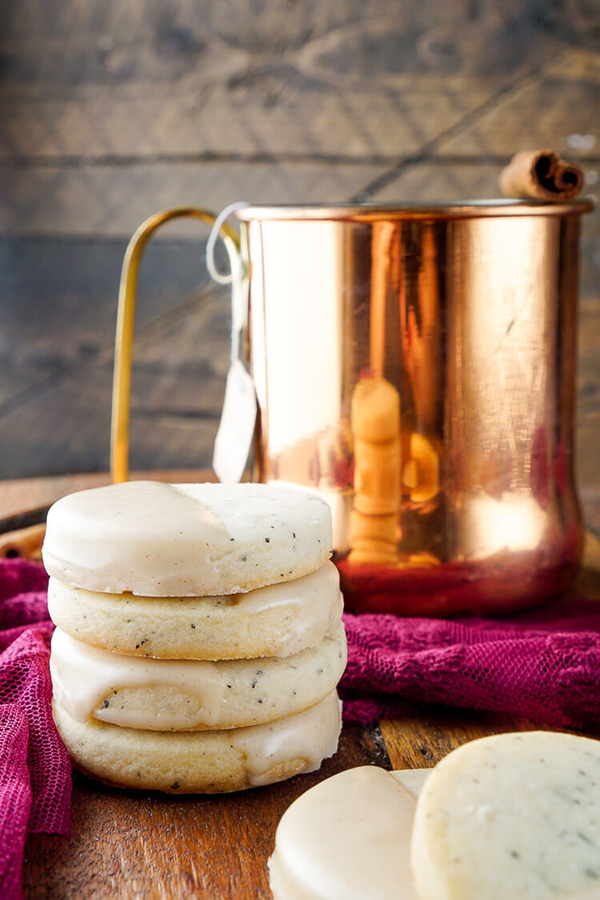 Easy Vanilla Chai Shortbread Cookies from Sugar and Soul Co
Are you a chai lover? These simple and crunchy cookies are paired perfectly with a cup of chai tea (or any hot beverage for that matter).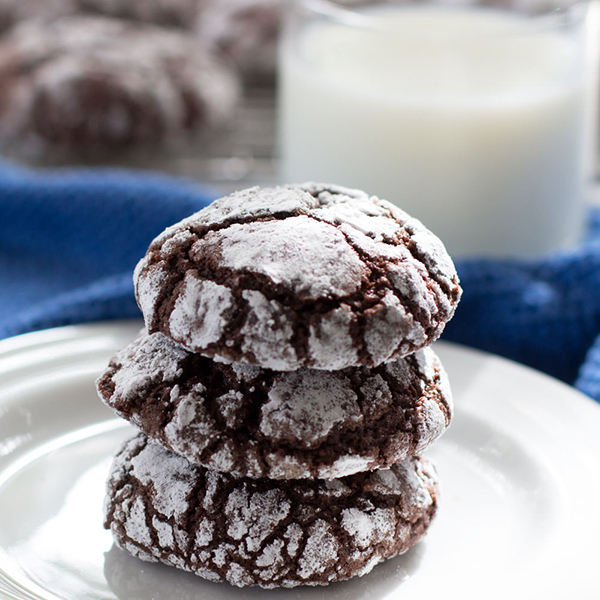 Fudgy Crackled Chocolate Cookies from Mother Would Know
Looking for a chocolately cookie that doesn't have peppermint in it? This cookie totally fits the bill. It's a rich fudgy cookie that will make any chocolate lover happy.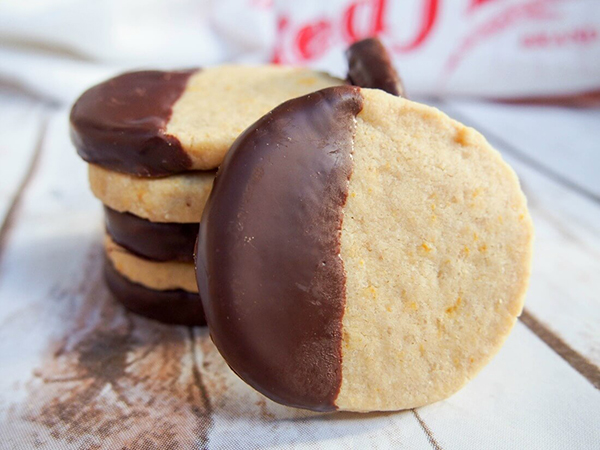 Chocolate Orange Shortbread Cookies from Caroline's Cooking
This delicate cookie is dipped in melted chocolate, making them extra special. They'd be beautiful packaged up as a gift.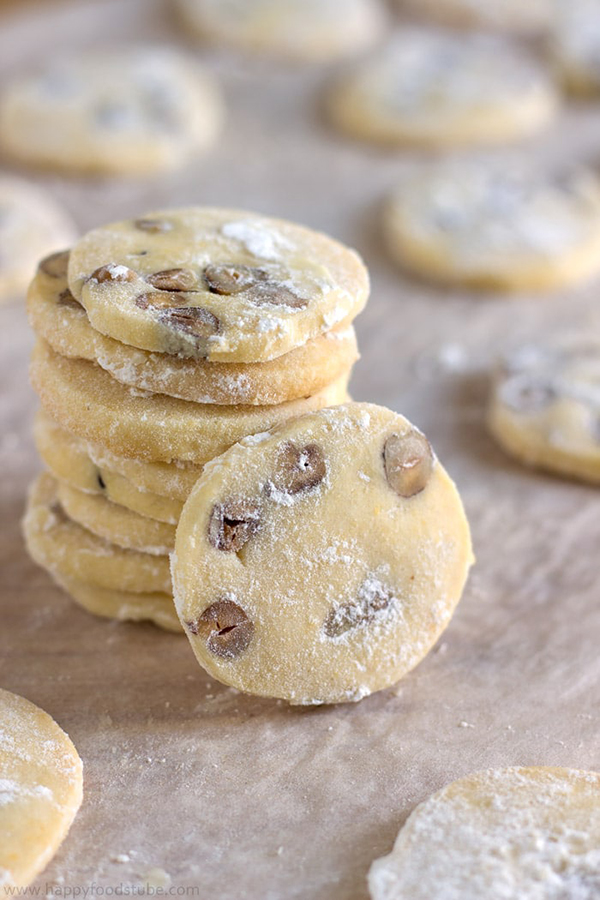 Happy Foods Tube's Butter Cookies with Hazelnuts
This cookie would be a unique addition to any holiday cookie tray. Heads up, this cookie takes two days to prepare because the dough has to set up in the fridge (they're worth the wait).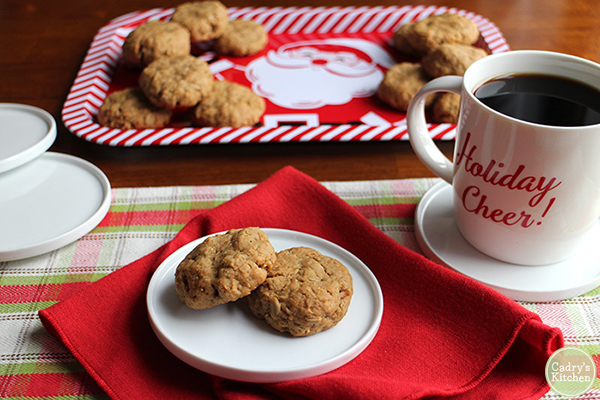 Peanut Butter Oatmeal Cookies from Cadry's Kitchen (Vegan)
Are you looking for a vegan cookie recipe that will please your guests? You definitely don't want to miss this one.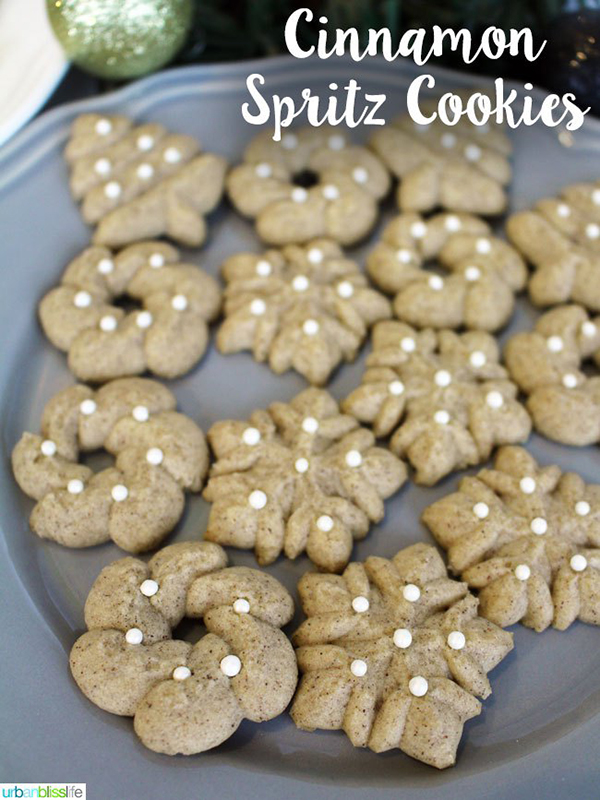 Cinnamon Spritz Cookies from Urban Bliss Life
I love that these spritz cookies are flavored with cinnamon. It adds a little extra flavor to a traditional holiday recipe.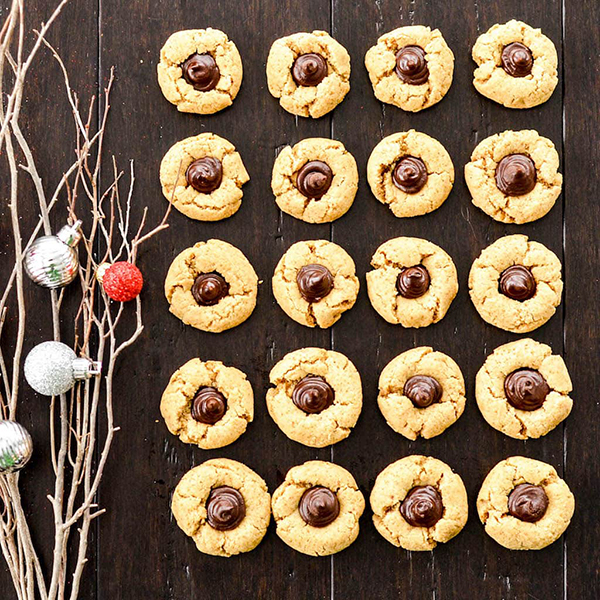 Almond Butter Blossom Cookies from Joy Food Sunshine
Looking for a peanut-free alternative to peanut butter blossom cookies? Then look no further. These almond butter blossoms are a great alternative to the traditional recipe.
Bake at 350's Elf on the Shelf Cookies
Aren't these cookies adorable? I love her tutorial for how to decorate the elf (by tracing a printed copy of him). I have to admit, mine would probably turn out more like chucky dolls.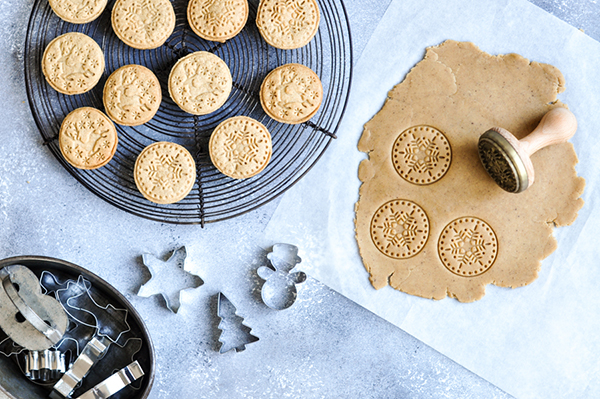 Gingerbread Sable from Eat Little Bird
Aren't these cookies darling? These swiss-style cookies will definitely be a crowd pleaser.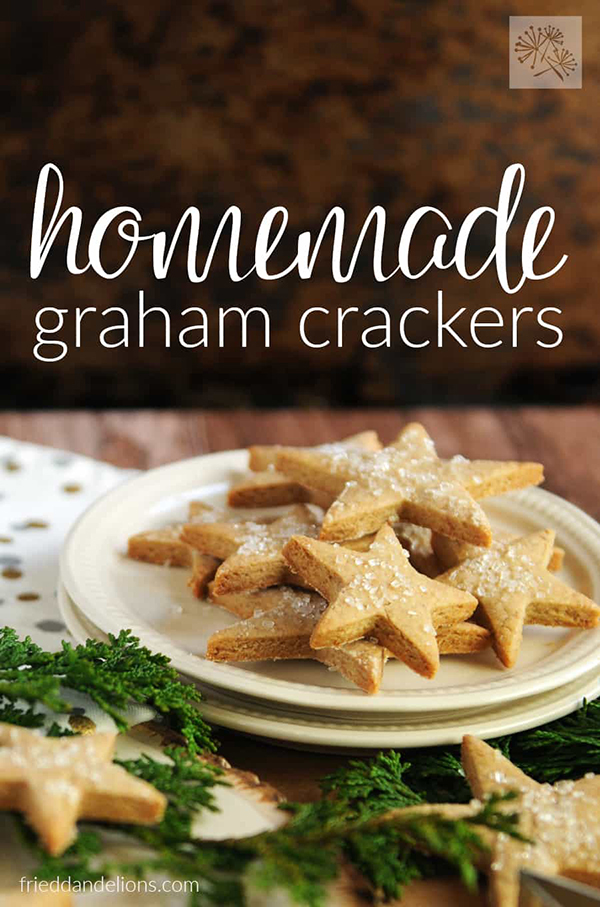 Fried Dandelions Homemade Graham Crackers
Have you ever made graham crackers at home before? I can't wait to try to make these myself instead of purchasing them store-bought.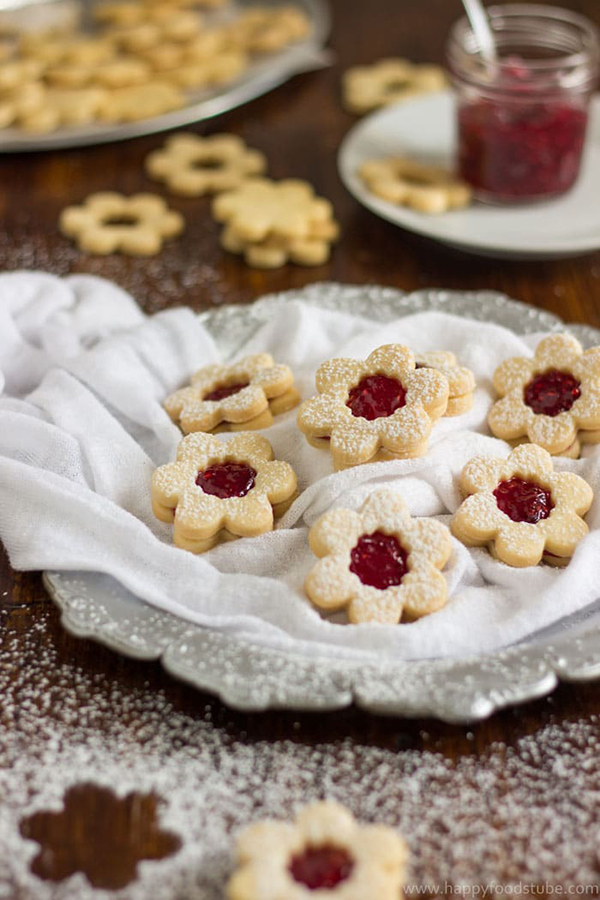 Homemade Linzer Cookies with Raspberry Jam from Happy Foods Tube
These cookies look straight out of a bakery. The glossy jam makes them perfect for Christmas.
Cranberry, Orange, and Pistachio Cookies from Wallflower Kitchen
If you're looking for a nontraditional cookie this year, check out this recipe. It's full of special flavors.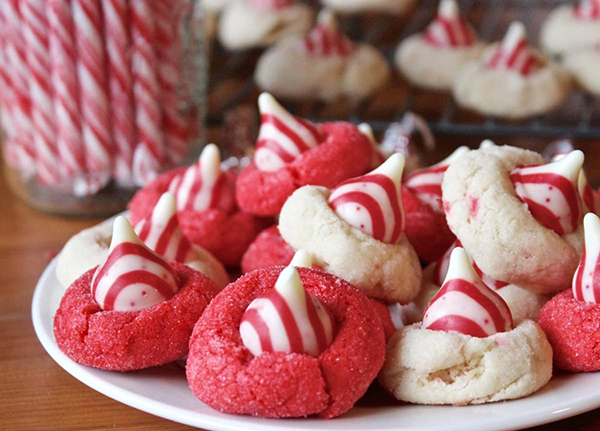 Candy Cane Cookies from Homemade Food Junkie
These colorful cookies would be adorable on your cookie tray this Christmas. You could even dye the white cookies green if you want to bring some green into the mix.
Chocolate Chip Cheesecake Cookies from Sweet Spicy Kitchen
These cookies are crunchy on the outside and soft on the inside. It's a nice twist on a traditonal chocolate chip cookie.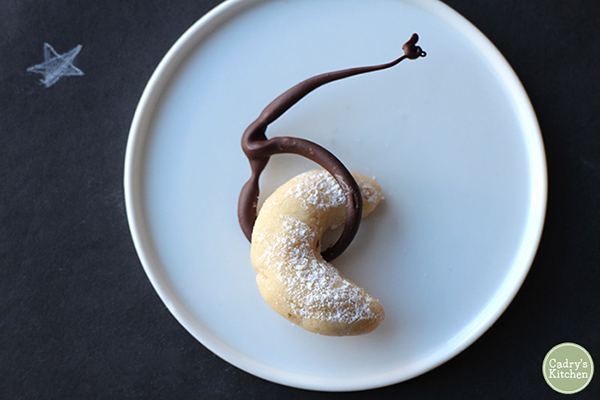 Lasso the Moon Cookies from Cadry's Kitchen
Do you remember the famous line from It's a Wonderful Life when he's talking to Mary about what she wants (he says he'd lasso the moon for her)? These cookies would be great for a It's a Wonderful Life movie night.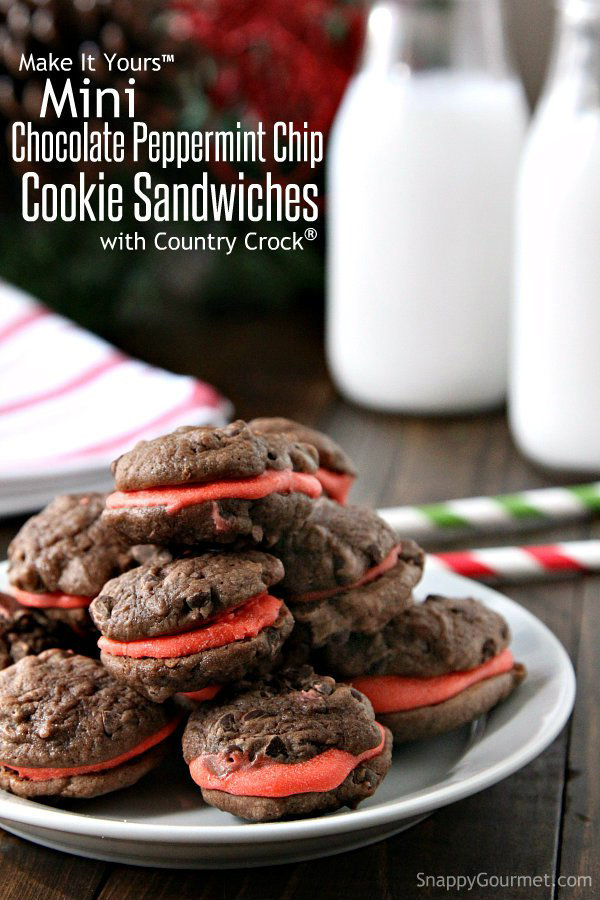 Mini Chocolate Peppermint Chip Sandwiches from Snappy Gourmet
Sandwich cookies are so much fun – especially when they're filled with a festive peppermint frosting. They'd be extra cute with some sprinkles around the edges.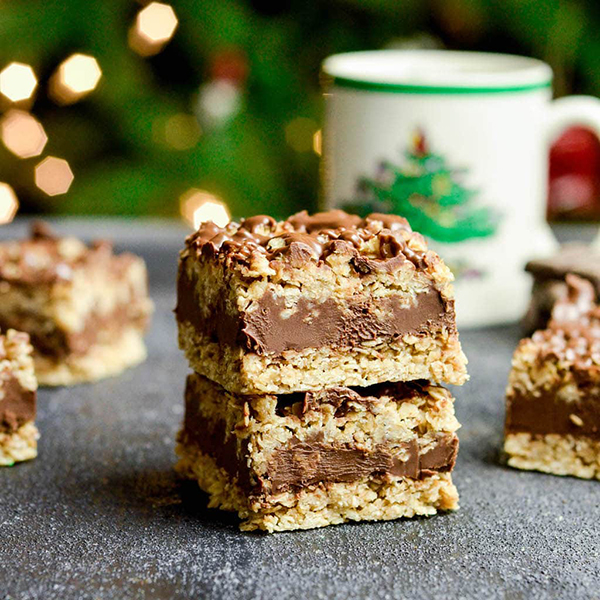 No Bake Peanut Butter Chocolate Oat Bars from Joy Food Sunshine
These cookies take only about 10 minutes to put together – which means they're perfect for the busy holiday season. Even better is they're no bake so your kids can easily get involved.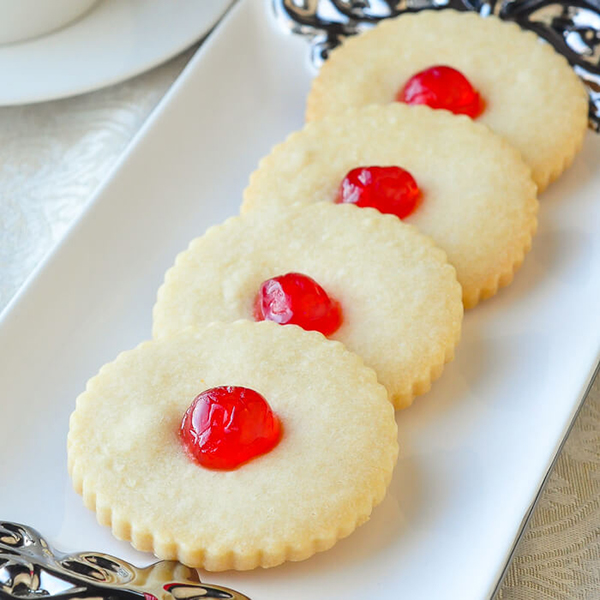 Old Fashioned Shortbread Cookies from Rock Recipes
These buttery sweet cookies are a traditional holiday favorite. If you're looking for a new go-to shortbread cookie, definitely check this one out.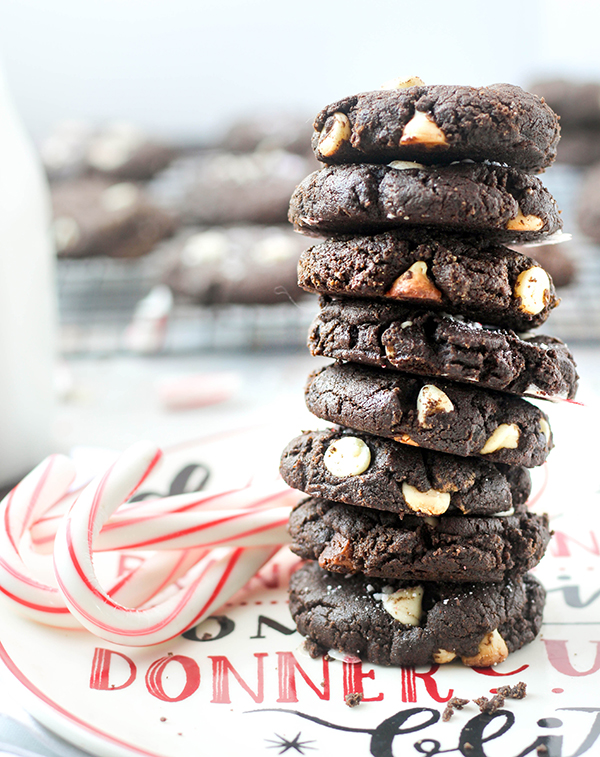 Flourless Chocolate Peppermint Cookies from Hungry Hobby (Gluten Free)
These cookies have a rich, dark chocolate flavor. They're paired with sweet peppermint for a perfect holiday cookie.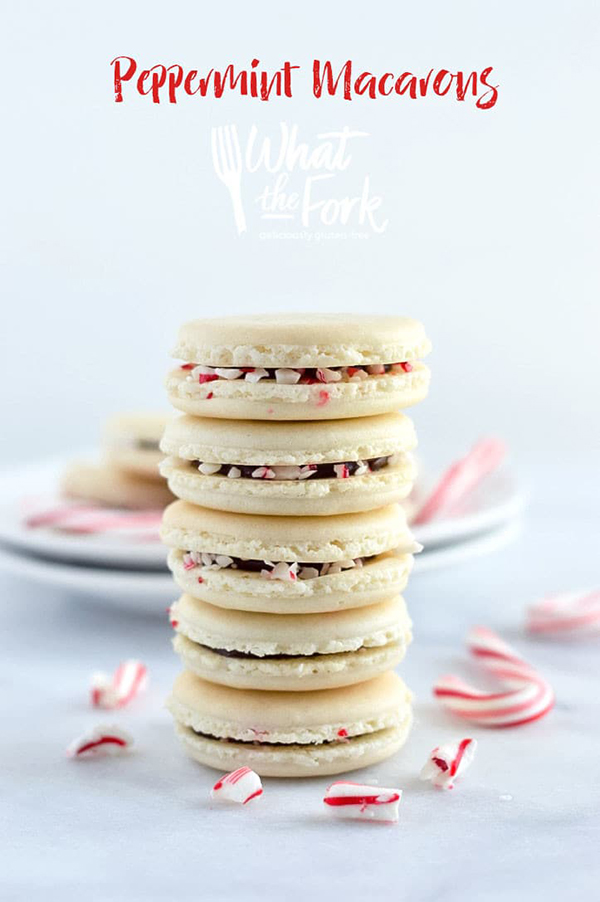 Peppermint Macarons from What the Fork
Macarons can be intimidating but Sharon really walks you through the process. I love how she uses crushed peppermint on the edges for an easy and festive touch.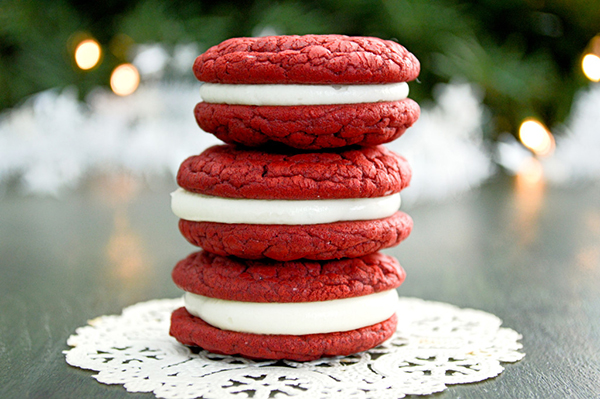 Red Velvet Cookies from Kitchen Gidget
These cookies are so cheery for Christmas – I love the deep red color. They'd be great wrapped in a rustic kraft paper or placed in a green container as a gift. The best part is that they are semi-homemade and start with a boxed cake mix.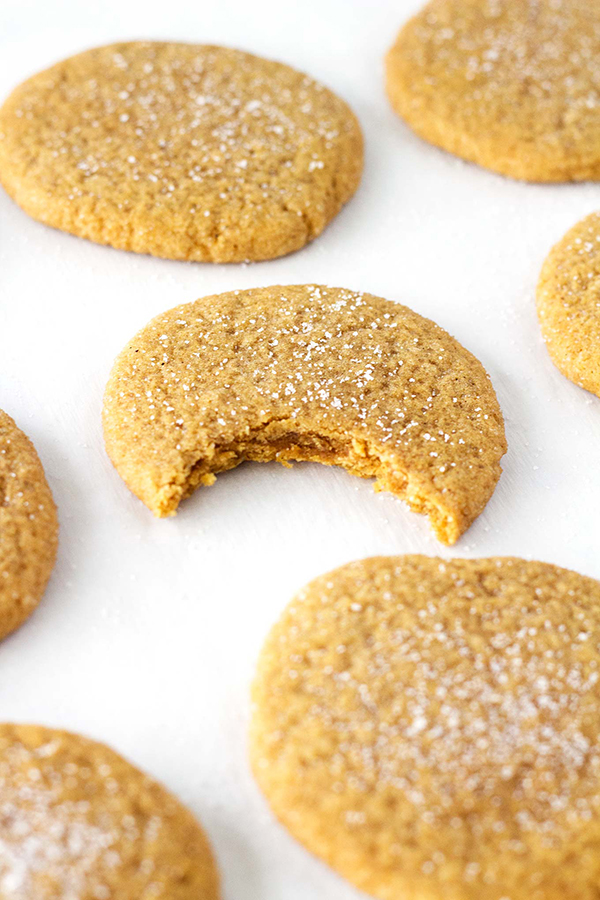 Soft Gingersnap Cookies from So Damn Delish
Jen takes a traditional crispy cookie recipe and transforms the cookie into a delicate, soft cookie instead. These flavorful cookies are a nice change from the storebought variety.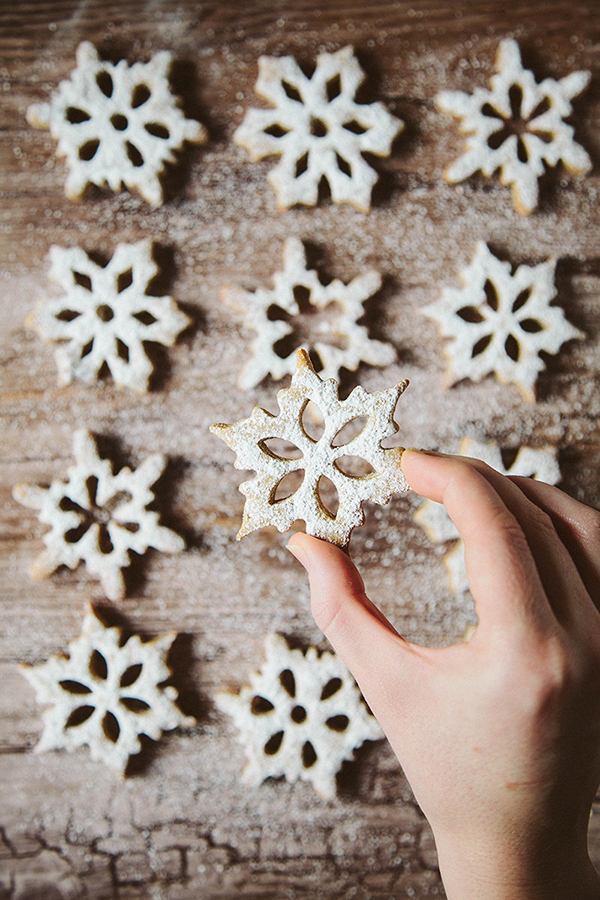 Spelt Cinnamon Snowflakes from Wallflower Kitchen (vegan)
These cookies are absolutely adorable. The addition of the powdered sugar makes them look ethereal. And believe it or not, these sweet cookies are vegan.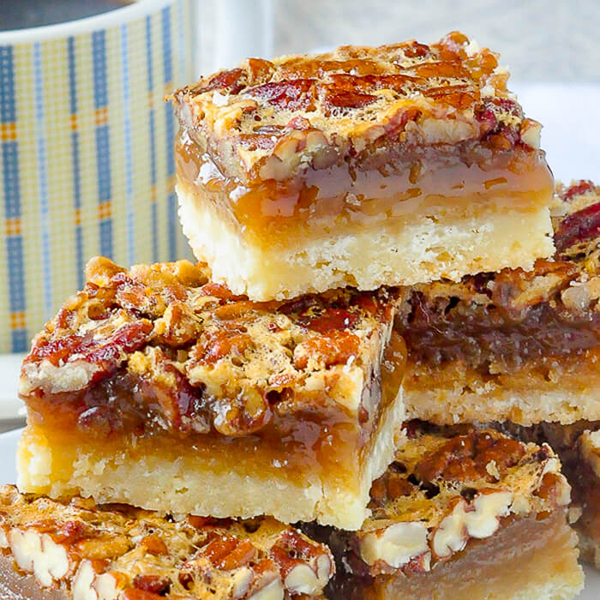 Rock Recipes' The Best Pecan Pie Bars
Looking for something a little different for your cookie tray? Or you maybe you love pecan pie but are in need of a cookie version? These sweet cookie bars are so satisfying and the perfect end to a holiday meal.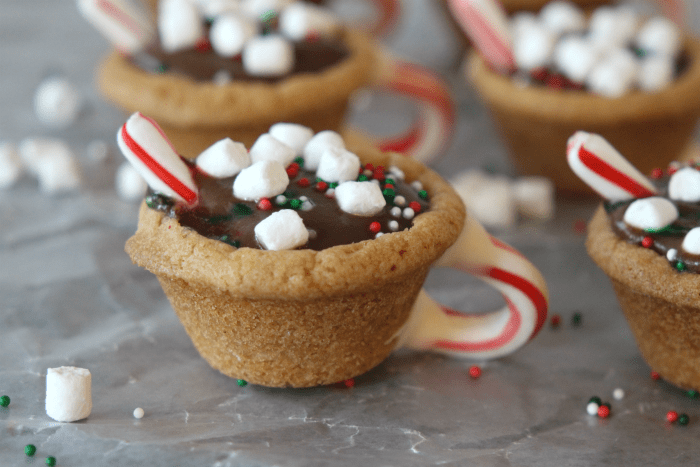 Hot Chocolate Cookie Cups from Princess Pinky Girl
Oh my goodness, how cute are these cookies? They are such an adorable cookie that would be great for a Christmas movie night or a holiday class party.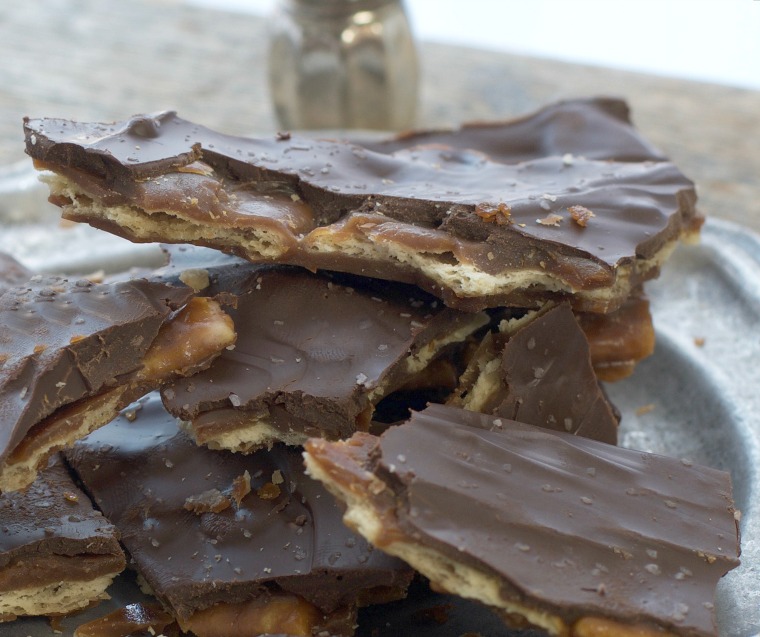 Blissful Salted Chocolate Bark from Loaves and Dishes
My family makes a version of these chocolate crackers every year. I first had the chocolate crackers at a friends party and I was instantly hooked. If you've never tried them, you have to at least. They are so addicting – you won't be disappointed.