If you need some printable Christmas planner pages, I have a pretty and free set that will help you have an organized Christmas. While the Christmas season is full of fun, it's also full of stress. There is so much to do and not a lot of time to do it all in.
Using these Christmas planner printables will help you prepare for a stress-free holiday season. It comes with shopping lists printables that you can use to make your grocery list for holiday parties and events, a Christmas cards list, Christmas menu, to-do list, a blank November and December calendar, and 4 Christmas covers, too.
So if you're looking for a way to make planning your Christmas dinner easier, keep track of all of your holiday activities, track your Christmas card list so you don't miss anyone, make sure that you've finished everything on your holiday to do list, and bought all of your holiday supplies (and of course your Christmas tree!), you'll find these printable sheets so helpful.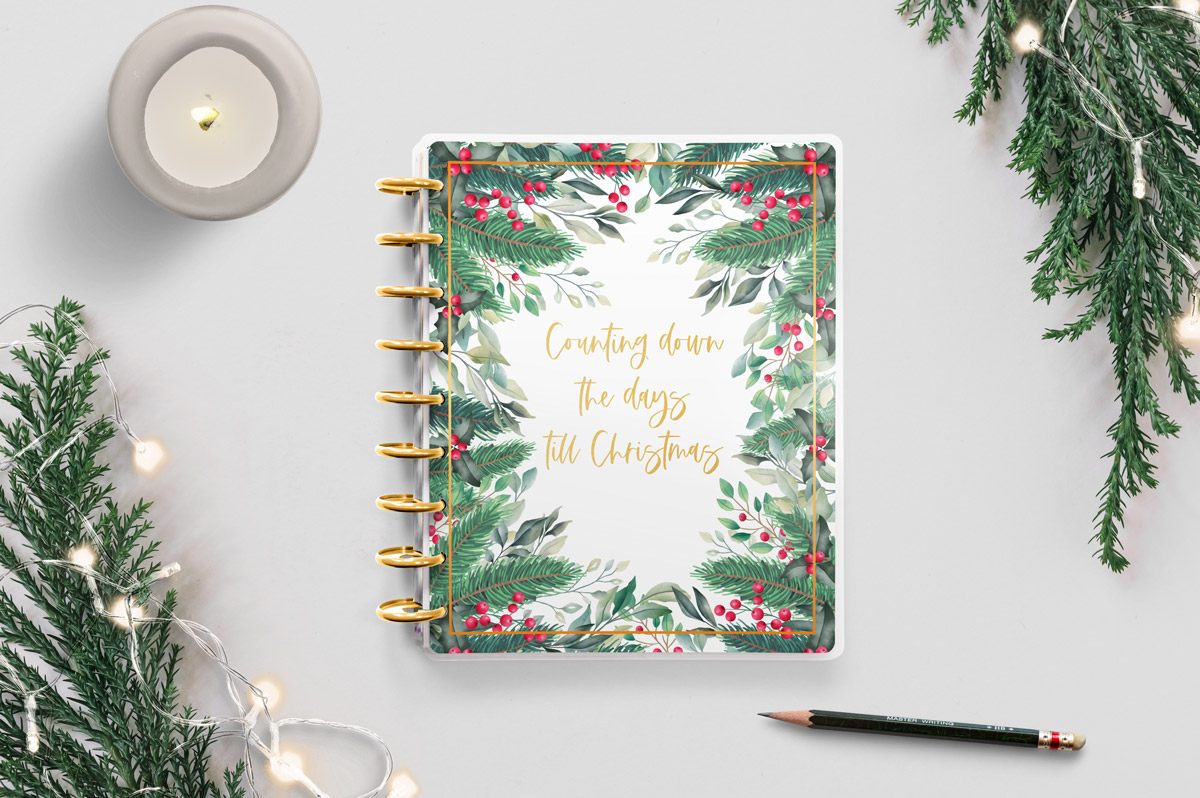 Did you know that writing down your to do list can make you more productive? There is a reason we all write lists – they really do help keep you on track. Keeping a planner will help make you the most organized person this November & December.
It truly is the most wonderful time of the year and by keeping organized, you can make it as stress-free as possible. Adult life can be really difficult sometimes. Don't you wish sometimes you could just be a kid at these events again?
There are so many important details to keep track of that you need to find a way to keep track of all of your holiday planner. The good news is that if you use these free printables, you are bound to make this your least stressful, best Christmas yet!
Looking for Printables for Christmas Gift Lists?
Don't worry, I have those, too. But they are from another blog post on my site – Printable Christmas Gift List. The best part is that they coordinate with the free printable Christmas planner pages in this blog post. Keeping track of your gift list is a great way to help you stay within your holiday budget.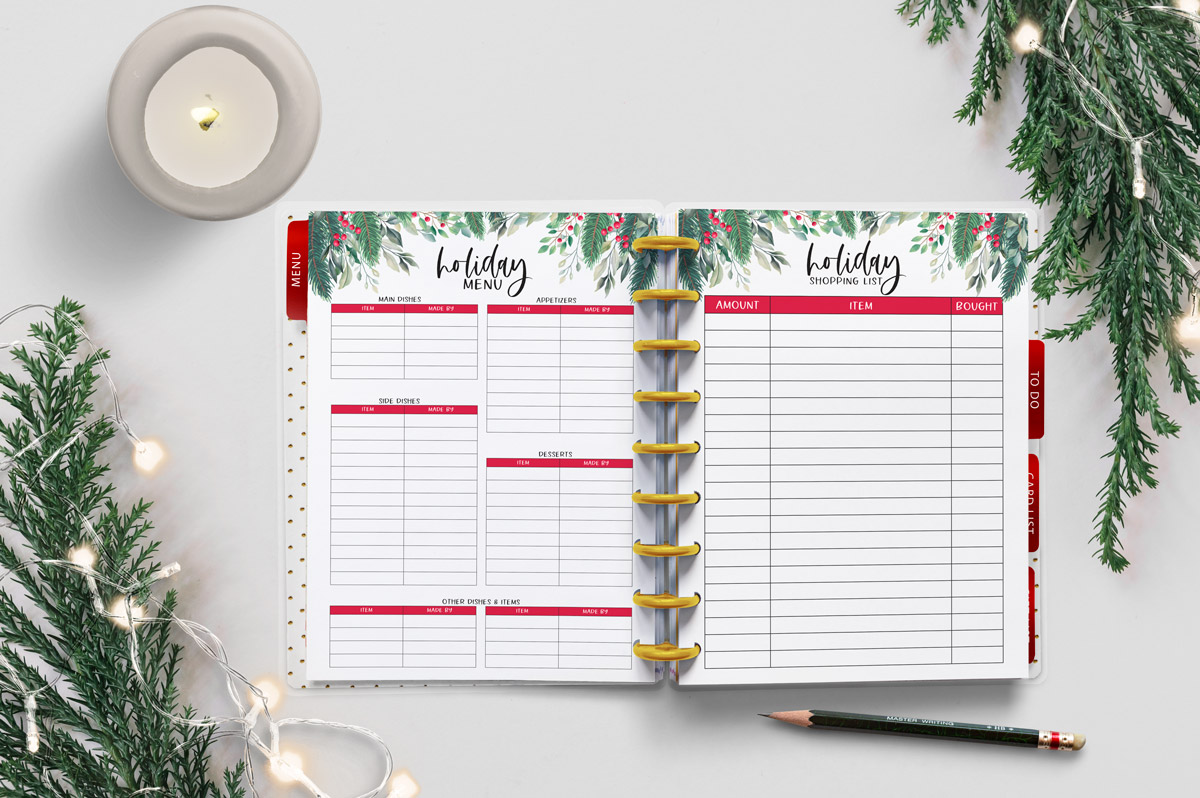 What Do the Holiday Planner Pages Look Like?
Here is an example of what the planner pages look like and the purpose of each page.
Christmas To Do Printables
This first page has two columns. It has a column for you to write down the task on the left. On the right, you can check off when you completed it or you can fill in the date you completed it.
The second page is a simpler to do. It has a box on the left side and space next to it to write down the holiday task. You can simply check off the box once you have completed the task. You can use the better system for you. Honestly, there are so many ways that you can use these Christmas to do lists.
One tip: I like to print multiple to do lists throughout the season. If we are hosting, I will print one out that is meant for Christmas Eve and all of the tasks I need to do each day. Then, I'll print another one out for the big day to make sure I track all of the last minute tasks I need to do.
Third, I print one out at the beginning of the season to write down all of the bigger tasks that I need to do throughout the month. I keep track of things like: purchasing all of my Christmas gifts, buying all of our Christmas food, putting up Christmas decorations, finalizing holiday plans, sending our Christmas cards, wrapping all of our Christmas presents, and any of the other most important things you need to do for the season.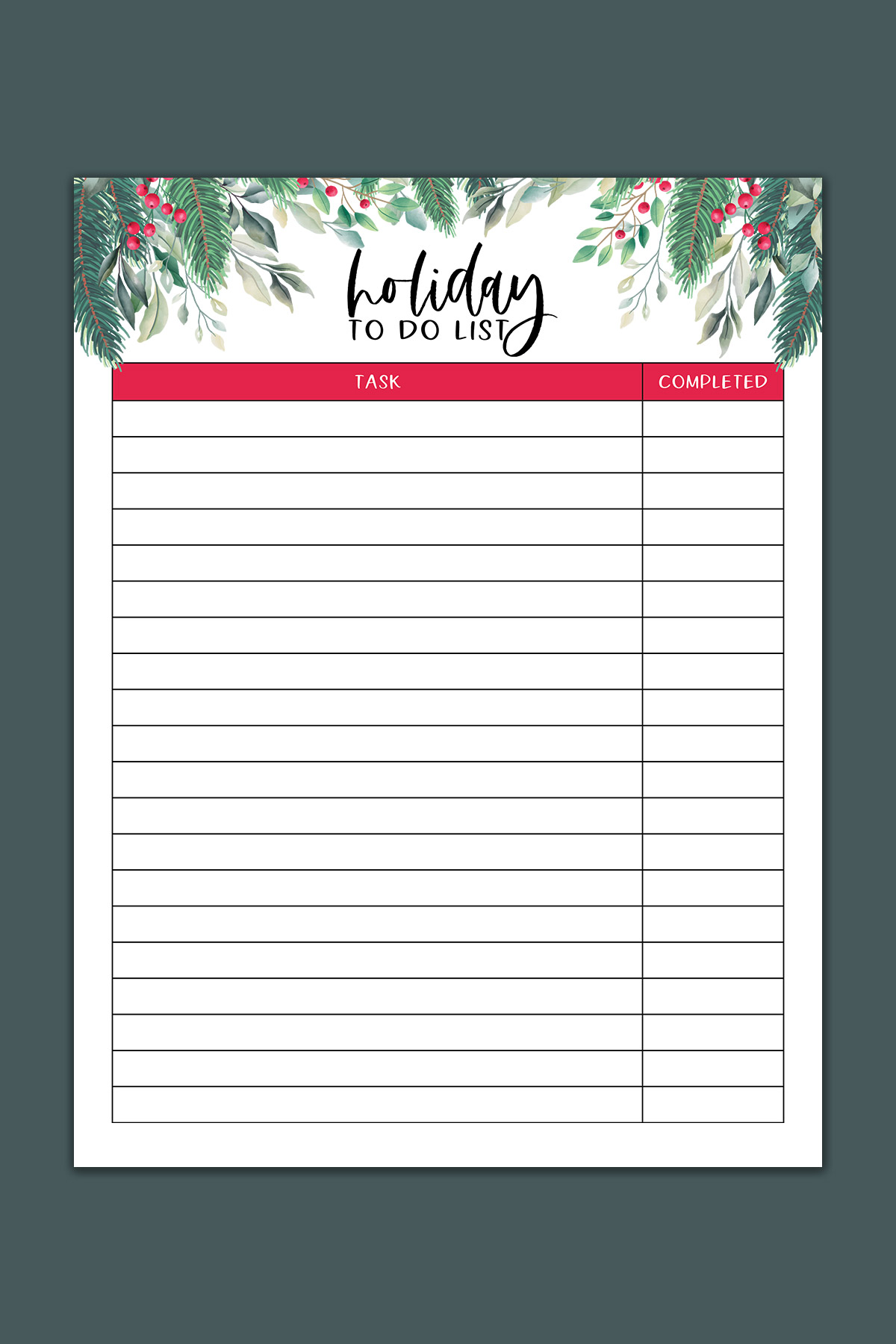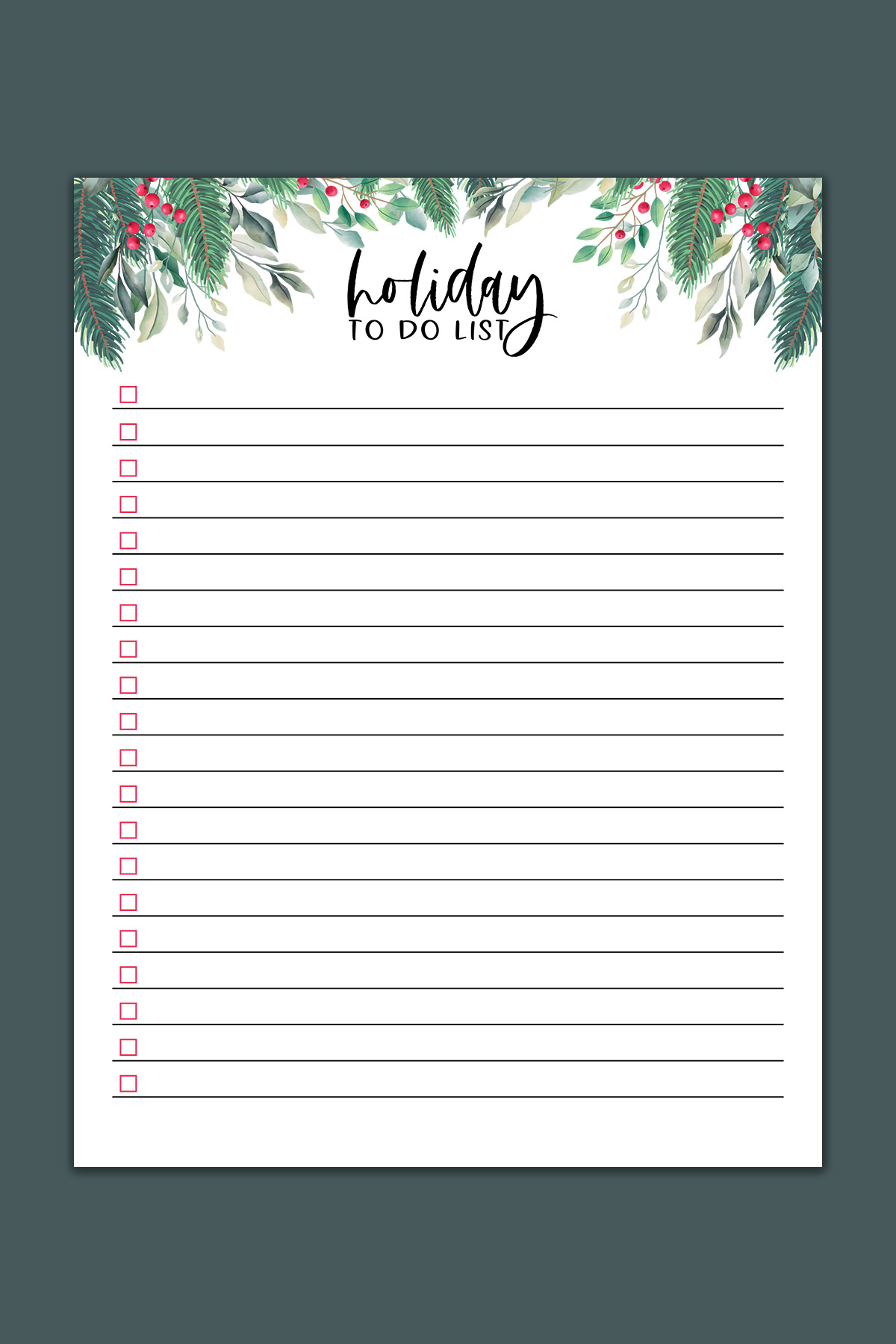 Christmas Menu Planner Pages
The first version was created for a pot luck style meal. The menu is split into different categories: main dishes, appetizers, side dishes, desserts, and other dishes & items. Under each category, the left column is to write down the item and the right column is to write down the person that is making the dish.
The alternate version of the menu is simpler. It is meant for one main person who is hosting the event and making most, if not all, of the food. It is simply split into categories: main dish, appetizers, side dishes, desserts, and other dishes & items. There is only one column to write down the item.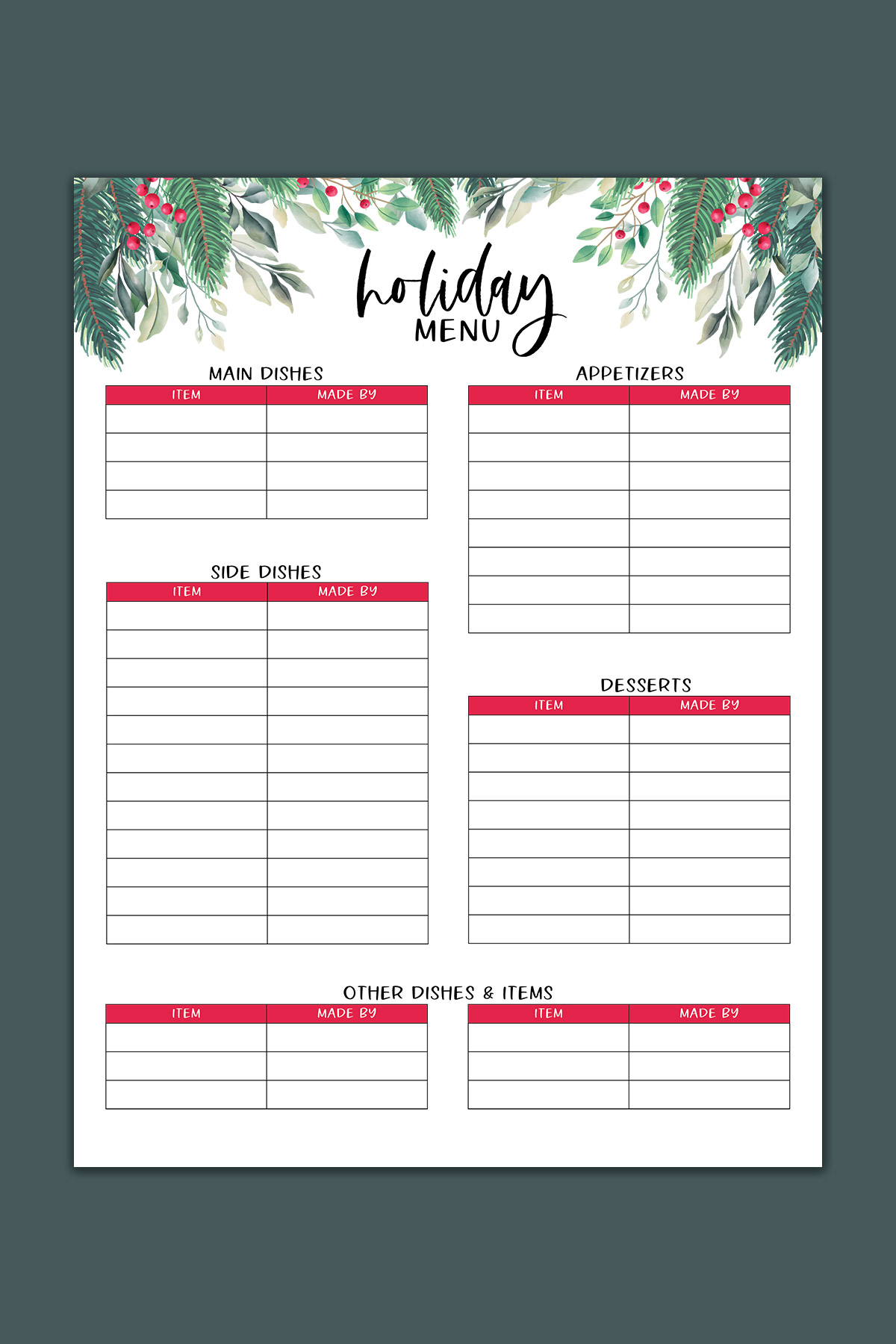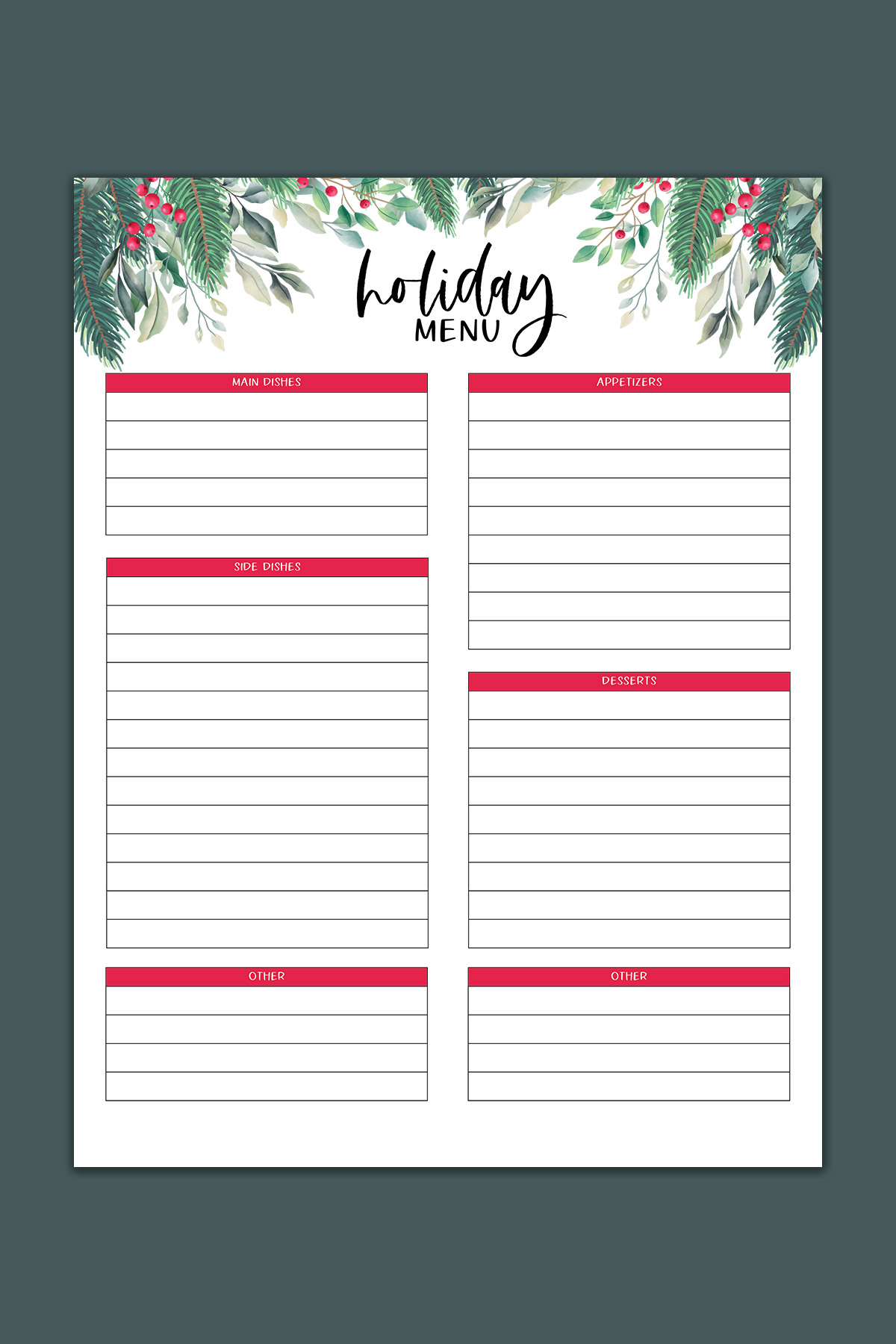 Holiday Card List
It has a place for you to write down the name and address. Then, there are two columns to check off or fill in a date. They are sent and Rec which stands for received.
This is where you mark off whether or not you received a card from that person. After a couple of years of sending cards without getting one in return, you may start to decide to wean some people off of your Christmas list. This feature is helpful to be able to track if you have received a card or not.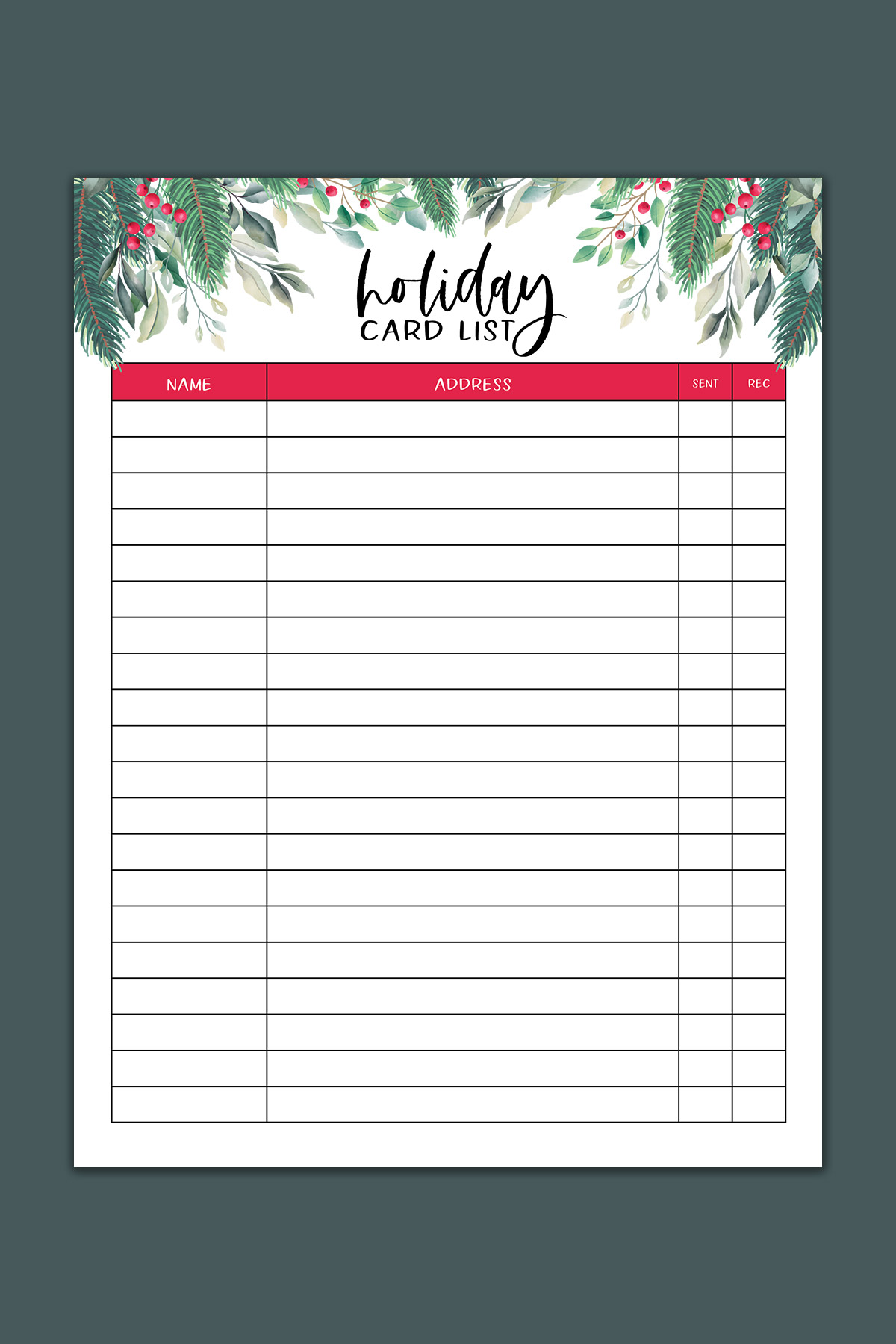 Christmas Shopping List
This can be used as a grocery shopping list, Christmas gift track, or to track all of the other items you need during the holiday (decor, lights, cards, stamps, etc).
There is a column to write down the how many of the item you need, the name of the item, and a place to check off if you bought it (or the date that you did).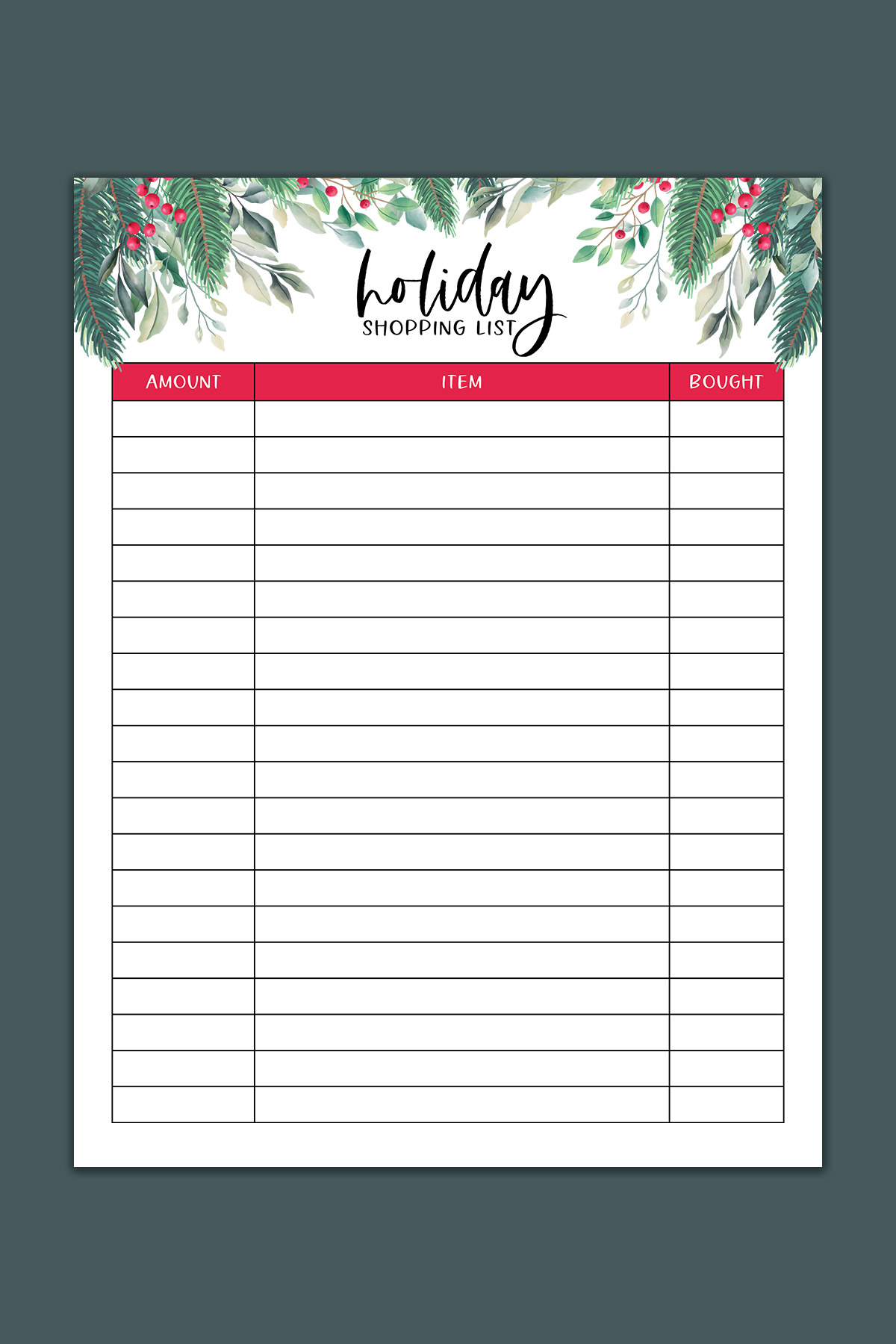 Blank Christmas Calendars for November & December
These are undated so that you can use them over and over again each year.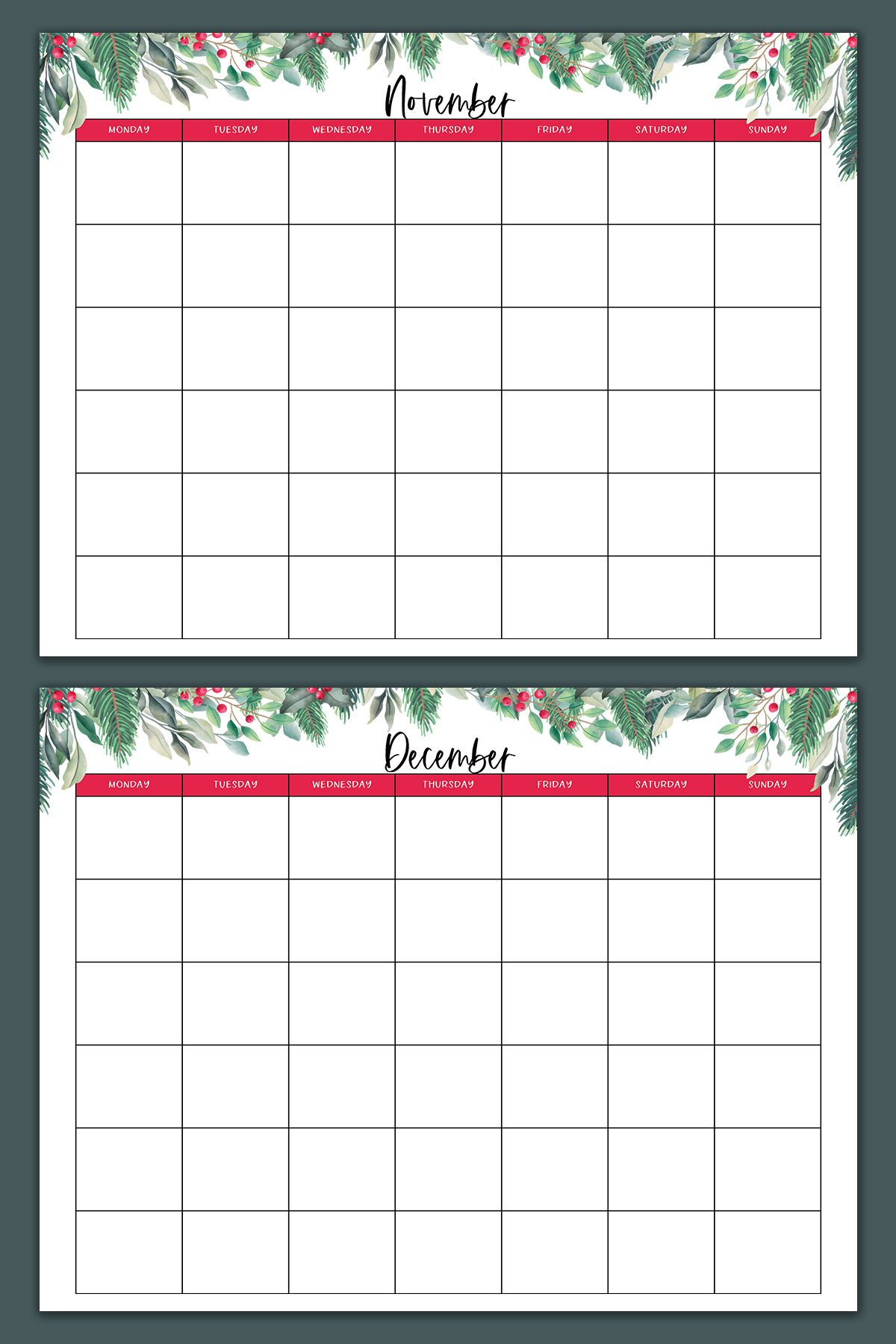 Christmas Cover – 4 Variations Included
The great thing about having 4 options is that you can pick the one with the quote that most fits you. You can use it as a cover page for a planner or you can use it as a divider within an existing planner.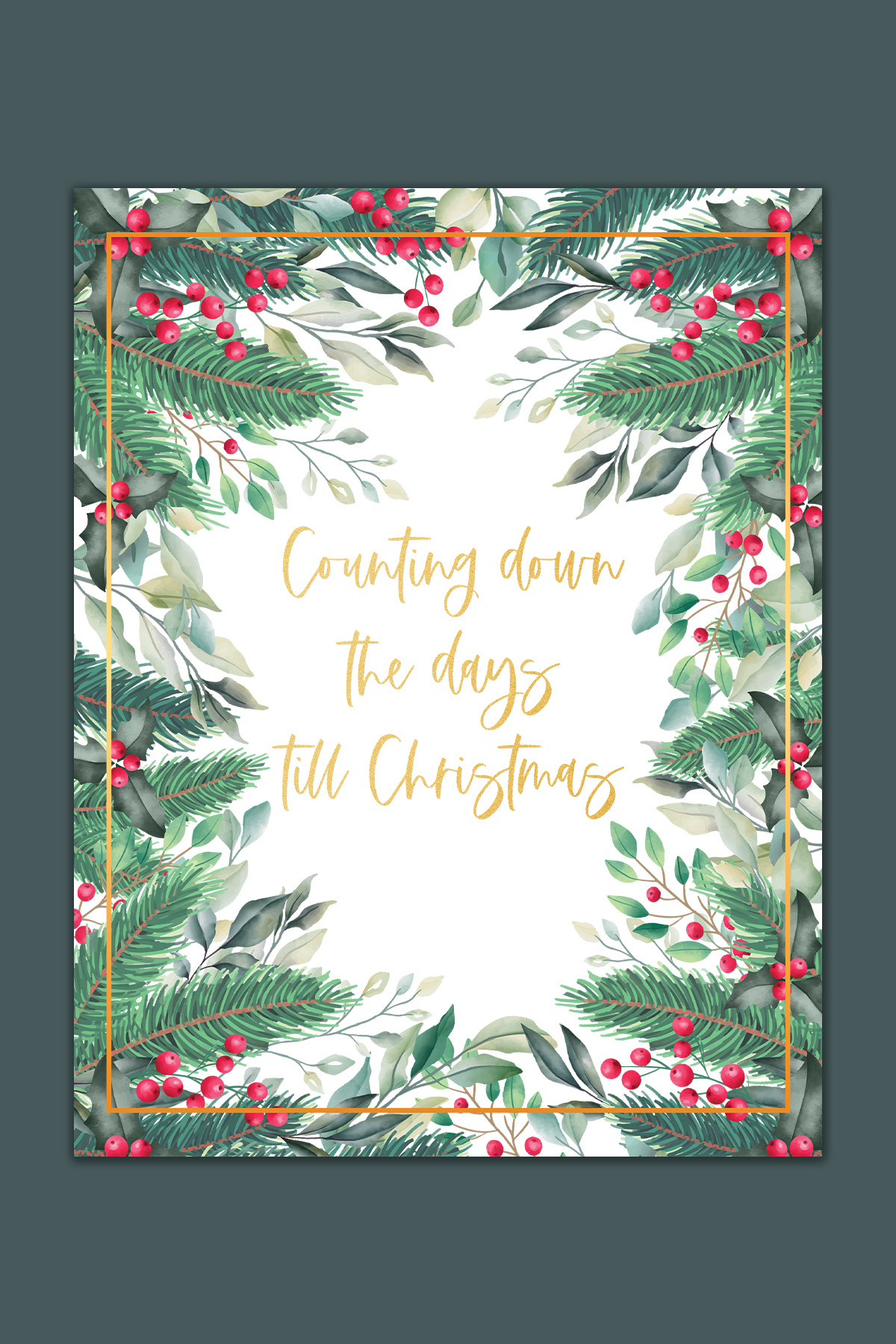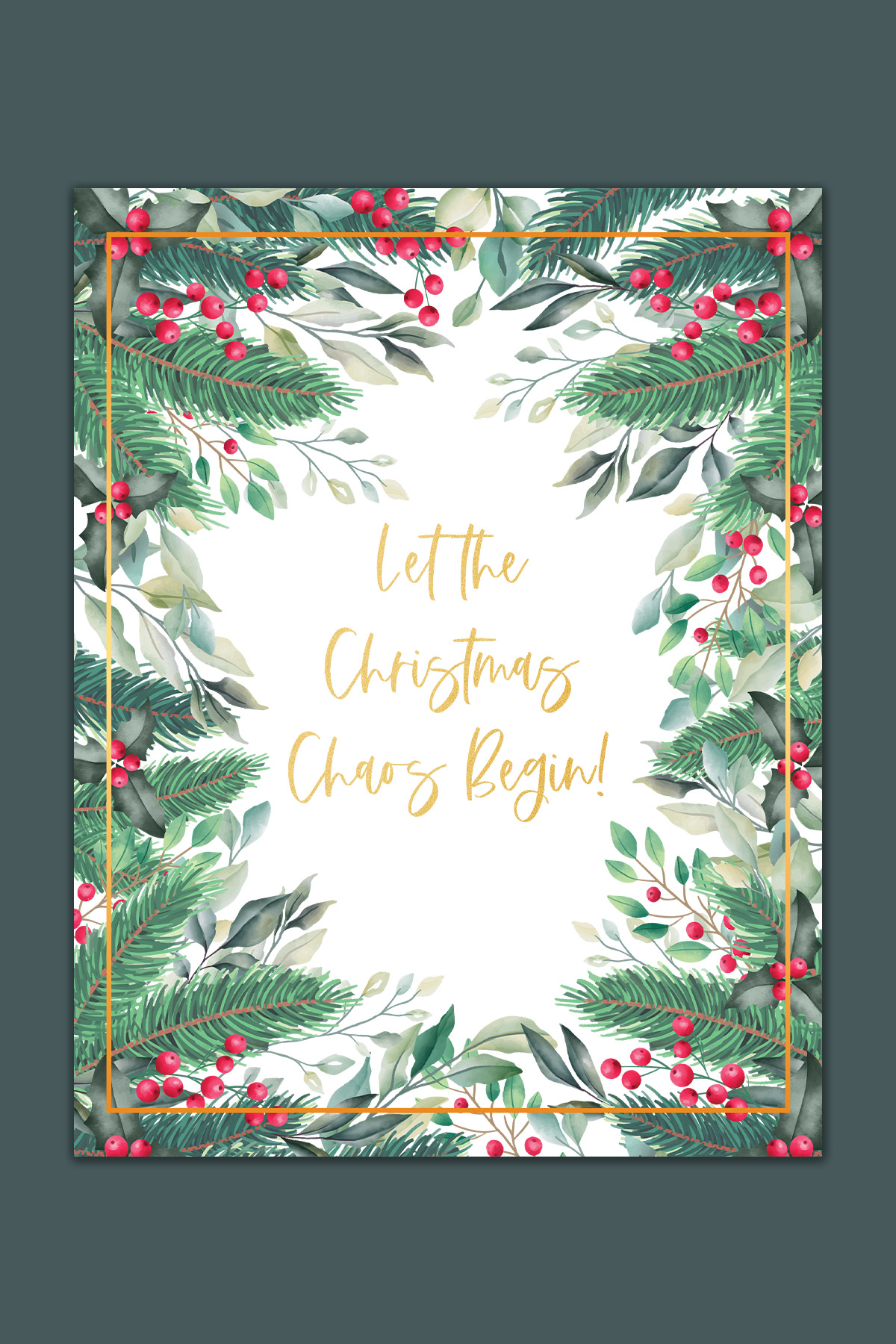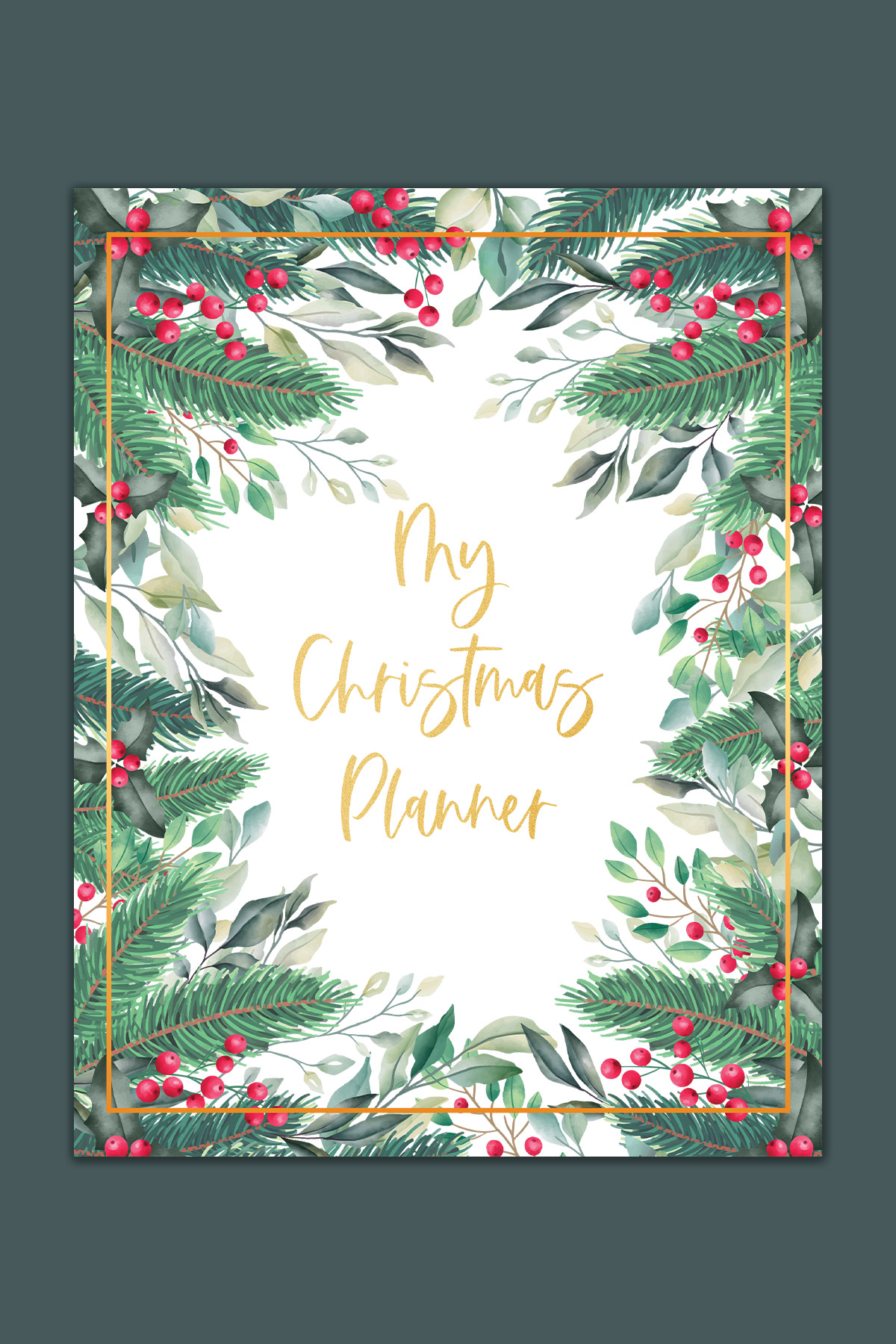 What Size are the Planner Printables?
Letter size
Classic Happy Planner size (planner pages)
Classic Happy Planner Cover size for the covers
What File Types are the Planner Printables?
Do the Calendars Come in Monday or Sunday Start?
They come in both Monday start and Sunday start.
Can I Use these in Another Planner or Make my Own Christmas Planner?
You can use these free printable planner pages any way you would like. They can be used as a section in an existing planner or you can use them to create your own planner. I love to frankenplan (mix planners and various printable pages together) and these pages are perfect for that.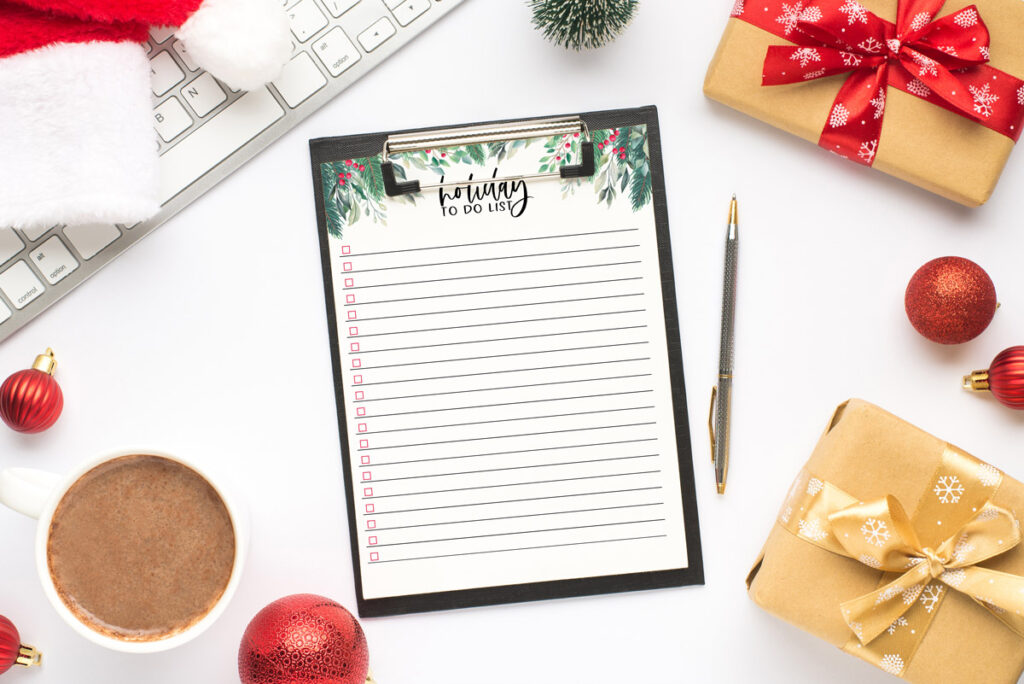 As an Amazon Associate, I earn from qualifying purchases. I am also an affiliate for the HP ink program, ShareaSale, and CJ Networks. Click here to read more.
How Do I Assemble the Pages into a Christmas Planner?
You can assemble the planner any way you would like. Some suggestions are to use
A 3-ring binder
Planner discs (such as the ones from The Happy Planner or Arc)
Spiral bound the planner
Staple the planner
Use a binder clip
Punch holes and use string to bind the pages together
What Paper Should I Print the Christmas Planner On?
You can print the planner on any type of paper but here are my suggestions. For the planner inserts, I would suggest using a 65 lb paper. It's thicker than copy paper but isn't too thick that it will make your planner bulky.
For the cover, I prefer to use a white cardstock. In addition to using card stock, I also laminate my cover so that it is extra durable.
Can I Use the Planner Pages in a Digital Planner?
Yes! You can use the individual pdf file in a digital planning program. Or, you can use the transparent PNG files that are included.
Looking for More Free Christmas Printables?
I have SO many more free holiday printables on my site. You can check out all of my Christmas favorites here. But here are a few of my favorite free Christmas printables.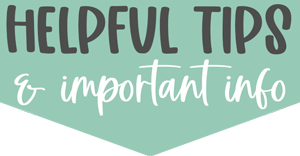 Tips for Downloading the Free Files
Below is an arrow that says Download Below. Underneath that is a large image that says Click to Download the free files.
Once you click that, you will enter the members-only password and click submit.
The page will reload the same image and now when you click the image that says Click to Download the free files, it will open the Google Drive folder containing the free files.
How do you get a members-only password?

You can sign up here to be a free Mom Envy club member.
The password will be sent to you within a few minutes. Make sure to check your spam and/or junk folder if you don't see it.
Already a member but forgot the password? Don't sign up again. Look at the end of any newsletter from me for the free password or just send me an e-mail here: [email protected]
Tired of Expensive Ink?
I know, ink can get expensive, so invest the HP Ink Program! You can save SO much money. Click here to learn more and use my referral and earn 1 free month! Not sure if it's the right program for you? Click here to see if the HP Ink Program is worth it.
What to Try out Digital Planning?
My favorite digital planning app is GoodNotes.
Have a Differently Sized Planner?
Have a differently sized planner or a traveler's notebook? No worries! You can print the letter size calendar for any size planner. You can read the full directions on how to resize planner printables here (including videos).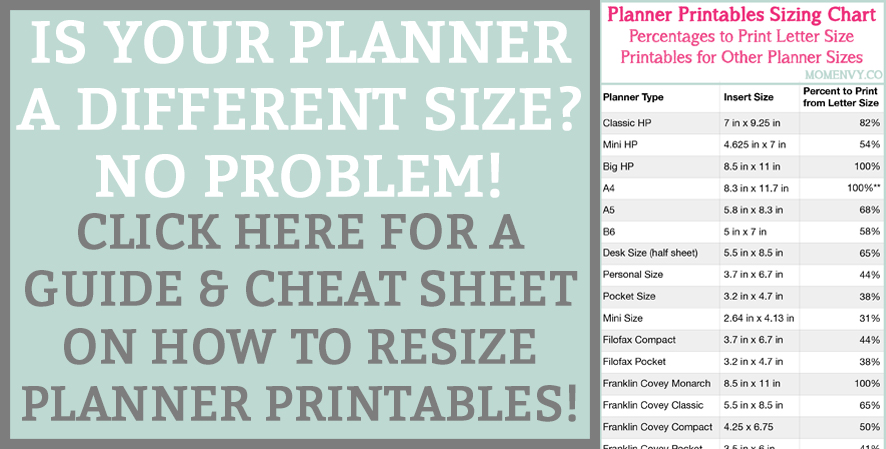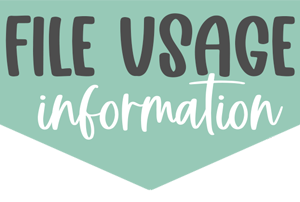 Copyright MOM ENVY 2022. Files may be used for personal use only. No commercial use of the file is available. Files may not be directly shared within Facebook groups, on websites, or in any other way. If using for educational purposes, the file may be printed and copied for classroom use. A link to the web page to download the files may be shared as well as one photo. The file may not be printed and then sold (including local yard sale sites and groups or at local craft fairs). The images may not be used in any way other than to share with a link to the original web page.