If you're here, you're probably looking to find out, is the HP ink program worth it? For me as a blogger, the HP ink program is totally worth it.
Are you tired of cringing every time you hit print? Are you frustrated with the debate on whether or not something is worth printing because printer ink is so expensive now? Are you tired of yelling at your kids to stop printing and wasting ink? Then you've come to the right place.
If you print regularly each month, then the program is most definitely worth it for you, too! There are only a handful of people I don't feel the HP program would be worth it for (you can see my explanation below).
Let's look at the break down of how the HP Ink program works and whether or not I recommend it for you based on your printing needs.
As an Amazon Associate, I earn from qualifying purchases. I am also an affiliate for the HP ink program. Click here to read more.
How does the HP Ink Program Work?
To explain the HP Ink program, I have broken things down further into the most common questions. But, here is an overall explanation of how it actually works.
You get an HP Ink Ready printer.
*Order it WITHOUT the ink.*
I know, that sounds weird, right? But, if you order it with the ink, it costs you quite a bit more! There is no need to order the ink with it. Instead, order the printer and then come back here and click here to sign up and get a month of free ink (or more depending on the current promotion). It will save you money (who doesn't love saving money?)
After you pick the plan that you think will work for you, start to use your printer as you normally would. Make sure that your printer is hooked up to Wifi. This will tell HP when to send you more ink because you are starting to run low.
Once your printer tells HP you need more ink, they mail ink out to your house. You then install your new ink when needed (not necessarily when you get it in the mail. They send you the ink to be ready for when you do you run out. Sometimes, I can still print for another 2 weeks or so after I get my ink. So just wait until your printer tells you it's time to replace your cartridge).
And repeat! Just keep paying your monthly plan and they will keep sending you ink when you need it. It's that simple. If you need to adjust your plan, you can (see more below).
So, in short, here are the steps to owning an HP Ink Program Printer:
Order a printer without ink.
Come back here and

click here to sign up

for the ink program and get your first month of ink for FREE! (saves you money!)
Select a monthly plan.
Install the ink (it's super easy like most current printers).
Use your printer, just make sure it's hooked up to Wifi.
When you start to run low on ink, your printer will order you more. You don't have to do anything!
Your new ink is delivered to you in the mail (no need to go out and pick anything up).
Install your new ink when you run out.
Keep using your printer.
Adjust your plan if needed based on your monthly needs.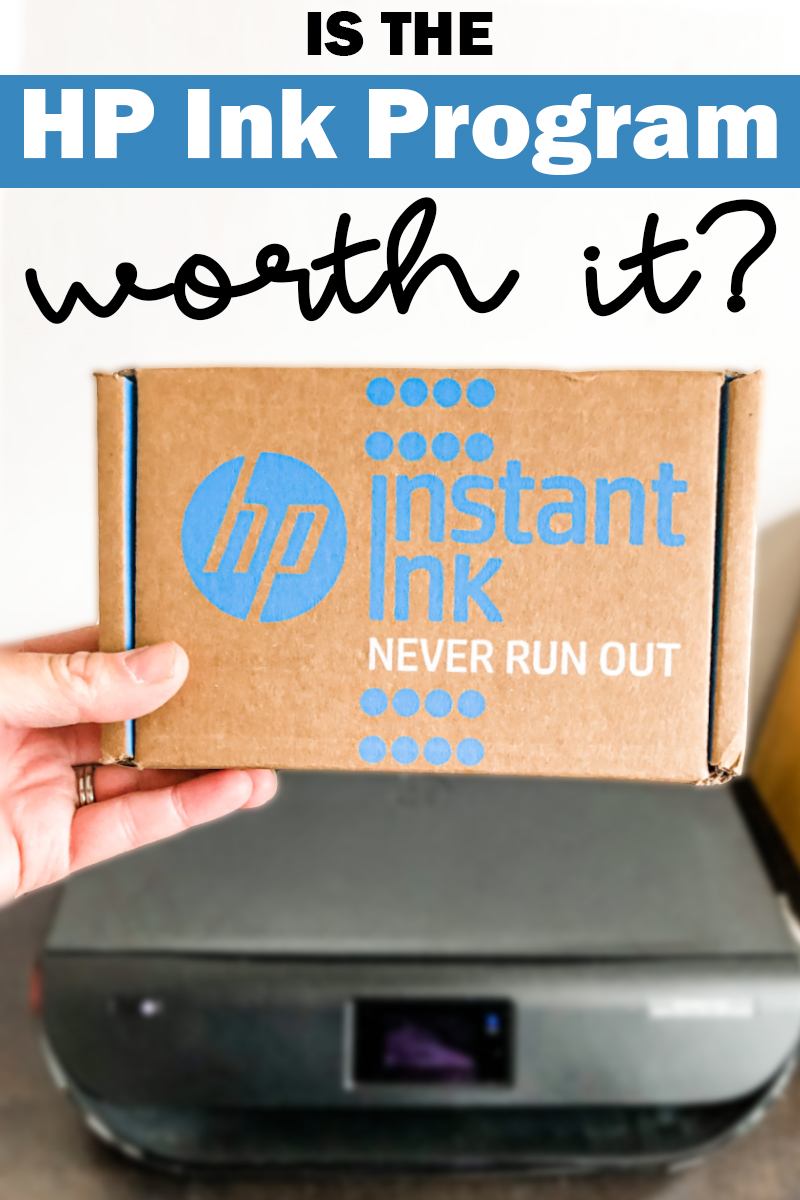 How much does the HP Ink Program Cost?
You can find their updated pricing here. But, as of this post, their pricing is below (priced per month).
15 pages/month – FREE! (yep – if you print 15 pages or less a month, you don't even have to pay for your ink each month!)
50 pages/month – $2.99
100 pages/month – $4.99
300 pages/month – $9.99
700 pages/month – $19.99
Do pages rollover if you don't use them?
Up to double your monthly plan can be kept in rollover pages. For example, if you have the 50 pages per plan, you can keep up to 100 of unused pages as rollover pages.
If my account is already full of rollover pages and I still have extra pages at the end of the month, I will often find some things to print that I consistently print throughout the year or even print things like coloring pages for my kids (which only costs me the paper that way). That way I can use up my pages and not lose them.
But… what if I go over my monthly allotment?
It depends on your plan. One option you have is that you can upgrade your plan at any point!
*But if you upgrade, know that you'll have to downgrade for the next month before the end of the month if you want to go back to your previous plan – you can't downgrade mid-month.
If you just want to purchase a few extra pages, here is the current pricing. (There is a chance pricing as changed a bit, you can check updated pricing here).
You can purchase 10 pages for $1.00 if you have the 50-page plan.
You can purchase 15 pages for $1.00 if you have the 100-page plan.
You can purchase 20 pages for $1.00 if you have the 300-page plan.
You can purchase 20 pages for $1.00 if you have the 700-page plan.
Is the HP Worth it if I print in Black and White?
Yes, most likely it is still worth it!
An XL Black Ink Cartridge right now is $41.89 and it prints about 600 pages. If you print 600 pages then it comes out to about 7 cents a page. If you use the HP ink program for 50 pages/month, it comes out to about 6 cents a page. And, the price per page goes down for the larger plans.
So even at the smallest plan, it is still cheaper to use the HP Ink Program.
The only reason it wouldn't be is if for some reason you only print a tiny bit per page with a black ink cartridge and can stretch the 600 pages to more than that. But then, it will be about the same price. Or if you only print let's say 20 pages every month but are paying for a 50/page month plan of only black and white.
How many pages a month do you need to print to make it worth it?
Based on my calculations, the plans make it totally worth it no matter how many pages you print. The more pages you print, the even better deal you get.
BUT if you consistently print far less than your plan each month and fill up your rollover pages, then it's not worth it. You have to select the correct plan for your printing needs to be worth it.
If you consistently only print 20-30 pages a month of only black ink, never going over that, it isn't a good deal for you. BUT, if you're printing in color and black and white it is still worth it because if you print as much as 30 pages one month, the price per page is cheaper than if you were to purchase ink (which is 7 cents a page for black and white and color is about 11 cents a page – if you use a lot of both colors in a page, you're looking at about 18 cents a page).
And, if you only print a few pages a month, it's so worth it because your plan is totally FREE! You can print up to 15 pages a month at no cost.
If you print pages with a LOT of color, then it is REALLY worth it for you to use the HP Ink Program.
Let's think of it this way…
If you select up to 50 pages per month, at $2.99 a month, it costs only $35.88 for an ENTIRE YEAR of ink! If you were to purchase both a color and a black ink cartridge to use for a year, you'll be spending over $50 in ink.
What if your printing amount needs changes each month?
No worries! The plans are totally flexible. You can upgrade your plan for the CURRENT billing cycle or the next billing cycle at any time. The ability to change your CURRENT billing cycle is awesome though. If you know you're going to be printing a TON extra, it might be worth it to just up your plan for the month (if you'll only be a few pages over, it probably won't be worth changing it).
Downgrades are effective in the next billing cycle though. So if you realize you aren't using as many pages as you thought, you can downgrade but it won't take effect until your next cycle.
How do I Get the Ink?
In case you missed it earlier in my post, you get the ink mailed to your house when your printer tells your HP Ink Program account that your ink is low. You do not get ink every month. You only get ink when your printer is low and you need it.
Only change it when your printer tells you to not when you get the ink. They send the ink early so that you have it for when you run out (this is to make sure that you aren't without ink). Most of the time, when my ink is delivered, I still have a little bit of time on my current cartridge before I need to change it.
YOUR PRINTER MUST BE HOOKED UP TO THE INTERNET! If your printer can't be hooked to the internet, then this program is not for you. You need the internet so that your HP Ink Program account can be notified when you're low on ink.
What if I want to Cancel?
No problem, just log into your HP Ink Program account and cancel. You can cancel at any time, you aren't locked into a yearly contract. You are only locked in one month at a time.
What do I do with the used ink cartridges?
HP sends you out a pre-paid recycling envelope to send back your cartridges. They make it super easy!
Who is the HP Ink Program worth it for?
In my opinion, the HP Ink Program is worth it for anyone that consistently prints each month. BUT, if you are someone that uses a lot of color when you print, then the HP Ink Program is SUCH a bargain. While I think it's worth it for anyone who prints regularly, there are groups of people that this program would help you save so much money on ink.
Its value is really high for someone like…
Teachers (for at-home printing)
Party Planners (party printables are SO much cheaper with this system)
Planner people who print their own stickers/pages
Crafters
Scrapbookers who print their own pages/stickers
Students
Parents of young children who like to print things for their children
Daycare providers
Small Business owners
Someone who loves to print their own pictures regularly
Realtors who do a lot of printing at home
…and anyone else who is regularly printing a lot of color at home each month
Ready to Get Your Own Instant Ink ready Printer?
If you're ready to join us fellow HP Ink Users, then…
(Amazon has some great prices. You can also watch for sales are your local stores).
Once you get your printer…