How often do you find an adorable planner printable only to find out it doesn't come in a size that fits your planner? Have no fear, I am going to teach you how to print planner printables to meet the size of your planner.
I recorded videos so that it's super easy to follow along. I find that pictures can be little harder to follow. Plus, I have included a free cheat sheet for common planner sizes.
Make sure to find the guide that matches your computer – there are different videos for Macs and PCs. If you don't have Adobe Reader, definitely download it for free as your PDF reader. Aside from being the standard PDF viewer, it's the program I use for this tutorial and it's the only way to customize my planner printables.
Looking for free planner printables? Check out the over 200 planner printables we have here at Mom Envy! The best part is that they're all free!

How to Resize Planner Printables for Any Size Planner – Using Letter Size Printables
First, gather information about your planner.
How big are the inserts for your planner? Get out a ruler or measuring tape and find out the length x width of your planner inserts. Write it down somewhere you'll remember (hint: somewhere in your planner).
Next, find out if your planner inserts are a standard paper size (if they are, you're in luck! Printing printables will be super easy for you!) Here are some standard paper sizes:
A4 – 8.3 in x 11.7 in
A5 – 5.8 in x 8.3 in
A6 – 4.1 in x 5.8 in
B5 – 6.9 in x 9.8 in
B6 – 5 in x 7 in
Next, pick a method based on your computer and insert size. Check them out below.
PC & MAC Method for Planners Using Standard Size Inserts
Are you lucky enough to have a planner that takes standard size inserts such as A5? Then this method is for you. It works for both Mac and PC users.
PC Method – Print by Percentage – (if you have a Mac, keep scrolling to see an easier way to print)
This method works for PC users with ANY size planner.
Here is a chart of common planner inserts, their sizes, and the percent you need to print letter size printables at.
*If you want to print out this chart to keep it handy, click here!

*When printing a TN, type in the percent. Then, select landscape. This will give you the needed white space needed to fold the insert to fit inside your TN.
**For the A4, if you are printing on letter size paper (which most people are), then just print a standard letter size sheet. The insert will be slightly smaller than an A4 planner. If you have an A4 sheet/printer capable of printing on A4, select A4.
Don't see your planner insert size on the chart? No problem.
It's super easy to determine the percentage to print your insert. Here's the simple formula.
WIDTH OF YOUR PLANNER INSERT÷8.5=Answer
Answer from above x 100=PERCENT TO PRINT YOUR PLANNER
Example: Let's pretend this is my planner insert: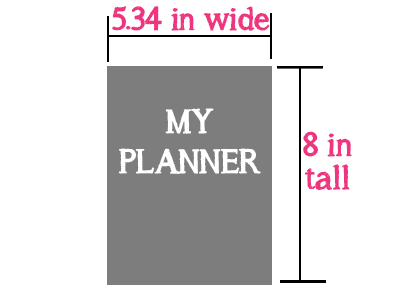 5.34 ÷ 8.5=.628
2. .628 x 100=63% (it was 62.8% but I rounded it up)
PC METHOD VIDEO – Print Using the Percentage Method
Here's the Video on How to Print Any Planner Printable for ANY Size Traveler's Notebook on a PC Using the Percentage Method
MAC METHOD VIDEO – Print by Custom Page Size Method
This method is SO easy. All you need to know is the width and height of your planner insert. I have a video for standard planners and for travelers notebooks.
Here's the Video on How to Print Any Planner Printable for ANY Size Traveler's Notebook on a Mac Using the Custom Page Size Method