This Thanksgiving thankful turkey printable is one of my favorite Thanksgiving activities because it is perfect activity to teach children about the importance of gratitude this Thanksgiving season. There are lots of options to teach gratitude (thankful tree, grateful buckets and tasks, gratitude journal, gratitude jar, and thankful worksheet, more).
For my Thanksgiving gratitude activity today, I created a free thankful turkey craft. You've probably seen many versions of this before – it's a simple Thanksgiving craft that is very common.
You write all of the reasons you are thankful this year on feathers that you glue onto a turkey (or onto a a paper plate you've colored to look like a turkey).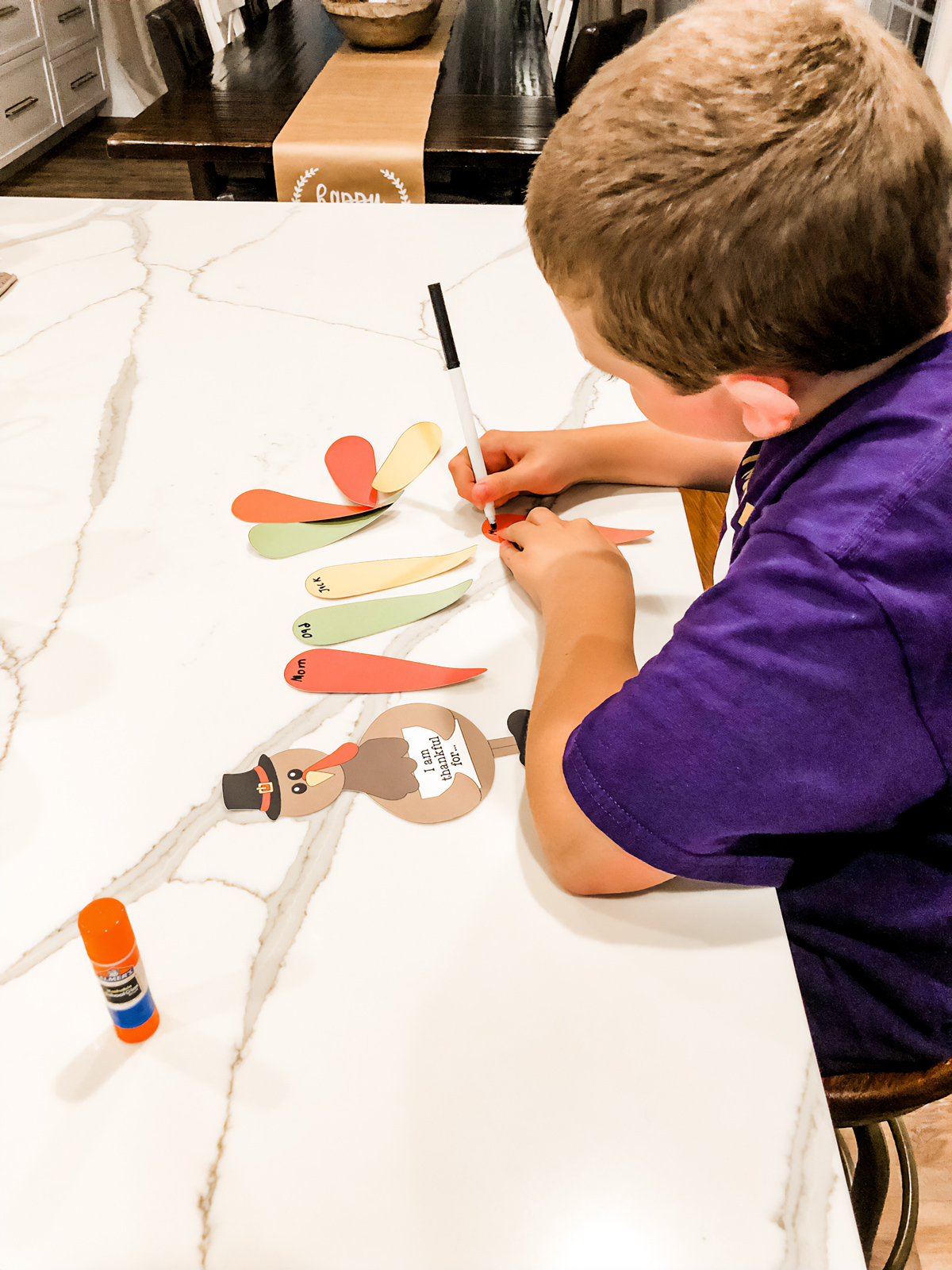 What I love about this cute Thanksgiving craft is that it becomes keepsake that you can put up year after year. Place it in a picture frame for a super simple piece of Thanksgiving decor.
Plus, kids of all ages can complete it. You just may need to modify how they complete it based on their age and skill level.
Younger kids (even those that can't write), could share what they are thankful for to an adult that could write it down for them. And older kids could do this activity on their own.
You could use these free Thanksgiving printables in a classroom setting, daycare, or at home. And you don't have to wait until Thanksgiving day to complete them – you could do them anytime in the month of November.
Using the Thankful Turkey at Home
When using them at home, you could use them at home with all family members, even adults if you wanted. They could be printed and used as a Thanksgiving day activity to keep people entertained while waiting for Thanksgiving dinner. Everyone could share their thankful turkey at at the dinner table as a way great way to start the meal.
How cute would these be to use as a place card for each person's seat at the dinner table? It the true spirit of Thanksgiving, the first thing the meal would focus on would be gratitude.
The whole family will get to spend quality time sharing the different things they are thankful for – it could become a fun tradition you do as a family each year. Traditions are such a wonderful thing and help children built lasting memories that they will cherish.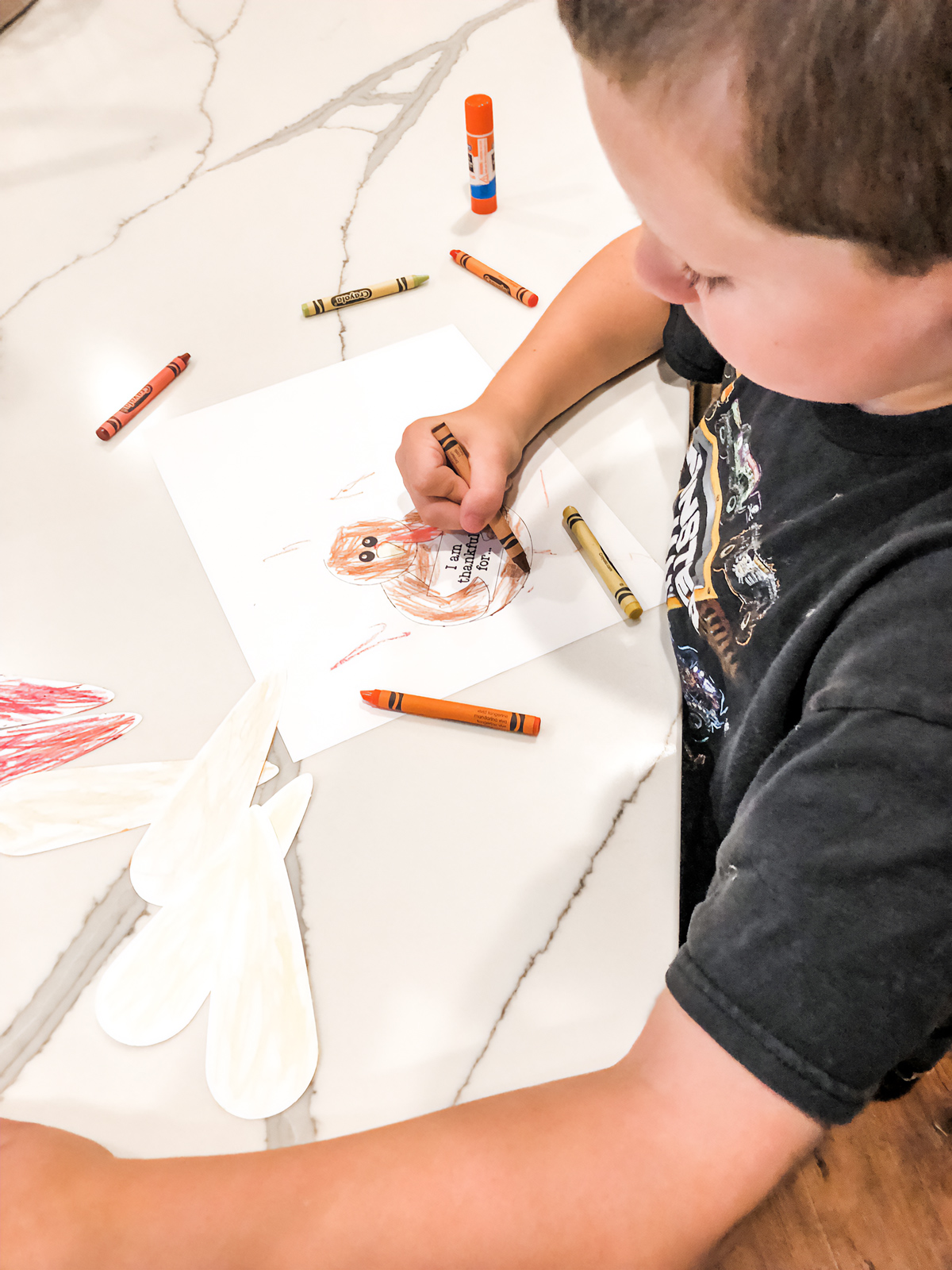 Using the Thankful Turkey in the Classroom Environment
If you're in a classroom setting or daycare environment, you could use the free Thanksgiving gratitude printables as a writing assignment. It takes a writing prompt and turns it into a wonderful Thanksgiving keepsake. It may be a bit more work than a simple grateful worksheet but it's definitely cuter.
I've provided you with various options based on the age of the children and the length of time you have for the activity. You'll only need to print the pages that work best for your students.
Children will work on fine motor skills when using scissors to cut out the turkey. Or, if you are limited on time or working with younger children, you could cut them ahead of time (on your own or with a Silhouette and Cricut cutting machine).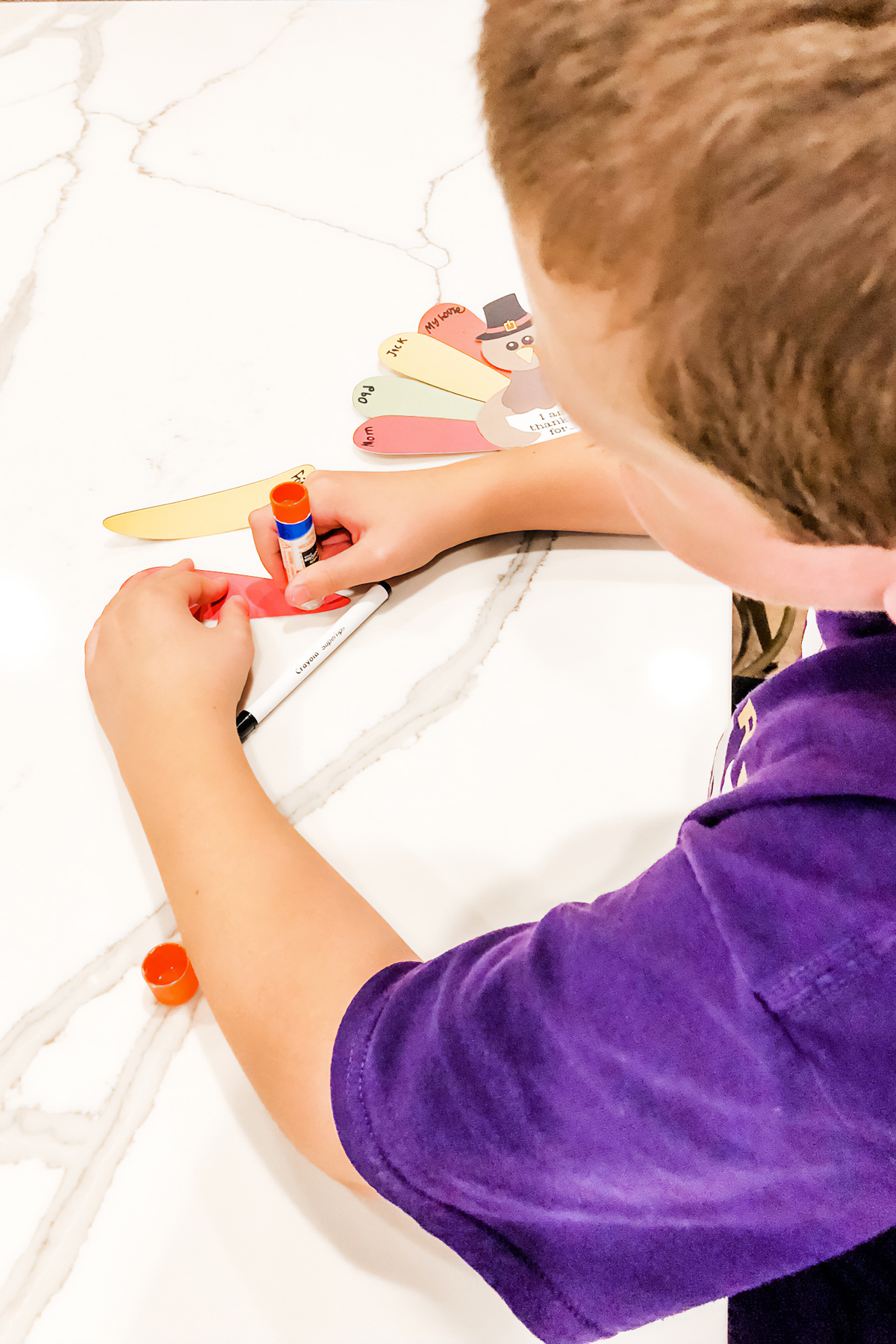 Cutting them out ahead of time would mean more prep work. Using parent volunteers to prep these ahead of time is a great option to cut down on your own prep time. And for older children, just print out the ready to print version that they can cut out on their own.
In addition, you have the option to print a black and white version that can work as a thankful coloring page, too. Or, you can print it already colored in. Personally, I like to save the ink and have children color in the turkey themselves. But, I understand that doesn't work for everyone.
If you're a teacher, grateful turkeys make the most adorable bulletin board display. Imagine seeing a wall of little turkeys with all of the reasons the children in the classroom are thankful on the feathers.
Special note – some children may not feel comfortable with theirs being shared with others, so this is one activity I would ask children if they would like for their turkey to be included.
What's Included in the Free Thanksgiving Printable Set?
You'll get multiple variations of the turkey templates included in the set as well as turkeys feather templates. Included in this set are
Ready to print set for older children (harder turkey to cut out)
Ready to print set for younger children (simpler turkey to cut out)
Silhouette print and cut files
Cricut print and cut files
Turkey feather SVG to cut out just the feather designs
Colored versions
Black and white coloring page versions
What do the Different Turkeys Look Like?
Here is what the more difficult turkey to cut out looks like when put together.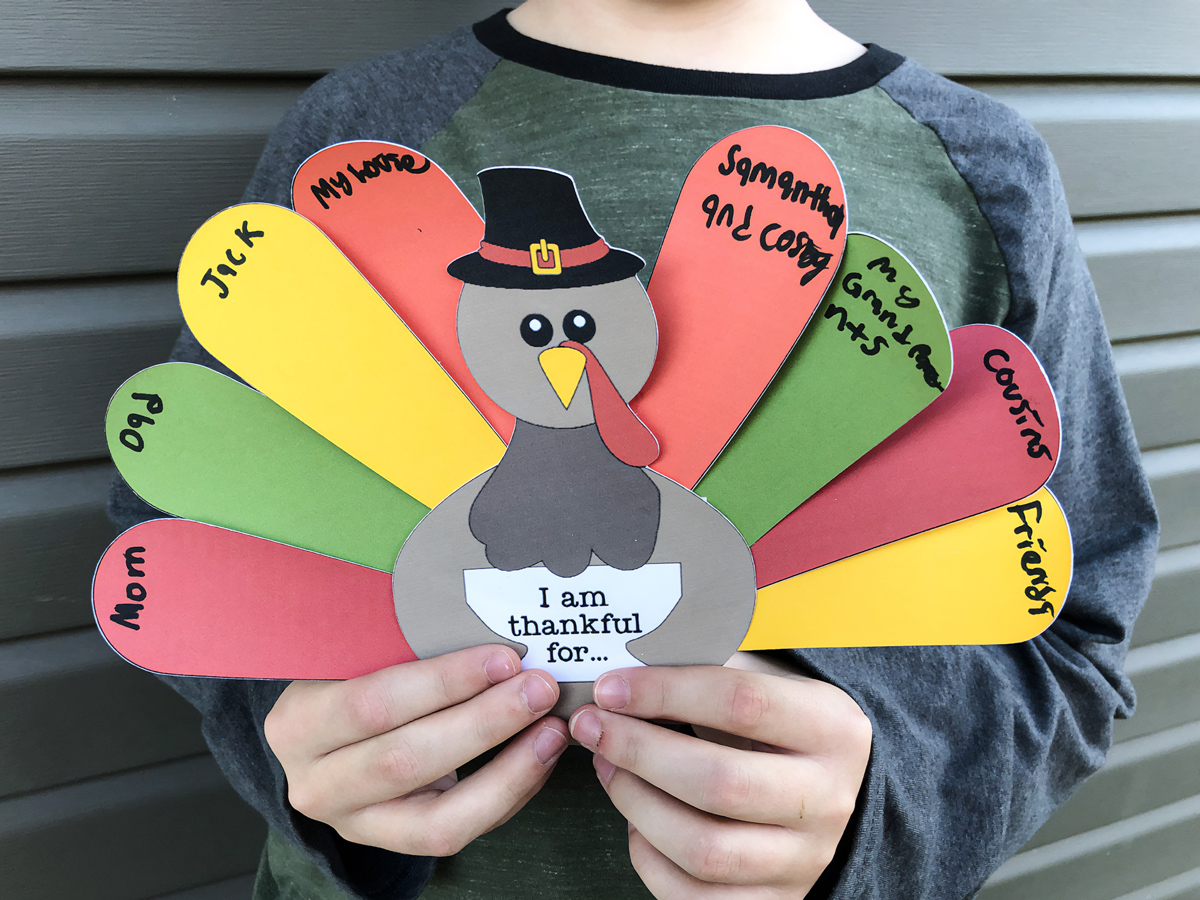 This is what the easier turkey to cut out looks like when put together.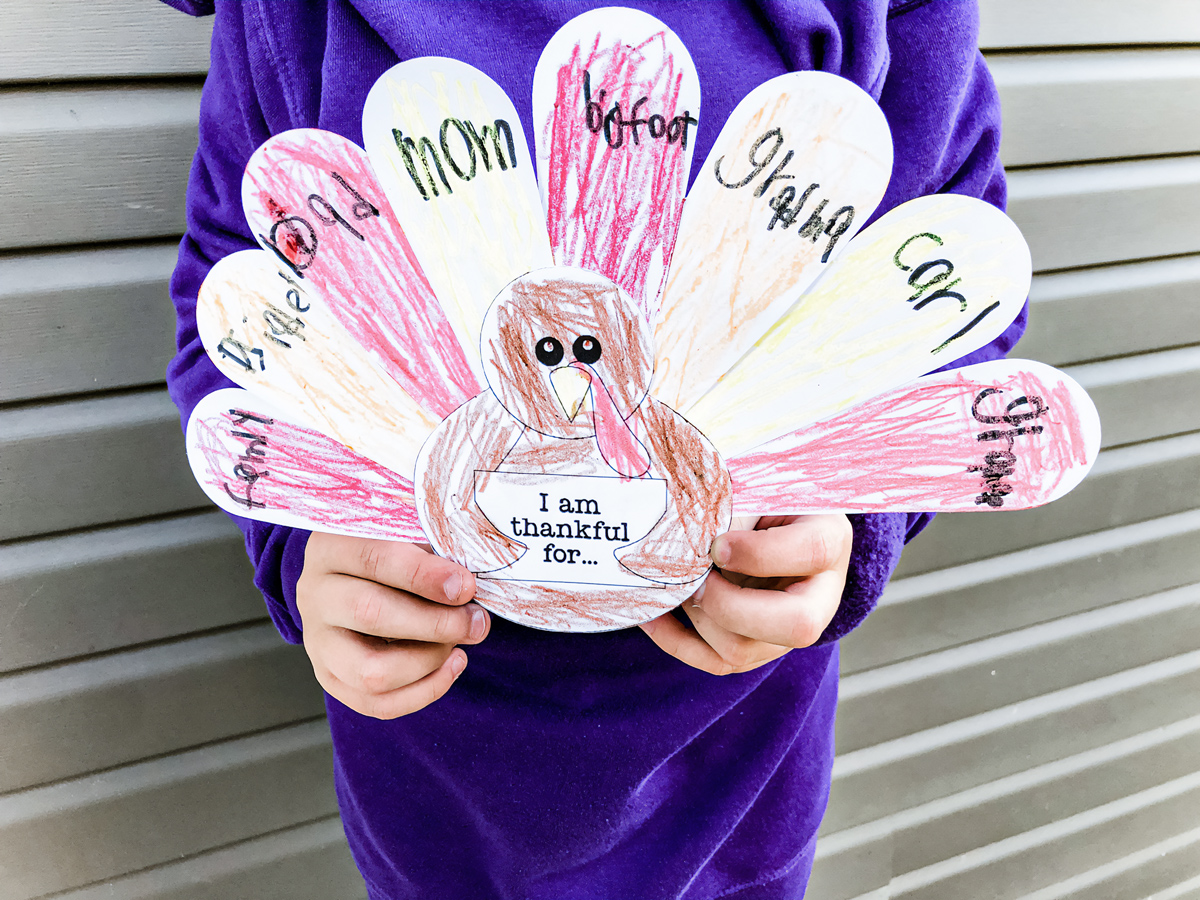 What Supplies Do you Need to Create the Turkey Craft?
You'll need the following including the free digital files you can get at the bottom of this post:
Scissors (or craft cutting machine)
Glue stick
A printed copy of the turkey's feathers
A printed copy of the turkey body of your choice
Crayons or colored pencils in different colors (if you print the black and white version)
Cardstock
What File Formats are Included?
This set comes with a pdf file option for the ready to print sets and PNG, Silhouette Studio, and SVG file types for the craft cutting sets.
How Many Turkey Feathers are Included?
The ready to print sets each have 8 turkey tail feathers included. I felt 8 was the ideal number with little to no overlapping. Children could always choose to do less feathers.
But, you could print more of the turkey feathers if you'd like. With some overlapping, I was able to get 11 turkey feathers behind the turkey.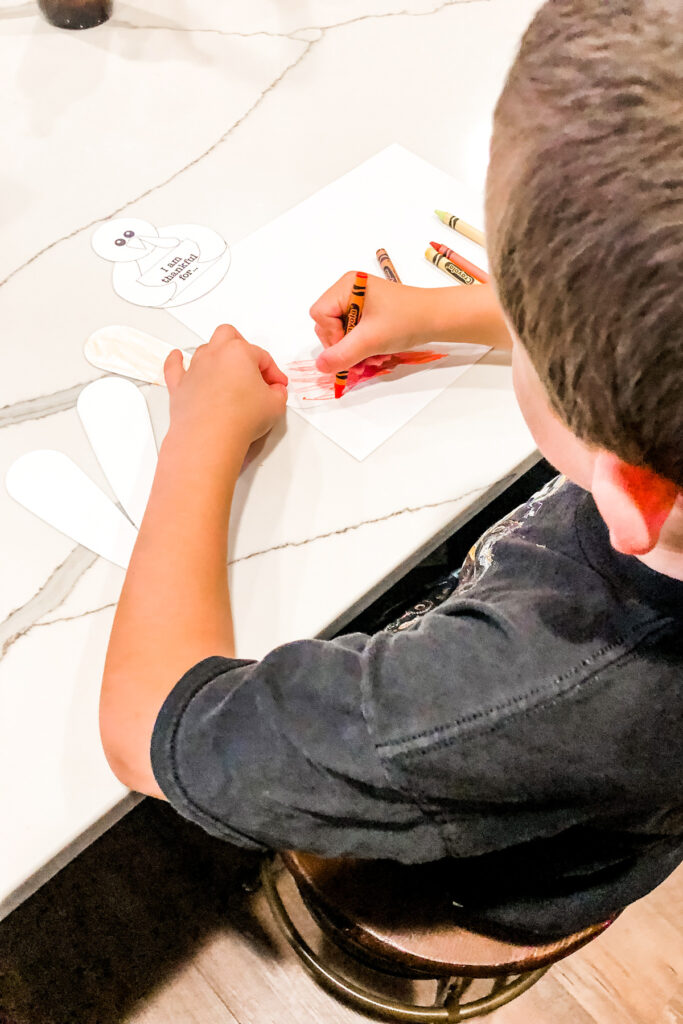 What Type of Paper Should the Turkeys be Printed on?
My suggestion is to use white cardstock paper to print the turkeys on if you would like it to become a keepsake. If you are cutting the feathers by hand, you could use construction paper. If you use regular paper, it won't be as sturdy but it definitely would still easily work.
Why Do Gratitude Activities?
Well, gratitude activities like this turkey, are a great reminder to teach children about appreciating what they have in life. As the holiday season approaches, children often times (and adults, too) focus so much on presents. Which makes November the perfect time of year to focus on the meaning of gratitude.
Something like this turkey is the perfect activity to help children focus on the things we do have and not the things we want. It's honestly an excellent activity for adults to remember what they have in their lives, too.
Helpful Tip for Completing Gratitude Turkeys
Be careful when modeling this activity and when you're helping children complete their gratitude turkey. Remember kids can be grateful for all sorts of things (including their toys). It should be personal to them and include their own ideas. Perfect ideas aren't important for this activity.
When I model my own turkey, I only share an idea or two for what I am grateful for because I don't want children to copy mine. When I am working with older children, I find there is no need to provide them with any ideas. They can easily come up with their own.
Using a Craft Cutting Machine to Prep the Turkeys
If you are going to use a craft cutting machine like a Silhouette Cameo or Cricut, I've got all of the files you need. You have two options to use your machine to make this printable turkey craft. What I love about using a cutting machine is that it turns it into an easy activity that everyone can participate in – even those that struggle with cutting.
For both cutting machine options, I do not suggest printer paper. I find that it doesn't hold up as well to being cut by the machines and then used by the children.
Option 1:
Use the print and cut method. Use the print and cut ready free turkey template and feathers print. They are labeled as being print and cut.
You'll want to use these with white card stock instead of colored paper because you will be printing the turkey and it's feathers, not just cutting the shape out of paper.
Option 2:
Use the print and cut method for just the body of the turkey or have children cut it out by hand. I do not have an SVG of the turkey shape.
However, I do have an SVG of the feather shape. You'll use the feather shaped SVG or Silhouette file to cut out individual turkey feathers from different colors of paper.
You will not be printing the feather template so you'll need either colored paper or white paper that the children will color. I think this is a great method – you can have children cut out the turkey's body while you use your machine to cut out tons of turkey feathers.
What is Included in the Ready to Print Packets?
Here are what the pages look like. There are 4 ready to print packets perfect for the classroom or at home use.
First, here is an example of the two pages included in the black and white simpler to cut turkey.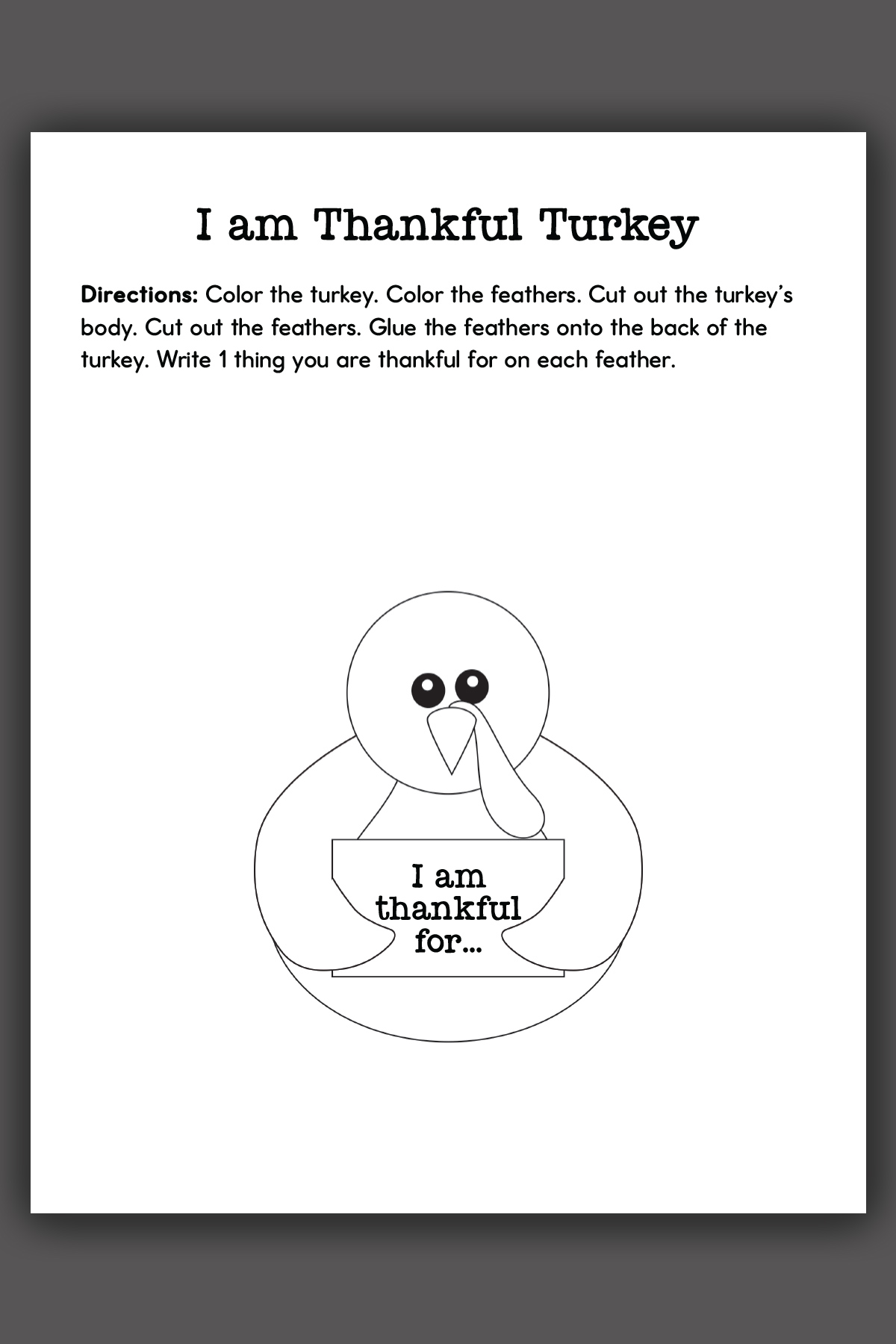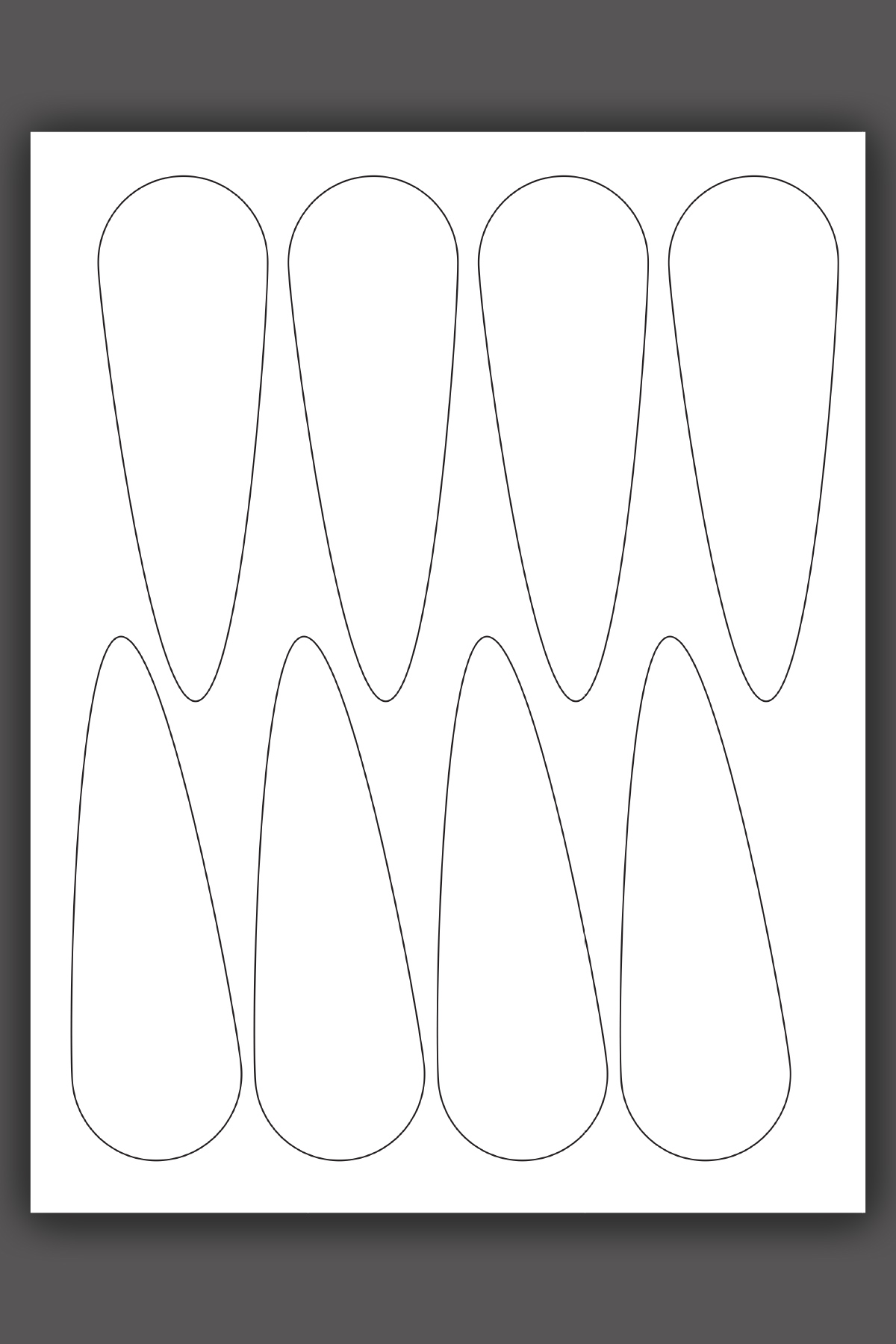 Next, this is the harder to cut colorful turkey 2-page packet. Both packets come with 8 feathers which is plenty.
You could also choose to have the children use less of the turkeys to give them a more spread out look. This may be easier for younger children to come up with less ideas and to make gluing easier.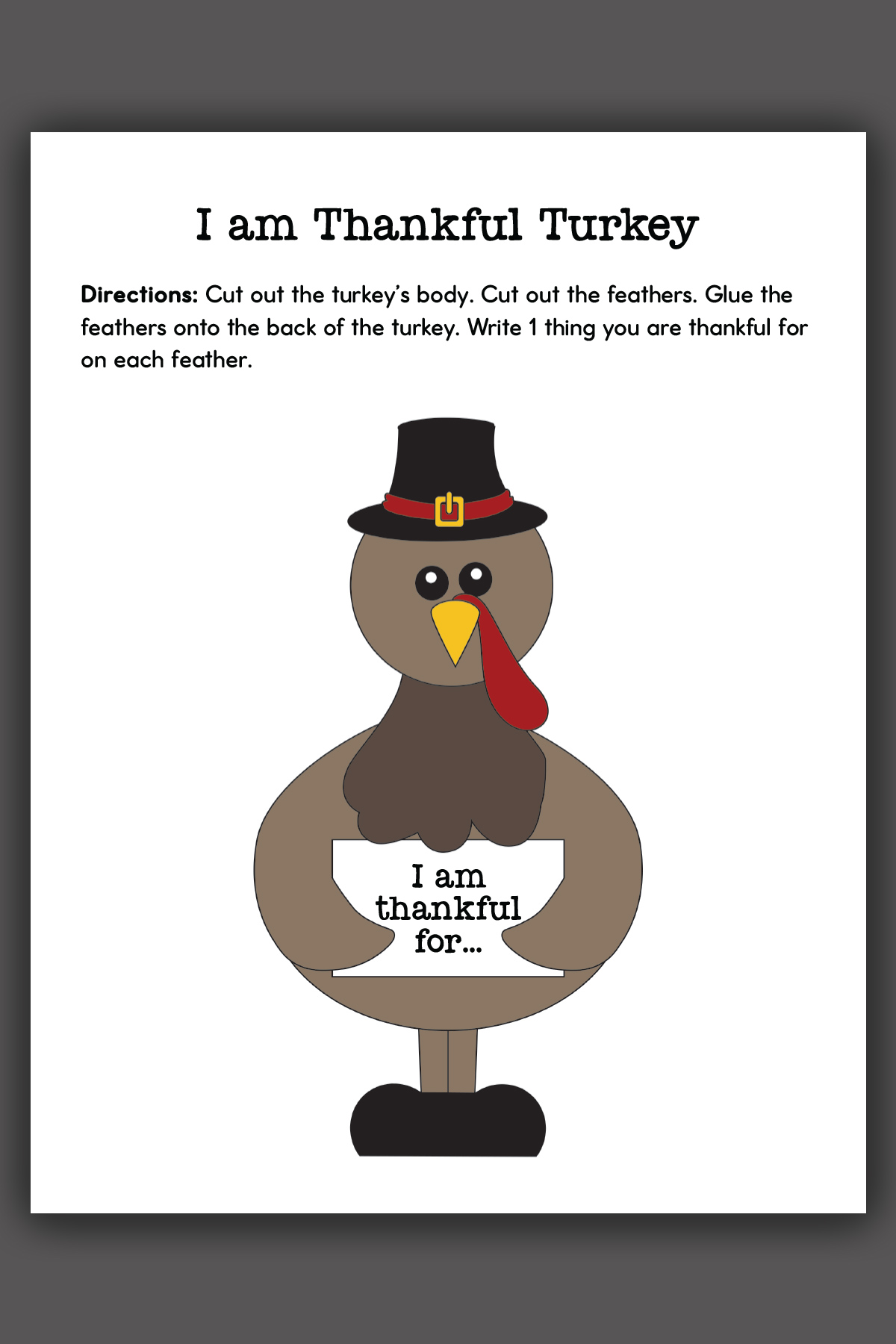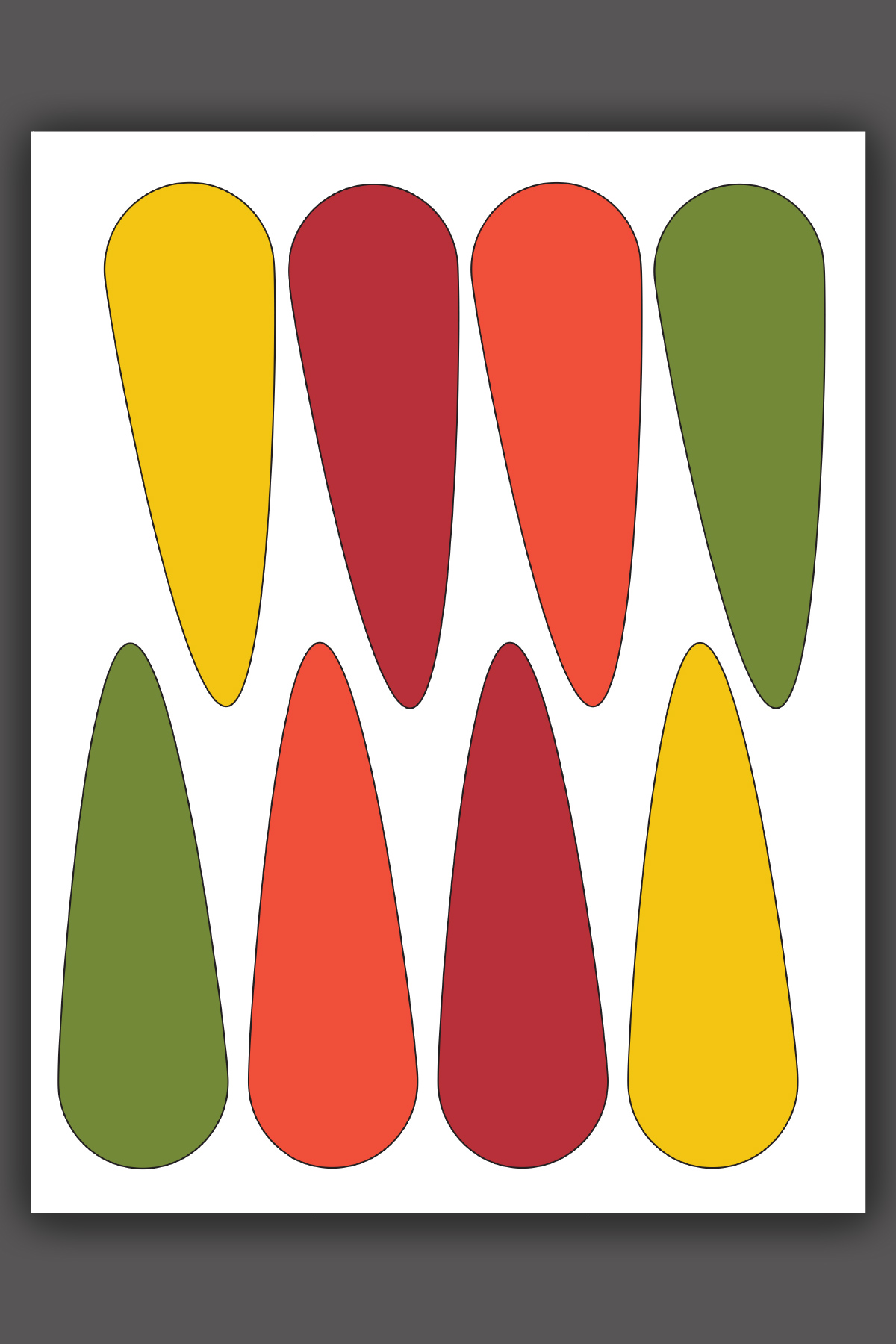 Super Fun Alternative to the Traditional way of using this Thankful Activity
If you're looking for a sweet gift for a grandparent this year, you could modify this turkey to create a special keepsake or thank you note for them. It's a fun way to let a grandparent know how much their grandchild cares for them.
You would use the turkey like homemade thankful cards – you'd modify the activity only a little bit. Instead of writing all of the reasons they are thankful, children can write all of the reasons they are thankful for the person they are gifting it to. They could list all of the great things that make that person special on their turkey feathers. It would be a wonderful way to say Happy Thanksgiving.
These could even be made for the entire family – people could each write one reason they are thankful for each person on a feather and create turkeys for each person using the feathers from everyone.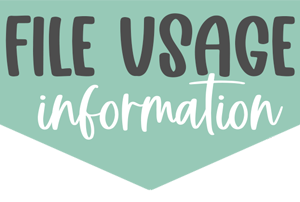 Copyright MOM ENVY 2022. Files may be used for personal use only. No commercial use of the file is available. Files may not be directly shared within Facebook groups, on websites, or in any other way. If using for educational purposes, the file may be printed and copied for classroom use. A link to the web page to download the files may be shared as well as one photo. The file may not be printed and then sold (including local yard sale sites and groups or at local craft fairs). The images may not be used in any way other than to share with a link to the original web page.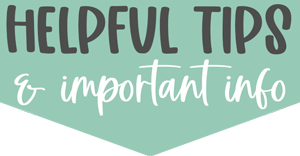 Tips for Downloading the Free Files
Below is an arrow that says Download Below. Underneath that is a large image that says Click to Download the free files.
Once you click that, you will enter the members-only password and click submit.
The page will reload the same image and now when you click the image that says Click to Download the free files, it will open the Google Drive folder containing the free files.
How do you get a members-only password?

You can sign up here to be a free Mom Envy club member.
The password will be sent to you within a few minutes. Make sure to check your spam and/or junk folder if you don't see it.
Already a member but forgot the password? Don't sign up again. Look at the end of any newsletter from me for the free password or just send me an e-mail here: [email protected]