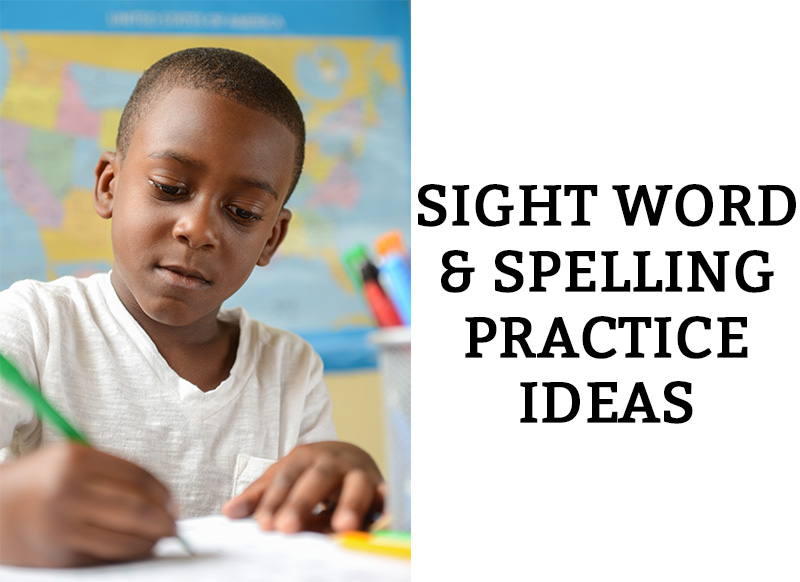 As a special education teacher, I feel it is important to teach using a variety of methods.
We are constantly reminded that not all students and children learn the same way. Yet, so many lessons ask children to learn in the same type of ways over and over again.
One area teachers can give students more freedom is in how they learn their sight words and spelling words. And parents can use the same ideas to provide their child with more exciting learning activities.
Not all students will learn the words by writing them repeatedly or by spelling them aloud. Different methods work for different students.
Tips for In-School Use of Spelling and Sight Word Activities
Not all activities have to be done with your students. BUT, you can pick and choose which ones you think would work for your students and classroom.
Create Plastic Bins & Bags for each Activity
In my past experience as a teacher, I created plastic bins with the materials needed for each activity selected. It makes it easier to keep them separate from each other. I just made sure to label the outside of each bin so I could find the activity I needed.
How to Use the Activities in the Classroom
You can use the activities as whole group activities but we find they work best as small groups. My suggestion is to set up the activities as centers or stations.
The second way we liked to use them as extension activities for children that complete work early. We have the activities in bins ready to grab and work.
Here is a list of some of the stations we like to use together as stations:
Tactile writing (we use trays and salt)
Mold the Words
Magnetic Letters
Hangman (we used our Whiteboard)
Rainbow Writing
Routine, Routine, Routine
Children thrive on routine. We use these centers every single day as part of our word work portion. Children rotate around the centers so that they get the opportunity to do each center at least once a week.
We had a portion of our reading class that was called Word Work. This is when we worked on sight words and/or spelling words.
Our word work reading classroom routine went as the following:
Classroom whole group Chants & Cheers with Sight words (or spelling words)
Sight word & Spelling stations (2-3 rotations depending on time)
Use the Same Activities for Other Subjects
You can also use these methods with students learning how to write their alphabet, numbers, name, etc. It doesn't just have to be used with sight words and spelling words.
Tips for Homework
Send a link to this page in an e-mail or a print out of the list of ideas for homework or additional practice.
There is one for sight words and spelling words depending on the grade you teach.
Parents are always asking me what else they can be doing at home; this is a simple list of activities they can be doing with their students.
I strongly suggest sending this home for your students that are struggling to learn their sight words or spelling words. Homework and sight word practice can be frustrating for both the students and parents, and this provides them with some fun alternatives.
Instead of requiring all students to complete the same spelling homework, my co-teachers and I have found it beneficial to allow students to select from this long list of ideas (or even come up with their own!).
As long as a parent can verify that the student practiced their words in some way, we accept their homework. We just have a sheet that parents initial, date, and list the activity they completed.
Tips for Parents
If you are a parent reading this, these are some great at-home activities you can use with your child to practice their sight word or spelling words. You can even ask your child's teacher if you can use one of these methods in place of their current spelling homework.
Younger students especially love the hands-on methods for learning their sight words. Children will love learning their words while they use play-doh or mud.
You can also use these methods for your children that are learning the alphabet, numbers, and how to write their name. They are simple techniques require very few materials (that you mostly have already in your house).
Sight Word & Spelling Activity Ideas
Tactile writing – write the words in shaving cream, sand, salt or sugar spread out on a flat surface. I use a tupperware container for my salt version of this. I use a metal baking sheet for the shaving cream so it's easy to clean up.
Hair gel writing – squeeze a bunch of hair gel into a large gallon size Ziploc bag. Squeeze out the air and close. Your child spells the word by tracing their finger on the bag.
Mold the words – use Wikki sticks (bendaroos), clay or play-doh to mold the words.
Carve the words – flatten some play doh. Then use a stick to carve the words into the dough.
Rainbow writing – use markers, crayons, or highlighters. Write the word in one color. Select another color and trace over the word. Use 3-5 colors.
Artistic writing – write the letters uniquely (odd shapes, color, bubble, squiggly lines, etc.). This creates a visual to help students remember the words.
Paint or chalk writing – use paint or chalk to practice sight words. This is a great activity to get kids outside. Let them use chalk to write the words on the driveway.
Etch-a-Sketch writing Dry-Erase board writing
Magazine collage words – cut out letters from magazines, newspapers, and ads. Glue to paper to spell the words.
Glitter words – write the words using Elmer's liquid glue and pour on glitter and dump the extra glitter off. Index cards work great for this.
Type the words – let your child choose fun fonts and colors to make it even more exciting. Children love any chance they get to be on the computer. This can also be done on a tablet computer, great for a child to do while at a siblings sports practice or game.
Back spelling – your child spells a word on a family member's back. The family member tries to guess the words. Switch! Spell a word on your child's back and see if they can guess it. Siblings like to get involved in this silly activity.
Magnetic writing – use magnetic letters on a cookie sheet or metal surface
Macaroni writing – use alphabet macaroni to spell words
Mud writing – yes, you read that right. Use a foil pan to collect dirt and add some water to make mud. Let your student use their finger or a stick to spell their words in the mud. This is another great activity to get your child outside.
Record the words – spell the words aloud and record it. Students can play back their recordings using an iPod, CD player, or computer.
Hangman – play hangman with your child using their sight words (use after some practice with the words).
Word chants/cheers (see the explanation here)
Sign language spelling – teach students sign language and have them spell the words using sign language.
Spin a word (print for free here)
Block spelling – use letter blocks to spell
Magic reveal words – use white paper and a white crayon. Have students write the words using a white crayon. Then paint over top of the words with marker or paint.
Flashlight spelling – have students use a flashlight to spell the words on a wall
Sight Word Only Printable Games