If you're looking for a sweet teacher appreciation gift, daycare or babysitter gift, or Mother's Day gift, then this free thank you for helping me grow printable tag is a thoughtful pick. All you need is to buy some flowers, print the printable gift tag and you've got a great gift.
Teacher appreciation week and the end of the school year can be daunting – it's hard to decide what to get your child's teacher. As a former teacher, I love to always give a gift card because I prefer practical gifts a teacher can use.
But, I still want to give something that is thoughtful and is a physical item my child can hand to them. This free printable tag with a vase of flowers or nice plant would be a lovely teacher gift.
No matter what grade the teacher teaches – whether they're a high school teacher, Elementary school teacher, guidance counselor, pre-k teacher, etc. these printable gift tags will work. They have a generic theme that works for any age.
I think it's always important to go the extra mile when it comes to teacher gifts – they work so hard and deserve to be shown how much we appreciate them. Have your child add a small note on the back of the tag or, print one of these free thank you teacher cards to make the perfect gift (there is tons of room for your child or you to write a heartfelt note in these cards).
As an Amazon Associate, I earn from qualifying purchases. I am also an affiliate for xTool, the HP ink program, ShareaSale, and CJ Networks. Click here to read more.
Are you a Room Mom or Room Dad? An "Us" Version is Included!
This would be a great way to say thanks from the class. And the great news is that in addition to the "thanks for helping me grow tag," I included a "thanks for helping us grow" version.
That way it can be given as a group gift. Wouldn't this tag be so cute hanging off a ribbon around a big ceramic plant pot and plant?
Teacher Appreciation Gifts for the Whole School
If you are a PTA (PTO, PTSA, etc) member and are looking for a way to show all of your school's wonderful teachers that you are thankful for all of their hard work, this teacher gift tag would work great for a small, inexpensive gift. You could add it to a sweet little succulent (just print the tag at a smaller size!)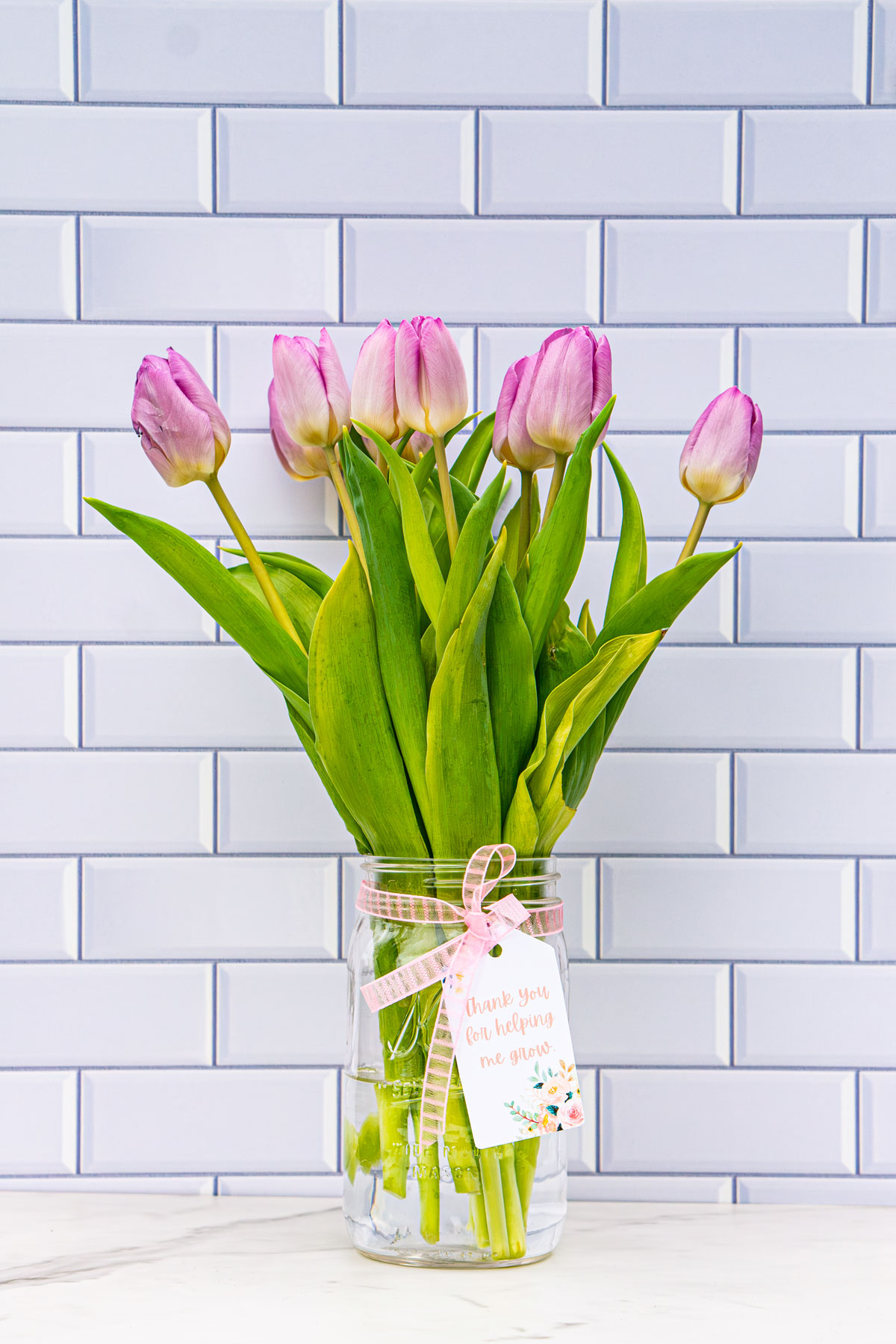 Is this Gift Only for Teachers?
No – of course not. it can be used for anyone in your child's life that has helped them grow. It would work well for:
Mother's Day
Grandparent's Day
Grandparent gift
Aunt gift
Daycare provider gift
Babysitter gift
Birthday gift
What Do the Gift Tags Look Like?
Here is the Thanks for helping me grow version.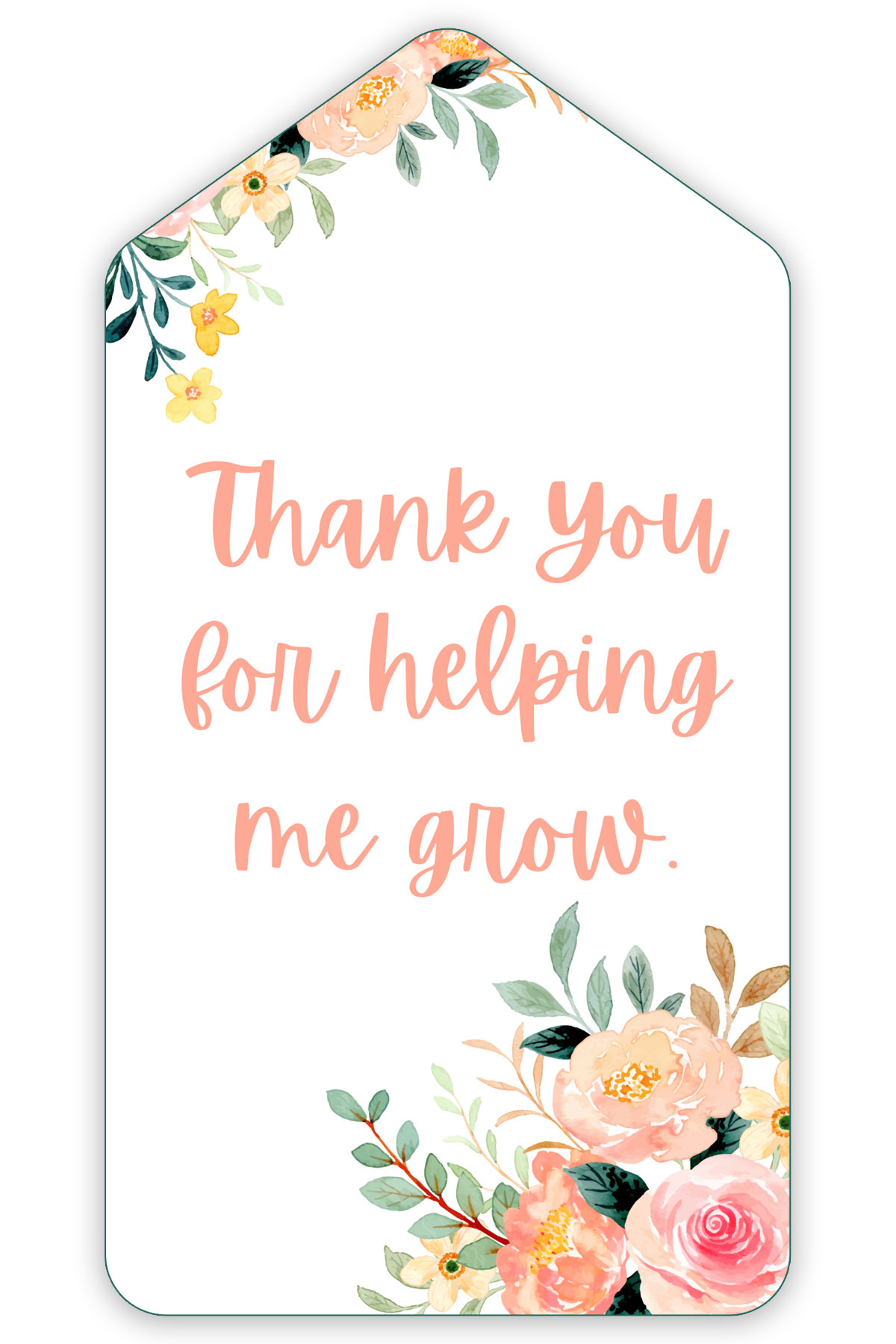 Here is the Thanks for helping us grow version.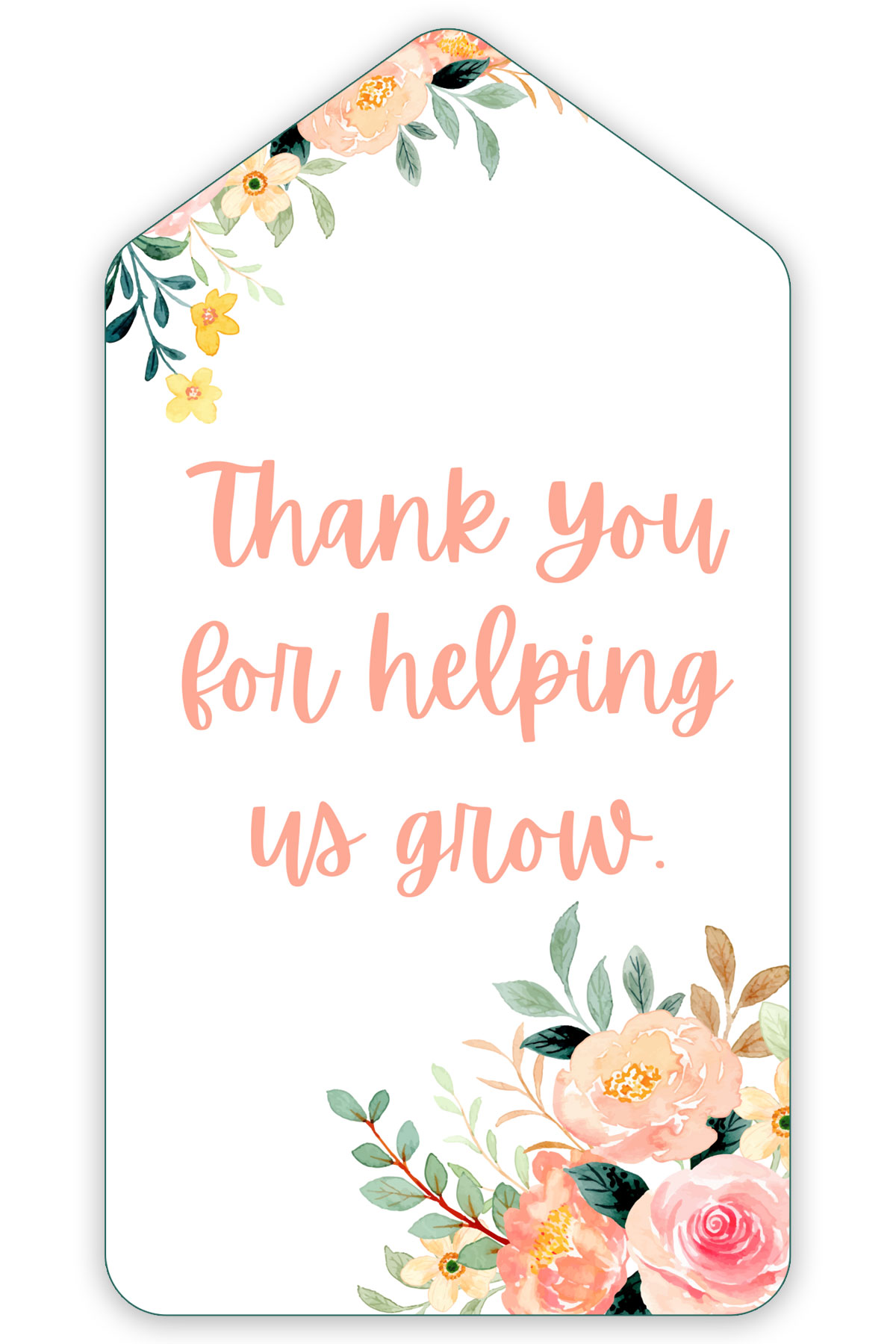 How Do you Download the Gift Tags?
To get the tags for free, you just have to click here to access the Google Drive folder where you can download the free tags. Or you can click the image that says Click to Download at the bottom of this post.
​How Do You Attach the Tags?
You have 2 choices. You can hole punch the tag at the top and tie it onto a string or ribbon. Or, you can just add some tape to the back and attach it to the gift.
What Type of Paper Should I use for the Gift Tags?
For the best quality possible, I suggest using white cardstock to print your tags on.
Where Can I Print the Tags?
You can print the free teacher gift tags at home on a home printer (I suggest the HP ink program to save SO much money on ink). Or, you can send them to a local print shop to have them printed.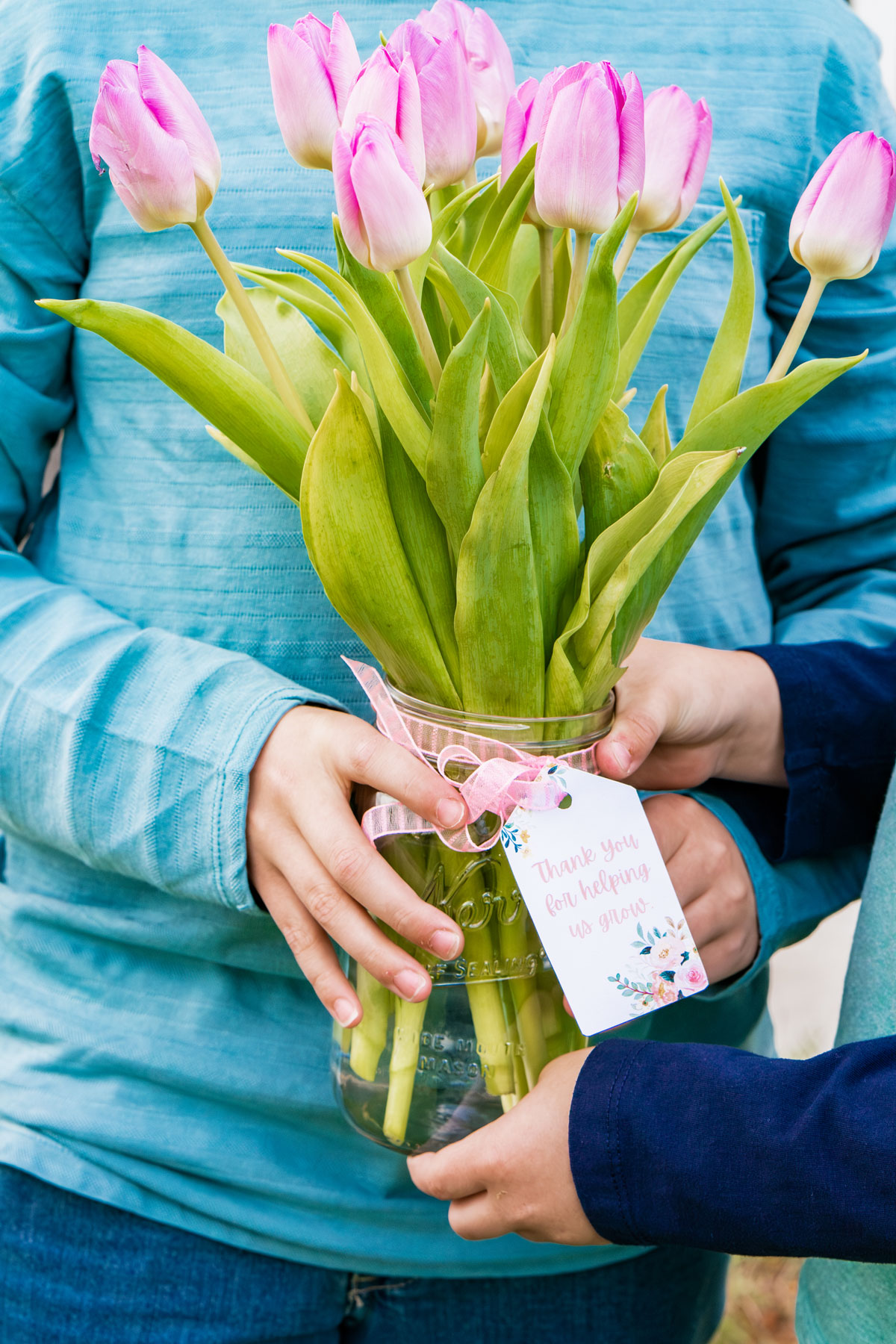 What File Types are Included?
You'll get a single page printable pdf for each of the gift tags included in the set.
Want More Teacher Gift Tag Printables?
Are flowers not your teacher's style? Check out this set of 13 free teacher appreciation printable gift tags. Each gift tag pairs with an inexpensive, small and practical gift. There is also a generic thank you option.
Want More Free Printables?
Become a FREE Mom Envy club member to get access to over 300 more free printables! When you're a member, you'll get the members-only password to access all of free files! You can subscribe to Mom Envy's free club here.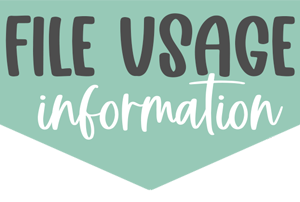 Copyright MOM ENVY 2023. Files may be used for personal use only. No commercial use of the file is available. Files may not be directly shared within Facebook groups, on websites, or in any other way. If using for educational purposes, the file may be printed and copied for classroom use. A link to the web page to download the files may be shared as well as one photo. The file may not be printed and then sold (including local yard sale sites and groups or at local craft fairs). The images may not be used in any way other than to share with a link to the original web page.