Are you looking for a thank you card for your teacher printable? I've got you covered. I have 7 different free printable cards that are a great way to say thanks to a teacher during teacher appreciation week, the end of the school year, when they've been having a difficult time in school, or any other time during the year.
Teachers put in so much hard work during the school year, it's important to take the time to say thanks to your child's teacher. Whether or not you are just giving a card, small gift, gift card, etc. the card will mean a lot to your child's teacher. Have your child add a handwritten note inside or add one yourself to make the card extra special.
A heartfelt note can mean so much to a teacher (or other staff member) in a school. As a former teacher, I can tell you that many teachers love thoughtful gifts and that includes a simple card. The best part of my teacher appreciation gifts was always the card.
Teachers have the hardest job and deserve to be appreciated. You can just give the card or add in a teacher appreciation or end of the year gift. Make teacher's day or the end of year extra special with one of these free thank you cards for teachers.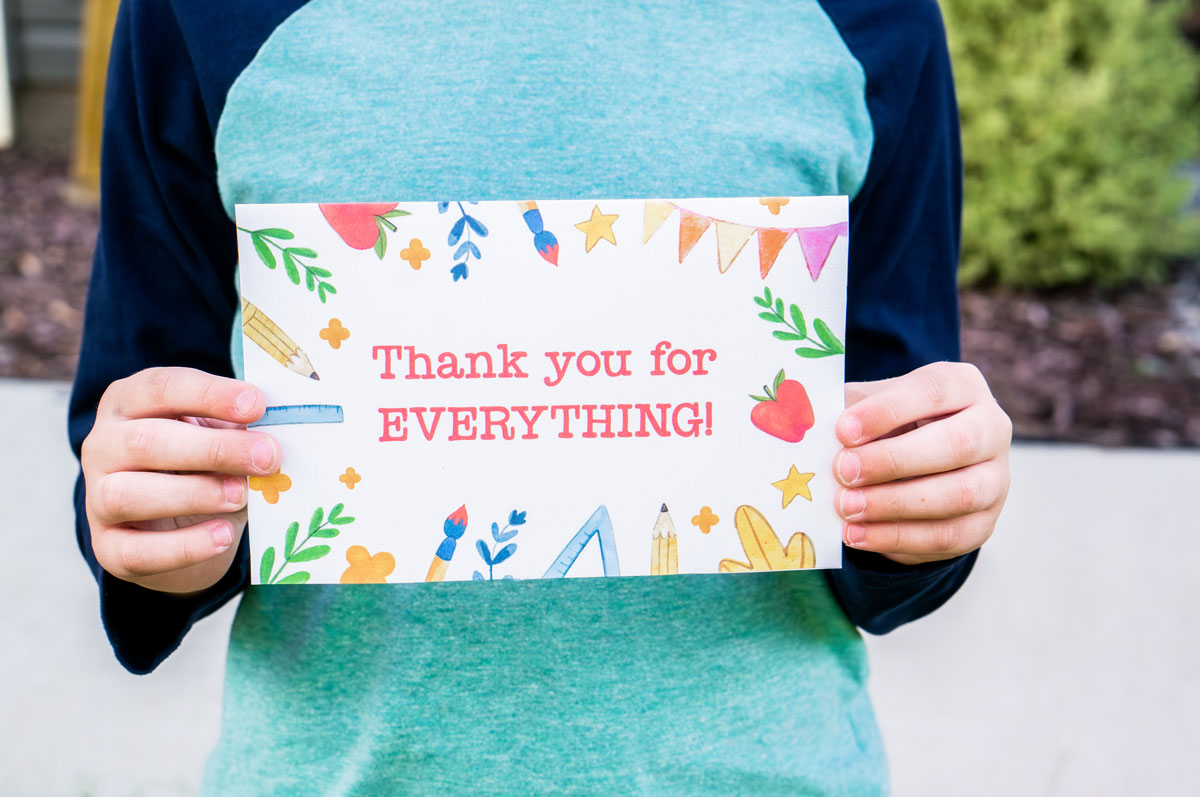 As an Amazon Associate, I earn from qualifying purchases. I am also an affiliate for xTool, the HP ink program, ShareaSale, and CJ Networks. Click here to read more.
Looking for Teacher Gift Ideas?
I have this set of 13 free printable gift tags that pair with an inexpensive physical item or cute gift basket of items. The tag doesn't leave much room to write your own note so you can print off one of these cards to pair with the gift.
​7 Different Designs are Included
With 7 options, you can choose the right card for the right teacher. Maybe you have a favorite teacher – some of the cards are a little more special with a sweet saying.
Or, if your child had a teacher this year that wasn't the best teacher you've ever hard but you still want to say thanks because you still appreciate their effort, there are simpler, plain thank you cards (I get that – it happens sometimes).
What do the Cards Look Like?
Here is each card included in this set of free thank you cards.
This first card is a beautiful floral design. It says, "thank you for being such a great teacher."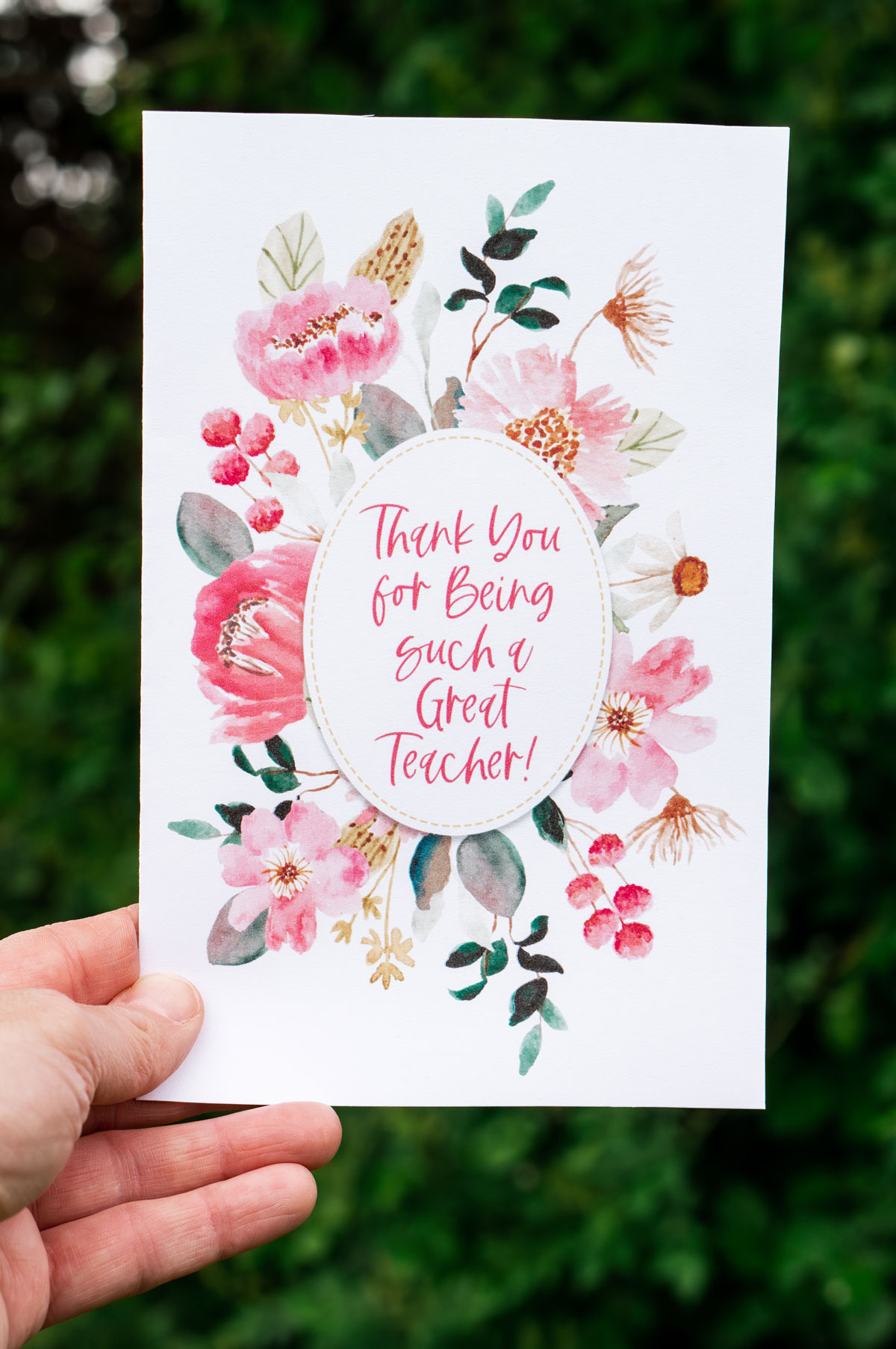 This next card is a simpler design with bold colors. It says, "thank you for teaching me!"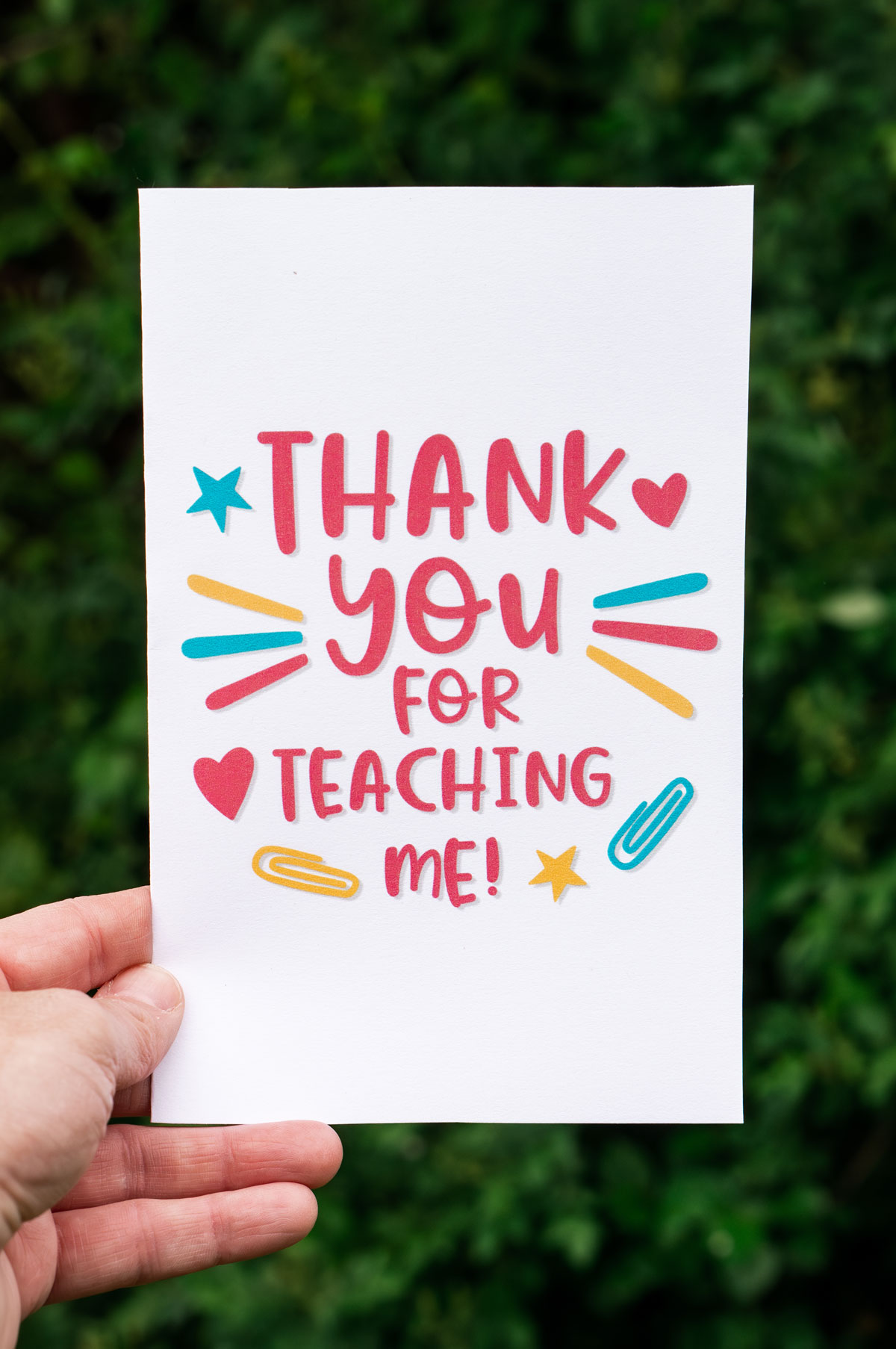 Want a simple thank you card? This card works well with a generic apple and school supply design with a thank you banner.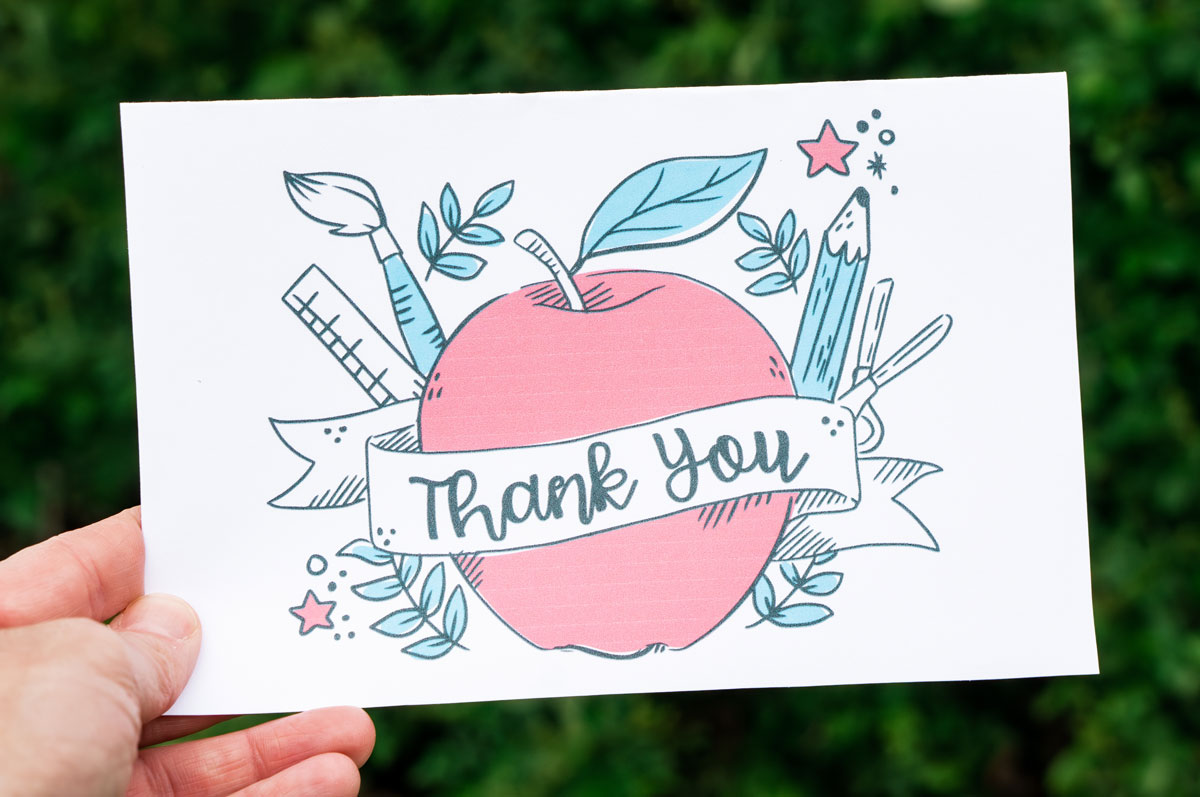 Next is a card with a border of school supplies that says "thank you for everything!"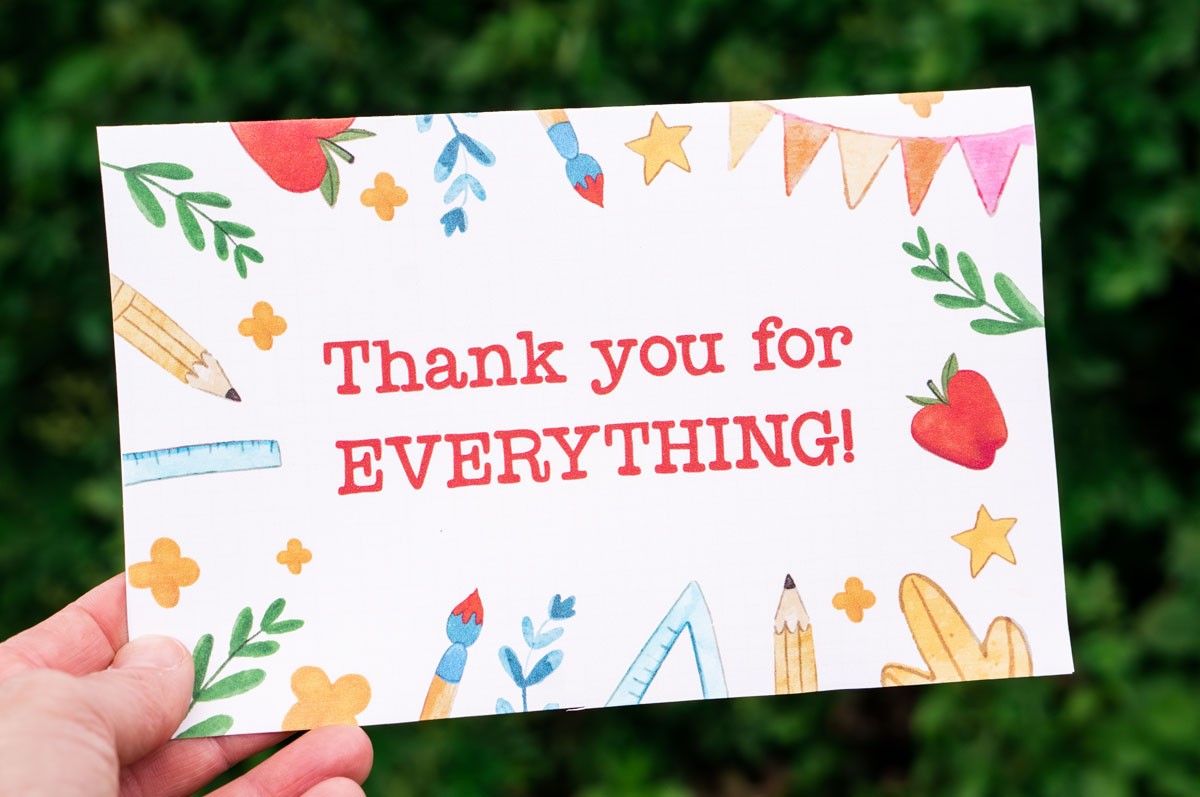 I love this card design for a wonderful teacher. It has a rainbow created with a pencil, ruler, and paper clips. It says, "I"m so lucky to have you as my teacher!"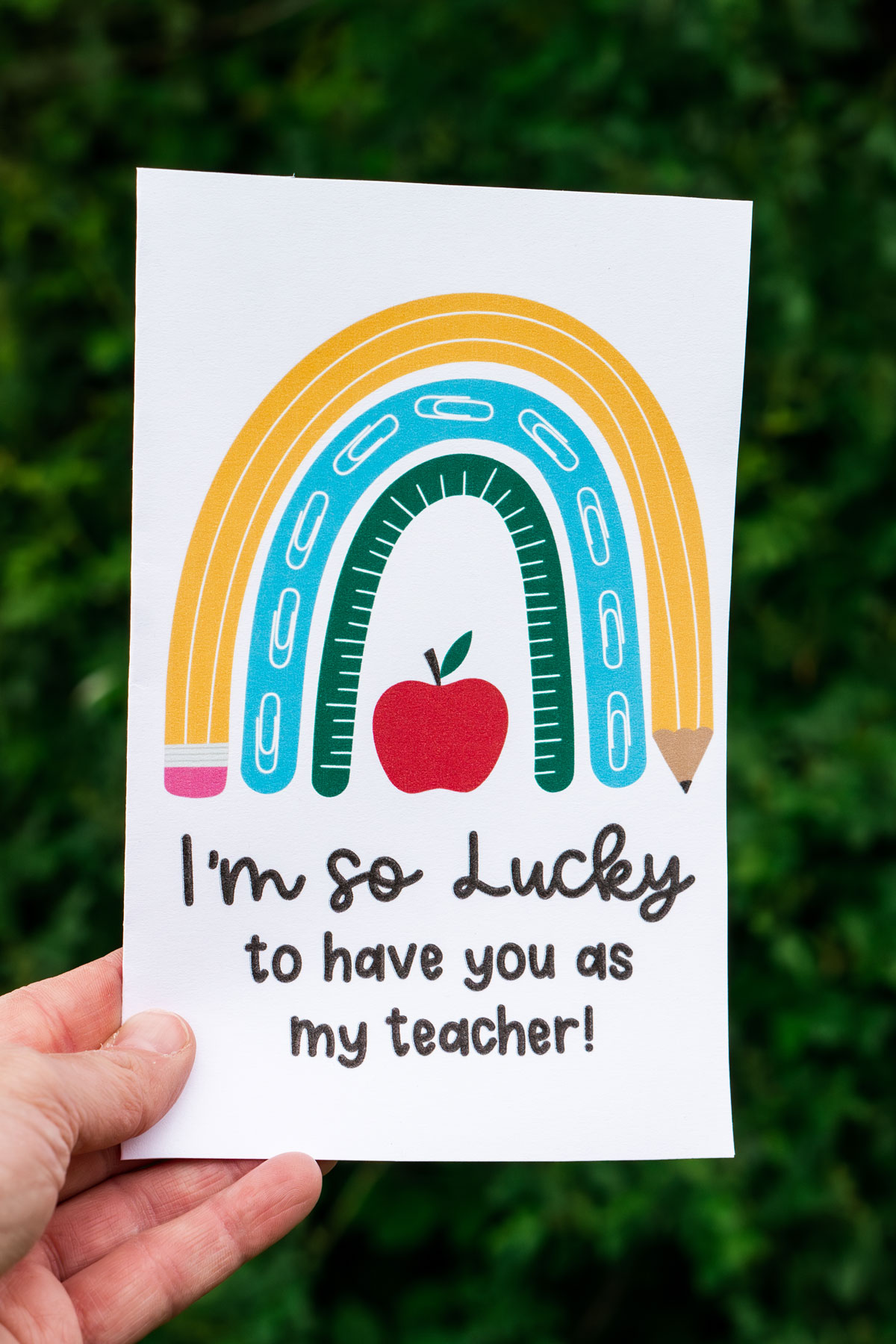 How cute is this design? It's a little crayon box saying "thank you!" It's great for a younger kids' teachers.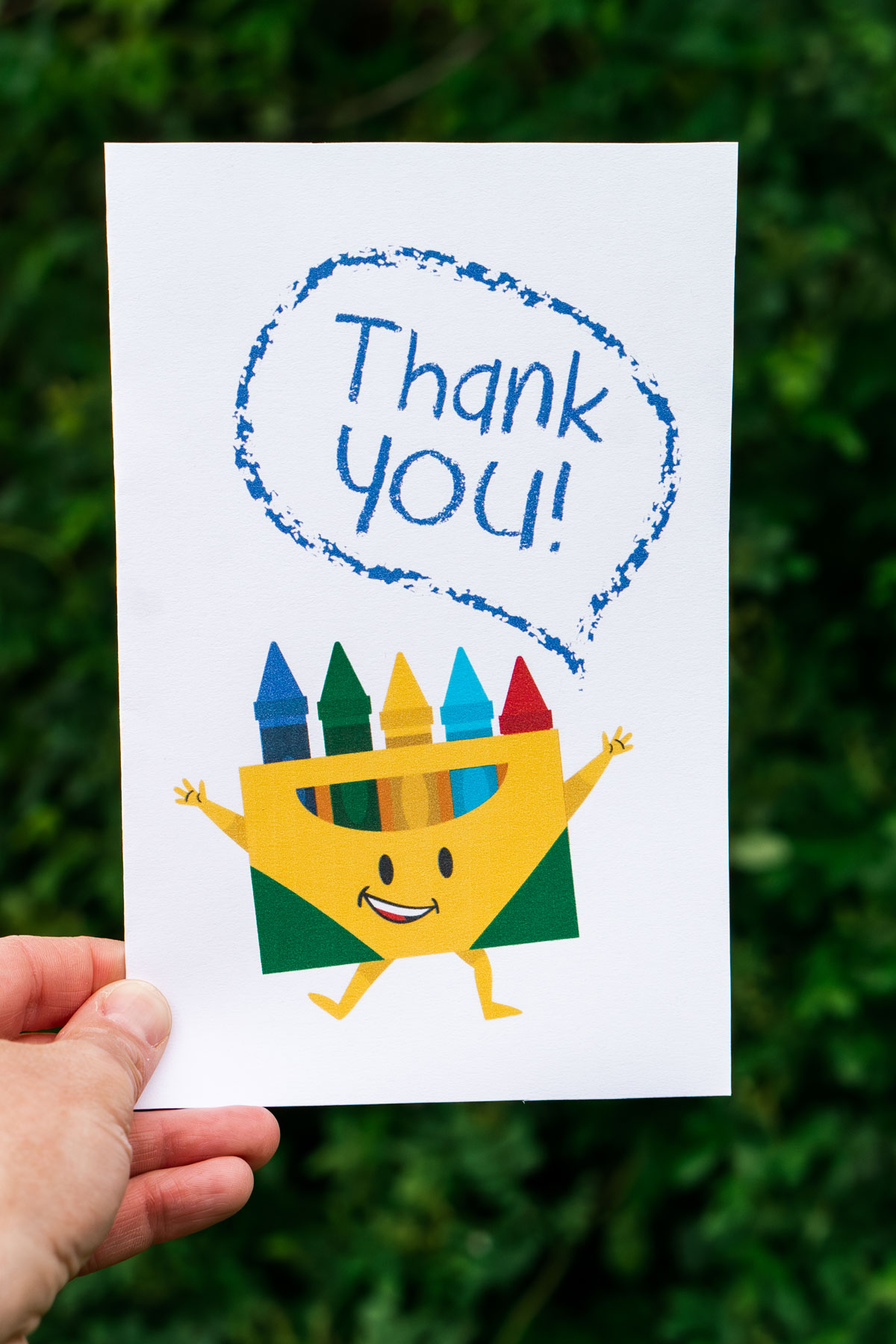 ​
Lastly, if you have a special teacher, this card is the perfect way to tell them how much they meant to your child. It's a type writer and says, "Thanks for being such an important part of my story." (It's my favorite quote for teachers, I've used it a few times on my site).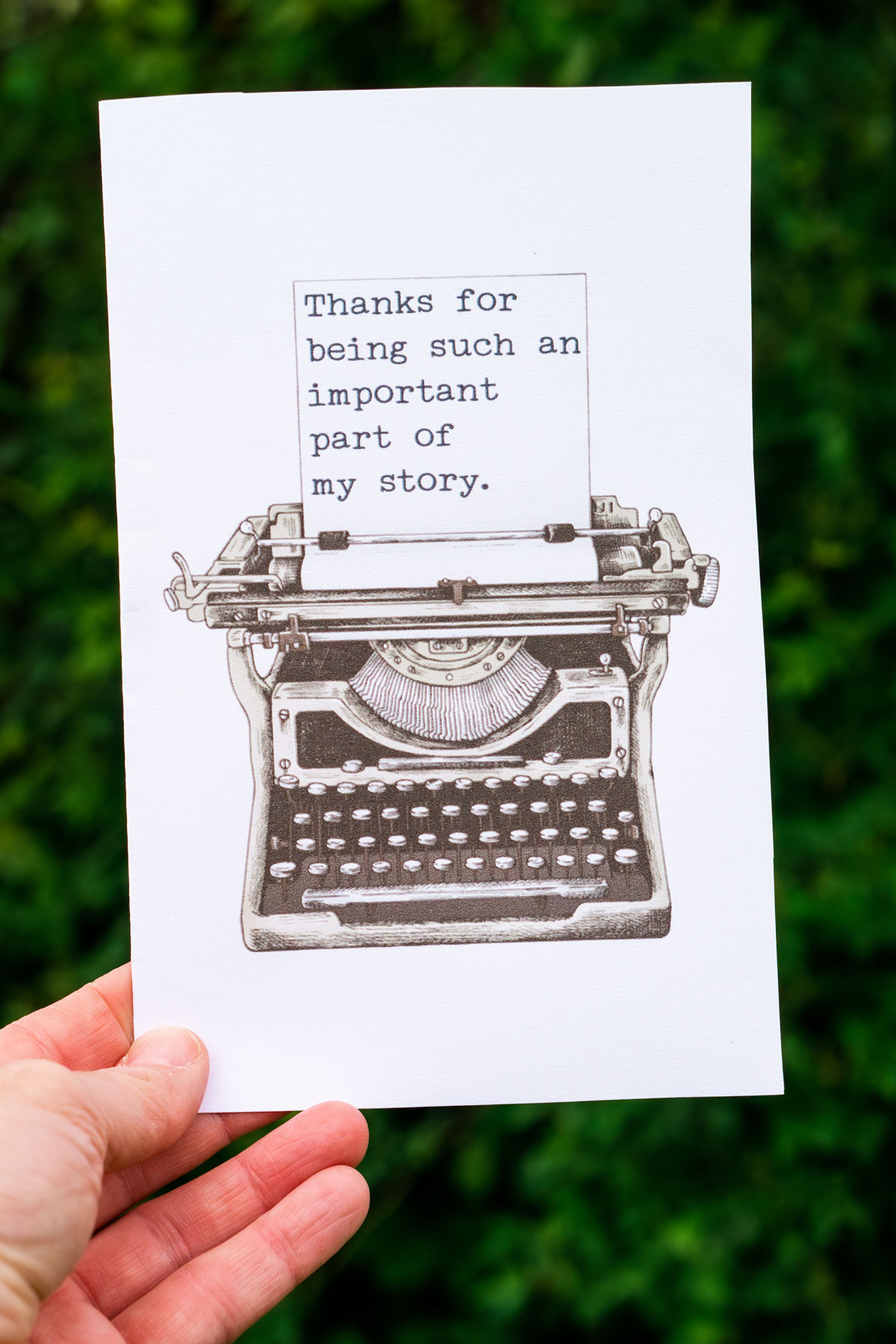 Are you a Room Mom (or Room Dad)?
You can print off one of the card designs to have all of the kids sign for your classroom teacher. Or, you could have each child select a card to print from the set of 7 and have them add their own message inside. What a fun way to say thanks for a great school year than thank you cards from every kid in the class!
Great Card Option for Student Teachers
If you're a teacher, this would be a great way to send your student teacher off at the end of their placement. You just need to print off a copy for each child for them to fill out. It would make a great little writing lesson at the same time.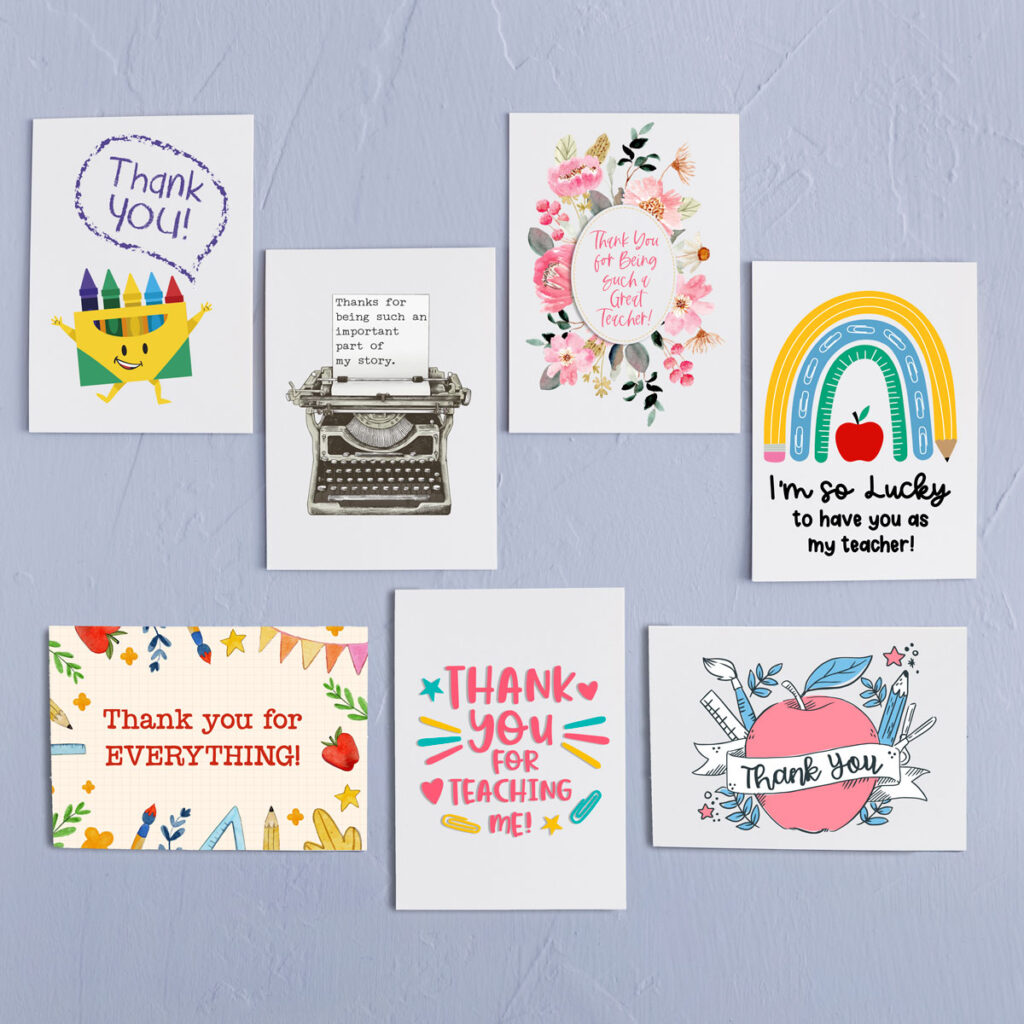 Trying to Save Money?
I understand how expensive greeting cards are in the store these days – sometimes buying a card is just out of budget. Thankfully since these cards are free, the only additional cost is the paper and ink (did you know you can save money printing by getting the HP ink program – it's seriously amazing. Learn more here about it).
What Paper Should you Print the Cards on?
For best results, I suggest printing the cards on thick paper such as card stock. This is my favorite white cardstock that I use for all of my cards and projects.
​Where Can you Print the Free Cards?
You can print them at home on a home printer or send them to a local print shop to be printed. The cards do need to be printed on a color printer.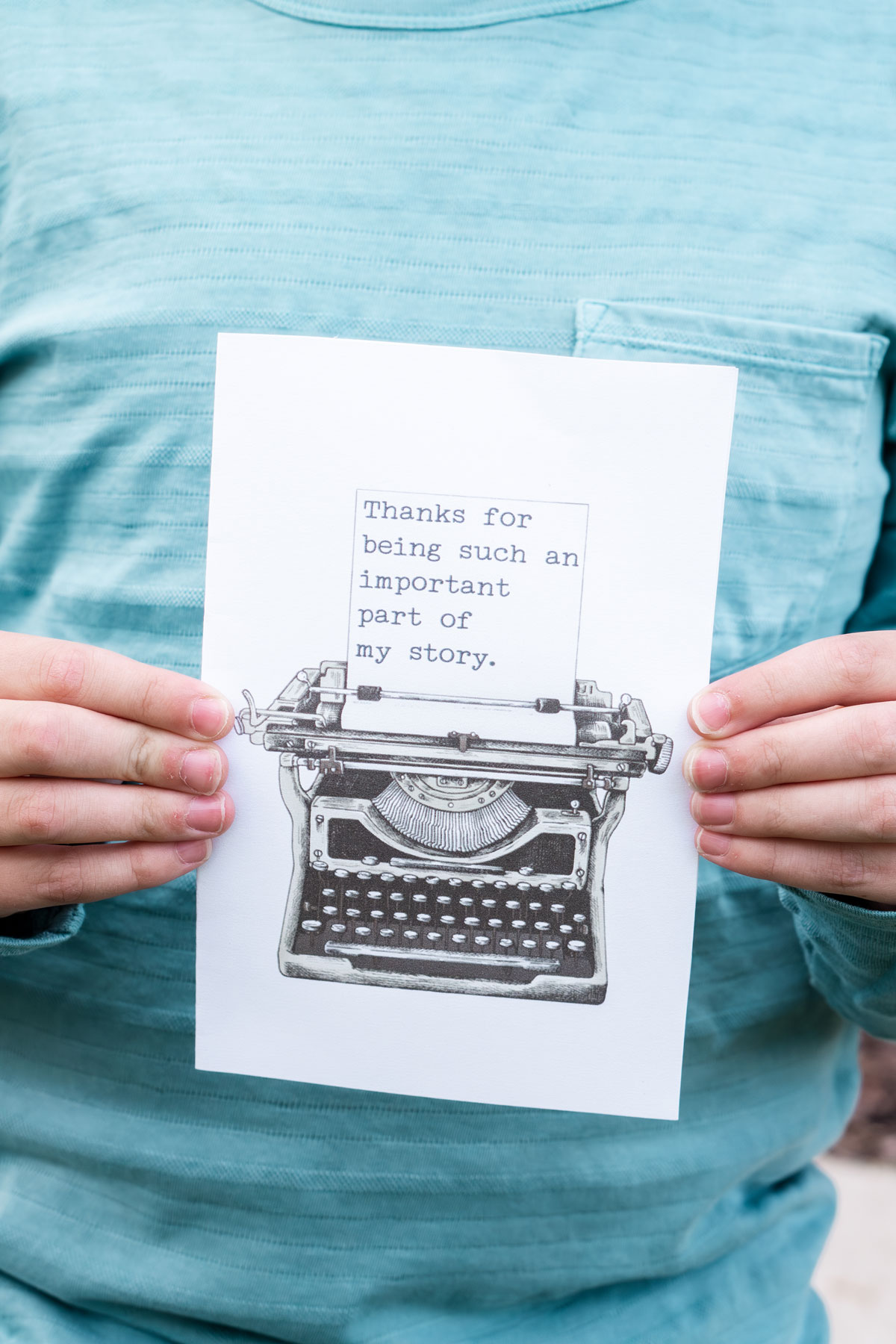 How Can you Download the Free Printable Teacher Appreciation Cards?
You can click here to download the cards or you can click the image at the bottom of the post.
What File Types are Included?
You'll get a pdf file for each separate card.
What Type of Program do you Need to Print the Cards?
You'll need a PDF reader like Adobe Acrobat or on most devices, you can open the files in a browser. But pay attention to the size the cards print in a browser – sometimes I find a browser may not print the cards at 100% size which means they may need to be trimmed.
What Ages are the Teacher Cards for?
They can be used with any age. I have a couple of designs that make a cute card from a young child (like the crayon design with the little speech bubble thank you) and I have designs that work well for an older student (even teenagers).
When is Teacher Appreciation Week?
In the United States, teacher appreciation week falls the first week of May (the first full week). But sometimes a school may choose to to hold it during a different week so make sure to check with your school.
Teacher appreciation day is the first Tuesday of the first full week of May. It can be a bit tricky when May starts on a Monday or Tuesday – so make sure it's the first full week.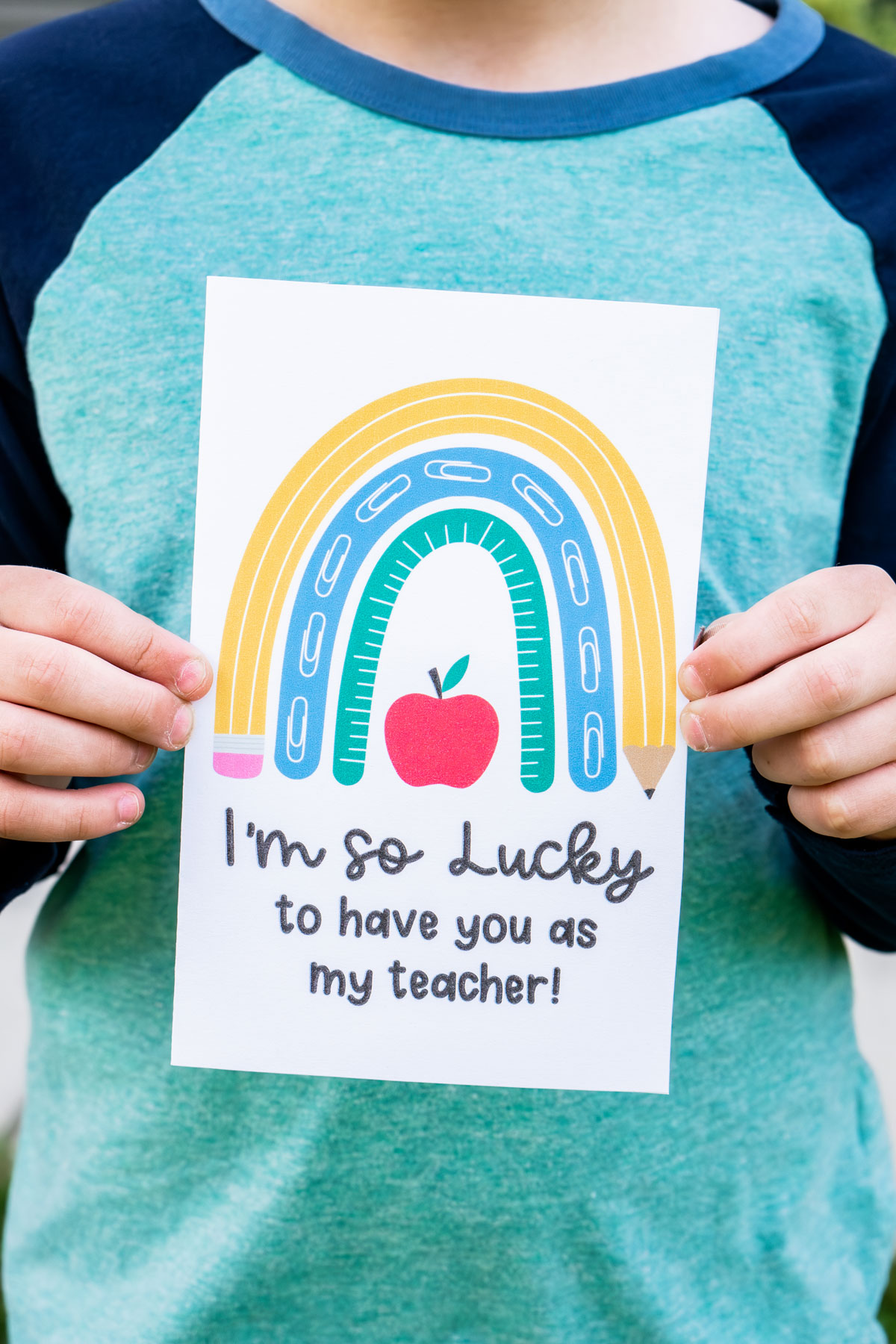 What Size are the Cards?
When the cards are printed at full size, they are designed to be printed on standard letter size paper (8.5 x 11). All you need to do is print and fold them in half. But, if you prefer a smaller card, you can print them smaller.
In the printer settings, I like to select to print 2 or 4 per page to create small or mini cards. Or you can choose a percentage to print the cards at. You'll just need to trim the card after you print it.
Print Borderless if you have the Option
If you have the option to print borderless, it will fit the full page. This is especially important for the design with the school supply frame.
If you can't print borderless, no big deal! You may just need to trim the card a bit.
Looking for More Cards for Teachers?
If you don't like the design of these cards, that's okay. I have other options.
I have this set of teacher appreciation cards you can color in that are like coloring pages. They allow the child to personalize the card with their own coloring design.
Or, you can download these simple free printable teacher appreciation tags instead.
Looking for More Free Printables?
Mom Envy has over 300 free printables (including teacher printables) on our site! If you subscribe by email to our FREE Mom Envy club, you will get a members-only password to get access to all of them for free. Click here to subscribe.
Already a member but forgot the password? Don't sign up again. Look at the end of any newsletter from me for the free password or just send me an e-mail here: [email protected]
Tips for Downloading the Free Files
You can click here to download the free printable cards. It's not an instant download – instead you'll be taken to a Google Drive folder where you can download the files.
Or, below is an arrow that says Download Below. Underneath that is a large image that works as a download button, it says Click to Download the free files. Once you click that, you will be taken to the Google drive where you can download the files.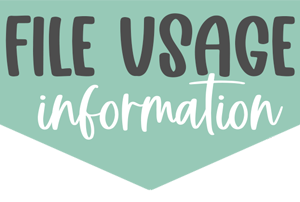 Copyright MOM ENVY 2023. Files may be used for personal use only. No commercial use of the file is available. Files may not be directly shared within Facebook groups, on websites, or in any other way. If using for educational purposes, the file may be printed and copied for classroom use. A link to the web page to download the files may be shared as well as one photo. The file may not be printed and then sold (including local yard sale sites and groups or at local craft fairs). The images may not be used in any way other than to share with a link to the original web page.