I am so excited that Carl is finally getting old enough for me to make cute kid meals. I think it is so much fun to take a meal and make it more enticing for a child to eat.
Last week I created this little sheep after a visit to the zoo. Carl especially loved the "farm" section at the zoo. He loved watching the sheep, pigs, and chickens.
Do you make cute kid meals for you kids? What's your favorite meal you have ever made them? I would love to see some pictures and posts for ideas to use with Carl!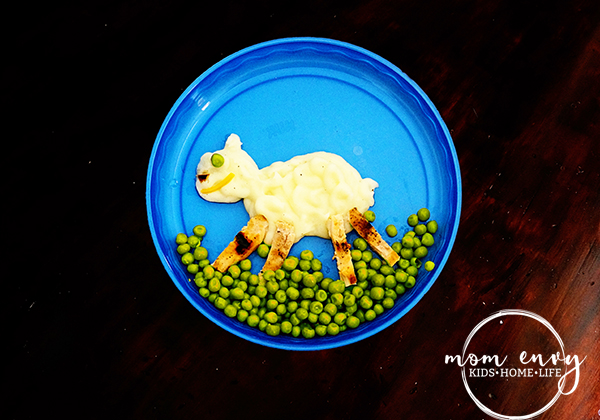 Ingredients
mashed potatoes
peas
grilled chicken
1 piece of shredded cheese.
Directions:
Scoop the mashed potatoes into a ziploc bag and seal it. Cut one corner off of the bag. Pipe the mashed potatoes into the shape of a sheep.
Go back over the sheep with more mashed potatoes to add some bumpy texture.
Place peas at the bottom of the plate to create a "grassy area."
Place one pea as the eye on the sheep.
Place one piece of shredded cheese to make the shape of the mouth.
Pick of a tiny piece of the grilled chicken's dark area to create a nose (tiny piece is key).
Cut the chicken into 4 long rectangle shapes for legs.
Place the legs on the sheep.
Done!
Save