This is a sponsored conversation written by me on behalf of Pillsbury™. The opinions and text are all mine.
Cooler air, holiday baking, pumpkin spice everything, and a whole lot of stress. I'm not going to lie, the fall can get pretty hectic at times (despite how much I love it). But checking off the fall bucket list doesn't have to be stressful.
Checking Off the Fall Bucket List in the Baking Aisle
One easy way to create memories with your children is baking in the kitchen. We love fall baking in our house, but I find no fun in overly-complicated recipes that leave me with a million dirty dishes.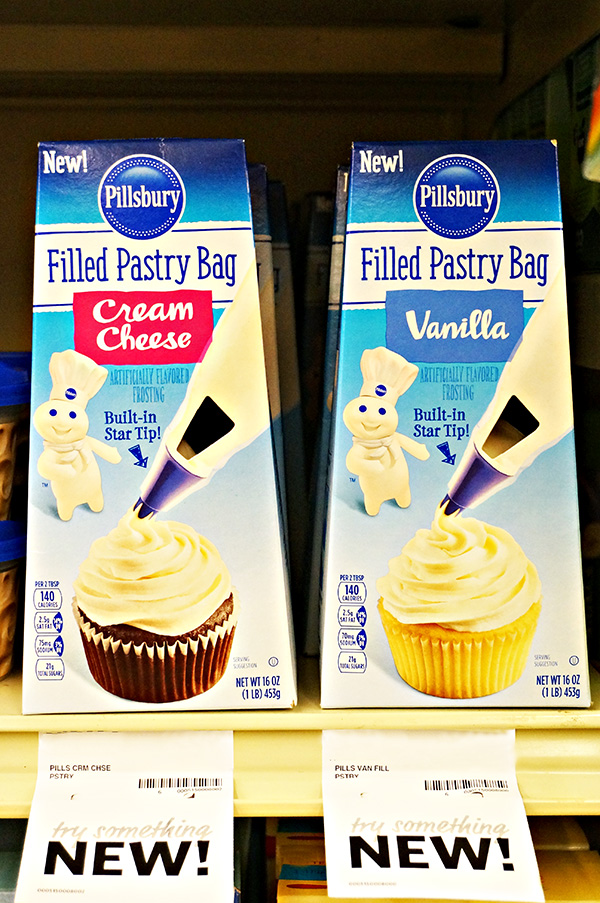 This year, I was so excited to find the new Pillsbury™ Filled Pastry Bags at our local Food Lion. We were strolling in the baking aisle looking for fall baking inspiration when I saw the Pillsbury Filled Pastry Bags. They were easy to spot right next to the cake mixes and other Pillsbury™ frostings.
The bags are inexpensive and come with 16oz of frosting in each bag. Plus, right now you can save $1 on any Pillsbury Filled Pastry Bag with a Food Lion digital coupon! Which makes this already affordable product, even cheaper.
They come in three flavors: vanilla, chocolate, and cream cheese. The boys picked out their favorites, vanilla and chocolate. The cream cheese would pair perfectly with a pumpkin, apple, or spice fall recipe.
The best part about the Pastry bags is that they already have a star pastry trip at the end. There's no need to add your own – making these bags ready to use.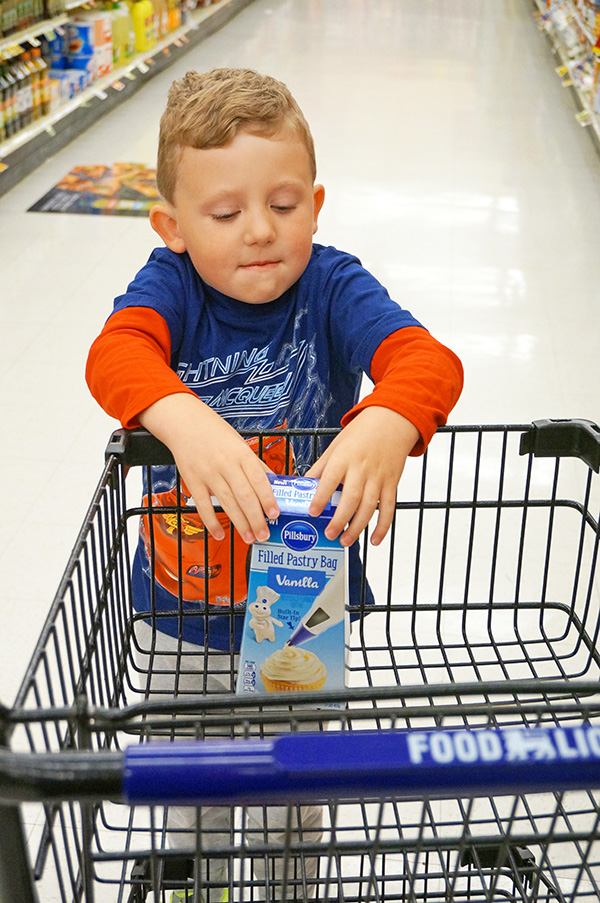 I couldn't wait to get them home to try them. Making frosting at home can be extremely messy (just ask my husband, there's always mounds of confectioners' sugar on the floor left behind). The Pastry Bags eliminate the need to make frosting and because they come in a ready to use Pastry Bag, I don't even have to pull out my pastry bags and tips.
I decided the Pastry Bags would make building Edible Halloween Houses an easy project, which are like gingerbread houses (only Halloween themed). The boys loved the idea, so we grabbed our frosting and other ingredients to head home to bake.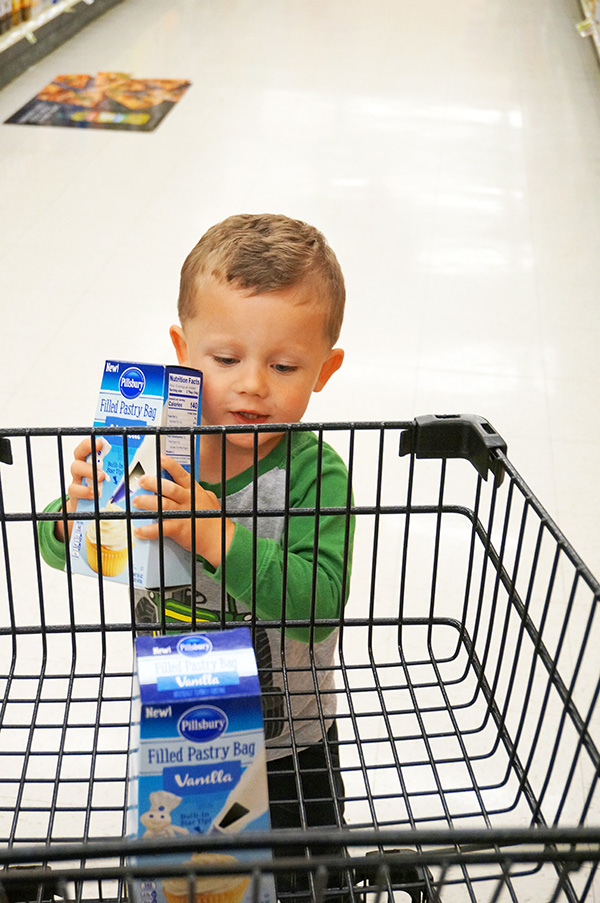 Making the Edible Halloween Houses
Once we got home, we made some simple sugar cookie cakes using cake mix as a base (we spread out the cookie dough onto a big sheet pan like a cookie cake).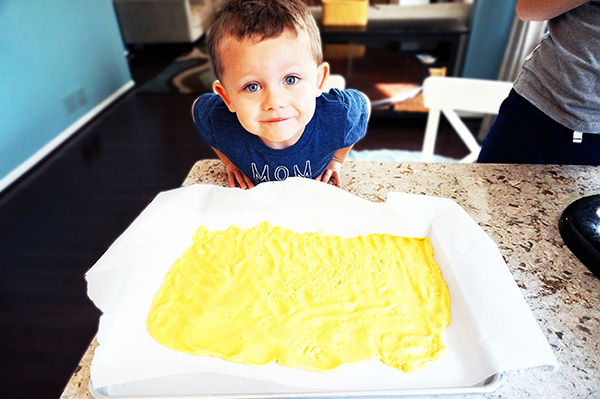 Once it cooled, I used the box of the Pastry Bags as my template to cut the sides and roof pieces of our Halloween Houses. Why spend the time making a template or pulling out a ruler when the box has a rectangular bottom that's perfectly sized to make the houses?

Since my boys are a little younger, I decided it would be best to build the houses myself and let them decorate them. If your children are a little older (mine are 4 & 2), you could have them build the houses as well after you cut the pieces using the Pillsbury Pastry boxes.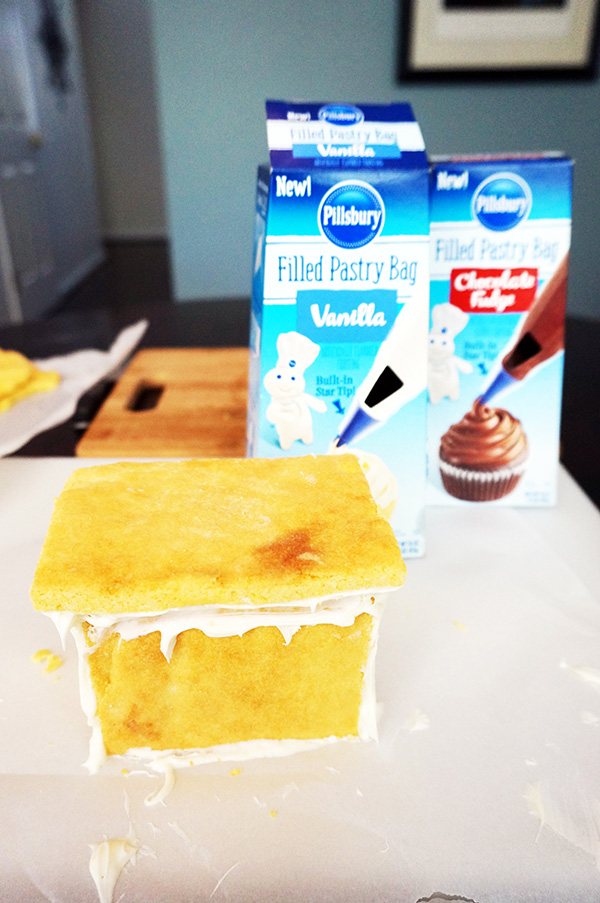 The icing made putting the houses together so easy. The Pastry Bags come ready to use in two easy steps. All you have to do is rip off the plastic covering the piping tip (it has a perforated edge you don't even need scissors), and twist the end of the bag. You're ready to ice your dessert in no time.
I love that you don't need to use scissors which makes it super kid-friendly. My oldest, Carl, was able to rip off the plastic covering himself. He was so proud that he was able to do it himself.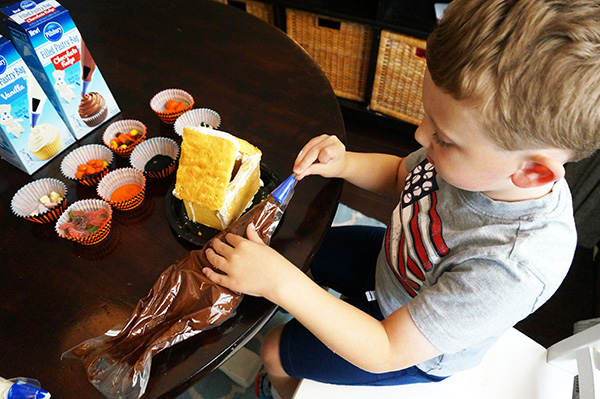 Aside from the ease of use, they were so clean. How many times have you frosted a dessert and gotten your hands covered in frosting because it leaked out of the bag or it popped? The Pastry Bag is sealed on the end so I had no messes whiles making the houses.
Decorating the Edible Halloween Houses
Once the houses dried, we were able to decorate. My boys were so excited to use the big Pastry Bags like mommy. Both my two and four year old were able to decorate their own houses using the Pastry Bags.
I helped both boys twist the bags and showed them how to hold it. They had so much fun (and so did I!) It meant I didn't have to run back and forth between the boys helping to pipe their houses. They could do it themselves!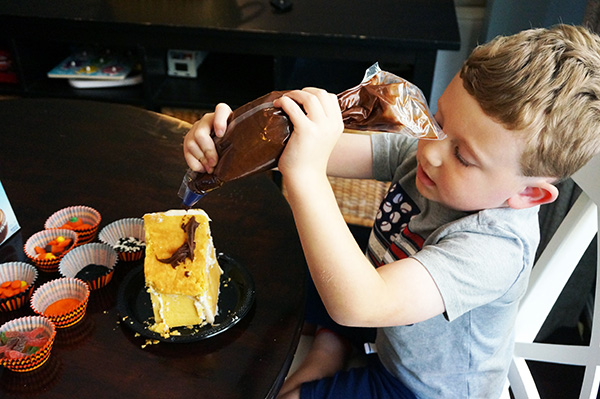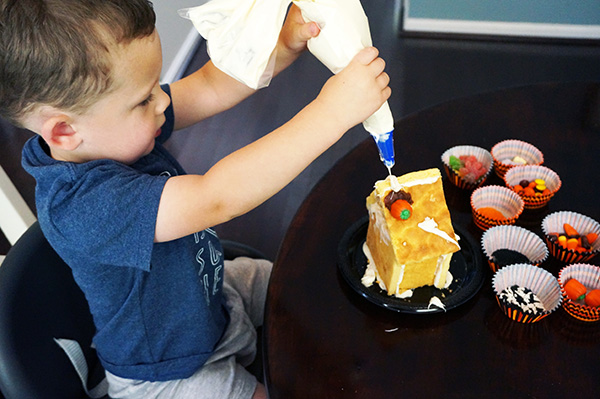 They covered their houses in vanilla and chocolate frosting (stealing lots of tastes along the way). The boys (including my husband), loved both flavors. The chocolate is rich and full of chocolatey flavor. The vanilla was sweet and delicious.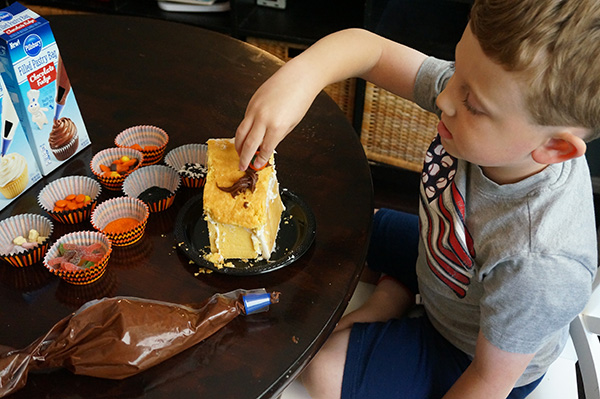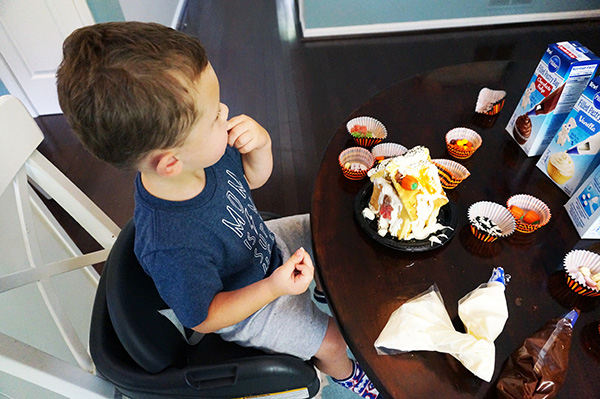 Next, they placed candy on top of the frosting. The frosting worked like glue to hold the candy onto the houses.
To prevent fighting, I placed all of the candy and sprinkles inside of cupcake liners. Each boy had a little of each candy and sprinkle so that there was no fighting over who got more.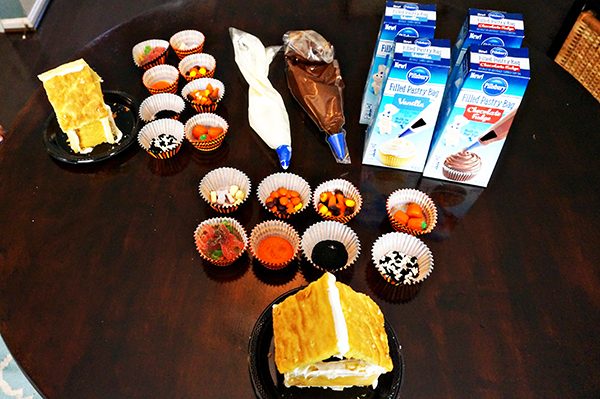 Now, I don't know about you, but at times, I can find cleaning up from fall baking to be absolutely exhausting. I dread doing the pile of dishes. This fall recipe with the Pastry Bags made clean up a cinch.
When finished, the Pastry Bags can be discarded in the trash can. There's no need to cut out the tip and clean the tips or bag. Instead, you can simply throw the bag into the trash.
If you have any frosting leftover, it's super easy to keep for later. I just placed the entire Pastry Bag in a sandwich bag in my fridge to use later. It will be ready to use again for another fall baking activity.
I can't wait to until our next holiday baking project so that we can break out the Pastry Bags again. They are a must-have for fall baking and Holiday Baking. Imagine how much easier gingerbread houses and cookie decorating parties would be with the Pastry Bags!
Looking for a quick and easy fall baking activity? Check out the recipe and how-to video below.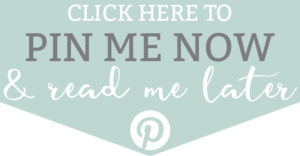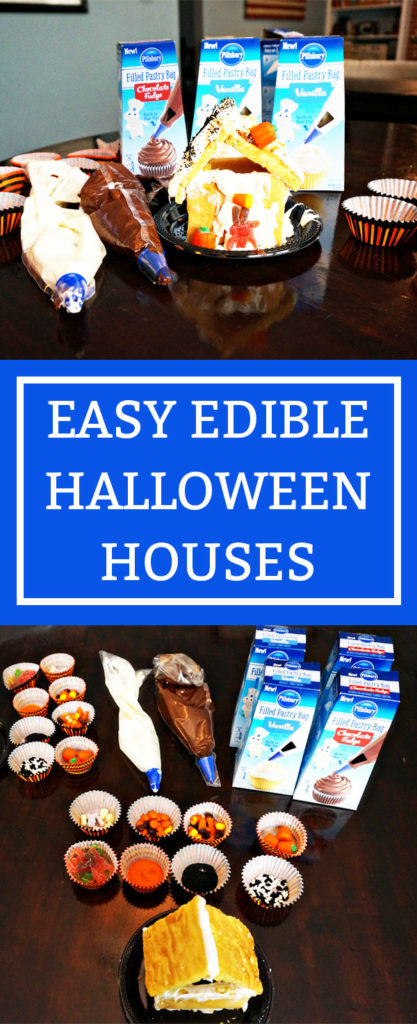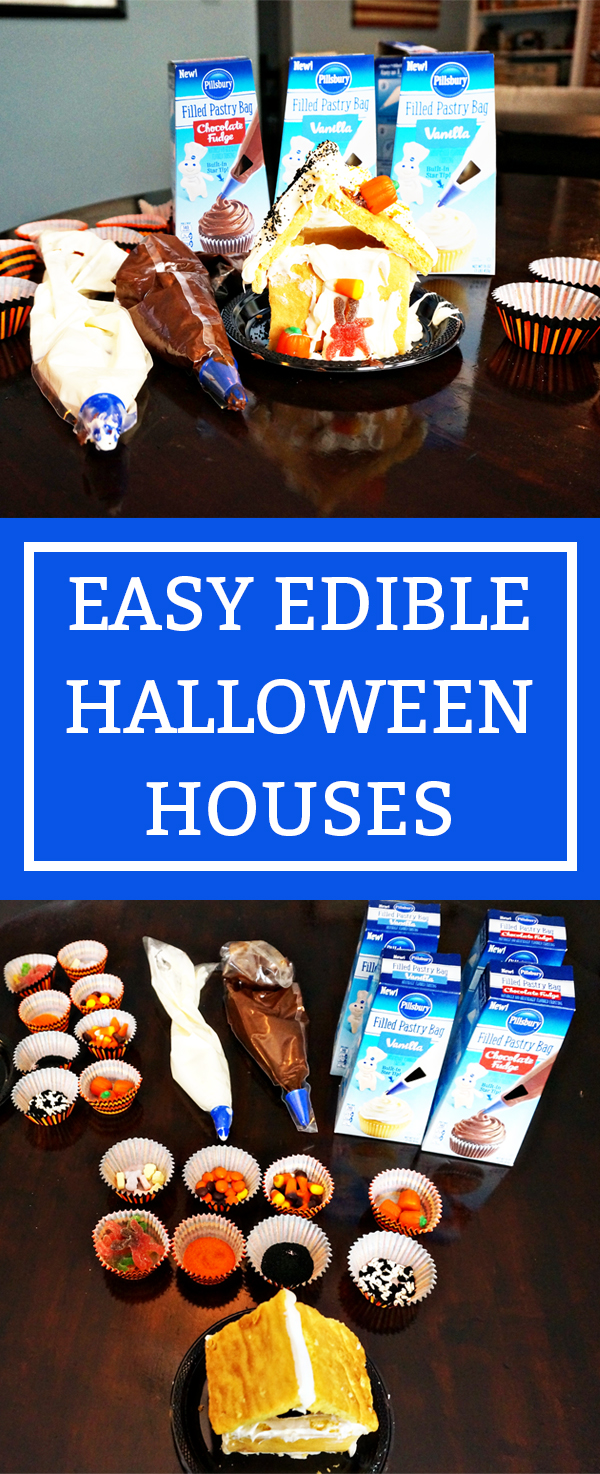 Quick and Easy Edible Halloween Houses How-To Video
Quick and Easy Edible Halloween Houses Recipe
Ingredients:
Pillsbury™ Filled Pastry Bags
1 box of Yellow Cake Mix (we used Pillsbury's Yellow)
1 egg
1/4 cup softened butter
1/4 cup shortening
Directions:
Oven: 350 Cook Time: 20-25 minutes (until a toothpick comes out clean)
Preheat oven to 350 degrees.
Mix cake mix, softened butter, and shortening.
Add the egg and mix again.
Spread cookie dough onto a baking sheet (I prefer to place it on parchment paper for easy clean up).
Bake for 20-25 minutes or until a toothpick comes out clean.
Let cookie cool.
Next, use the bottom of the Pillsbury™ Filled Pastry Bags as a temple to cut out 4 (flat roof for younger children) or 5 (angled roof for older children or parents) rectangles per house.
Cut one rectangle in half which will be the sides of the house (cut so the pieces are short, not long). See video.
Using the Pastry Bags, pipe icing down the long side of one rectangle. Place it down onto parchment paper, paper plate, or regular plate.
Pipe more icing to attach one of the shorter sides to the long piece already place on the plate.
Then, pipe more icing to attach another long piece onto the other side of the short piece, directly cross from the other long piece.
Next, pipe more icing on another short piece to form the other side of the house.
There are two different roof options. For Adults/Older Children you can make a pitched roof.

You'll need two rectangles.
Use the Pastry Bags to pipe a line of frosting down both ends of one rectangle.
Pipe a line down one side on the second rectangle.
Press the two rectangles onto the top of the sides towards the middle creating a triangle. Press together.
If you want added durability, add toothpicks from the top down on the corners.
See the video for better directions!

For younger children. You'll need one rectangle.

Pipe along the top of the house.
Place the rectangle on top and gently press down.
See the video above.

Allow the houses to dry.
Using Pillsbury Filled Pastry Bags, decorate the houses with icing.
Place candy on top of the icing (like glue) to add additional decorations.