Looking for some free Easter planner stickers? I have a set of 98 free Easter stickers perfect for both a paper and a digital planner.
If you are a fellow planner addict that loves to use seasonal stickers, these are perfect for spring and the Easter season. They can be used with your favorite planner, no matter what type or size.
Their watercolor design features Easter eggs, cute bunnies, spring colors, full boxes, Easter quotes, and more. They will instantly make your planner Easter-ready.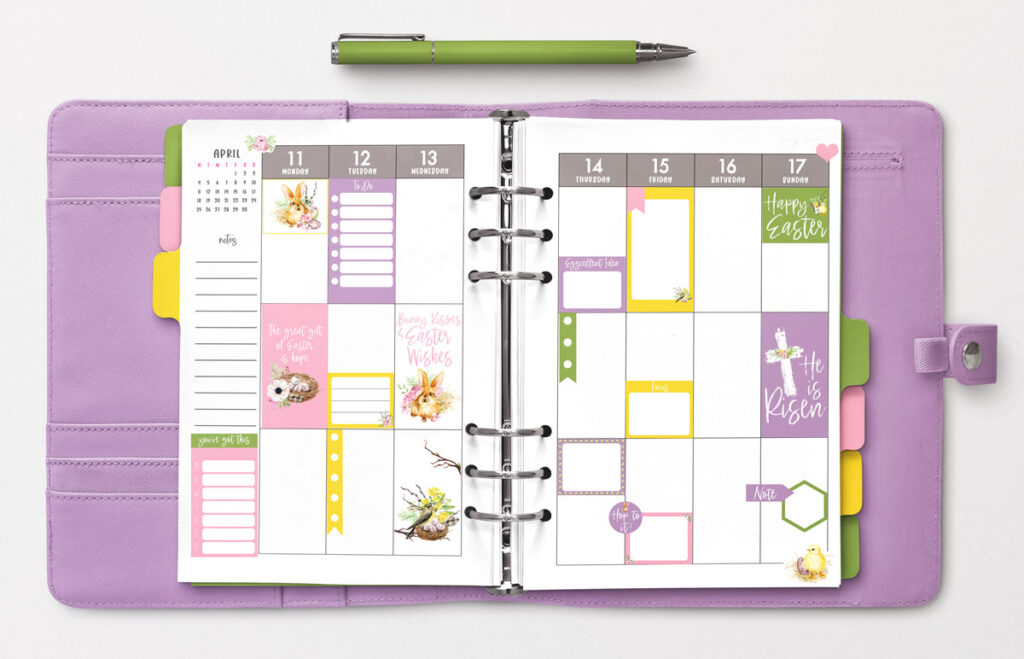 I love to make my own planner stickers to help me save money. Planning can be an expensive hobby so I try to cut costs where I can and using printable stickers is one of my favorite ways to save money when decorating my planner.
What more free printable easter stickers? Check out this quirky and adorable weekly kit of free Peeps planner stickers.
Want to see what the Easter stickers look like? Here are the three different pages of Easter stickers available to download for free at the end of this blog post.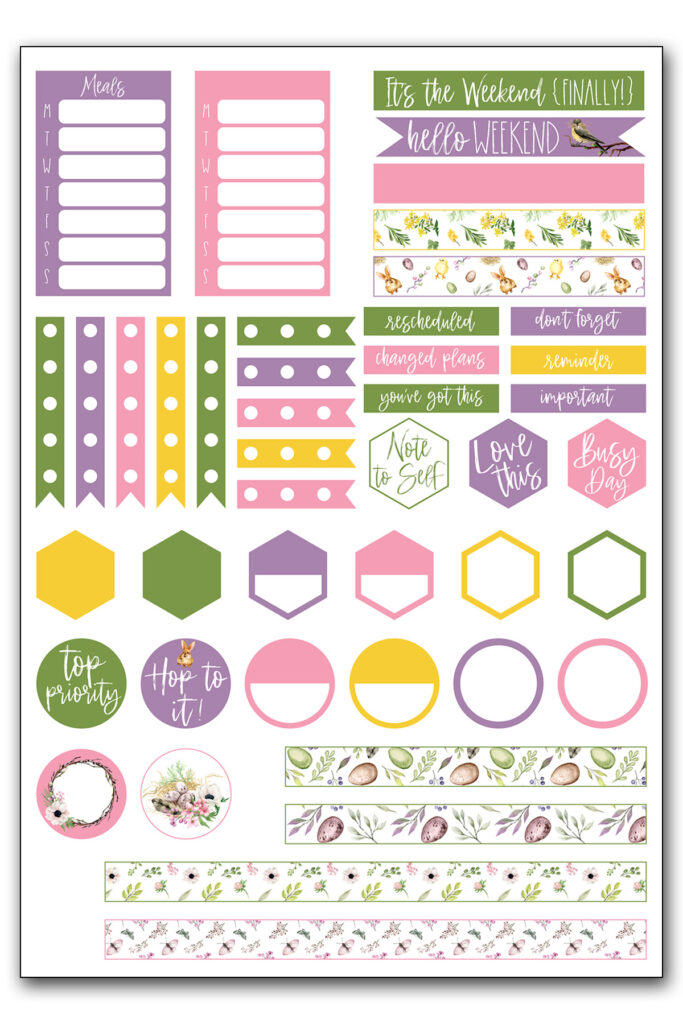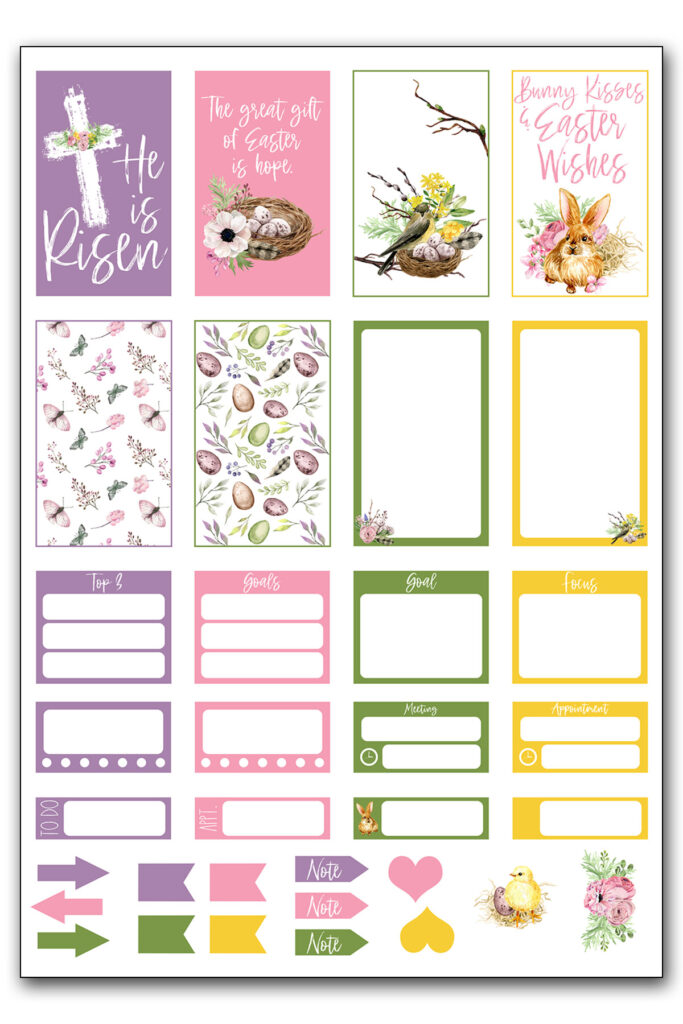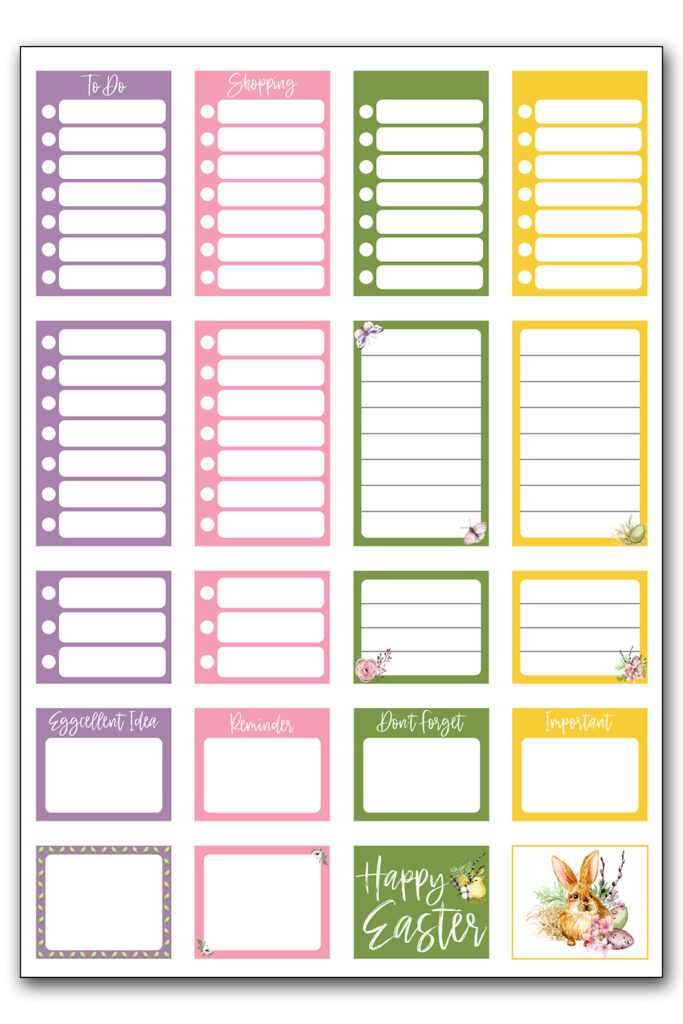 What file types are included in this set of free Easter planner stickers?
PDF files
JPEG files
PNG with a white background
PNG with a transparent background
Individual PNG files
Half-Page PNG files for Cricut users
Pre-cropped Goodnotes File – free digital sticker book included
Silhouette cut files
Are the stickers Monday or Sunday start?
There are both Monday and Sunday start options. Page 3 of the sticker sheets has 2 versions included. Just print the one that you need.
How many pages of stickers are included?
You get 3 full letter size pages of stickers. There are 98 different stickers included.
Can I use these for a digital planner, too?
Yes! These stickers include digital designs to use with digital planners. There is a free Easter Goodnotes sticker book with pre-cropped stickers included.
In addition, it includes a set of individually cropped Easter stickers in PNG format. This will allow you to use the stickers with any digital planner app including Goodnotes, Notability, ZoomNotes, Zinnia, Noteshelf, Penly, Xodo, etc.
Also, the Goodnotes file lists the font names and color hex codes. In addition, it includes a sticker of each color that you can resize to any size you need. Here is what the free Goodnotes sticker book looks like.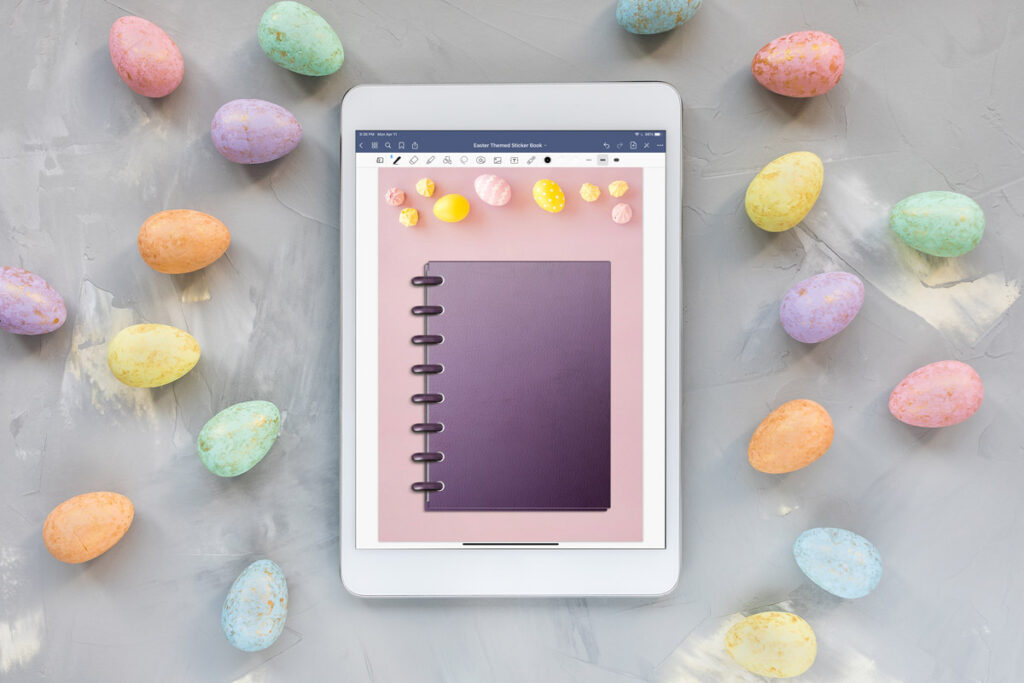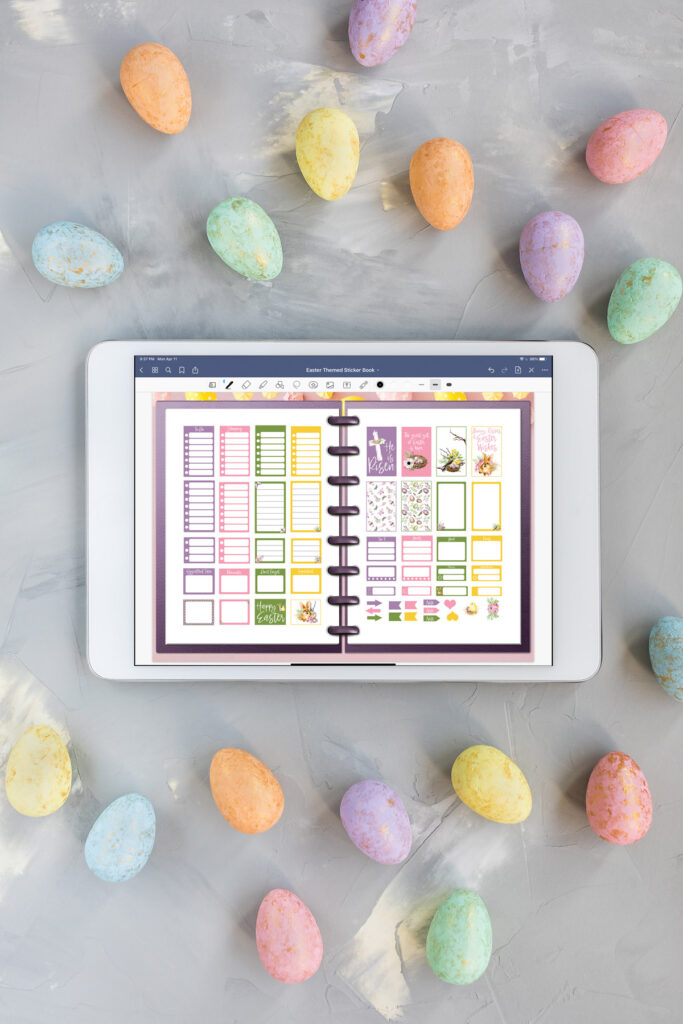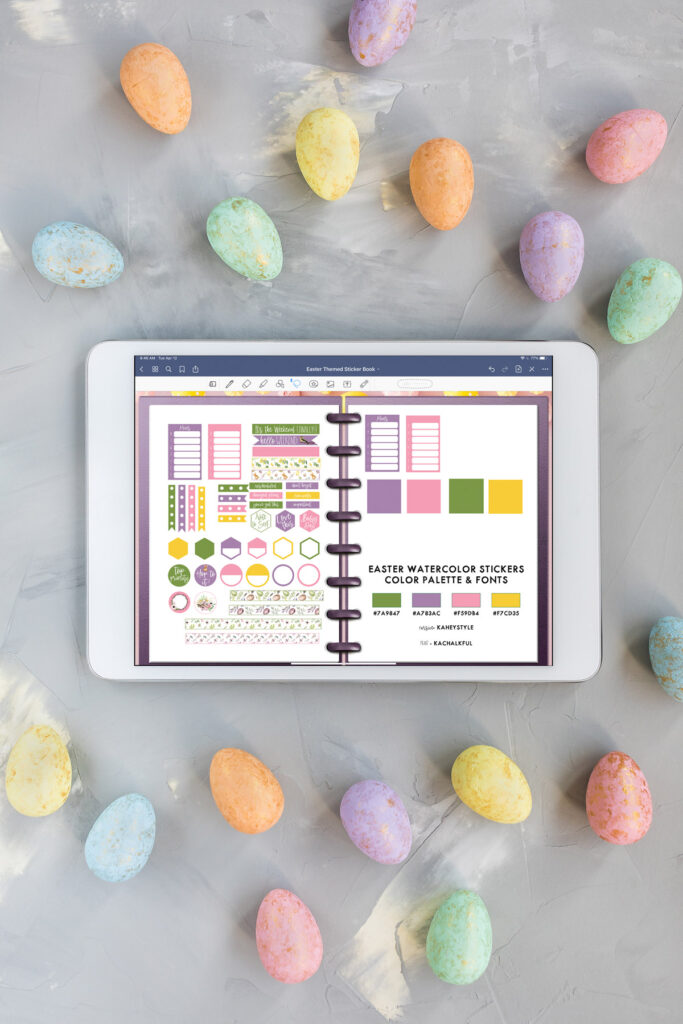 As an Amazon Associate, I earn from qualifying purchases. I am also an affiliate for xTool, the HP ink program, ShareaSale, and CJ Networks. Click here to read more.
What size planner can I use the stickers with?
The free printable planner stickers are designed for a Classic Happy Planner size BUT they can be used with any size planner or any type of planner (such as an Erin Condren planner or Paper Plum, etc.).
If using a digital planner, you can resize the planner stickers to any size that you would like. But remember to try to keep the proportions constrained so as to not distort the images.
What if I am using a smaller planner?
You can print the stickers at a smaller scale if you are working with a mini Happy Planner or smaller planner. The stickers may be a bit big for smaller planners so I would suggest printing them smaller. If you're using a Silhouette or Cricut cut file, just shrink the images before printing and cutting.
Can I use clear sticker paper?
Yes! You can use clear sticker paper. The Silhouette and Cricut cut files use the version of the file with a transparent background.
If you are going to be using a paper trimmer and scissors to cut the stickers yourself by hand, I suggest using the whole page PNG files with transparent background.
Can I use a craft cutting machine to cut my stickers?
Yes! You can use it with a Silhouette Cameo or Portrait, Cricut Maker or Cricut Explore, or any other craft cutting machine. There are Silhouette cut files included and Cricut files, too. To use the Cricut files, follow the directions under the helpful tips section.
Do I have to have a Cutting Machine to Use the Stickers?
No. You can cut the stickers by hand if you don't have a machine. If you are cutting by hand, this precision cutting tool or gyro-cutter can help make it easier.
What Fonts & Color Codes did you use?
Since I know many of you (especially digital planners) like to have everything match, these are the fonts and colors I used. KA fonts are some of my favorite fonts and can be found on Teachers Pay Teachers.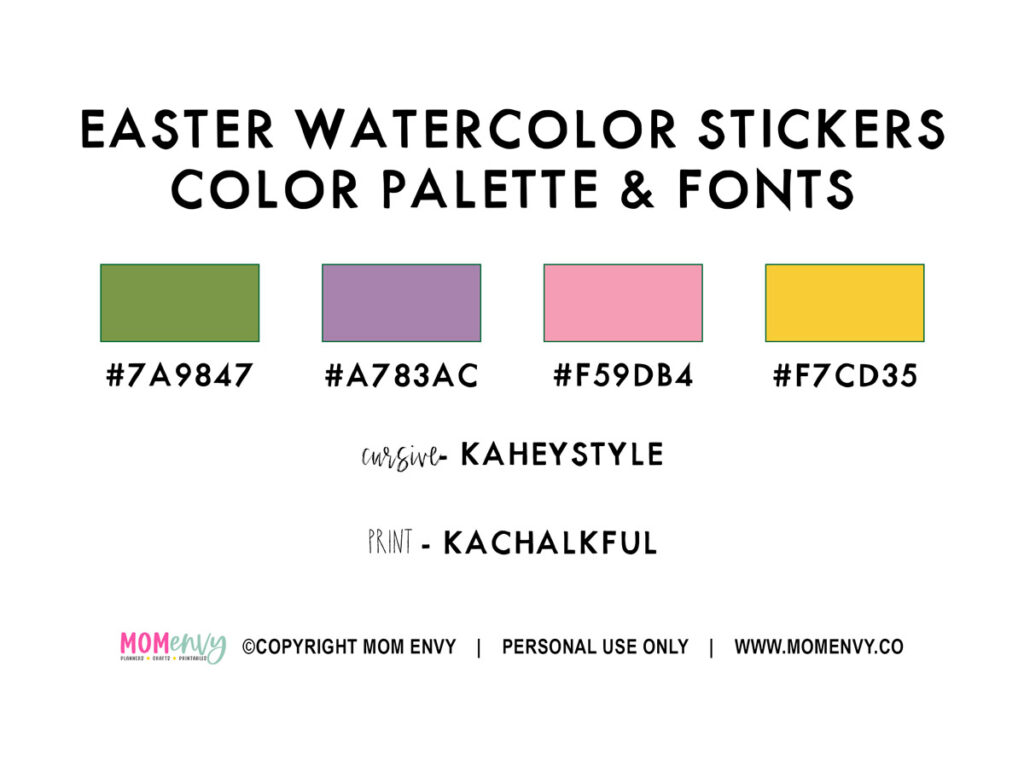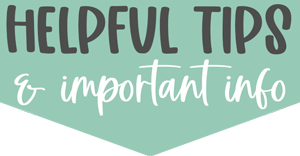 Tips for Downloading the Free Files
Below is an arrow that says Download Below. Underneath that is a large image that says Click to Download the free files.
Once you click that, you will enter the members-only password and click submit.
The page will reload the same image and now when you click the image that says Click to Download the free files, it will open the Google Drive folder containing the free files.
How do you get a members-only password?

You can sign up here to be a free Mom Envy club member.
The password will be sent to you within a few minutes. Make sure to check your spam and/or junk folder if you don't see it.
Already a member but forgot the password? Don't sign up again. Look at the end of any newsletter from me for the free password or just send me an e-mail here: [email protected]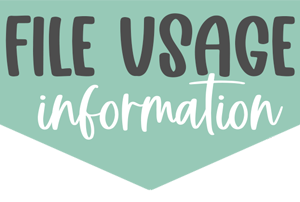 Copyright MOM ENVY 2022. Files may be used for personal use only. No commercial use of the file is available. Files may not be directly shared within Facebook groups, on websites, or in any other way. A link to the web page to download the files may be shared as well as one photo. The file may not be printed and then sold (including local yard sale sites and groups or at local craft fairs). The images may not be used in any way other than to share with a link to the original web page.