I am so excited to share my Free Peeps Planner stickers with you today.
I have always loved stationery and school supplies (especially post-it's and old-school notebooks). Even though I am no longer teaching nor do I have kids in school yet, I love back to school shopping.
After I left teaching, I started using only my phone calendar and notes app. I have missed having a paper planner to write dates and special events in. So I was thrilled when I discovered The Happy Planner.
As an Amazon Associate, I earn from qualifying purchases. I am also an affiliate for the HP ink program. Click here to read more.
Aside from keeping me organized, The Happy Planner has given me another opportunity to be creative. I have learned how to use my Silhouette to create stickers.
I design them in Photoshop and am able to use the Silhouette Studio program to print and cut the stickers. It's amazing what that machine can do.
For those of you that don't know, the Silhouette is a cutting machine. It can cut vinyl, heat transfer vinyl, and paper. If you are into crafting or making things for your children, you'll love the Silhouette. Read more about it and the Cricut here.
So for today's post, I am sharing with you FREE printable Peeps Happy Planner stickers. I know that people have a love-hate relationship with Peeps. I personally love them.
They were a must-have for my sisters and I growing up. My husband, on the other hand, thinks they're the grossest thing, ever. I have been trying to get my kids to develop a deep love for them, but so far they think they're disgusting.
Since I am a Peep-lover, I thought they would make the most adorable planner stickers. Don't worry if you use another type of planner, many of these stickers are compatible. Currently, I plan in a Classic Happy Planner. For today's pack, I have included a set for the classic, mini, and big sizes!
If you use the stickers in your planner, I'd love to see! Post them below, on Facebook, or tag me on Instagram (@momenvyblog) or Twitter (@momenvy).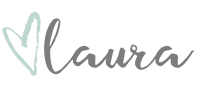 Free Peeps Planner Stickers
Here's my #beforethepen using my Peep's printable stickers in my classic.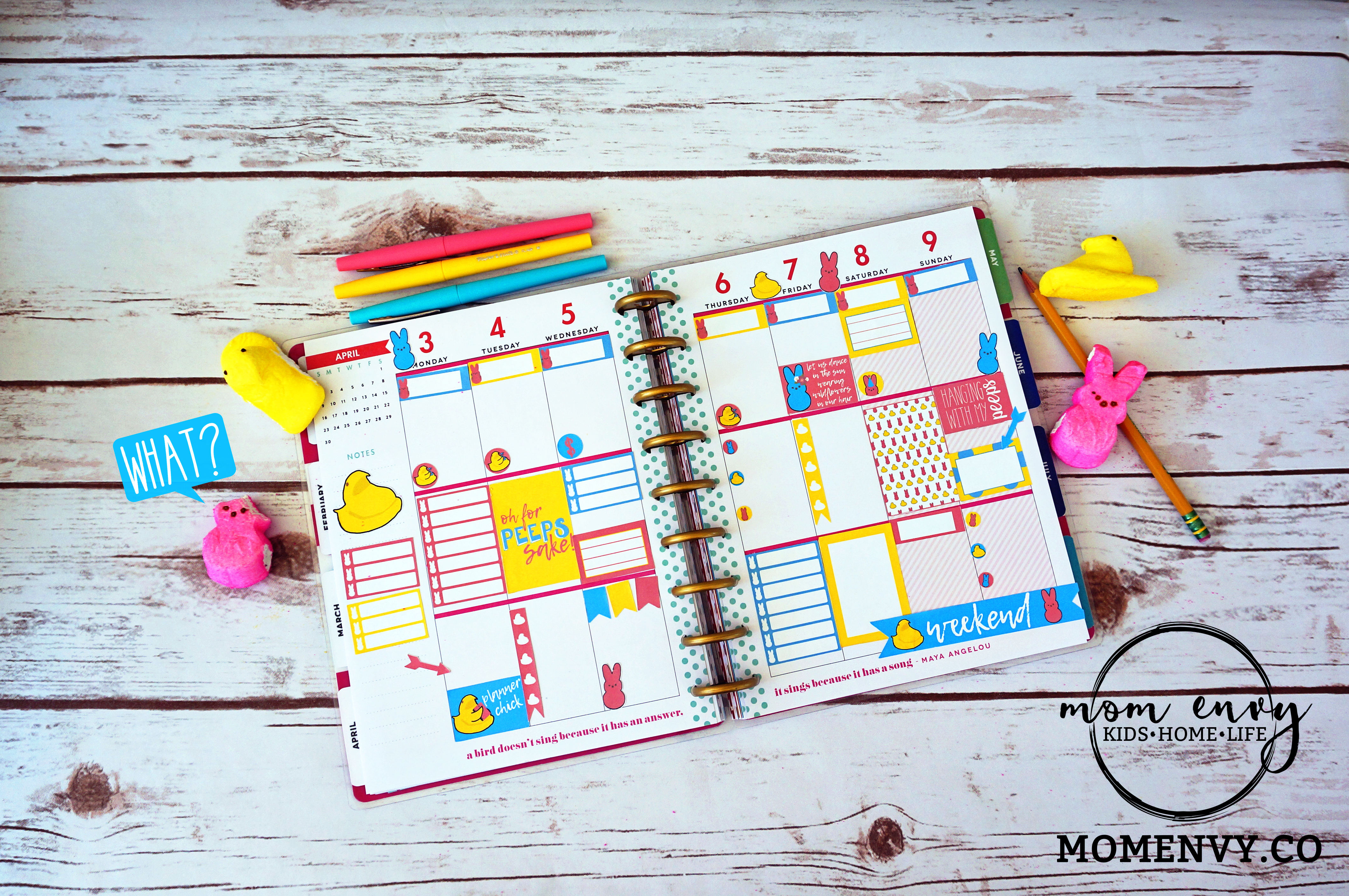 My Favorite Peeps Stickers from the set: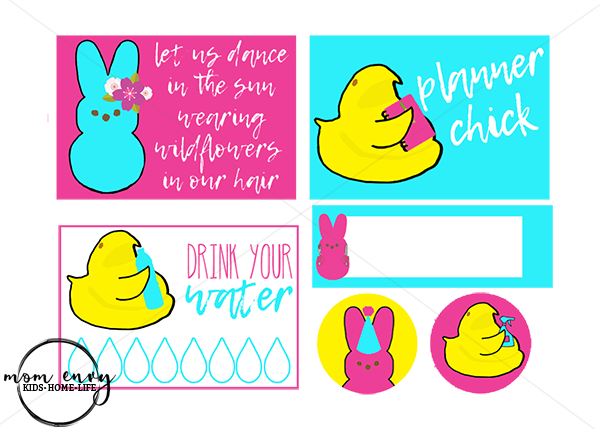 Here is the free classic set (the Big Happy and Mini are an almost identical variation of the classic set). Download the free files at the end of the post. Don't right-click here, these are low quality and have my watermark.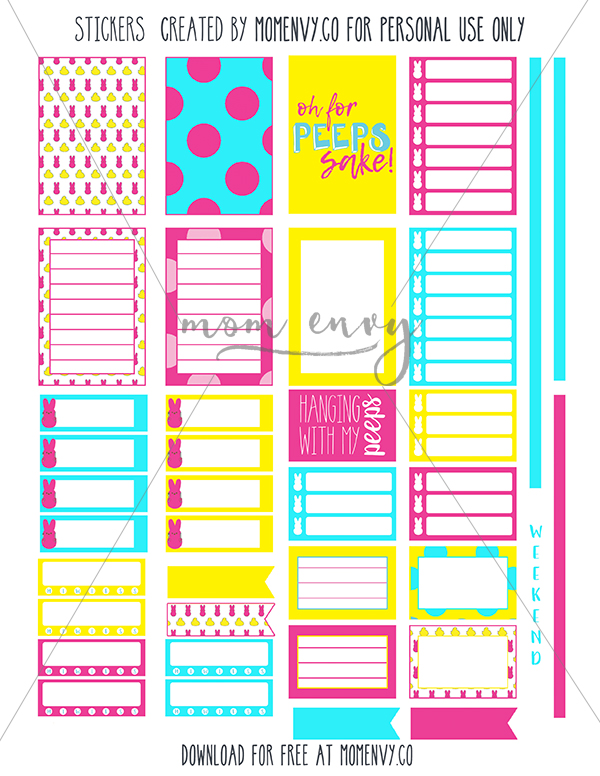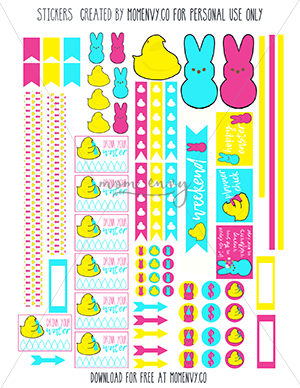 Tips and Tricks for Printing
Print on sticker paper.
Print them actual size. The stickers are already sized for each type of planner.
Colors may vary from the screen. When printing, select no color adjustment (if your printer has this option).
The Silhouette file is set for a portrait. It can easily be used with a Cameo instead, just change the mat settings.
If you're using another brand of planner, the classic is your standard planner size so it will probably work best. If not, try printing at various percent sizes.
Use a Silhouette to print and cut the files.
OR Print the PNG files and cut with scissors.
Please Note:
The files are for personal use only.
Files may not be resold, modified, or used commercially.
The individual peeps, hand-drawn by me, may not be used commercially in any other projects.
Sharing the file for free or for money on Facebook groups is prohibited (you can share a picture and link back to the post).
Sharing the link, my site's name, and one picture on a blog post is okay, as long as the entire text of the post and the actual files are not shared.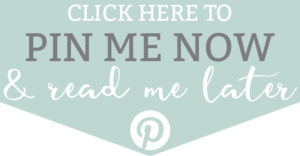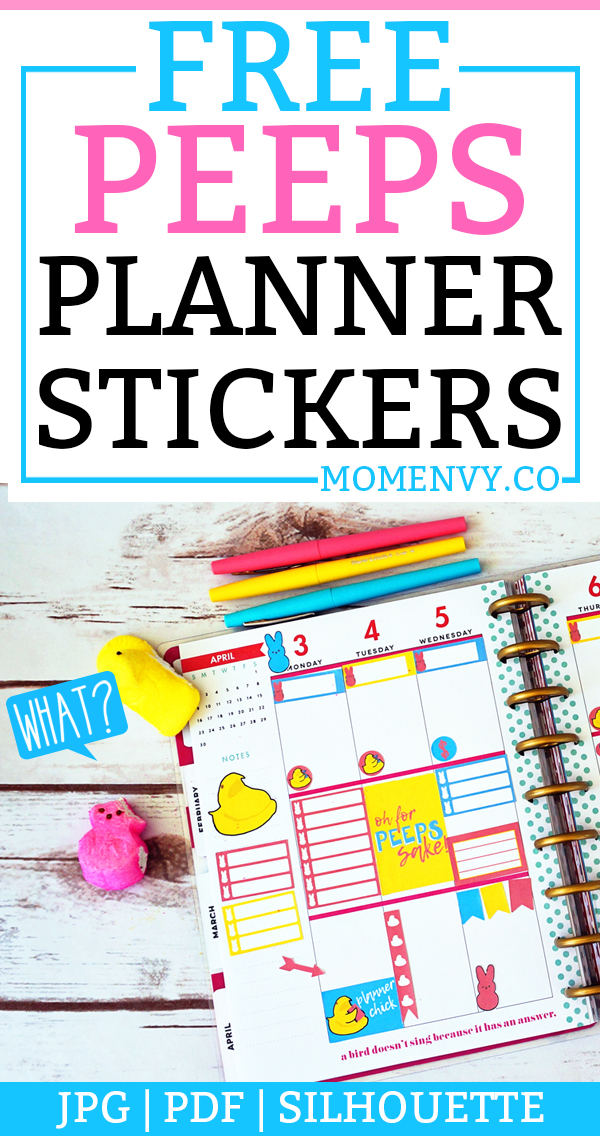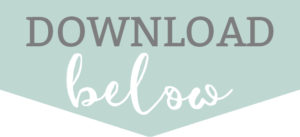 Save
Save
Save
Save
Save
Save
Save
Save
Save
Save
Save
Save
Save