These free i Spy Thanksgiving printables are a fun activity to entertain your kids this holiday season. Printable games are a great way to get kids off of their devices and get their minds active.
They're the perfect printable worksheets to give kids to work on while they are waiting for Thanksgiving dinner, for the road trip to Grandma's house, or anytime leading up to Thanksgiving day.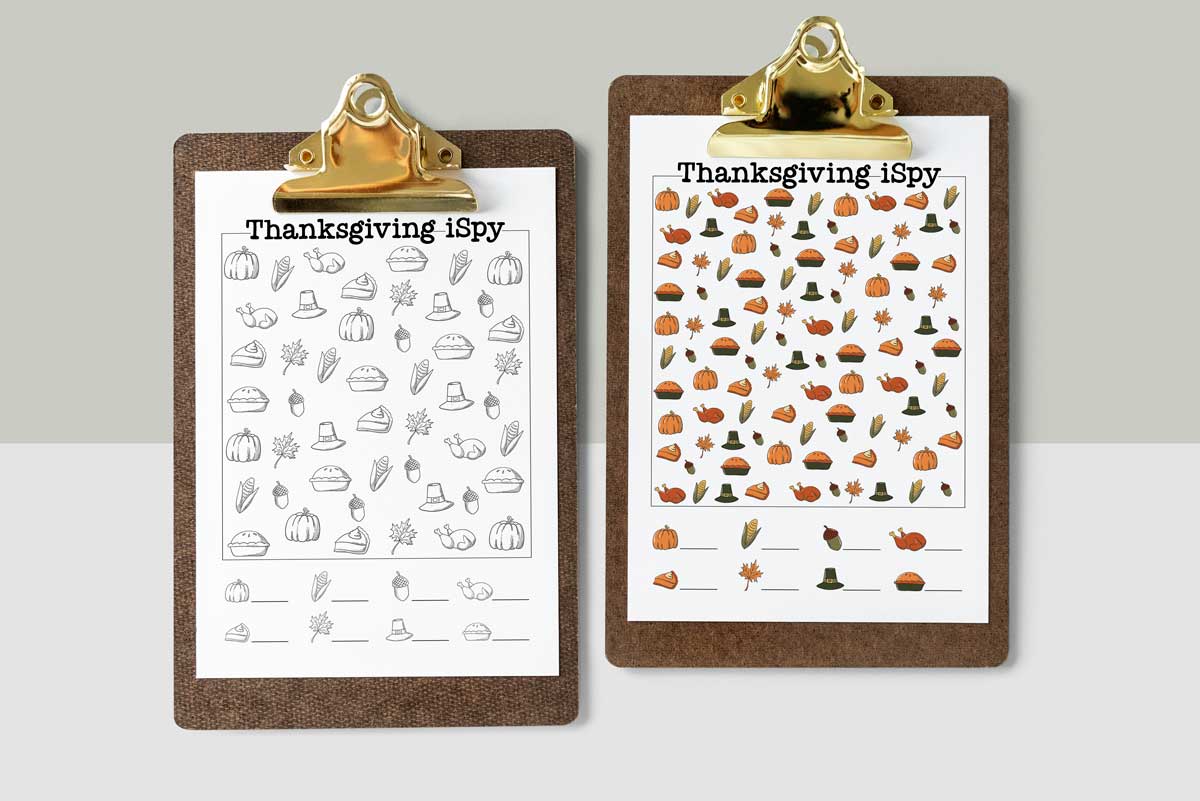 Options for Kids of All Ages
Do you have children with a wide range of ages? There are 2 levels included in this set of fun Thanksgiving printables. You have an easier set for young children and a harder set for older kids.
Two Color Options Available
Both the easier and harder versions are available in both a colored version and a black and white version.
The black and white version become an even more than just an activity sheet. It also becomes a coloring activity. Plus, it will take kids extra time to complete it making it even better as a time filler.
What do the two options look like?
The i Spys have adorable thanksgiving-themed items. They include a slice of pumpkin pie, pumpkin, ear of corn, leaf, pilgrim hat, acorn, turkey, and a whole apple pie.
Here is an example of the color option in the harder version.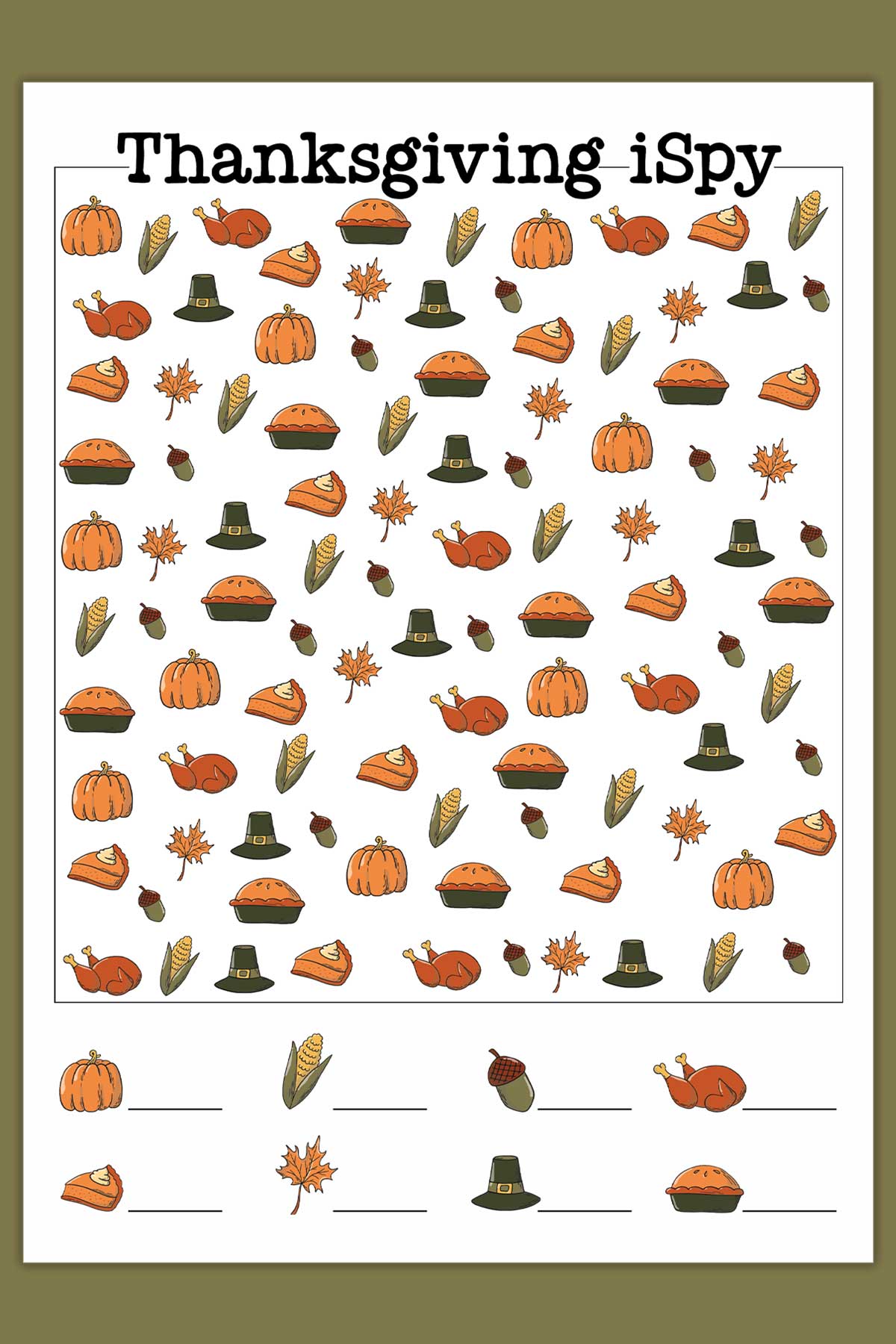 Here is an example of the black and white option in the easier version.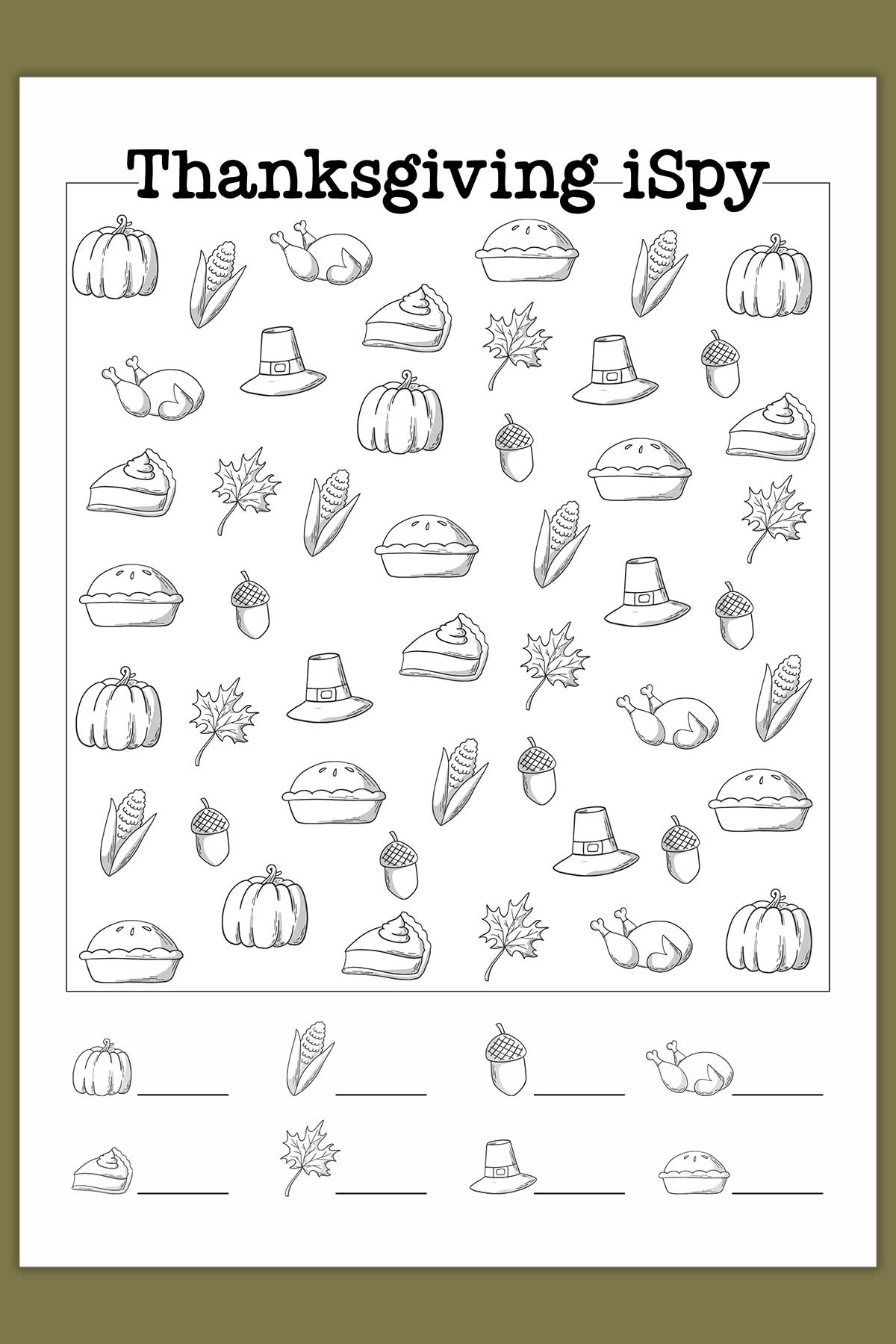 Tally Marks vs. Numbers
One thing I suggest to children when they complete an iSpy is to actually use tally marks instead of writing a number. I tell children to cross out each item and make a tally mark each time they cross an item out. It makes it an easy way to keep track of how many items they have found, especially for little kids.
Create Thanksgiving Busy Bags or Busy Binder
If you like to create busy binders or bags, these would be a great addition. Kids can easily complete these on their own so they're great for busy binders or bags.
Laminate your iSpy Printables for Lasting Fun
If you laminate your i Spy game, they can be used over and over again. Just use dry erase markers to find the number of objects.
Educational Benefits for i Spy Activities
There is a reason that i spy is a classic game for children. Do you remember doing the i Spy and hidden pictures in the Highlights Magazine at the doctor's office?
They're more than just a great boredom buster. i Spy games keeps children's brains active.
It helps them work on their fine motor skills, math skills (counting), it builds working memory, and it works on visual discrimination.
Make it Extra Fun
What to add some additional excitement to the free printable worksheet? Use a magnifying glass! Older and younger children will love use one.
What File Formats are Included?
You'll get a pdf file of each available iSpy.
Is there an Answer Key Included?
Yes! You'll get an answer sheet for both the easier and hard version with the correct number for each item. But the answer sheet only comes in the black and white version because it's the same as the color version (and wastes less ink to print).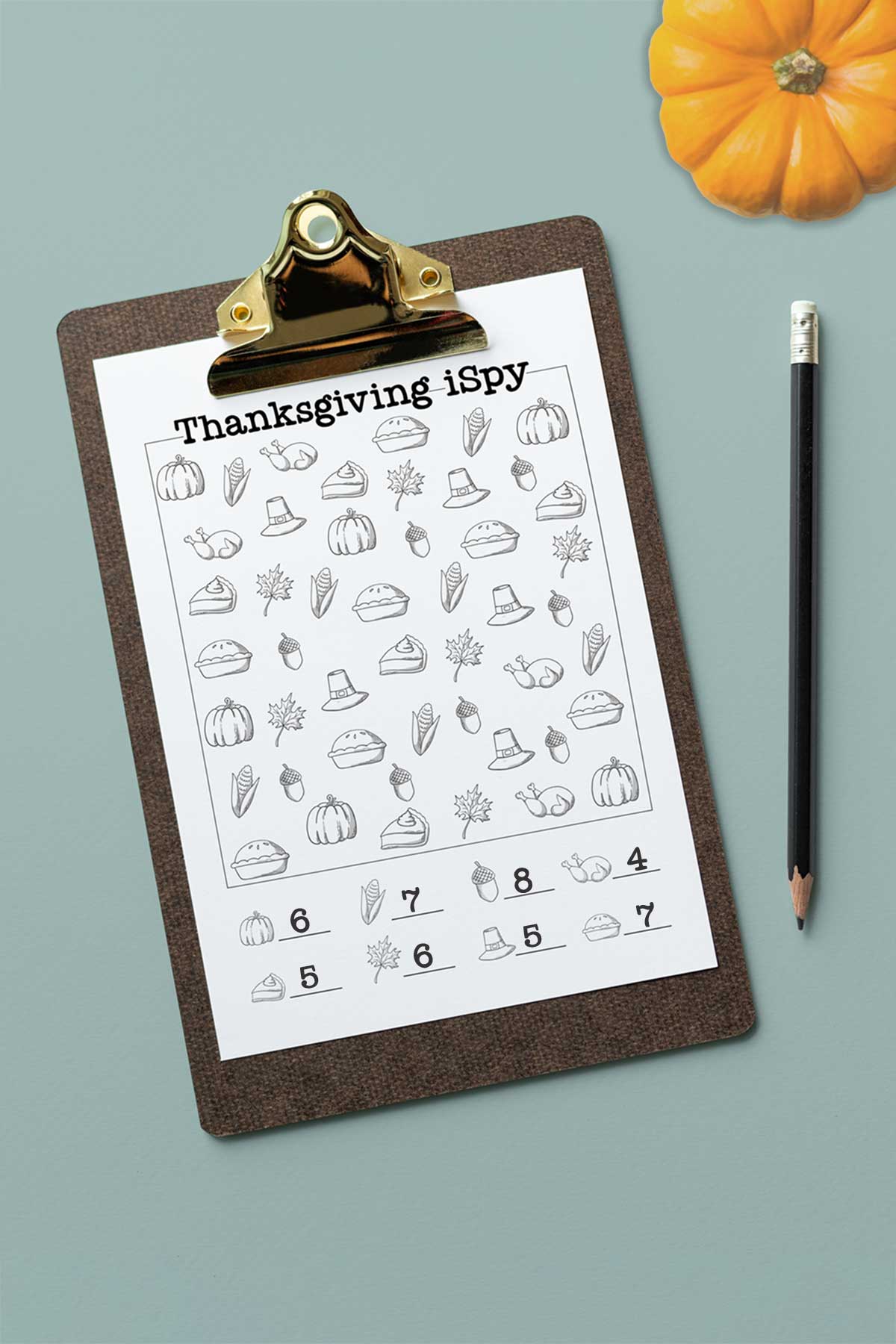 Using the Free i Spy Thanksgiving Printables at Home
You can use the free printable Thanksgiving game anytime during the holiday season or even during Thanksgiving break. If you need a little quiet time during break, these are an easy activity to have on hand.
Thanksgiving Day Entertainment
Print off these fun printables and place them at the kids' table. It'll help keep the kids entertained while the adults are busy cooking.
Using the i Spy Printables in the Classroom
Having the i Spy printables on hand is a good idea. They are the perfect small time fillers for the end of a classroom lesson. They'd be great for earlier finishers or even for substitute teachers.
They also make a great classroom activity for a holiday party. Class parties can get a bit hectic. These are the perfect game to give kids a quiet break from the chaotic activities.
What Paper Should they be Printed On?
It depends. If you're only going to have children complete them one time, I suggest just using standard printer paper.
But, if your plan is to laminate them so that you can use dry erase markers, I would suggest using cardstock. It will make them even sturdier.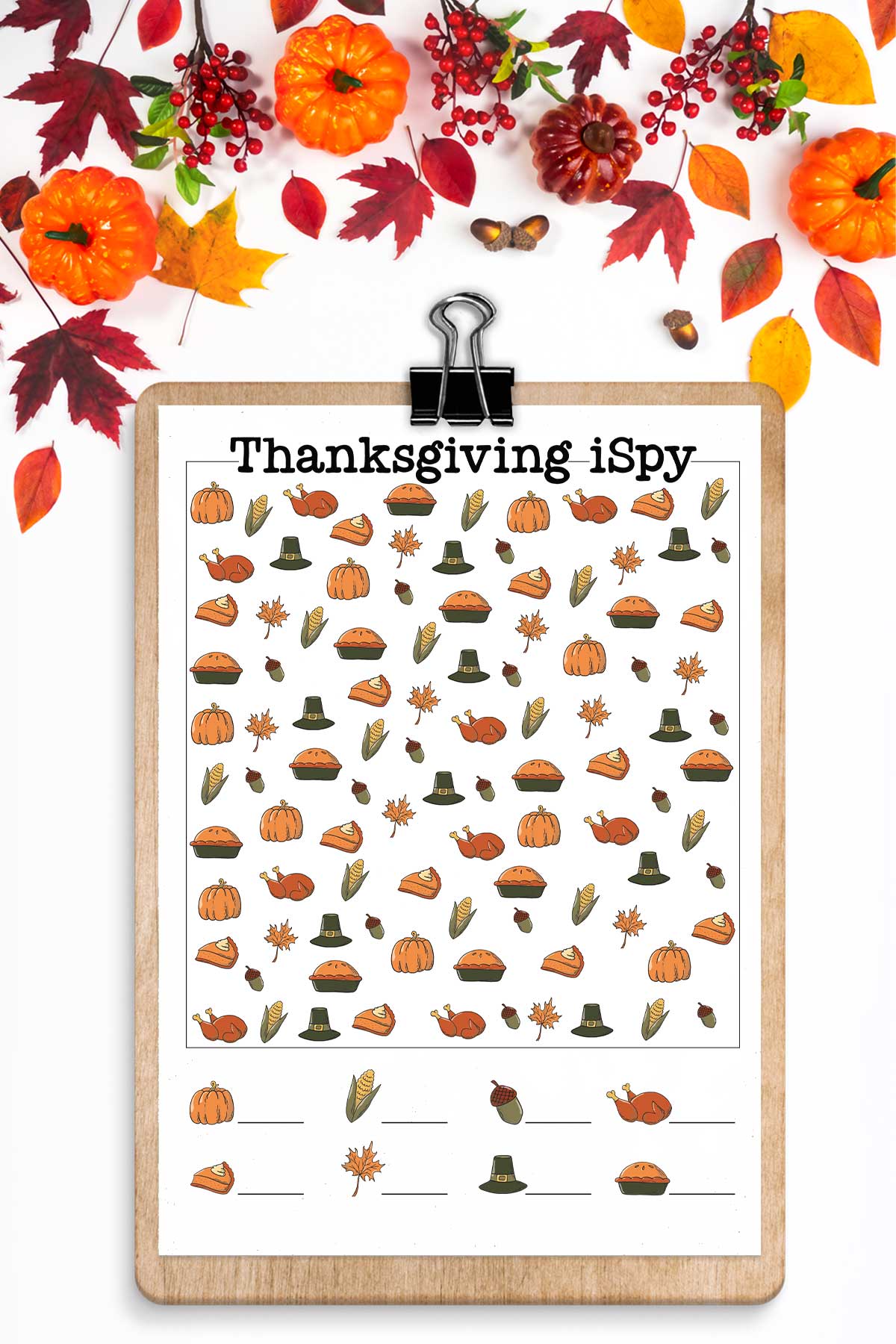 How do you Download the Free Thanksgiving Printables?
You can get them at the bottom of this post where it says Click to Download. Or, you can click here to get to the download.
Looking for More Free Printables?
We have tons of free printables here at Mom Envy. Plus, we have lots of Thanksgiving content. Here are the Thanksgiving posts we have on our site.
Here are some more fun Thanksgiving games – Thanksgiving Bingo and Thanksgiving Word Search.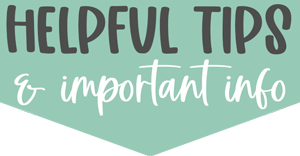 Tips for Downloading the Free Files
Below is an arrow that says Download Below. Underneath that is a large image that says Click to Download the free files.
Once you click that, you will enter the members-only password and click submit.
The page will reload the same image and now when you click the image that says Click to Download the free files, it will open the Google Drive folder containing the free files.
How do you get a members-only password?

You can sign up here to be a free Mom Envy club member.
The password will be sent to you within a few minutes. Make sure to check your spam and/or junk folder if you don't see it.
Already a member but forgot the password? Don't sign up again. Look at the end of any newsletter from me for the free password or just send me an e-mail here: [email protected]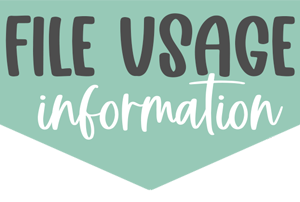 Copyright MOM ENVY 2022. Files may be used for personal use only. No commercial use of the file is available. Files may not be directly shared within Facebook groups, on websites, or in any other way. If using for educational purposes, the file may be printed and copied for classroom use. A link to the web page to download the files may be shared as well as one photo. The file may not be printed and then sold (including local yard sale sites and groups or at local craft fairs). The images may not be used in any way other than to share with a link to the original web page.