In the battle Silhouette vs. Cricut, which crafting machine reigns supreme? This is a question that readers often ask me – they want to know what made me decide to go with a Silhouette over a Cricut.
When I decided to purchase a craft cutting machine, I spent many hours researching my options. I quickly found that the Silhouette vs. Cricut battle is no different than the PC vs. Mac fight. People tend to have their favorite platform and they will defend their brand until the end of time.
Although, I fully admit that I am a former PC-only girl who purchased a Mac and never looked back. I often wonder if I were to purchase a Cricut, would my love still lie with my Silhouette?
Maybe? But maybe not. That's because, in the world of crafting machines, there is no bad choice. Yep, you read that right. In my opinion, there is not a machine that reigns supreme. They're all awesome.
Instead, I feel that they both have pros and cons. Whether or not the pros outweigh the cons is a matter of personal preference. Everyone's machine needs are different so what may work for one person may not work for another. At the end of this post, I'll explain what swayed me over to Silhouette's dark side.
Always Changing: Silhouette machines & Cricut Machines
Silhouette machines and Cricut machines have changed so much since they were both first introduced. Their capabilities and accessories continue to increase.
Each year, it seems like both companies try to update their machine to outdo the other machine (which is great for crafters but not so great for crafters' bank accounts).
That means that when you go to purchase a new machine, make sure you are reading information that is comparing the actual machines you are considering. There are huge differences with machines even within the same company (i.e. the Maker vs. the Explore).
This is not a sponsored post by Silhouette or Cricut. These are completely my own opinions; they are not swayed by either brand. I do, however, have affiliate links to both products so you can easily find them.
As an Amazon Associate, I earn from qualifying purchases. I am also an affiliate for the HP ink program and CJ Network. Click here to read more.
Silhouette vs. Cricut – Which Craft Cutting Machine is Right for You?
For my post's purpose, I am going to compare the Silhouette Cameo 4 to the Cricut Explore Air 2 and the Cricut Maker. I have a Silhouette Cameo 3, Silhouette Portrait, and a Cricut Maker. There is also a Cameo 4 Plus and Pro but I am not comparing them today except to say that the Plus can cut up to 15 inches wide and the Pro can cut up to 24 inches wide.
No need to connect to the internet to use the software/cut
Easier to create your own designs and share designs with others (Cricut has some restrictions on sharing images)
Can cut up to 12 inches wide by 10 feet in length
Built-in roll feeder and crosscutter
Can cut without a mat
Bluetooth enabled
Autoblade option
Rotary blade available to cut fabric
Dual Carriage
Can cut thicker materials up to 1 mm thick with the standard blade and up to 3 mm thick with the 3 mm Kraft blade
3mm maximum cutting clearance
Can cut balsa wood up to 3mm thick
Reminder and option to mirror your design when you select HTV as your material
Small storage compartments on the machine
Software capabilities
Great community support
Free basic Silhouette studio software
New faster speed **
**Note about speed: when I wrote this post originally, it was about the Cameo 3. Slow cutting speed used to be under cons. The Cameo 4 has increased its speed significantly. This is no longer a con about the machine.
Silhouette Cons
Difficulty getting a clean cut

It can struggle to cut smaller, more intricate designs
The software can be more difficult for beginners (even though it is more powerful)
Silhouette Studio Upgraded Software costs additional money
Software can sometimes lag and have some glitch issues (make sure to keep your software up to date)
Software can't be used on a tablet or iPad
Silhouette Software Notes
The Silhouette Studio software is free but to access certain options, you must upgrade to designer or business edition. The additional money is well worth the added features but it stinks that it's not standard in the free program.
Silhouette Studio is often reported to be difficult to learn to use. The biggest criticism is that the software's ease of use isn't as good as with Cricut's Design Space.
My experience has been great with learning the software – I find it easy to use and its design capabilities far surpass the Cricut Maker. So it may just be a personal preference when it comes to the ease of use and the software.
You can import an image, create a cut file, and then share it with others. You can really share any file you create with other Silhouette users (except editable fonts that the other user doesn't have on their machine. But that is standard with all programs). Silhouette Studio makes using your own designs so much easier than DesignSpace.
If you are familiar with any of the Adobe products, the learning curve for the software will not be large. If you aren't as familiar with design programs, the program may take a little extra practice (youtube videos are abundant and super helpful).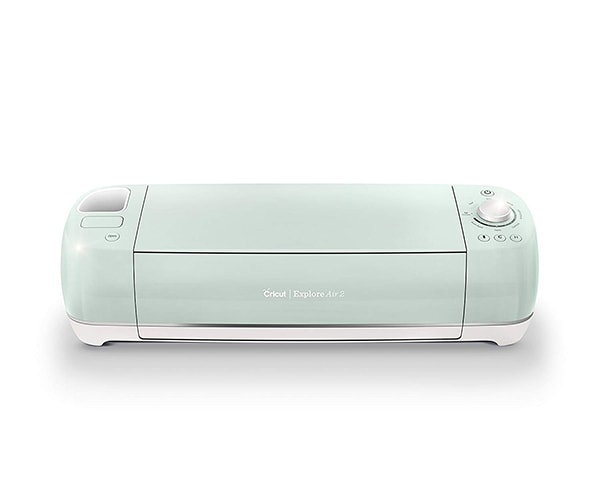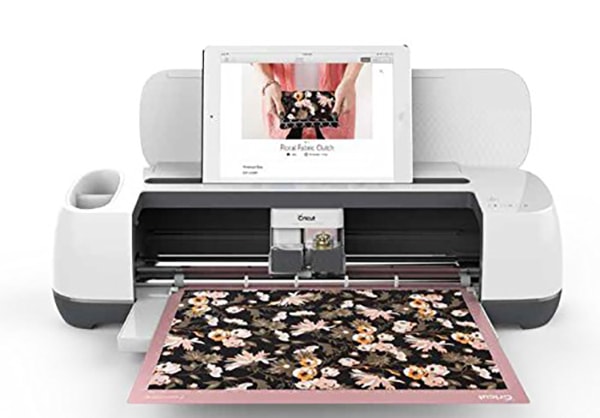 Cricut Pros
Cuts quickly in fast mode
Longer-lasting mat (it's common for Silhouette users to purchase the Cricut mat instead)
Bluetooth enabled
Autoblade option
Rotary blade available to cut fabric
Clean cuts of intricate and small designs
Storage cup and small storage tray
Dual Carriage (Cricut's has more options than Silhouettes)
Great community support
Quieter machine
Easier to use software for many
Easily cuts thicker materials
Can cut thin balsa wood (1/32″, 1/16″, and 3/32″ thicknesses)
Can cut thin basswood (1/32″ and 1/16″ thicknesses)
Can use an iPad instead of a computer
Free software (all capabilities are included – no upgraded versions required)
Cricut Cons
Needs an internet connection to use the program
Can only cut up to 11.5 inches wide by 23.5 inches length
Software capabilities aren't as advanced
Cricut Software Notes
When sharing files using Design Space, you can't share any files that have an image embedded in them. While many beginning users find the Software easier to use, as an advanced user, I actually had a huge learning curve in learning the software. I found that its capabilities were seriously lacking which means I had to design my SVG files in Illustrator and then move them over to Design Space (it's not a big deal, but it is one more step).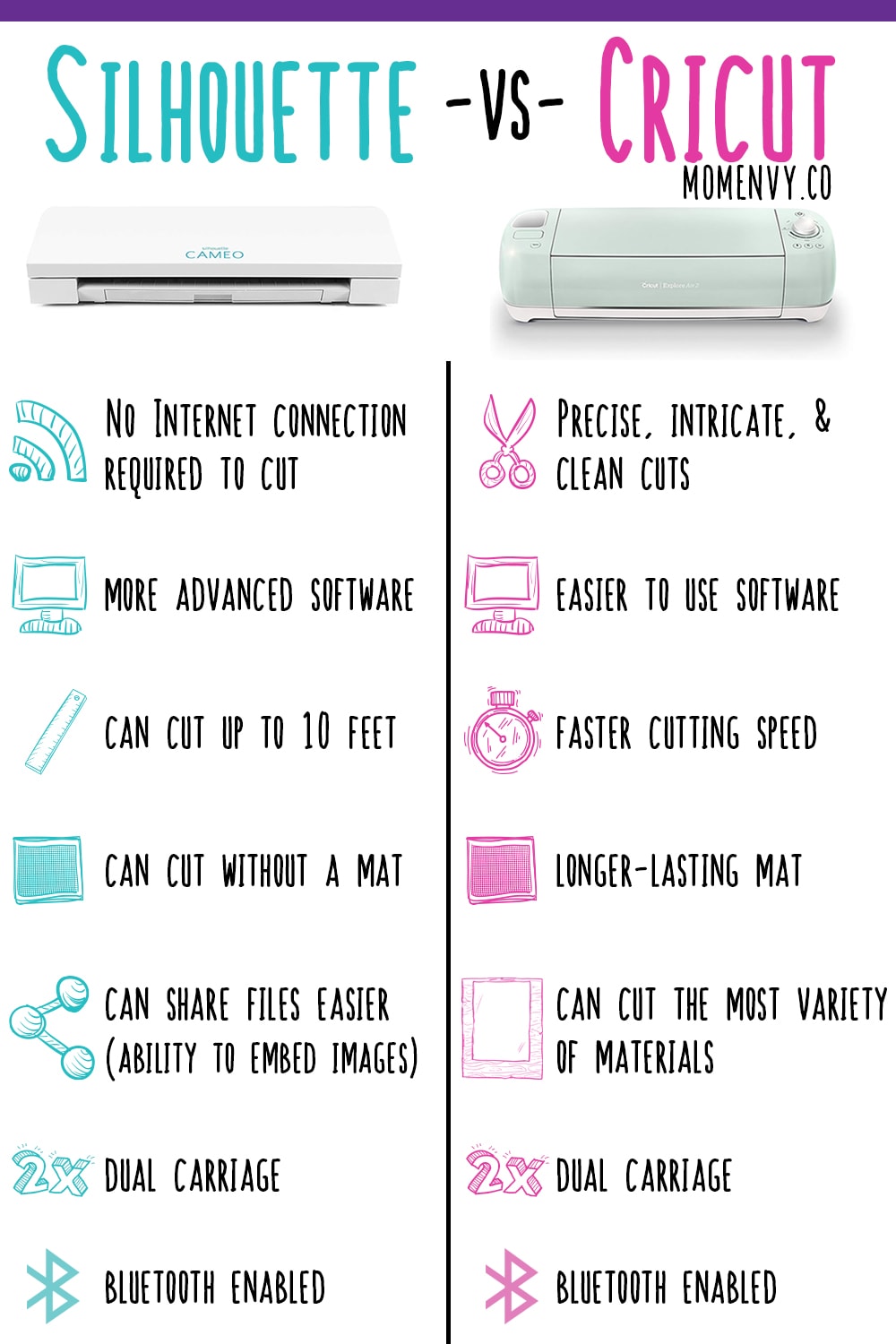 Which machine wins in the battle of the cutting machines?
In my opinion, the Silhouette Cameo 4 wins in the battle of cutting machines.
So what made me choose the Silhouette in the Battle of Silhouette vs. Cricut?
One thing and one only thing swayed my decision: the requirement of being connected to the internet to cut. While for many people this isn't an issue, at the time I purchased my first Silhouette machine (the Portrait), we had spotty internet service.
It was common for me to lose internet for long periods of time which would mean I wouldn't be able to cut on my machine. And I kept thinking, what would happen if I was in the middle of a cut project and the internet went out? Plus, I wanted the ability to take my machine anywhere to cut (friend's houses, vacation, or even to craft shows possibly in the future).
Portrait or Cameo 3 vs. the Cameo 4?
If you're going to get a Silhouette, let me just urge you to save a little longer and purchase the Cameo 4. I purchased the Portrait instead of the Cameo 2 and I regretted it immediately. It's a great small machine but the larger Cameo 4 is definitely the better option (especially with all of its updates from the Cameo 3).
You betcha. Since writing this post, I did! My husband gifted me a Cricut Maker to use along with my Silhouette.
In a world where people are so set on their brand, I have no issue using both brands. It is not in most people's budgets to have more than one machine.
Which machine do I use more now that I have both?
Hands-down my Cameo 3. Maybe it's because it's what I am used to? But my go-to machine is still my Cameo.
Can you cut Different Materials with both Machines?
The great thing about both the Cricut Maker and Silhouette Cameo 4 machines is that they can both cut SO many different materials.
In the battle of Silhouette vs. Cricut, which did you purchase and why?
Comment below and tell me which cutting machine you purchased and why. It would be super helpful for others to hear which machine you selected and why.
Looking to purchase one of the machines? Click your desired machine below.