Get this Halloween Bingo printable today as a free download at the end of this blog post. It's the perfect game for Halloween parties or it makes a great activity for teachers during the Halloween season.
This set of free Halloween Bingo comes with 40 different bingo boards and two options for calling cards. You have the choice to print a smaller 2 page calling card set or a larger set of cards.
With 40 unique cards, you can play bingo with a large group of people. Most free printable Halloween bingo cards come with only 20-30 different bingo cards which makes it hard to play with anything other than small groups.
Instead, my set of free Halloween bingo printables has enough to play with a full classroom of students or a large group. If you have a smaller group of people, players can choose to play with more than one card.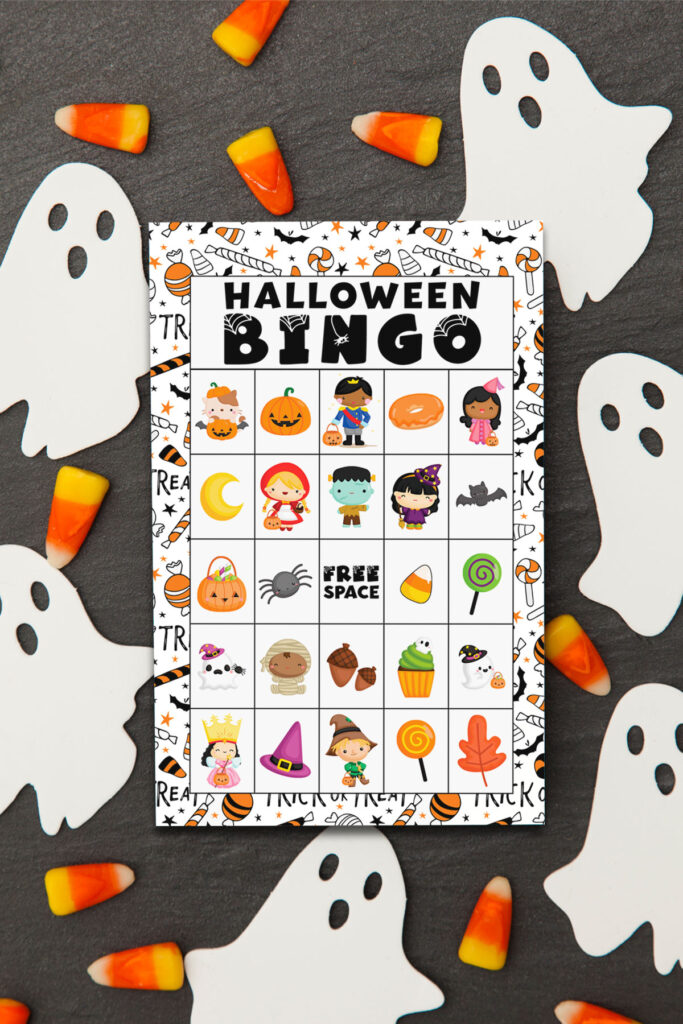 Bingo is such a fun game that all ages can enjoy. Even young children can play bingo with the adorable Halloween clip art I've used. You can either show children the large calling card or you can describe it.
What I love about bingo is that it's not just a great game to play. For younger children, bingo works on fine motor skills, hand eye coordination, listening skills, and more. It's also an easy game to teach how to be a good sport when you don't win.
How Do you Make your Own Halloween Bingo Set?
Print the bingo cards on white cardstock for best results. If you are not worried about them lasting as long, you can just print them on regular printer paper.
You can print off as many boards as you need or print them all so that people can have multiple board choices.
Once printed, you will need to cut each page in half to create two separate bingo boards. There are two to a standard letter size sheet.
Print out one set of the calling cards. You can either cut them out and pull them out of a bag or hat.
Or, you can mark them off as you call each Halloween item. Make sure to randomize the order each time you play a round.
How Do you Play Halloween Bingo?
This bingo is slightly different than traditional bingo. Instead of calling items in individual rows (such as B4), you can mark off an item if you have it anywhere on your bingo card. Here is how to play.
First, players should mark their free space in center of their board.
The bingo caller pulls a bingo calling card out of a bag or hat. They call out the name of the Halloween themed item on the chosen calling card.
If the players have the item anywhere on their board, they mark it with a bingo chip.
The first person to get 5 in a row, calls out bingo and wins that round.
Players can clear their boards and play another round. Multiple players make get Bingo at once.
What Do the Bingo Cards Look Like in the Halloween Bingo Printable Set?
Here is an example of what the bingo cards look like. They include adorable Halloween clip art. Each card has the Halloween images in a random order so no two cards are the same.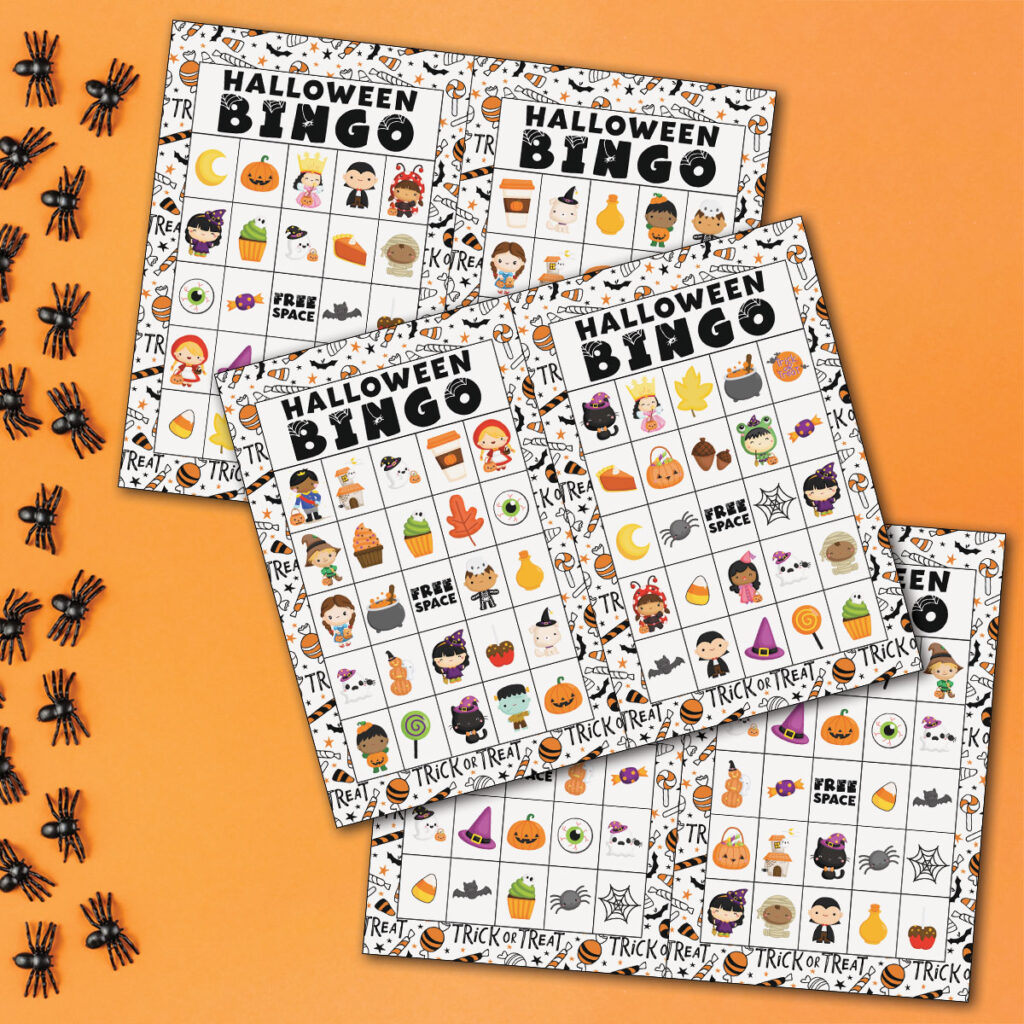 Can I use Bingo Markers?
Sure, you can use Bingo Markers or Bingo daubers on the boards BUT you'll have to make multiple copies of the boards to be able to play more than one round. Instead, I'd go with another option for marking off called items.
What can I use Instead of Bingo Markers?
There are lots of items you can use including some that work well with the Halloween theme. Some options include:
candy corn
mini erasers (especially Halloween ones!)
M & Ms
Bingo chips
Coins
Dried beans
Other small Halloween candy
If the boards are laminated, a dry erase marker
Laminate the Bingo Game Cards
If you laminate the bingo cards, you can create a family set or classroom set that can last year after year. Plus, you can use dry erase markers instead of bingo markers to mark off the game boards while playing.
Are you a Teacher?
This free printable game is a great option to have printed and ready to go during the fall time of year for teachers. You can use it as part of your sub plans, for indoor recess, as a filler when you've finished an activity early, or as part of a regular lesson plan.
Are you a Room Parent or Classroom Volunteer?
If you are helping to plan a classroom party, this Halloween bingo printable is an inexpensive option for a classroom Halloween party. As a room parent, I know how hard it can be to plan out a class parties.
Halloween bingo is great Halloween fun that can be played with any grade. You can offer prizes like Halloween themed stickers, Halloween trinkets, candy, or more.
Plus, it's easy to set up and clean up and the length of time is flexible depending how many rounds you play. Which makes it perfect to play as the last activity during a party. That way you make sure you finish your party on time.
What Ages can Play Bingo?
Bingo makes an easy and fun Halloween party game for any age 3 and up. Your littlest players may need a bit of assistance but it's still a great option for them to play.
How Many People Can Play this Free Printable Halloween Bingo Game?
You can use this free game with large or small groups. It comes with 40 different cards so you can play with 40 individual people.
If you partner people up, you can play with up to 80 people. If you have less than 40, you can allow people to choose more than one card to play at a time or just give people the option of lots of bingo card choices.
Want Some More Free Printables?
Mom Envy has over 200 free printables! You can find all of the free Halloween printables and more fun Halloween content here.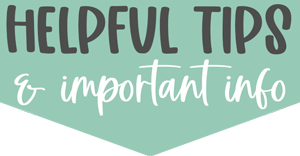 Tips for Downloading the Free Files
Below is an arrow that says Download Below. Underneath that is a large image that says Click to Download the free files.
Once you click that, you will enter the members-only password and click submit.
The page will reload the same image and now when you click the image that says Click to Download the free files, it will open the Google Drive folder containing the free files.
How do you get a members-only password?

You can sign up here to be a free Mom Envy club member.
The password will be sent to you within a few minutes. Make sure to check your spam and/or junk folder if you don't see it.
Already a member but forgot the password? Don't sign up again. Look at the end of any newsletter from me for the free password or just send me an e-mail here: [email protected]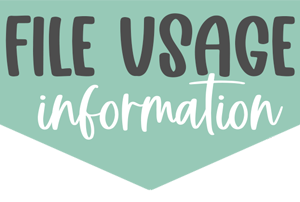 Copyright MOM ENVY 2022. Files may be used for personal use only. No commercial use of the file is available. Files may not be directly shared within Facebook groups, on websites, or in any other way. If using for educational purposes, the file may be printed and copied for classroom use. A link to the web page to download the files may be shared as well as one photo. The file may not be printed and then sold (including local yard sale sites and groups or at local craft fairs). The images may not be used in any way other than to share with a link to the original web page.