Disclosure: This post is a sponsored post written by me, I received free product and compensation for writing this post. All thoughts and opinions are my own.
When selecting a new flooring for your master bedroom, most of you probably just thought about what color to choose and how thick the pile should be. But when you have severe allergies, it gets a lot more complicated.
As we started our master bedroom makeover, we knew our carpet had to go. It was old, dingy, and filled with allergens deep within the carpet and the padding. Exhibit A.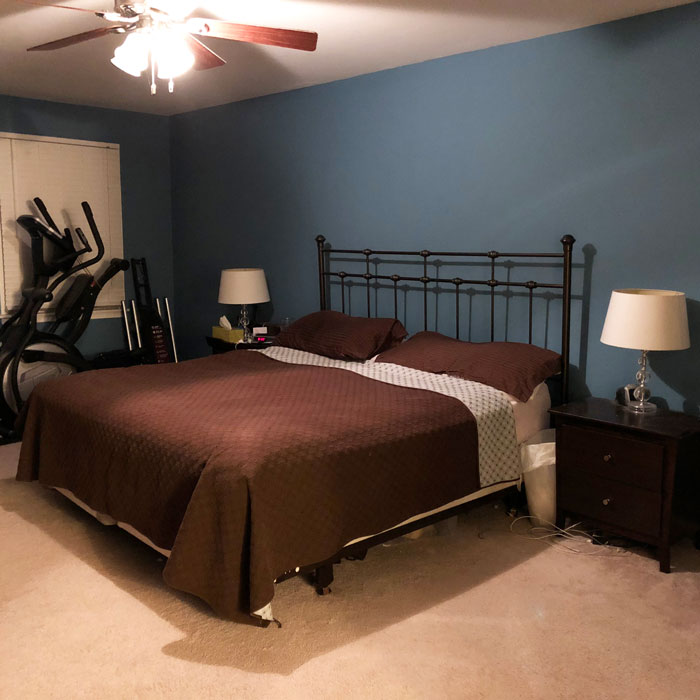 Since I was younger, people always joked that I should live in a bubble. I am one of those people that has to split their allergy testing over multiple visits because I react to so much (so severely) they can't do it all in one day.
To create a plan, my husband and I sat down with our room makeover planner. There's a link to download it for FREE at the end of this post.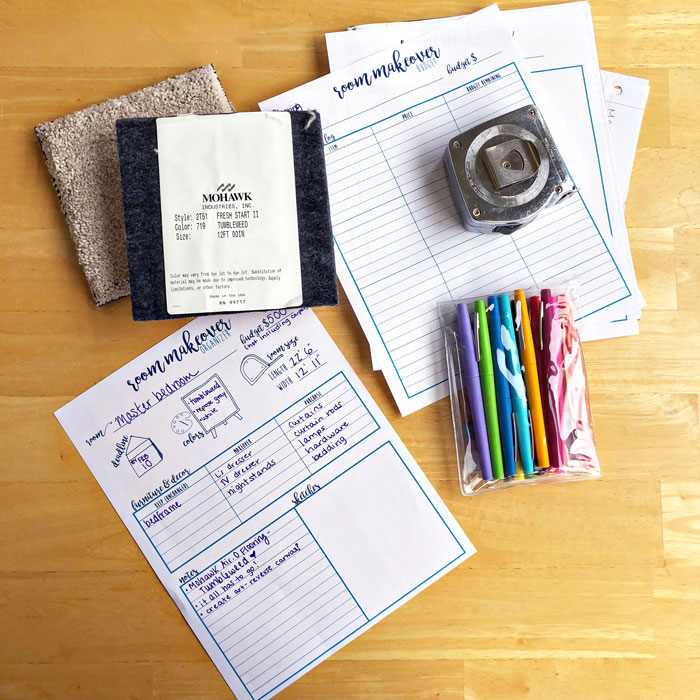 My husband and I thought we were probably going to have to go with a hard surface for our flooring to help with my allergies (just as my parents had done when I was younger). But we both were disillusioned with the idea of stepping out onto the cold, hard floor each morning.
That's when we found Mohawk Flooring Air.o Unified Soft Flooring (USF). It was the perfect solution for our master bedroom. Aside from being hypoallergenic, there are so many great features about it.
Air.o Soft Flooring Benefits
Air.o is hypoallergenic. Meaning that it's designed so that the fibers of the flooring and its padding don't absorb moisture. Spill a drink? No worries, after cleaning up the mess, Air.o dries quickly.
No VOCs. You know that awful smell that lingers in your home for weeks after new flooring? Air.o doesn't have that.
Air.o is latex free. For those with an allergy to latex, this carpet is safe to have within your home.
100% Recyclable flooring.

Air.o USF is the first 100% recyclable flooring.

Dirt is removed more effectively from the flooring. Air.o has a unique construction where it's attached to its padding directly. This provides great airflow compared to standard carpet. It means that when you vacuum, the flooring will release dirt, dust, and soil more effectively.
Flooring lays flat when it's unrolled in its new spot. And, it stays flat (unlike our previous carpet that had come up and was creating a small hurdle on our floor).
Installation takes 50% less time than with standard carpet installation because the flooring is attached to the padding.
Air.o Installation
As you read above, the installation takes 50% less time than standard carpet. That's because Mohawk's Air.o soft flooring is attached to the padding. It's all one piece rather than two pieces.
Even more amazing is that it doesn't take tack strips or stretching to install the flooring. Instead, it uses an adhesive around the edges of the room that the flooring is attached to.
Due to the different installation process, the carpet tacks and striping had to all be removed, which took a bit of work. But once it was all up, the installation was much quicker than standard carpet installation.
Air.o Quality and Feel
Now, I could go on and on about all of the various features of Mohawk's Air.o flooring but if it isn't comfortable, how hypoallergenic or recyclable it is won't really matter. Plastic allergy covers would make a great hypoallergenic flooring but obviously we would never use it due to its lack of comfort.
Air.o feels so luxurious on your feet. It's super soft and thick. Want to see just how thick it is?
I wish you all could put your hands through the screen and feel it yourselves. It is really lovely. We are totally in love with it.
Air.o Style and Color Options
Now, here is something that totally surprised me about Air.o. Due to all of its special features, I assumed we 'd have just a few color options when choosing our Air.o flooring.
Man was I wrong. There are SO many color options (check them out here). We decided to go with Fresh Start II, color Tumbleweed. It's so peaceful and contemporary. Check it out below.
Air. O – The After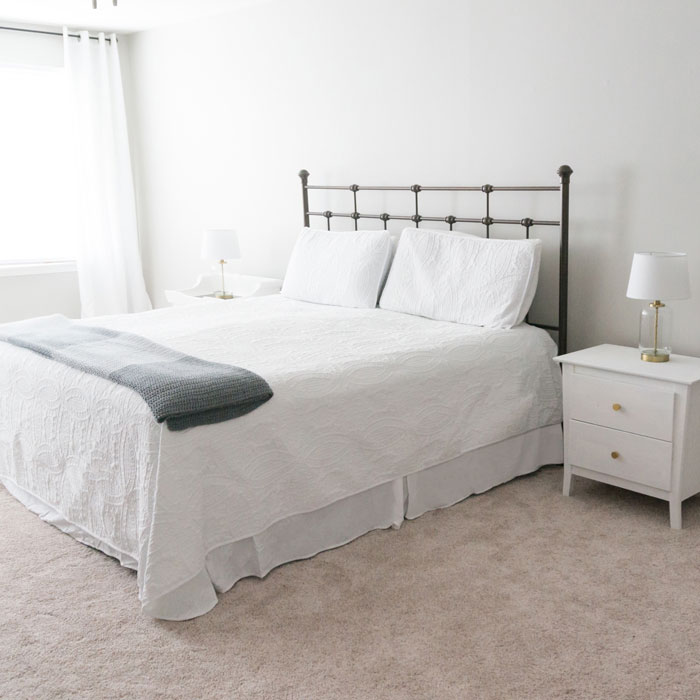 Making Over our Master Bedroom
Once we saw our beautiful new carpet in place, we were eager to start our makeover. I'll be sharing more details about it as we continue to complete the various projects we have planned for the room.
The one thing we did decide to do was finally paint our room. If you remember, we had all of you select our paint color. How do you think it turned out? Did your favorite win?
Room Makeover Planner
Looking to download your own room makeover planner? Click here to download your own FREE copy.
Are you in desperate need of new flooring? I have an exciting opportunity for you. Visit the Mohawk Website to enter for a chance to win $1,000 to use towards Air.o flooring in your home.
I know that Air.o is an exciting new product that you may not have heard about before. If you have any questions at all about Mohawk's Air.o soft flooring, visit their website for more information or comment below with your question for me to answer.
Disclosure: This is a sponsored post written by me on behalf of Mohawk Flooring Air.o Unified Soft Flooring (USF)