Use this printable all about me to create a fun yearly tradition with your child. Each year on their birthday or at the beginning of a new school year, you can interview your child and find out their favorite things such as their favorite color, favorite food, favorite book, favorite animal, and more.
If you are filling it out at the start of the year, you can have your children use the fun worksheets as first day of school signs. Have children fill out the worksheet template and hold it up for a picture (you can have all family members fill it out – it works for all ages even your three-year-old who is still at home and feeling a bit left out).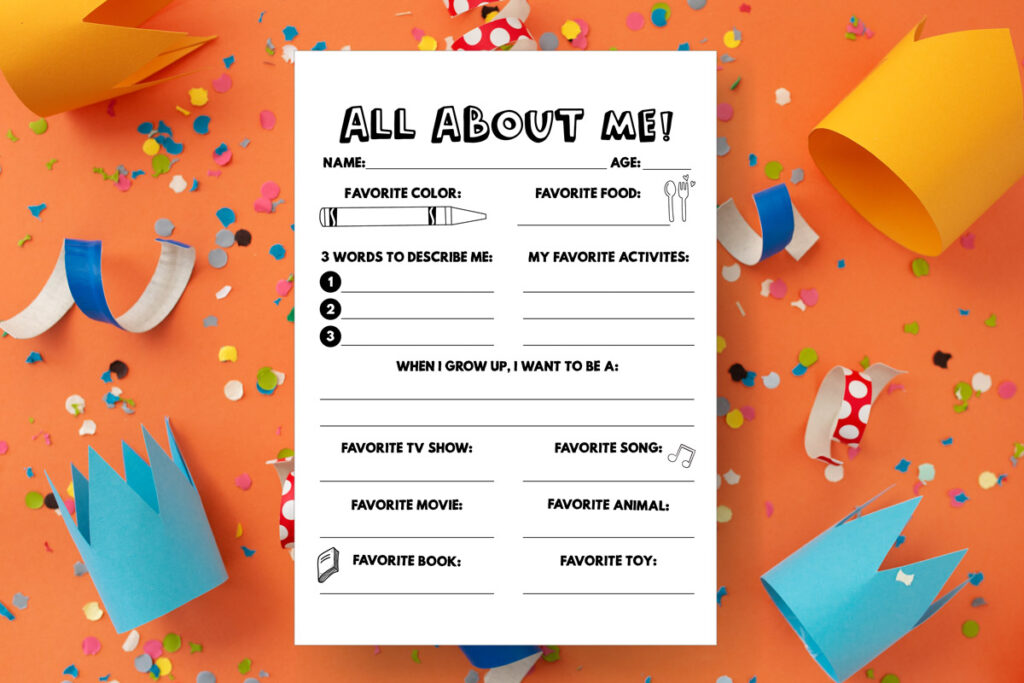 As an Amazon Associate, I earn from qualifying purchases. I am also an affiliate for xTool, the HP ink program, ShareaSale, and CJ Networks. Click here to read more.
Kids will have so much fun answering all of the questions. They'll look forward to doing it each new year or birthday. It will become a fun family tradition for them.
It's a great way to watch how your child grows and changes over the years. When they turn 18, it would be fun to look through all of the old about me's with your child to see how their favorites changed as the years have gone on.
Some about me interviews for children include things that may embarrass a child as they grow (such as their weight), so instead, I find it is best to focus on things that children will enjoy answering each year. They are all simple questions that won't take your child long to fill out.
As a parent, I know it can be hard to add one more thing to remember to do each year. But I promise, when you look back later in life, you'll be so happy you chose to do take the few minutes to print the worksheet pdf and have your children fill it out. It's the perfect way to document how your children change and grow into little people.
Classroom Activity
Need a lesson plan for the first week of school? Print out this printable worksheet to complete as a fun activity to get to know your students. It's a fun way to start the beginning of the school year. Plus, it lets you get to know the kids in your class.
Want your students to get to know each other? You could make a copy of each child's worksheet and put all of the printable pages together into a class book. Then, you can add the book to your classroom library so that your students can read about their fellow students.
Or, instead of a classroom library, they would make an adorable bulletin board display at the beginning of the year. Parents would be happy to see their child's all about me hanging up during a back to school night, open house, or at parent conferences.
Finding out what the other students like in class may present an opportunity for children to connect over similarities. It may help a child who is struggling to make new friends, find a new friend by finding someone who likes the same things as them!
Have new students during the year? Don't forget to print one for them to fill out and add to your book. Plus, it would be a great way for them to learn about their classmates quickly.
Too busy at the beginning of the year? Then you could do this at the end of the year instead! When things are settling down and you're looking for a way to keep the children busy, print out a set of these worksheet pages for an easy way to keep the kids busy.
Collaborate with your fellow teachers to all add it to your lesson plans so it could become one of the students' favorite activities to do each school year. They make such great keepsakes for parents.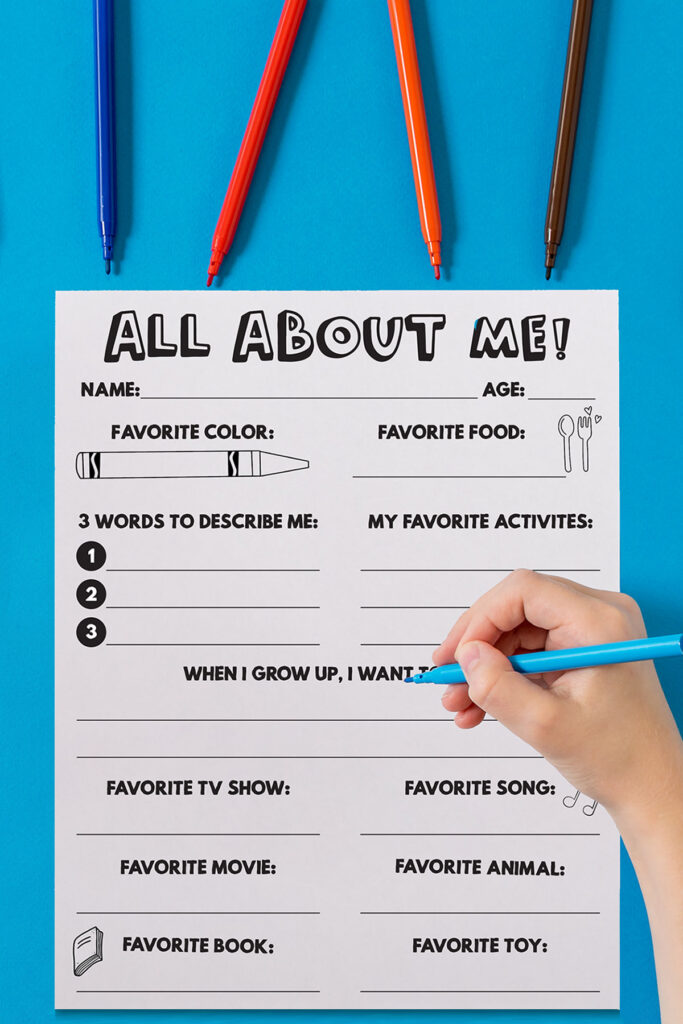 Self Portrait
Many about me's include an area for a self-portrait. This free printable doesn't include a blank space for one. But, you could easily have your child draw a self-portrait on the back OR have them draw a self-portrait on another page and glue this free printable on the back.
Art teachers – this would make a great addition to a self-portrait lesson in class. You could have children fill this out to go with a self portrait that they created in art class.
Baby Shower or Child's Birthday Gift Idea
Print out multiple copies of this printable and create an adorable printable book. It makes the perfect gift for parents. They'll have a ready-to-go memory book that they won't have to create themselves.
What Age is the Printable All About Me for?
This interview page is great for kids of all ages.
If you're working with young children, you might have to write for them. Although children as young as first grade could use stretch spelling to sound out the words the best they can. It would be adorable for parents to see how far their child comes in spelling over the years. Plus, it would be a great activity for children to work on their fine motor skills.
Older students can complete the printable template on their own. Just print out the free worksheets and let the kids get back to work.
Suggestions for Parents
Take a Video or Picture
When interviewing your child for the all about me printable worksheet, I suggest recording them with your camera or taking a picture of them at the time they filled it out. It will make it an even better keepsake for you later down the road.
Have Multiple Children?
This is a great activity for the whole family. But, you'll want to separate your children to fill out the activity sheet. Little kids are easily influenced by older kids and their responses. You want the fun facts you gather about your child to be their favorites and not their sibling's favorite things.
Want more free printables for kids?
Mom Envy has a lot of free printables for kids and adults. Check out all of our free printables here.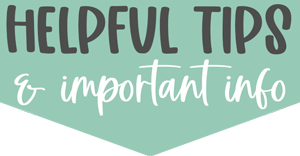 Tips for Downloading the Free Files
Below is an arrow that says Download Below. Underneath that is a large image that says Click to Download the free files.
Once you click that, you will enter the members-only password and click submit.
The page will reload the same image and now when you click the image that says Click to Download the free files, it will open the Google Drive folder containing the free files.
How do you get a members-only password?

You can sign up here to be a free Mom Envy club member.
The password will be sent to you within a few minutes. Make sure to check your spam and/or junk folder if you don't see it.
Already a member but forgot the password? Don't sign up again. Look at the end of any newsletter from me for the free password or just send me an e-mail here: [email protected]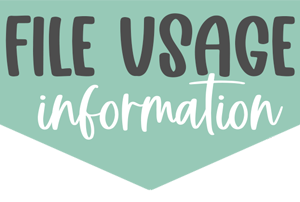 Copyright MOM ENVY 2022. Files may be used for personal use only. No commercial use of the file is available. Files may not be directly shared within Facebook groups, on websites, or in any other way. If using for educational purposes, the file may be printed and copied for classroom use. A link to the web page to download the files may be shared as well as one photo. The file may not be printed and then sold (including local yard sale sites and groups or at local craft fairs). The images may not be used in any way other than to share with a link to the original web page.