Grab this set of printable Christmas labels for gifts to add a personal touch to your holiday gifts this year. This set of free printable Christmas gift tags comes in multiple different designs. There are 3 different styles of tags so that you can choose the option that best matches your wrapping paper style.
You'll get three full pages of free printable Christmas tags. Each page has 9 different tags which means you'll get a total of 18 adorable gift tags to add to your Christmas presents. Plus, you can print multiple copies so that you have plenty of tags for your presents.
This time of year can be so busy, stressful, and expensive. Using free printable gift tags is a great way to save money. Plus, if you have a last minute gift and no tag, these are a great option to have on hand so that you don't have to make one more trip to the crowded store.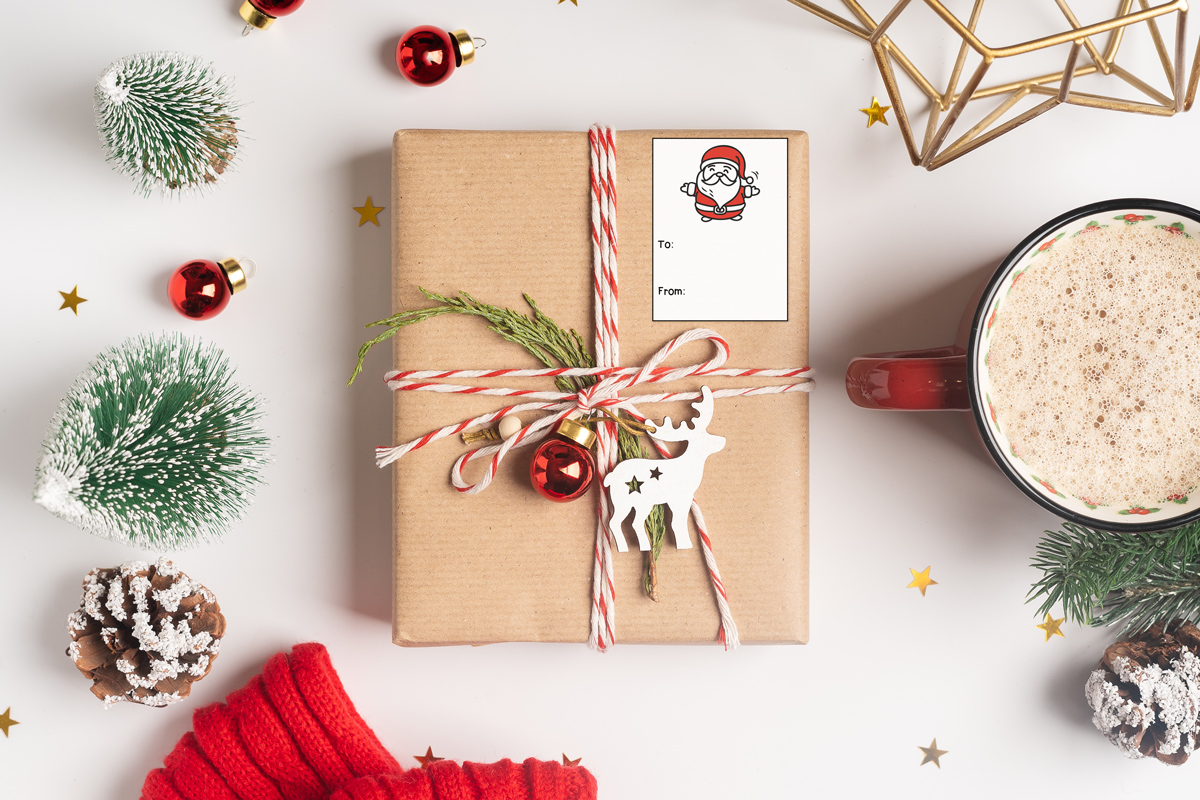 The printable holiday tags are a simple, classic style label. At the top of each label is a Christmas-themed image – a Christmas tree, Santa Claus, a Snowman wearing a Santa hat, snow globes, candy canes, and more. Below each image is a To and From so that you can fill in the name of the receiver and giver.
Your Christmas gifts will look so cute this holiday season when you use these free printables to make your own gift tags. If you have different types of wrapping paper for each unique family member or friend, you'll hopefully be able to find a style that works for you in this set.
As an Amazon Associate, I earn from qualifying purchases. I am also an affiliate for xTool, the HP ink program, ShareaSale, and CJ Networks. Click here to read more.
3 Style Options Available
There are 3 style options included in this set of free gift tags. The tags are all Christmas colors but are different shades giving you 3 color options as well.
Option 1: Vintage Christmas
This option has traditional colors and images. The designs are classic green, red, and white. They are beautiful tags that are perfect for your more traditional gift wrapping.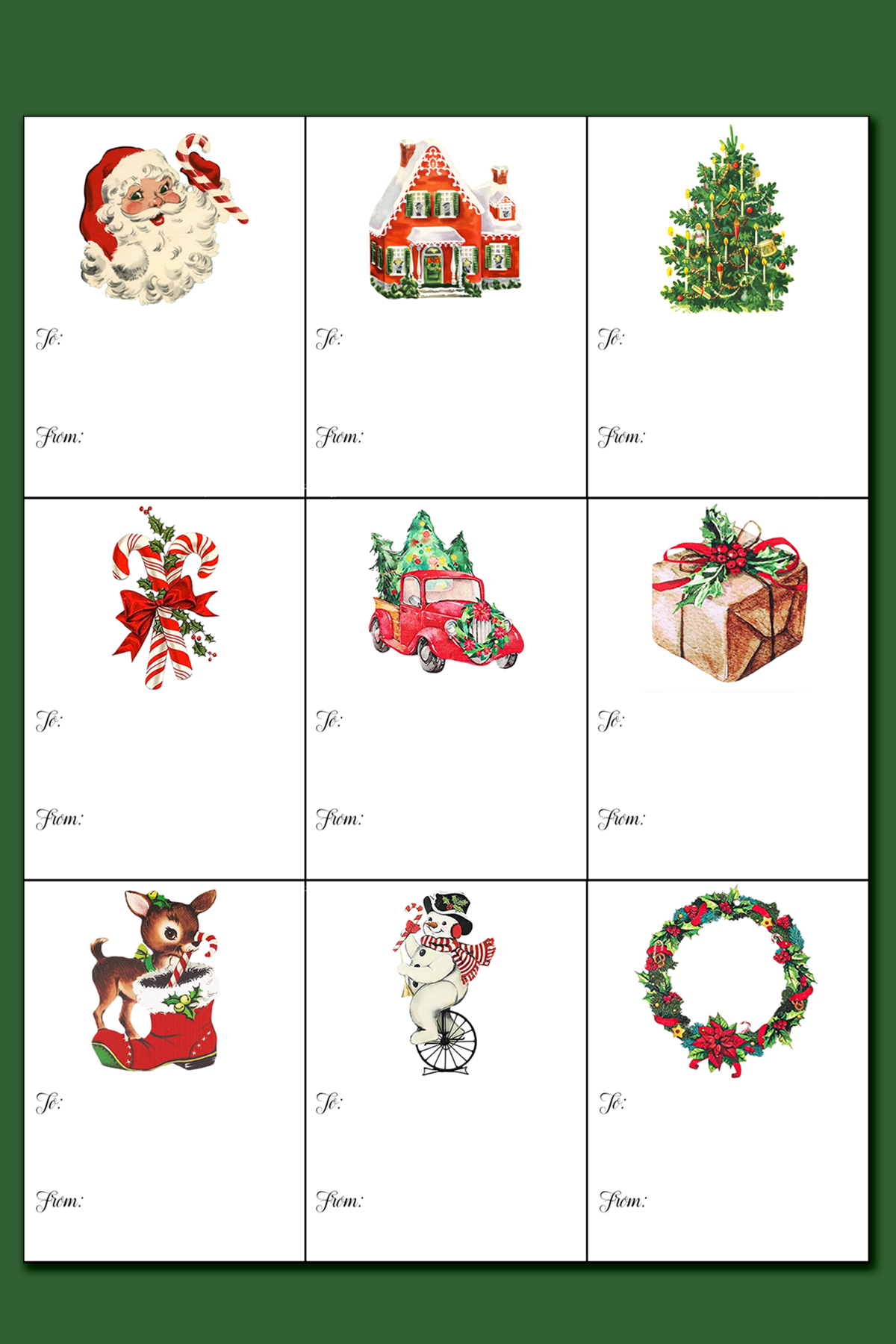 Option 2: Watercolor Farmhouse Christmas
This set is a more modern Christmas gift tag option. It uses soft shades of green, creams, with little pops of red. Each tag includes a holiday-themed watercolor image.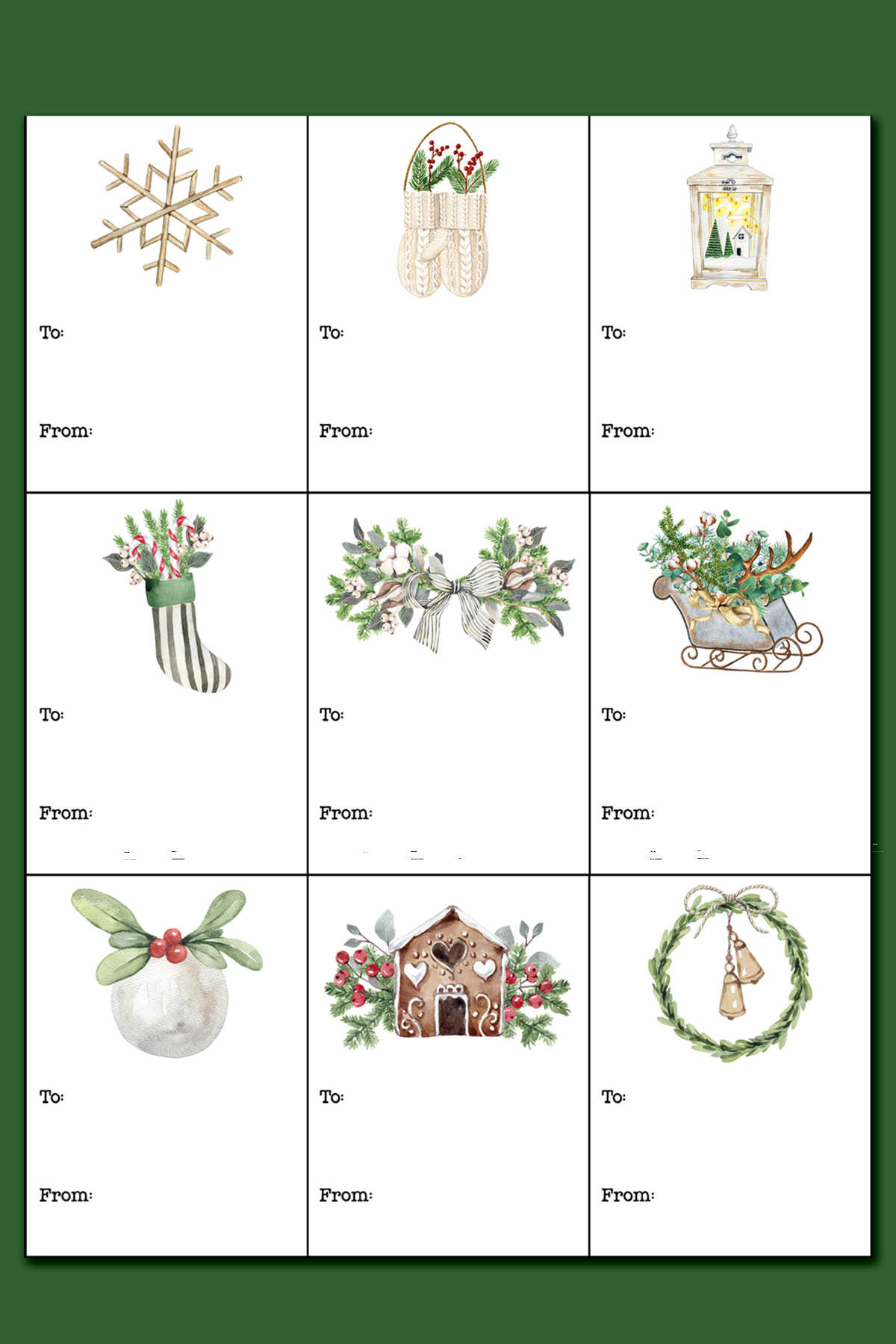 Option 3: Kid-Friendly Bright Christmas
Our last option is the most kid-friendly option. It has a bright red, green, and white color scheme. The drawings are simplistic and more child-like than the other two options. These cute gift tags would go great on any child's present.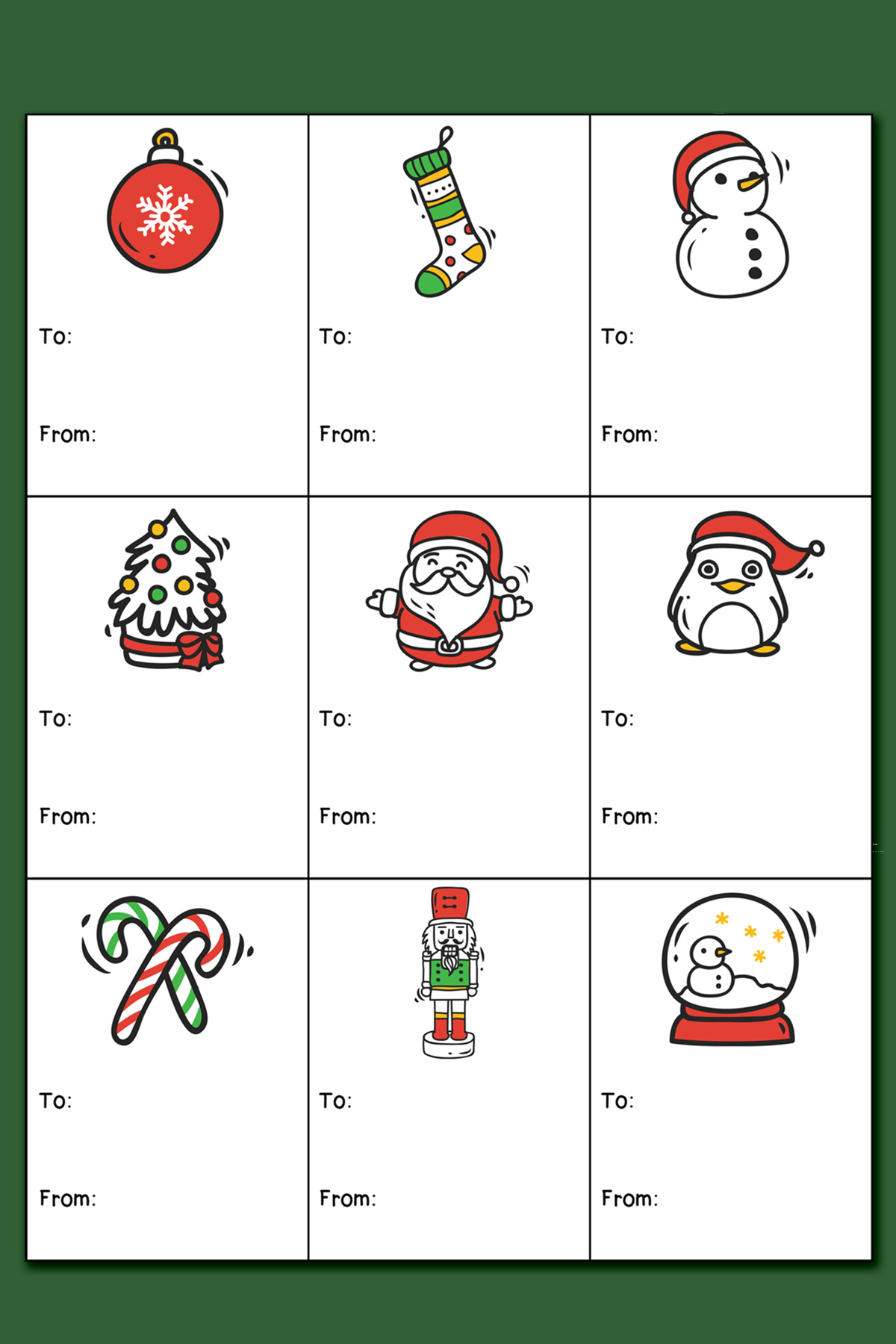 2 Ways to Use the Tags
One of my favorite things about this set of fun printable Christmas gift tags is that you can use them in two different ways. If you need a hanging gift tag or a sticker gift tag, you're in luck because these work for both options.
Hangable Christmas Gift Tags
To create a hanging Christmas tag, you'll need a hole punch, string, and card stock. Print whichever of the pages of tags you want (or all of them). Cut out the tags, hole punch them in the top left or right corner, and use string to tie the tag onto the gift.
This option is great for gift bags or even tying the tag right onto a gift without wrapping it (perfect for large gifts like a bike).
Christmas Sticker Labels
Would you rather have a Christmas label-style tag? Simply print the page (or pages) that you desire. You need to print it on sticker paper. You can print it on white sticker paper or clear sticker paper.
Christmas gift labels make wrapping gifts so much quicker.
What Type of Paper Should I Use?
For the best results, I suggest printing the tags on white cardstock or sticker paper. Do not print the tags on kraft paper or other color card stock – the images will not be the best quality when printed on a different color.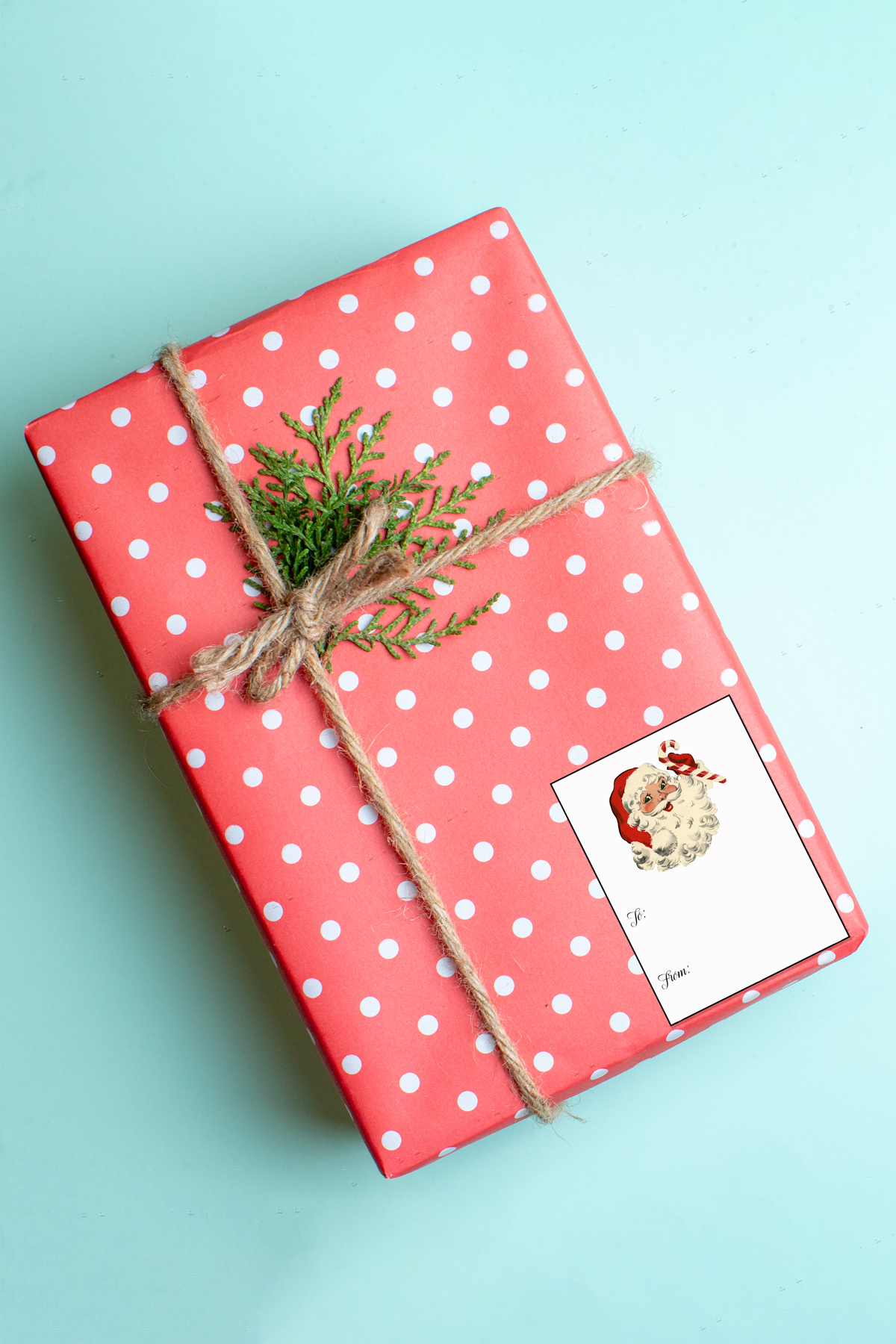 What File Types are Included?
You are getting multiple file types included in this set.
JPG Files
PDF Files
Silhouette files
Cricut-Ready PNG files
Can I Print and Cut them Using a Craft Cutting Machine?
Yes! As stated above, it comes with both Silhouette Studio files and Cricut-ready files. The Cricut files can be uploaded into Design Space but you'll need to resize them down because it always imports larger than the actual file.
Is Ink Getting too Expensive?
I know that sometimes even free printables can be a little extra cost because of the ink. You should see whether or not the HP Ink Program is worth it for you. I've been using it for years and it's saved me hundreds on ink.
How Do I Get the Free Download?
You can get access to this set of free printable holiday gift tags right here or at the bottom of this post. To be able to download them, you will need a free members-only password. You can sign up by e-mail here to get your members-only password.
Want More Free Christmas Printables?
Mom Envy has lots of free printables perfect for Christmas. It includes these adorable Free Printable Santa Gift Tags.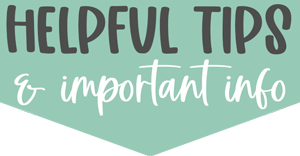 Tips for Downloading the Free Files
Below is an arrow that says Download Below. Underneath that is a large image that says Click to Download the free files.
Once you click that, you will enter the members-only password and click submit.
The page will reload the same image and now when you click the image that says Click to Download the free files, it will open the Google Drive folder containing the free files.
How do you get a members-only password?

You can sign up here to be a free Mom Envy club member.
The password will be sent to you within a few minutes. Make sure to check your spam and/or junk folder if you don't see it.
Already a member but forgot the password? Don't sign up again. Look at the end of any newsletter from me for the free password or just send me an e-mail here: [email protected]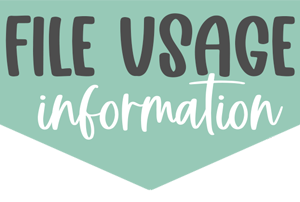 Copyright MOM ENVY 2022. Files may be used for personal use only. No commercial use of the file is available. Files may not be directly shared within Facebook groups, on websites, or in any other way. If using for educational purposes, the file may be printed and copied for classroom use. A link to the web page to download the files may be shared as well as one photo. The file may not be printed and then sold (including local yard sale sites and groups or at local craft fairs). The images may not be used in any way other than to share with a link to the original web page.