This Christmas tags from Santa printable set will make your life so much easier this Christmas season. The holiday season is stressful enough without having to worry about the consistency of your Christmas tags.
Are you tired of trying to copy the same Santa Claus signature each year for all of your Christmas gifts? Does your hand hurt from having to sign every Christmas tag? Are you worried every Christmas morning that this will be the year your kid realizes he recognizes the signature on the gift tags under the Christmas tree?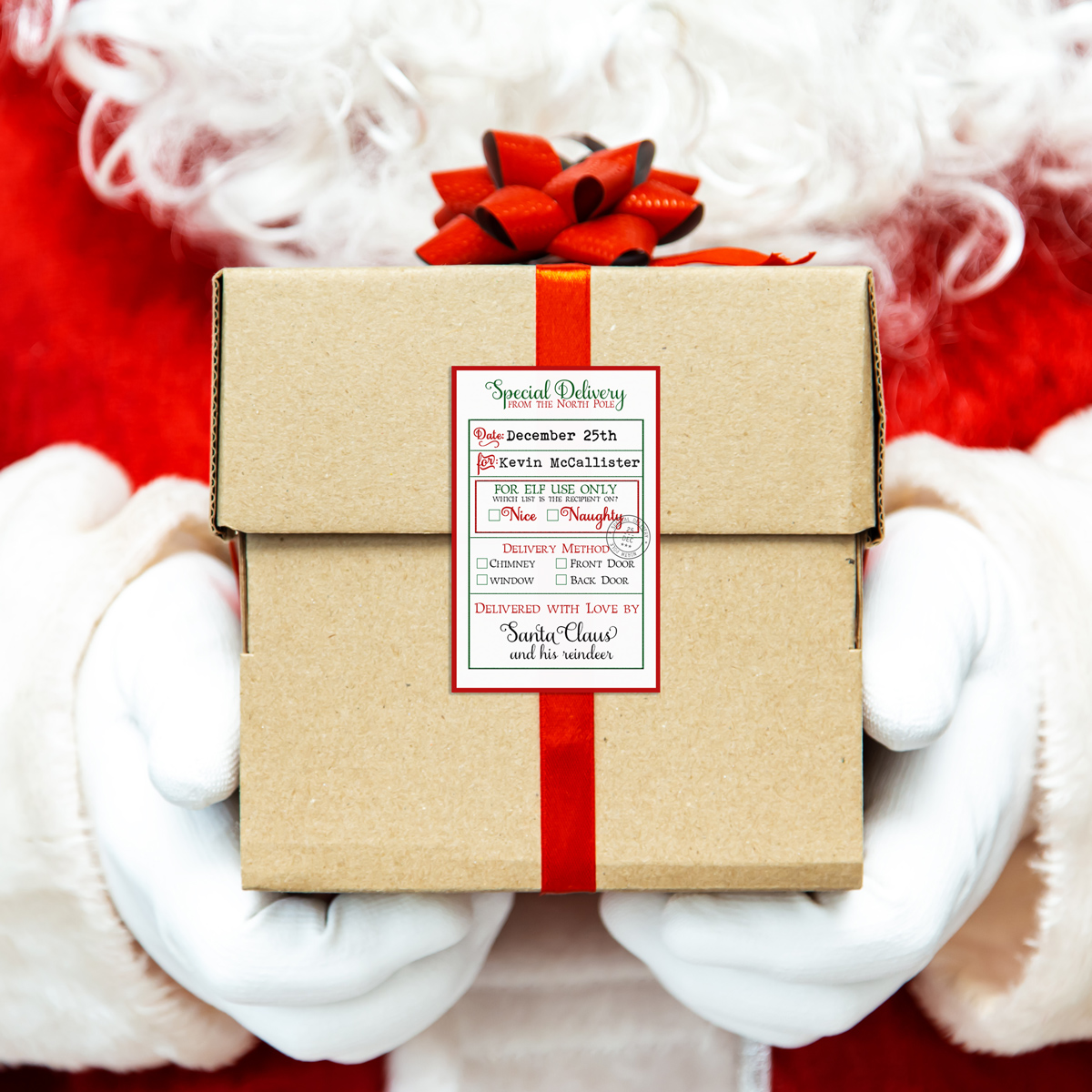 Or maybe, you just want to make wrapping presents easier since it already takes so long to put a tag on each wrapped gift. As our boys got older, I suddenly began to worry about everything matching. Whatever reason you are looking for Christmas tags from Santa, these are a great option.
They are made to look like special delivery gift tags from the North Pole. They have a faux date stamp like the post office stamps letters. They're the perfect gift tag that screams Merry Christmas with their red and green color scheme. They'll definitely match many different types of Christmas gift wrap. Look how cute they look with super simple brown paper.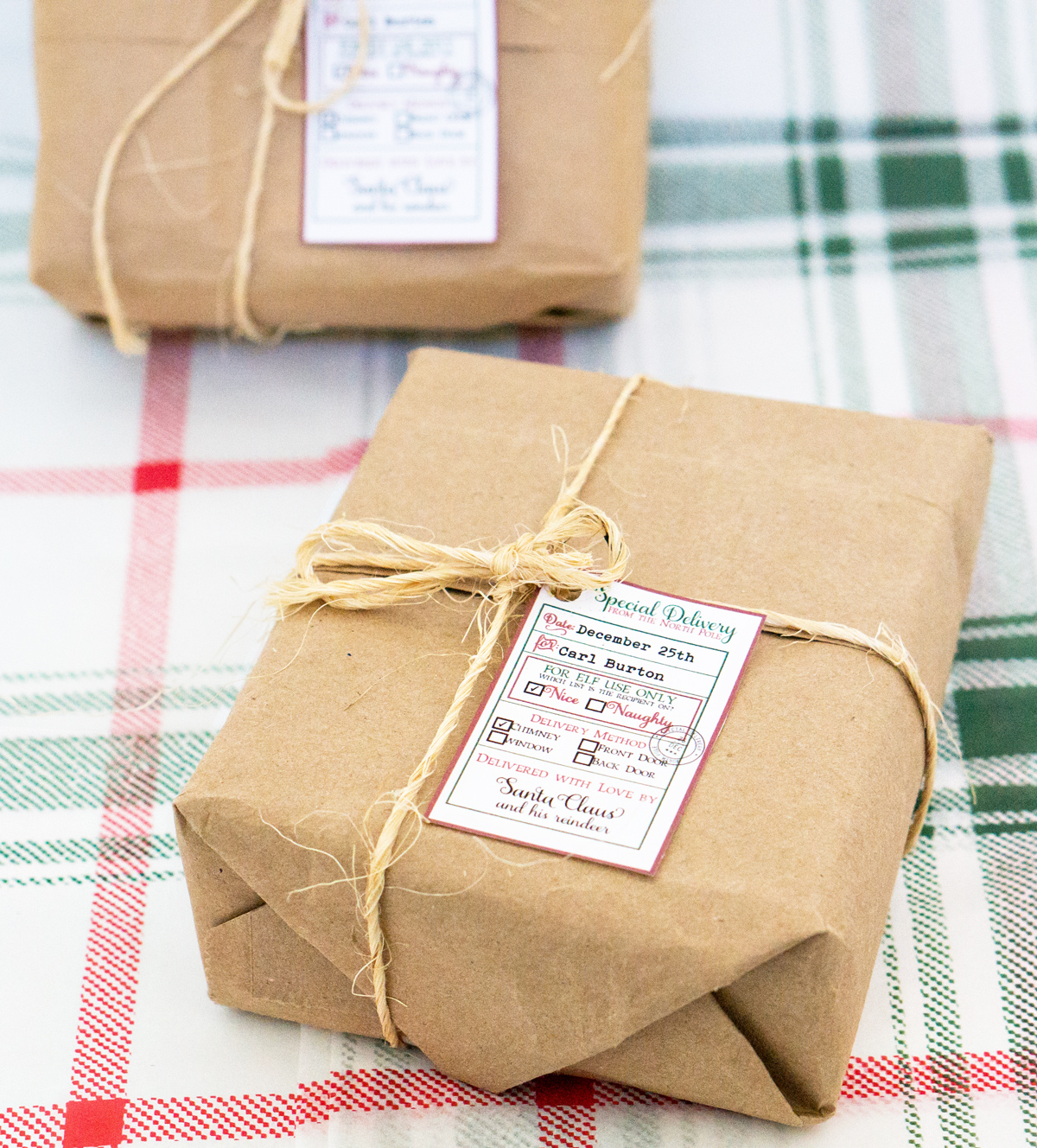 Making Christmas Wrapping LESS Stressful
When our oldest son was born, we started to use Santa wrapping paper only for his presents (as suggested by my Mom). But we still wanted to make his presents special by adding gift tags to each present.
A couple of years of Christmas holidays with children and we realized that we needed to find a solution to make it easier when it came time to wrap presents. That is when I created these fun printable Christmas gift tags for us to use.
These free printable Santa gift tags are a great way to make your life easier each Christmas season. They look like they come directly from the North Pole and will add a little magic to Christmas day.
Believe me, when you're up late on Christmas Eve trying to finish wrapping every Christmas package, you'll be so glad you had these free Santa gift tags.
Customizable Christmas Tags
The free printable Christmas gift tags are completely customizable. You can enter your child's name and check off how Santa enters your home.
Only a Check Mark is Required
The only handwriting you'll have to do on these free gift tags is a check mark. You'll need to mark off which way Santa arrived to your house (by chimney, front door, back door, or a window).
Then, you'll check off whether or not your child has been naughty or nice. While I would have just checked off nice assuming that is what most parents would put on their free printable gift tags, I wanted to make sure that the check marks were consistent. Again, we're trying to keep the Christmas magic alive which makes consistency so important.
Hole Punch or Stickers – You Pick
This set of free printable Christmas tags comes with two options.
One option has some more space at the top left corner. This one is to print on white cardstock and use a hole punch to punch a hole in the top left corner. This is what the hanging tag option looks like.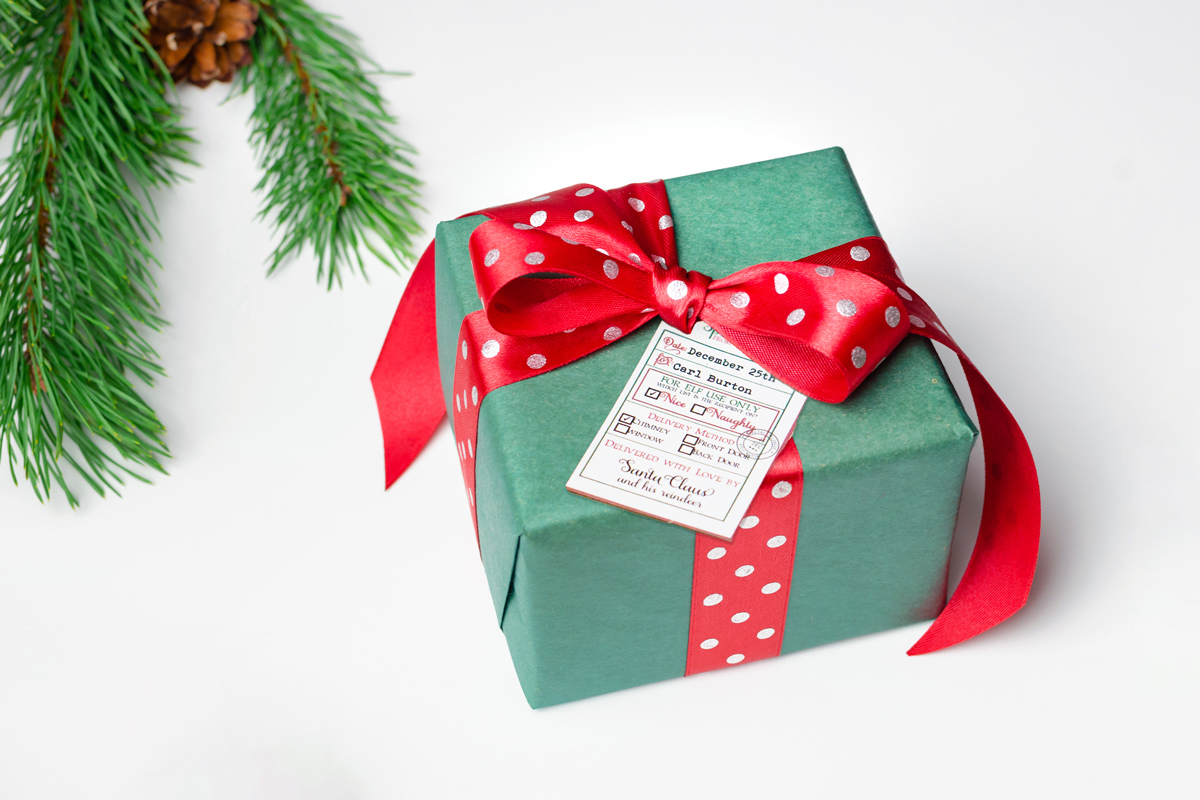 The second option does not have that space. Instead, it is meant to be printed on sticker paper. This is my favorite method because it makes it really easy to add the tags to the Christmas presents. This is what the sticker version looks like.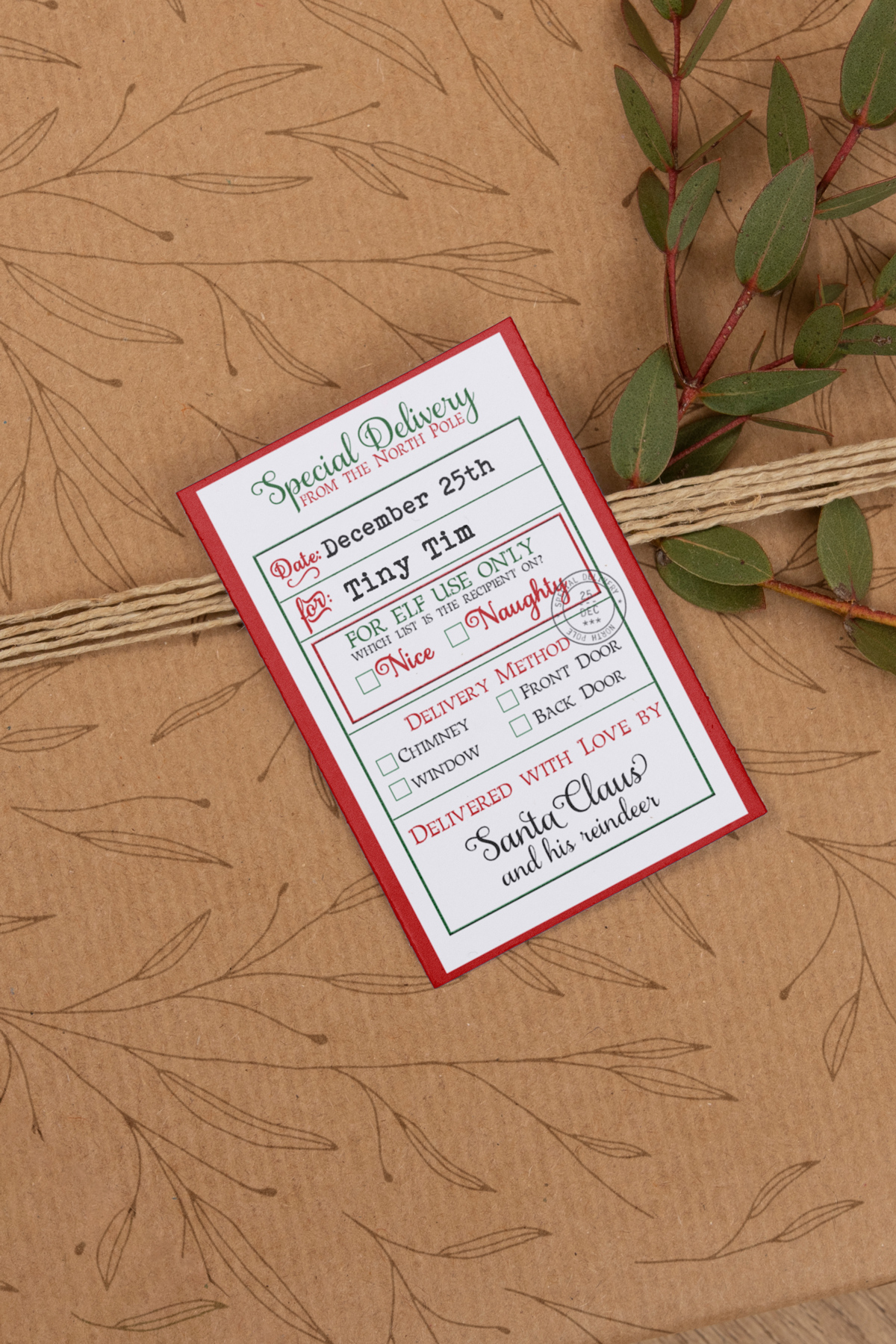 As an Amazon Associate, I earn from qualifying purchases. I am also an affiliate for xTool, the HP ink program, ShareaSale, and CJ Networks. Click here to read more.
Secret Santa Exchanges
In addition to using these gift tags with children, they are also perfect for Secret Santa gifts. Just like with kids, you may want to hide your hand writing.
These printable files are a fun way to help keep your secret. You can print these gift tag to use for your secret Santa gift exchange. Just like with the kid's tags, you can customize them with recipient's name.
Coordinating Free Printables
The magic of Christmas can be difficult to keep alive now with all of the extra Elf on a Shelf antics. That's why in our household, I have created all of these printables to coordinate with each other.
You can get the following coordinating free Elf on a Shelf printables to go match your gift tag. This way they all look like they came from the North Pole.
What Size Paper Do I Need?
The gift tags should be printed on US letter size paper. If you are using another size paper, the free printable holiday gift tags will just be a different size.
What File Types are Included?
You'll get 2 fillable free printable PDF files. One file is meant to be used as stickers and the other is meant to be used as a hanging gift tag.
In addition, you will get Cricut and Silhouette Print and Cut ready files. Unfortunately, these are not fillable. You will need to download the following font to personalize it. Since you will be using it for personal use, it is free to download.
For the Silhouette files, you have two versions included. One is the original sized gift tag. The other is a smaller version that can get you more gift adorable gift tags per page.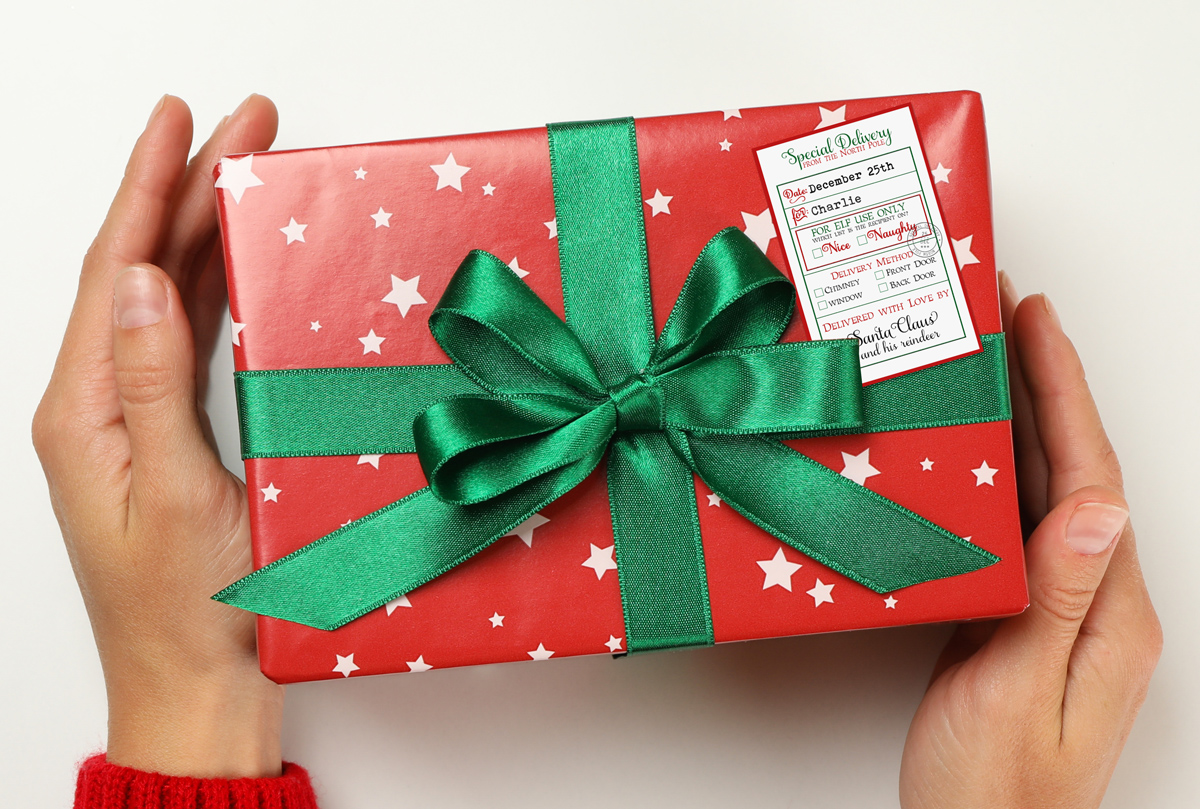 What is Required to Use the Free Printable Tags?
You won't need much.
Gift tag file (get at the bottom of this post)
Printer
Scissors (or craft cutting machine)
White card stock OR white sticker paper
You could use standard printer paper to make the gift tags BUT the white card stock will really make a difference in the quality of the free Christmas tags. And using stickers to make holiday labels makes it really easy to add these to presents.
Tired of spending a lot of money on ink? Check out whether or not the HP ink program is worth it. I have it and it has saved me SO much money.
Organize your Christmas Gift List
Grab this set of free Christmas gift list printables.
More Free Christmas Printables and Content
Christmas is my favorite time of year which means I have TONS of Christmas content. Check out all of my free Christmas printables and content here.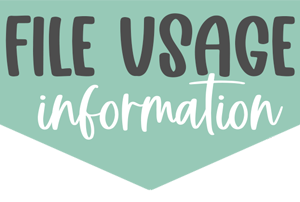 Copyright MOM ENVY 2022. Files may be used for personal use only. No commercial use of the file is available. Files may not be directly shared within Facebook groups, on websites, or in any other way. A link to the web page to download the files may be shared as well as one photo. The file may not be printed and then sold (including local yard sale sites and groups or at local craft fairs). The images may not be used in any way other than to share with a link to the original web page.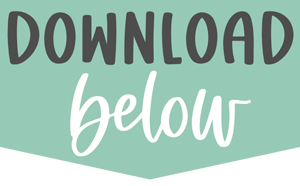 If you are already a member, you can access the Christmas Tags from Santa printable set here.