This adorable sloth handprint craft is the perfect Mother's Day handprint craft. It's a sweet way for children to create their own Mother's Day gift or Mother's Day card for their Mom, Grandma, Aunt, or another mother-like figure they want to celebrate in their life this Mother's Day.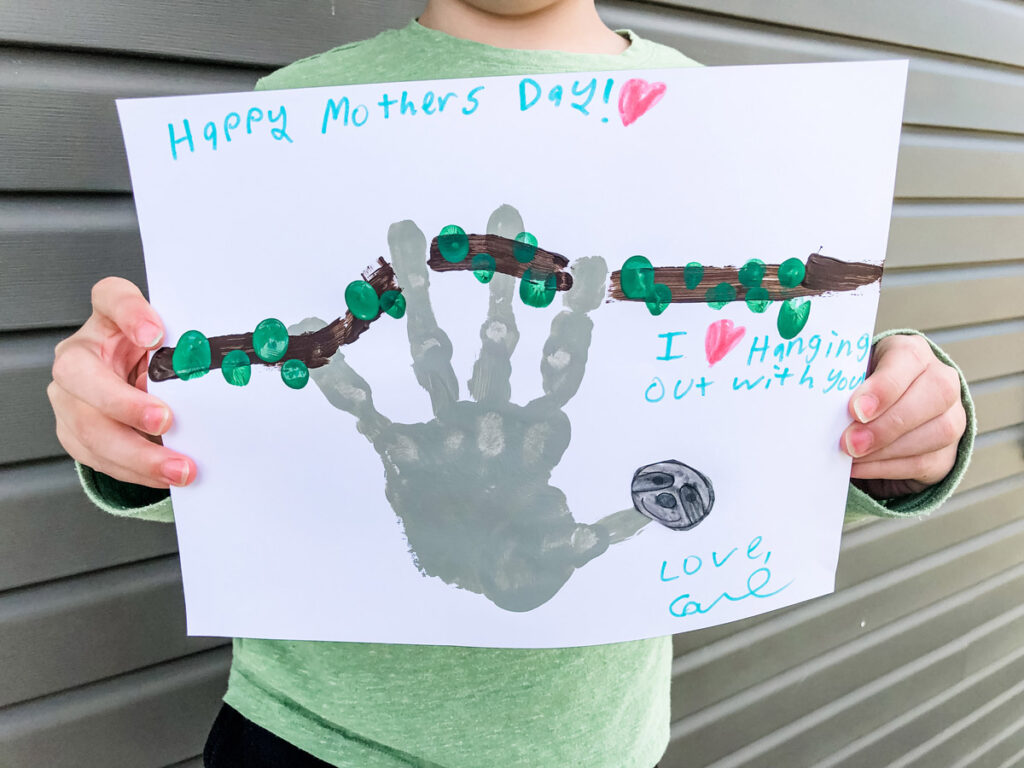 Handprint crafts are one of my favorite ways for children to make homemade gifts. Younger children may still be working on their fine motor skills and may not have the dexterity to write even their names yet.
But, as a Mom, I want my child to be included in making their craft gifts for others. Using a child's handprint lets them be involved even if they are not writing or even drawing yet.
Handprint crafts work for older children as well! They really are for kids of all ages. For this craft, both my 7-year-old and 9-year-old were easily able to participate.
Above is the example from my 9-year-old (notice, he's learning to sign his name in cursive). But here is the same craft but with a slight variation from my 7-year-old.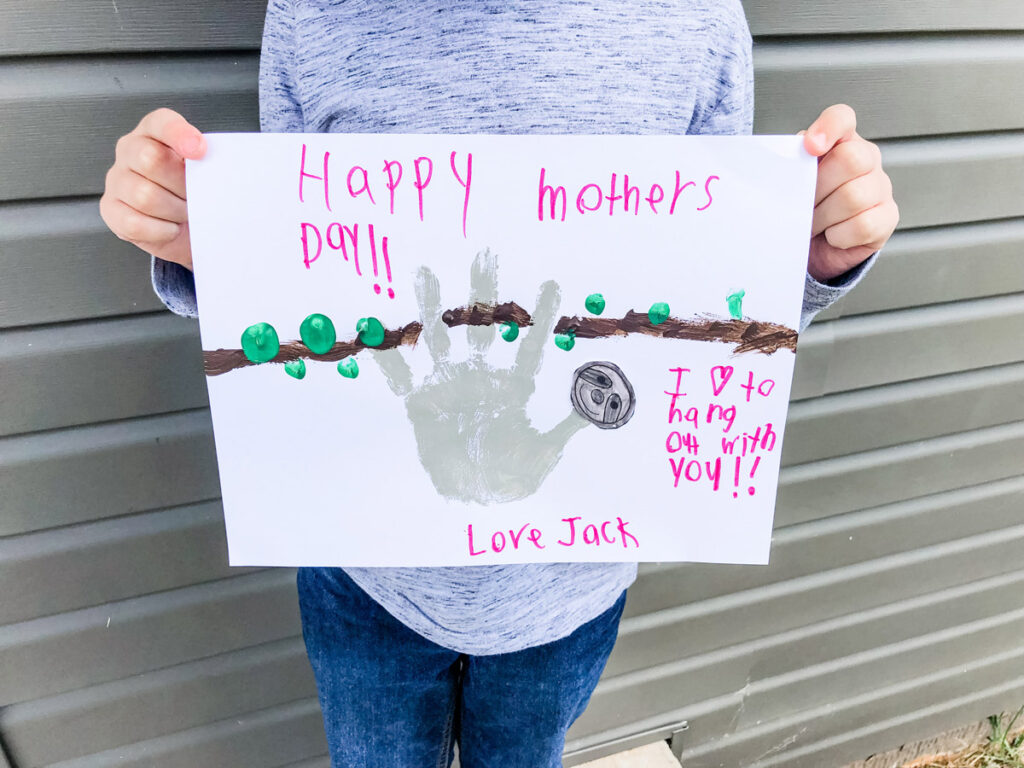 Simple crafts are the way to go for Mother's Day
Whether you are a classroom teacher, daycare provider, dad, Mom making a craft for the Grandmas, etc. choosing an easy Mother's Day craft is the right choice for Mother's Day.
At times, crafting with kids can be stressful. If the craft is super involved or takes forever, it's hard to keep children's attention. And if you're doing the craft with multiple kids (or an entire classroom full of kids), you don't want the craft to be too complicated.
This handprint craft takes only 3 paint colors and very little time to dry. Plus, the kids can do the majority of the craft without help once you have their handprints. Children can even paint their own fingertips green to make the leaves.
Worried your child can't draw a sloth's face?
No problem! There is no need for your child to draw their own sloth face (although they totally can if they want!) I have included a free printable sloth face template.
There are two different sloth face sizes. If you have a younger child, I suggest printing the smaller sloth face to fit the size of their handprint better. There is a page you can print with both sizes if you are working with multiple children of all ages.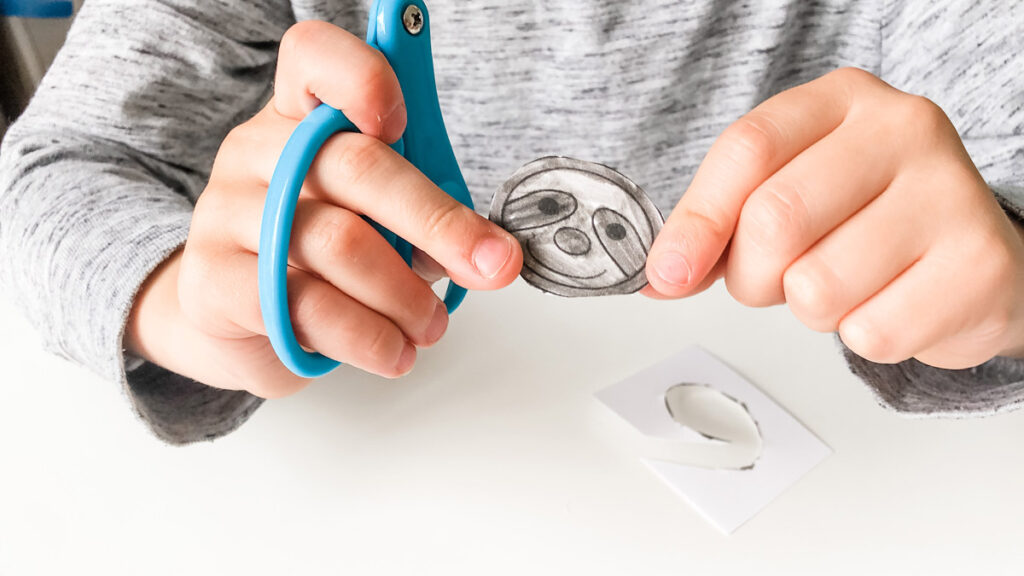 As an Amazon Associate, I earn from qualifying purchases. I am also an affiliate for xTool, the HP ink program, ShareaSale, and CJ Networks. Click here to read more.
Variations for the Mother's Day message
There are a couple of great options for messages to pair with your handmade Mother's day craft. You could go with the message we used or go with another one. Here are some possible ideas.
I love hanging out with you! (our message)
I love you slow much!
Relax and take it easy – you deserve it!
Wishing you a chill Mother's Day!
Hanging out with you is the best!
I like you more than naps!
Hang in there Mom, you're doing a great job!
Tips for getting a good handprint
Sometimes it can be hard to get a good child's handprint for handprint crafts. Children are pretty wiggly and sometimes don't enjoy having the paint on their hands.
If your child is young, practice making their handprint with paint first. This will get them used to the paint. If your child is very young (like a baby or toddler), make sure your child is happy at the time of the craft. If they're cranky, tired, hungry, etc. it will be much harder to get the handprint.
Make sure to cover the entire hand in paint and do not wait after painting on the hand. The paint dries out pretty quickly and dry paint doesn't make for good handprints.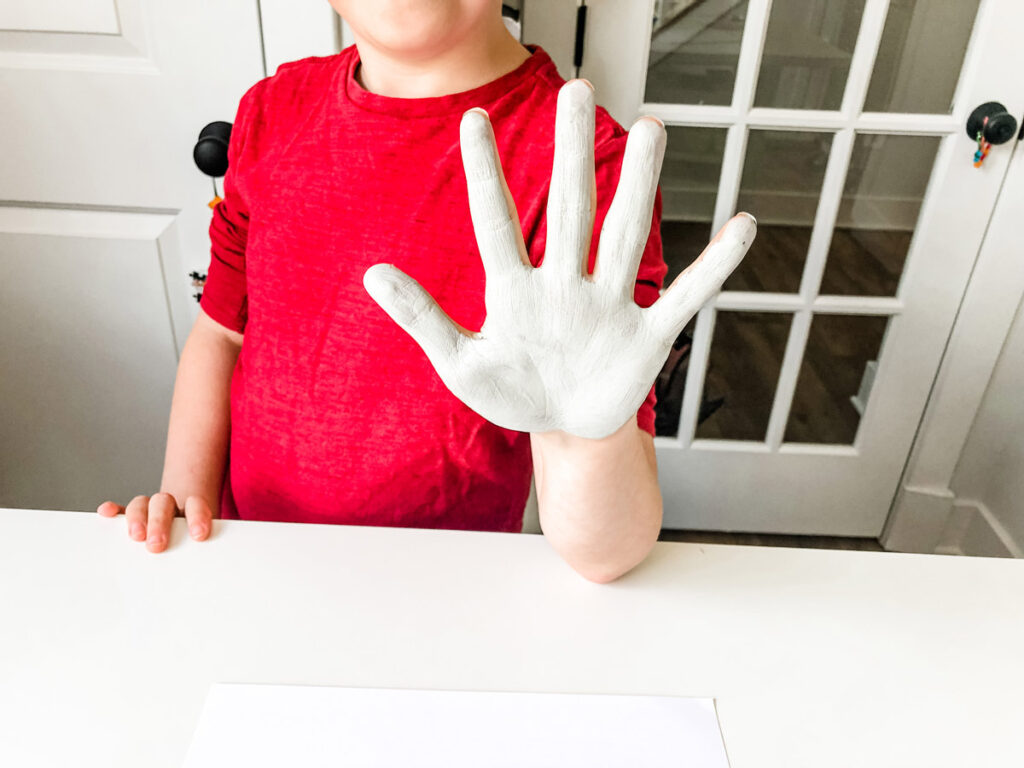 Press on the center of the hand and each finger when pressing the hand on the paper. It will help to make sure you get the entire print.
But, if you don't get the perfect handprint, that is okay! You can always fill in a bit with paint to make sure the sloth's arms are attached to their body (we had to do that on two of ours).
What is the best type of paint for the Mother's Day handprint craft?
My preferred paint type is acrylic paint. It is durable and works well to get in all of the crevices of the hand and fingers.
If you prefer a paint that is more kid-friendly, you can use Crayola's kid paint or other paint meant for kids.
What type of brush is best for creating handprint crafts?
When painting on little kids' hands, I find that using a foam brush is less tickly for kids. This makes it easier to get paint on a child when it's not tickling them so much.
I love this assortment of various size foam brushes – I always have them on hand for kid's crafts.
Want to make more of a Mother's Day gift than just a card?
For my example using the sloth handprint, we just used simple paper. But, you could do the same activity but make it more of a gift.
Here are some possible surfaces you could use for your handprint craft instead of paper. You'll need to paint on the sloth head for most of these surfaces.
ceramic plate (use acrylic paint)
tote bag (use fabric paint and fabric markers)
hand towel (use fabric paint and fabric markers)
apron
canvas
cloth pencil case or makeup bag
Video Step by Step Tutorial for How to Create a Mother's Day Sloth Handprint Craft
Directions for the Sloth Handprint Craft – Mother's Day Handprint Craft Idea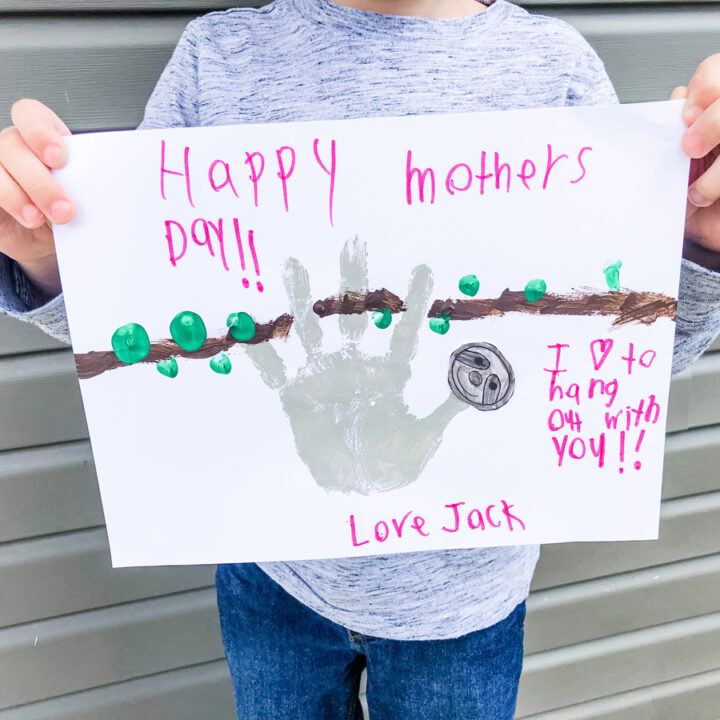 Sloth Handprint Craft - Mother's Day Craft
Yield:
1 Sloth Handprint Craft
Additional Time:
20 minutes
Help a child make this adorable sloth handprint craft for Mom or Grandma this Mother's Day.
Materials
Construction paper or cardstock
Gray or tan craft paint
Brown craft paint
Green craft paint
Markers
Glue stick
Free sloth face template
Tools
Paint brush
Paint tray or paper plate
Scissors
Instructions
Place paper on a flat surface.
Paint the child's hand with gray or tan paint using a brush.
Place the child's hand flat toward the bottom center of the paper.
Push the child's hand and fingers down to make sure they make good contact with the paper for a clear handprint.
Lift hand up carefully. Let paint dry for 5-10 minutes.
Use a paint brush to paint on a long tree branch that goes through the fingertips. Have it go across the first finger, skip the second finger, go across the third finger, and skip the fourth finger. This gives the effect that the sloth is holding on to the branch. See pictures or video for example.
Let paint dry for 5-10 minutes.
Paint the child's finger tip green.
Place finger tip on branch to make it look like leaves.
Repeat - add more green paint to the fingertip as needed.
Let paint dry for 5-10 minutes.
Color and cut out the sloth face from the template.
Have the child write or you write, "Happy Mother's Day! I love hanging out with you" somewhere on the paper.
Have the child sign their name if they can, if not write their name for them.
Notes
Prefer photos of each step instead of video? Scroll down below to check out the photos for each step.
Photo Directions for Creating the Sloth Handprint Craft
I know that sometimes videos are a little more difficult for people to follow. So here are the steps, in photo format, to how to make your own sloth handprint craft.