Easter hunts aren't just for kids – check out this lists of fun Easter Egg filler ideas for adults and teenagers. Easter baskets and egg hunts tend to end for most people by their twenties. By why can't adults act like little kids and have some Easter fun, too?
There are so many ways you can make an adult egg hunt happen. Host a neighborhood Easter hunt, have an extra egg hunt after the kids have their fun on Easter, a special Easter party with friends, etc. Adults will have so much fun – the competition gets serious when the eggs are filled with more exciting prizes than candy.
I have compiled a list of Easter egg filler ideas for adults. These ideas are for adults, teens, and some would even work for older kids.
I love to have a variety of items in the eggs that range in price value. It makes the search a bit more intense as everyone is racing for those plastic eggs with the gift cards and higher-value dollar bills.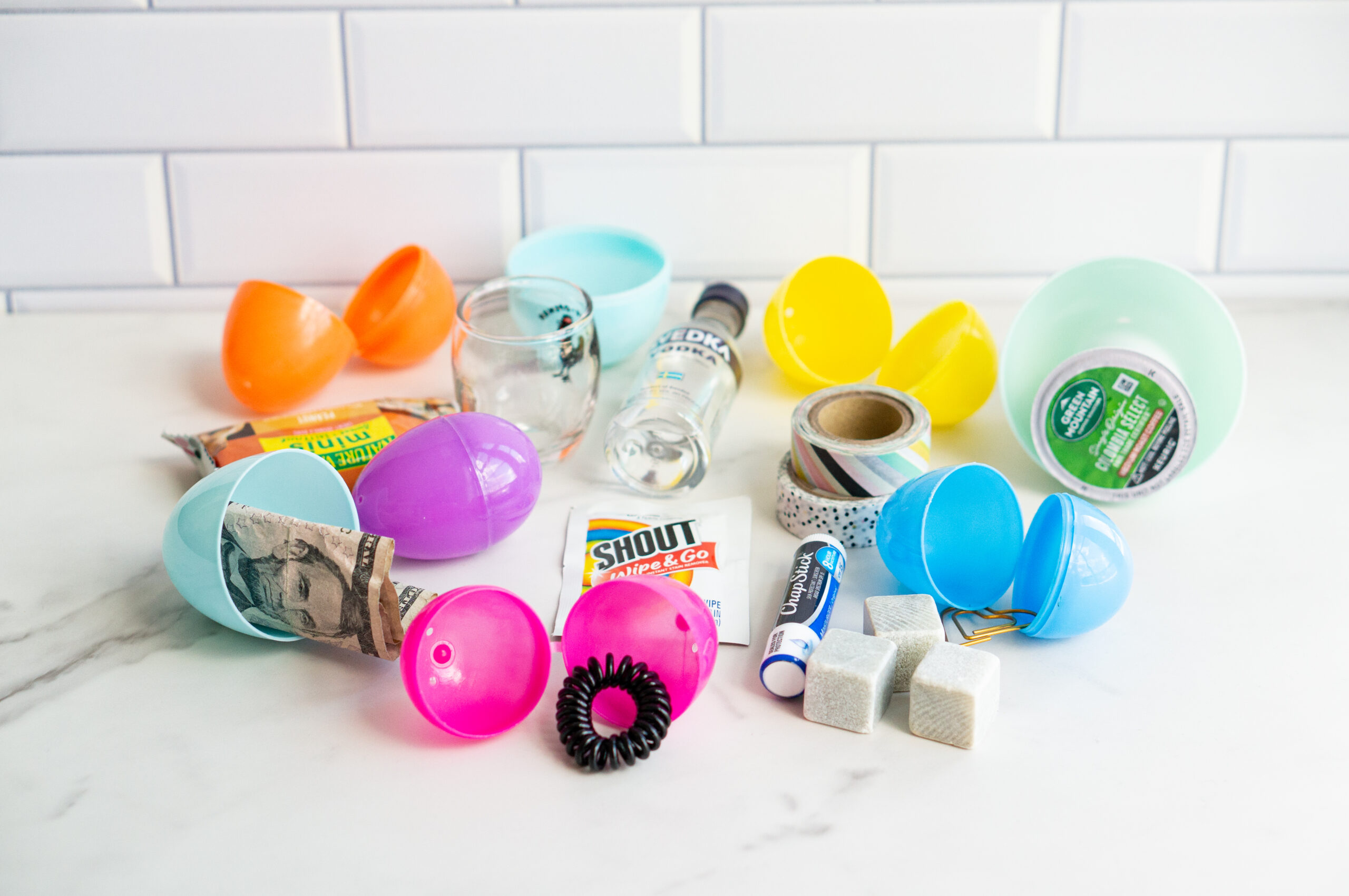 As an Amazon Associate, I earn from qualifying purchases. I am also an affiliate for the HP ink program, ShareaSale, and CJ Networks. Click here to read more.
What Size Eggs to Use?
You can use any size plastic Easter eggs you'd like. I prefer to use different sizes so that I can vary the items that I put inside of the eggs. I buy a mix of smaller and larger eggs. My list has items that can go in either a standard egg or jumbo egg.
Do Gift Cards Fit into Plastic Eggs?
In short, no. My experience is gift cards do not fit in most plastic eggs including the jumbo eggs. Gift cards fit ONLY into the SUPER jumbo eggs.
I know that gift cards are high up on the list for most adult Easter egg hunt lists but when I tried them, they didn't fit into any of my jumbo eggs. And you can't bend a plastic gift card or it will damage it and possibly become unusable.
Instead, I found that using paper gift cards (buying an egift card and then just printing out the card) was the better solution than using such big eggs. If you are planning to use plastic gift cards, just search for the biggest plastic eggs you can get because they will not fit into standard jumbo Easter eggs.
Here is an example of a gift card in an egg and how much larger the egg has to be compared to a standard plastic Easter egg.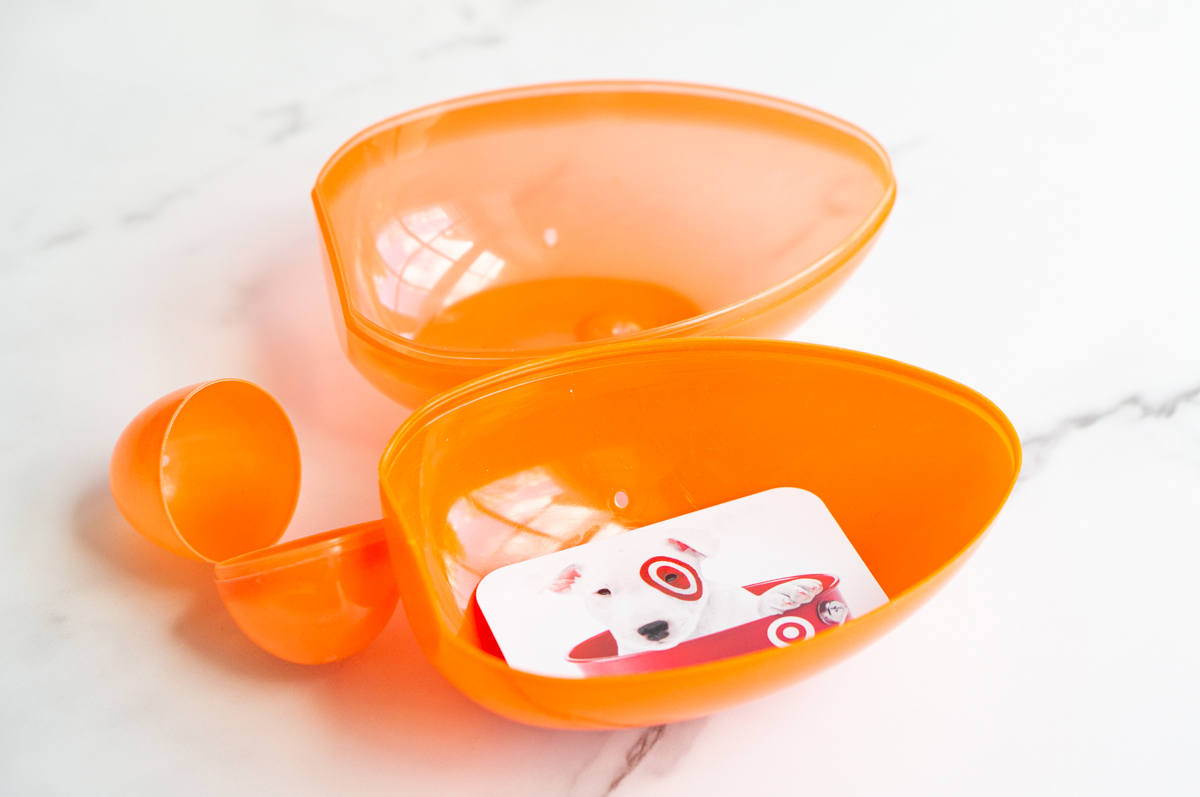 Know your Egg Hunters
There are a wide variety of fun ideas that may not work for everyone. When coming with your ideas, think about who will be hunting and what their interests may be (make up, golfing, tools, Lego building, etc.) The items on my list below have a huge variety and not all ideas will work for all people.
Have a Wide Variety of Items – Exciting to Not So Exciting
While everyone loves to get money and big ticket items in their eggs, it can be fun to mix in some not-so-fun items to get into an egg or embarrassing items. It adds to the fun of the adult Easter egg hunt.
Amazon List of Adult & Teen Egg Fillers
Want to start shopping for items on Amazon? Click here to check out my list of over 100 items you can buy from Amazon for adult & teen Easter eggs.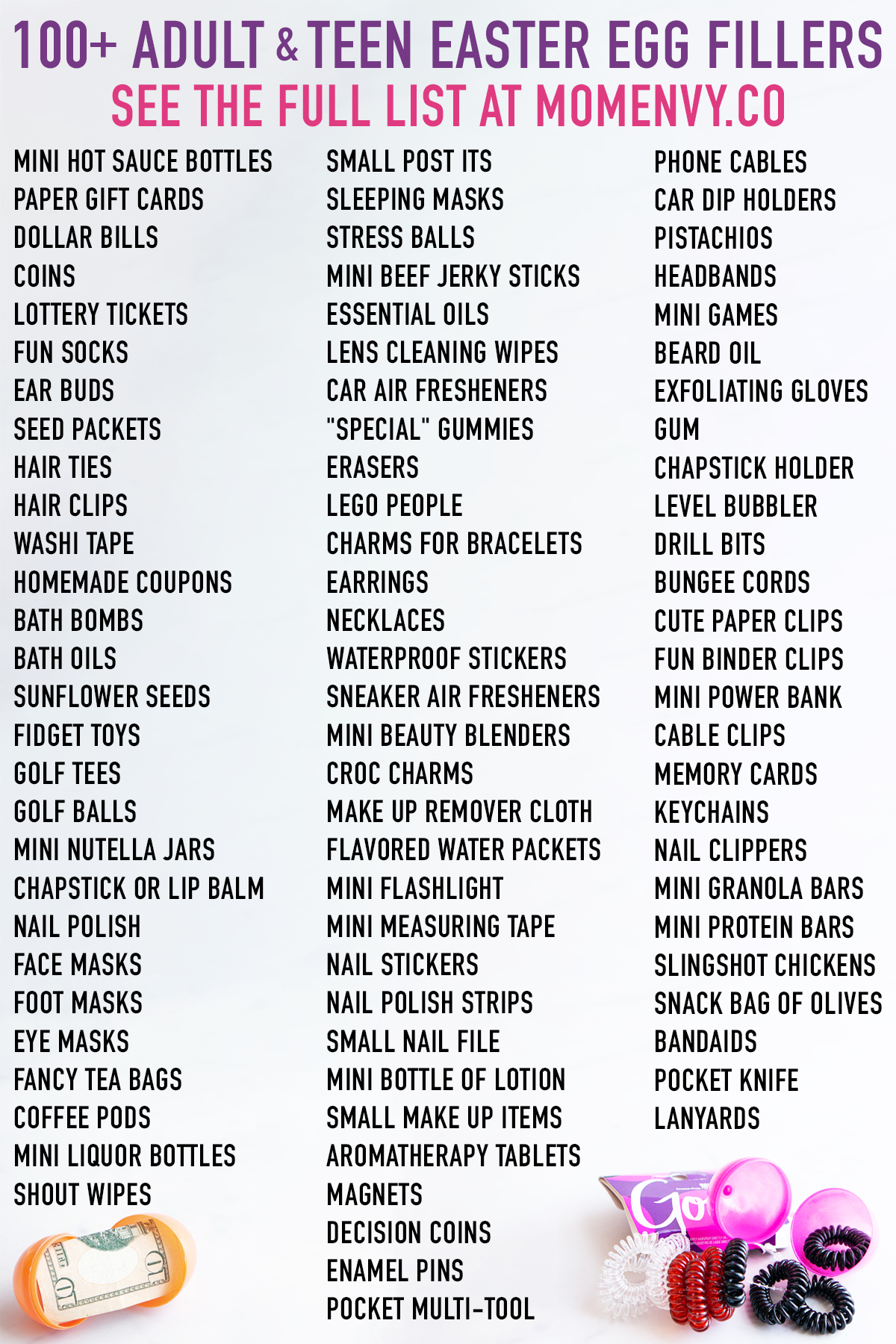 Easter Egg Filler Ideas for Adults
Edible Easter Egg Filler Ideas
Make sure to know all of your friends and families food allergies and dietary restrictions. You don't want your brother inlaw having an allergic reaction or your sober Uncle getting a mini liquor bottle.
Typical Easter Candy (jelly beans, fun size candy, etc.)
Mini beef jerky sticks
Sunflower seeds
Trail mix
Pistachios & other shelled nuts
Flavored water packets
Gum
Mints
Hard candies
Mini Nutella jars (fit in jumbo egg – you can find them at places like Target in their Easter section)
Mini bottles of hot sauce
Mini liquor bottles (will need to go into very large plastic eggs)
"Special" gummies
Mini granola bars
Mini protein bars
Dried fruit
Snack size bags of pickles
Snack size bags of olives
Fancy tea bags
Coffee pods
Non-Food Easter Egg Stuffers
Paper gift cards
Dollar bills
Coins
Lottery tickets (fit rolled up in jumbo eggs)
Fun socks
Ear buds
Flower seeds and vegetable seed packets
Hair ties
Hair clips
Washi tape
Homemade coupons (dish duty, free car wash, baby sitting duties, etc.)
Bath bombs
Bath oils
Fidget toys
Golf tees
Golf balls
Chapstick or lip balm
Nail polish
Face masks
Foot masks
Eye masks
Shout wipes
Small post its
Sleeping masks
Stress balls
Essential oils
Lens cleaning wipes
Car air fresheners
Erasers
Lego people
Charms for bracelets
Earrings
Necklaces
Stickers (waterproof ones for waterbottles)
Key chains
Croc charms
Lanyard
Magnets
Mini flashlight
Mini measuring tape
Nail stickers
Nail polish strips
Small nail file
Mini bottle of lotion
Small make up items
Aromatherapy shower steamers
Decision coins
Enamel pins
Pocket knife
Pocket multi-tool
Make up remover wipes or cloth
Phone cables
Car dip holders
Sneaker air fresheners
Headbands
Worlds Smallest Games
Beard oil
Exfoliating gloves
Chapstick holder
Level bubbler
Drill bits
Bungee cords
Cute paper clips
Fun binder clips
Mini power bank
Cable organizers/clips
Memory cards
Mini beauty blenders
Nail clippers
Condoms
Medicine
Corn cushions
Bandaids
Laundry pods
Dishwashing pods
Slingshot chickens
Grow a boyfriend
Grow a girlfriend
Mini toothpaste
Flossers
Hand sanitizer
Shot glass
Whiskey rocks
Bottle pourer spouts
Tea bag holders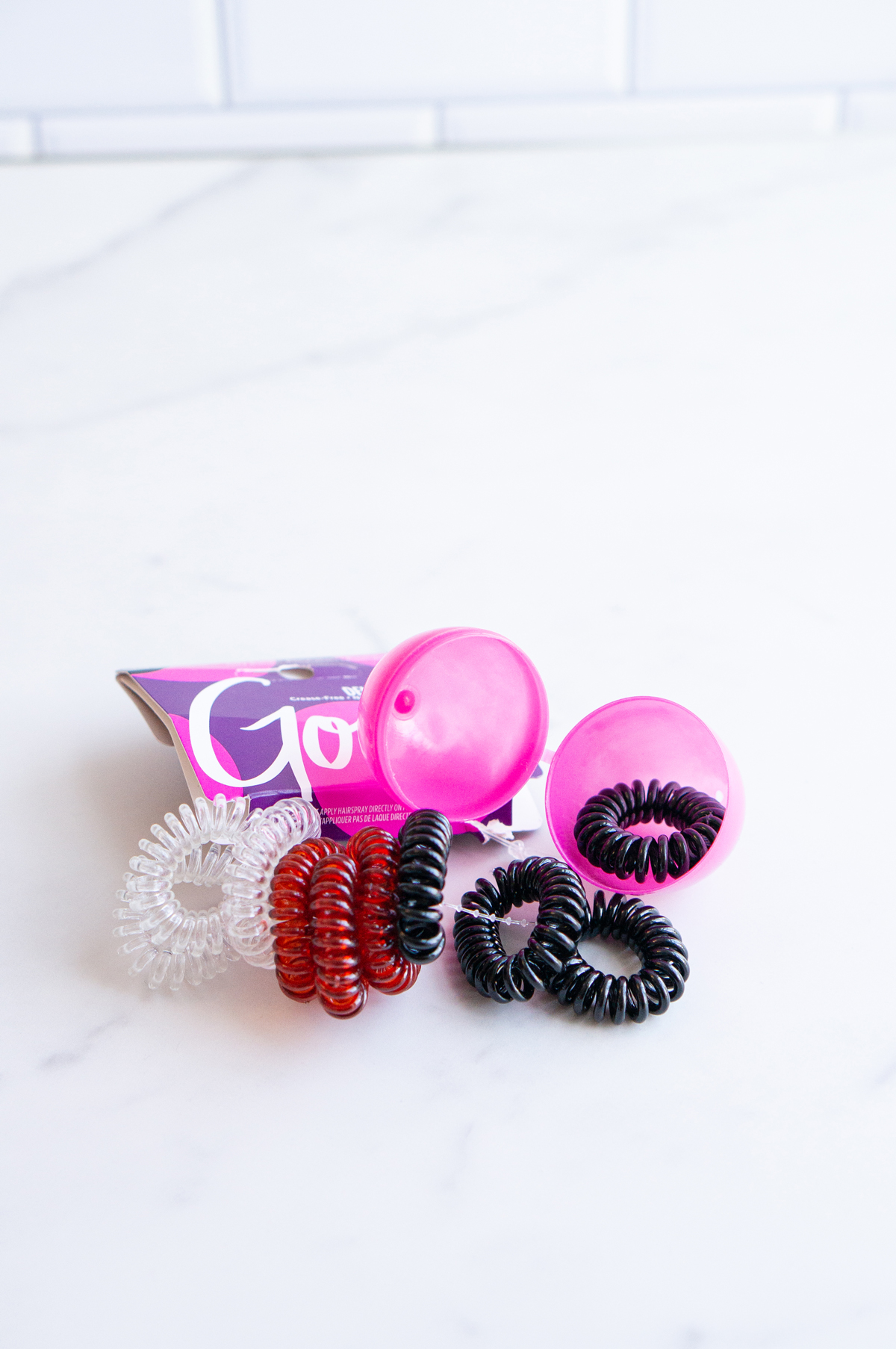 Easter Basket Stuffers
Many of these great ideas also work for Easter baskets, too! The smaller items work really well and fit great into Easter baskets for adults.
Share the Cost & Up the Variety: Everyone Fill & Bring Eggs!
Want to spread out the variety and the responsibility? Filling eggs with gift cards and money can add up quick. Have all of the adults bring a certain number of eggs and then have the kids hide the eggs or have one person to hide all of the eggs.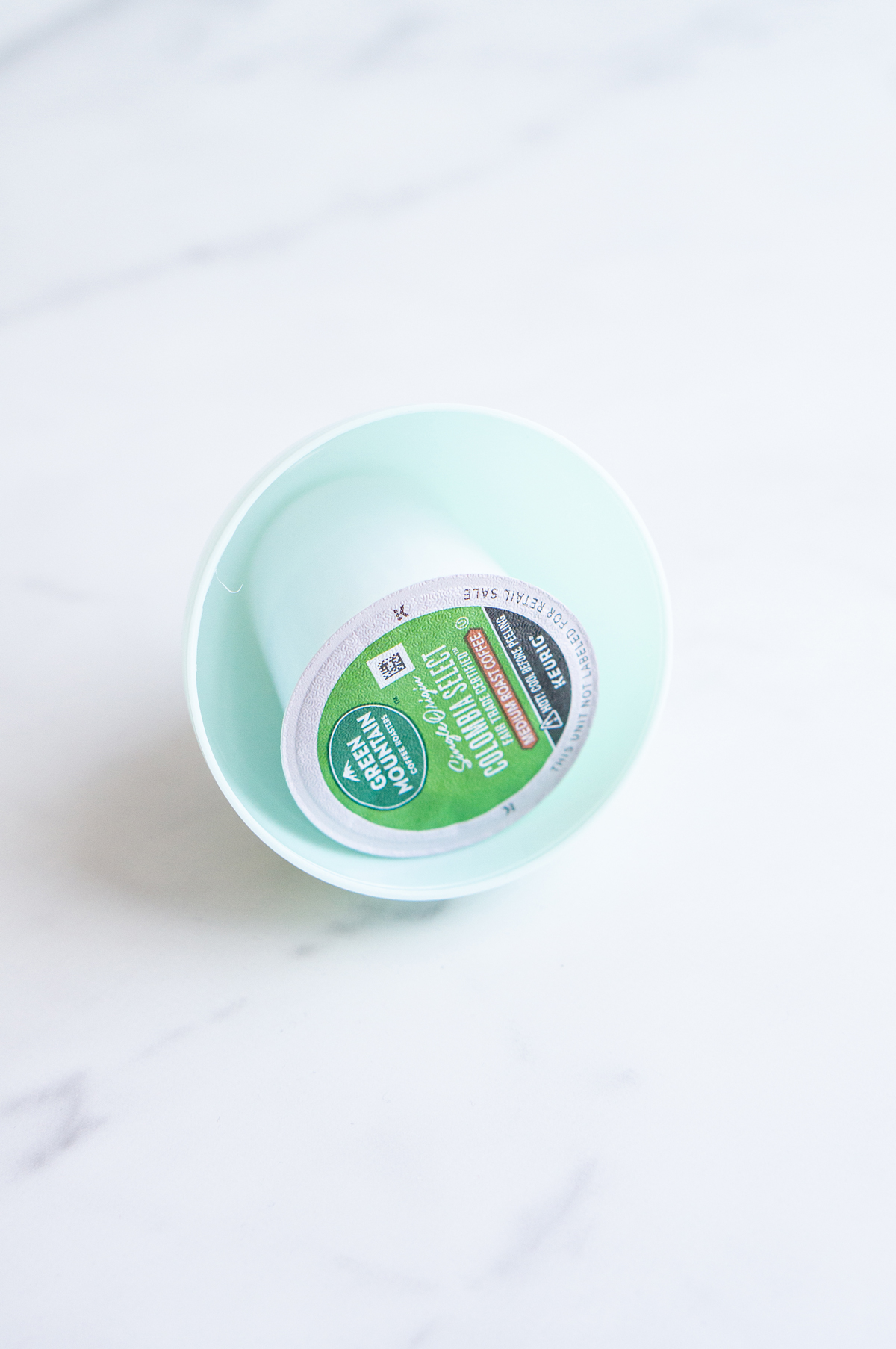 Will it Fit? Take a Plastic Egg Shopping!
When you are looking for egg fillers, it's a good idea to bring a plastic egg or two with you when you shop. I did this and it made it so much easier to determine what would fit.
I was shocked to see how off my visual perception was – some items I was sure would fit were way too large and other items surprisingly fit. It's best to have an egg with you to test so you don't waste your money.
What Stores are Good for Non-Candy Easter Egg Filler Ideas?
You can find small items anywhere for adults. While I normally suggest party favor sections for kids, it's a bit tricker for adults. You can honestly get small items for adult easter eggs in any store – you just have to be creative in your thinking.
Here are some of my favorite options for adult non-candy Easter egg fillers based on my experience..
Walmart
Target
5 Below
Craft stores like Michaels, Joanns, & Hobby Lobby
Make up stores (Sephora, Ulta, etc)
Home Improvement stores (Home Depot, Lowes, Tractor Supply)
Amazon
Dollar Stores
Word of Caution for Parties with Little Kids
Many of these items are a choking hazard or may not be safe for children to eat. I like to hand out large zip loc bags for the adults to empty the egg hunters to empty their eggs into. That way small children are kept safe.