Looking for quick Father's Day gift ideas? I have two perfect solutions for you today. One is a simple picture idea that can be done with kids or even animals. I am sure you have seen variations of this idea all over Pinterest.
Can't think of a larger gift for Dad this year? Then the second option is perfect. Create a gift basket thanking Dad for the many things he does for your family. I have am giving you free printable gift tags to attach to each little gift. In addition, I have some ideas for your basket below.
Picture Inspiration – Gift Idea for Father's Day
Grab the camera, some paper, and your kids for this next gift. It's a super simple way for the kids to tell Dad (or Grandpa) why they love him. In Kris' basket was this framed picture for his desk. You can even have the kids make Dad a frame to go with it. There are so many variations of this idea all over Pinterest. This is how ours came out: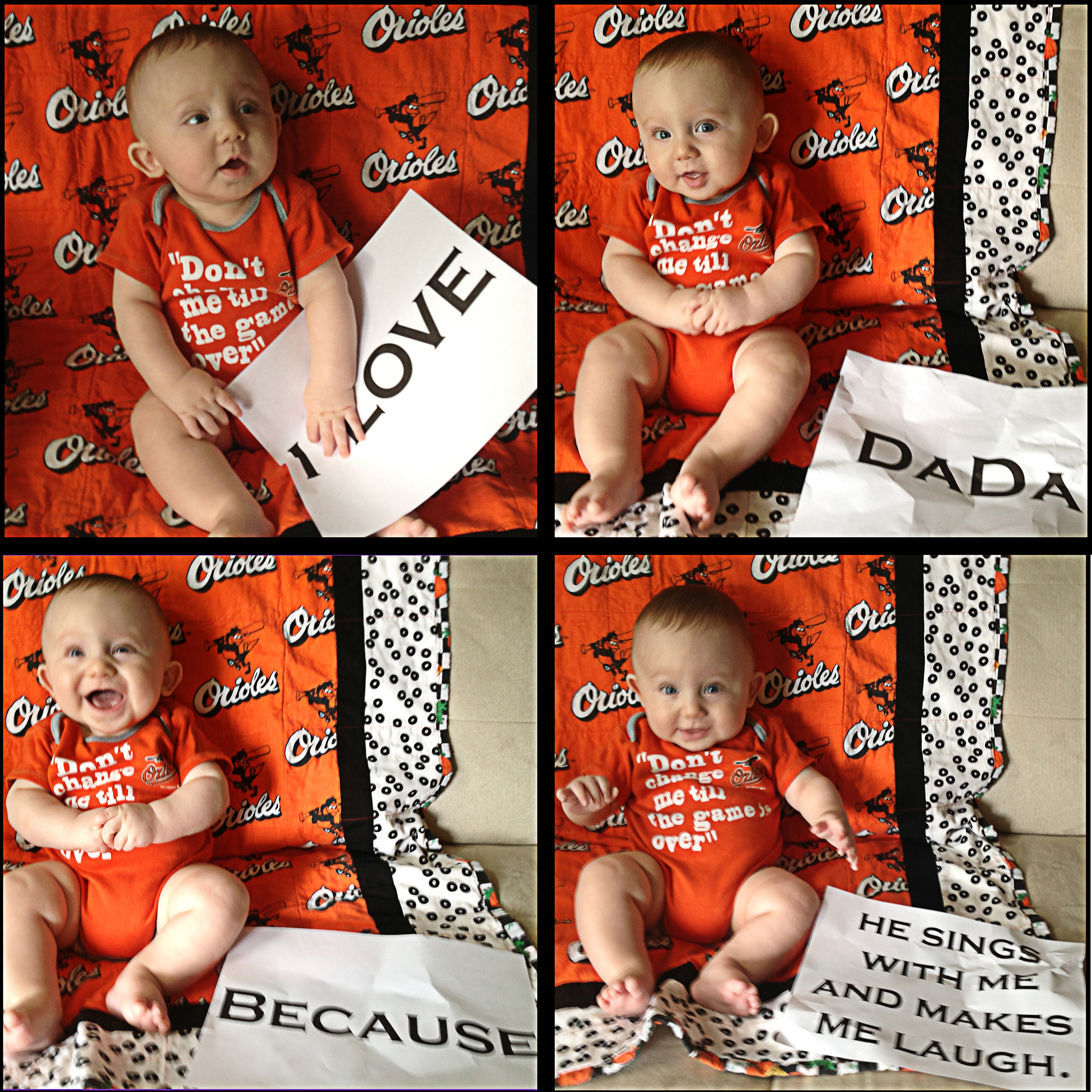 No surprise, I went with an Orioles-themed picture.
Thank You Note Tags
Last year, I gave Kris a giant Dad-themed basket. Each item related to something that Kris did for Carl. Attached to each gift was a little gift tag with a thank you note to match. By creating a gift basket, I was able to find lots of little things that reminded me of all of the wonderful things he has done as a father.
Here is what the basket looked like all wrapped up. of course, I didn't think to take a picture of it before I wrapped it.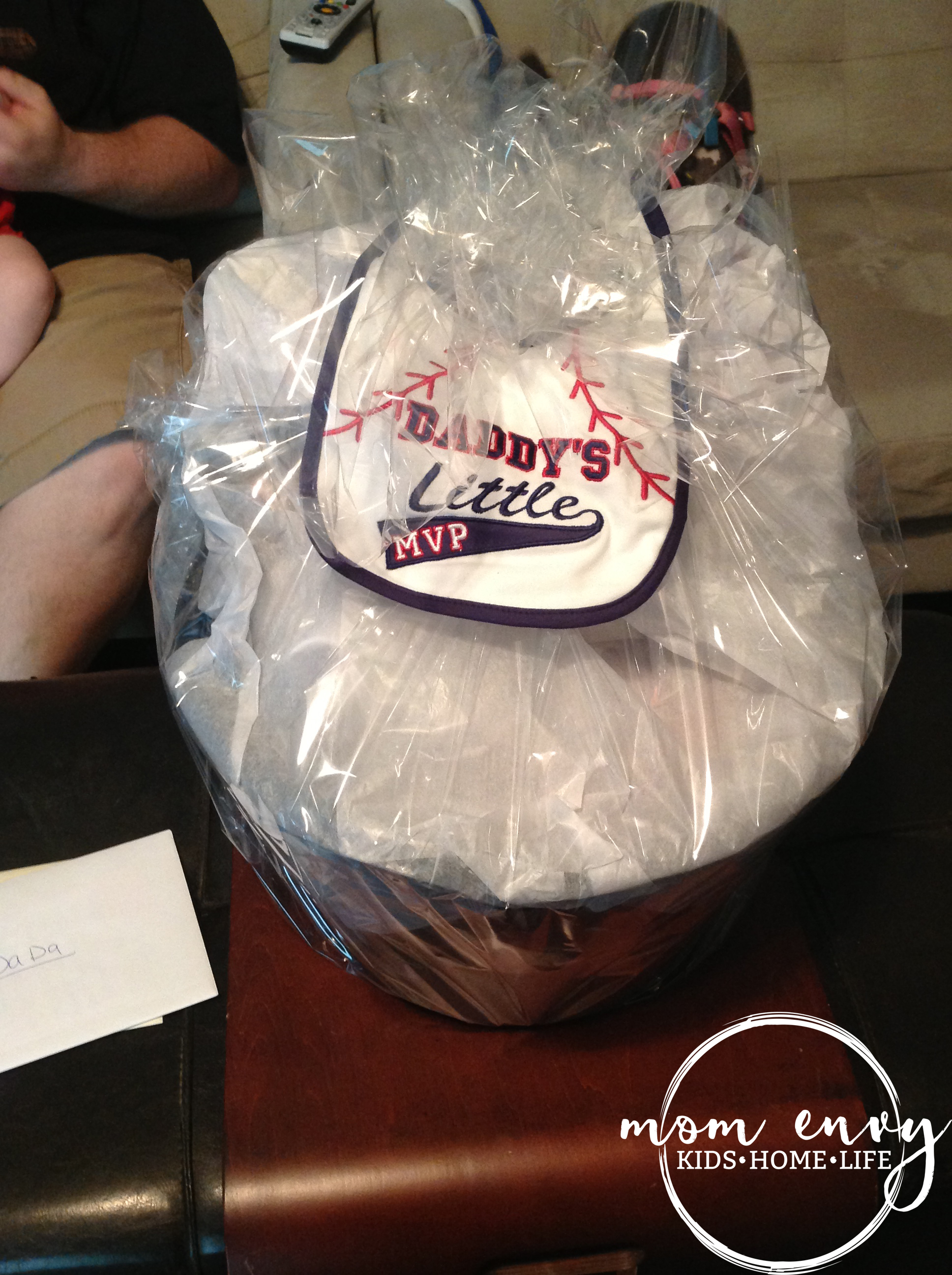 Here are a ideas for a basket from a little one: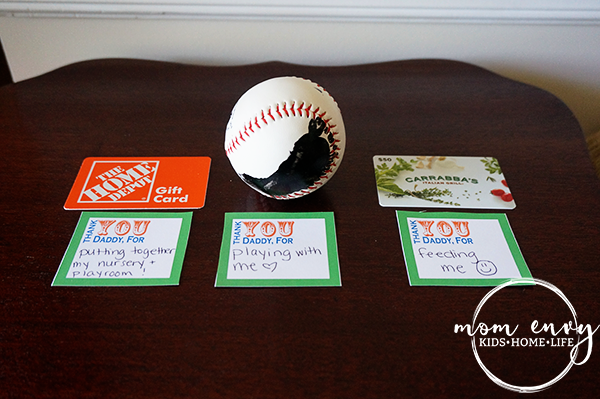 My favorite from last year was Carl's footprint on the baseball. Tiny baby feet are so cute!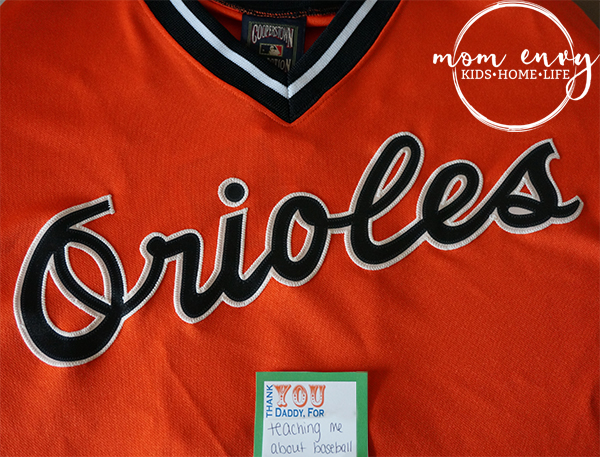 This year's big gift: a new Orioles Jersey.
Some other Examples:
iTunes Gift Card – "Thank you Daddy for singing to me."
Personalized Coffee Mug – "Thank you Daddy for all of the late nights you have spent rocking me to sleep."
Children's Book about Dads – "Thank you Daddy for reading to me."
Gum – "Thank you Daddy for being you. You were mint to be my Dad."
Donuts – "Thank you Daddy, I donut know what I'd do without you."
Golf balls – "Thank you Daddy, you are a hole in one."
It was so much fun coming up with little gifts that had a special meaning behind them from Carl and Cosby. If you have older kids, they could help come up with their own ideas to make it even more special.
I have shared with you a PDF of the labels. All you have to do is cut and print. I used a hole punch and ribbon or tape to attach the tags to the gifts.
Tips and Tricks for Printing
Print on cardstock for added durability.
Simply download the files below, unzip, and print the files.
Download Instructions
Click on the image below.
Unzip folder (right click folder and unzip/extract).
Print files or send somewhere to be printed!
For added strength, print on cardstock.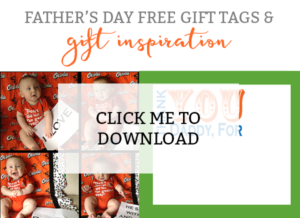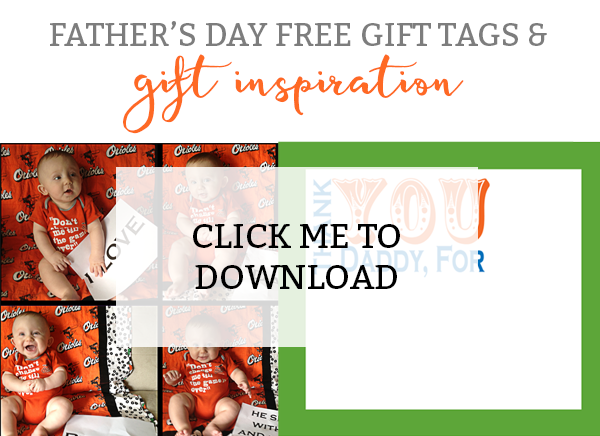 Save
Save