We've got you covered if you're looking for Happy Halloween printable tags. You'll get 102 free printable Halloween tags in just one digital download. With so many different designs, you're sure to find the perfect one.
Halloween gift tags are a great addition to goodie bags, bags of Halloween treats, a small gift, Halloween party favors, student gifts, and so much more. They are the perfect way to make favor bags, treat bags, etc., extra special.
As an Amazon Associate, I earn from qualifying purchases. I am also an affiliate for xTool, the HP ink program, ShareaSale, and CJ Networks. Click here to read more.
Throughout the year, I love to give small gifts to friends, neighbors, and my children's teachers. Halloween is such a fun time to gift people with treats (there are so many amazing types of bags of candy available this time of year). These cute tags will take your Halloween treat bag to the next level.
Another great way to use the gift tags is as party favors for Halloween parties. I always love to give a little favor to my guests at parties – you could add these tags to a bag of Halloween candy, tie them onto a bundle of glow sticks, and so much more.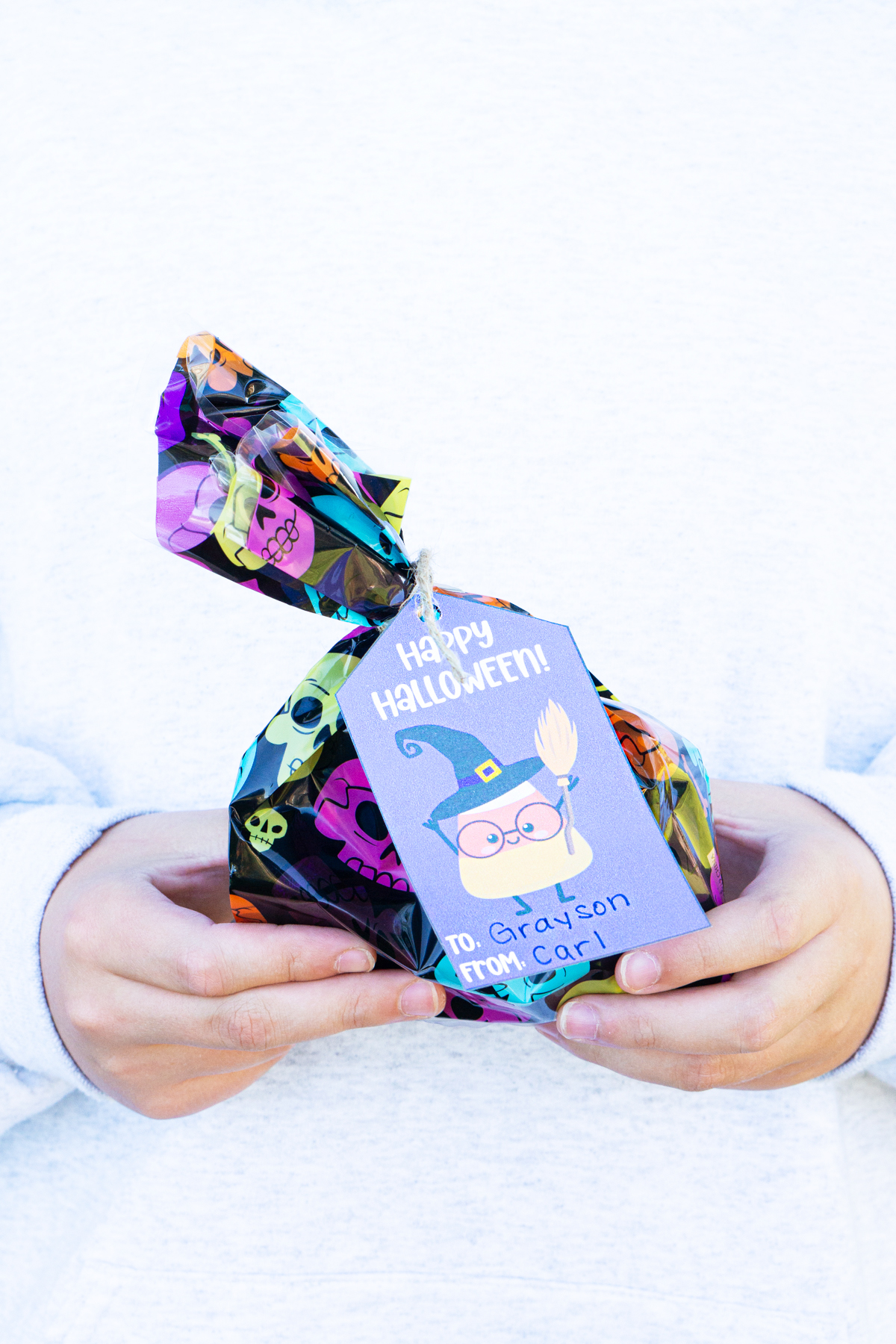 102 Unique Free Printable Halloween Gift Tags
With so many different designs in a variety of colors and styles, I wanted to be sure to show you all of them. You'll get 17 pages of gift tags.
Each page has a different overall design aesthetic but each tag has a different design. Here are all of your options.
First up are these sweet classic Halloween-themed tags. They have ghosts, pumpkins, bats, and more.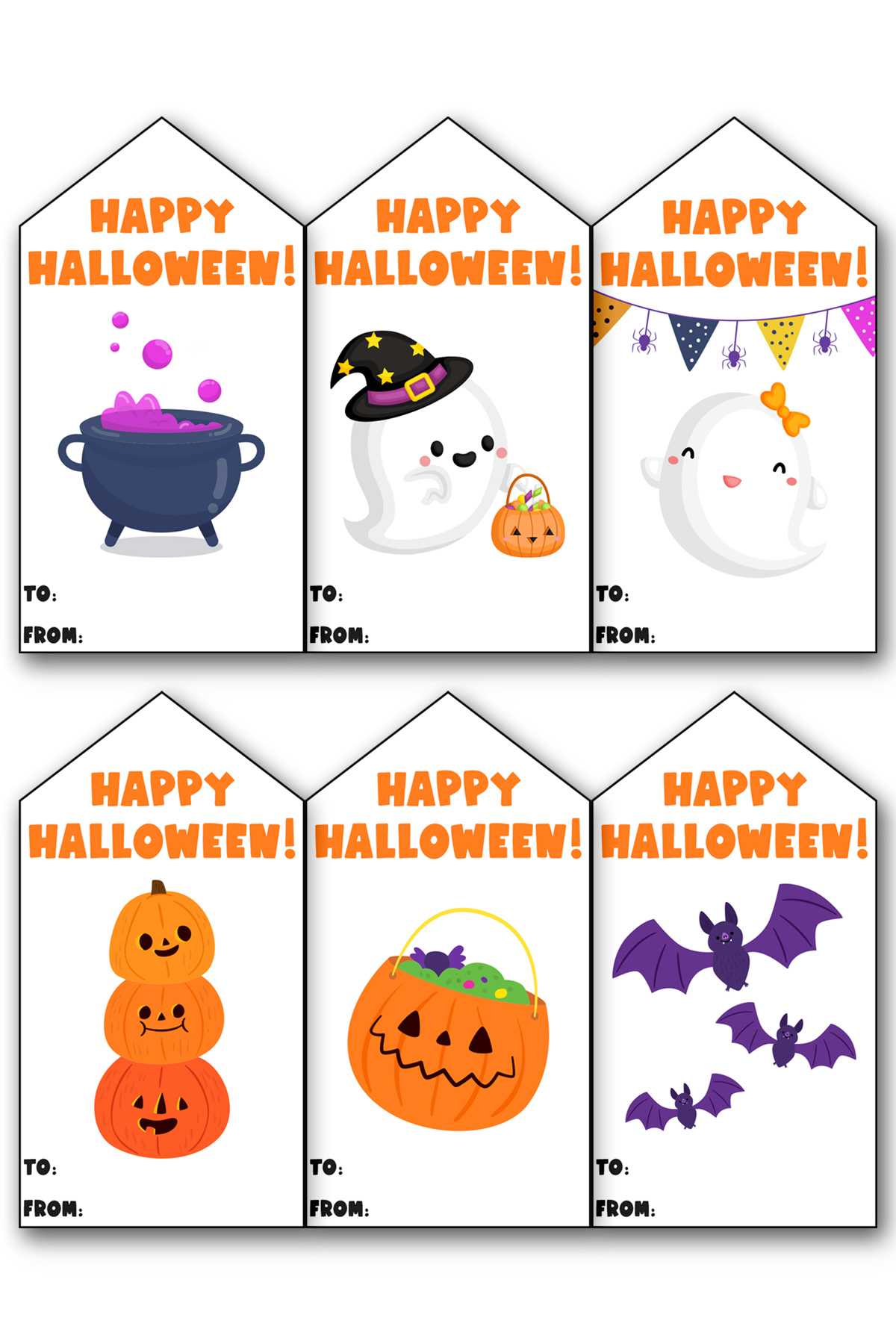 These spooky Halloween gift tags feature more detailed drawings with a little bit of an edge compared to some of the other tags.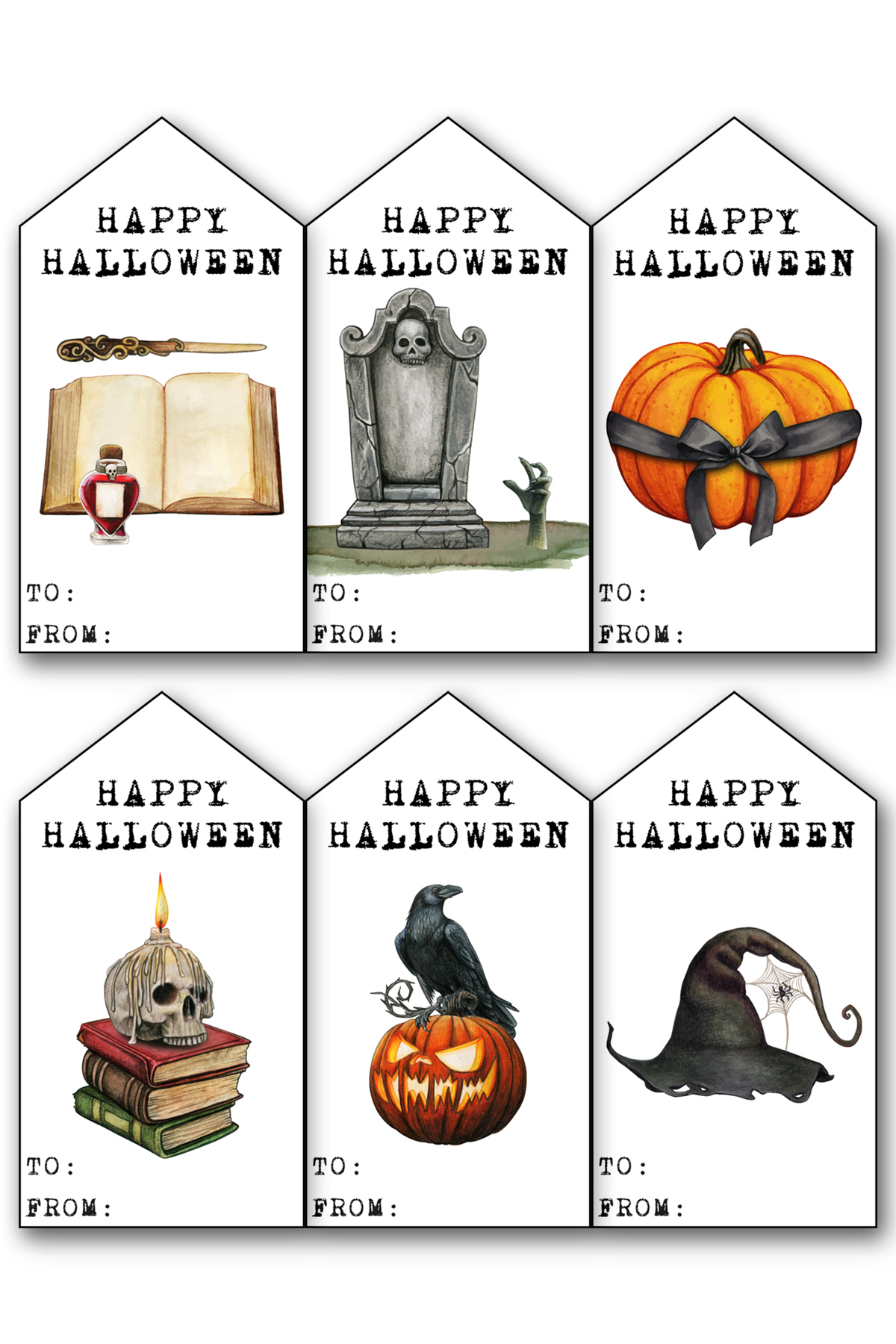 Look at these cute Happy Halloween tags! The unusual pink background color of these tags makes them stand out.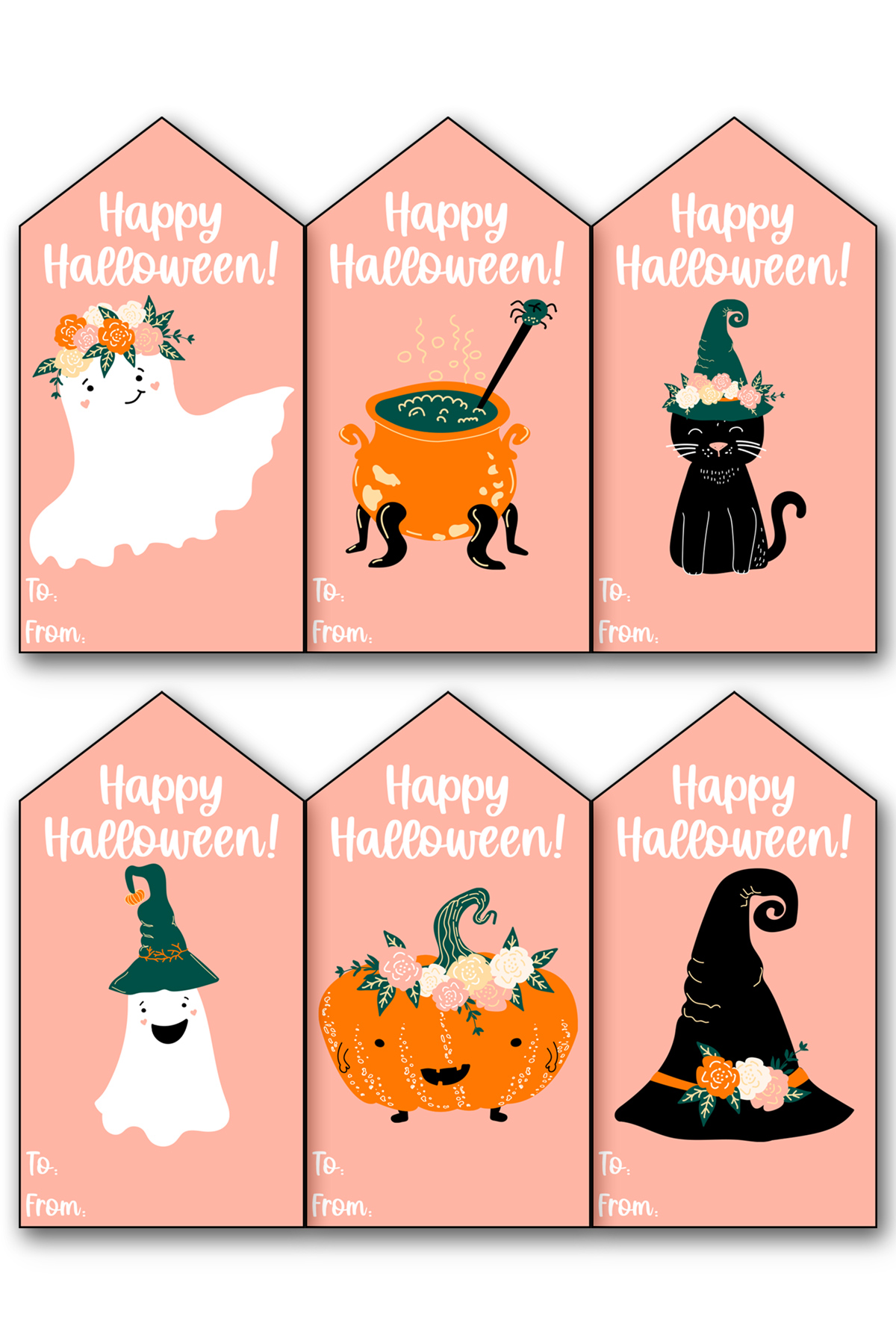 Are you a fan of more retro designs? Then this may be the perfect tag set for you with it's groovy characters.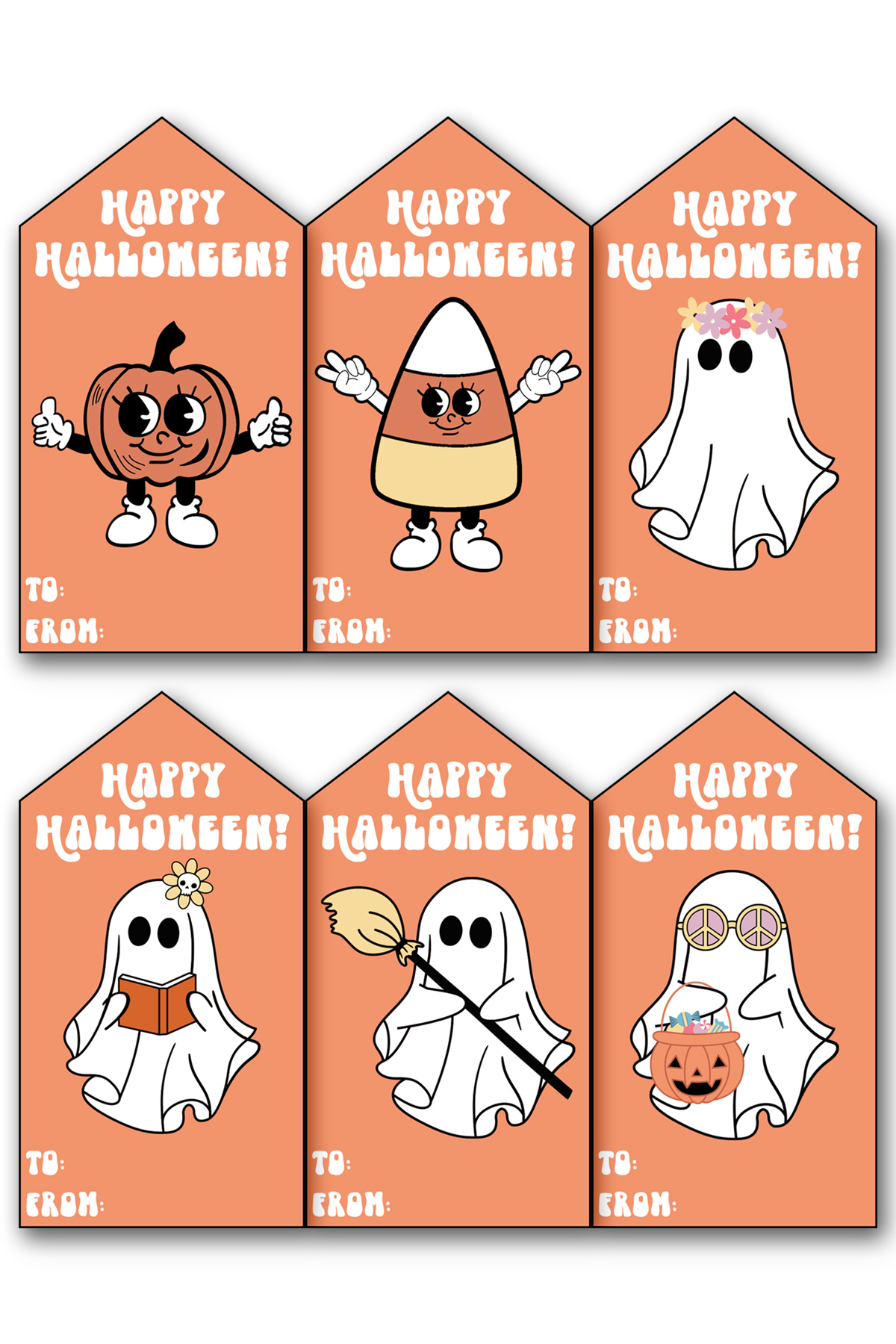 Next, are some adorable candy corn themed gift tags.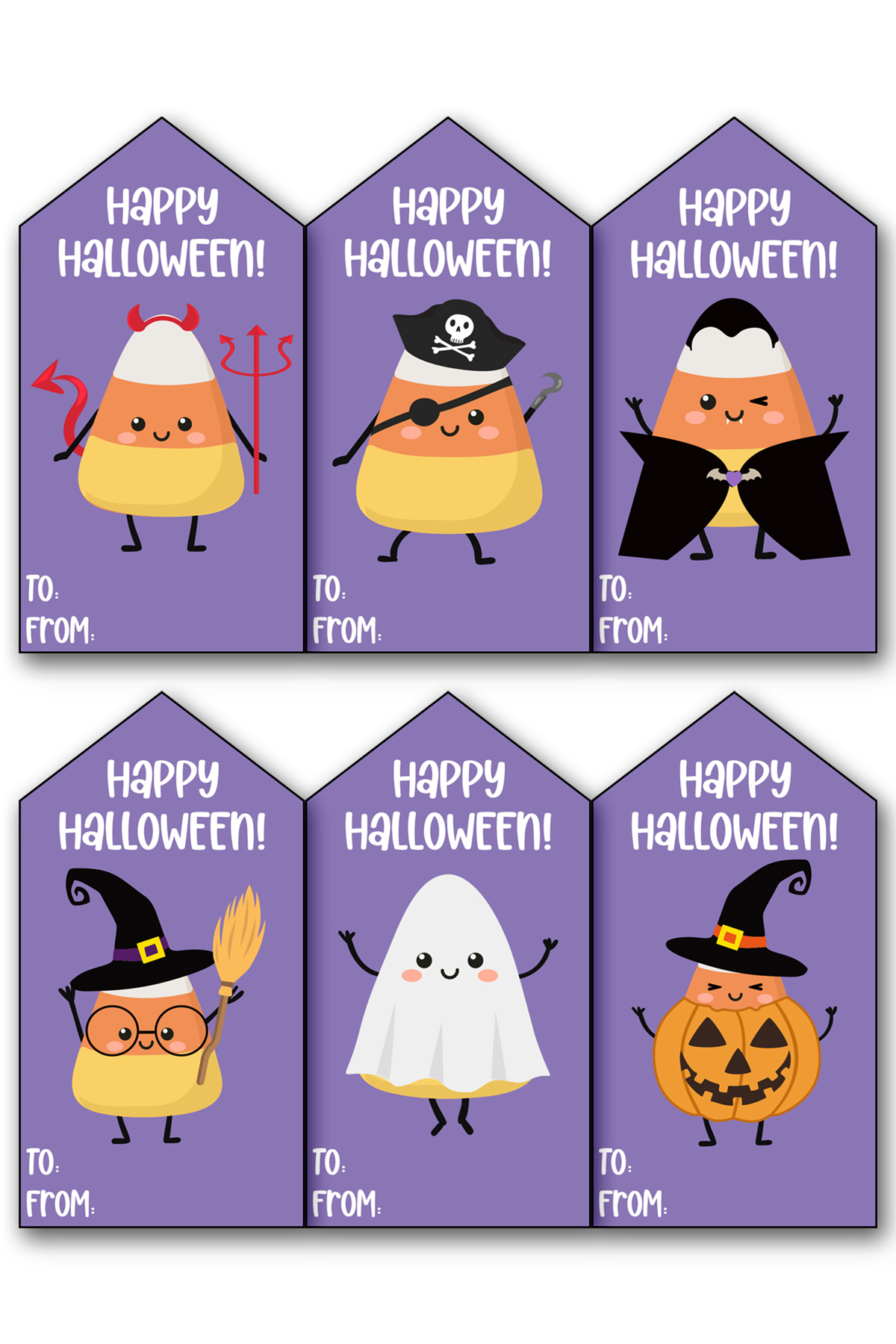 If you are planning on giving some gift bags with some sweet treats or maybe even a special pumpkin spice latte drink? Attach one of these fun Halloween food and drink themed tags.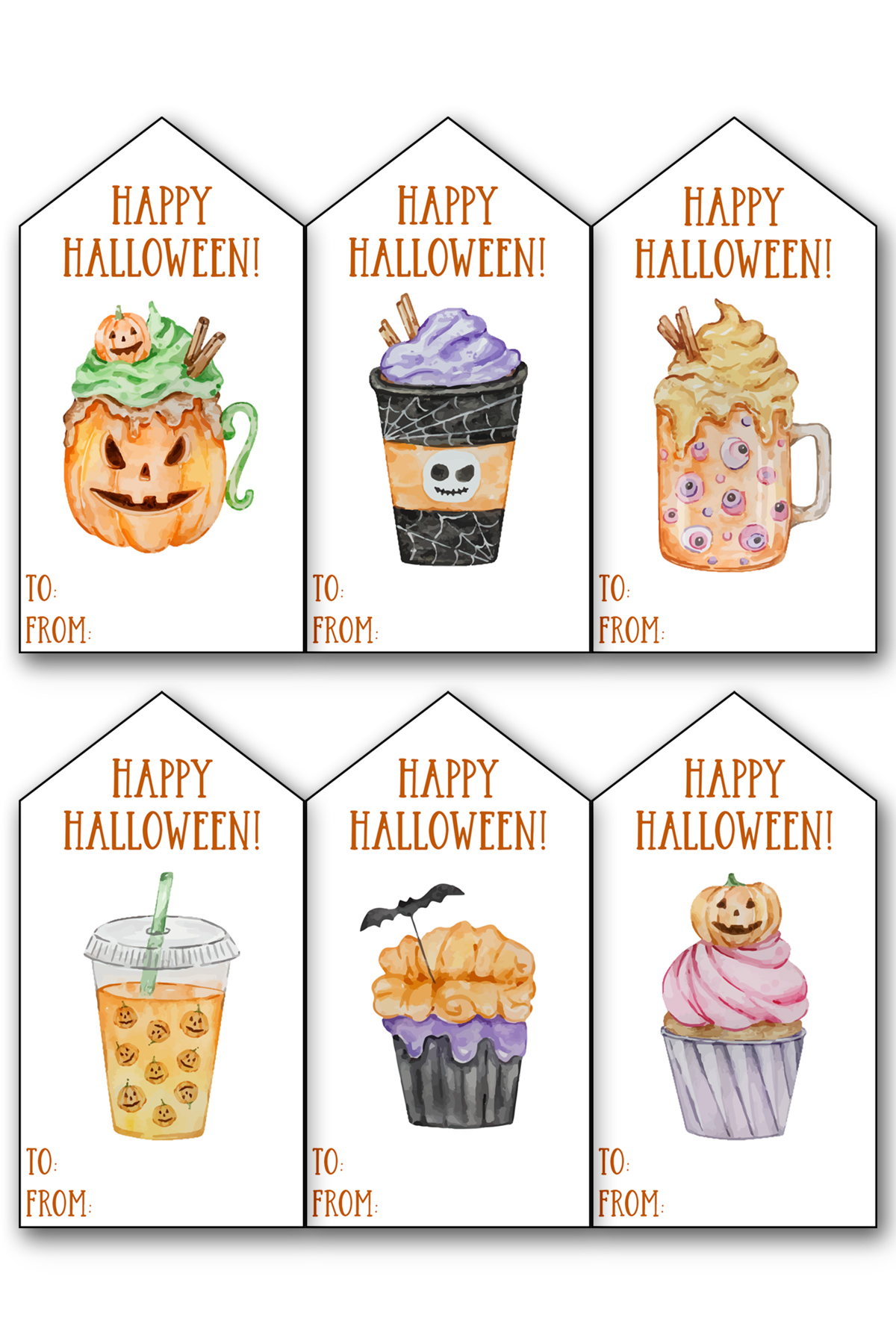 The bold colors and Halloween graphics on these tags would make them really stand out attached to a spooky treat.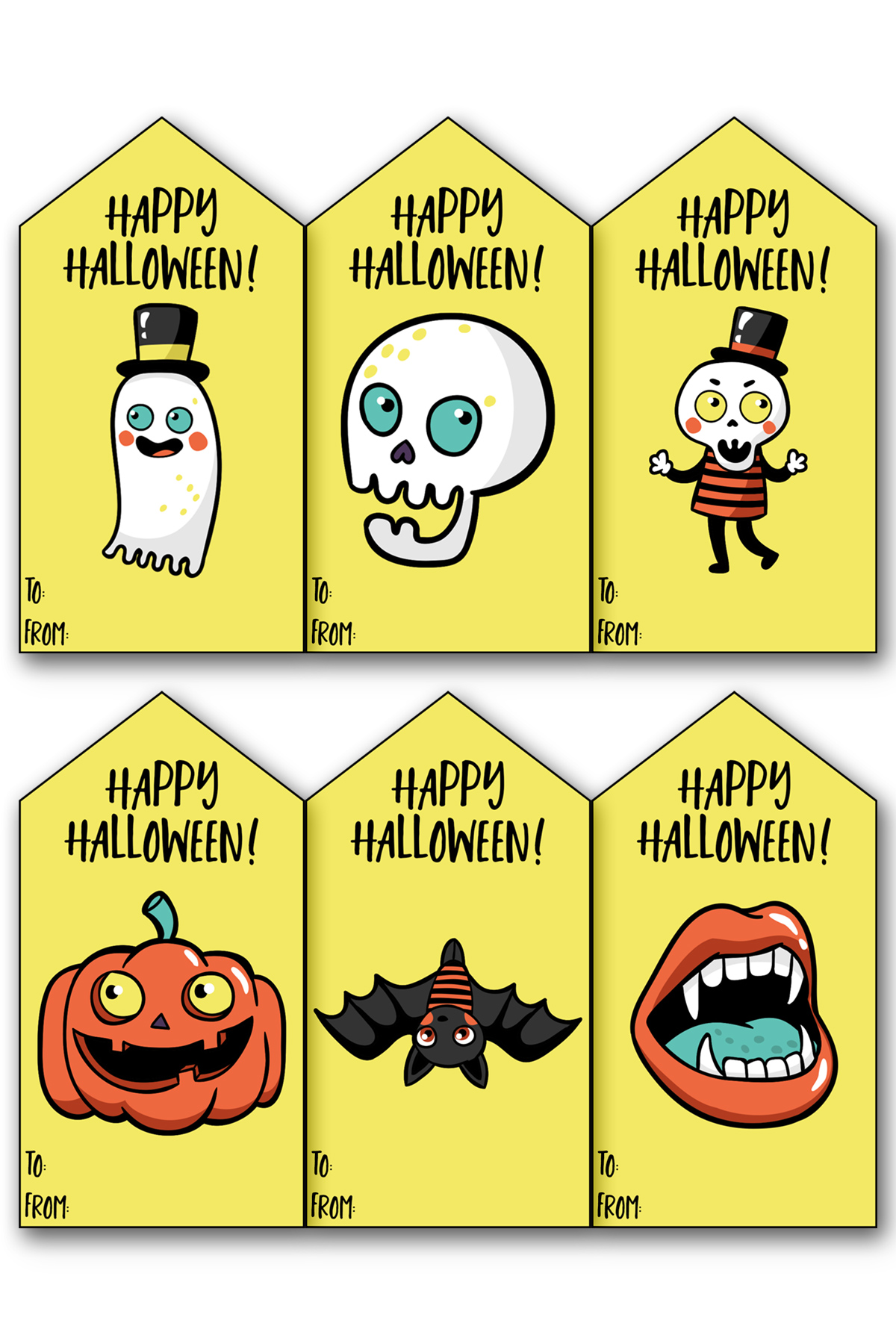 This page of tags is another great option for a "prettier" party with its mauve-colored background and watercolor-style graphics.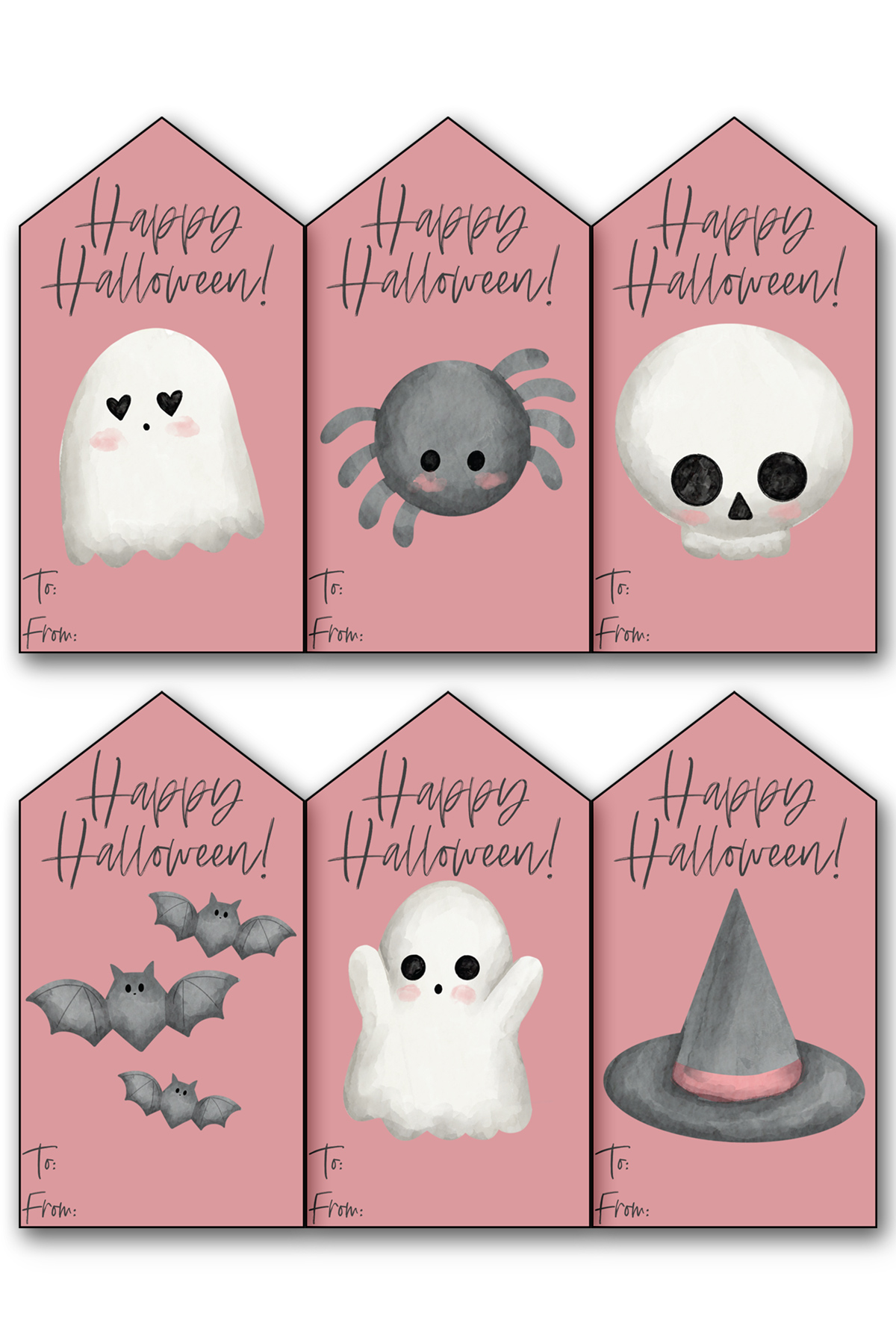 ​These cute little Kawaii-style doodles would be a fun way to top a little treat bag.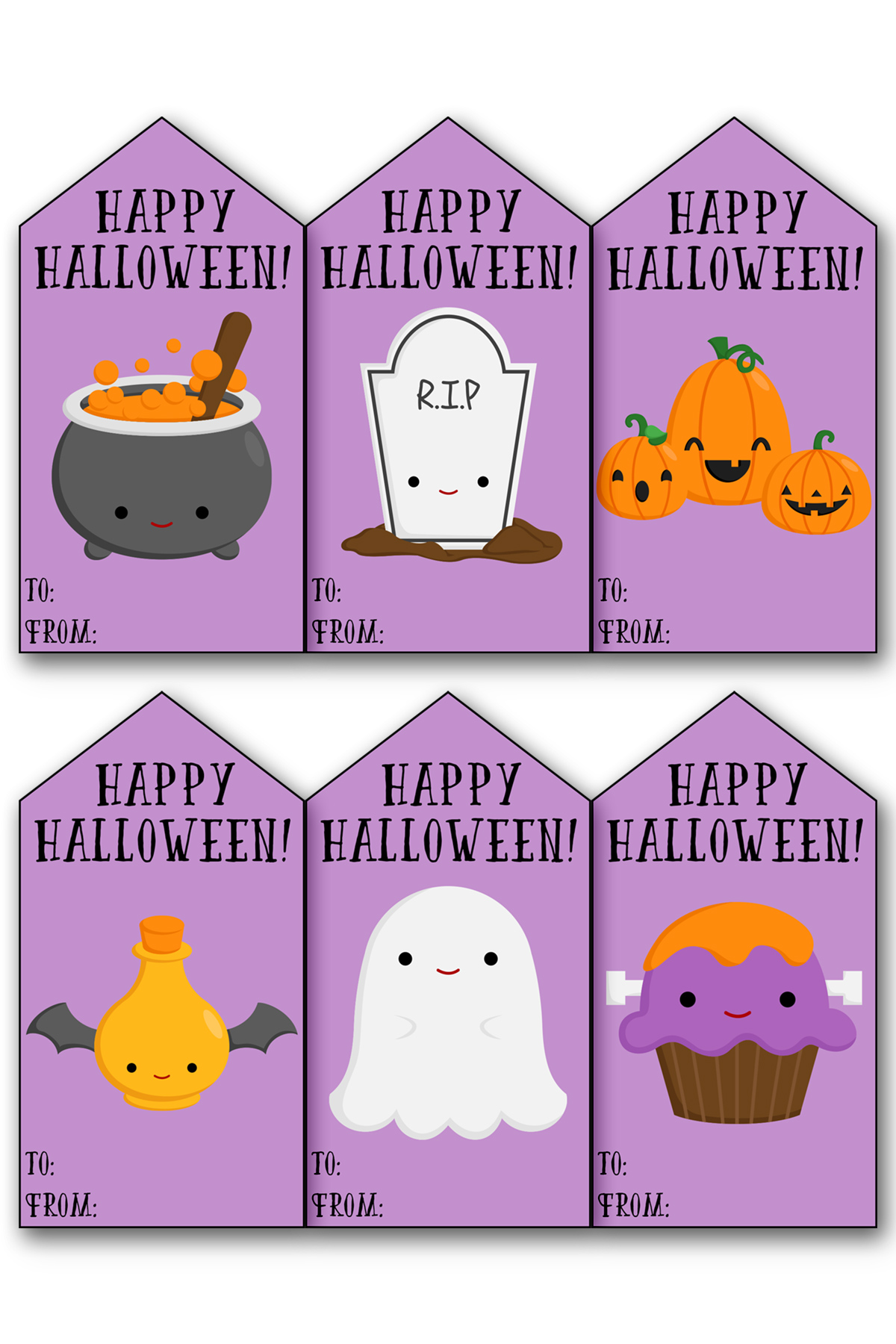 If you're going with a pumpkin theme for your classroom party or event, these simple pumpkin gift tags may be a great option for you.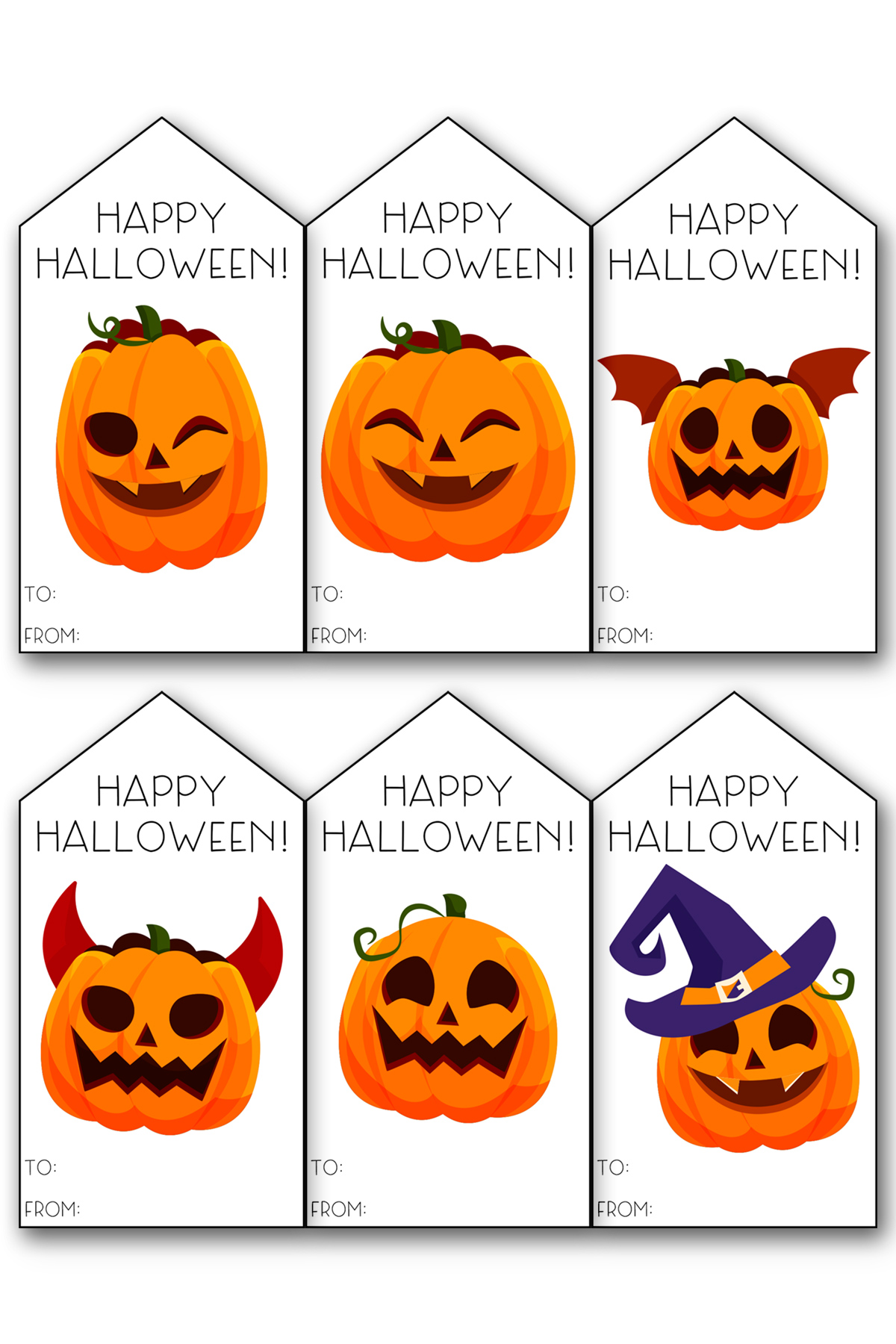 ​Now onto some more classic Halloween characters. My favorite is the jack-o-lantern with a mouth full of candy.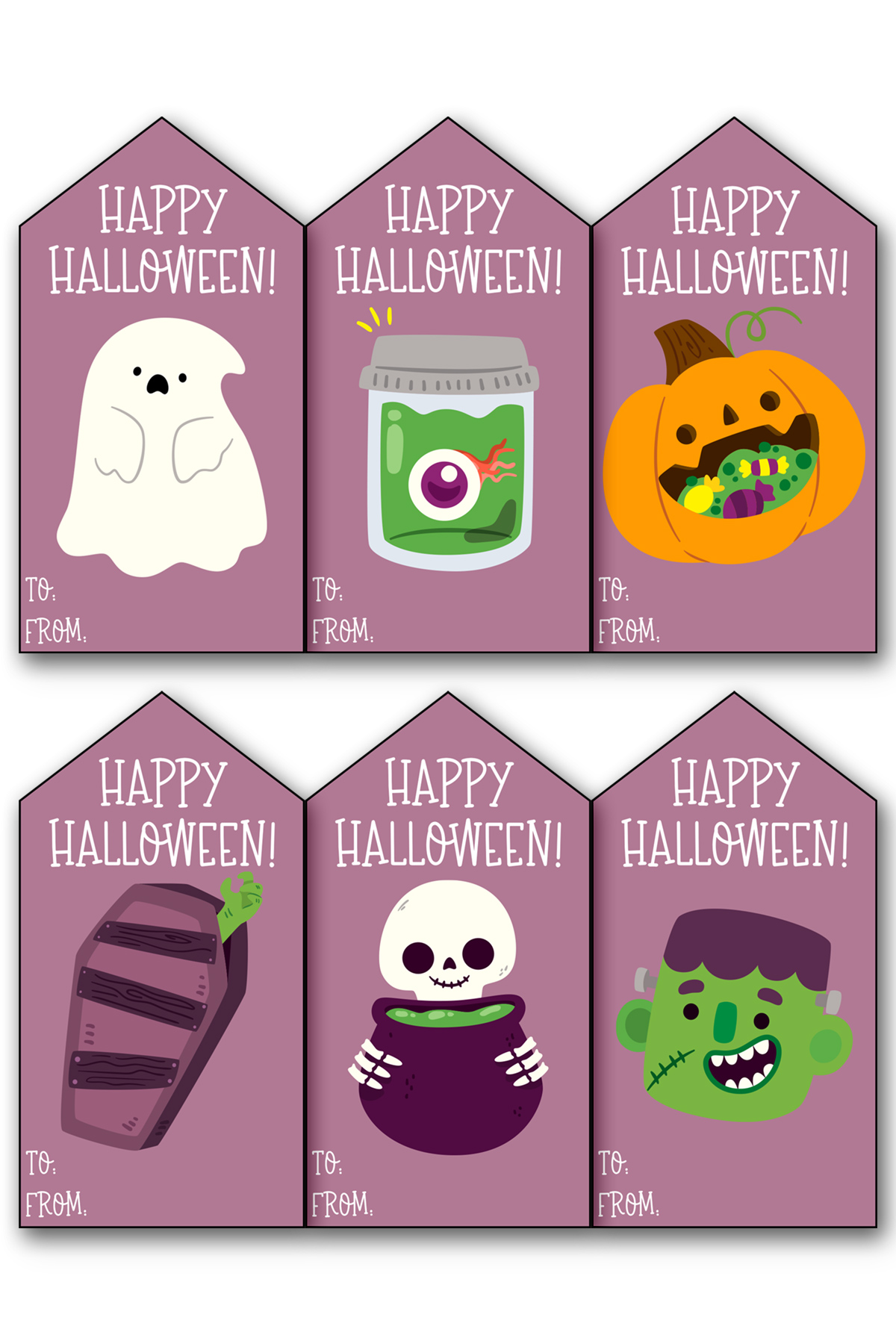 If you love black cats, don't miss this adorable set of black cat gift tags.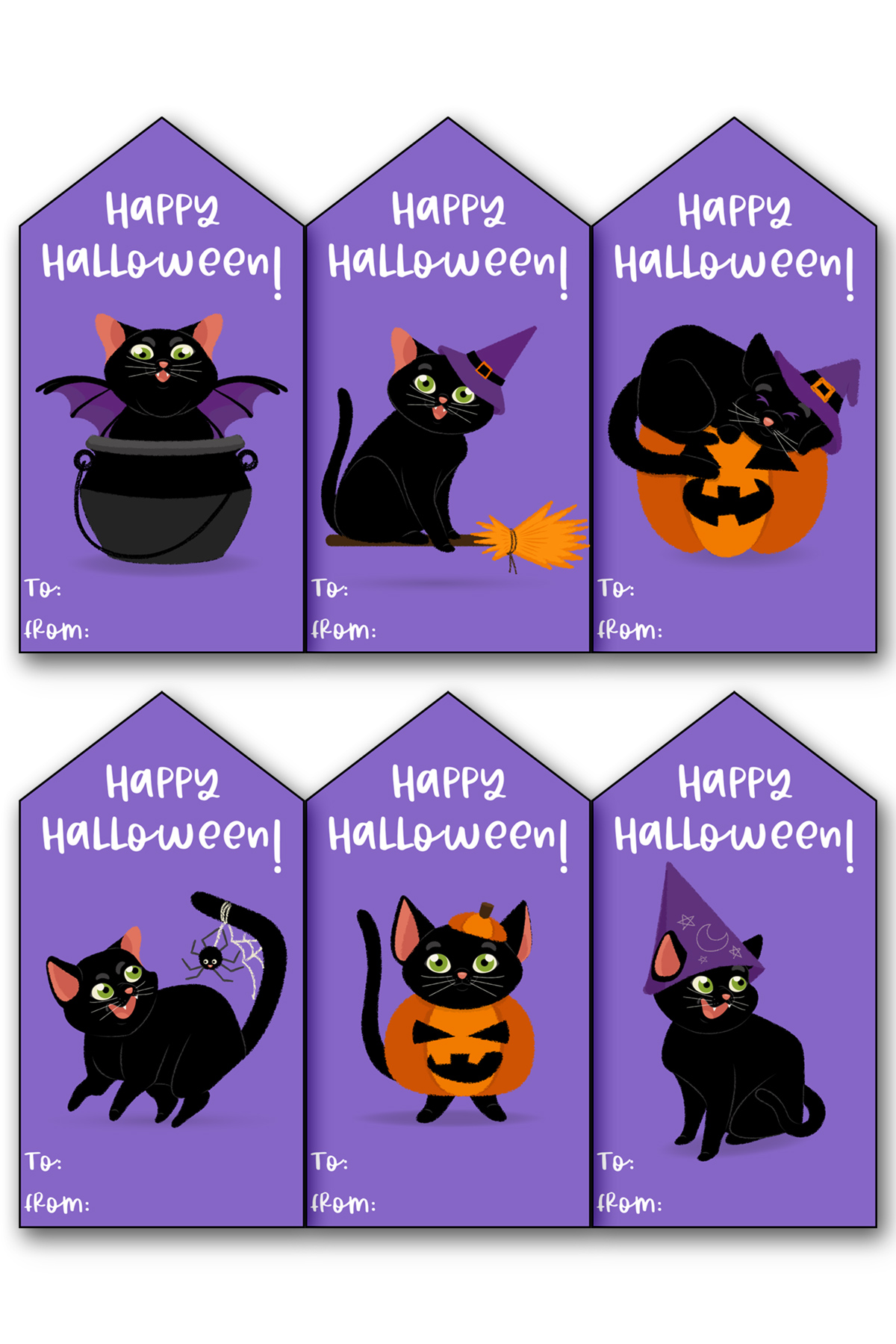 Gnomes have grown in popularity over the last few years. These little guys would be so cute attached to a Halloween gift.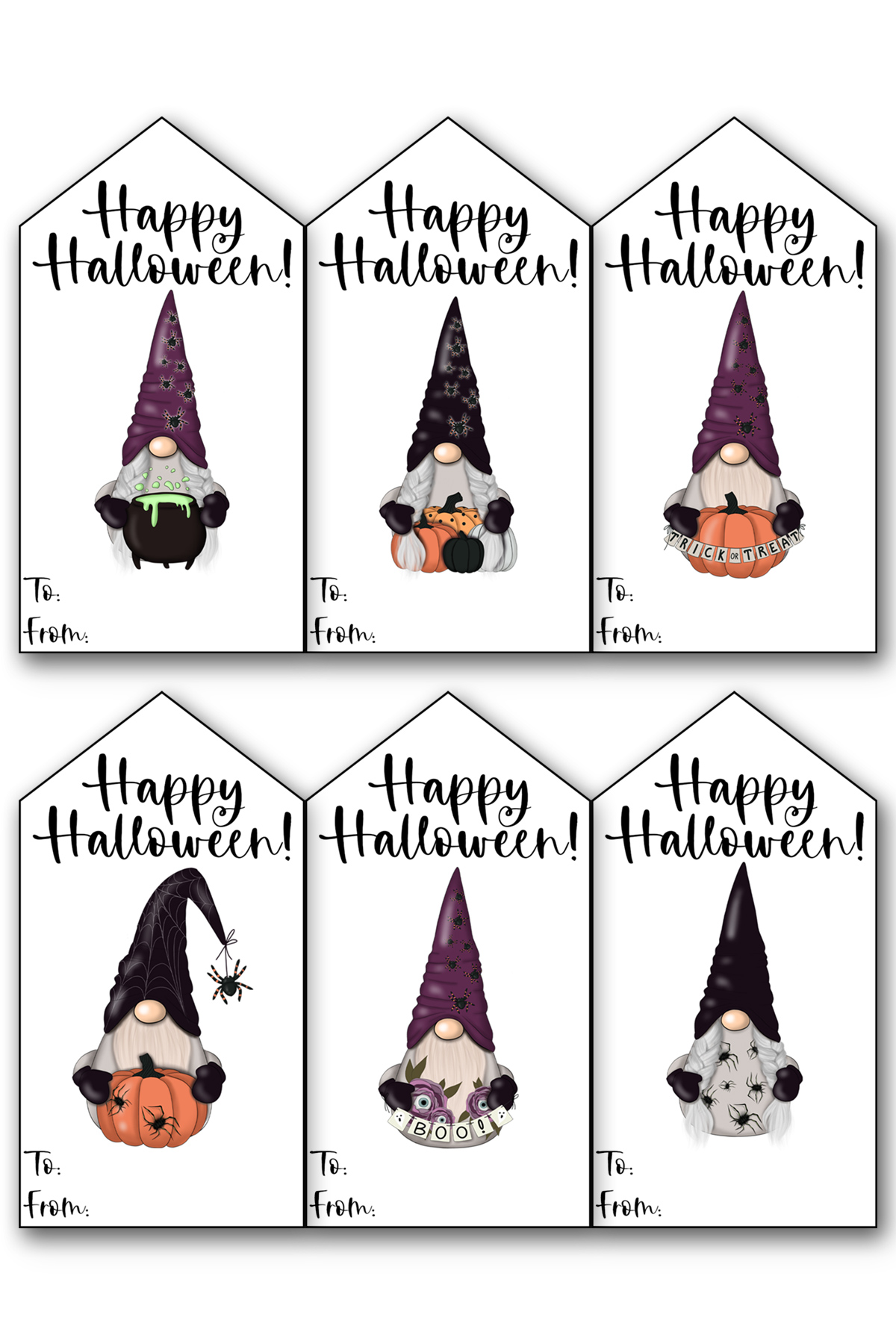 Witches and zombies are always fun for Halloween!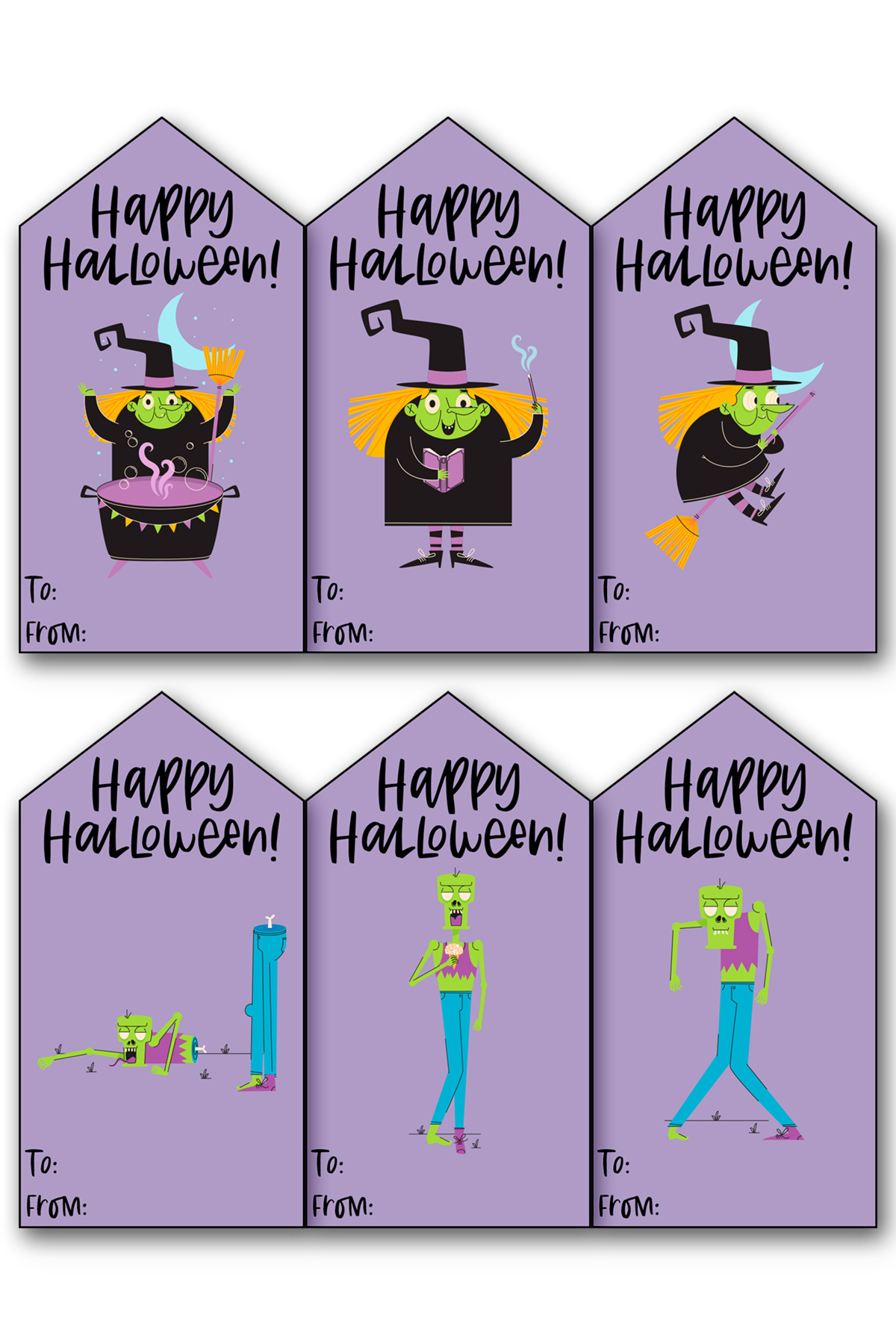 Look how cute these little ghosts are! They'd be perfect for any type of Halloween event.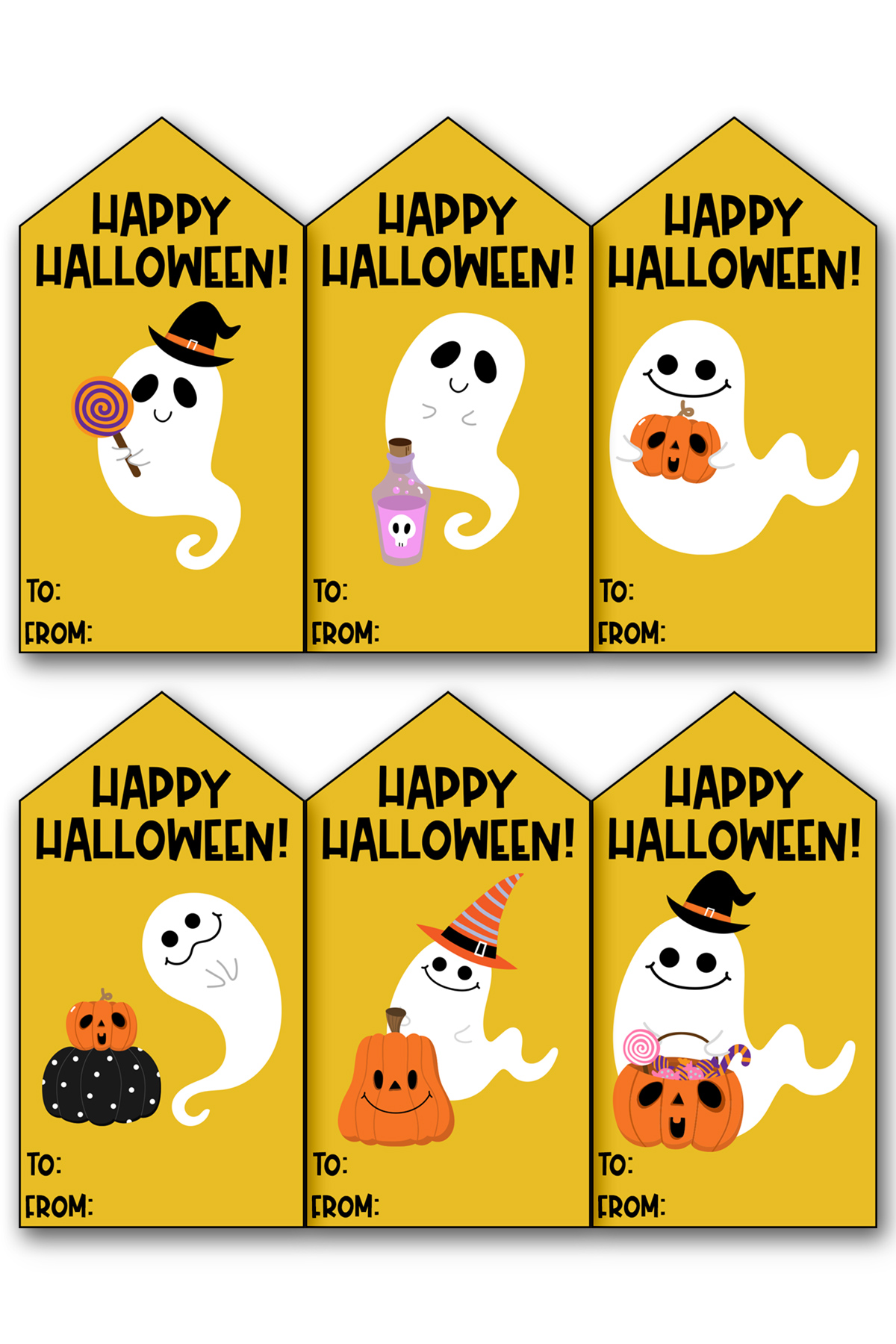 This set of haunted houses would be so much fun for a Halloween open house party or haunted house event.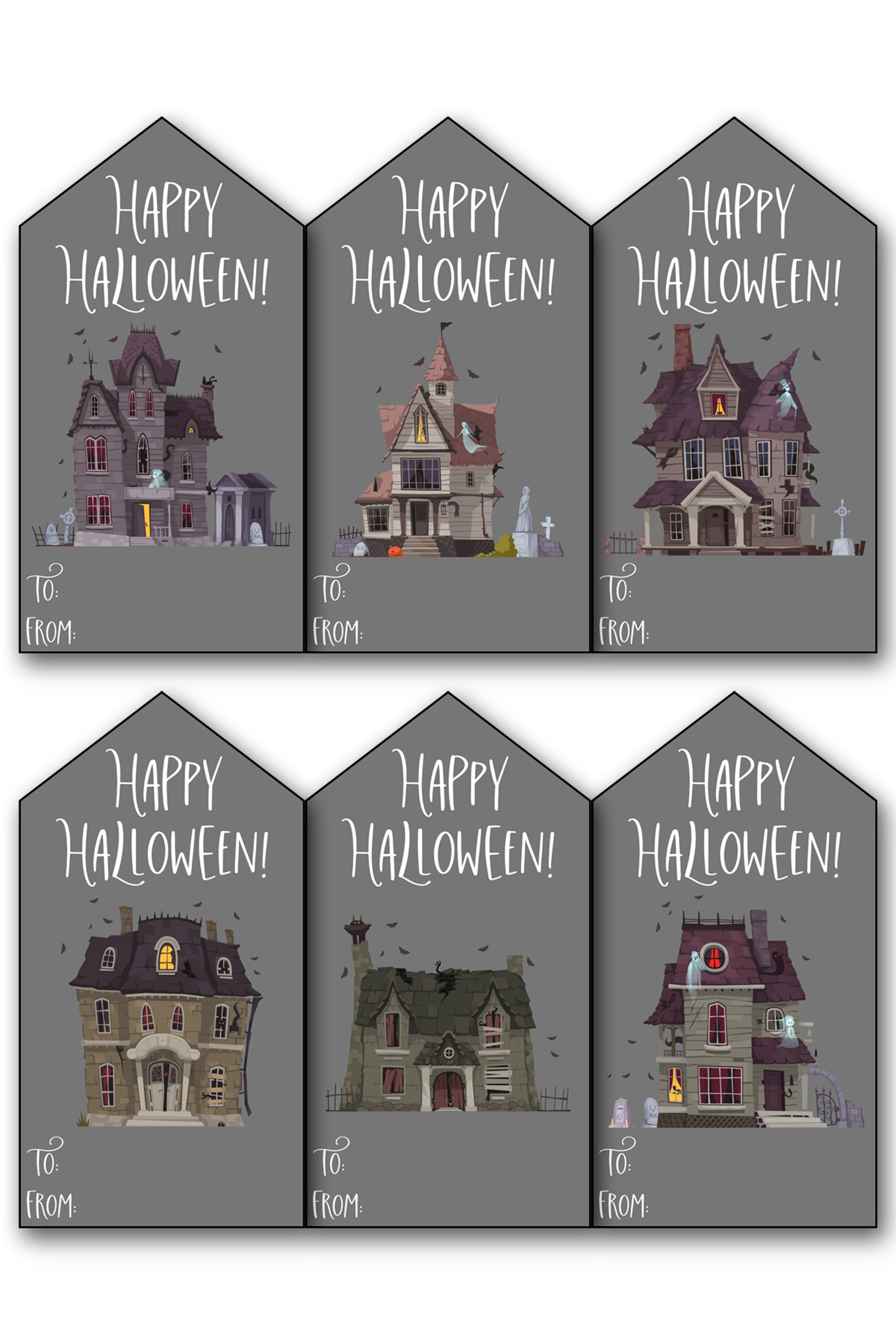 Lastly, this set with a classic Halloween color palette of orange and black would make great treat tags.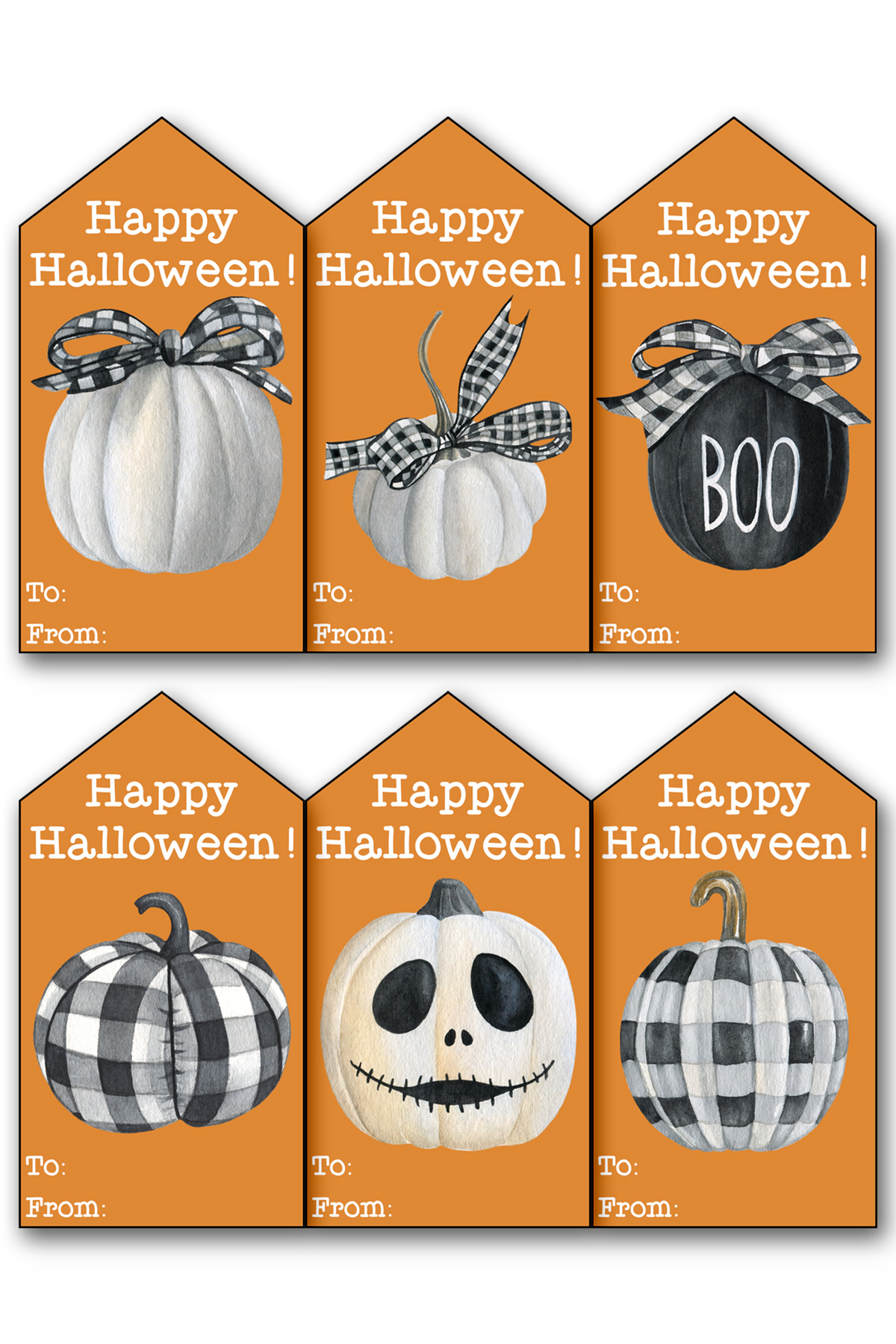 ​
How Can You Download the Happy Halloween Gift Tags?
You can either click here to download the fun Halloween tags, or you can scroll to the bottom of this post to get the instant download. You don't even need an email address to get the free download.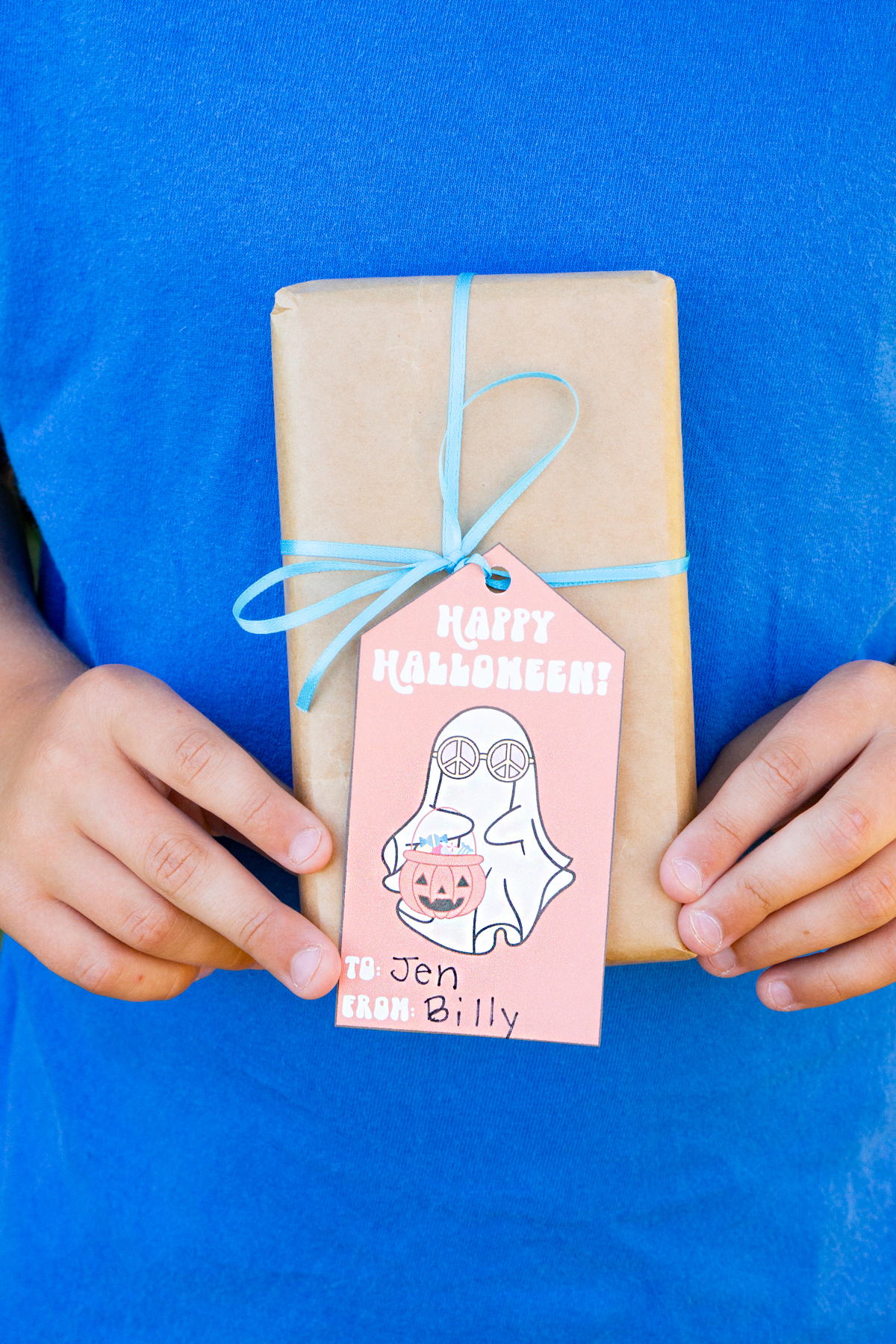 What if I Don't Need the To and From Portion?
If you don't need to the "to and from" portion, just cut the bottom of the tag off with scissors or a paper cutter. This is a great idea if you're looking for printable gift tags to put on your bags of candy for trick-or-treaters. See an example below.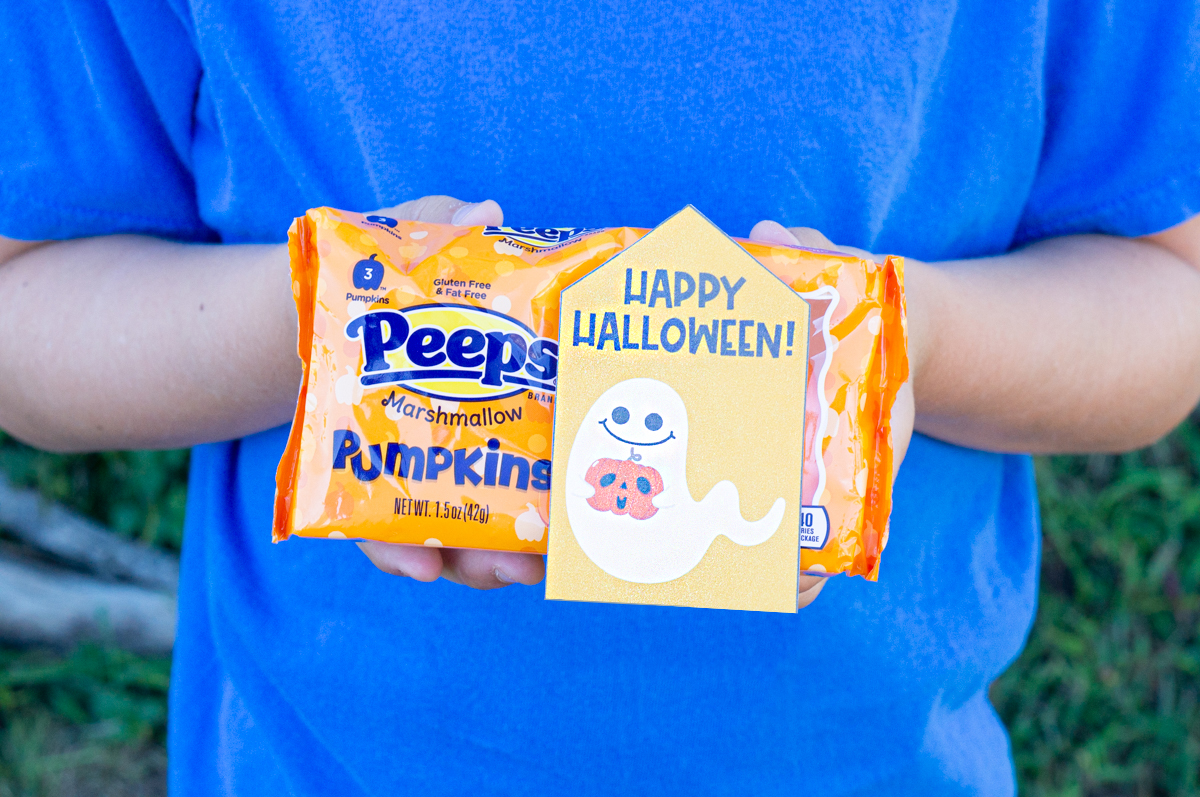 ​
What Paper is Best for the Gift Tags?
I prefer to print the gift tags on white cardstock or sticker paper (depending on if you want to hang the tag or stick the tag on the gift). While you can use standard printer paper, card stock is sturdier and will hold up better.
What File Types are Included?
​You'll get a few different file types including:
PDF file
JPG file
PNG files for each individual tag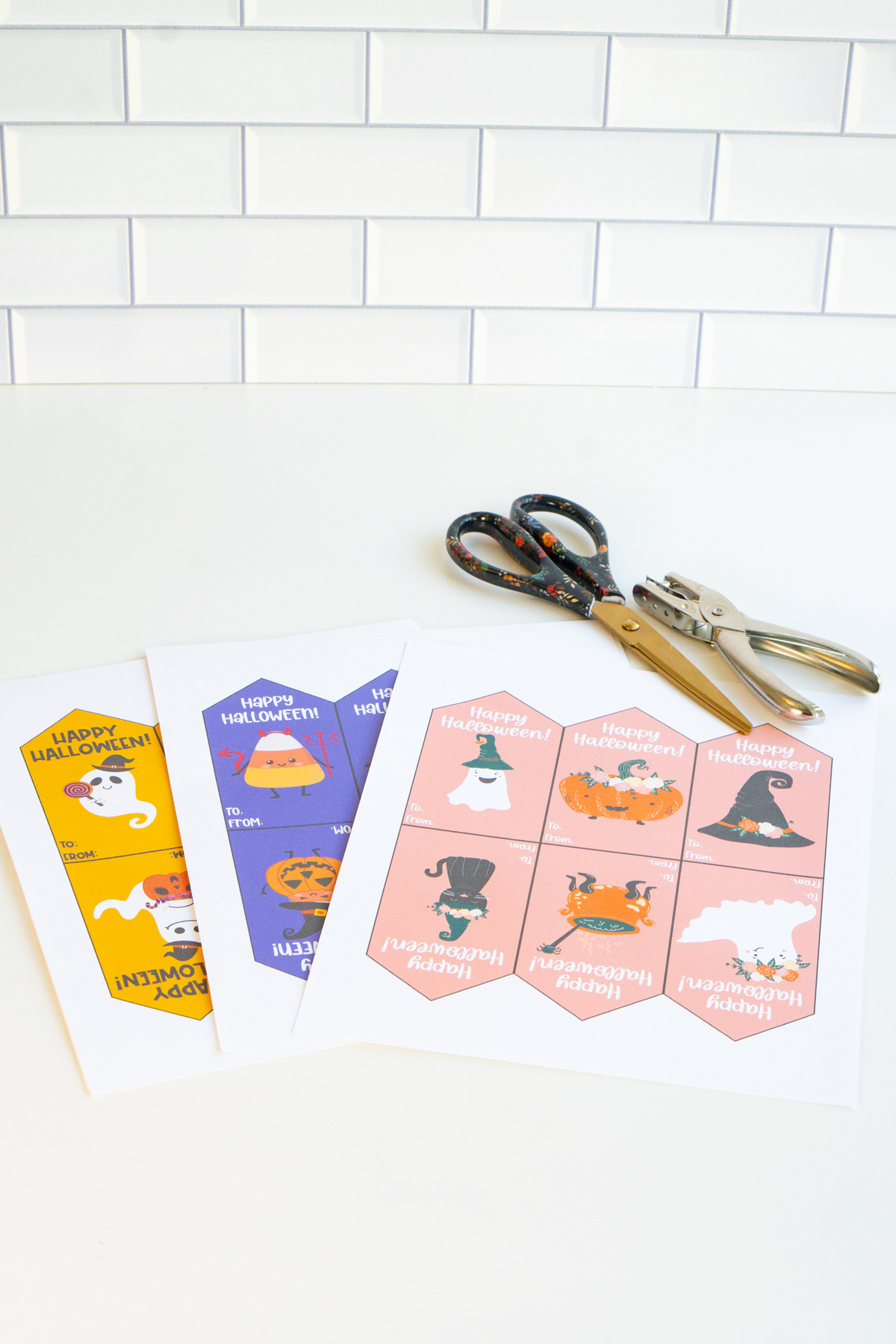 Are these Editable Files?
No, these are not editable Halloween gift tags. They are ready to print and cannot be customized.
Set Up for Easy Cutting
These Halloween gift tags are set up so they are easy to cut. They are butted up against each other so that you have to make less cuts than if they were separated. You can use a paper trimmer to trim the edges and then some scissors to finish up the angled cuts around the tops of the tags.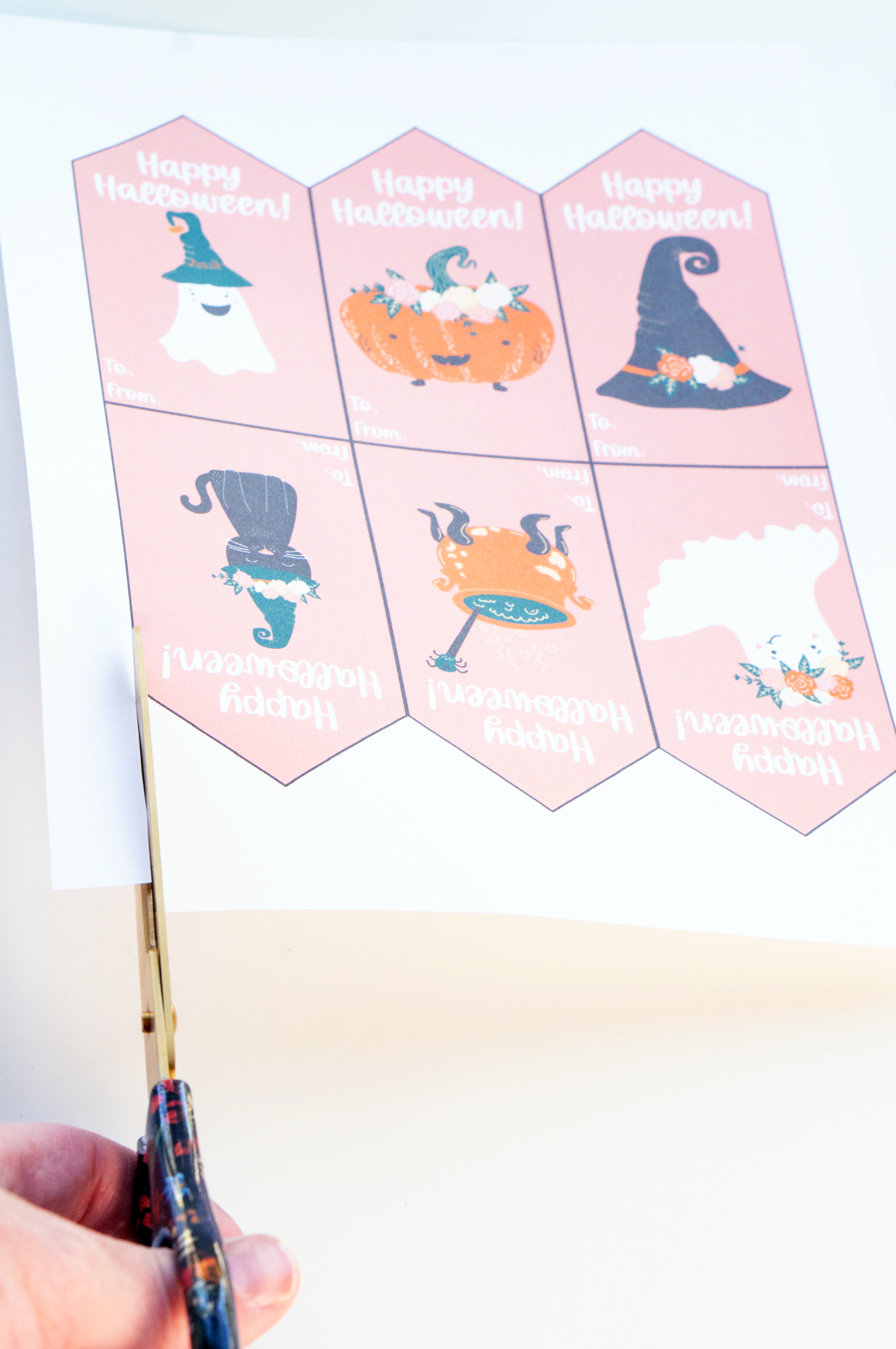 What Size are the Gift Tags?
The gift tags are designed to print on a standard US Letter Size sheet. There are 6 tags per page that are each approximately 1.2 inches wide by 2.3 inches tall.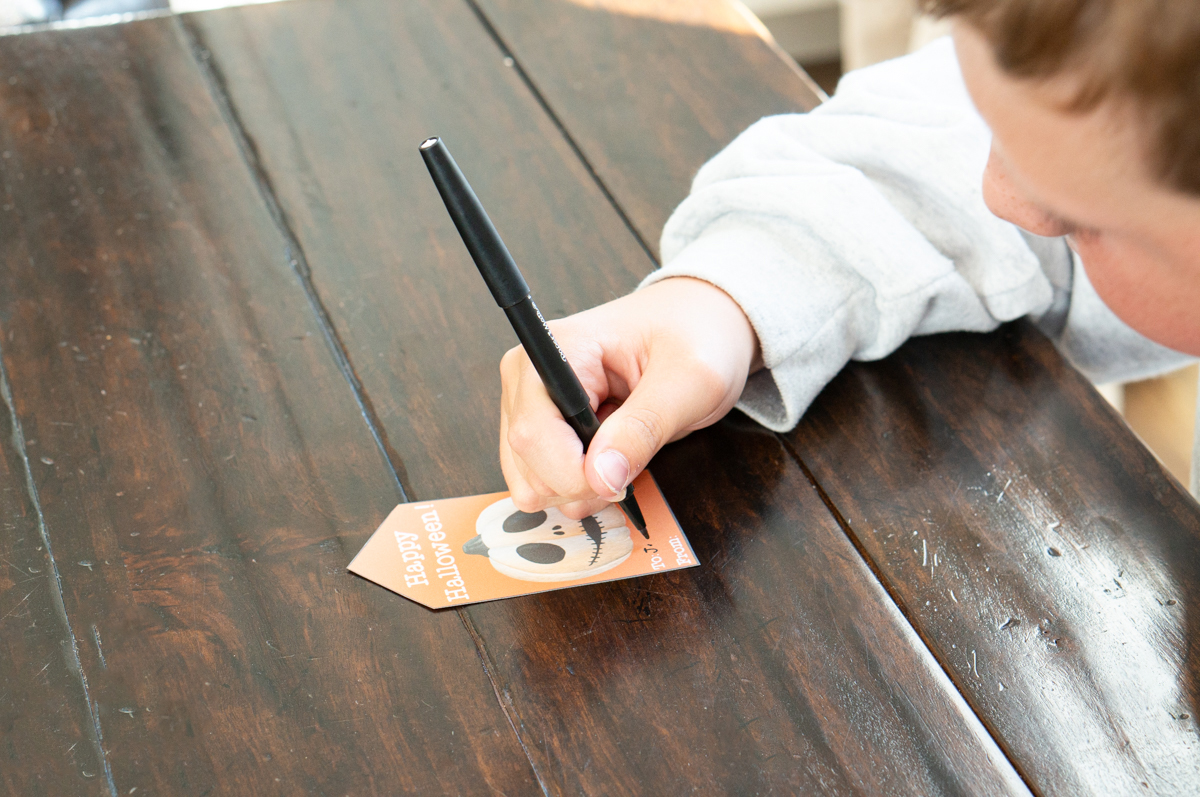 Can I Print the Tags in a Different Size?
Yes, you definitely can print the tags in different sizes. I love to print these tags as 2 to a page so that I get tiny cute gift tag.
Should the Tags Be Hole Punched or Taped?
You can easily use the gift tags as hanging gift tags, as sticky gift tags (by printing on sticker paper), or just attach the tag with tape. If you are creating a hanging tag, just cut out the tag and use a hole puncher to punch a hole in the top center of the tag.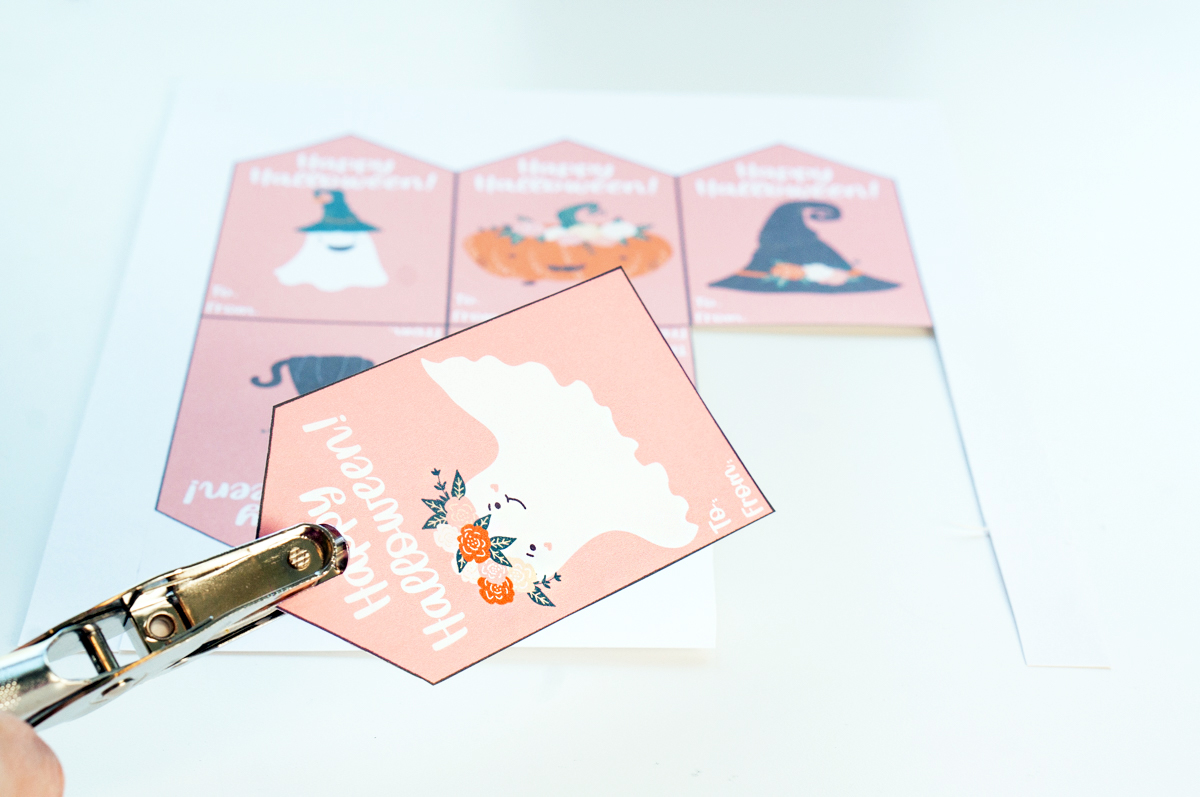 Looking for more Fun Free Printables?
Mom Envy has over 300 free printables available to download including lots of free Halloween printables! My newsletter subscribers get access to all of our freebies. Click here to sign up here using your email.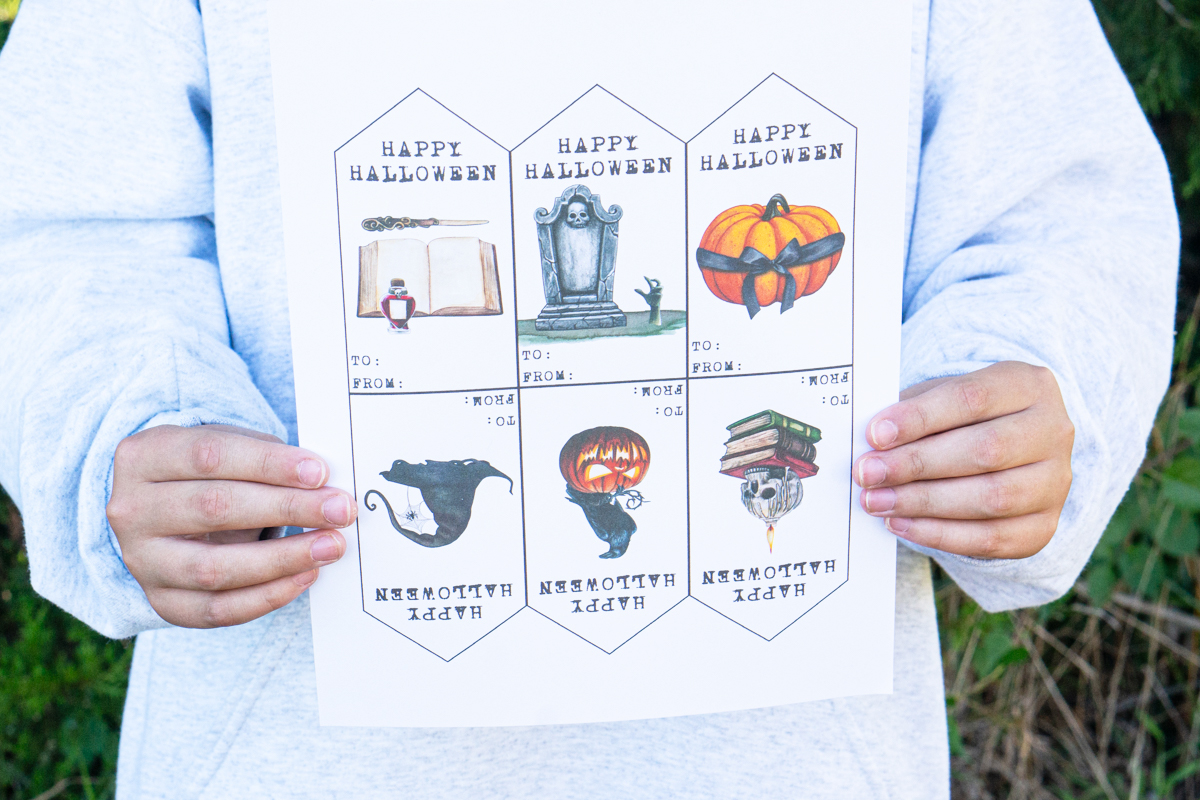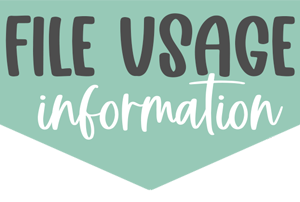 Copyright MOM ENVY 2023. Files may be used for personal use only. No commercial use of the file is available. Files may not be directly shared within Facebook groups, on websites, or in any other way. If using for educational purposes, the file may be printed and copied for classroom use. A link to the web page to download the files may be shared as well as one photo. The file may not be printed and then sold (including local yard sale sites and groups or at local craft fairs). The images may not be used in any way other than to share with a link to the original web page.