Free valentine bingo is a fun game to play at a Valentine's Day party. It's a fun bingo game that would make a great addition to your Valentine's Day activities.
Bingo is such a fun activity for class parties or it even makes a fun family game night on Valentine's Day.
We love bingo at our home – it's one of our favorite things to play for game night. We can keep playing multiple times so everyone has a chance to win (which is always a plus!)
The cards have cute images to make them family-friendly. And there are so many unique cards included so that you can play with a large or small group!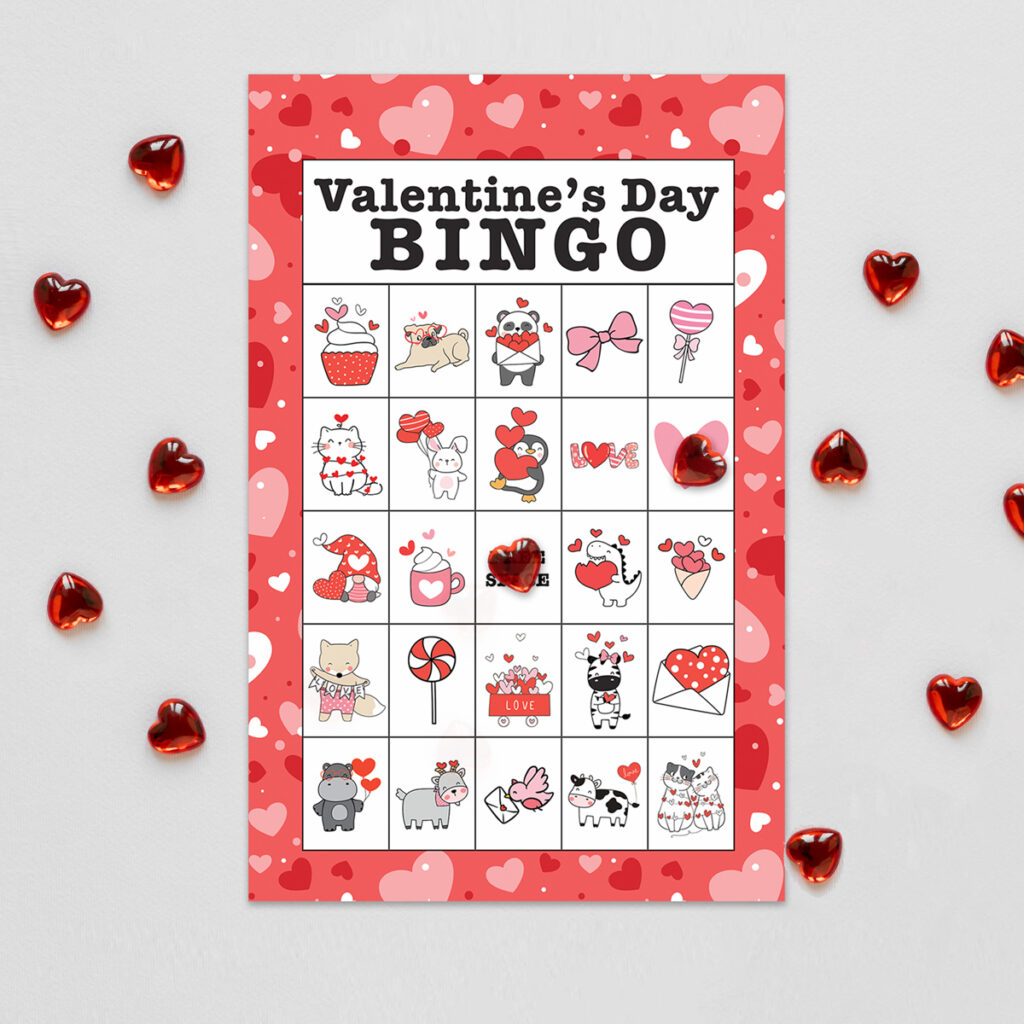 Unlike a Valentine's Day scavenger hunt, it's easy to include everyone when playing bingo. Since the symbols are kid-friendly, with a little assistance (and patience) you could even play with a toddler!
Are you a teacher? Bingo is the perfect way to bring some Valentine's Day fun to your day to your classroom. If your lesson plans have a little flexibility – bingo is lots of fun for kids.
When your class could use a little break, it's a great idea to play a quick game. Not only is it great holiday fun, but it is also a great way to build social skills, boost self-esteem, student motivation, and more.
How many unique bingo cards are included?
This game is great for a large group. There are 40 different bingo cards to print. So you can play with 40 singles or up to 80 if you play in pairs.
If you have small groups, no worries! You can just print off what you need. Or print them all so that the people playing have a choice of lots of different cards.
Is this free valentine bingo for kids or adults?
These valentines day bingo cards are perfect for any age!
This was designed with younger kids in mind (specifically for classroom parties). It's a fun game to play with your older kids and your little kids or you could even just play it with adults. It's a versatile game.
See how kid-friendly the images are? There are lots of animals to make it easy for kids to identify the correct square.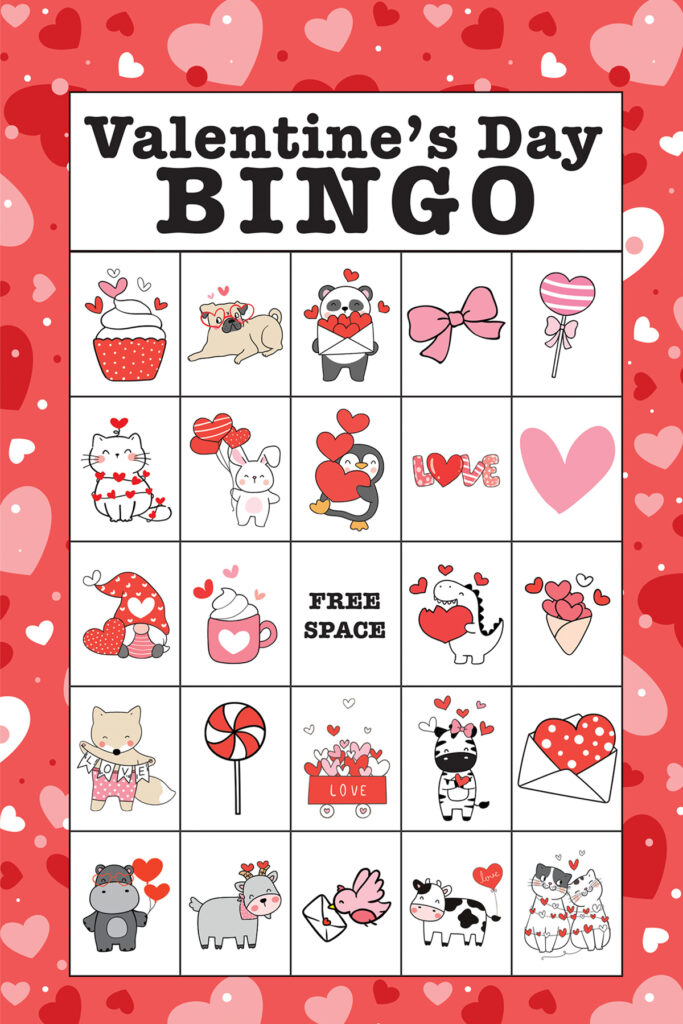 Where can you play the free printable bingo game?
It is a versatile game that can be played at different places with different audiences. It would be great for:
a class party
daycare activity
family gathering
larger party
small party
a church group
or just at home with the kids
Are the rules to this valentine bingo like traditional bingo?
The rules are very similar to the classic game but not exact. There is a free space and the same number of spaces as bingo.
But you are not required to have the symbol under a certain letter (like in regular bingo games).
Instead, you just need to have the symbol that is called anywhere on your board.
How do you play this Valentine's Day Bingo?
Each person or pair gets their own bingo card.
There is needs to be a caller who calls out the valentine symbols. They can use either the individual little calling cards or the large single calling card.
If they're using the large single calling card, I suggest laminating it so that you can play multiple rounds or using bingo chips to mark each item as it is called.
Once a valentine symbol is called, players need to mark the symbol if their card has it.
The first person to get 5 in a row OR to fill the whole board, wins! It is up to the players how you'd like to play and how long you'd like the game to go.
What do you need to play this free Valentine's Day game?
You really don't need many special supplies to play this great game. You'll just need
free valentine bingo cards (included is a free download at the bottom of this post)
calling cards or calling sheet
bingo chips or
bingo markers (if you're only playing once or printing multiple cards)
What bingo chip alternative can I use?
Don't have bingo chips? No worries! I think this game would be so cute to use conversation hearts to play. But you can use any small items for space markers like:
counters (like teddy bears)
m & ms
skittles
small game pieces
dry erase markers IF the boards are laminated
raisins
paper hearts
red hot hearts
What if I am worried about ink?
There are two options available to print. One doesn't include the border which uses a lot more ink. Make sure to download the ink-friendly option.
My best tips for the free printable valentine's bingo game:
If you'd like to play multiple times or year after year, for best results I would suggest that you laminate the printable cards for best results.
In addition to laminating the cards, card stock would also help their durability and longvevity.
If you laminate them, you can easily use dry erase markers instead of bingo markers for a classroom party.
Looking for more free printable bingo cards for different holidays or events?
I have other free printable bingo cards on my site as well as lots of other free printables.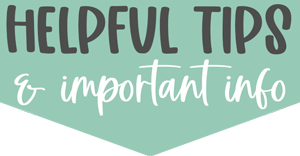 Tips for Downloading the Free Files
Below is an arrow that says Download Below. Underneath that is a large image that says Click to Download the free files.
Once you click that, you will enter the members-only password and click submit.
The page will reload the same image and now when you click the image that says Click to Download the free files, it will open the Google Drive folder containing the free files.
How do you get a members-only password?

You can sign up here to be a free Mom Envy club member.
The password will be sent to you within a few minutes. Make sure to check your spam and/or junk folder if you don't see it.
Already a member but forgot the password? Don't sign up again. Look at the end of any newsletter from me for the free password or just send me an e-mail here: [email protected]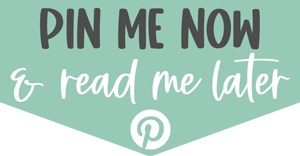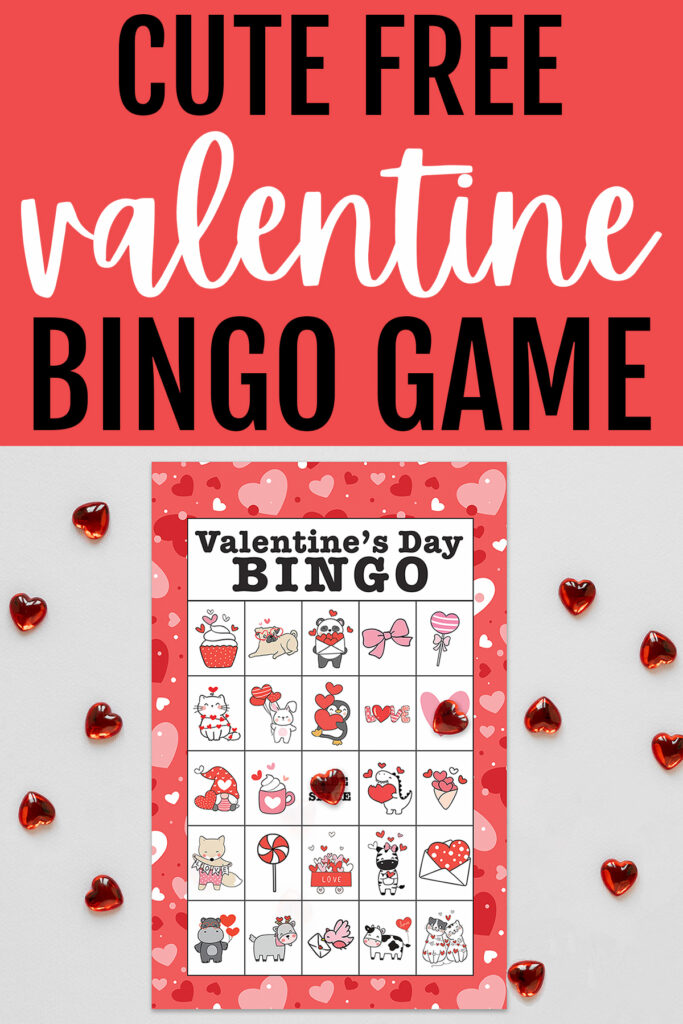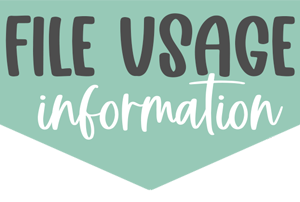 Copyright MOM ENVY 2021. Files may be used for personal use only. No commercial use of the file is available. Files may not be directly shared within Facebook groups, on websites, or in any other way. If using for educational purposes, the file may be printed and copied for classroom use. A link to the web page to download the files may be shared as well as one photo. The file may not be printed and then sold (including local yard sale sites and groups or at local craft fairs). The images may not be used in any way other than to share with a link to the original web page.