Do you have any suggestions for front door colors for a gray house? I am totally struggling with this big decision. Thankfully, if I regret my decision later, I can change my mind pretty easily on this choice vs. something like siding color (it's a little more difficult and expensive to replace siding). But who really wants to paint a brand new front door if they don't have to?
When I decided on dark gray siding (windswept smoke – 72% of my readers voted for it on Facebook), I dreamed of a wood front door. Then, we got the estimate for the fake wood door… YIKES …painted door it is! I was shocked by the price especially since it was faux wood.
When you're building a custom home, unless you have an unlimited budget, you have to pick and choose where to spend your money. A fake wood door just wasn't in our budget (it cost almost $4,000 vs. $525).
So, now we are left to decide on the color for our front door and I want YOUR help!
My Biggest Front Door Color Dilemma
So here's my biggest concern with the front door color. I would love to have a pop of color, especially with such a dark siding. BUT, I am worried about Christmas. I know, that probably sounds silly and it's totally first-world problems. But, I want to make sure when I decorate for Christmas, my door isn't an eye-sore. And as much as I'd love to do a red door for Christmas, it didn't even make the cut for our final selections. We just didn't like it.
To help me decide, I actually used Photoshop to create a mock Christmas front door set up. And yes, I tried it for each front door color. Plus, I added some grass and a sky to really get a good picture of the house as a whole.
Help Me Decide! What color should we paint our front door?
Our builders use McCormick Paint for their houses. We are so excited that they carry the Magnolia Home Line (okay, I am excited, not so sure Kris cares one bit). Another bonus is that they offer a download of their paint palettes for Photoshop and Illustrator. This was a game-changer for me (sooo many options to test out right at my fingertips!)
So here we go – what color do you like best? Don't forget to scroll to the end to vote!!
Which Front Door Paint Color Do you Like?
Aspen Leaf
This blueish, deep green intrigues me for it's potential at Christmastime. Originally, I wanted a deep, dark green but it just didn't pop enough. When I tried out this color, it really stood out to me.
Brushed Clay
Yellow and gray have been a long-time, popular color combination. This yellow is a bit like mustard – I love how earthy it looks.
Magnolia Green
This signature green from the Magnolia line is another earthy option. I love how subtle it is vs. some of the brighter options.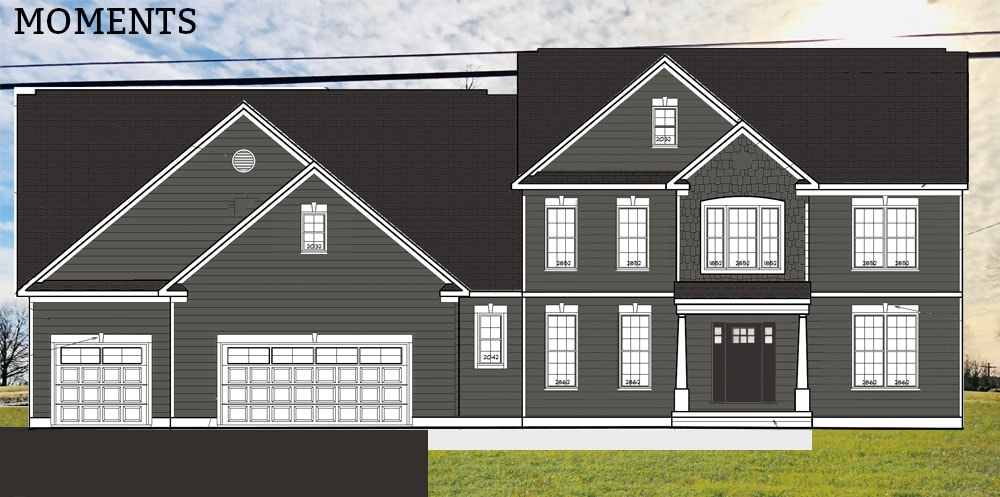 Moments (aka black)
We decided that black had to be a contender. Previously, we had a white door and knew that we didn't want to go that route this time. But we decided that black should make the cut.
Morning Calm
This beautiful, light shade of blue really pops against the dark house. I love the contrast between the siding and the door.
Pink Lemonade
I love the idea of a pink door but my husband thinks it's crazy. I decided to keep it on the short list for all of you to see how much I could make my husband squirm (also, now I'll totally know if he read this post or not).
Spontaneous
This darker blue is a little on the green side. I love how this color pops without screaming super loud like some of the other colors we tested.
Front Door Colors for a Gray House – VOTING CLOSED!
Voting is closed – the winning color (by a landslide) was Morning Calm.