As an Amazon Associate, I earn from qualifying purchases. Click here to read more.
In honor of my sister's baby shower this weekend, I made funfetti biscotti. My twin sister loves funfetti cake, it's always been her favorite. She dislikes super sweet cakes and frostings except for funfetti.
There is something about the nostalgia and whimsy of a funfetti cake. It always reminds me of my childhood. When pinning a million ideas for the shower, I came across this funfetti biscotti recipe from Family Bites and I knew I had to make it.
When I tasted it, I wish I had added some sort of cake mix extract to make it taste a little more like funfetti cake batter. Yes, you read that right. They make a cake mix extract which is great for making cake batter flavored ice cream.
My boys loved helping me make the funfetti biscotti. This week, I have a quick little how-to video. While filming, I knew that I would have to mute the sound because of my boys running around and playing. Instead, they wanted to help me. So right after I got the butter in, one boy joined me.
Then a few minutes later, the little one followed. I am so glad that I had the camera rolling. I was able to record a simple family moment with my boys that I will cherish forever.
Here are a few of their adorable real life behind the scenes moments with my boys – with the sound on. Ever wonder what it's like as a Mommy Blogger that stays home with her kids?
These clips are pretty typical – often times I have to crop little hands and fingers out of my pictures. I am sure most of you can relate as you try to block little fingers and flying toys while making dinner (anyone else ever have a toy wind up in dinner?)
Further down, you can find the finished video as well as typed directions. Do you have a favorite cake or one that reminds you of your childhood?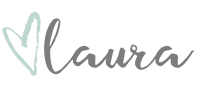 Funfetti Biscotti Recipe and How-to Video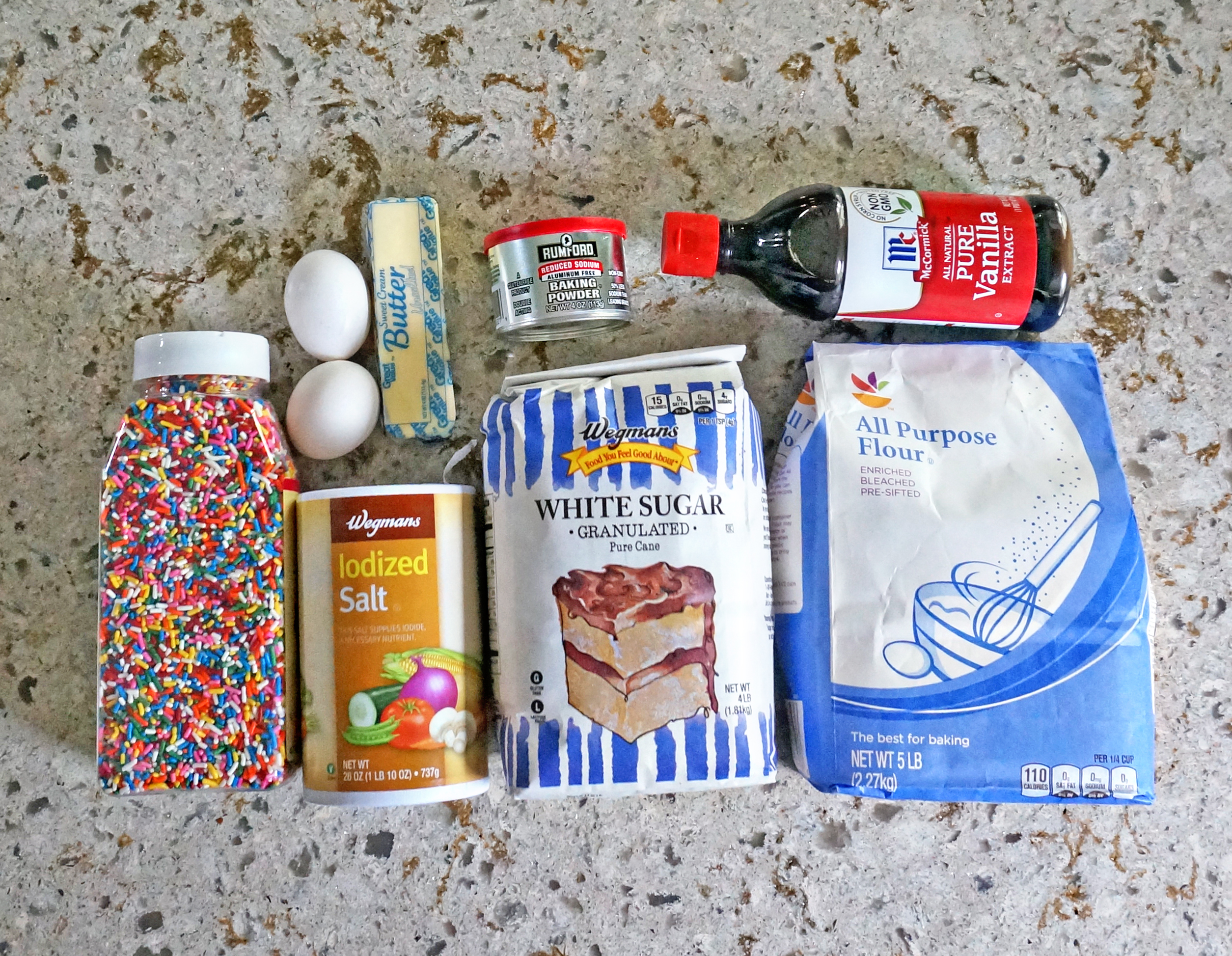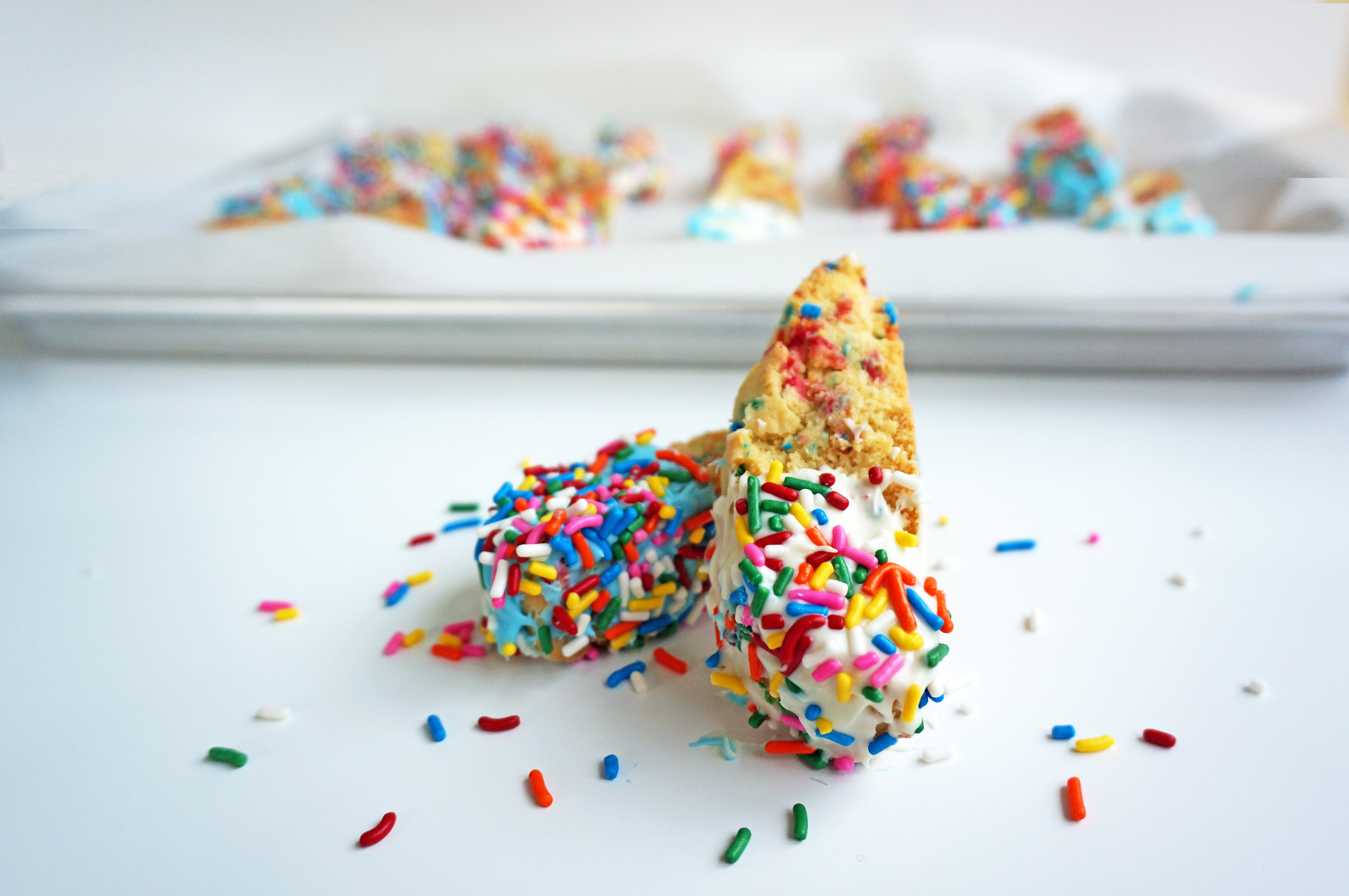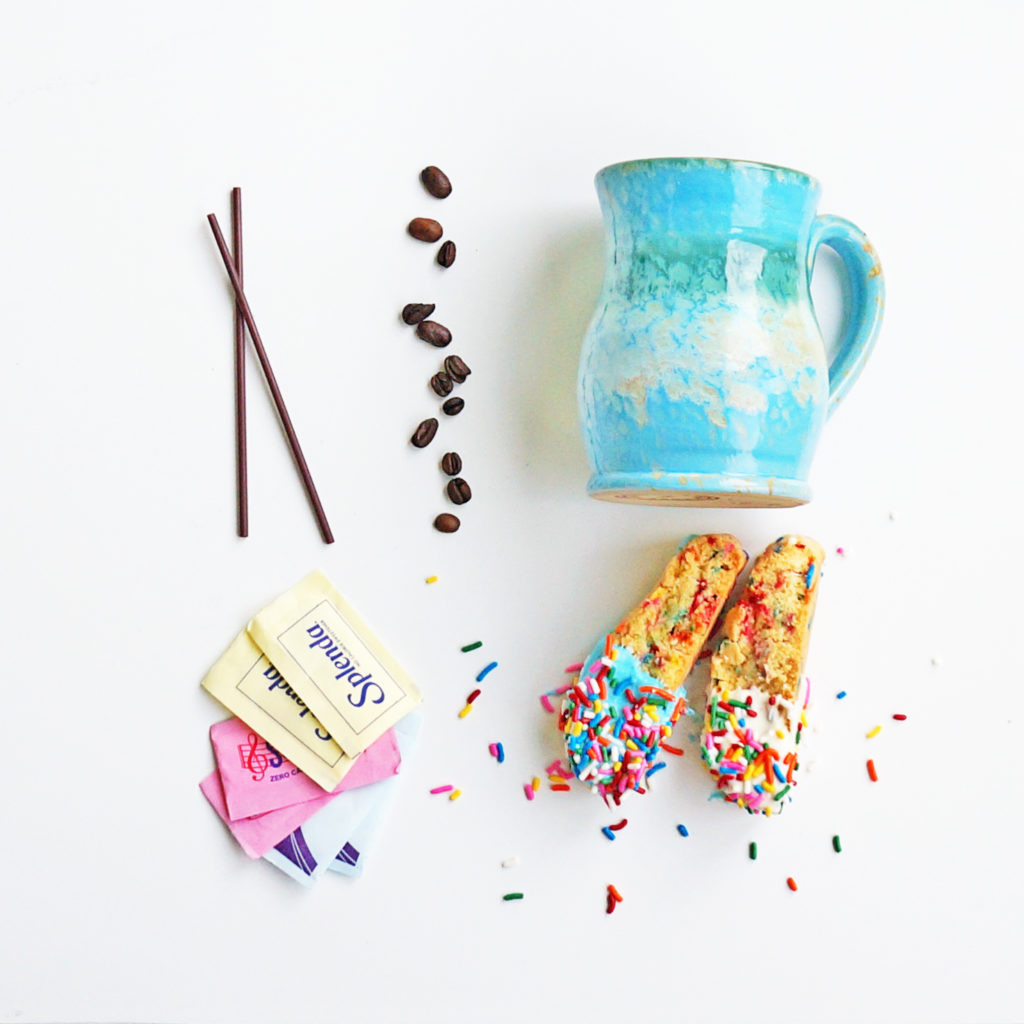 Funfetti Biscotti Recipe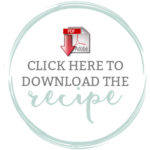 (modified from Family Bites)
Ingredients:
6 tablespoons of softened butter
2/3 cups granulated sugar
1/2 teaspoon salt
1 tablespoon vanilla
1/4 teaspoon of almond or cake batter extract if desired
1 1/2 teaspoons baking powder
2 large eggs
2 cups all purpose flour
1/2 cup of rainbow sprinkles
Directions
Preheat the oven to 350 degrees.
Line a baking sheet with parchment paper.
Beat the butter, sugar, salt, extract(s), and baking powder until smooth. Add the eggs one at a time and mix well after each.
Add the flour one cup at a time. Mix on a low speed while adding the flour.
Remove the bowl and mix in the sprinkles.
Divide the dough in half and shape into two long logs (as seen in the video).
Bake for 25 minutes. Remove the pan.
Reduce the temperature to 325.
Using a sharp knife or serrated knife, slice the logs (as seen in the video).
Lay the pieces flat on the baking sheet and spread out.
Bake an additional 20-25 minutes or until the biscotti have dried out and hardened. The edges should start to brown.
Allow the biscotti to cool.
Melt white chocolate or candy melts in a microwave safe bowl. Microwave at 30 second intervals until the chocolate is mostly melted (stirring once it's 90-95% melted will melt the rest). Stirring after each interval in the microwave.
Dip the biscotti into the chocolate and either pour on sprinkles or dip the biscotti into sprinkles (as seen in the video).
Store biscotti at room temperature for up to a week.
Want to save this recipe for later? Pin me!