This free Guess Who board game template is completely customizable. You can take a classic Guess Who game and turn it into a version just for you!
Using a free Canva template, you'll be able to make an entire set of character cards and small game board cards that match the classic game.
Guess Who was one of my favorite childhood games. I love that you can play a quick game (vs. something like Monopoly) and anyone could play (vs. something like Trivial Pursuit which could be more difficult, especially for younger children).
This DIY Guess Who template will let you create the game with any pictures you'd like. You could use family pictures to make an adorable gift for a family member or make one for your best friend with their favorite TV show characters.
This year for Christmas, I created a set for my boys with family photos. For the examples in this post though, you will see them with stock photo images of people as I wanted to protect the privacy of my family (especially the children).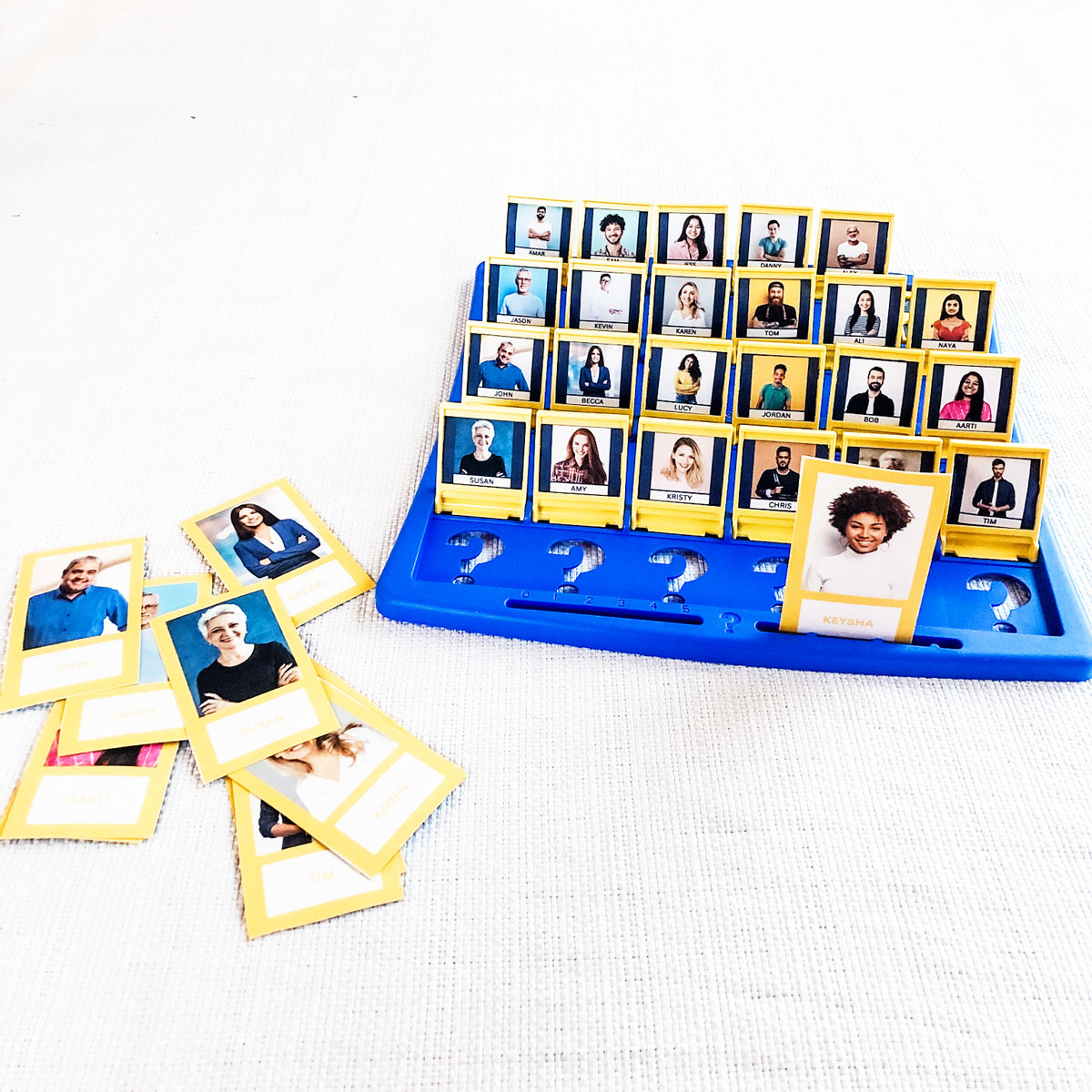 As an Amazon Associate, I earn from qualifying purchases. I am also an affiliate for the HP ink program, ShareaSale, and CJ Networks. Click here to read more.
Easy to Create
One great thing about this custom game is that it looks so fancy. But in reality, it is SUPER easy to make on your own. You'll need very few materials to create it. Plus – you could change out the game on a regular basis with any custom cards you would like.
Who Can I Put in the Editable Guess Who Game?
With this editable template, you can create your own Guess Who Game Board. You could add any photos you would like. Here are some of the photos you could use to create your own game.
Family members
Friends
Classmates/students
Disney characters
Cartoon characters
Famous people in history
Fictional characters from TV shows (the cast of Friends or Gilmore Girls or The Office)
Holiday characters (a Christmas version with favorite characters from Christmas movies)
What Would I Create a Custom Guess Who Game Board for?
DIY family gift
Family reunions
Unique gift for a friend's birthday
Classroom game for fun
Classroom learning game (you could use famous people)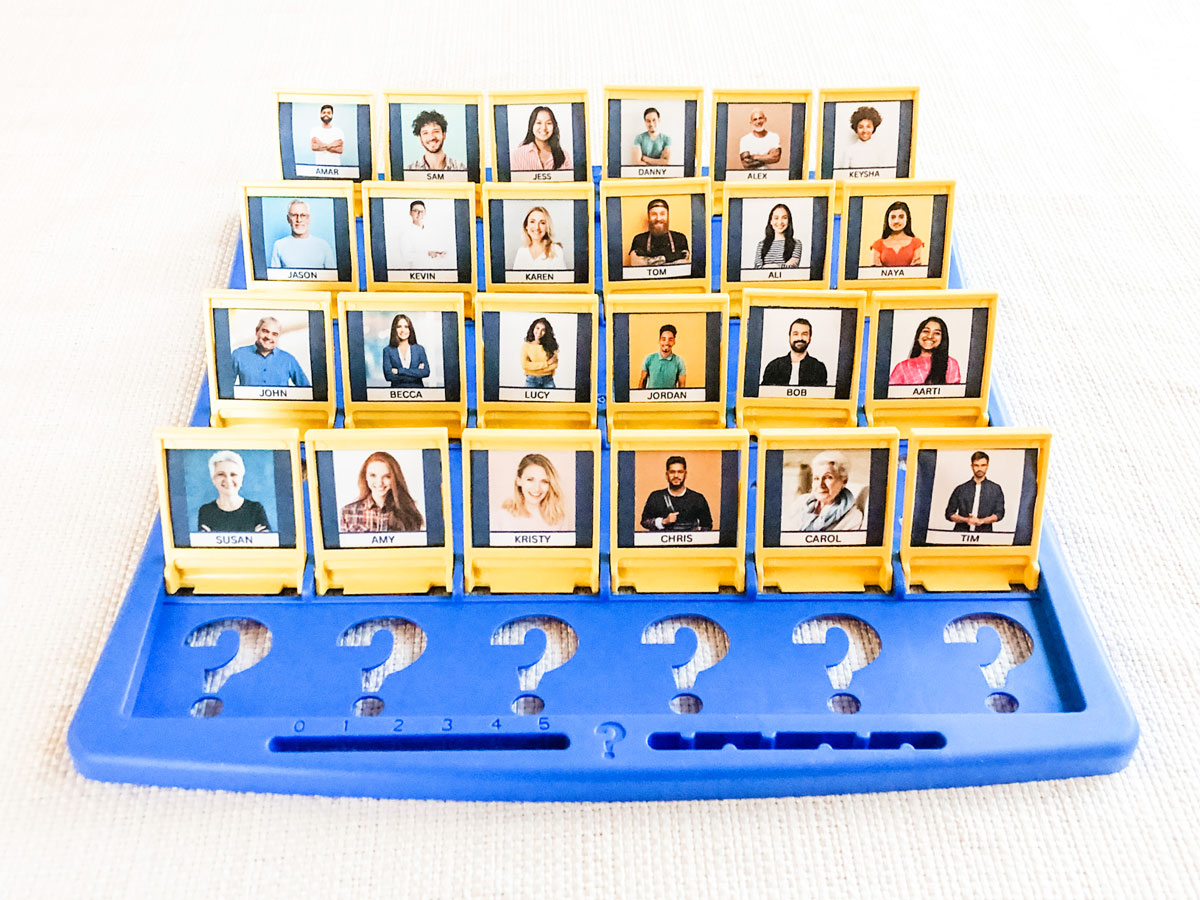 How to Use a Custom Version of Guess Who for the Classroom
Guess Who is a wonderful game to have on hand for a classroom. The original Guess Who game is great as it is but being able to customize it for a classroom is even better. You can totally modify it based on the grade level you are teaching (kindergarten is going to look a little different than high school).
You could use it for learning fun or just as a great indoor recess game to play. No matter which way you use it, students will love the opportunity to play with custom characters.
One reason I love Guess Who is that it's a great way to teach social skills. Turn taking is one of the best skills to work on with it. But there are other things you could use it for, like:
Learning names of students (great for students on the spectrum who struggle with names)
Indoor recess game with students from the class or teachers
Famous people in history (great for Black History Month, Women's History month, Gods and Goddesses, Presidents, and more).
Fictional book characters
Community helpers
Animals
…and so much more!
Use in Small Groups
You can use this for small group activities if you make more than one game. They are pretty inexpensive so it may be possible to have more than one – especially if you share them between classes (grade level teachers could alternate which day they use them).
Important Note for Choosing Characters
When selecting characters for the board game, remember that you'll need to pay attention to the features of the people. You'll want to make sure that you have more than one person with a specific feature This includes:
hair color
glasses
hat
facial hair
…and more!
It's important to make sure you have more than one person for each feature because you don't want to lose just because you got stuck with the one person wear glasses.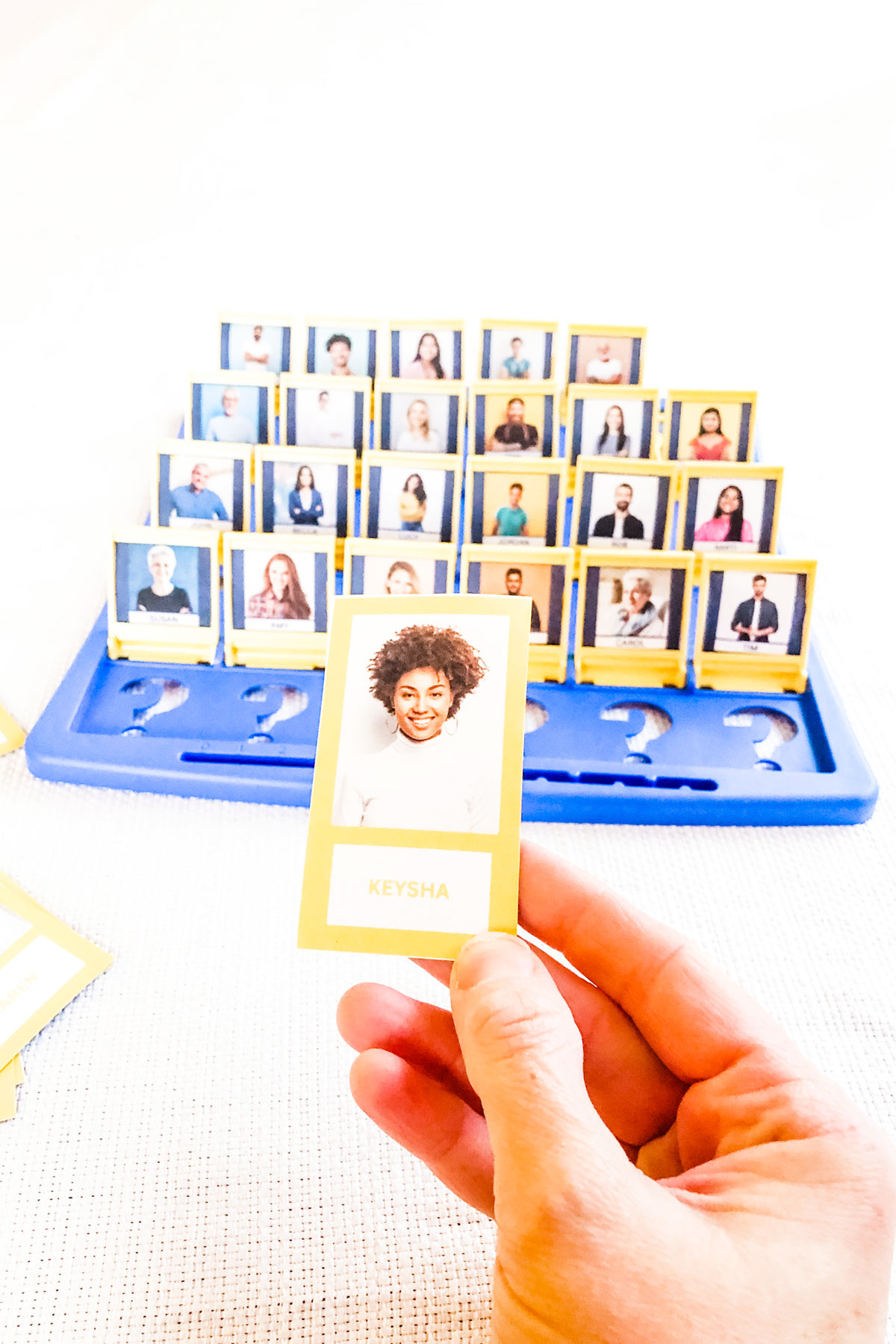 What Comes Included in the Free Guess Who Set?
You will get 1 template to Canva. This includes different sizes of cards as required for the game.
The larger selection cards are included in classic yellow. They come with a custom background for the back of the card so you can't see through to the other size.
In addition to the larger cards, you will get 2 sets of the smaller cards to fit into the game boards themselves.
What Materials Do You Need to Make a Custom Guess Who Board?
You will need the following.
How Do I use the Personalized Guess Who Template?
The best way to learn how to use the template is to watch the how-to video.
What is Canva? Does it Cost Money?
Canva is an online designer program. To use the template, it is completely free. But you will have to sign up using your e-mail address, Facebook, or Google account.
While you can purchase a subscription, you don't have to. The free version is all you need to edit the Guess Who template.
Very Important Note to Make Sure the Size of the Cards is Correct
When testing the template, I learned that if you open the PDF in a browser instead of a PDF reader like Adobe, the cards will be slightly smaller than they were originally created.
When you download the printables, you will select to download for print. Then, you will open the file in a PDF reader to make sure it works.
The last thing you want to do is to spend all the time designing your game pieces online just to have it fail when you print it.
Okay, I Made the Game Pieces… Now, How Do I Create the Guess Who Game Board?
Creating the custom game is simple. After you have cut out every game piece, you will put the game board together just like you would the original game. You can follow the directions from the game itself for installing the cards.
You will divide your small game pieces by their different color. All of the blue cards go in the blue board. All of the red pieces go in the red board.
Then you'll just place the larger cards in a pile to create a draw card pile for choosing a character.
How Do you Play the Custom Guess Who?
You follow the normal rules of the game but just use the printable templates you created. You can find the directions for Guess Who here.
Worried About the Cost of Ink?
If you are tired of worrying about ink, you should really look into the HP Ink Program. I have saved hundreds on ink. Read my post to see if the HP Ink program is for you.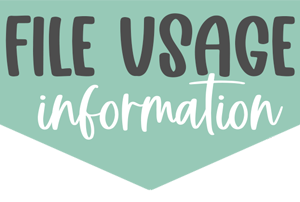 Copyright MOM ENVY 2022. Files may be used for personal use only. No commercial use of the file is available. Files may not be directly shared within Facebook groups, on websites, or in any other way. If using for educational purposes, the file may be printed and copied for classroom use. A link to the web page to download the files may be shared as well as one photo. The file may not be printed and then sold (including local yard sale sites and groups or at local craft fairs). The images may not be used in any way other than to share with a link to the original web page.