Farmhouse kitchen was the number one thing on our list when we were house hunting. I knew that I had to have a kitchen full of farmhouse charm (thanks to Fixer Upper), but standing in front of me was a kitchen straight out of the 80's that was far from a farmhouse kitchen.
If you have an old kitchen from a decade you may not have even been alive during, no worries. With a little bit of paint and some elbow grease, you can achieve an updated look.
Just in case you forgot, below is our kitchen before the renovation. You can see more before pictures and information here and learn how to paint kitchen cabinets (so they last), here.
Farmhouse Kitchen – The Before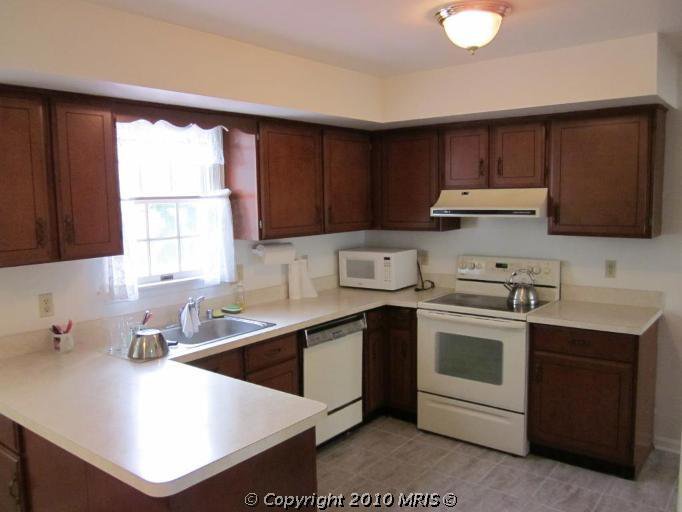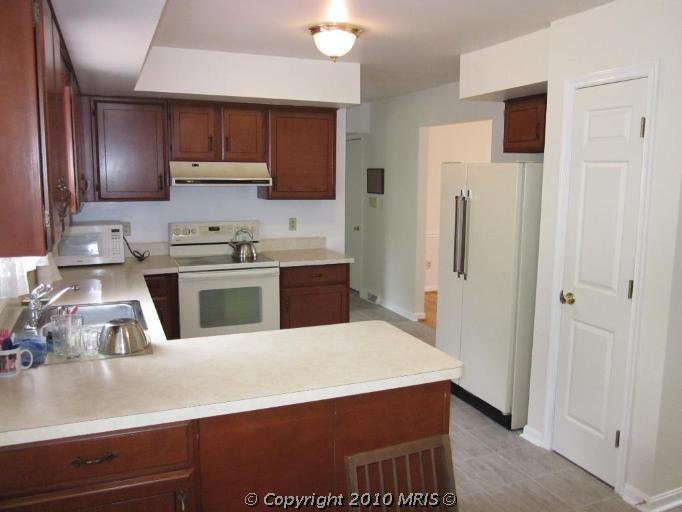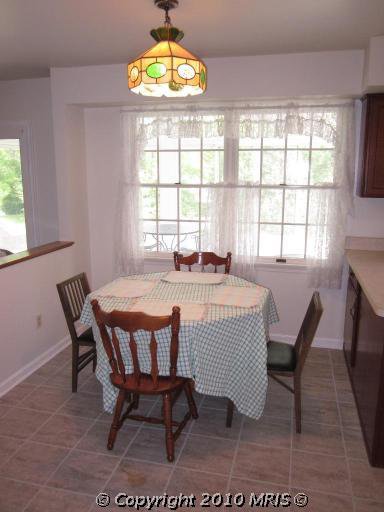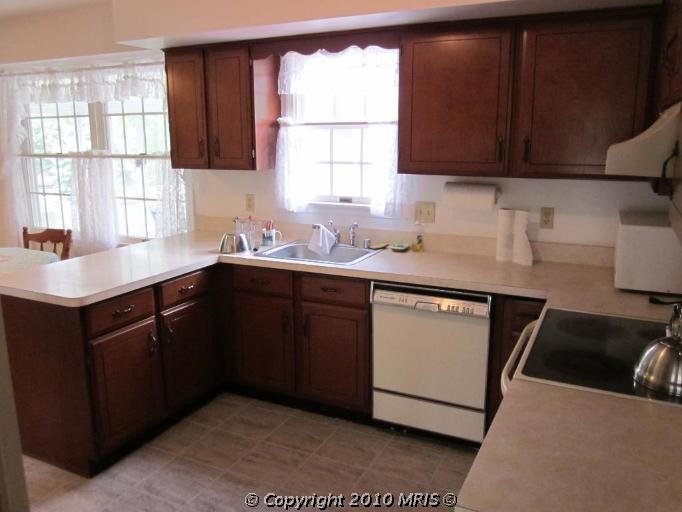 When we moved into our house, I had dreams of running into HGTV Kitchen Crashers at our local hardware store (I told my husband I should carry pictures of our ugly kitchen with us anytime we went just in case). Our kitchen was in desperate need of a makeover, as you can see above.
The biggest change to the kitchen was painting our kitchen cabinets. Click here to learn how we painted kitchen cabinets (so they last).
The changes we hired helped for were the flooring, replacing the appliances, and the countertops. We splurged a little on the appliances and counters but the rest of the renovation was rather inexpensive.
In addition, we were truly blessed to have my parents helping us complete the renovation. They even installed our subway tile backsplash by themselves after Jack was born.
So without further adieu, here is our farmhouse kitchen remodel. The only thing that is original is the cabinets (underneath the paint).
Farmhouse Kitchen – Remodel Reveal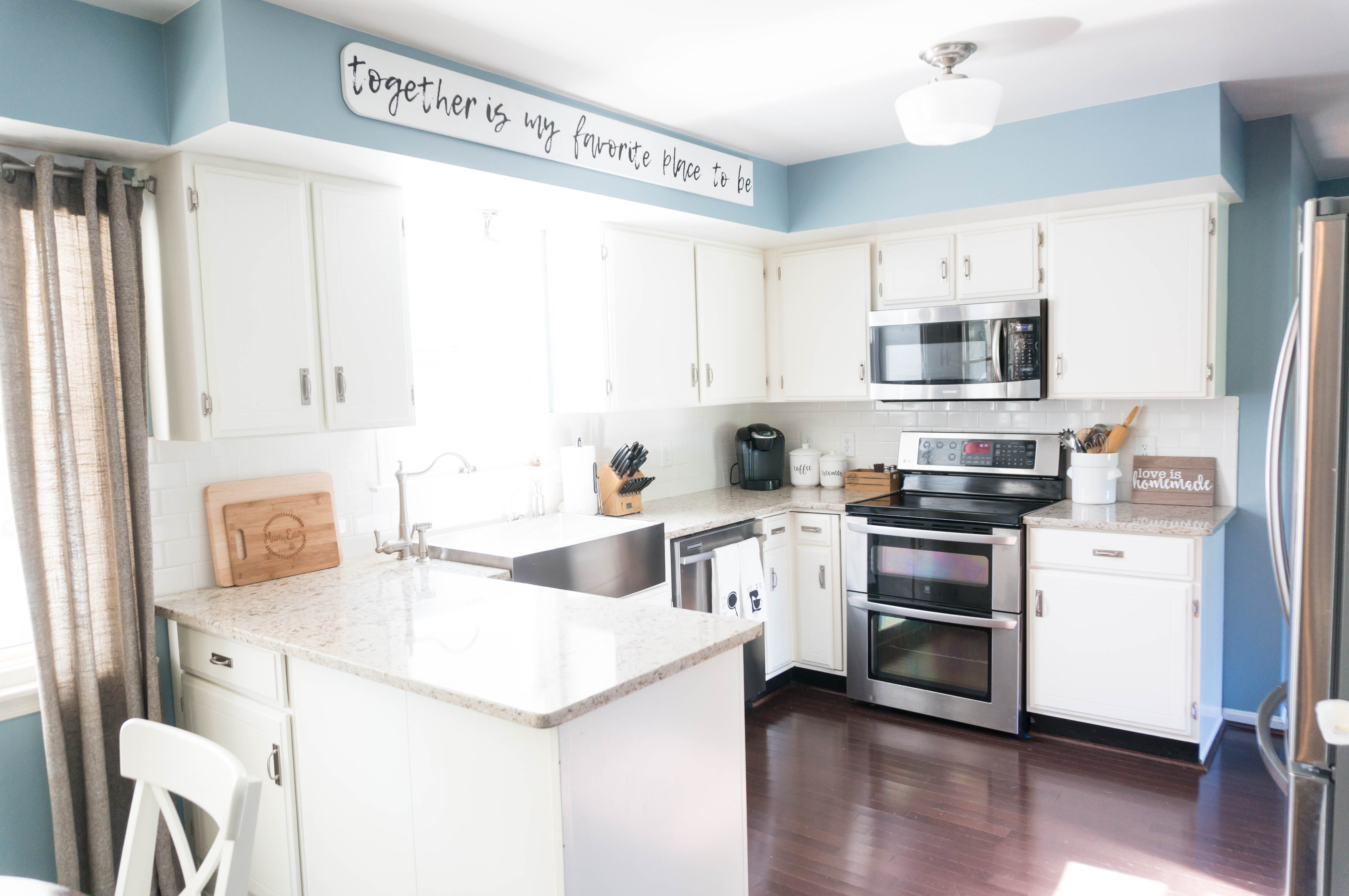 My favorite piece in the kitchen is the sign above the sink. I made it using my Silhouette machine. As a base for the sign, I used the top piece of wood from the old half-wall that separated the kitchen from the family room.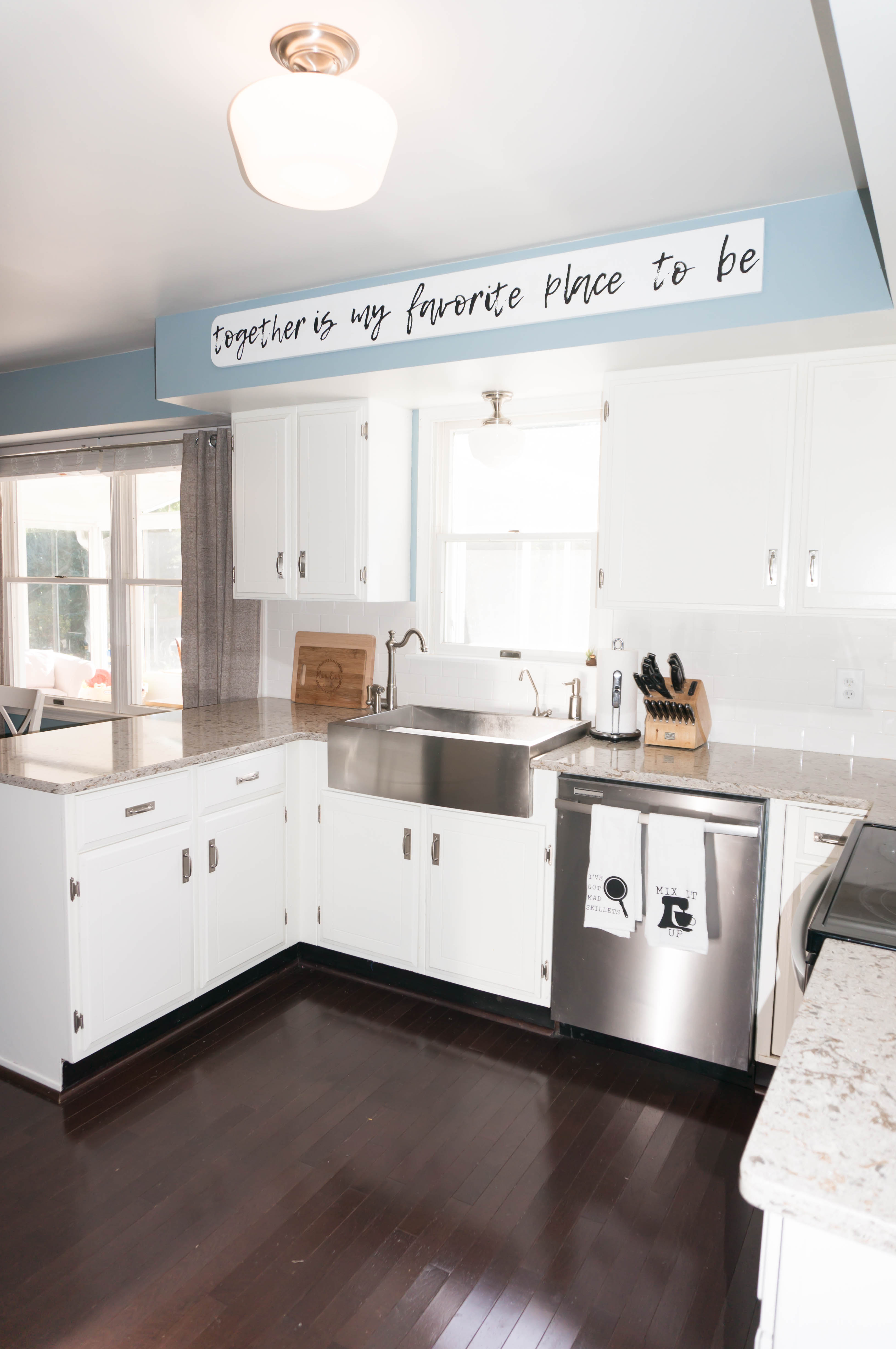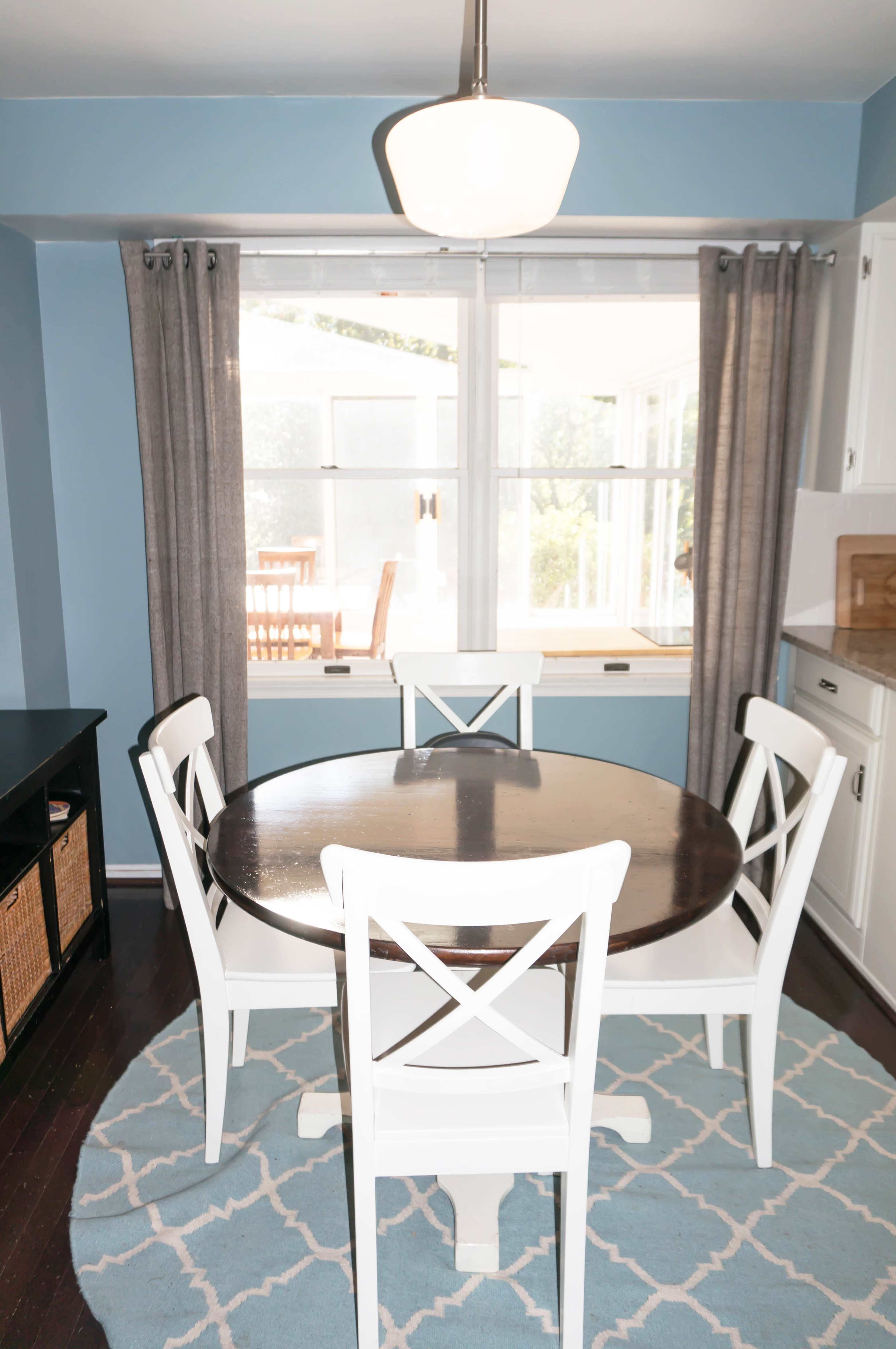 The table was my late Grandma's. It already had a white base. I stained the top to match the floors.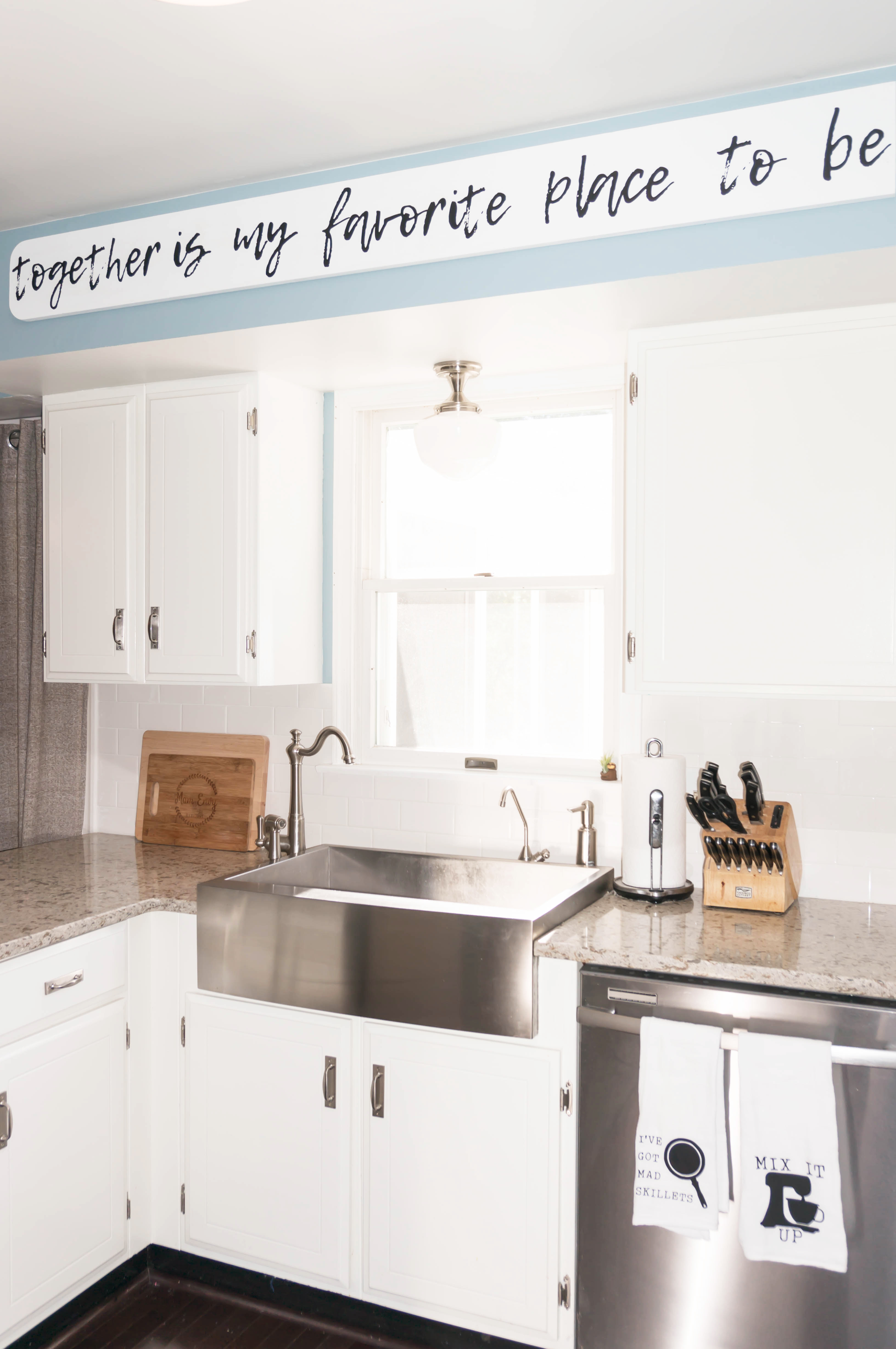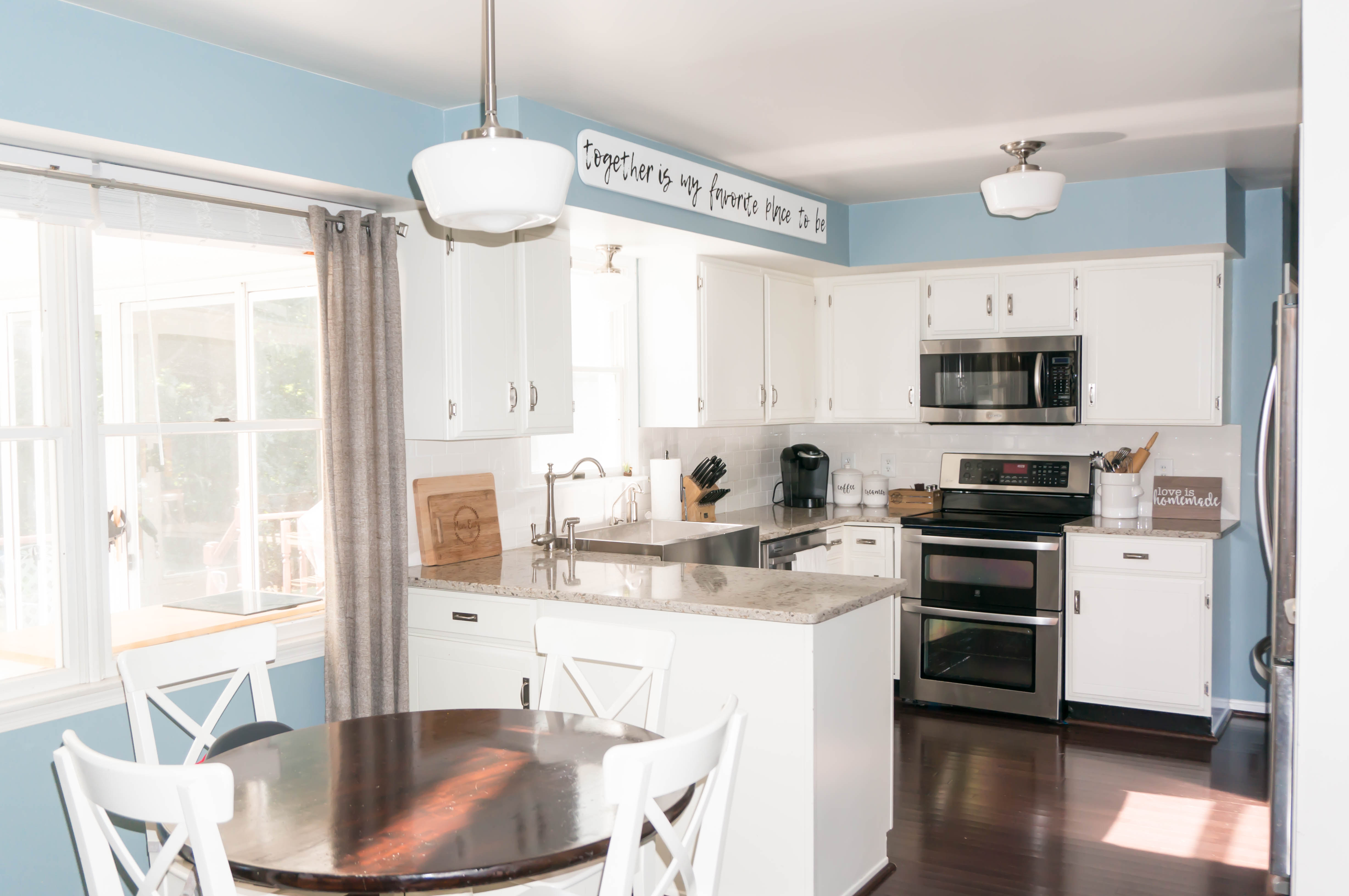 To coordinate with our living room light, we decided to go with three schoolhouse lights for the kitchen area. In our living room we have one but with an oil rubbed bronze finish.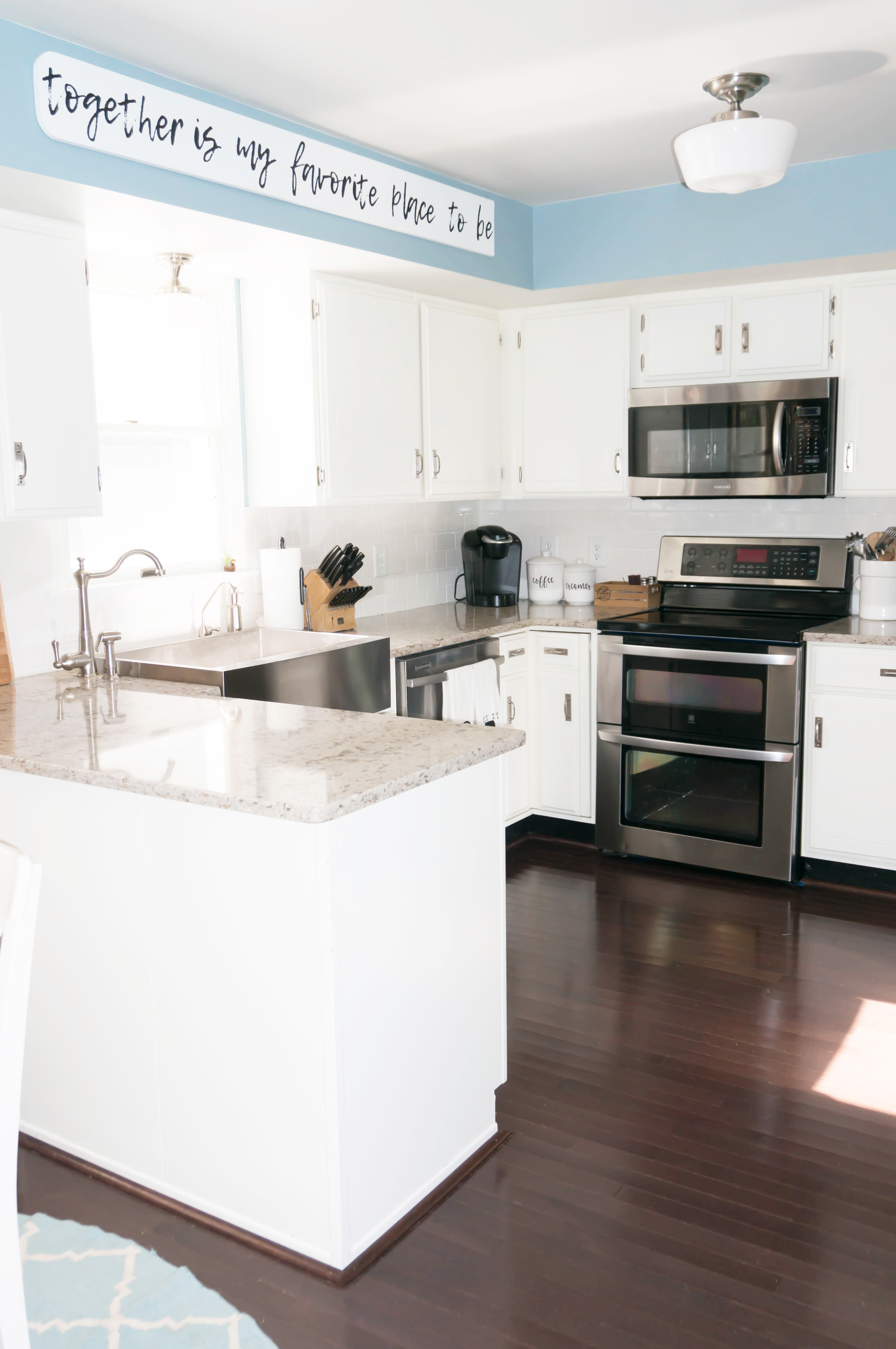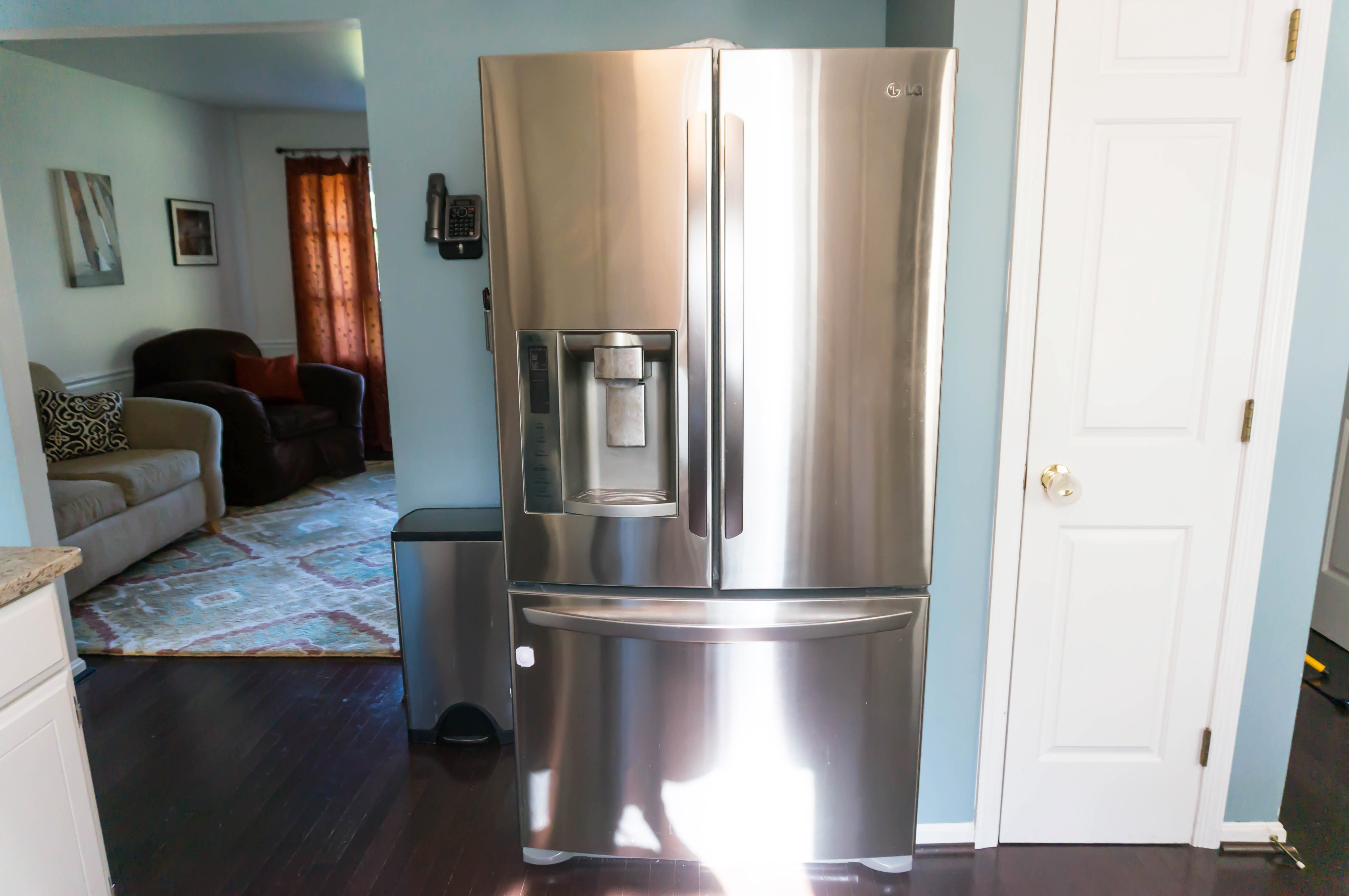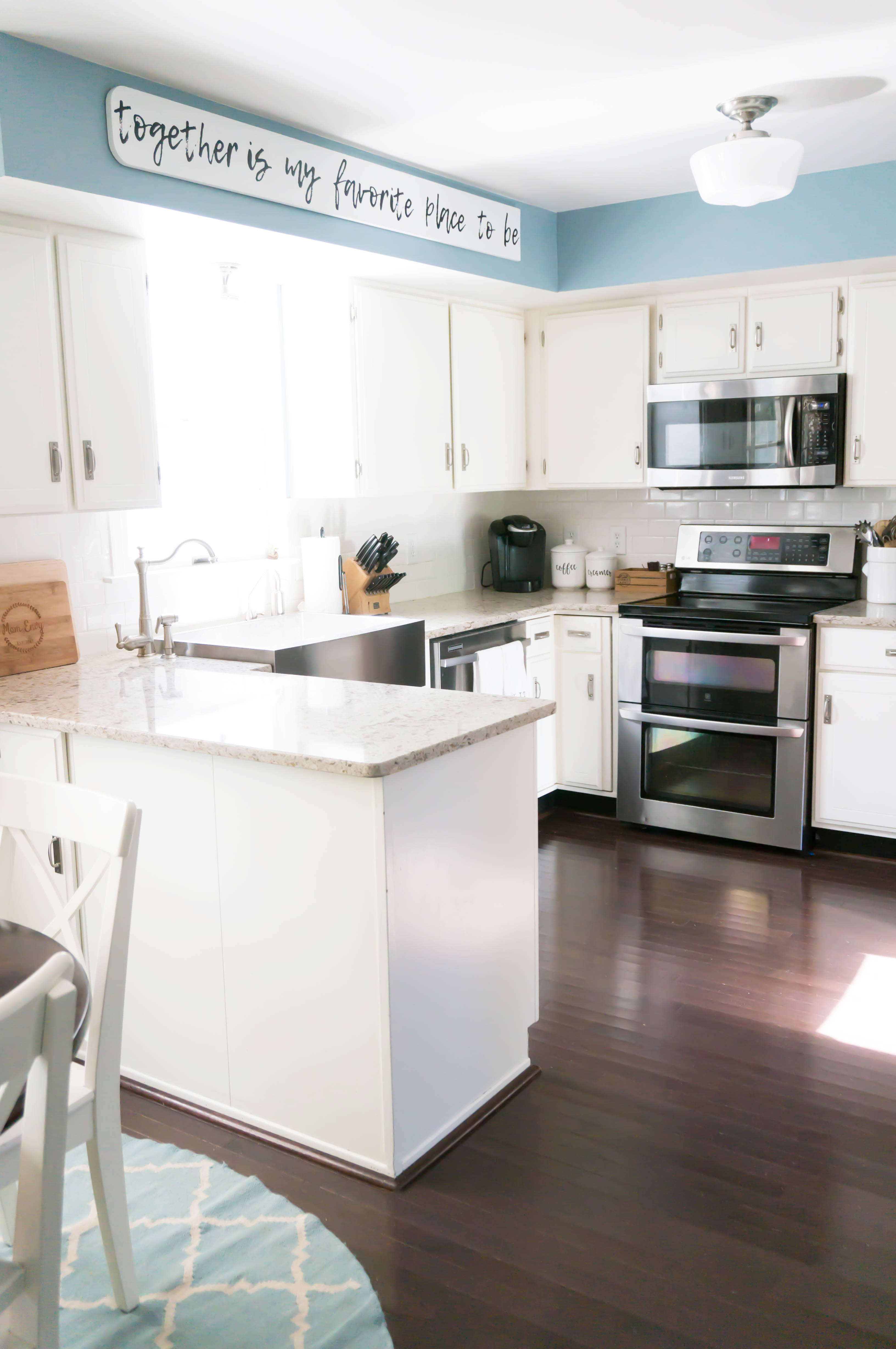 In addition to updating the flooring and counters, another big expense was replacing the appliances. We choose to go with stainless and I opted to go for mid-level appliances.
Next to our fridge is a small pantry (that our visitors often mistake as a fridge for some strange reason). On the other side is a trashcan. Oddly enough, the trashcan holds a special place in my heart because it's the first big gift my husband ever bought me (it has a sweet story behind it, I promise).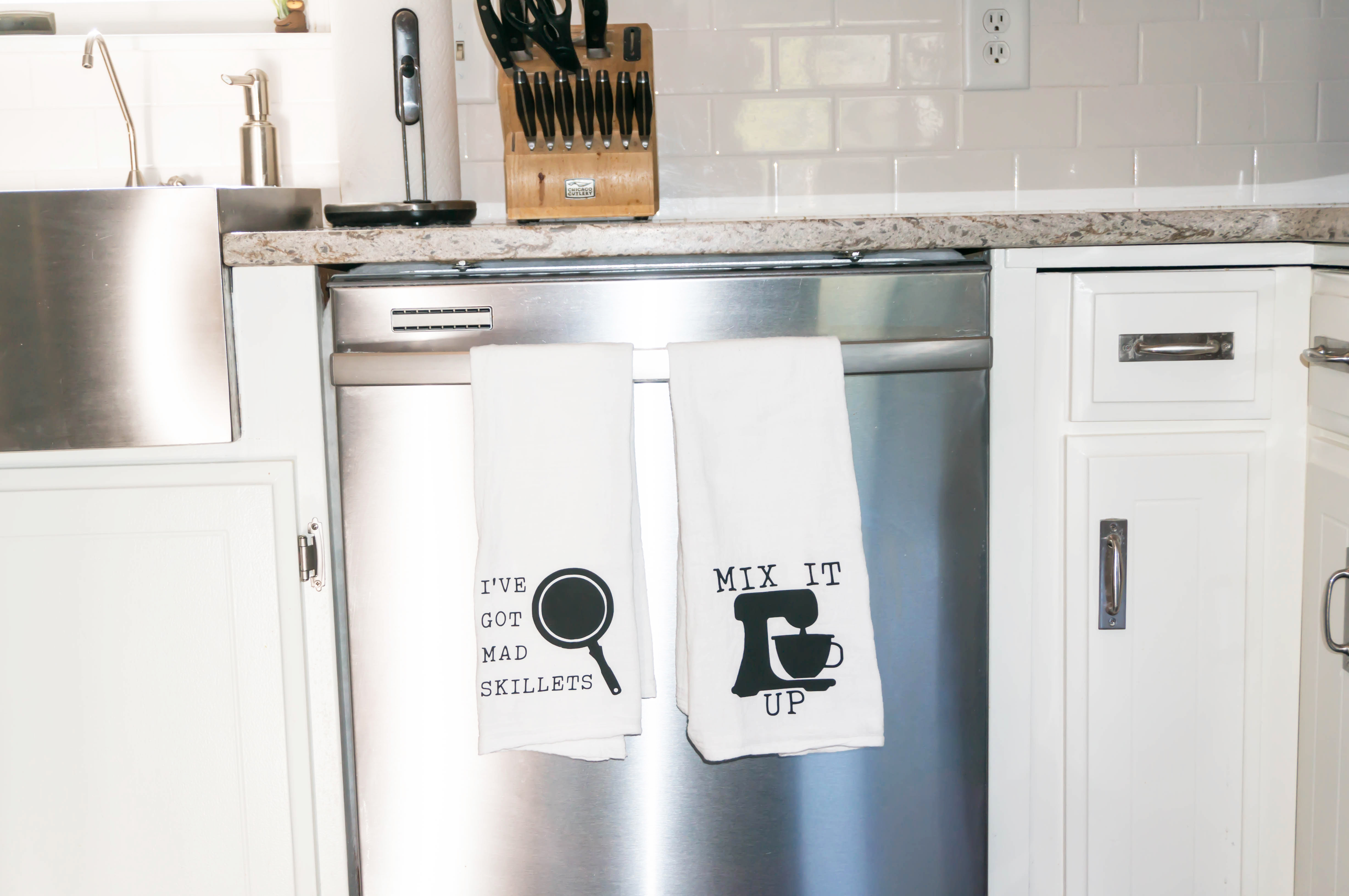 My silhouette came in handy again in making these farmhouse kitchen towels. My boys both love my mixer (probably because when it comes out, they always get a special treat). The second towel was thought of by my hilarious husband.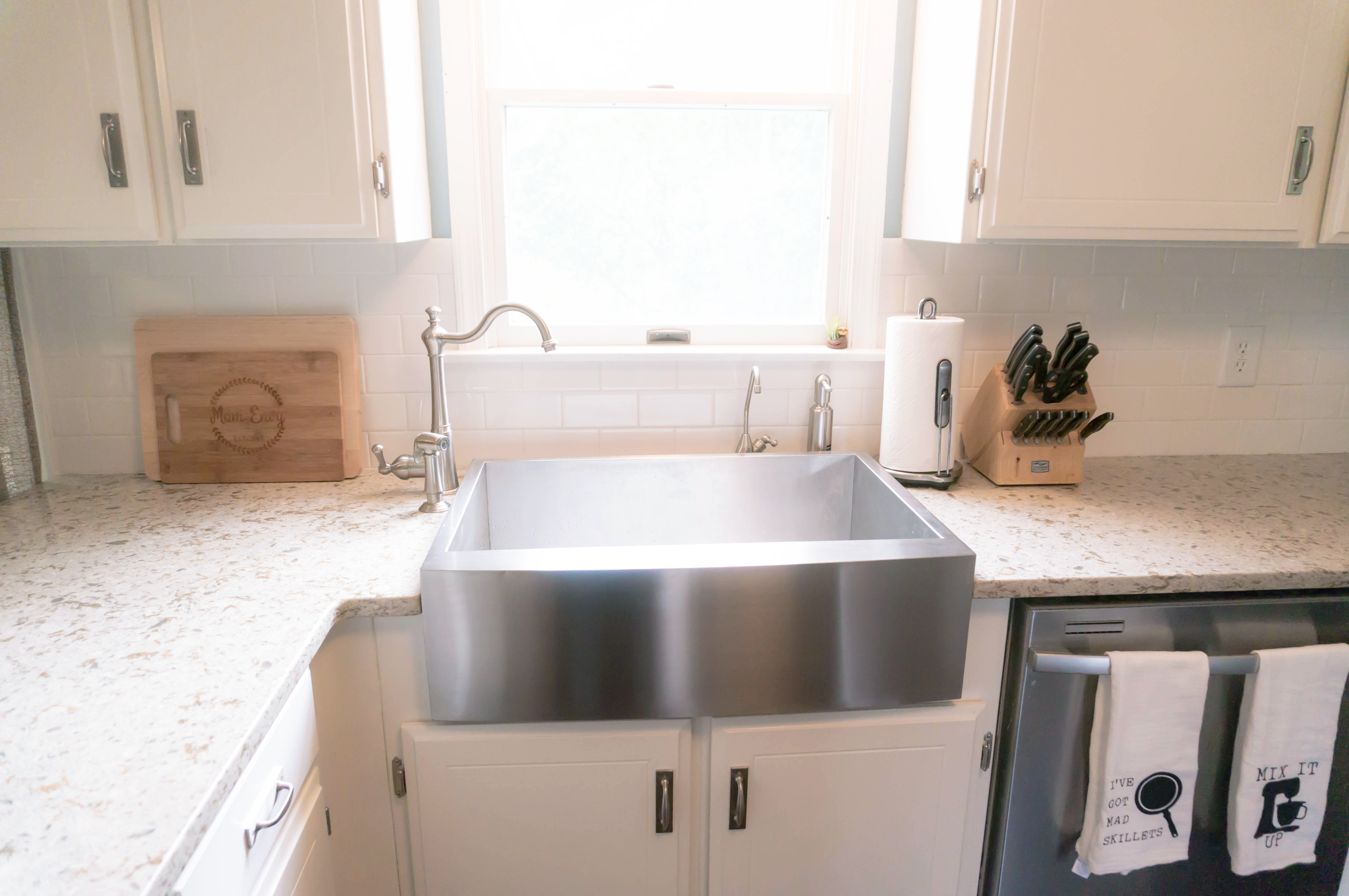 My Dad cut the base cabinet to fit the sink. My husband calls my sink my "spruce goose" because it almost sunk our kitchen renovation. It was overly complicated to install because I didn't measure the cabinet first to make sure it could accommodate the sink.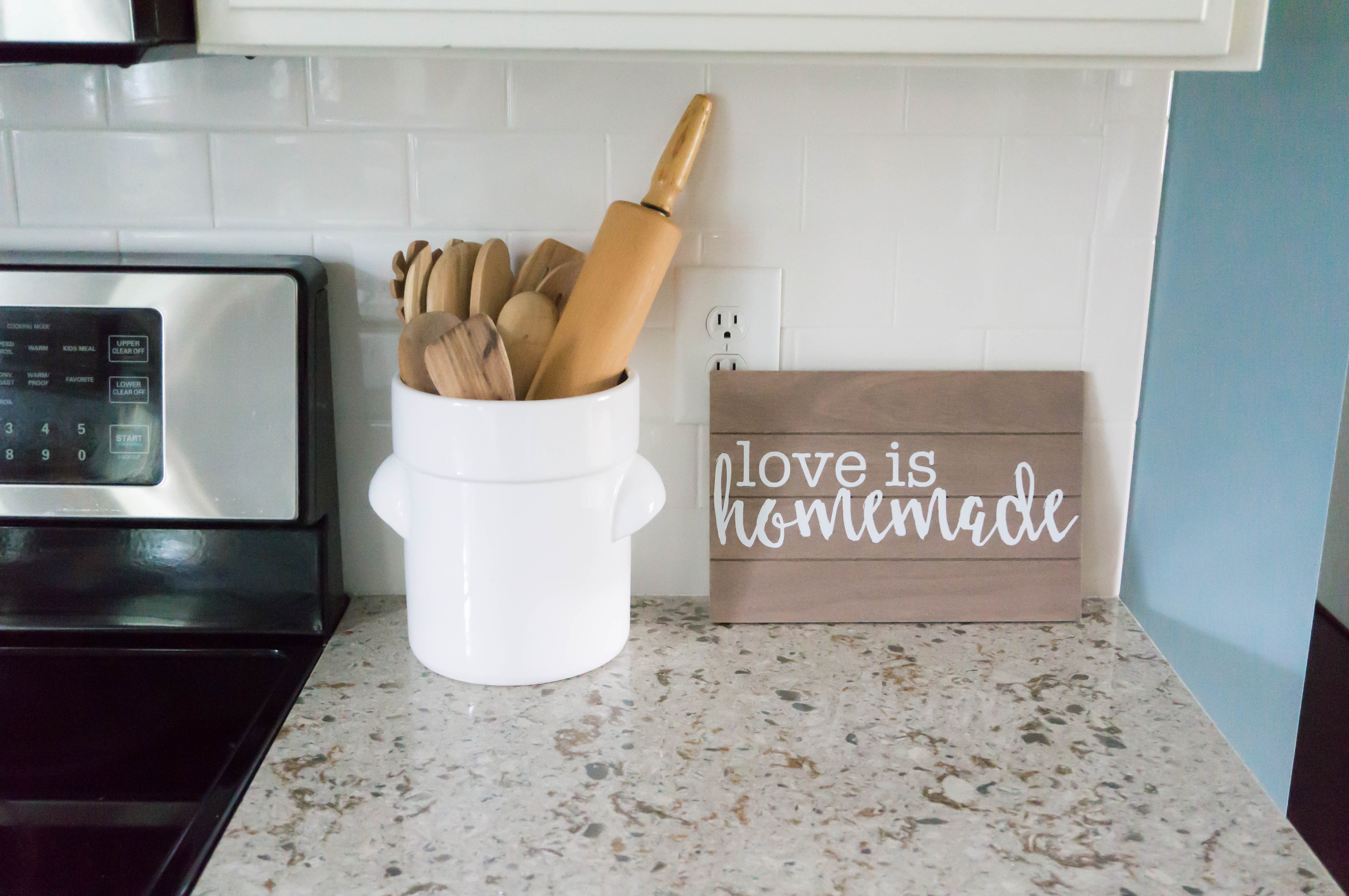 I purchased the large white crock from Home Goods (one of my favorites). The sign was made using my Silhouette and an inexpensive wood sign from Target.
Inside of the crock, my late Grandma's rolling pin sits with wooden cooking utensils.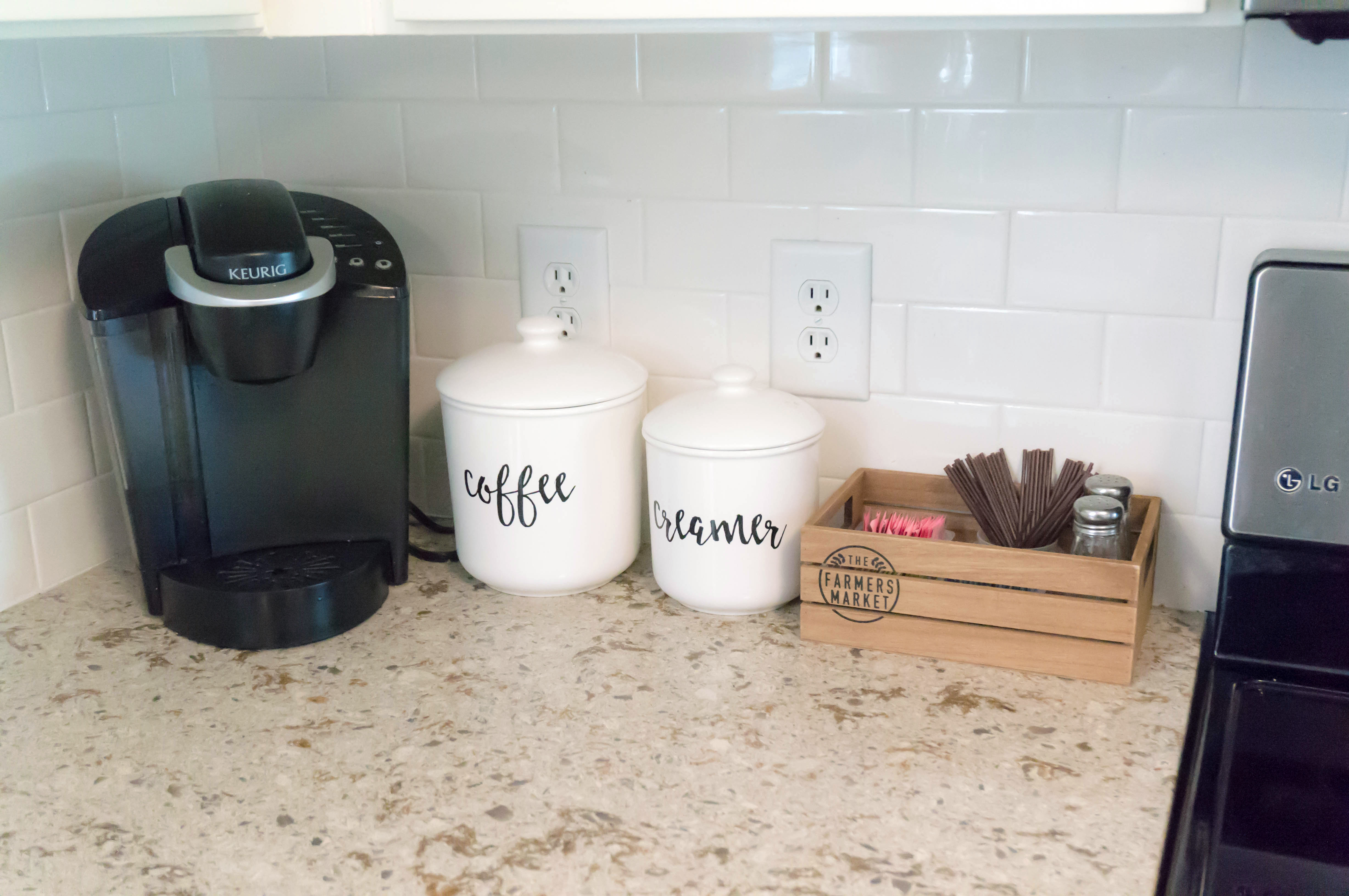 A coffee station in our house is a must for both guests and my husband. He works from home so he needs quick and easy access to make his coffee.
To keep things contained in a neater fashion, I purchased ceramic jars for the coffee and dairy-free creamer.
Inside of the Farmer's Market box from Target are some various sugar packets and coffee stirrers. In addition, I keep my late Grandparent's salt and pepper shakers for easy access near the stove top.
Here's the before and after of our farmhouse kitchen one more time.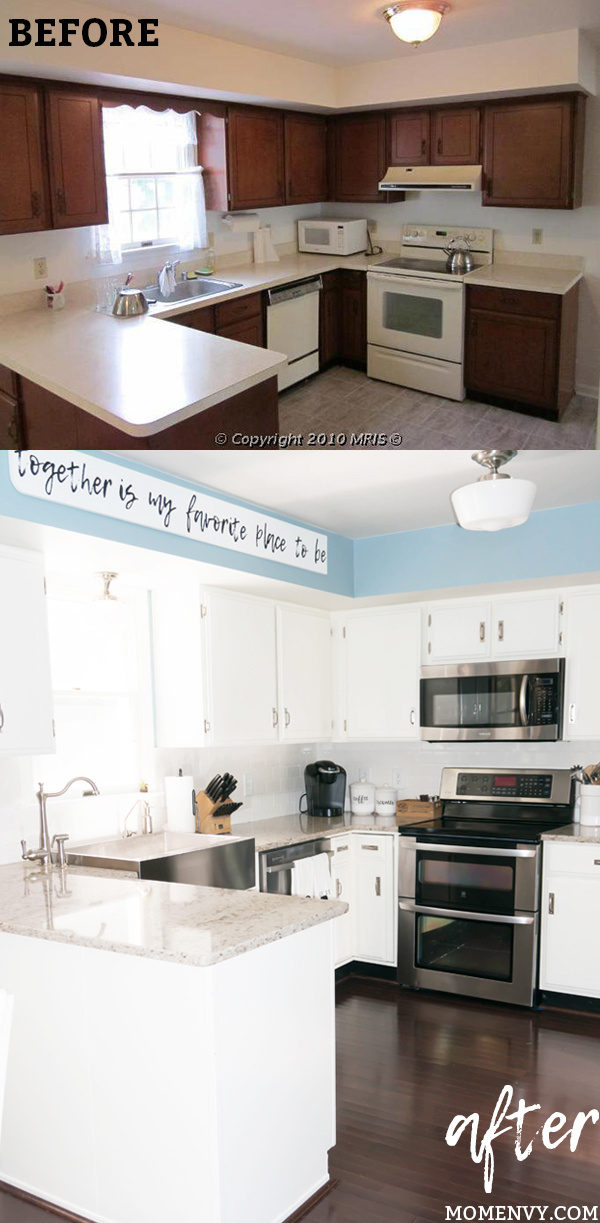 Product List
White kitchen chairs from Ikea (we LOVE these)
Wooden Spoons from Amazon (Paula Deen)
White Canisters and Crock, Home Goods
Farmer's Market Box, Target's Dollar Spot (or Bullseye's Playground)
Wood sign for the Love is Homemade sign is from Target's Dollar Spot
Lights, Home Depot
*Unfortunately, some of the items are no longer available. These are the items that I could currently link to.