Before we knew the sex of our baby, my husband and I made an agreement. If we had a girl, I could decorate the nursery any way I wanted (like he had a choice). If we had a boy, he could choose the theme for the nursery (even though he didn't understand why the nursery needed a "theme," he was happy to be able to pick it). From about week 7, I was certain Carl was a boy, so I knew my girly nursery was out the window.
Once my gut-feeling was verified, we got started on designing Carl's nursery. My husband was shocked that I was okay with him having an Orioles room (I was just relieved he didn't want Star Wars or forest green walls). The room is perfectly Carl. He loves the bright orange and because of his dad, he already has a love of baseball and the Orioles.


Orioles Theme Nursery – The Details
We decided to use a neutral wall color since the bright orange, white, and contrasting black, would bring enough color to the room (Thank God Kris didn't want orange walls). He also agreed that we wouldn't have any large fathead stickers (I thought they might be scary for me while night feeding a tiny baby).
To the left as you walk in sits an adorable Orioles-themed rocking horse that was a gift from Carl's Godfather, Brad, and Aunt Melissa on his baptism (the best part is the horse has "rocking with Jesus" engraved on it). Above the closet doors hangs a pennant Kris and I received at the 25th Anniversary of the 83 World Series win (which we somehow managed to save even though we ran from the stadium to our car in torrential rain).
The Orioles wall clock hung in Kris' room when he was younger. Kris agreed to the curtains and the chevron pillow (from one of the greatest stores on Earth, Home Goods). The chair at some point needs to be replaced, it was a quick last-minute purchase because I couldn't find anything I liked. After 14 months of hour+ nightly breast-feeding sessions, I realized just how important it is to spend money on a comfortable, quality chair. I repeat, this is not an area to skimp on if you plan to breast feed! Now my husband is the one to put Carl down at night (since we no longer BF), and I feel awful that he has to sit in that thing. We definitely need to figure something out (we'd love any suggestions!)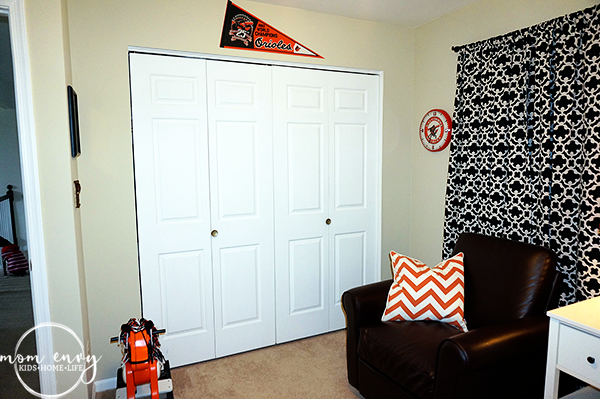 Notice Carl's sister sitting in the hallway to the left? She was too cute to crop out.
Above the rocking horse hangs a sweet embroidered piece from Kris' Aunt Charlene. Under that is a baseball
light-switch cover
that my sister, Jess, found.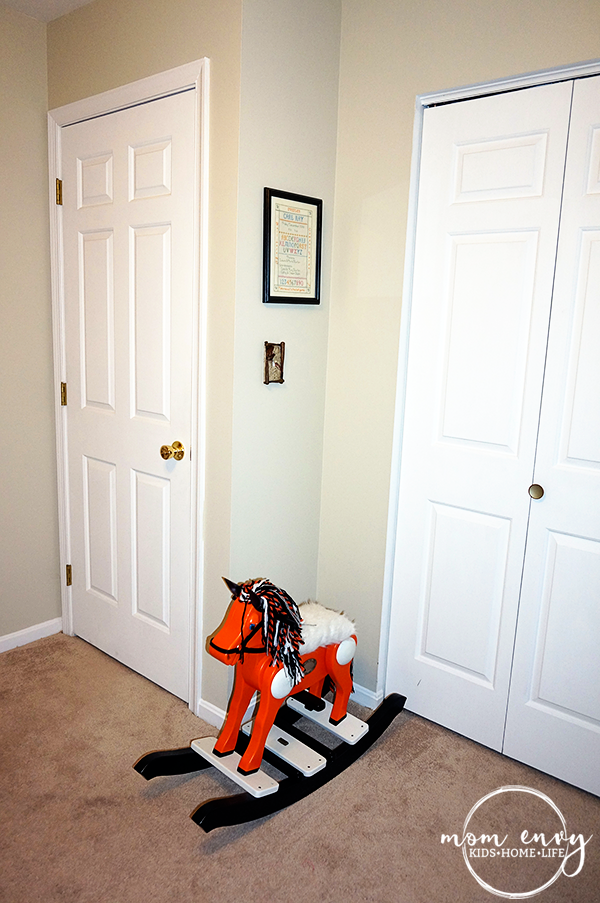 Here is the Rocking Horse up close. They gave him a custom paint job and hair-do. The detail is unbelievable!
Next to the chair sits an old Ikea end table (which they no longer carry). Sitting on the nightstand is an Orioles lamp I bought Kris years ago for his future man-cave as he loves hates to call it (just checking that you're reading my blog honey). Since we are a ways off from finishing our basement, he said that it could be used. I am just praying Carl doesn't try to break it again. On the wall hangs 6 pictures I created specifically for his nursery. 2 of the images are part of the free printables pack.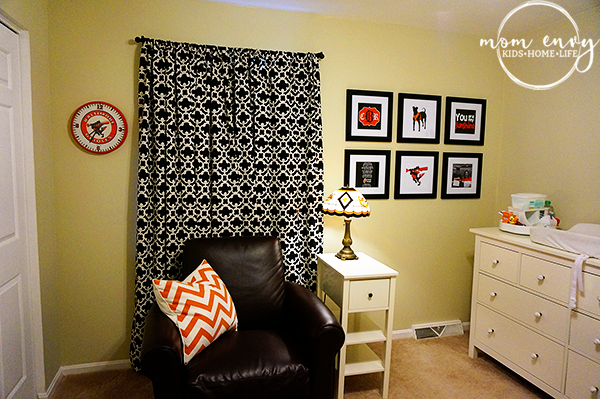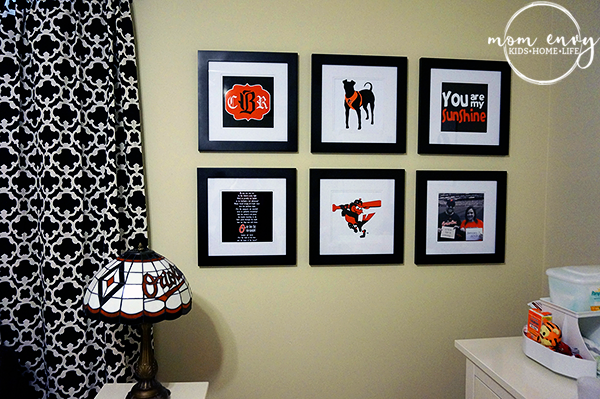 The images include (top left-bottom right)
1. Carl's monogram including a replica of a "B" that Kris' grandfather (Carl's namesake) made and hung over his garage.
2. A silhouette of Cosby with the Orioles bird on her harness.
5. The Oriole Bird.
6. Our Facebook birth announcement which I made black and white except for any orange in the photo..
Our announcement: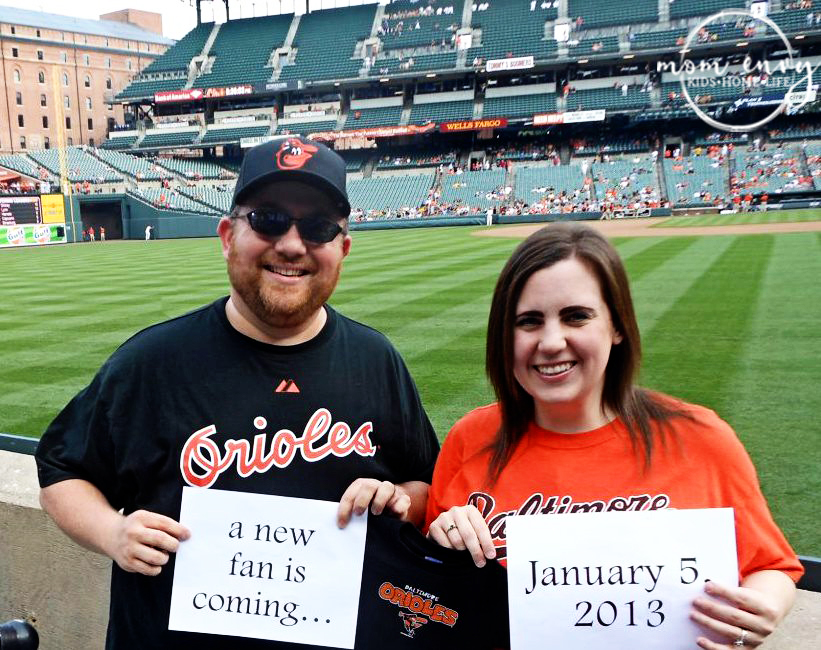 Above Carl's
Ikea dresser
(love), hangs Carl's name from my dear friend Sharon. Her husband made it especially for Carl's nursery as one of my shower gifts! It is exactly what I had envisioned. I hung it on canvas so that it can be moved if needed later on. His cute monkey friend from my Aunt Laura is how we entertain Carl during diaper changes. Next to his dresser is the ever-so-popular expedit bookshelf. And of course, his
knobs are little baseballs
.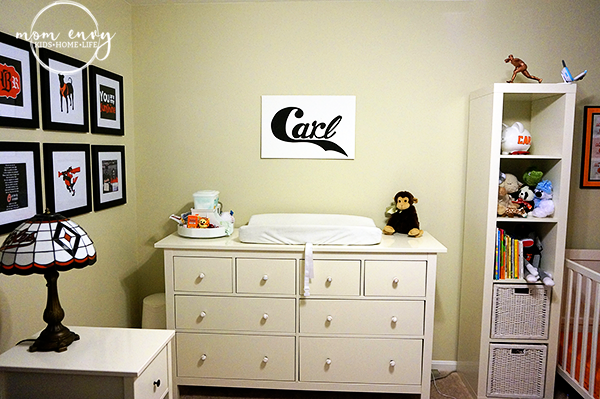 Carl's bookshelf is mostly filled with stuffed animals and books for now. On top sits the replica of the Cal Ripken Jr. statue at Camden Yards. An endearing monogrammed piggy bank from my sister, Amy, sits on the top shelf. Our favorite stuffed animal is an Orioles
sock monkey
squeezed in next to the books.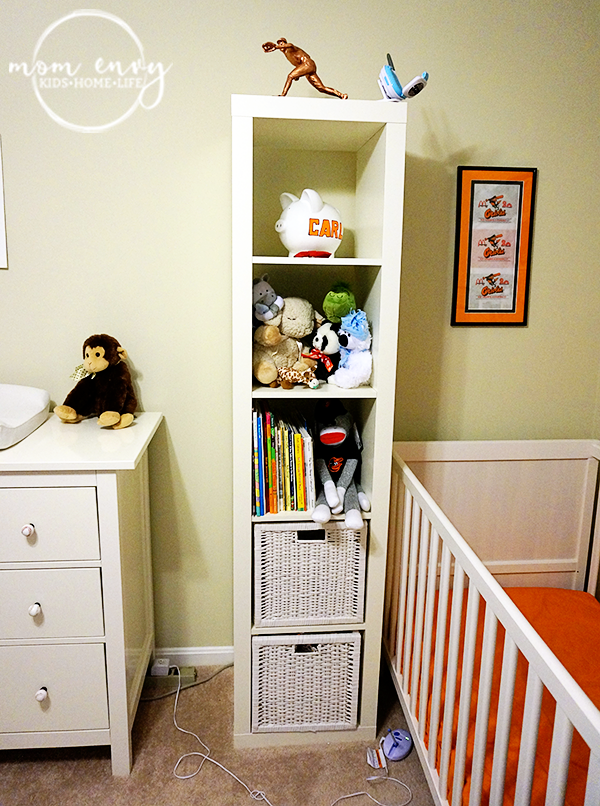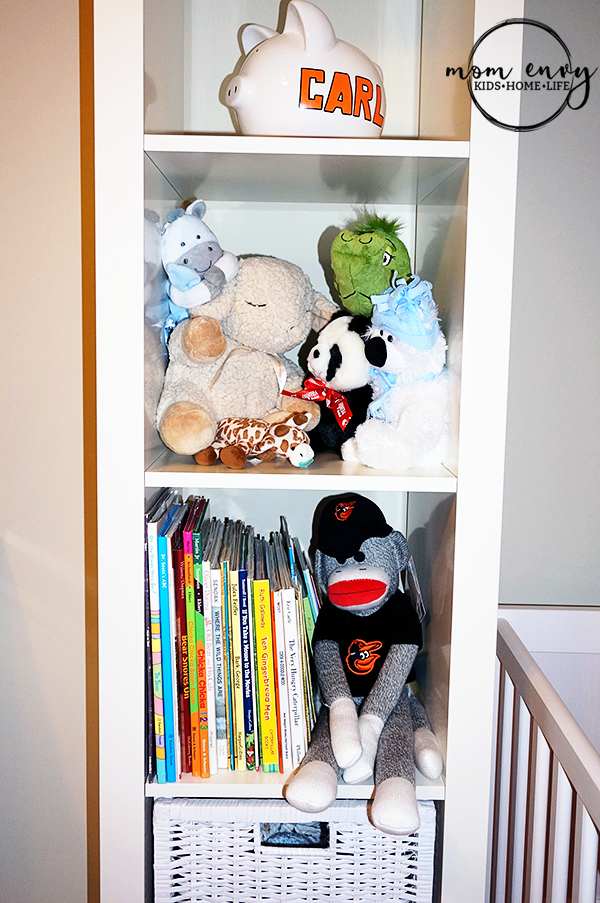 Above Carl's crib to the left hangs an Orioles handkerchief from a game Kris attended at Memorial Stadium with his late Grandmom. His parents had it mounted for him. In the middle hangs an Orioles flag that was from MLB.com. Kris made the custom mobile which I put back up for pictures (Carl would
destroy
play with it if it was still up). The last item we have hanging on the wall are four family pictures.
If you would like detailed instructions on how the mobile was made, let me know! I started to type them and realized it would take up a whole post on it's own.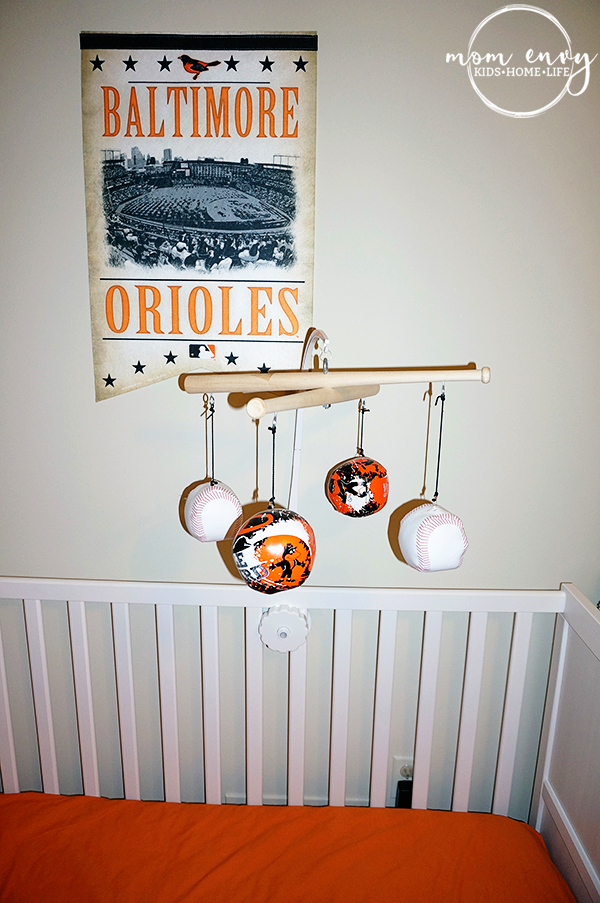 Finally, right by the door sits Carl's second bookcase. I wanted a bookshelf where he could reach books on his own. This bookcase was my late Grandma's. Hiding in the books is a blue elephant Kris and I bought very early on in my pregnancy. On top sits an Orioles piggy bank and our iPod docking station we use to play Carl's white noise app.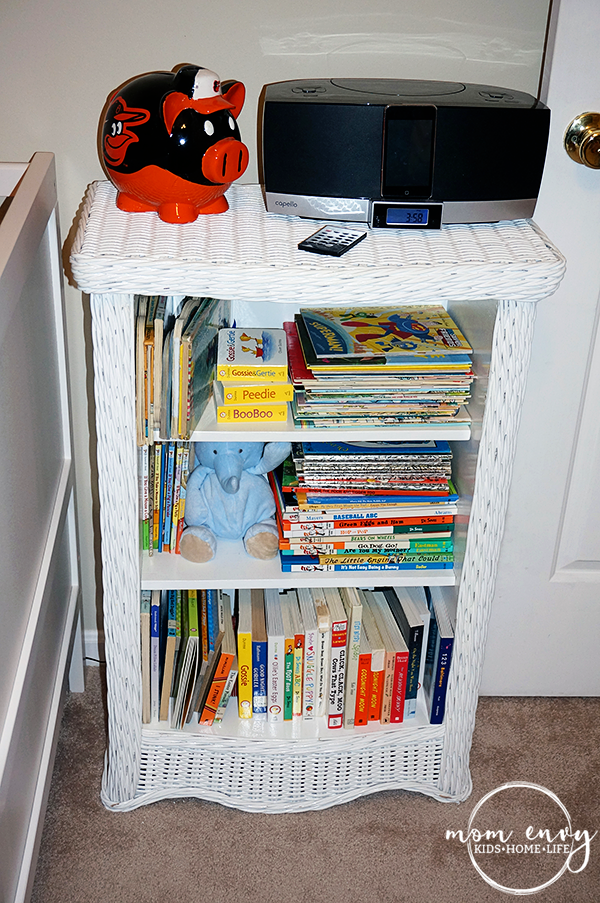 Thank you for taking a tour of Carl's nursery with me! Taking pictures was definitely an adventure with my favorite little man and his sister running around. Here are 2 of my favorite outtakes…
Oooh! Neatly organized books. MUST DESTROY.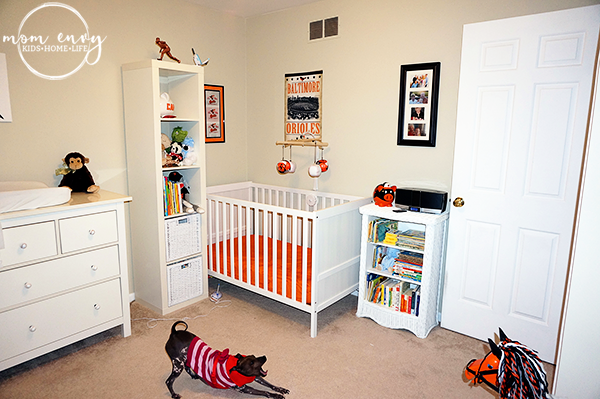 I think I'll take a nap right. here.
Save
Save
Save