Well, I knew we were going to be here soon. It just seemed to happen so fast this time around. This summer, we are starting our potty training adventure with our youngest son, Jack. He wants nothing more than to be just like his big brother which means he wants out of diapers. We headed to our local Walmart to make sure we had everything we needed to start our potty training journey.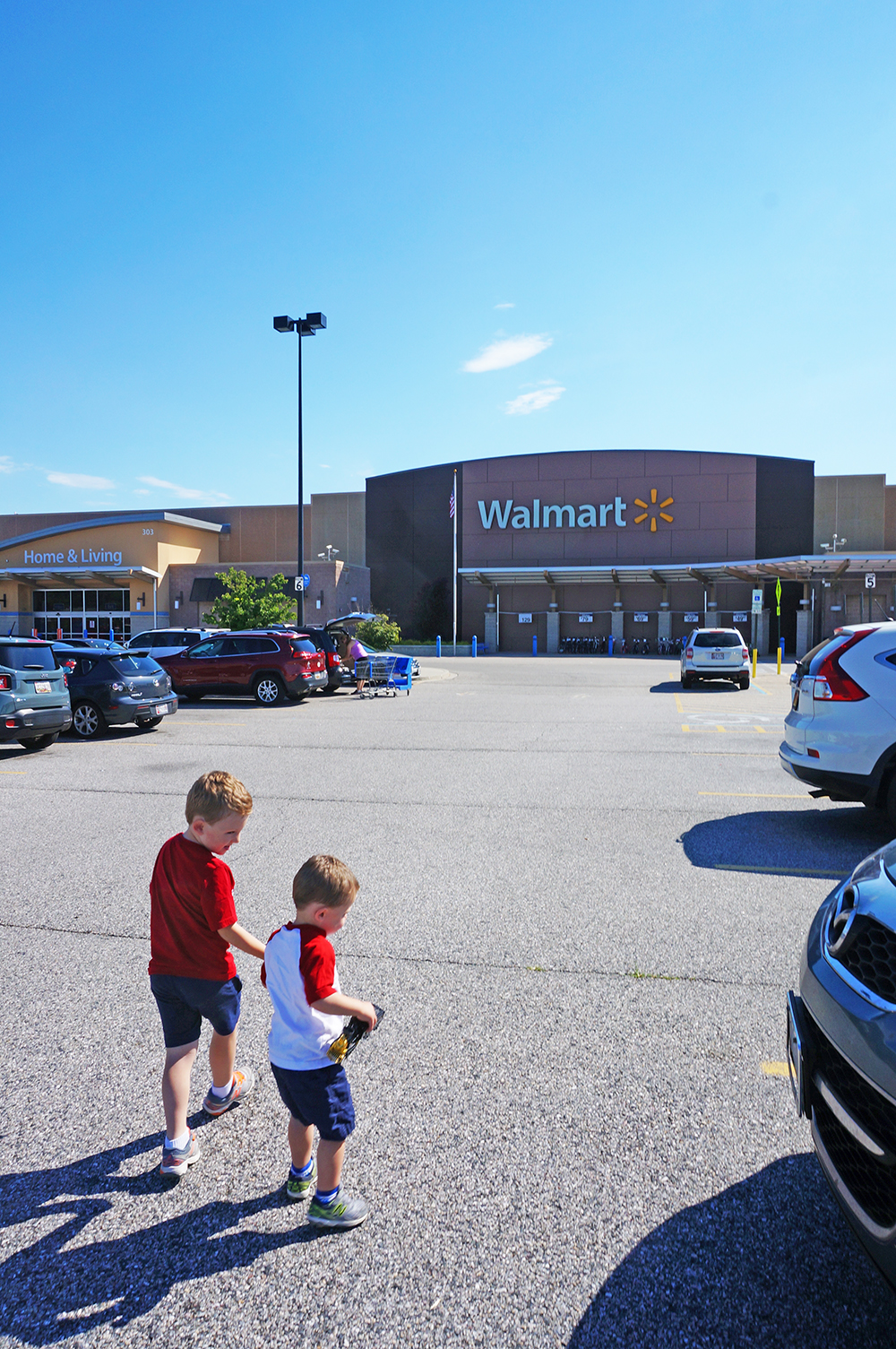 When it comes to potty training boys, I had one thing completely wrong (actually, I had a lot completely wrong). I thought I wouldn't need to buy loads of toilet paper. Man was I wrong. How can little boys use so much toilet paper? After a leak, we started to use toilet paper as a shield in-between the seat and the toilet basin. The first time it happened, I was so confused about where the leak came from. Then my husband pointed out that the pee was coming through between the toilet seat and basin at times. He came up with the genius idea to use a small bit of toilet paper under the toilet seat to keep leaks from happening. This made me happy because it meant a lot less laundry and a lot less scrubbing the floor.
Well, it didn't take long before my son wanted to get the toilet paper himself. Any Mom knows that when a kid gets the toilet paper themselves, they grab about three times the amount they actually need. Thankfully, we discovered Cottonelle Mega Rolls.
If you haven't checked out the ibotta App yet, you definitely need to; every dollar you save is totally worth it. (They even have a $10 welcome bonus!) It's amazing how much money ibotta can save you, especially at Walmart.
Now back to the toilet paper. Did you know that with Cottonelle Mega Rolls you get four times more sheets per roll compared to the leading single roll of ultra-strong tissue? Which means my husband I change the roll a LOT less often.
We have to hide our rolls in a child-proofed closet nearby thanks to Jack (who loves to unwind the entire roll). Having to change the roll less often makes our lives so much easier. The last thing I need to do this summer is spend my time changing the toilet paper roll.
My favorite thing about potty training this time around is watching Carl's excitement over Jack learning to use the potty like him. He has been encouraging Jack and teaching him all about the potty. He couldn't wait to grab the Cottenelle Mega Rolls at Walmart.
When we got to the store, he headed right back to the paper products and was able to quickly find them. Of course, he recognized the packaging from our house right away. He asked if he could put the pack in the cart himself. I was a little nervous because the pack is large (which is good because it means less trips to the store to buy more).
But since the package is almost half of his height, I wasn't sure he'd be able to get it in the cart. To my surprise, he was able to get the toilet paper in with no trouble. He was so proud of himself – just look how happy it made him (please slow down your growing my sweet boy).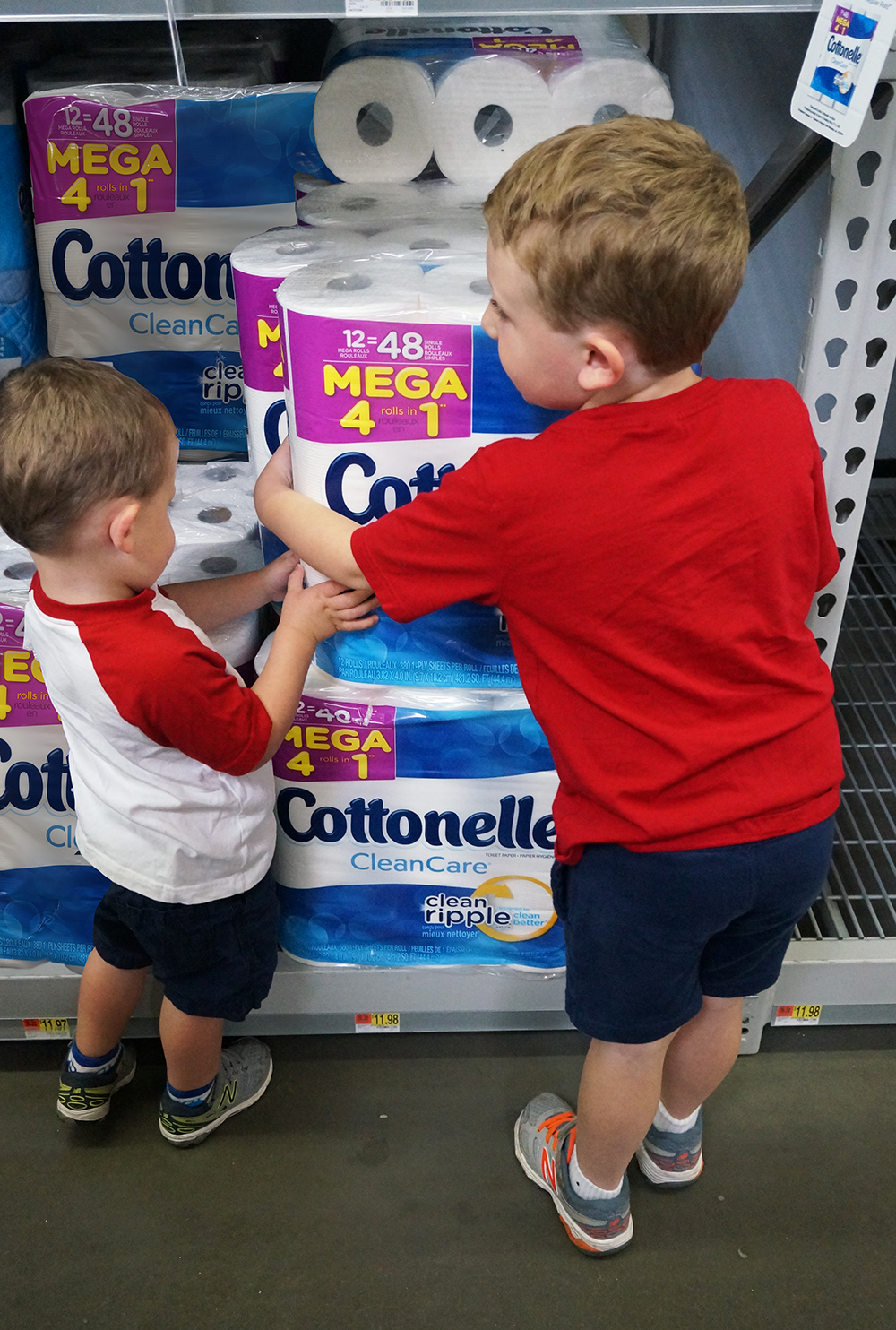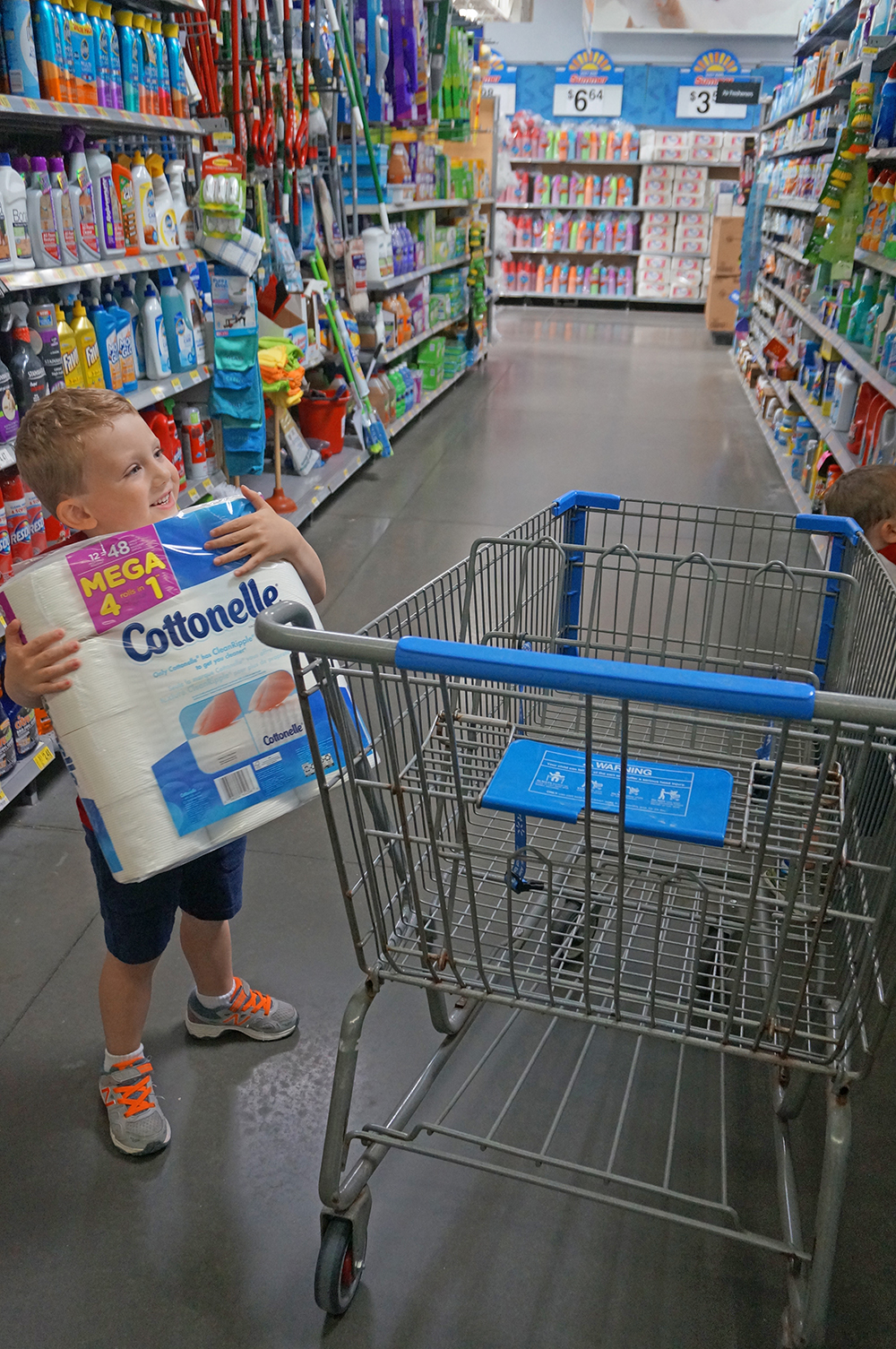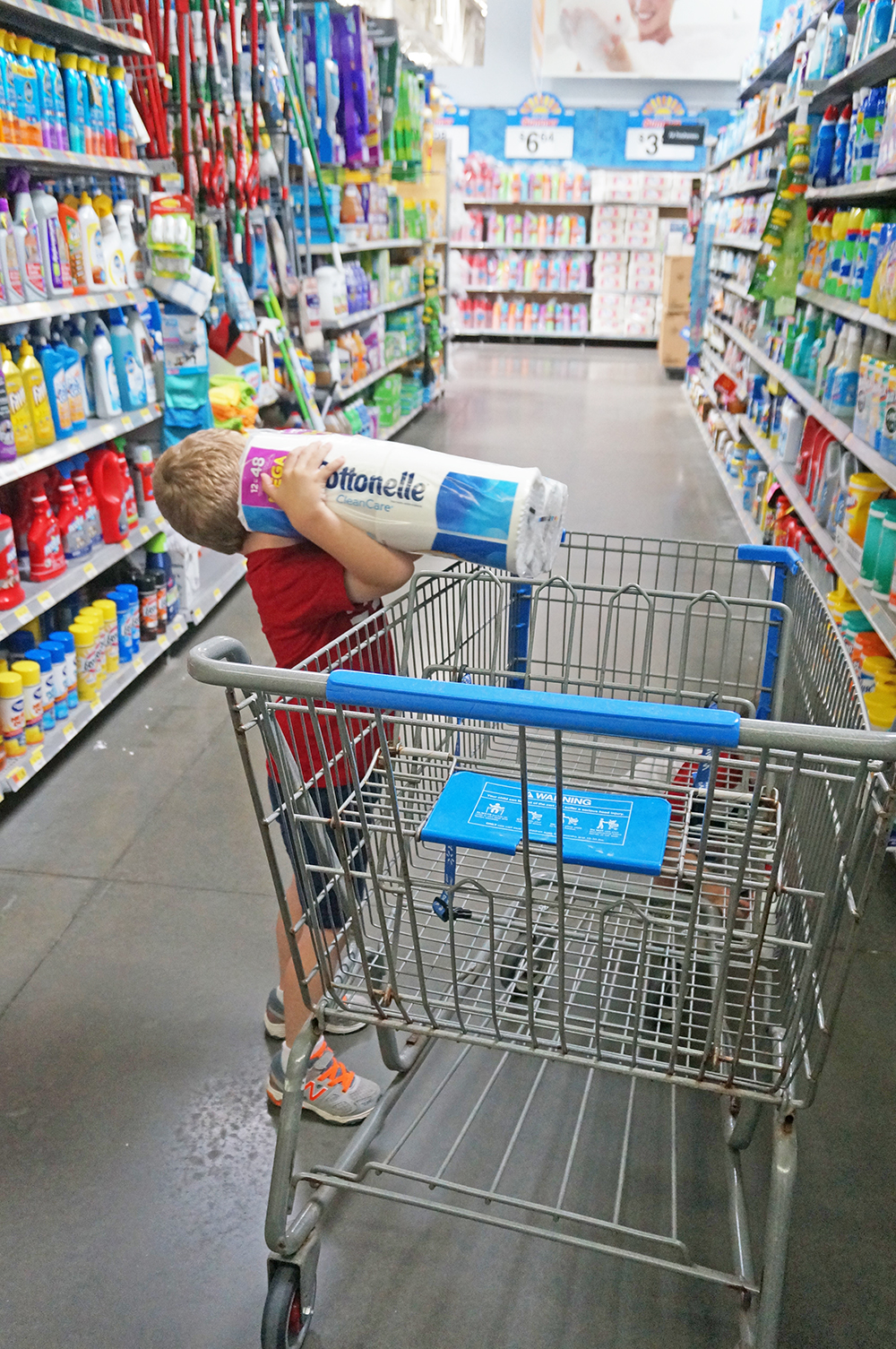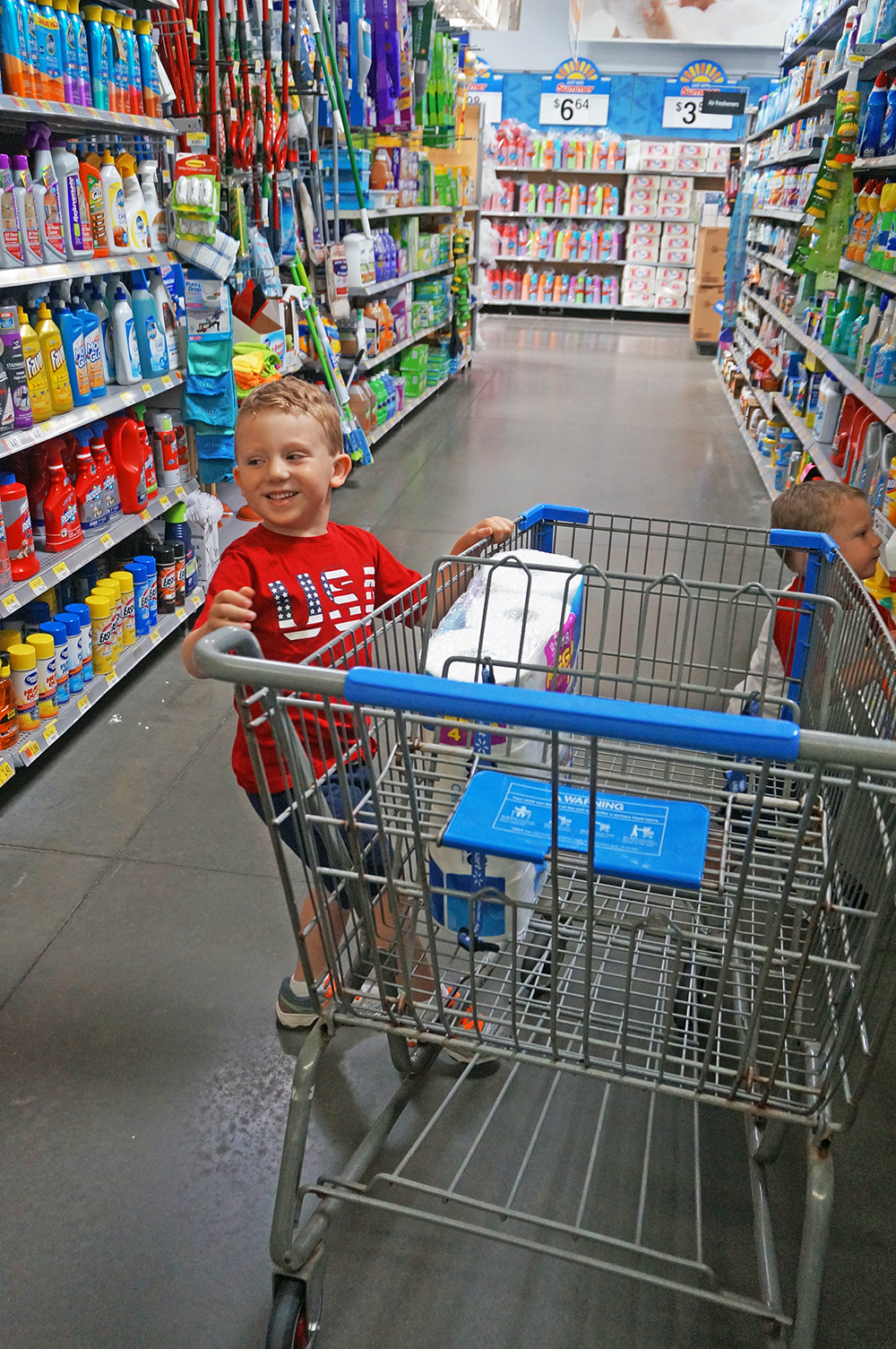 After we grabbed the toilet paper, we made sure we had everything else we needed. One of my favorite products is this Clorox Urine spray. Let's get real for a second; potty training is not pretty. It results in lots of gross messes that need a heavy-duty cleaner. We happily discovered this spray from another boy Mom.
Next, we went to pick up a new potty seat from the in-store pickup. We ordered our seat online at Walmart and it was delivered in two days in-store. Carl has two potty seats (one for each floor), but one is in need of replacing. If you have a boy, make sure to find one that has a tall splash guard (it helps prevent leaks along with using the Cottonelle Mega Roll toilet paper under the toilet seat). We bought this seat for our one bathroom (it has a rounded toilet bowel) and we use another Walmart seat for the elongated toilet (they no longer carry it because it's been a little over two years).
Then we headed to the toddler clothing section to select some new big boy underwear and pull-ups (hopefully just for nighttime). Jack of course took a detour into the vacuum section (man is he quick and sneaky).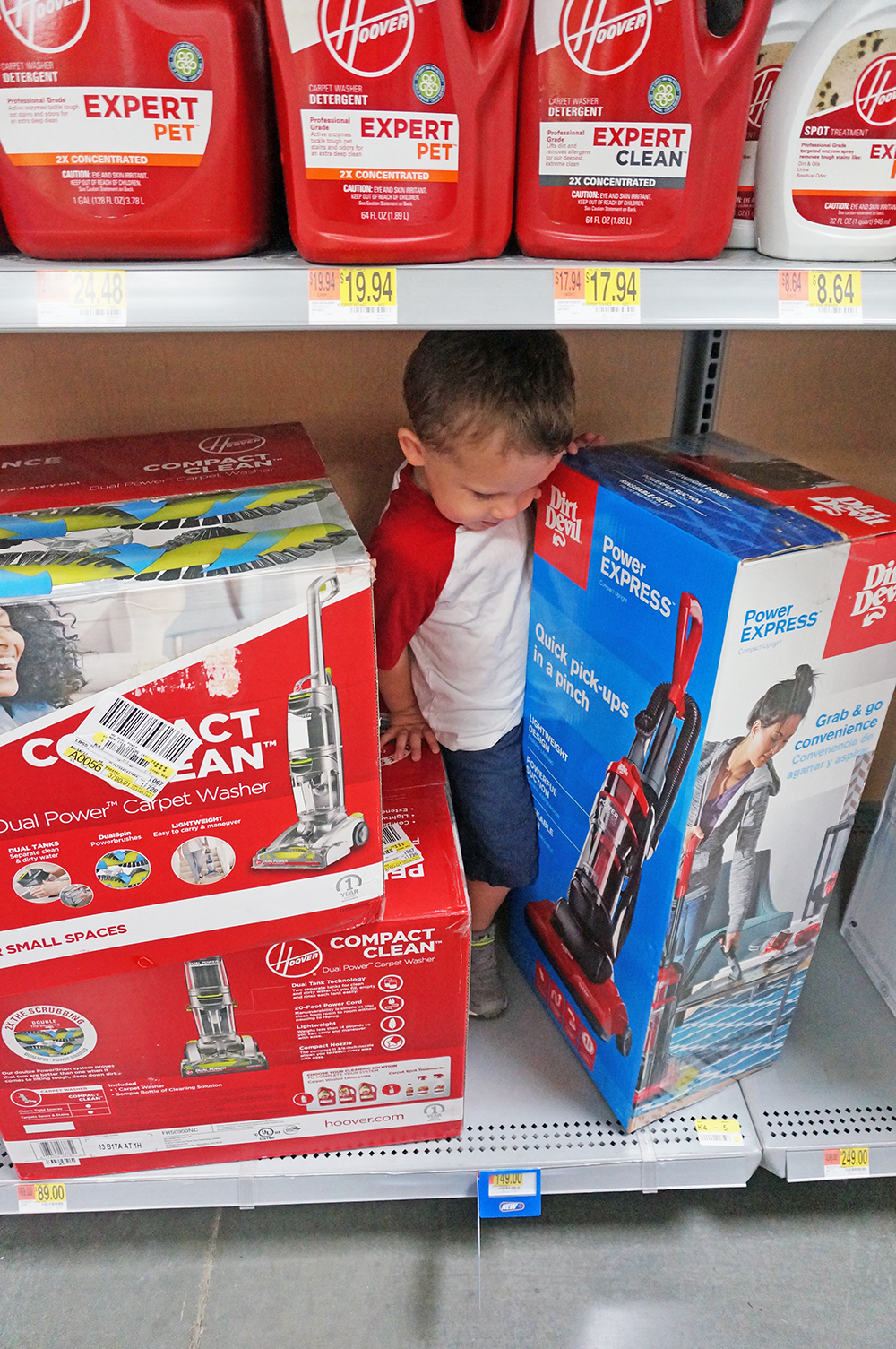 When we potty trained Carl, we used a modified version of the three-day method. We hope to do something similar this time around. Thankfully, Walmart has a great selection of big boy underwear. I think it's important to have the child there to help purchase the underwear to add to the excitement.
Lastly, we went to the candy section. Gasp, I know. We are one of those families that uses candy to potty train. But look, parenting isn't easy. And the last time we did this, we quickly learned that stickers just weren't going to cut it.
We had to add something else if we're going to motivate Carl. This time around, we knew that we would need to do the same with Jack, alongside a reward sticker chart (see below for a FREE printable sticker rewards chart!). He picked out M&M's and tried to open and eat the entire bag in the store was very excited about them.
So, if you are starting your potty training journey here are some:
Potty Training Must-Haves
Toilet paper
Clorox Urine spray
Potty seat
Big kid underwear
Pull-ups
Candy Incentive (or another incentive of your choosing)
Potty Training reward chart (free printable below!)
I'm telling you, you'll need a lot of toilet paper during the potty training experience and during the first few years as your child learns how to properly rip the toilet paper off of the roll (and also understands they don't need half the roll to wipe their butt).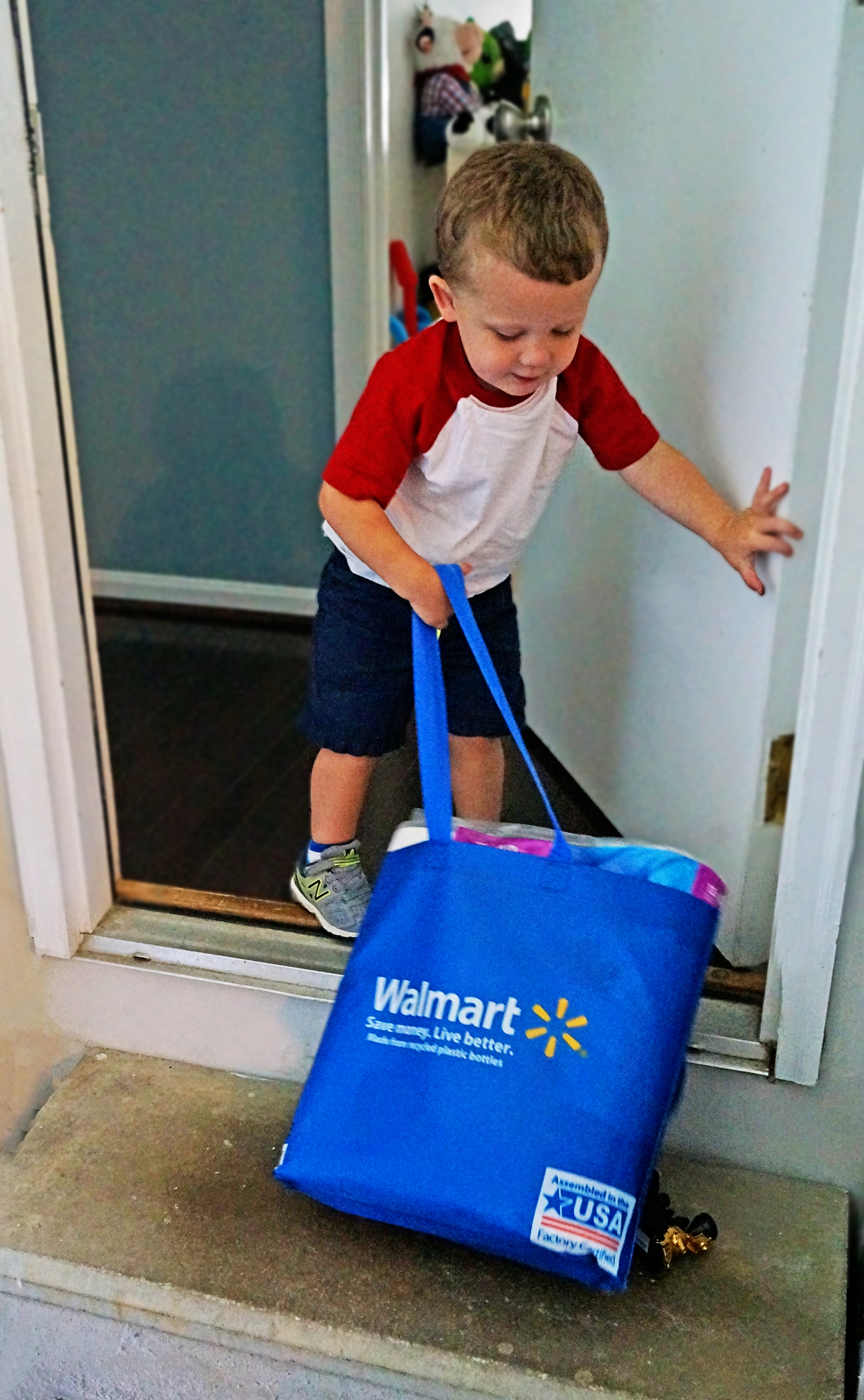 Free Customizable Potty Training Rewards Chart and Stickers
As you all know, I love my printables and stickers. This week, I thought I would share the simple potty chart I made for Jack. As a former special education teacher, I learned that simple behavior charts are best.
If you put too much information or too many images, it can become difficult for the child to understand. The younger the child, the simpler the chart should be. So for our chart, I simply record when he goes to the bathroom.
I use one toilet paper roll sticker for when he pees and two poop stickers for when he poops. That's it. Now, based on your needs, you can decide when/if the child earns a larger reward. You could give them one at the end or every time they fill a row or even after they fill up so many charts. You can also swap the stickers out for something more specific for the child such as a favorite character. I am using the toilet paper and poop because it's easy to see his progress (plus, my boys always find poop to be funny).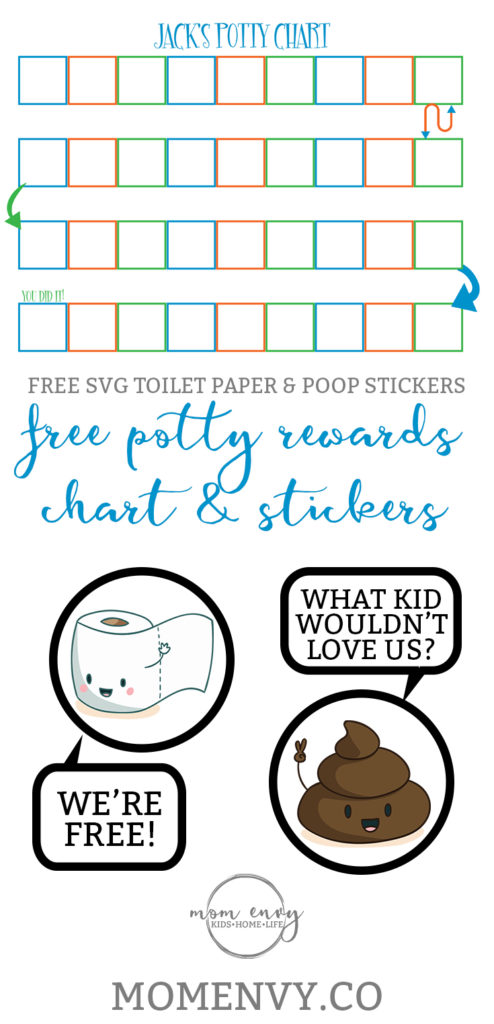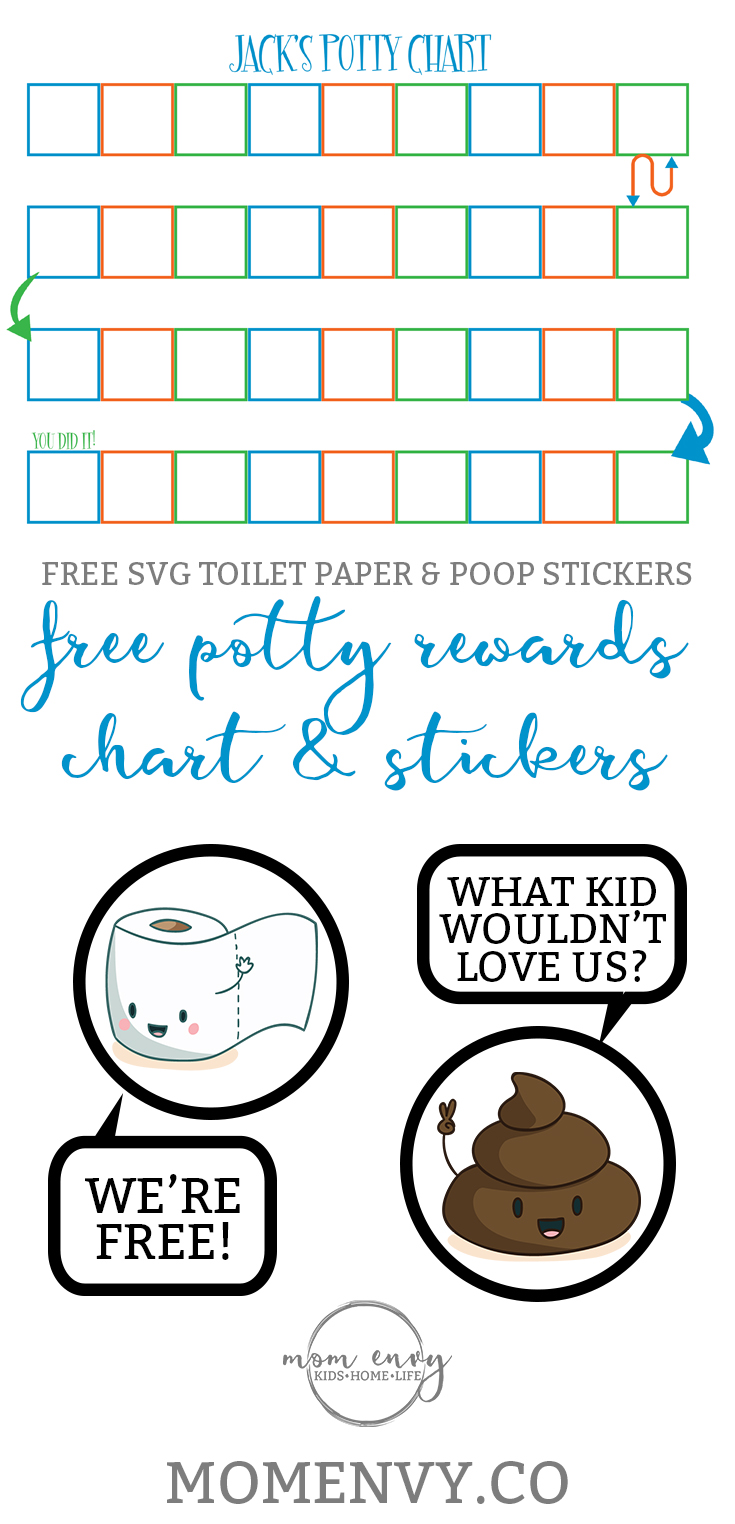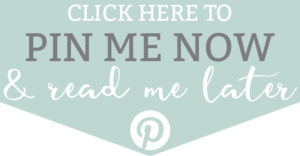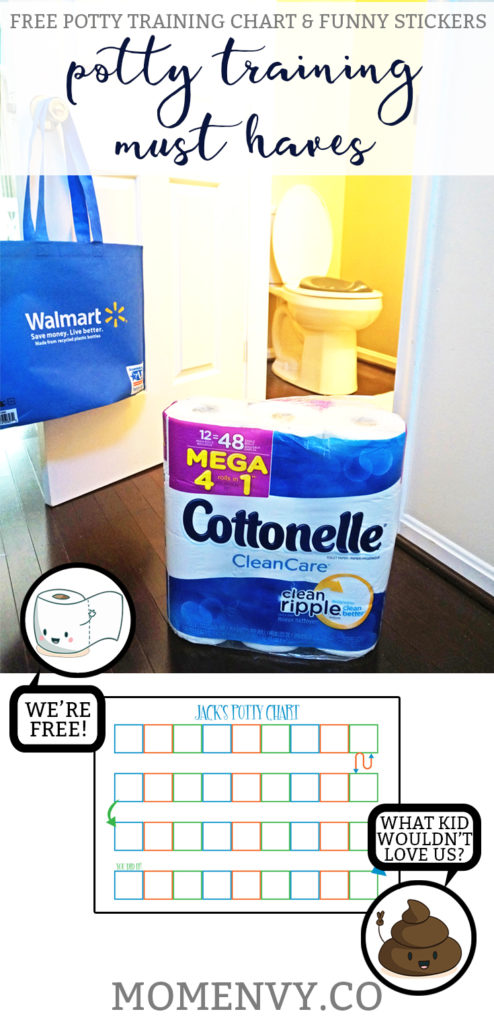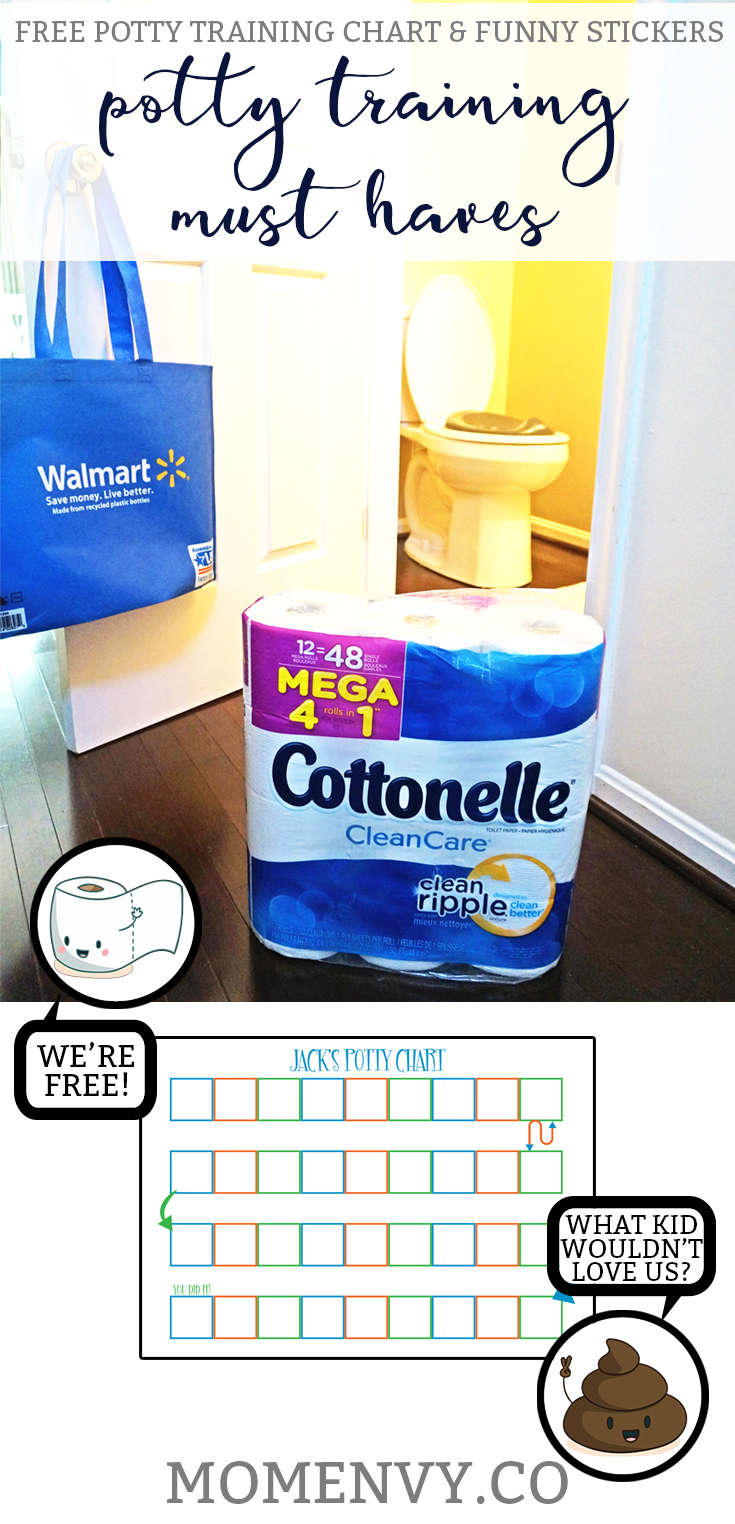 Interested in other boy-Mom must-haves? Check out: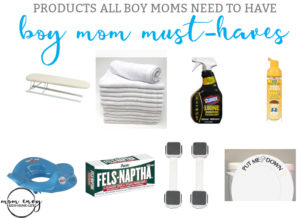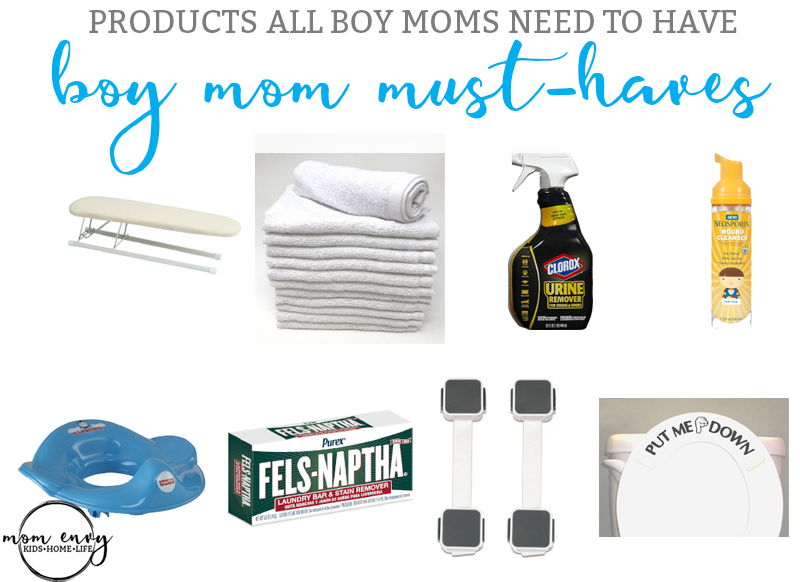 Download the FREE Printable Potty Reward Chart and Stickers!
(SVG File included).