Need a spring cleaning checklist to make your spring clean-up easier? I am sharing with you three versions of free spring printable checklists – one is a ready-to-print checklist and the other ones are customizable versions.
Spring is the perfect time of year to clean your entire home. After a long winter, it's a great time to give your house a true deep cleaning. It's different than your standard cleaning routine – you want to make sure you get all of the dust bunnies, grease, and grime that have been collecting all winter.
It's a good idea to give your house a thorough cleaning at least twice a year – once in the spring and again in the fall (see our fall clean up post with free checklist to prepare your home for fall)- free cleaning list).
Not everyone can afford professional house cleaners or a professional organizer. So I wanted to give you some spring cleaning tips to help you create a fresh, clean home that you can enjoy all spring and summer.
With the warm weather approaching, there are many tasks you'll need to complete outdoors as well. Spring cleaning isn't just for the interior – it includes all outbuildings such as garages and your outdoor lawn and flower beds.
How Long will a Spring Cleaning Take?
Giving your home environment a nice, fresh start with a deep clean will take much longer than standard cleaning. It may take you two full days to clean the entirety of your home depending on its size and how many family members you have cleaning the house. Tip: get your kids involved – you are teaching them a life skill.
It will take extra time than a regular clean for sure. But, I can promise you that it will be totally worth it to have a truly clean house.
Do I Really Need to do a Deep Clean?
To keep your house in good condition, it is best to do a deep clean twice a year. Maintaining your home regularly will keep your house in much better shape in the long run. Trust me.
And while you can continue just doing your normal short and simple cleaning routine, it won't be enough. It may be the easy way but it isn't the best way to do a spring clean. There are important tasks that should be done on a regular basis to keep your house in good condition.
There are areas of your home and tasks that need to be done that you may not think about during a quick regular clean. If you've spent any time in the CleanTok realm of TikTok, you'll see there are so many areas of your home that need regular maintenance that we don't think about (I'm looking at you washing machine and dishwasher filters).
How do I keep from getting Overwhelmed with Cleaning the Entire House?
Just start one room at a time and one task at a time. I suggest printing the Google Docs version of the spring cleaning checklist. It lets you print a single page for each area which is less overwhelming than the full list.
Another option would be to split the cleaning up over a couple of weekends. If you have an overcast day, focus on the inside that day. Maybe just do the first floor and then the next day, do the second floor. Next weekend, focus on the outdoor areas.
You are the only one that knows what is being cleaned so don't be hard on yourself. Split up the tasks and areas as you need to over time – even if it takes you a month to get it all done.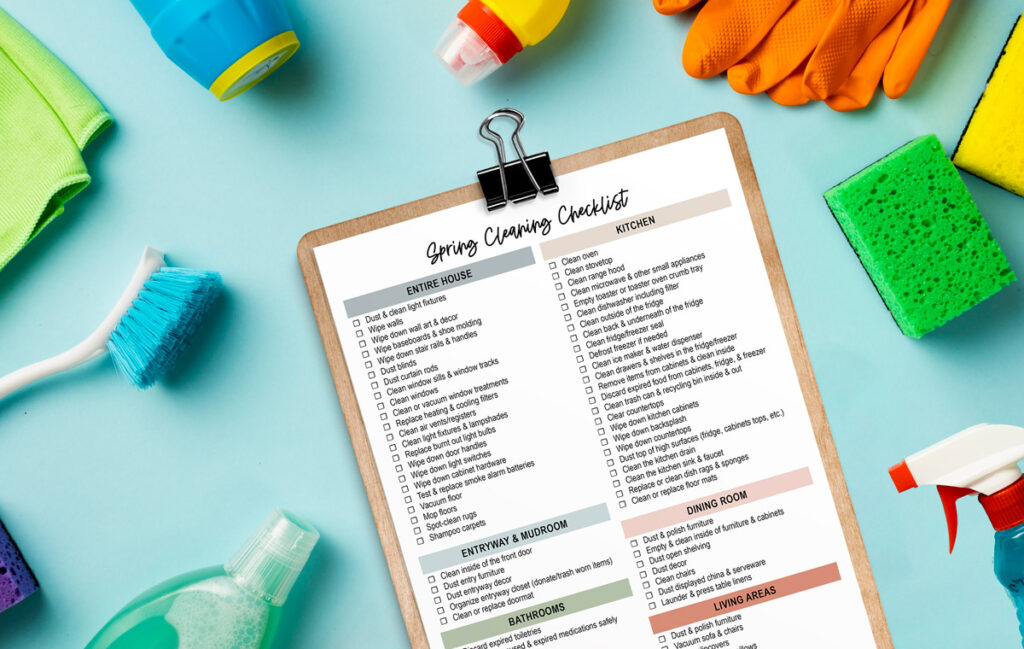 What Cleaning Supplies Do I Need for a Spring Clean?
Gathering supplies is the first step to starting a deep clean. You don't have to break the bank to buy cleaning supplies. In addition, you won't need fancy equipment or every possible cleaner – just gather what you need for your house.
Two of the best cleaning supplies you can buy are simple white vinegar and baking soda – they have so many uses. Dollar stores are also a great place to get cleaning supplies from.
Here are some cleaning supply suggestions:
Paper towels
Rags or Microfiber towels
Scrub brush
White Vinegar
Baking soda
Bucket of Soapy water (warm water is best)
Dawn dish soap (it can be used for more than just dishes)
Glass cleaner
An all purpose cleaner
Other needed cleaning solutions (tile cleaner, bathroom cleaner, grout cleaner, stainless steel cleaner, etc.)
Long-handled duster
Mop or Swifter
Broom
Vacuum and any vacuum attachment you may need
What do the Printable Lists Look Like?
The PDF version comes in two different color options. One is more of a neutral, boho look. The second one is brighter pastels, a little more springy.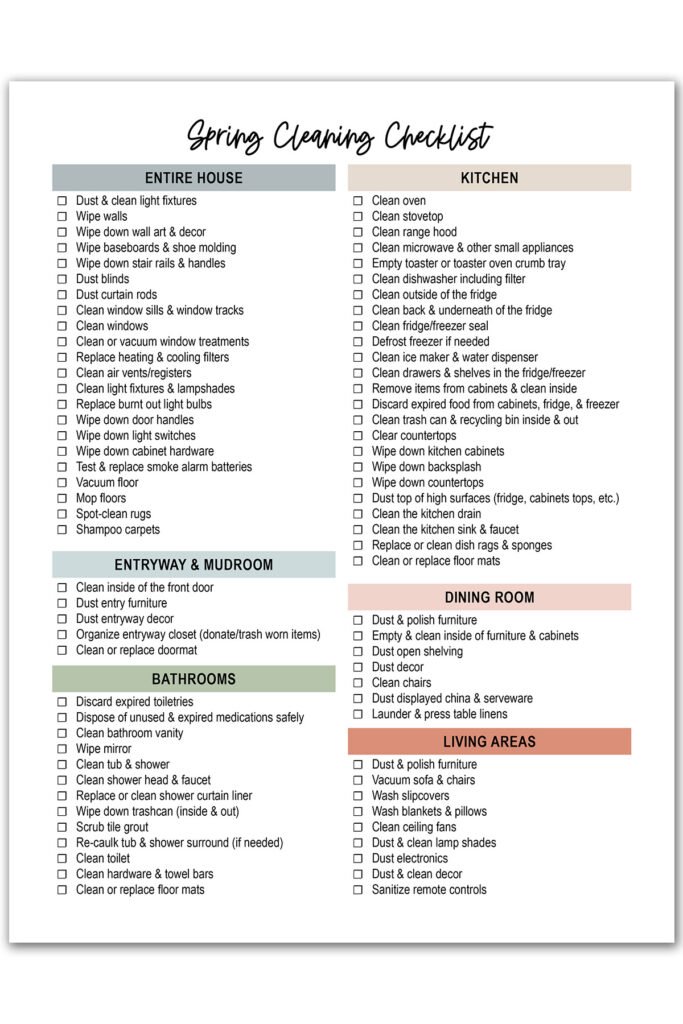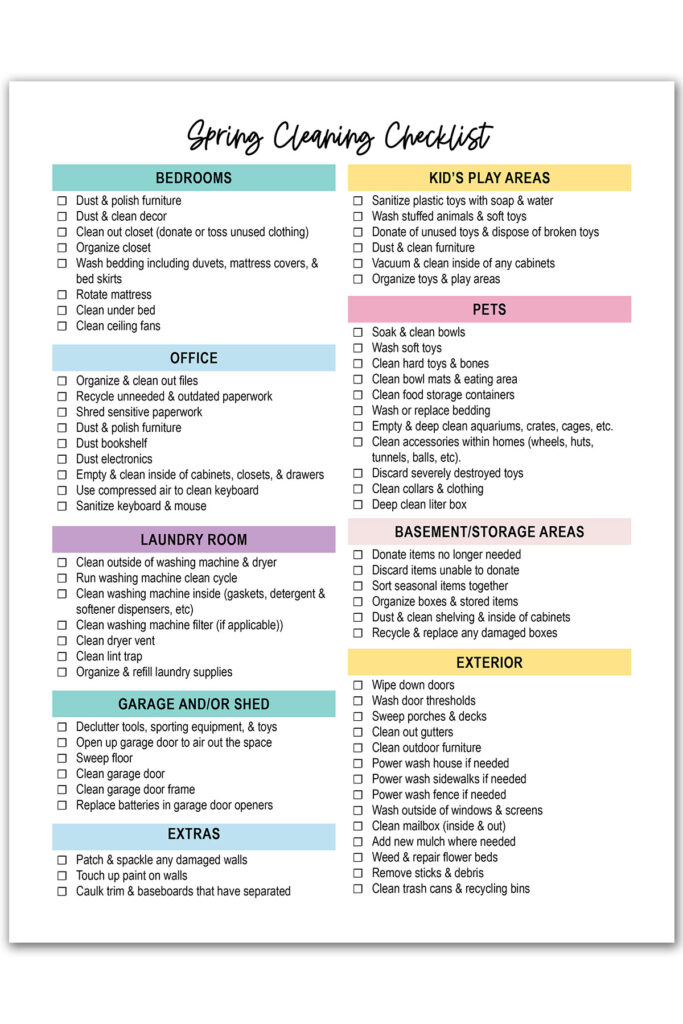 What is Included in the Free Downloads?
PDF printable spring cleaning list
2 color options of the printable list
PNG version of the lists
JPG version of the lists
2 Google Docs versions of the list
Can I use the List in my Digital Planner?
Yes. You have two options to use the files within your digital planner.
First, you can download the PDF version and import it directly into a planner app. Or, you can download the JPG or PNG versions. Then you can paste the images of the checklists into your planner app.
What are the Differences Between the Three Types of Free Checklists?
All three options are the ultimate spring cleaning checklist. They are detailed and include all of the spring cleaning tasks I thought you would need for a thorough clean. Plus, they include all the areas of the home that I thought needed attention for a big clean.
The lists are organized by specific areas to clean. Then, there is a list of tasks to complete for each area. The areas include: the entire house, entryway & mudroom, kitchen, dining room, bathrooms, living room, bedrooms, kid's play area, pets, home office, laundry room, basement, garage and/or storage shed, exterior, and some extra items.
That might mean that some of the areas or tasks on the premade list are not ones that you have in your home or do not pertain to you (such as pets or kids). While you can cross out areas and tasks that you don't need, you can't modify the list before printing.
Alternatively, the two customizable versions can be changed to meet your individual cleaning needs. There is an extremely simple Google Docs version and a Google a prettier Google Slides version. The directions for how to modify the lists are toward the end of this post.
If you don't need a printable checklist, no problem. I have included the spring cleaning list right within this blog post.
Spring Cleaning Checklist
Entire House
Dust & clean light fixtures
Wipe walls
Wipe down wall art & decor
Wipe baseboards & shoe molding
Wipe down stair rails & handles
Dust blinds
Dust curtain rods
Clean window sills & window tracks
Clean windows
Clean or vacuum window treatments
Replace heating & cooling filters
Clean air vents/registers
Clean light fixtures & lampshades
Replace burnt out light bulbs
Wipe down door handles
Wipe down light switches
Wipe down cabinet hardware
Test & replace smoke alarm batteries
Vacuum floor
Mop floors
Spot-clean rugs
Shampoo carpets
Entryway & Mudroom
Clean inside of the front door
Dust entry furniture
Dust entryway decor
Organize entryway closet (donate/trash worn items)
Clean or replace doormat
Kitchen
Clean oven
Clean stovetop
Clean range hood
Clean microwave & other small appliances
Empty toaster or toaster oven crumb tray
Clean dishwasher including filter
Clean outside of the fridge
Clean back & underneath of the fridge
Clean fridge/freezer seal
Defrost freezer if needed
Clean ice maker & water dispenser
Clean drawers & shelves in the fridge/freezer
Remove items from cabinets & clean inside
Discard expired food from cabinets, fridge, & freezer
Clean trash can & recycling bin inside & out
Clear countertops
Wipe down kitchen cabinets
Wipe down backsplash
Wipe down countertops
Dust top of high surfaces (fridge, tops of cabinets, etc.)
Clean the kitchen drain
Clean the kitchen sink & faucet
Replace or clean dish rags & sponges
Clean or replace floor mats
Dining Room
Dust & polish furniture
Empty & clean inside of furniture & cabinets
Dust open shelving
Dust decor
Clean chairs
Dust displayed china & serveware
Launder & press table linens
Living areas
Dust & polish furniture
Vacuum sofa & chairs
Wash slipcovers
Wash blankets & pillows
Clean ceiling fans
Dust & clean lamp shades
Dust electronics
Dust & clean decor
Sanitize remote controls
Bathrooms
Discard expired toiletries
Dispose of unused & expired medications safely
Clean bathroom vanity
Wipe mirror
Clean tub & shower
Clean shower head & faucet
Replace or clean shower curtain liner
Wipe down trashcan (inside & out)
Scrub tile grout
Re-caulk tub & shower surround (if needed)
Clean toilet
Clean hardware & towel bars
Clean or replace bath mats
Bedrooms
Dust & polish furniture
Dust & clean decor
Clean out closet (donate or toss unused clothing)
Organize closet
Wash bedding including duvets, mattress covers, & bed skirts
Rotate mattress
Clean under bed
Clean ceiling fans
Home Office
Organize & clean out files
Recycle unneeded & outdated paperwork
Shred sensitive paperwork
Dust & polish furniture
Dust bookshelf
Dust electronics
Empty & clean inside of cabinets, closets, & drawers
Use compressed air to clean keyboard
Sanitize keyboard & mouse
Kid's Play Areas
Sanitize plastic toys with soap & water
Wash stuffed animals & soft toys
Donate unused toys & dispose of broken toys
Dust & clean furniture
Vacuum & clean inside of any cabinets
Organize toys & play areas
Pets
Soak & clean bowls
Wash soft toys
Clean hard toys & bones
Clean bowl mats & eating area
Clean food storage containers
Wash or replace bedding
Empty & deep clean aquariums, crates, cages, etc.
Clean accessories within homes (wheels, huts, tunnels, balls, etc).
Discard severely destroyed toys
Clean collars & clothing
Deep clean litter box
Laundry Room
Clean outside of washing machine & dryer
Run washing machine clean cycle
Clean washing machine inside (gaskets, detergent & softener dispensers, etc)
Clean washing machine filter (if applicable))
Clean dryer vent
Clean lint trap
Organize & refill laundry supplies
Garage and/or Shed
Declutter tools, sporting equipment, & toys
Open up garage door to air out the space
Sweep floor
Clean garage door
Clean garage door frame
Replace batteries in garage door openers
Basement and/or Storage areas
Donate items no longer needed
Discard items unable to donate
Sort seasonal items together
Organize boxes & stored items
Dust & clean shelving & inside of cabinets
Recycle & replace any damaged boxes
Exterior
Wipe down doors
Wash door thresholds
Sweep porches & decks
Clean out gutters
Clean outdoor furniture
Power wash house if needed
Power wash sidewalks if needed
Power wash fence if needed
Wash outside of windows & screens
Clean mailbox (inside & out)
Add new mulch where needed
Weed & repair flower beds
Remove sticks & debris
Clean trash cans & recycling bins
Extras
Patch & spackle any damaged walls
Touch up paint on walls
Caulk trim & baseboards that have separated
Directions for the Using the Printable Cleaning Checklists
For all of the lists, you must be a free Mom Envy club member. You can sign up here to become a member.
Down at the bottom of this post, there is a large green arrow that says Download Below. Below that, you'll click the large image that says Click here to Download. Then you'll enter your members-only password.
It will take you to a page where you can access the links to the free files. Click the link to the file type you want to download – either the set, ready to print PDF version or the customizable ones. Here are the directions for each specific one.
Ready to Print PDF Spring Cleaning Checklist
Once you get to the members-only page, you'll click the image for the PDF version. It will take you to Google Drive where you will download the color option you want and then print it.
Ready to Print PNG & JPG Spring Cleaning Checklist
If you prefer JPEG or PNG format (especially if you are a digital planner), Once you get to the members-only page, you'll click the image for the PDF version. It will take you to Google Drive. Click on the folder of your choice and download the color option you want and then print it. Make sure to download BOTH pages.
How to Customize the Google Docs
The Google Docs may not be as pretty and formatted as the PDF list, but they may be more functional for you. You can pick and choose what you want your spring list to have on it. There are 2 versions of the Google Docs.
If you are not very tech-savvy but want to customize your checklist, the first Google Docs version is the perfect one to use. Google Docs is so user-friendly and the first version has no page breaks to complicate things.
The second version has one page for every area. This may be easier for you to clean with a single checklist per room. I find that it is not as overwhelming as the full checklist.
For both lists, you have lots of ways you can modify them to meet your needs. You can:
Delete any cleaning ask you don't need
Add cleaning tasks under an area
Change the name of the area
Copy and Paste an area's list to make multiple copies of it (for example, one copy for each bedroom)
Create a new area and copy and paste list items underneath of it
Print only the pages you need and as many copies as you need (or delete the pages/areas you don't need before printing!)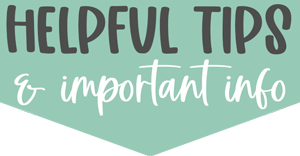 Tips for Downloading the Free Files
Below is an arrow that says Download Below. Underneath that is a large image that says Click to Download the free files.
Once you click that, you will enter the members-only password and click submit.
The page will reload the same image and now when you click the image that says Click to Download the free files, it will open the Google Drive folder containing the free files.
How do you get a members-only password?

You can sign up here to be a free Mom Envy club member.
The password will be sent to you within a few minutes. Make sure to check your spam and/or junk folder if you don't see it.
Already a member but forgot the password? Don't sign up again. Look at the end of any newsletter from me for the free password or just send me an e-mail here: [email protected]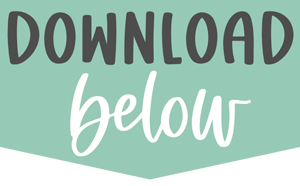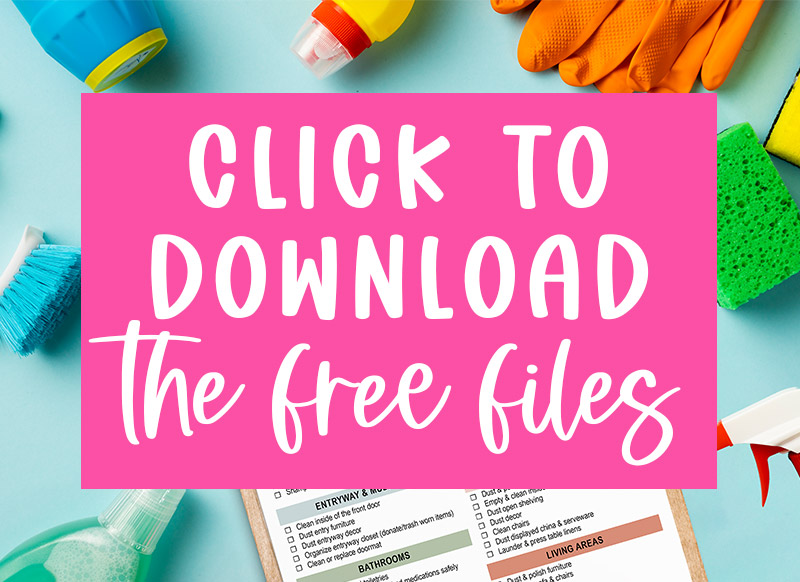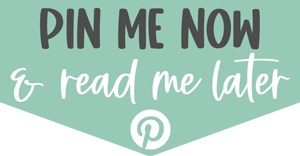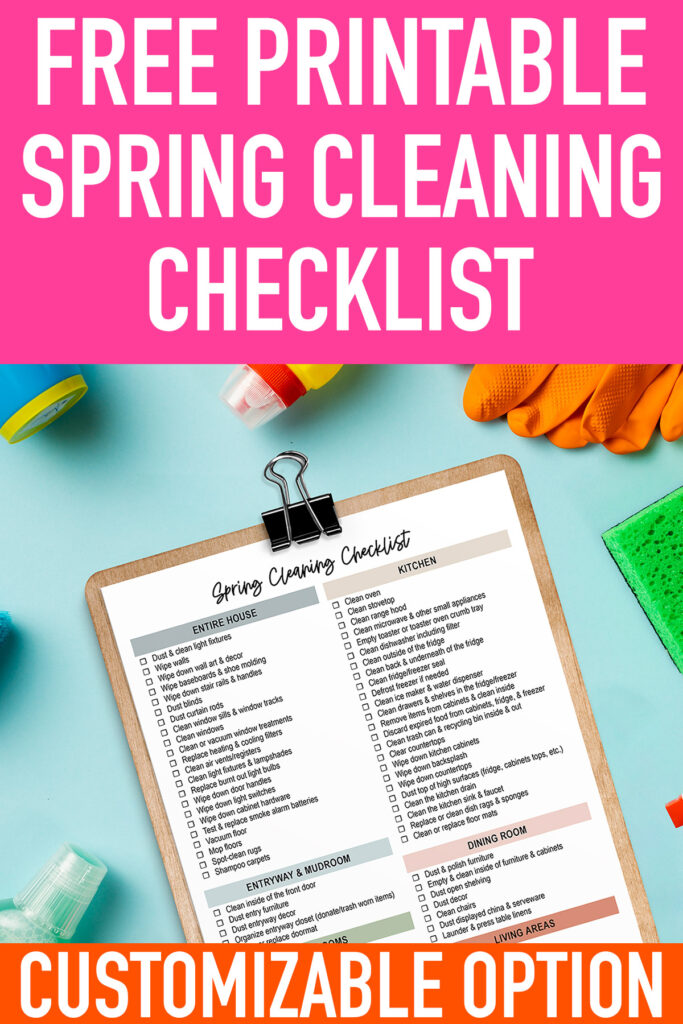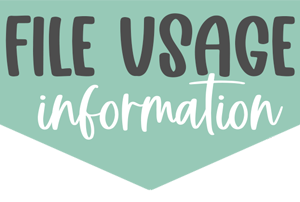 Copyright MOM ENVY 2022. Files may be used for personal use only. No commercial use of the file is available. Files may not be directly shared within Facebook groups, on websites, or in any other way. A link to the web page to download the files may be shared as well as one photo. The file may not be printed and then sold (including local yard sale sites and groups or at local craft fairs). The images may not be used in any way other than to share with a link to the original web page.