I've got the ultimate list of the best non candy Easter egg fillers. There are lots of reasons for needing non-candy egg fillers – food allergies, too much candy already/trying to avoid a sugar overload, nutrition, having a school Easter hunt where food items aren't allowed, or just because you want to do something different.
These ideas are perfect for both small and larger egg hunts. If you're having a large event like a neighborhood egg hunt, non-candy items can really make the annual Easter egg hunt more exciting because you can have lots of non typical items that lots of kids will enjoy. Non-candy items are always a huge hit with kids because they are unexpected.
There are lots of great ideas in this list and honestly – there are still so many more ideas out there for what to put into the plastic easter eggs. I have compiled a list of items I think make fun easter egg fillers for younger kids to older kids.
Lots of these items can be used with kids of all ages. But some are more age specific. You're sure to find something that works for the whole family though – there are so many fun ideas (over 100 ideas included!)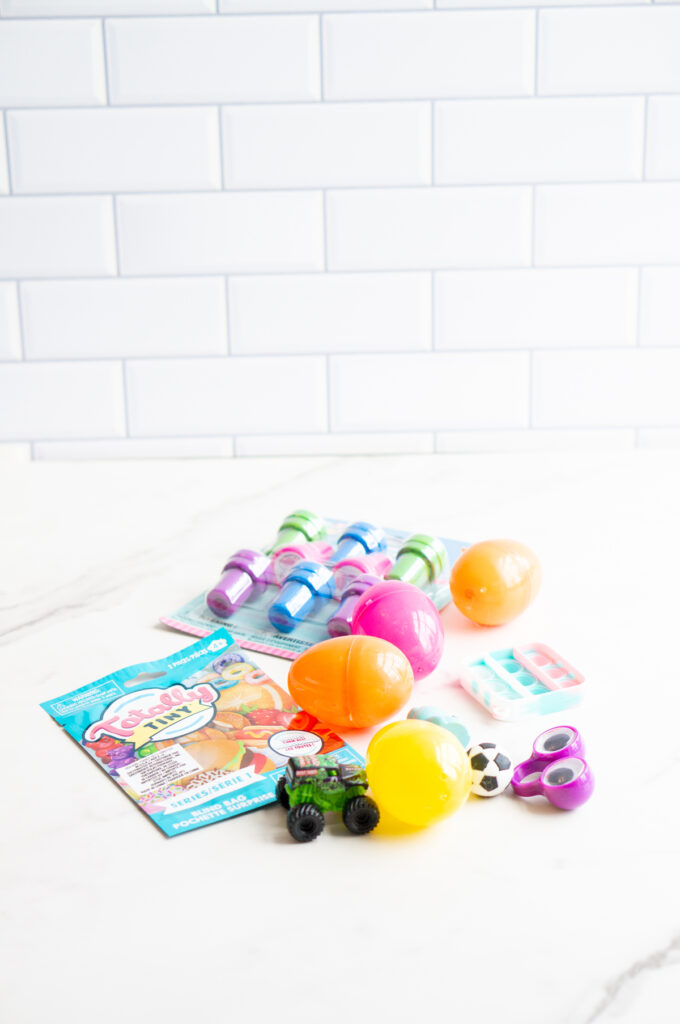 As an Amazon Associate, I earn from qualifying purchases. I am also an affiliate for xTool, the HP ink program, ShareaSale, and CJ Networks. Click here to read more.
Easter Egg Tips & Pictures Below the List
After the list of ideas, you'll find some great tips and tricks for Easter Egg hunts. Once you're done checking out the list, don't miss the photos of ideas and some must-use tips for an easier hunt.
Non-Candy Easter Egg Filler Notes
This list includes items that would fit in standard plastic eggs and/or jumbo eggs for all ages. I split the list by size rather than by age because kids are so different from each other that what might be great for one 8 year old wouldn't work for another.
Remember, not all "standard" size eggs are even the same sizes. Some are slightly larger than others. I was able to get some items to fit in one type of standard egg we had but not in the others. Also, anything that can fit in a standard egg, can also fit into a jumbo egg!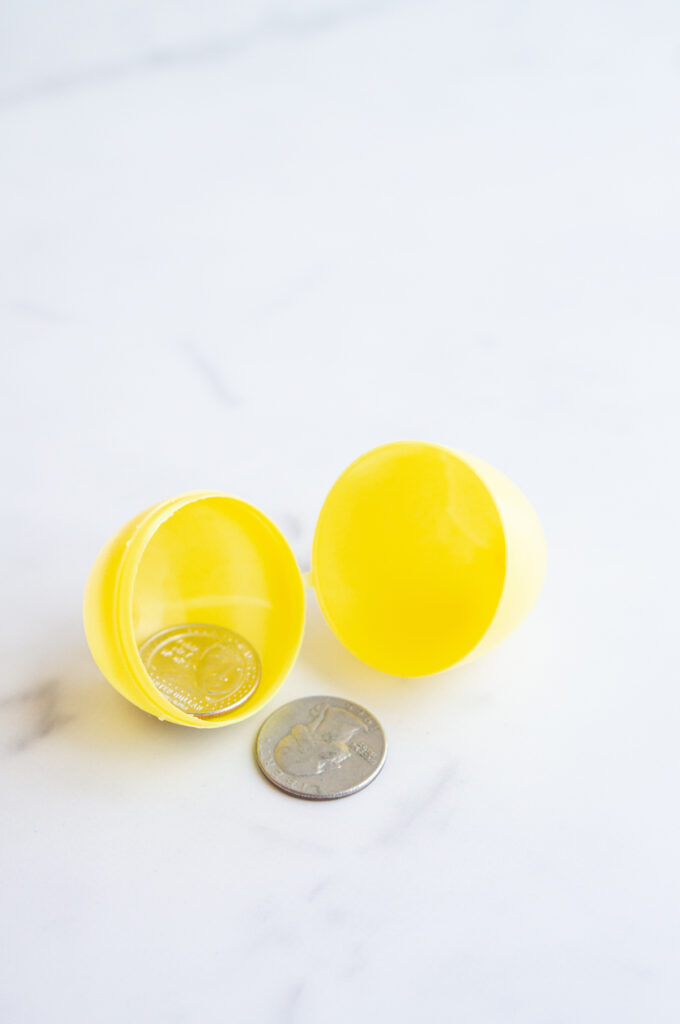 Ready to start shopping?
Check out this list of over 100 non-candy egg fillers you can get on Amazon!
Non-Candy Easter Egg Fillers from Amazon
Edible Non-Candy Options
These are items that are not candy or sweet treats but they are still edible. These work well for your youngest kids who like to put everything in their mouth.
Fruit snacks (some larger bags won't fit in standard size but smaller bags will fit!)
Yogurt melts (great for babies and toddlers)
Raisins (any kind including yogurt raisins)
Other dried fruit
Trail mix
Goldfish, pretzels, or Teddy Grahams (don't put in long before the hunt because they will get stale)
Sunflower seeds
Cereal
List of the Best Non Candy Easter Egg Fillers for Standard/Smaller Size Eggs
Homemade coupons (click here for a free printable set)
Dollar bills
Coins
Bouncy Balls
Temporary Tattoos
Stickers
Erasers
Finger puppets
Tiny container of slime or putty
Puzzle pieces
Mini slinkies
Mini vehicles (monster trucks, cars, trains, etc)
Lego people
Lego pieces
Parachute men
Sticky hands or items
Googly eyes finger ring
Small toys like dinosaurs, bugs, unicorns, characters etc.
Jumpy plastic frogs
Mini glow sticks or bracelets
Mini hair clips
Mini lip balm
Mini nail polish
Friendship bracelets
Inexpensive jewelry or play jewelry
Charms for bracelets
Barbie clothing
Barbie accessories
Hair ties
Fidget toys
Mini brands items (undo a mini brands ball and place the items across multiple eggs)
Mini crayons
Charging cords and cables
Pencil sharpener
Keychains
Small hair bows
Soft headbands
Stampers
Pop it bracelets and mini pop it keychains
Mini squishies
Dominos
Mini kaleidoscope
Whistles
Poppers
Croc charms
Fun color hair extensions
Dice
Shopkins
Craft beads
Marbles
Spinning top
Glow in the dark stars
Magnets
Paper gift certificates (gift cards do not fit in eggs)
Pencil toppers
Fun shoelaces
Ear buds
Lanyard
Grow animals
Teeny Mates
Fun bandaids
Puzzle balls or cubes
List of Non-Candy Easter Egg Fillers for Jumbo Eggs
Bath Bombs
Chapstick
Nerf darts (they are too larger for smaller eggs, they get bent)
Silly putty (traditional size silly putty will fit in a jumbo egg)
Washi tape
Pop sockets
Punch balloons
Mini flashlight
Larger fidget toys
Matchbox cars or Hot Wheels
A mini lego set bag
Mini bubble bottles (too large for smaller eggs)
Larger craft supplies
Larger hair clips
Fairy garden items
Plastic toys (mini dolls, small My Little Ponies, dinosaurs, etc)
Small bath toys (like squirters)
Nail stickers
Nail polish strips
Small nail file
Magic towel
Sleep mask
Exfoliating gloves
Hair bows
Bike lights
Face mask packets
Mini bottles of lotion
Mini rubix cube
Mini bags of modeling clay or air clay
Slap bracelets
Playdoh (small favor size fits well in a jumbo egg)
Stressballs
Play make up
Real make up items for older girls
Small yo-yo
Small chalk
Army men
Small action figures
Wind up toys
Little People toys
Mini plastic maze toys
Mini rubber ducks
Rocks for rock painting
Larger doll accessories
Mini stuffed animals
Small notepad or fun post-its
Wikki Stix set
Small magnetic bookmarks
Jacks set
Compass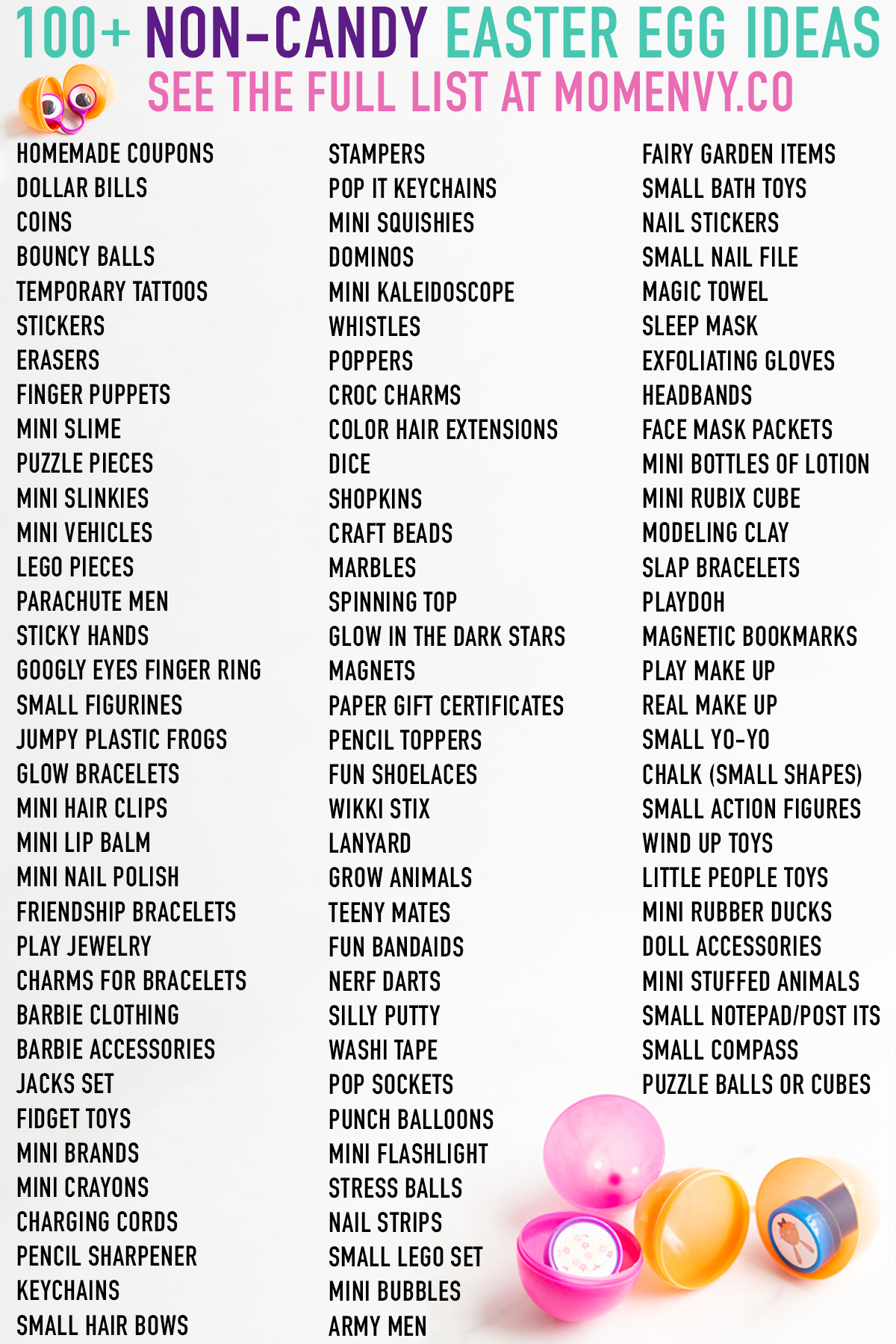 Safety Tip for Little Kids
Make sure that items you are placing inside of the plastic eggs are not a choking hazard. (When my boys were litter, I used one of these choking tube testers just to be sure). You may be better off using jumbo easter eggs so that you can put larger non-candy easter egg stuffers that are not a choking concern.
What Size Eggs to Use?
You can use any size plastic Easter eggs you'd like. I prefer to use different sizes so that I can vary the items that I put inside of the eggs. I buy a mix of smaller and larger eggs.
Tip for a "Fairer" Hunt – Color Code the Eggs
If you doing a smaller hunt with just a few kids, color code the eggs! Or, you can color code the eggs by age for safety reasons (For example – all blue eggs for big kids and yellow eggs for young kids).
There are lots of reasons to use one color egg per child.
Some kids really struggle with wanting everything to be fair and this can help keep emotions regulated
Hide personalized items you know each child would enjoy – this is especially helpful when your children have different interests
Customize items based on age
Allows little kids a chance to get the same number of eggs as older children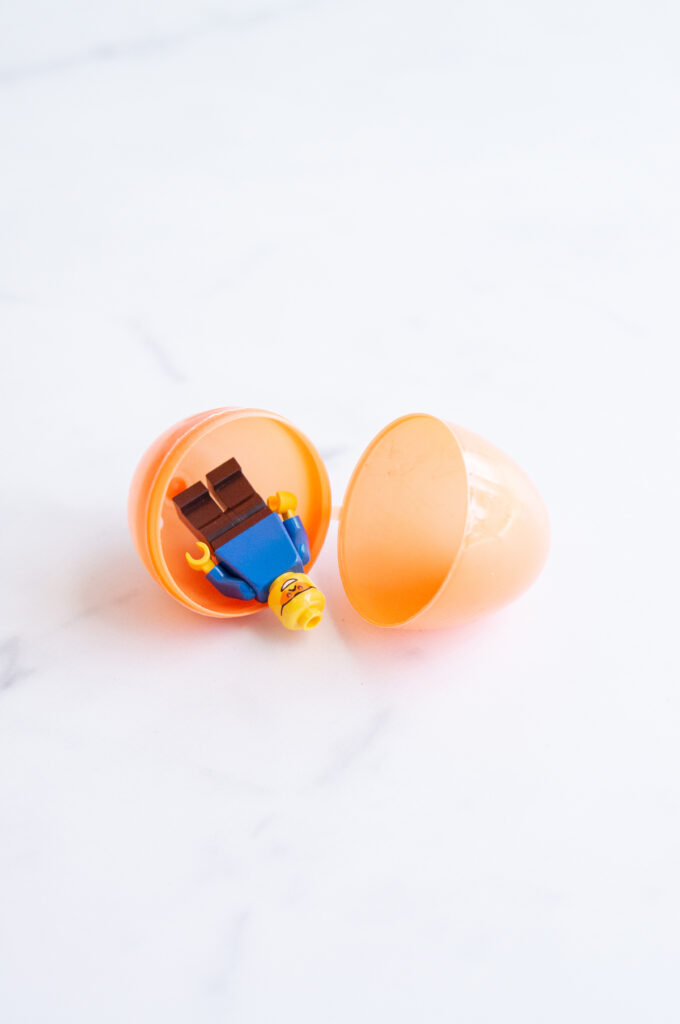 Take a Plastic Egg Shopping!
When you are looking for egg fillers, bring a plastic egg with you shopping. This is what I did and it made it so much easier to determine what would fit. There were so many items I thought would fit in an egg and I was shocked to see how just off my visual perception was off.
What Stores are Good for Finding Items?
You can find small items anywhere. If a store has a party section, check out their party favor options – there are so many great small items in this section that you can get in bulk.
Here are some of my favorite options based on my experience..
Dollar Stores
Party Stores
Walmart
Target
Craft stores like Michaels, Joanns, & Hobby Lobby
Amazon – party favors
Amazon – treasure box items
This List Makes Great Easter Basket Filler Ideas, too!
Many of these ideas would work as small items to put into an Easter Basket as well. Sometimes our Easter baskets get filled with too many sugary treats and it's nice to have some good options for non candy to put in their Easter baskets as well.
If you only have smaller eggs, the bigger items that would fit into jumbo eggs would be perfect to place in baskets instead.
Photos of Non Candy Items that Can Fit into Plastic Easter Eggs
Here are some photos I items I used with my own kids and some additional items I found in the store that would work as egg fillers as well. While there are so many lists out there of ideas, I find that it can be helpful to see how actual items from the list can fit into eggs.