We've got the ultimate stuffing line-up for you today. I had no idea there were so many different types of stuffing recipes out there.
We've got everything you may need – classic recipes with traditional Thanksgiving flavors, unique flavors, corn bread, sausage, crock-pot recipes, gluten-free recipes, and vegan recipes.
There is bound to be a recipe that is perfect for your family. So find a new family favorite today!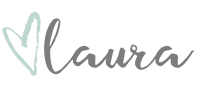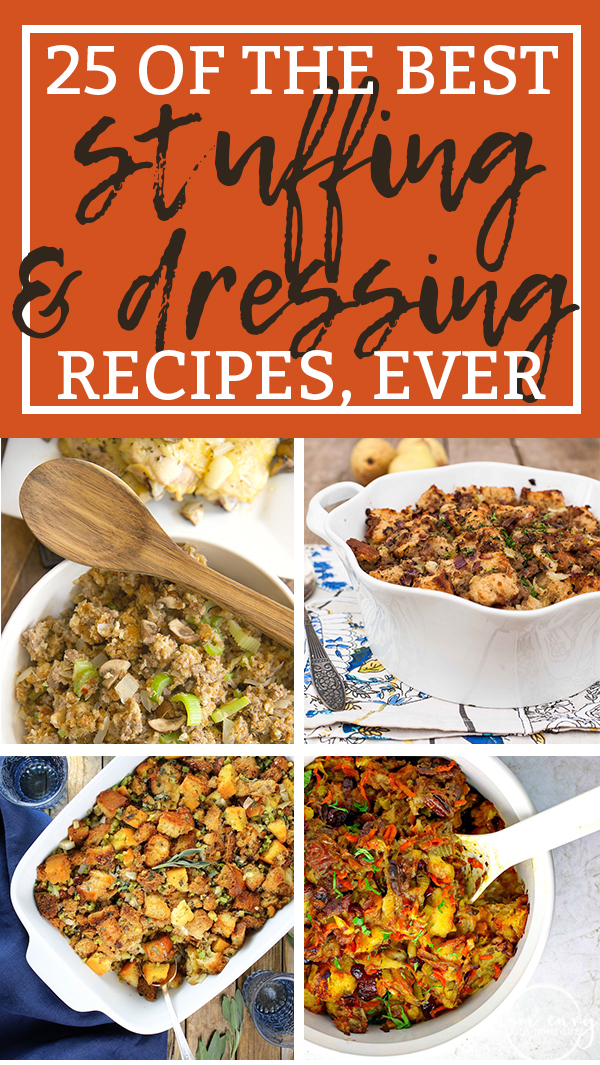 The Ultimate Thanksgiving Recipe Collection
Looking for some more Thanksgiving recipes? Check out the rest of the recipes from the Ultimate Thanksgiving Recipe Collection.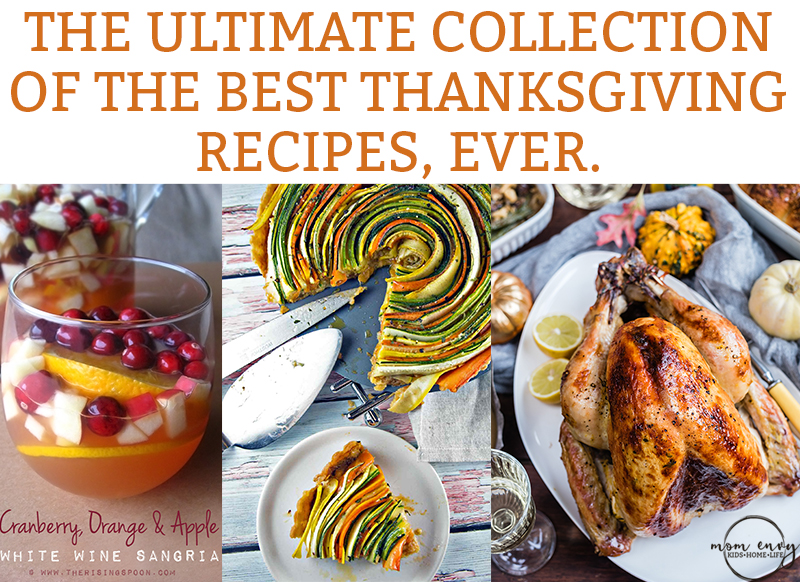 The 25 Best Stuffing Recipes and Dressing Recipes

The Ultimate Thanksgiving Recipe Collection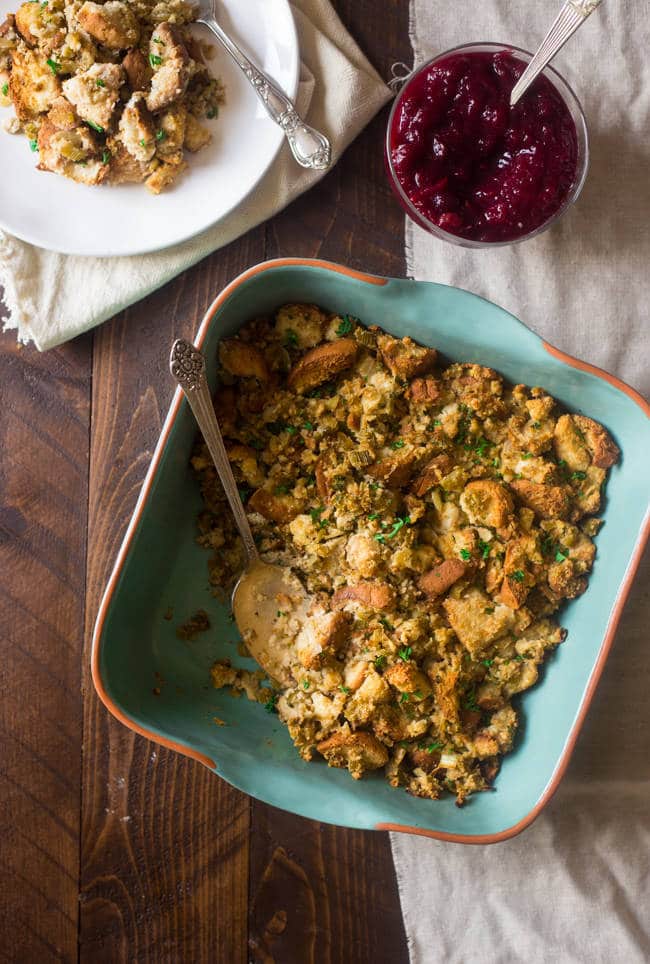 Easy Gluten Free Stuffing from Food Faith Fitness.
Eating gluten free doesn't mean living without your favorite Thanksgiving favorites. This gluten free stuffing recipe is easy and full of your favorite fall flavors.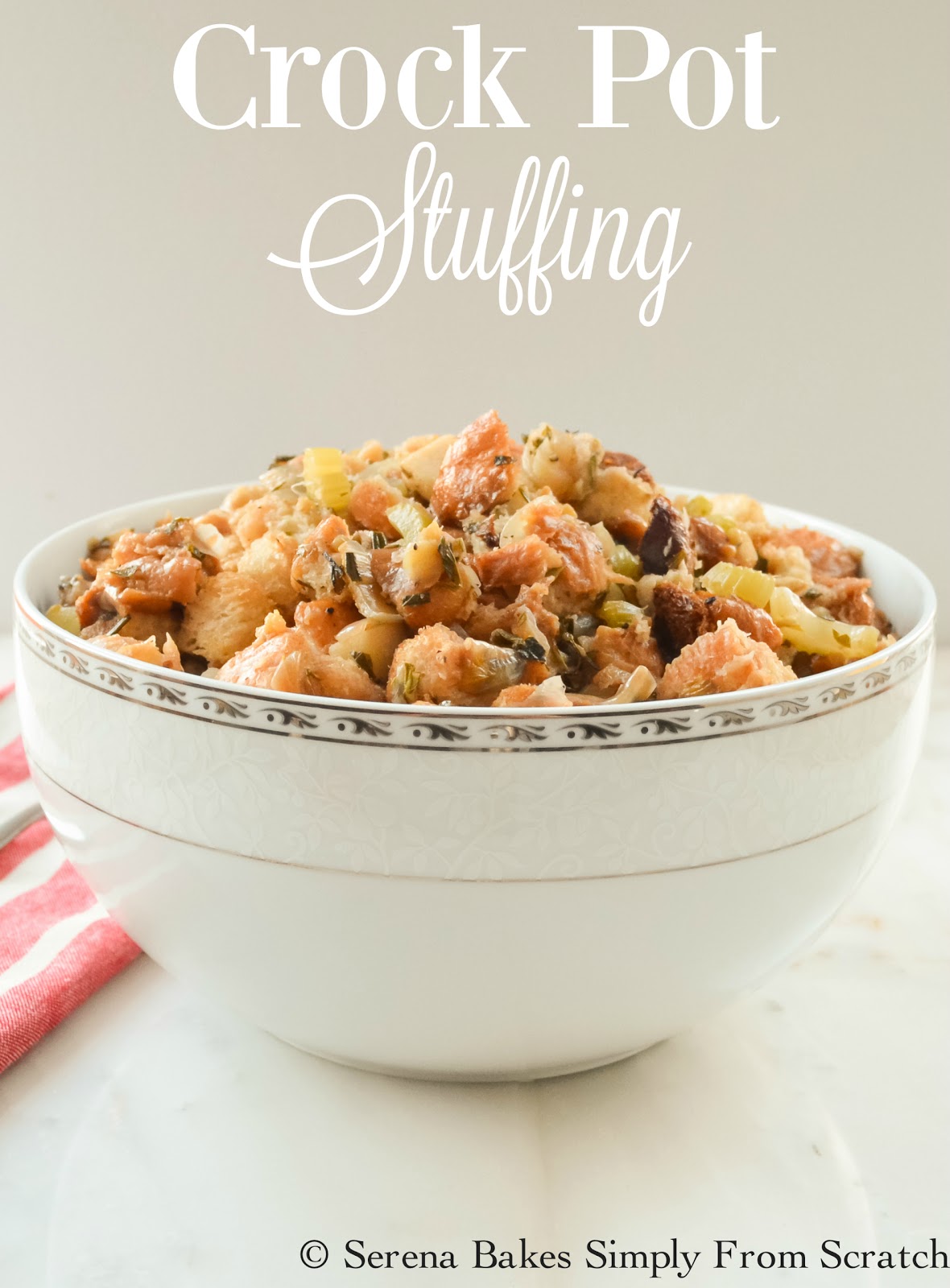 Serena Bakes Simply from Scratch's Crockpot Stuffing
If you've read the descriptions above, you know that I have a thing for using crockpots for Thanksgiving meals. Serena's stuffing recipe means once less dish fighting for oven space. Check out her recipe for some special tips on how to make stuffing in a crockpot because it is a little different than traditional methods.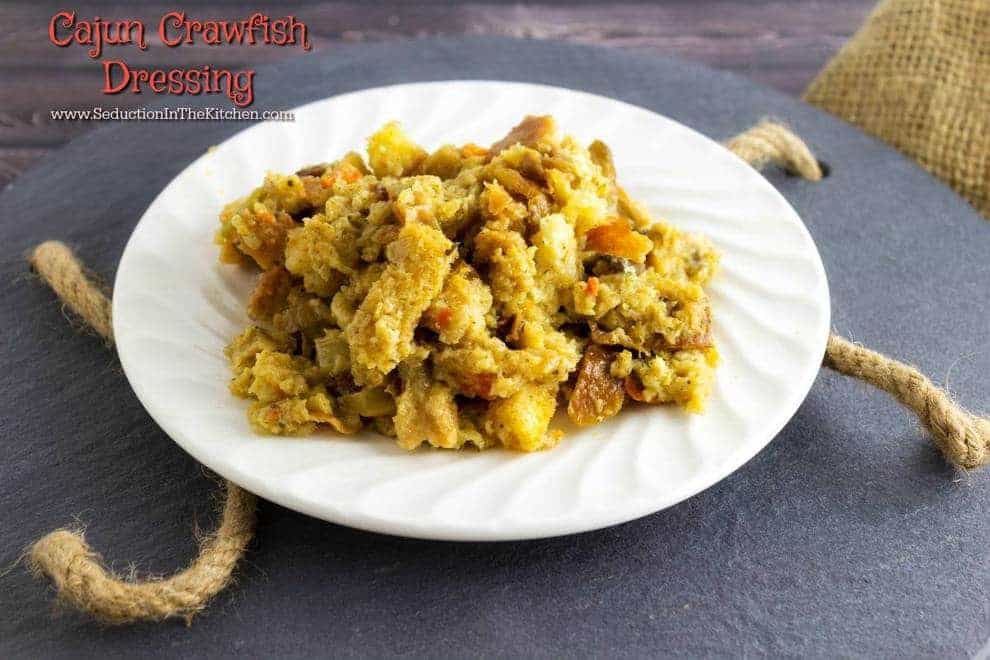 Cajun Crawfish Dressing from Seduction in the Kitchen
Looking for a completely unique dressing recipe this year? Try this Cajun crawfish dressing for a flavorful alternative to traditional Thanksgiving flavors.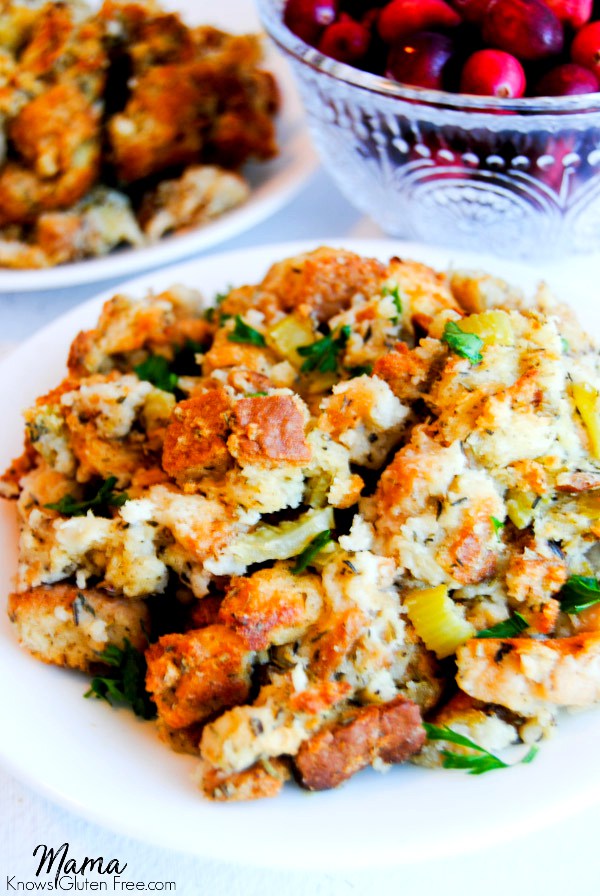 Mama Knows Gluten Free's Easy Gluten-Free Stuffing
Audrey uses classic flavors in her gluten-free stuffing. It's a simple recipe that is bound to make everyone at your Thanksgiving happy – not just those that need to eat a gluten-free diet.
Fig and Pancetta Stuffing from My Life Cookbook
This stuffing is the perfect balance of salty and sweet with the addition of figs and pancetta.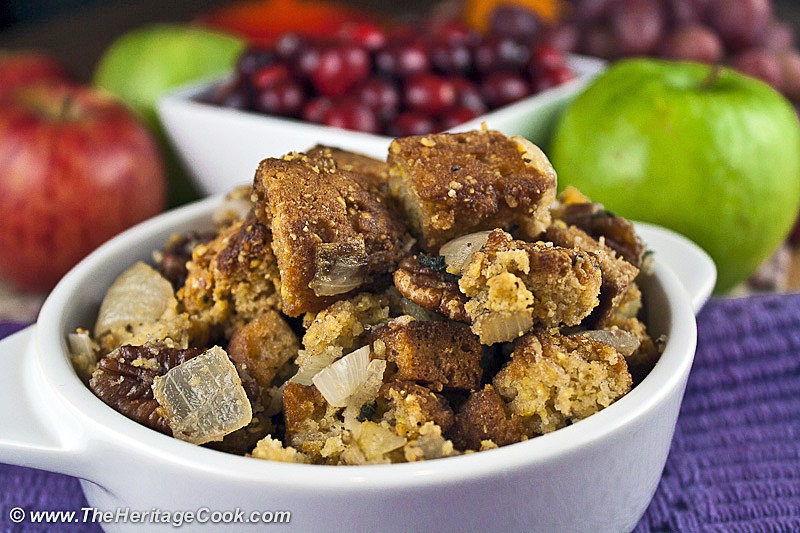 The Heritage Cook's Gluten Free Cornbread Stuffing
Do you have guests this year that eat a gluten-free diet? This cornbread stuffing will not disappoint. Jane adds in some additional flavorful ingredients like apples to make her stuffing extra special.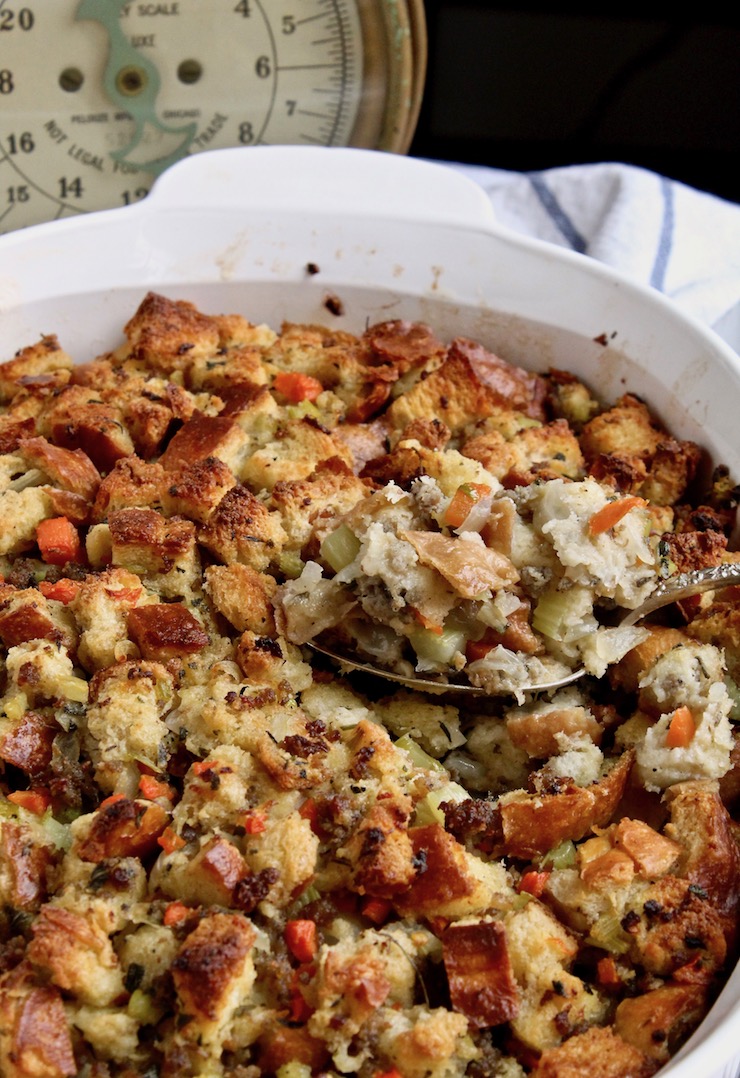 Old Fashioned Bread Stuffing with Sausage from The Hungry Bluebird
Sausage stuffing is so delicious. We made it a few years ago and it was a huge hit. Kelly shares her stuffing inspired by her Dad. It has classic, comforting, down home flavors. I love that she uses breakfast sausage for her sausage choice.
Kale Potato Bread Stuffing from Brooklyn Farm Girl
You'd never guess that Pamela uses instant potatoes to make her stuffing. The addition of the kale makes a great dish to try to sneak in some extra vegetables into your kids (or husband's) dinner.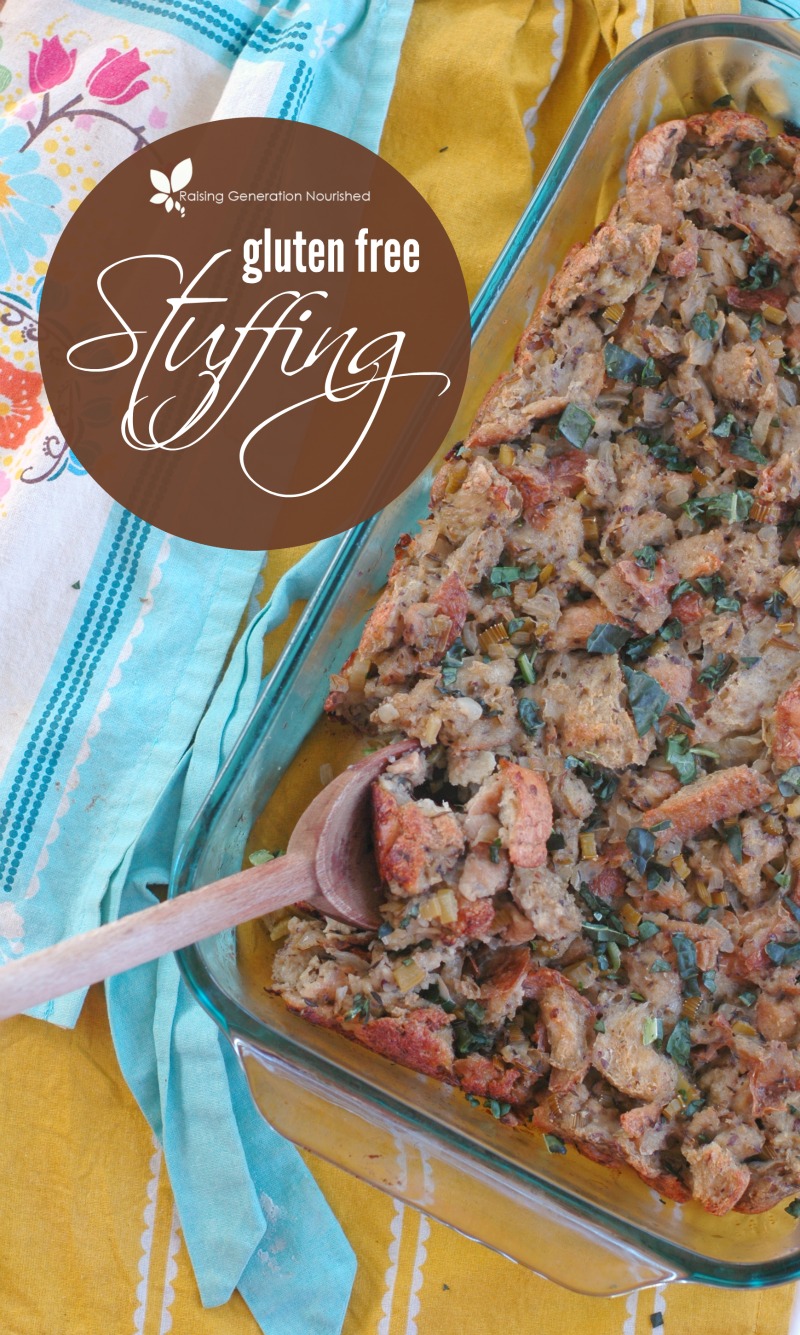 Raising Generation Nourished's Gluten Free Stuffing
Renee creates a herb-filled soup-like broth as the liquid in her stuffing. It adds so much flavor to her gluten free stuffing.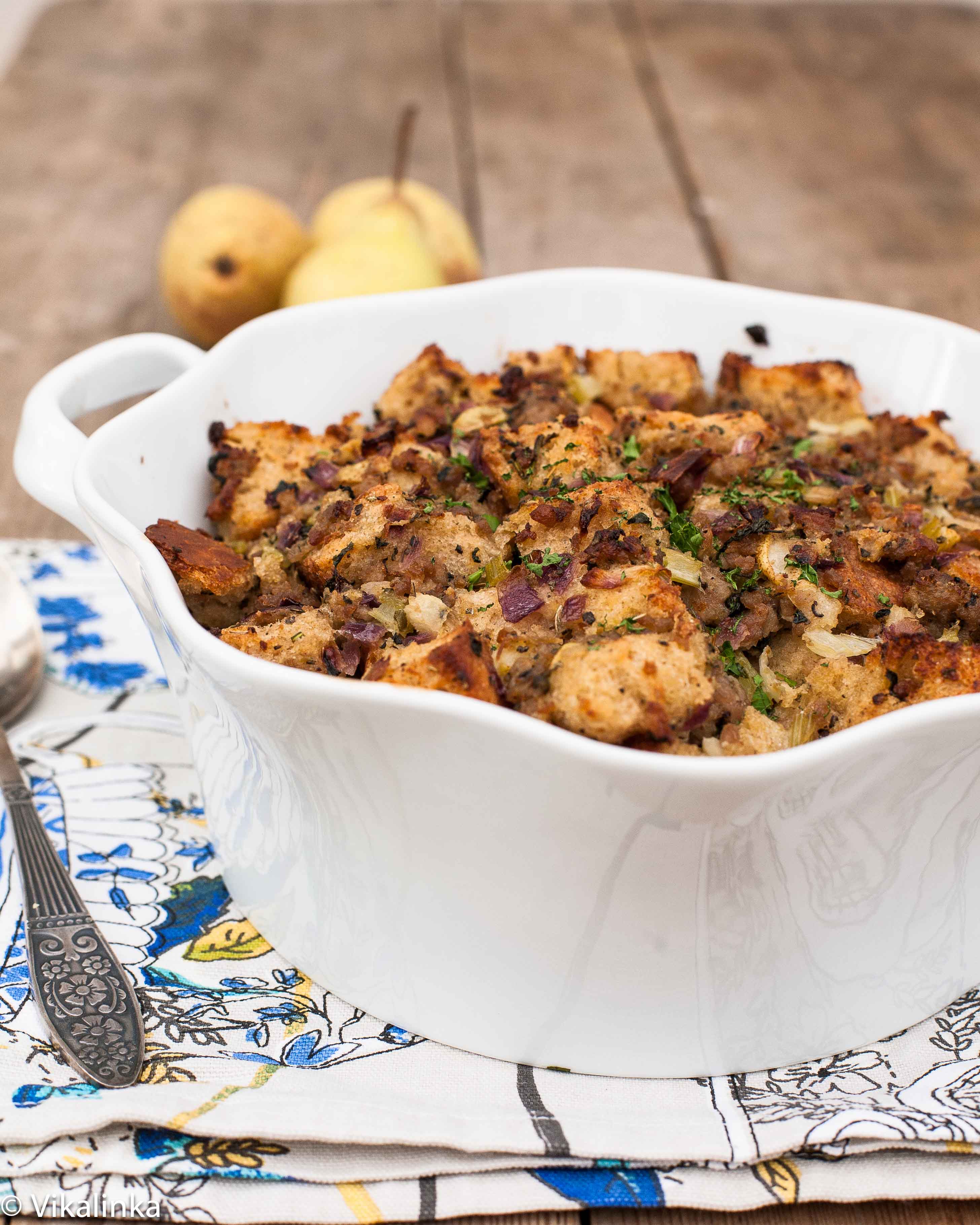 Vikalinka's Sausage, Pear, and Sage Stuffing
You get the salt from the Italian sausage, the sweetness from the pear, and so much flavor from the sage. This stuffing is full of great fall flavors and will satisfy your guests.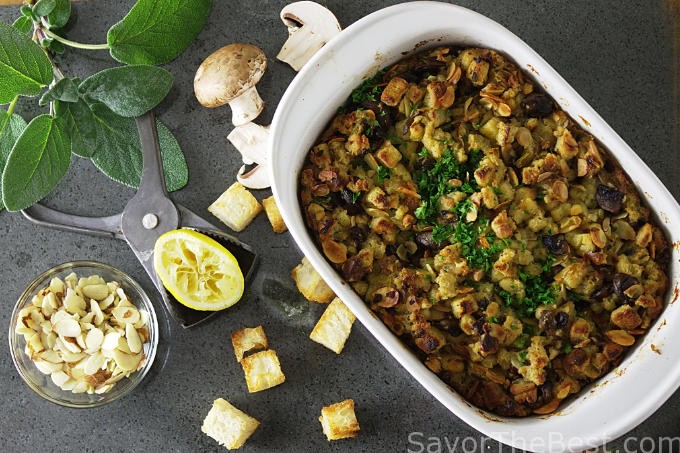 Savor the Best's Sage, Lemon, and Mushroom Stuffing
Pat and Dahn created such a flavorful, hearty stuffing. The lemon takes the stuffing up just a notch with the little bit of added acidity. Even better is this stuffing can be made the night before which reduces some of the chaos the day of Thanksgiving.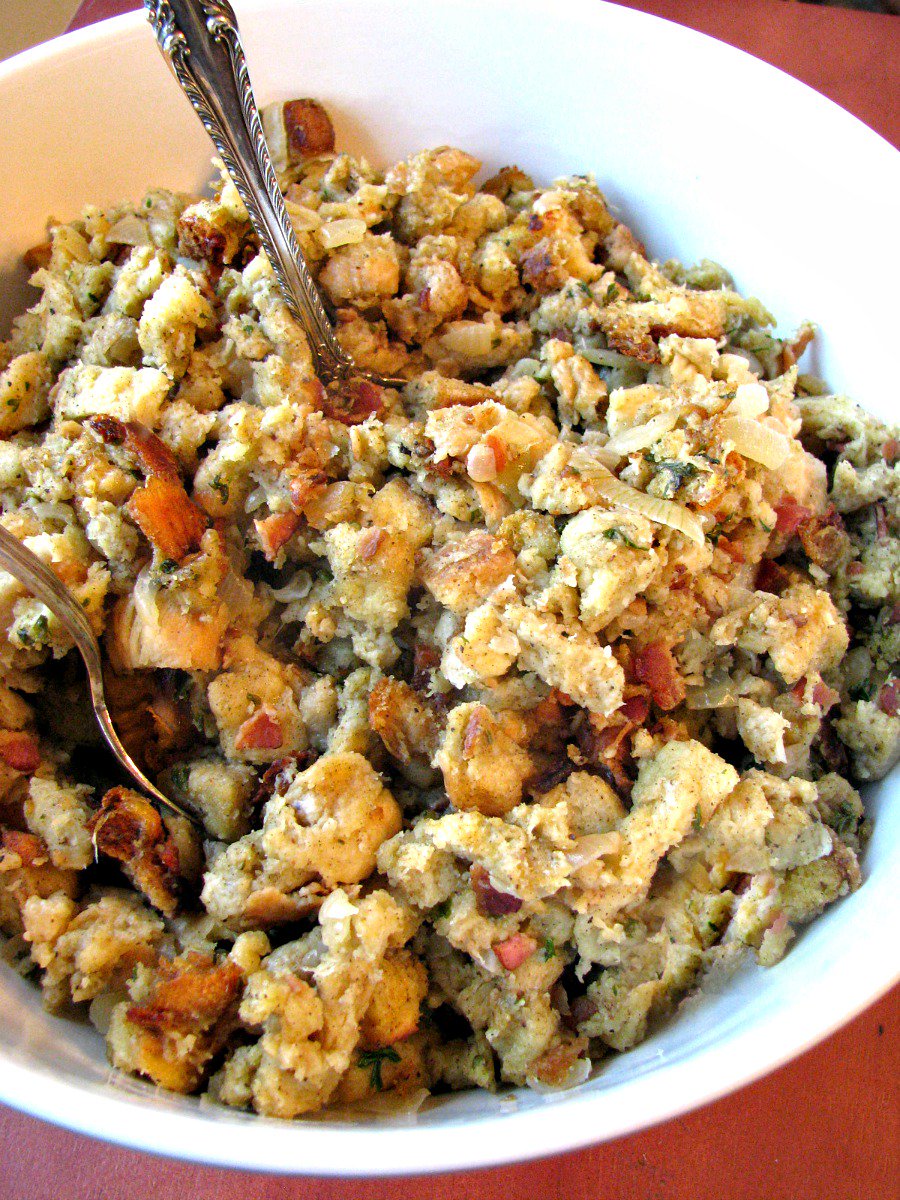 Rants from My Crazy Kitchen's Slow Cooker Stuffing with Bacon, Onions, and Sage
I'm not going to lie, this is a pretty perfect stuffing recipe. Not only is it made in a slow cooker (my favorite type of recipes), it also has bacon in it. Plus, it is filled with traditional herbs and spices.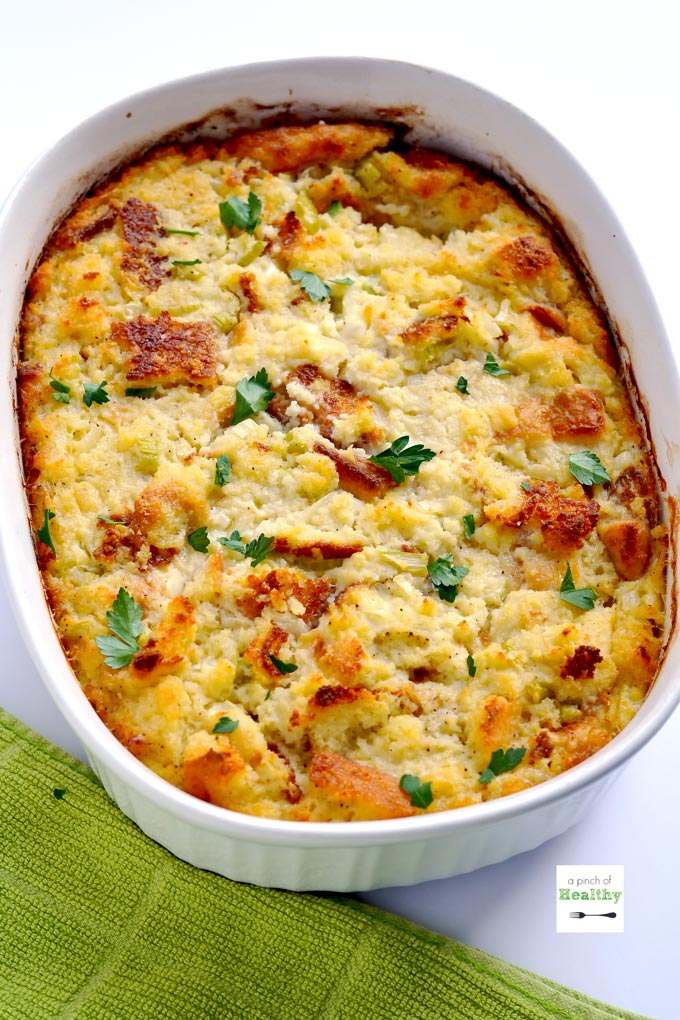 A Pinch of Healthy's Southern Cornbread Dressing
Marjorie shares her family's southern cornbread dressing recipe that's been passed down over the years. Like most family recipes, her Mom over the years has created it from memory and taste (aren't those the best type of recipes). Her dressing recipe has traditional ingredients and is super simple to make.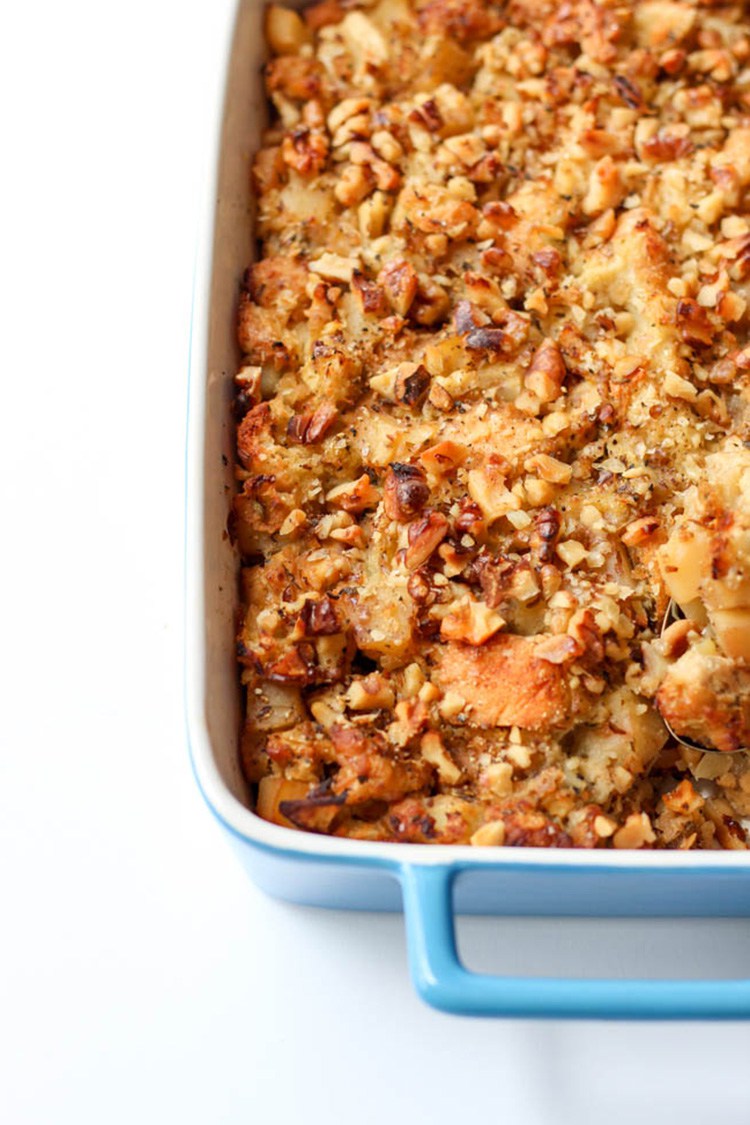 Tempeh, Parsnip, and Sage Stuffing from Quite Good Food
Do you have any vegan's visiting this Thanksgiving? Then this stuffing recipe will fit your needs. It features tempeh, parsnip, apple, sage and walnuts.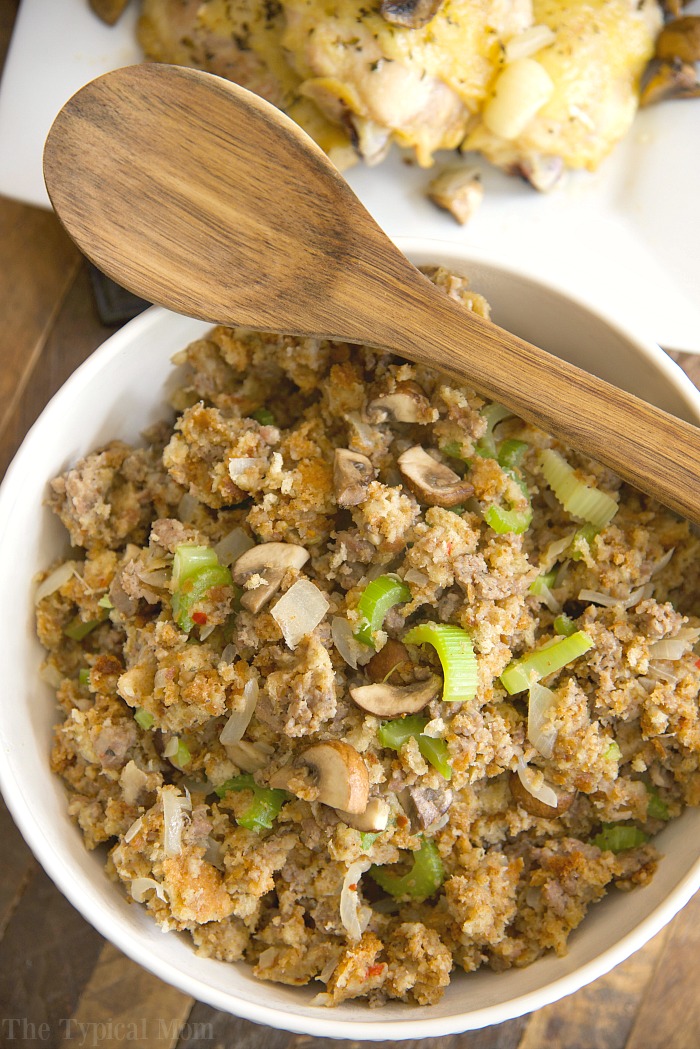 The Typical Mom's Pickford Stuffing
This stuffing is full of great ingredients. It has mushrooms, spicy sausage, and onion. It's a simple recipe that's easy to recreate thanks to the use of Pepperidge Farm's herb stuffing.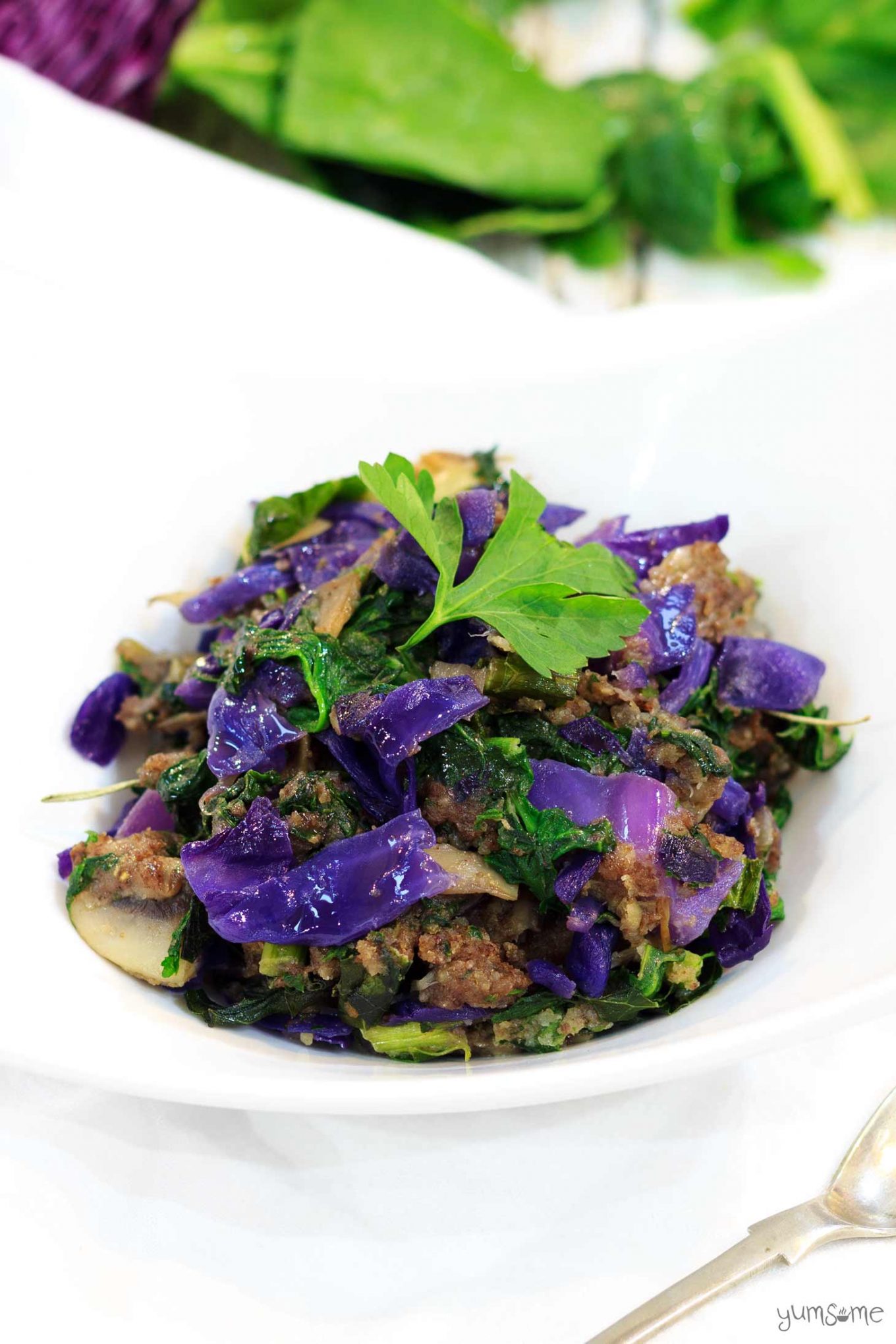 Vegan Red Cabbage and Mushroom Stuffing from Yumsome
This vegan stuffing is so unique with the addition of red cabbage. It uses breadcrumbs in lieu of bread.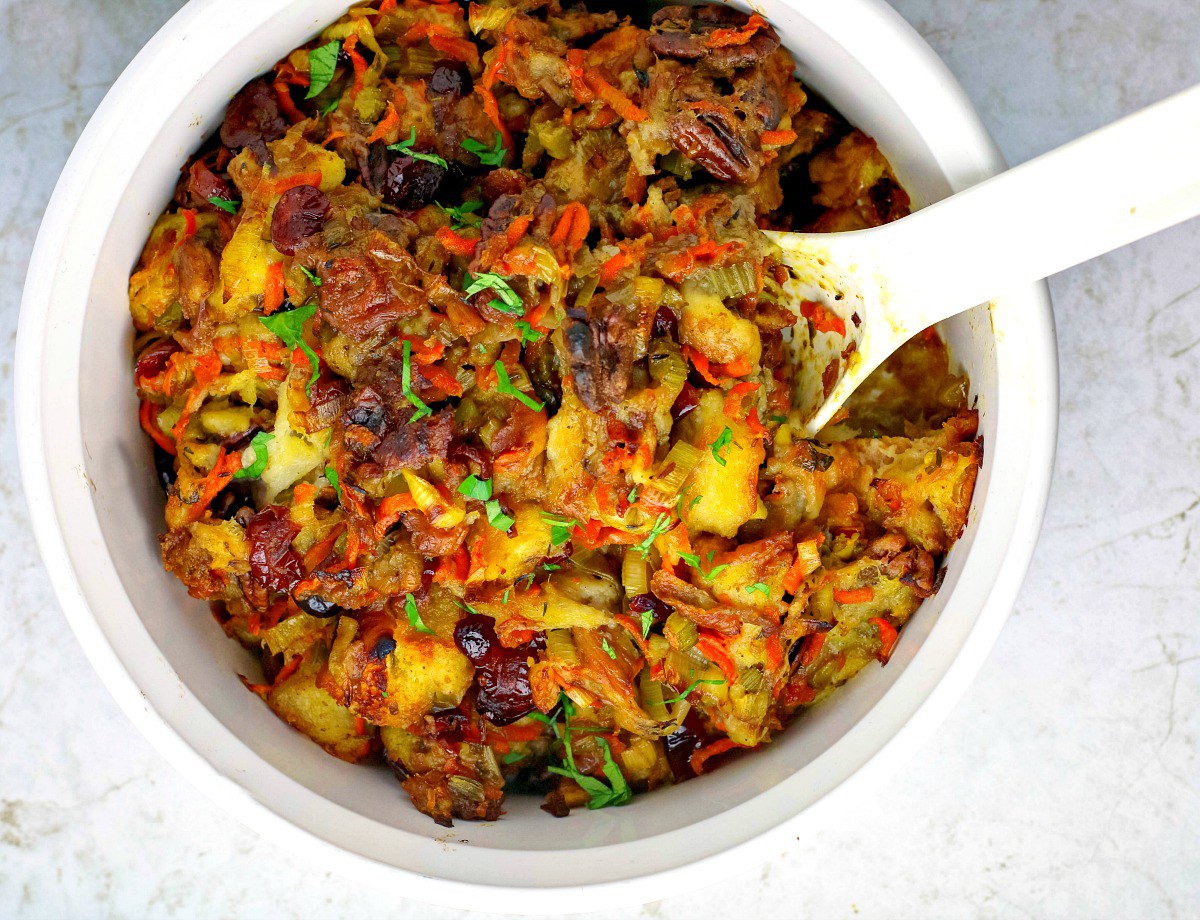 Vegetarian Slow Cooker Stuffing from Killing Thyme
Killing Thyme has one of my favorite blog names, ever. It's so clever. Anyway, back to her delicious stuffing. She uses King's Hawaiian rolls which adds a hint of sweetness. I also love her addition of cranberries, carrots, leeks and pecans which all bring so much flavor to the dish.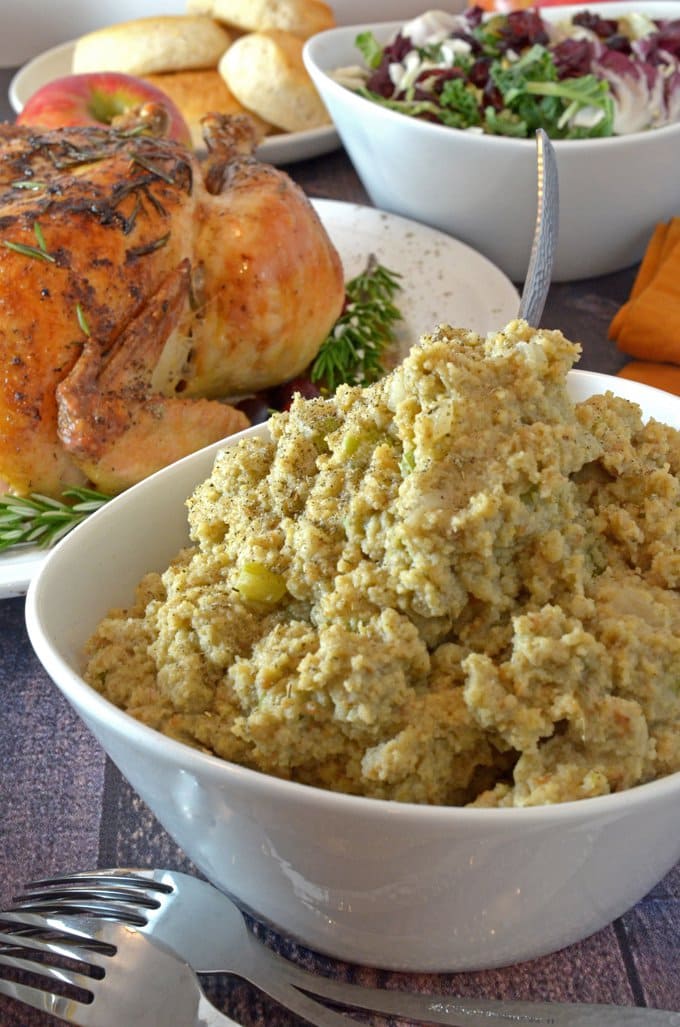 Southern Cornbread Dressing from Platter Talk
So this cornbread stuffing is different than others because it uses BISCUITS as the second bread. I LOVE biscuits and the idea of them in my stuffing is glorious. April Lee even shares a video of her making.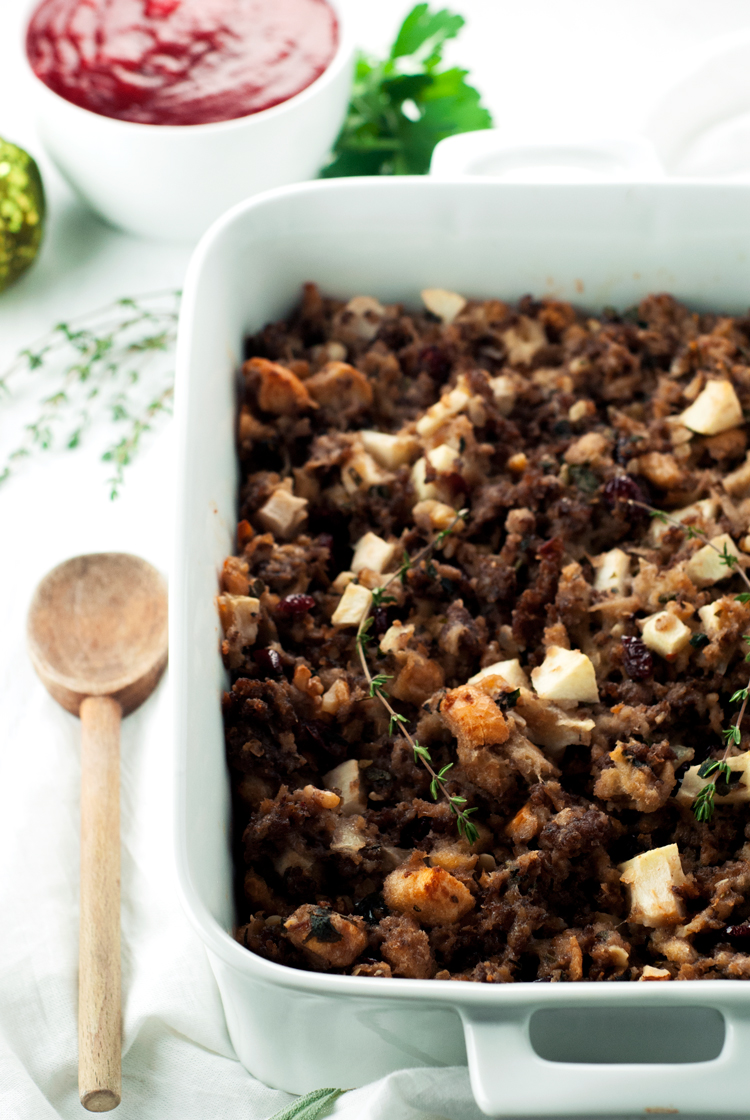 Cranberry Sausage Stuffing from A Simple Pantry
This rustic, hearty stuffing is started with a french baguette that's been torn by hand. Karly then adds cranberries (the inspiration for her recipe), apples, walnuts, and lots of vibrant herbs.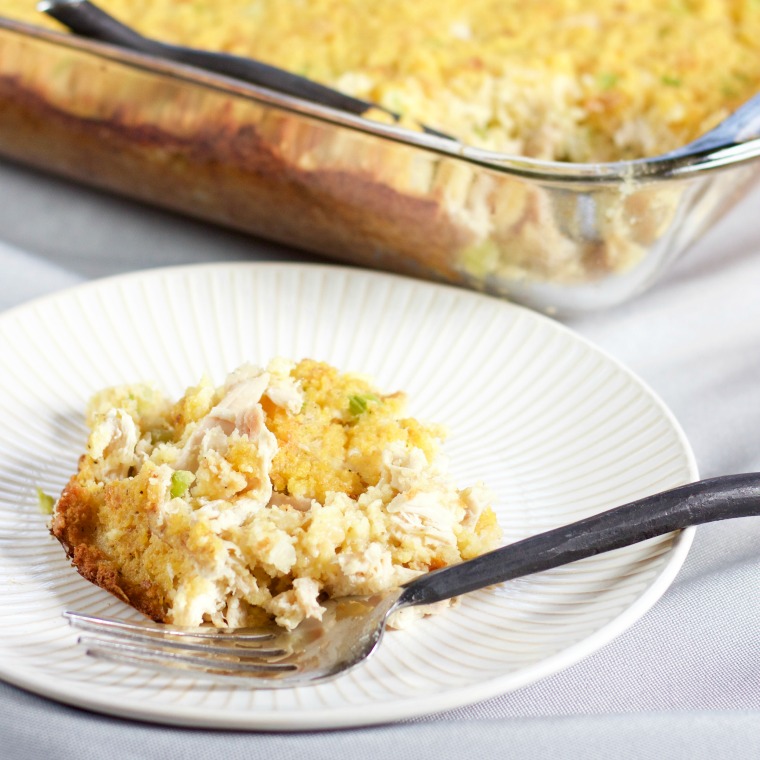 Grandmother's Chicken Cornbread Stuffing from 918 Plate
This semi-homemade stuffing is easier than it sounds. She has modified her great-grandmother's recipe to make it more accessible. Hillary uses rotisserie chicken and cornbread mix as a short cut in this flavorful stuffing.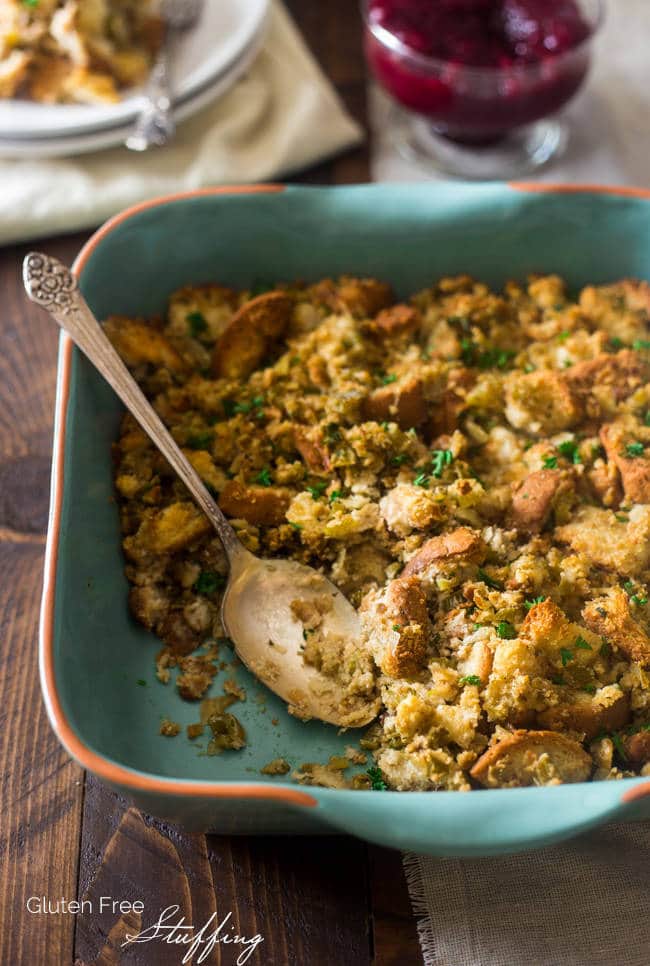 Easy Gluten Free Stuffing from Food, Faith, Fitness
Taylor shares an easy gluten free stuffing that is full of traditional flavors. If you have gluten free guests, they'll enjoy a classic Thanksgiving dish that still meets their dietary needs.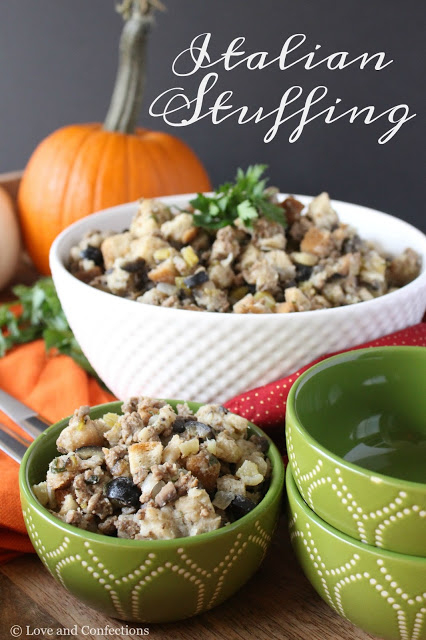 Italian Stuffing from Love and Confections
Terri's stuffing has an unexpected ingredient that makes the dish – ground sirloin. It's hearty enough it could almost be a meal on it's own.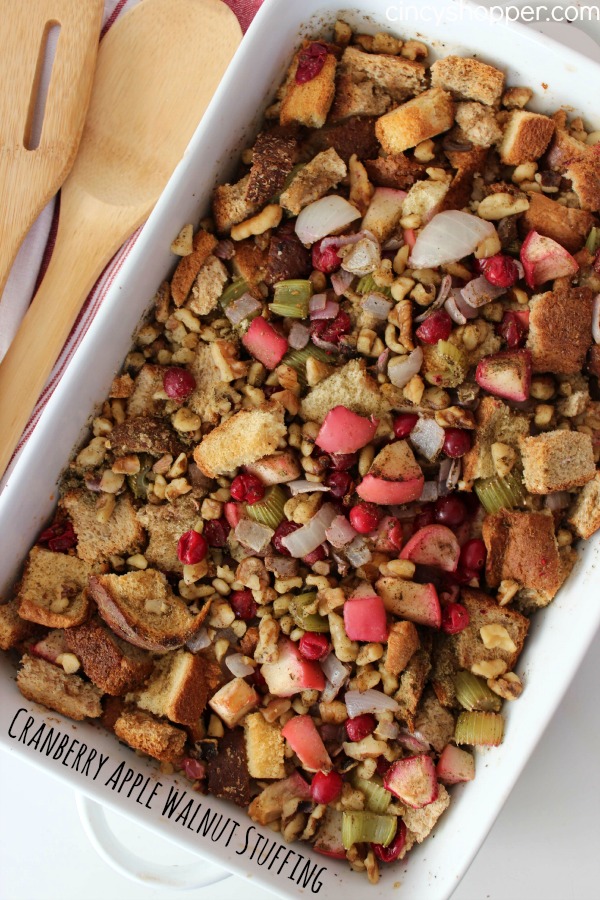 Cranberry and Walnut Stuffing from Cincy Shopper
This colorful stuffing is sure to please your Thanksgiving crowd. It's a super easy recipe to throw together, so you'll love it, too.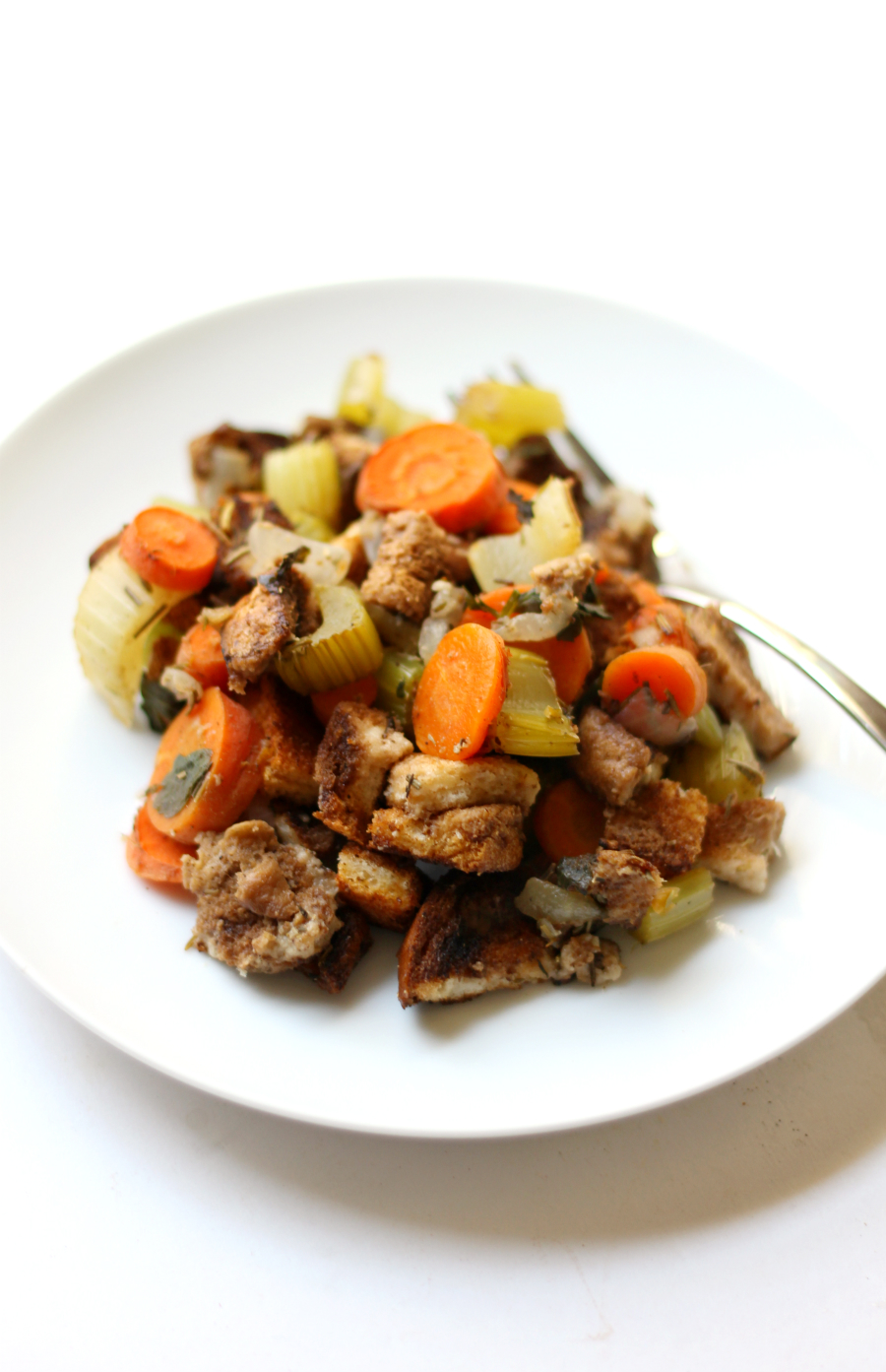 The Best Gluten-Free Vegan Stuffing from Strength & Sunshine
I love how Rebecca adds carrots and mushrooms to her stuffing. It makes it even heartier than your average stuffing.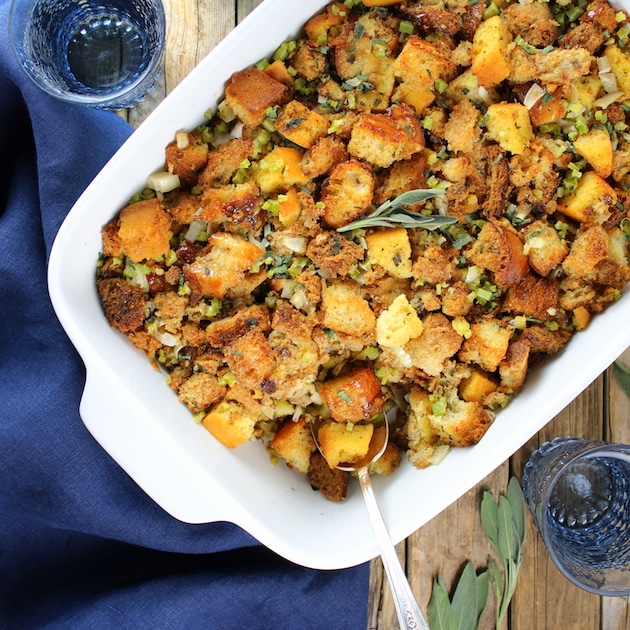 Turkey Stuffing from Taste and See
If you've never made stuffing before, Holly's stuffing is a wonderful choice. She shares step-by-step pictures of how to make this classic stuffing recipe.
Bonus recipe using Stuffing: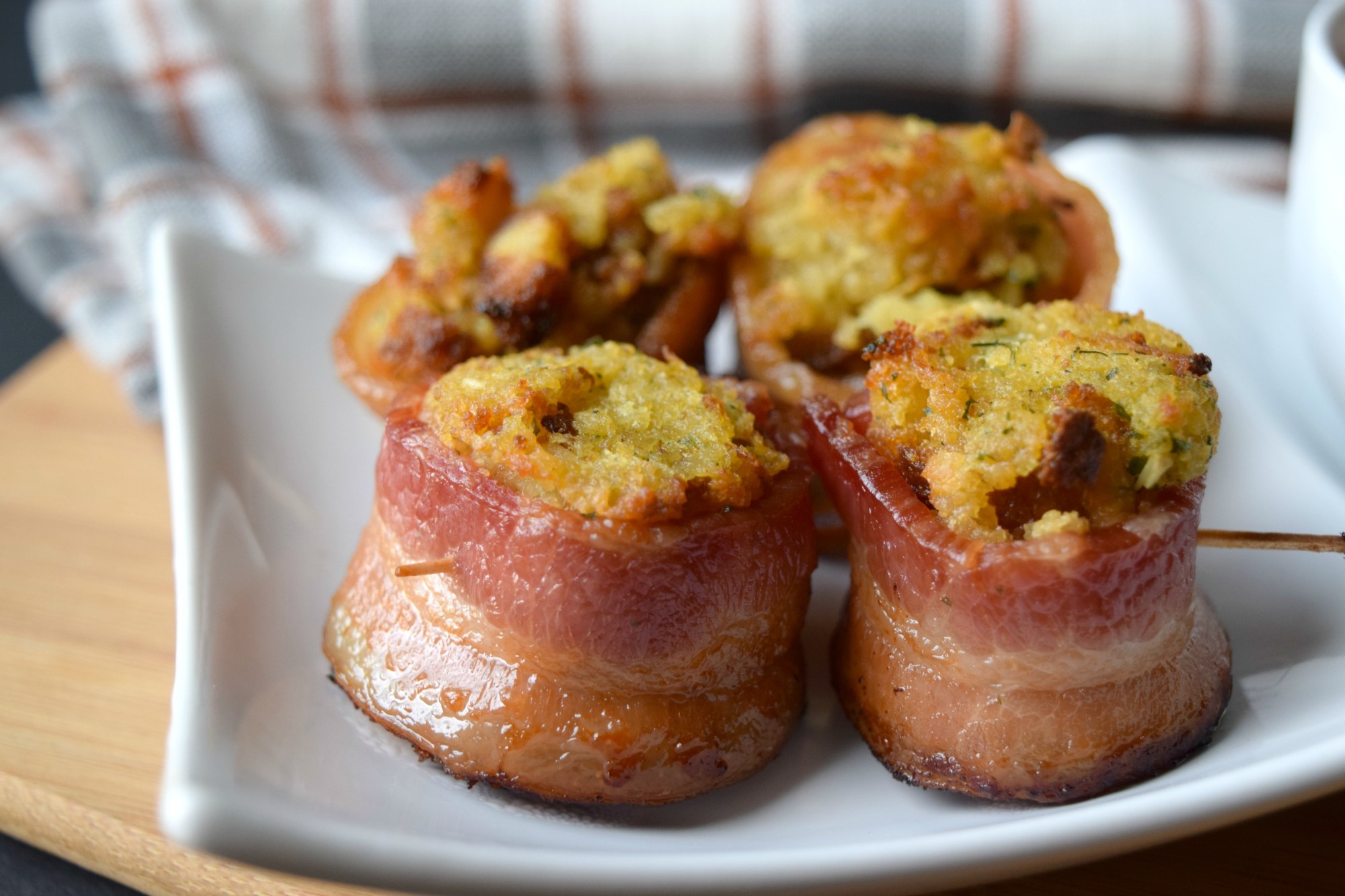 Bacon Wrapped Stuffing Bites from Who Needs a Cape?
Alright, so I know this is not exactly a stuffing recipe. It's more of an appetizer. BUT I had to include these because if you have never tried them, you're totally missing out. A good family friend of ours made these for a party once and my family was hooked.