​Are you looking to make some fun Thanksgiving earrings using an SVG? I've got a set of 11 free SVGs to create your own earrings for Thanksgiving.
These earrings would make a thoughtful Thanksgiving gift for a family member, friend, teacher, etc. Or, you can make your own pair to wear to Thanksgiving dinner!
The good news is that with multiple earring designs, you'll find the perfect design for you or whoever you are making them for!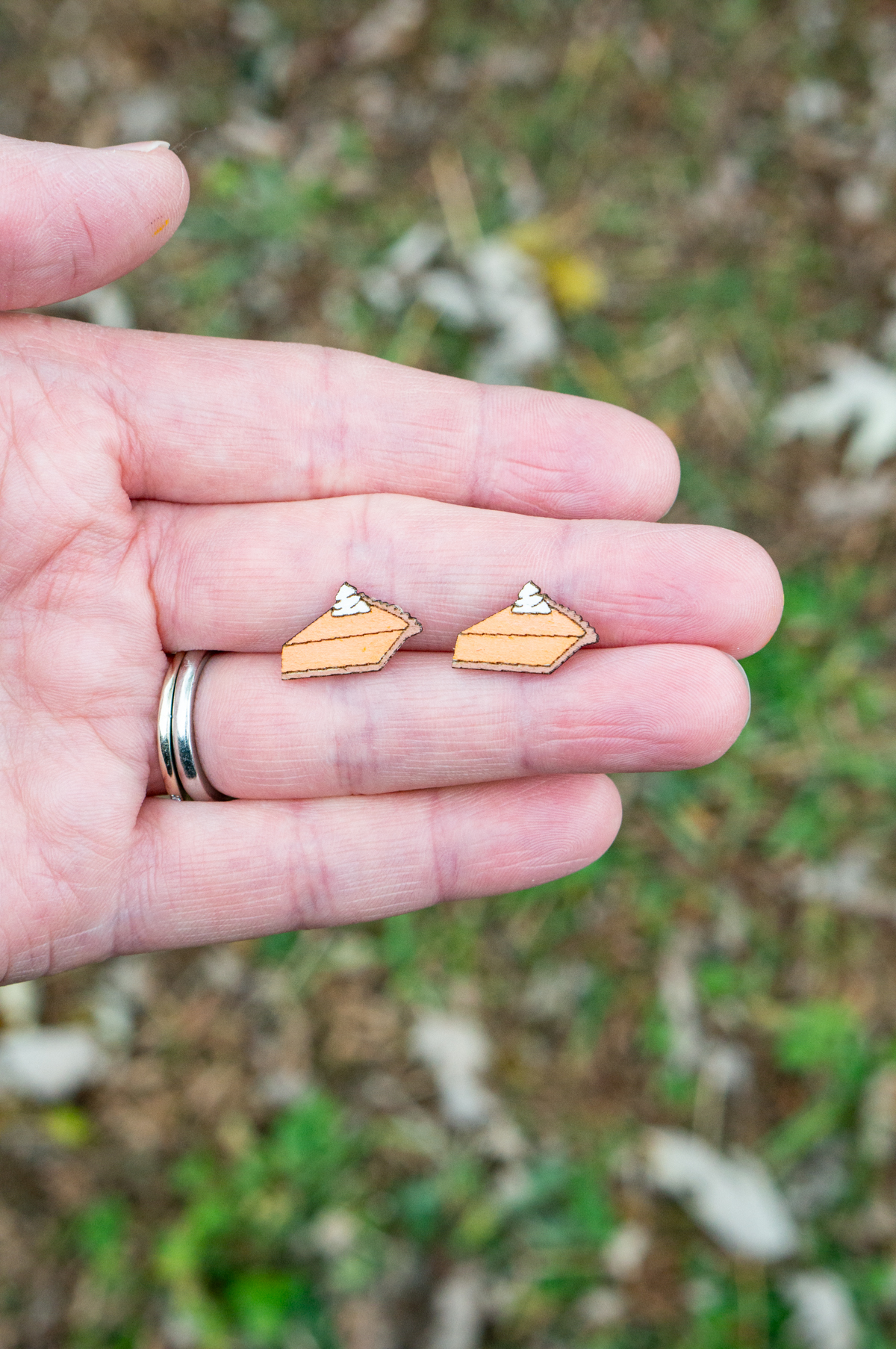 As an Amazon Associate, I earn from qualifying purchases. I am also an affiliate for xTool, the HP ink program, ShareaSale, and CJ Networks. Click here to read more.
Here is What Each of the Thanksgiving Earring Designs Look Like
You'll get 11 different designs included in this free set. Each of the earrings is hand-drawn designs by me.
The designs include:
a piece of pumpkin pie
a whole pumpkin pie
a lattice pie (such as an apple pie)
a turkey silhouette
a cute turkey with feathers
a turkey inspired by a famous scene in the show Friends
a stick of butter (because Thanksgiving normally involves a lot of butter)
a gravy boat
a bowl of mashed potatoes with gravy on top
turkey drumsticks
an ear of corn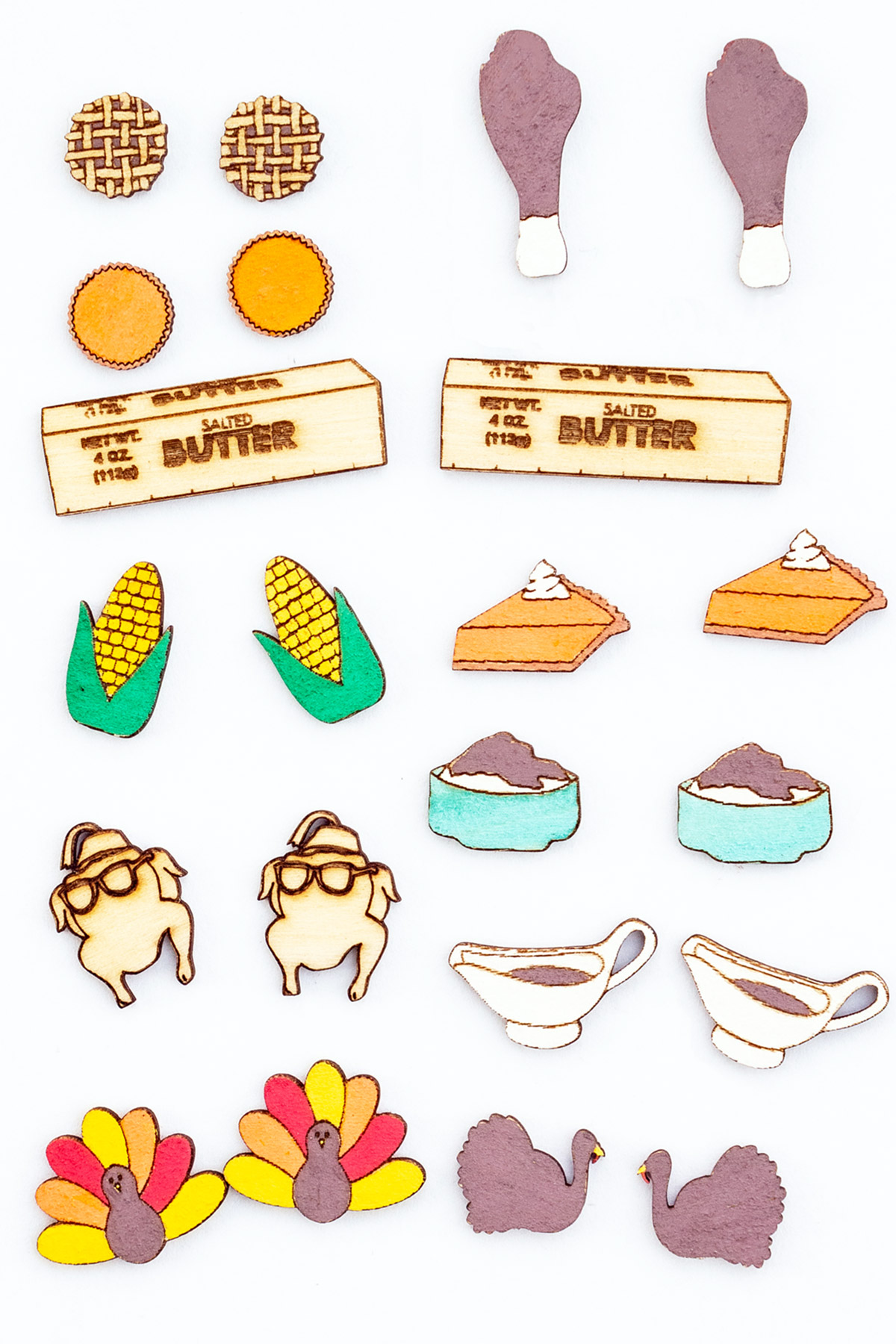 Looking for a Pumpkin Design?
You can grab a simple pumpkin and a pumpkin spice latte in my free Halloween earring SVG set.
Download the Free Thanksgiving Earring SVG Set Here!
You'll find the download link for your free cut files to make your own new earrings below or click the download button at the bottom of this blog post (it's the large image that says Click to Download at the bottom of this post).
You must be a free Mom Envy club member to get the files. Once you are a member, you can enter your password for the instant download.
Click here for the free Thanksgiving Earring SVGs
xTool's Black Friday/Cyber Monday Sale – Lowest Prices EVER!
Right now, xTool is hosting a Black Friday/Cyber Monday Sale through November 30.
All machines are at their lowest prices, ever!
It's the perfect time to grab an M1 machine to make your own DIY gifts and home decor for your own family and friends. Or, grab the M1 or another one of their machines to start your own small business!
Already have a machine? Their materials are on sale, too!
Here are Some Examples of Current Machine Prices After the Sale Price & Coupon:
xTool M1 – $919.00
xTool P2 – $4,249
xTool S1 – $2,049.99
xTool F1 – $1,439
What File Types Come Included in the Set of Free Wooden Earring SVGs?
You get the following file formats included:
SVG format
xTool Creative Space
PNG file
Silhouette Studio format
What Programs are Compatible with the Free Earring SVG Files?
You can use the following programs with the free wood earring files:
xTool Creative Space
Lightburn
Cricut Design Space
Silhouette Studio
​Scan n Cut
Any program that will support SVG & PNG files
Make sure you are using the latest version of the software as sometimes using an outdated version can cause trouble (which I ran into when using the file on a different computer that I had not updated my program yet).
Can I Purchase a Commercial License?
Yes! These free files are for personal use only unless you purchase a commercial license for small business use. Small businesses may purchase a commercial use license, click here to purchase. The terms of use require you to purchase a license to go with each individual earring design (one license does not cover the entire free set).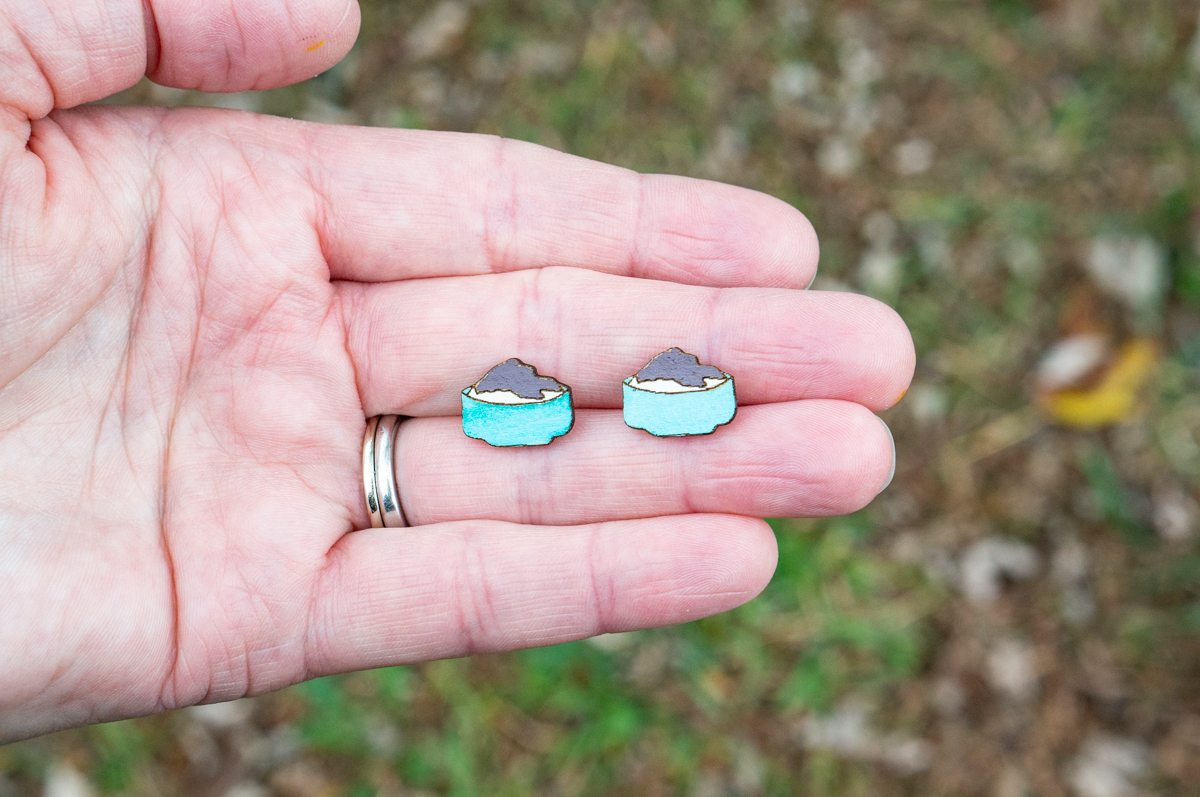 What's the Best Paint to Use?
I suggest using acrylic paint pens. They are simplest way to paint such tiny details.
These are the exact acrylic paint pens that I used for my earrings. But Tooliart pens are considered to be some of the highest quality pens available, you can find them here.
Do I Need to Paint the Earrings?
No, you don't need to paint them! Two of the designs I didn't paint myself because the details were too intricate.
Thanks to the engraving and score lines, they look great unfinished. Here is one of the designs unpainted.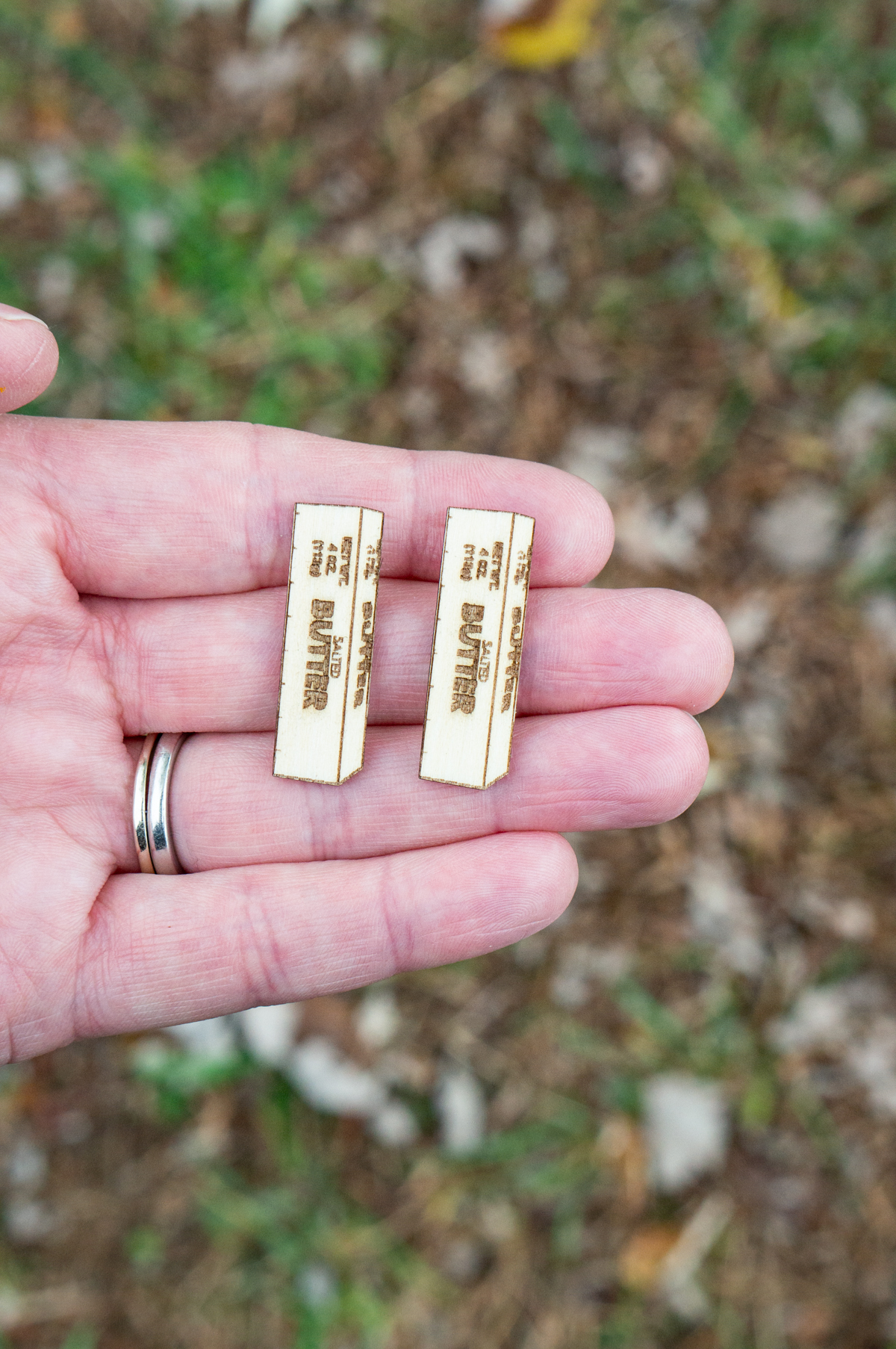 Should I Coat the Finished Earrings with Something?
Yes! I suggest a clear, non-yellowing UV spray. Many earring makers also coat their earrings in UV-resin, but this is not something I have tried.
Using a Laser Machine to Make Earrings
The easiest way to create detailed wooden earrings is by using a laser cutting and engraving machine. I used my xTool M1 to create the Thanksgiving earrings you see in this post. I've always gotten a great cut using my laser.
Making jewelry is one of my favorite things to make with my xTool M1. If you want to learn more about the machine, check out my full review of the xTool M1.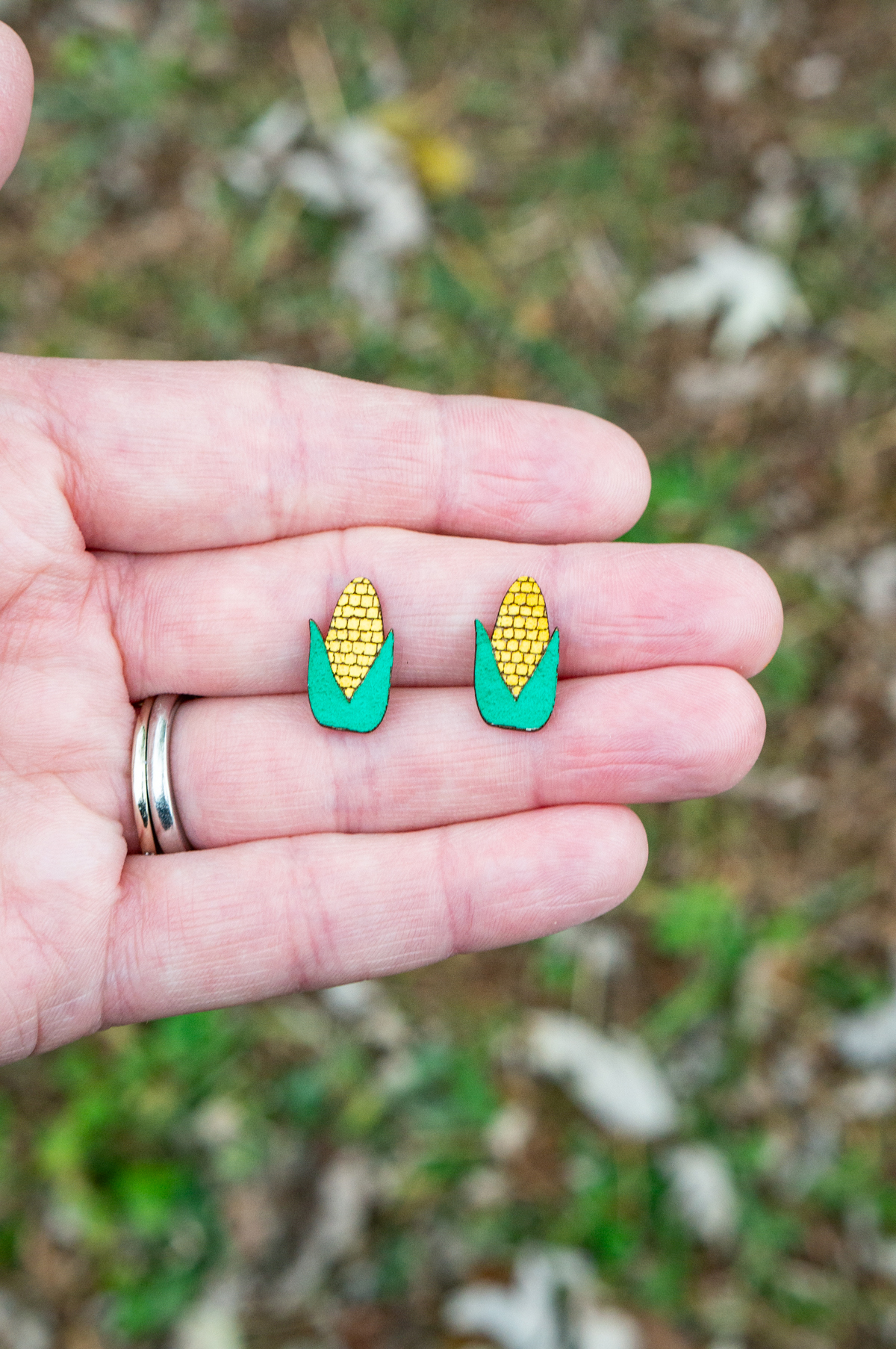 Why is a Laser Better than a Blade Cutting Machine for Earrings?
Using a laser to create wood earrings gives them a more professional look. You can cut much more intricate designs using a laser machine than a blade cutting machine. Plus, it is much more efficient because you don't have to stop to change a blade for cutting, scoring, engraving, etc.
Can I Still Use a Silhouette or Cricut Machine?
Yes. You can use both of these machines to create earrings using very thin wood. But, not all of these designs will be possible due to their intricate lines.
I have both a Cricut Maker and a Silhouette Cameo and love both of them. But, for best results when making earrings, a laser machine is the best option.
If you want to make earrings using a Cricut Explore or Cricut Maker, you'll need a Cricut knife blade and a deep blade (they can cut balsa wood and basswood up to 1.5 mm thick. If you're using a Silhouette Cameo 3mm Kraft Blade for the Cameo 4 or the Deep Cut Blade or Kraft blade for the Cameo 3.
If you have one of the above machines, you can still use the files included (I even included Silhouette Studio files for you so that you won't even need to have the Designer Edition of Silhouette Studio!)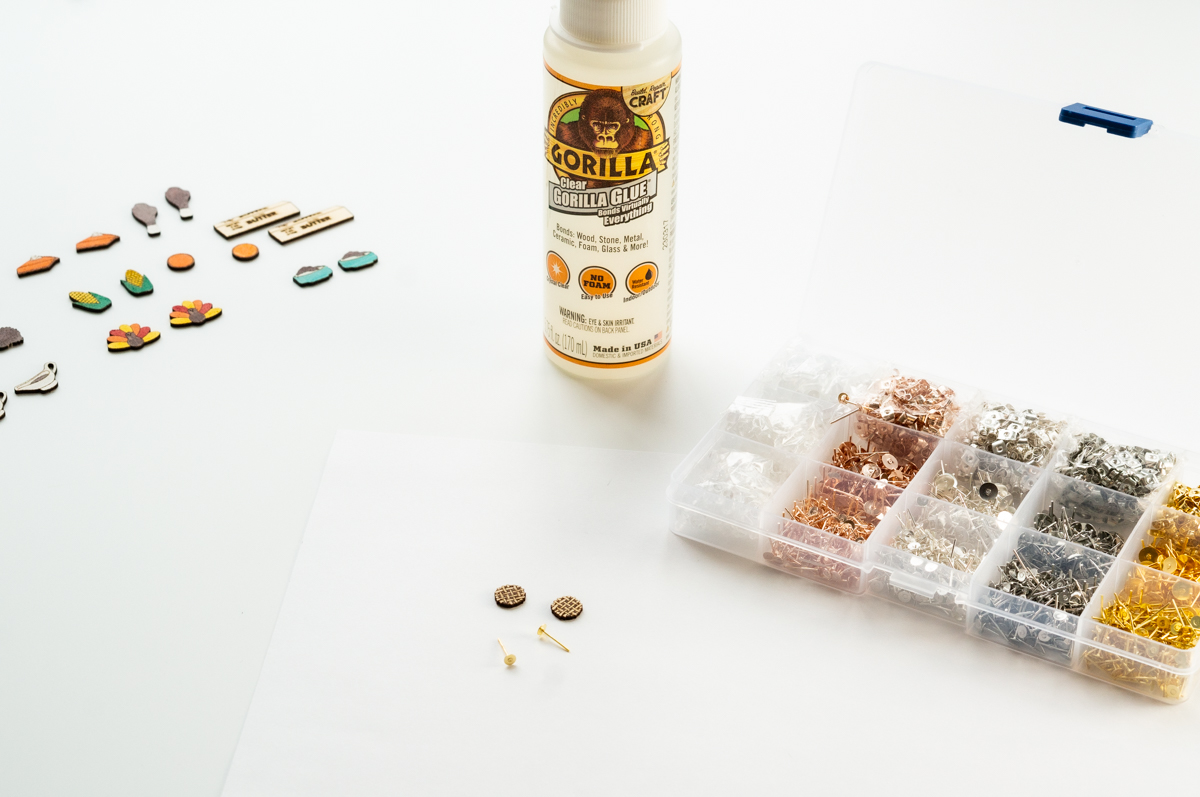 What Materials Do You Need to Make Thanksgiving Wooden Earrings?
You will need the following materials
*Make sure whatever studs you have will fit the design. I suggest purchasing a set of various sizes so that you have what you need on hand.
What Tools Do You Need to Make Wood Earrings?
painter's tape or honeycomb pins to hold down the wood while cutting
small flat nose plier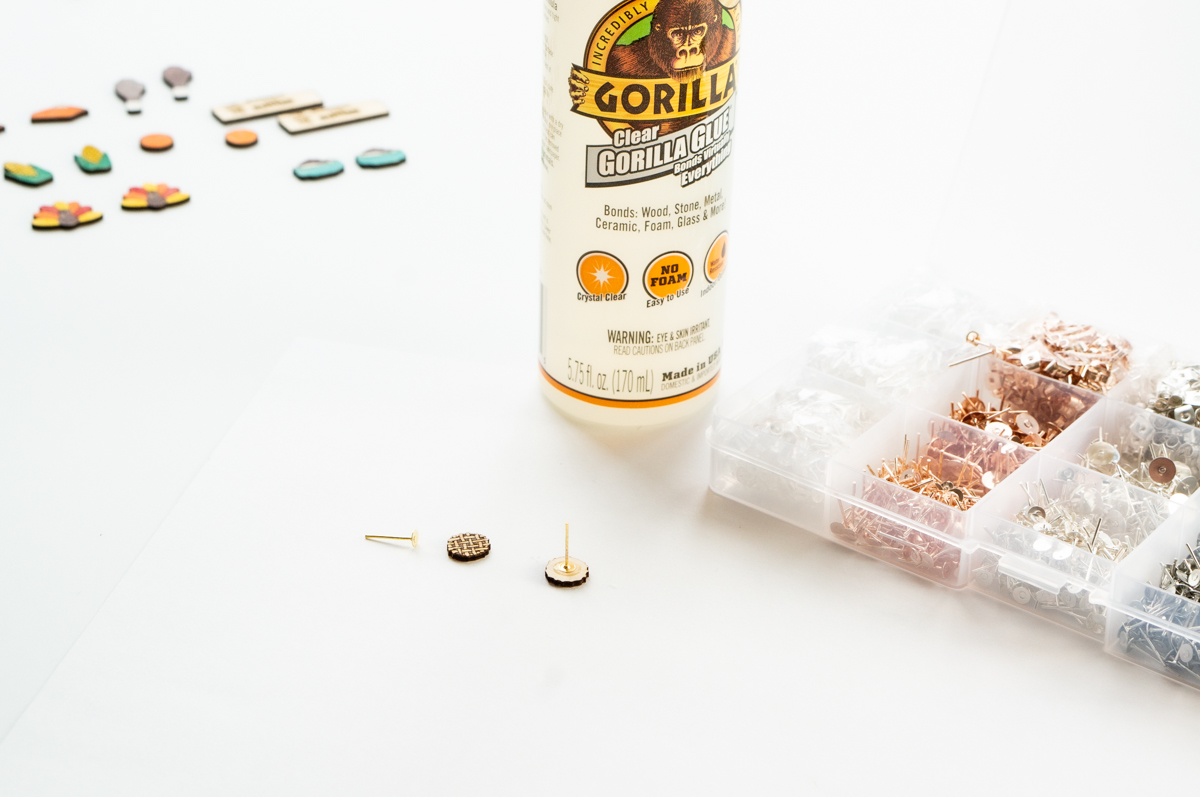 How to Make Wooden Earrings
Want to learn more about how to make your own wood earrings? Click to see my full tutorial on how to make wooden earrings (including a video and even more free files).
For these earrings, there are no earring holes at the top of the earrings. Instead, these are designed to be stud earrings which is when you glue a metal stud to the back of the wood cut out.
Want to See Other xTool M1 Projects I've Completed?
Click here to see all of my xTool M1 Laser tutorials and information.
​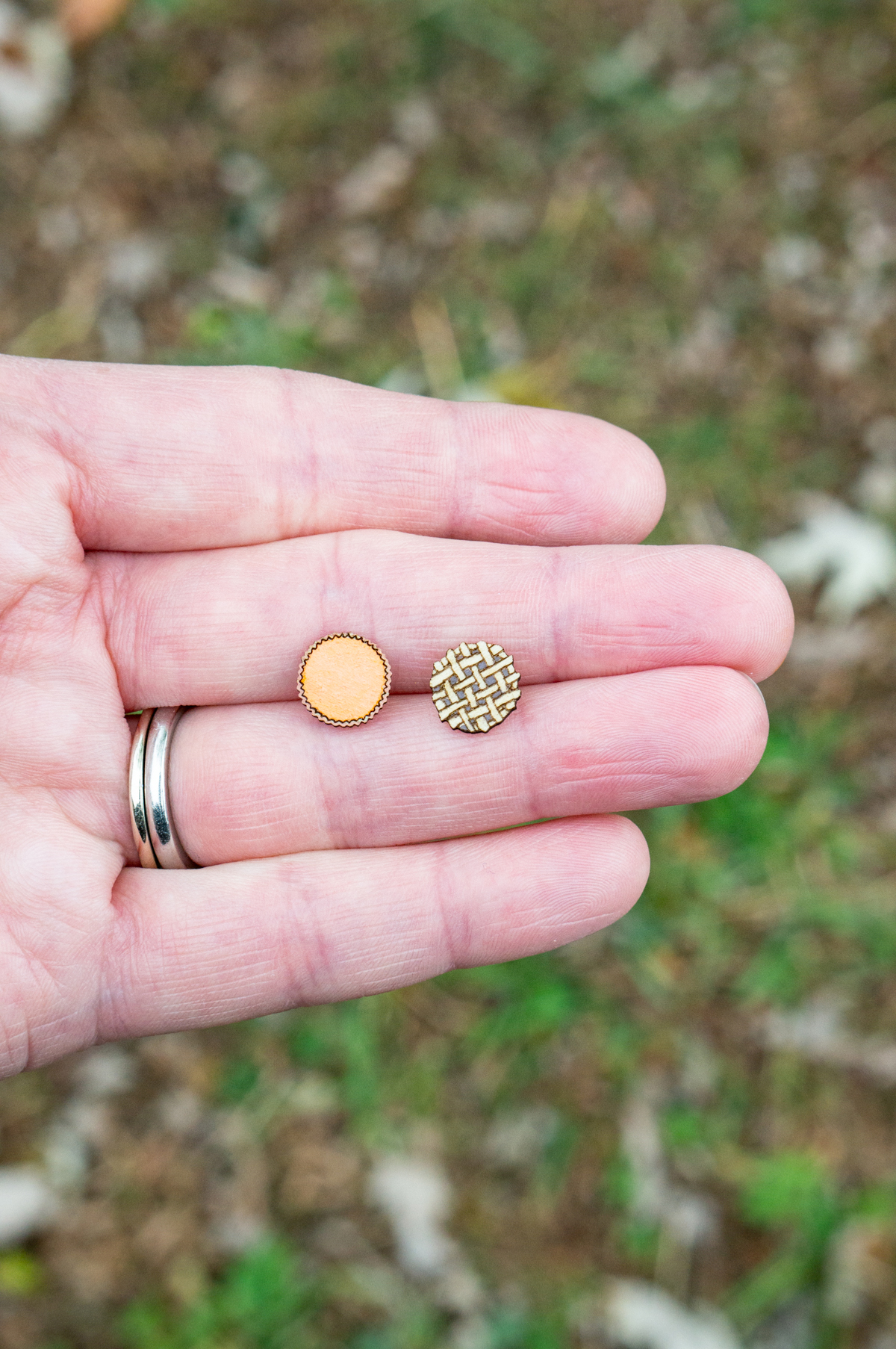 Want More Free SVG Files or Free Printables?
When you sign up for my Members-only club, you'll get my free members-only password to gain access to my hundreds of free designs including this set of earrings templates which includes templates to make your own leather earrings or faux leather earrings using the teardrop files.
Just make sure to check your junk folder because frequently the sign up email ends up there. Here is the link to all of my free SVG files on my site.
​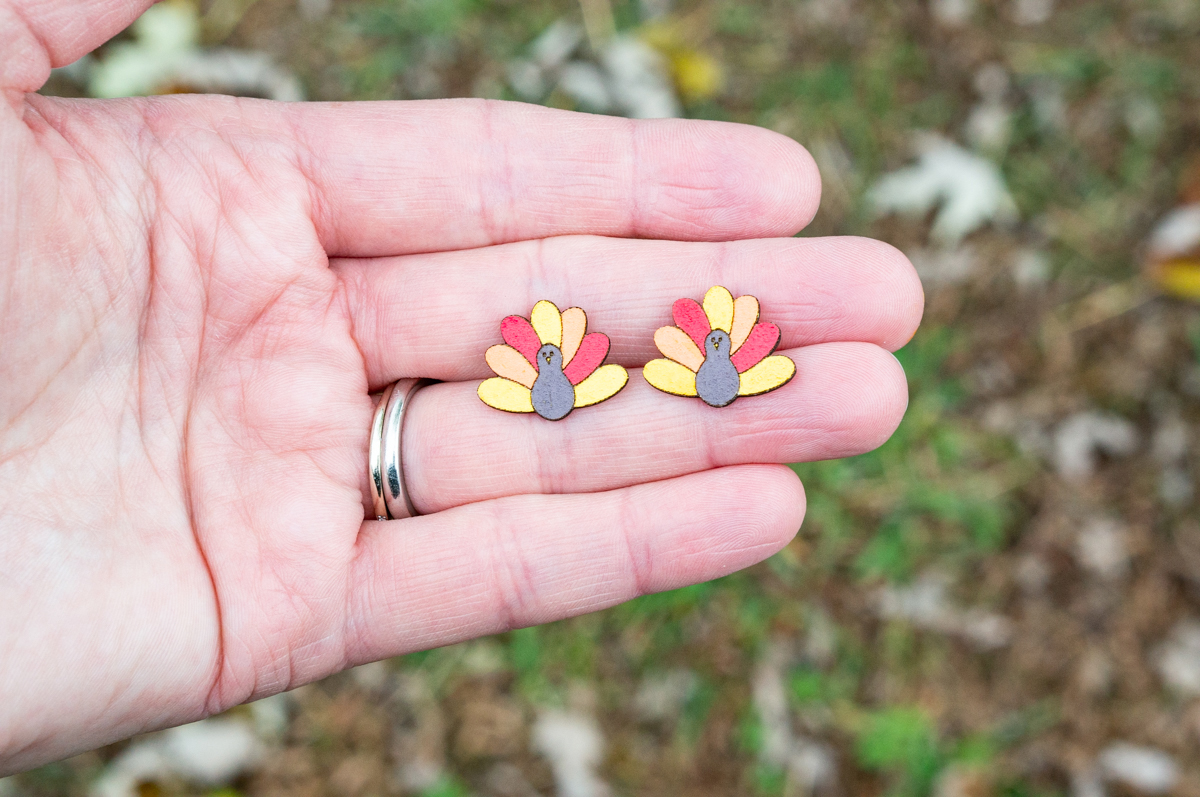 Can I Purchase the Completed Earrings from You Instead?
No, unfortunately, I do not sell any type of physical item. I only give away and sell digital products. You can use the free digital files to create your own earrings.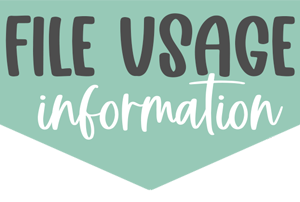 Copyright MOM ENVY 2023. Files may be used for personal use only. Commercial licenses may be purchased for SVG and Silhouette cut files. Click here to purchase a commercial license for a file. No commercial use is available for printables. Files may not be directly shared within Facebook groups, on websites, or in any other way. A link to the web page to download the files may be shared as well as one photo. The file may not be printed and then sold (including local yard sale sites and groups or at local craft fairs). The images may not be used in any way other than to share with a link to the original web page.