Are you searching for free printable Thanksgiving name tags? Or maybe you're in need of some free printable Thanksgiving place cards?
I have both options for you to download completely for free today! Each Thanksgiving design includes 2 styles: a name card and a place card design.
These Thanksgiving place card printables can be used in different ways. First, you can use the place cards to add a festive touch to your place setting. They're a fun way to let your family members where they are sitting at your holiday table.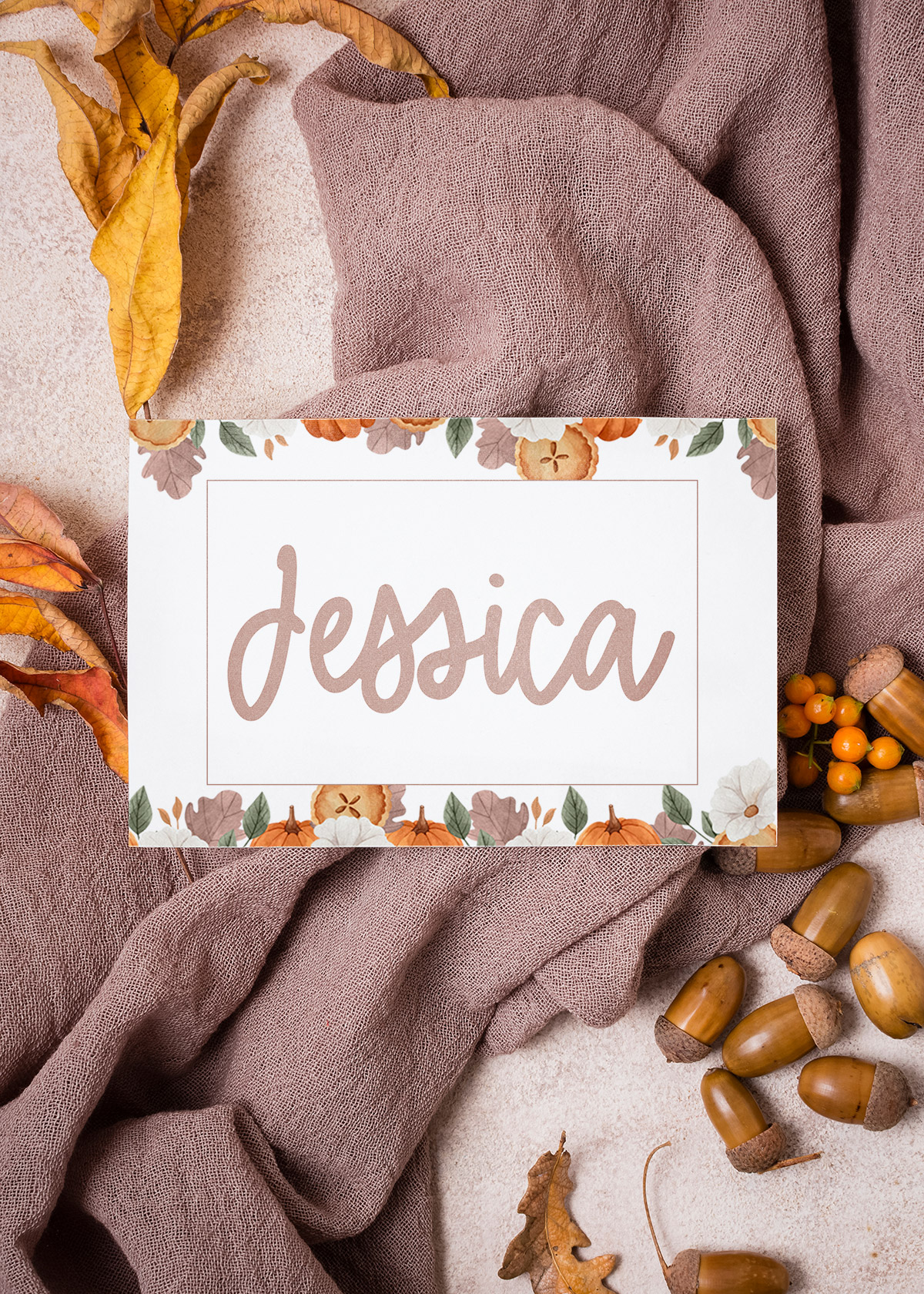 Or, you can add your guests' names to the cards and attach them to goodie bags or small gifts for your guests. It'd be a little cute way to say Happy Thanksgiving!
Another way to use the free printables is as name tags for a Thanksgiving event where people may not know each other's names (a neighborhood potluck, work dinner, etc). Another way you can use the cards is as Thanksgiving tent cards for food on the buffet table!
No matter how you use them, they're a simple way to add something to your Thanksgiving tablescape. They'd be the perfect addition to any table.
Can You Customize the Place Cards or Name Tags?
Yes! Each set comes with a customizable version. You type in each guest's names or food item within the PDF of your choice before printing.
​
What Do the Thanksgiving Place Cards Look Like?
You get 25 different designs included in this set including traditional, more modern, cutesy, and simple Thanksgiving place cards. No matter what style your Thanksgiving table decor is, you'll find a style that will add the perfect touch.
How Do You Download the Free Printable Thanksgiving Place Cards (Name Tags)?
You can click here to get to the download page to get the free files. Or you can click on the large Click to Download image at the end of the post.
You'll need to be a free Mom Envy Club to gain access to download the freebies. You can click here to sign up by email to get the members-only password. It will give you access to hundreds of free printables and files.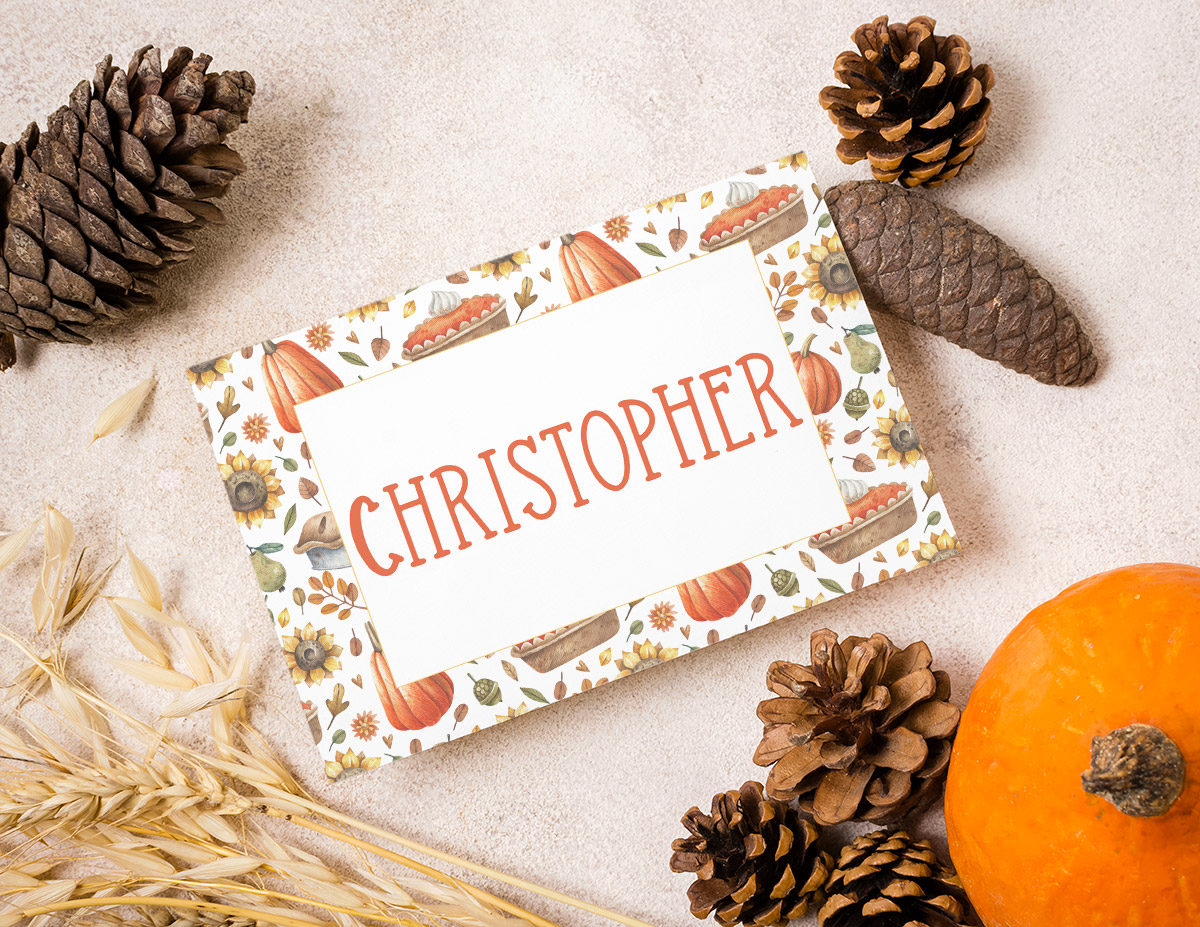 As an Amazon Associate, I earn from qualifying purchases. I am also an affiliate for xTool, the HP ink program, ShareaSale, and CJ Networks. Click here to read more.
Can You Use the Free Placecards for Food Tents?
Of course. You can print off the foldable place cards and write in the food item OR you can use the customizable PDF to type in the name of the food and then print.
What's the Best Paper to Use?
For place cards, I suggest using white cardstock. It is more durable than regular paper. Color card stock can work but the designs won't print as well and their colors will be altered due to the color of the paper.
If you're printing sticker name tags, I would suggest printing them on letter-size sticker paper or label paper such as this sticker paper here from Amazon. Then you can cut the name tags using scissors or a paper trimmer.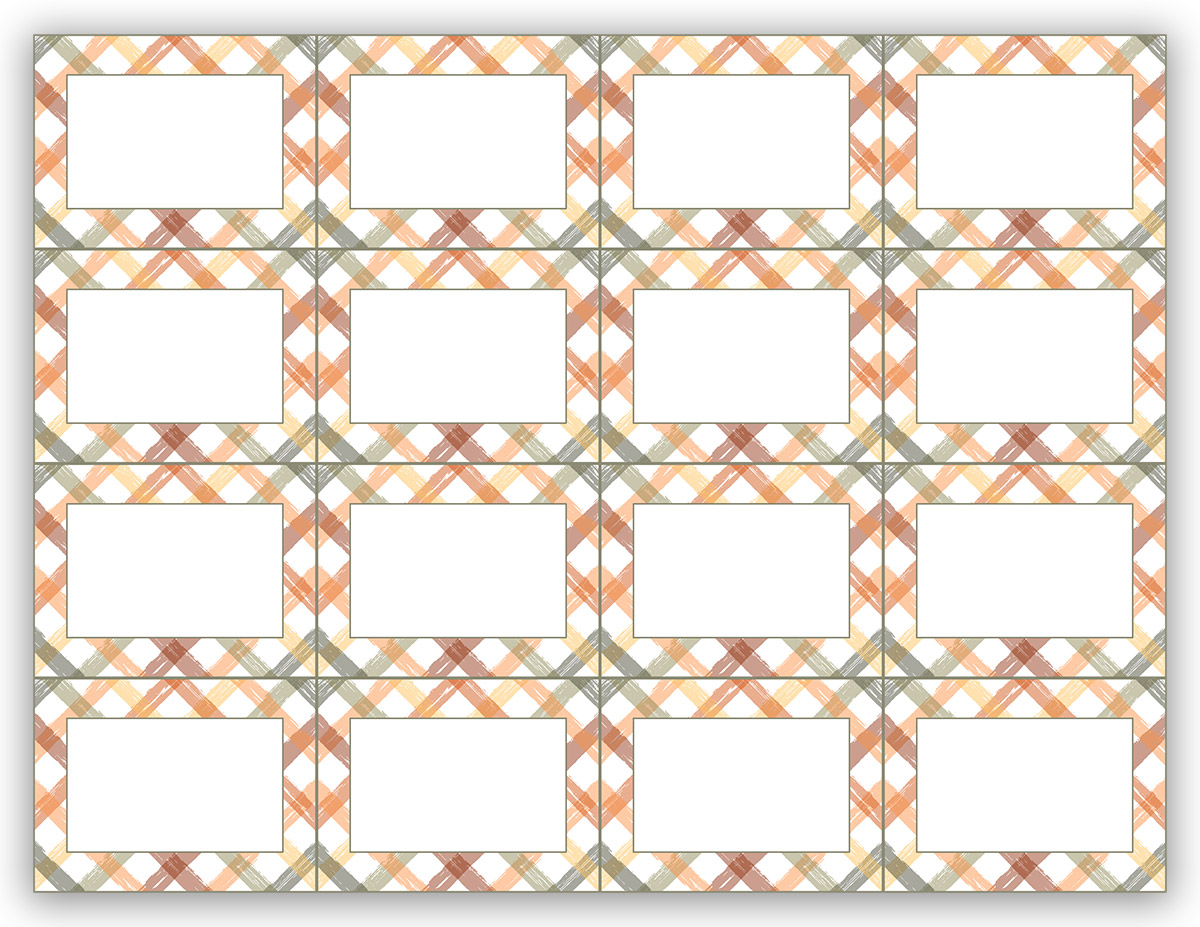 Set Up for Easy Cutting
Each sheet of free Thanksgiving printables is set up for easy cutting. The tags are butted up against each other so you don't have to make as many cuts.
What File Types are Included?
You'll get the following file types:
PDF file
Customizable PDF File
JPG File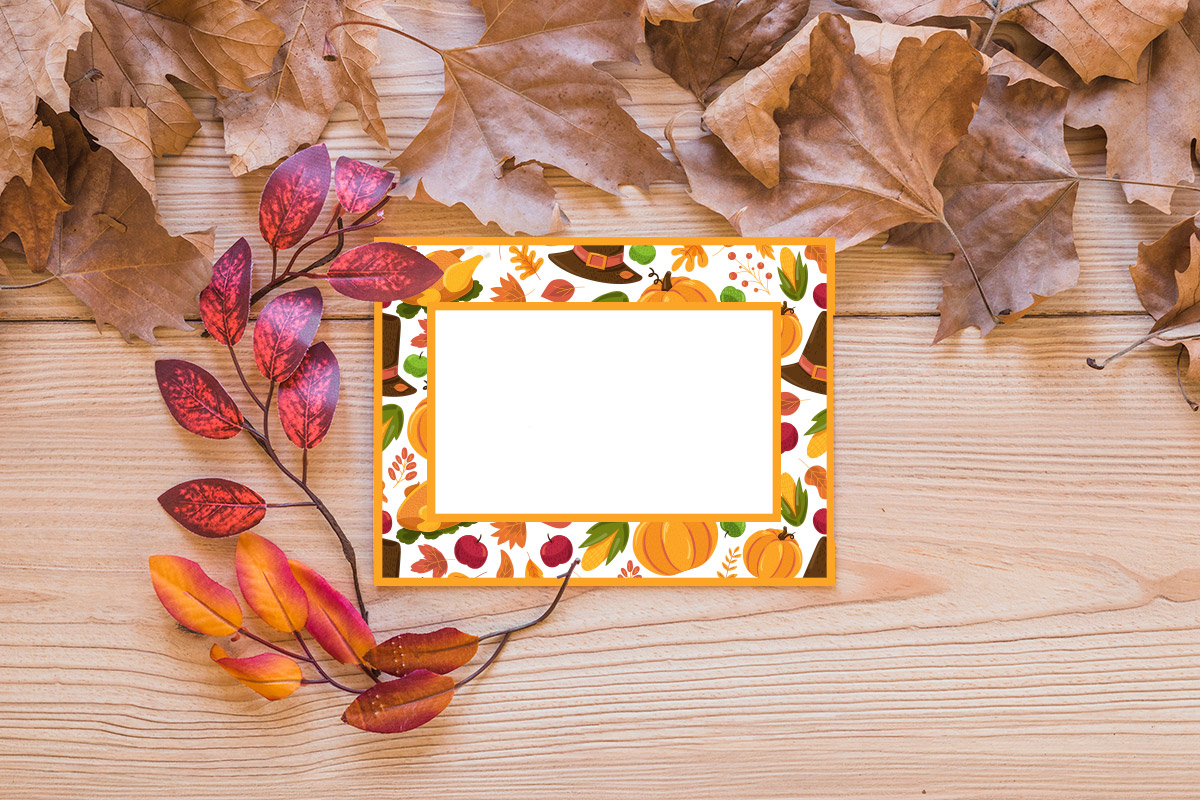 How Can I Customize the Files?
It's actually pretty simple.
Download the PDF file you want to customize (they are in the older labeled Customizable PDFs).
Open the PDF in a PDF program such as Adobe Reader (which is free!)
Type in your own text.
Print!
Note: Do not open the file in a browser. Not all browsers support customization.
What Type of Fonts are Used for the Files?
Some of the tags have print fonts while others have a script font. Each of the designs has a different font that coordinates with the clip art.
Foldable Cards vs. Single Cards
The foldable cards are meant to fold in half and sit in front of each plate on the Thanksgiving dinner table (each person has their own place cards). Or they can be used as food tents as an easy way to label each menu item.
The single cards can be used in so many fun ways! You can hole punch them and tie them to pine cones, a mini pumpkin, feathers, a small bunch of flowers or herbs, and anything else that matches your table setting.
Use the Single Cards for Thanksgiving Gift Tags
Customize the single cards with Happy Thanksgiving or personalize them with people's names as a great way to make a gift tag.
​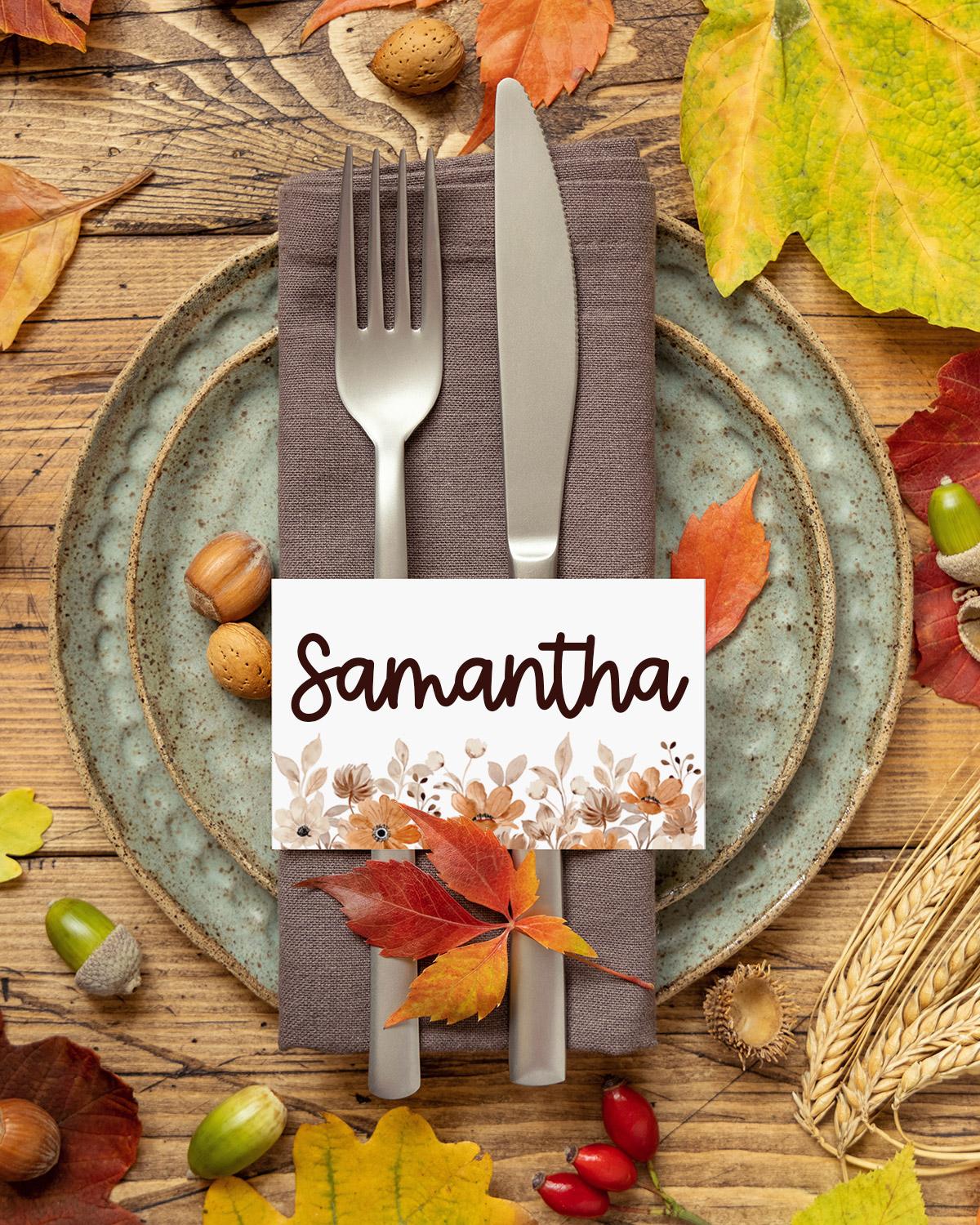 What Size is Each Name Place Card Design?
Both styles are designed to print on a standard US Letter Size sheet. There are 8 foldable cards per page and 16 single name tags per page.
The foldable place cards (or food tents) are each approximately 2.6 inches wide by 3.9 inches tall. The single cards are 2.6 inches wide by 2 inches high.
Can I Print the Free Printable Place Cards and Name Tags in a Different Size?
Yes, you definitely can print them in different sizes. I love to print these tags as 2 to a page so that I get smaller place cards.
What Type of Printer Can I Use?
You can print them on an inkjet printer or laser printer. If you don't have your own printer, you can send them off to a local print shop, too. If you're worried about using too much ink, read more to see if the HP Ink Program is for you. You'll never have to worry about how much ink you'll use again!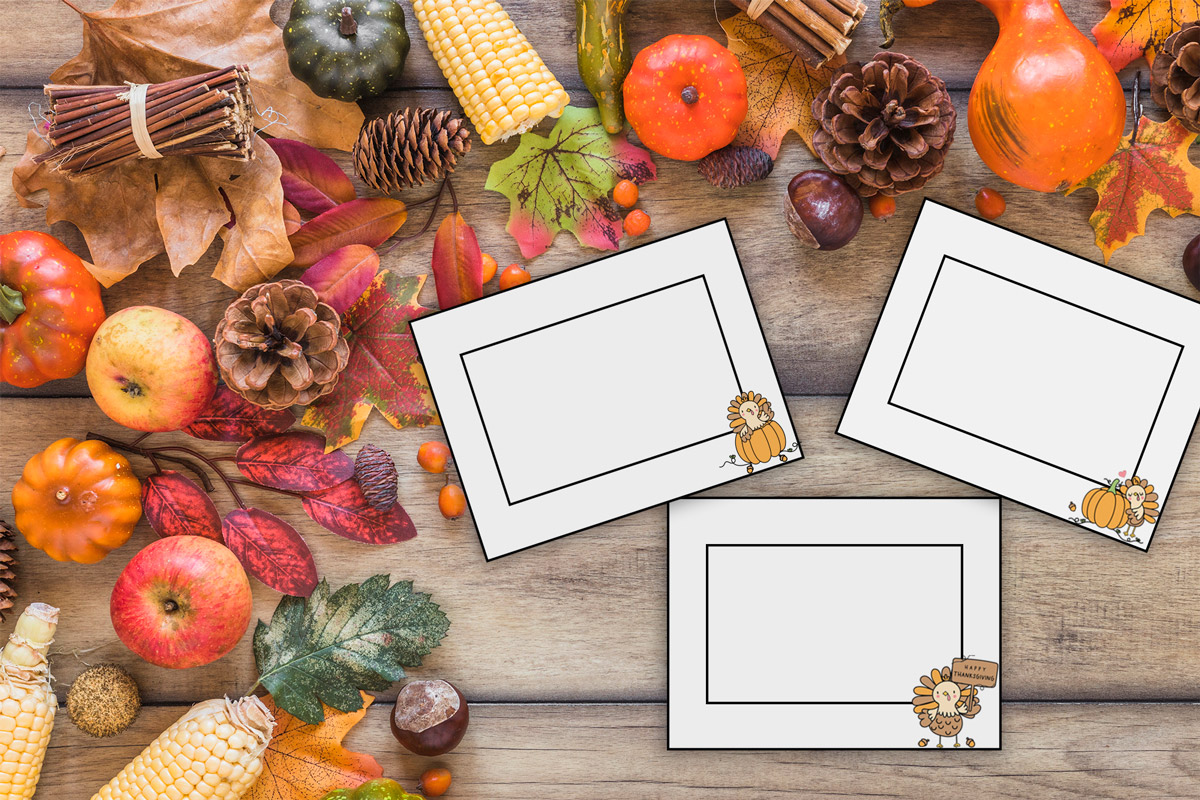 Looking for More Mom Envy Thanksgiving Freebies?
You can get all of Mom Envy's free Thanksgiving files including free printable Thanksgiving cards, kids activities, and more under the Thanksgiving category.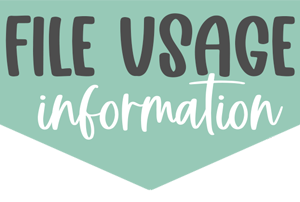 Copyright MOM ENVY 2023. Files may be used for personal use only. Commercial licenses may be purchased for SVG and Silhouette cut files. Click here to purchase a commercial license for a file. No commercial use is available for printables. Files may not be directly shared within Facebook groups, on websites, or in any other way. A link to the web page to download the files may be shared as well as one photo. The file may not be printed and then sold (including local yard sale sites and groups or at local craft fairs). The images may not be used in any way other than to share with a link to the original web page.