Mason Jar gifts are one of my favorite items to make for people (why are mason jars so cute?). Giving candy in a jar makes it a little more special than in its original plastic bag.
A few years ago, I started to create mason jar wraps for gifts. They work well for holidays, teacher's gifts, neighbor gifts, etc. They're quick and easy to design and even easier to print, cut and assemble.
For Mother's Day this year, I have created a Peanut M & Ms mason jar wrap and a Reese's Pieces mason jar wrap. Both can be completely customized with whatever name you choose. My Mother-in-Law loves Peanut M&M's, they're one of her favorite treats.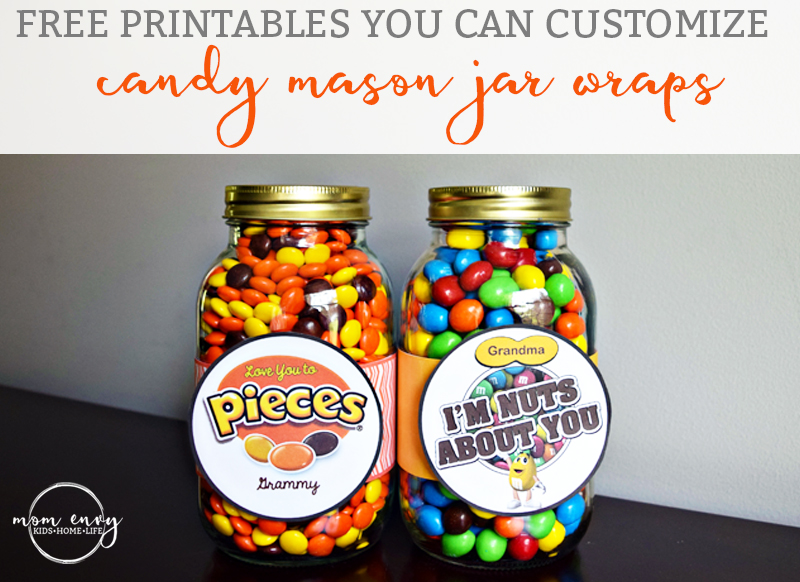 As an Amazon Associate, I earn from qualifying purchases. I am also an affiliate for xTool, the HP ink program, ShareaSale, and CJ Networks. Click here to read more.
I know these are a little punny, but puns can turn plain candy into an adorable and loving gift. For today's mason jar wraps, I have included: Love You to Pieces for Reese's Pieces, and I'm Nuts About You for the Peanut M&M's.
These phrases are so simple that you could use them for a Grandparent, parent, child, husband, wife, friend, etc. I have even included a second file for the Peanut M&M's that says, We instead of I so that it can be given from more than one person.
Use the Mason Jar Gifts for Any Occasion
While I created these with Mother's Day in mind, they can be used for any occasion. They are a great gift for birthdays, Valentine's Day, an Anniversary, Father's Day, and more.
Second Version of the Jars – Moon Pies, too!
You may notice that one of the two jars look familiar. Well after receiving many e-mails over the years since I've made it, I finally created a completely customizable Reese's Pieces Father's Day label.
And if Reese's Pieces and Peanut M&M's aren't your Mom's thing, then check out these adorable moon pie mason jar wraps. They're available to download for free as well from the Father's Day post. They don't have any customization unfortunately but they have no space for a name so they can be given to anyone.
Candy Mason Jar Gifts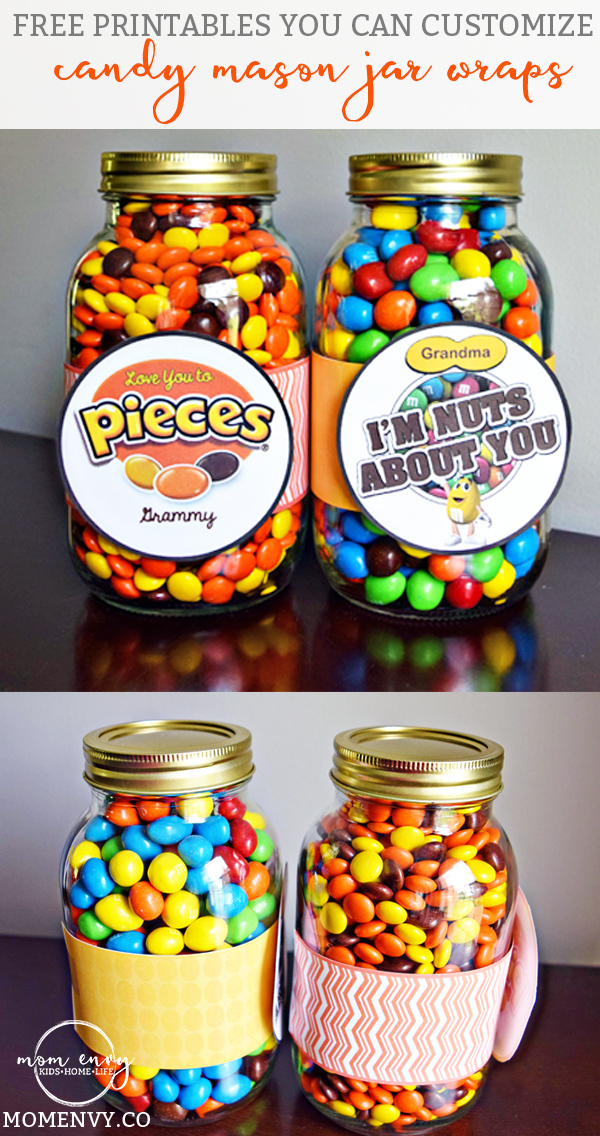 What Size Mason Jar Should I Use?
I have used both standard size jars and smaller jars. You can order mason jars here (Prime of course) if that is what you'd like to use as your container. I always love to have mason jars on hand for gift giving.
Just make sure that the jar isn't too wide around for the label and gift tag (or you can just print two of the wraps).
How Much Candy Should I Buy?
It depends on the size of your jar. But I suggest a medium to large size bag. The small single-size bags are not going to be enough for most jars. If you have any extra leftover, you get to enjoy them yourself!
Open in Adobe Reader or Another PDF Program
Open in Adobe Reader or a PDF reader. Do not open the files in a browser because the file customizable most likely won't work.
Adobe Reader is totally free to download, you can get it here.
Tips and Tricks for Printing
Print on cardstock for added durability.
For the Peanut M&M's, there is an option for shorter and longer names (shorter=Grandma length, longer names=great-grandma).
You can print 2 labels to a page or 4.
The circles are cut out separately from the wraps.
Simply wrap the jar and attach it with tape (on the underside).
Then place a piece of tape under the circular label and apply to the center where the two ends of the wrap meet (it's okay if they don't quite meet, the label will cover it)
If you use a smaller jar, you may need to trim the wrap.
If you use a larger jar, (if you mom REALLY loves candy), then you can print 2 wraps.
The labels are in PDF and JPG format. Use whichever you prefer.