There are so many ways you can use a 3-tier cart (also known as a RÅSKOG cart from Ikea). I've seen them used for offices, kid's lunches, craft supplies, and so many other ways.
Before I bought my first 3-tier cart, I loved to pin all of the many ways people use them within their homes (and businesses). I tried to think of the many ways we could use them in our own home (we now own 4 carts and honestly, I could probably buy even more).
Did you know that there is even a Facebook group dedicated to the raskog?? I was so excited to find it (and so many wonderful people that let me share their creations with you).
When coming up with a list of the best ideas for my blog, I learned a few things. First, I learned that cats and dogs love to use the raskog as a bed.
As an Amazon Associate, I earn from qualifying purchases. I am also an affiliate for xTool, the HP ink program, ShareaSale, and CJ Networks. Click here to read more.
Second, people love to take pictures of their carts. If you look them up on Instagram, you'll see so many amazing ideas of how people use their carts. The images are so inspiring.
Lastly, I learned that the possibilities are endless when it comes to using the raskog. You can find a way to use it in every room of the house.
Where to get a 3-Tier Cart or Raskog Cart?
Raskog carts are from Ikea. Now, if you don't live near an Ikea, don't fret!
They sell various versions of the 3-tier cart everywhere. Michaels, Target, Amazon, and more all carry their own version.
In my opinion, Michaels has the best options for 3-tier carts. They have multiple options now!
Before, Ikea was my go-to place for the carts. But Michaels carts have quickly become a favorite of mine. Here are the options Michaels carries for tier carts.
At the time I am writing this, their 3-Tier Lexington cart has 17 different color options!!
If you can't get to a store that has them, Amazon has them as well. This one is my favorite – I love its unique design.
Have you used a raskog or three-tier cart in a creative way? I'd love to see it (and add it to my list!) Now let's get organized!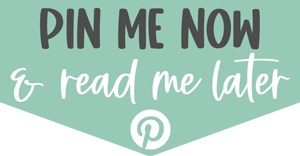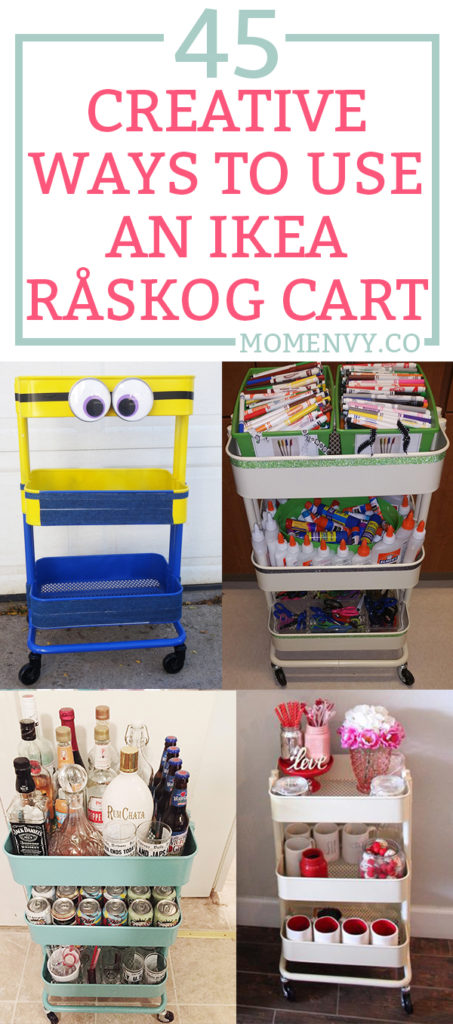 45 Creative Ways to Use a RÅSKOG Ikea Cart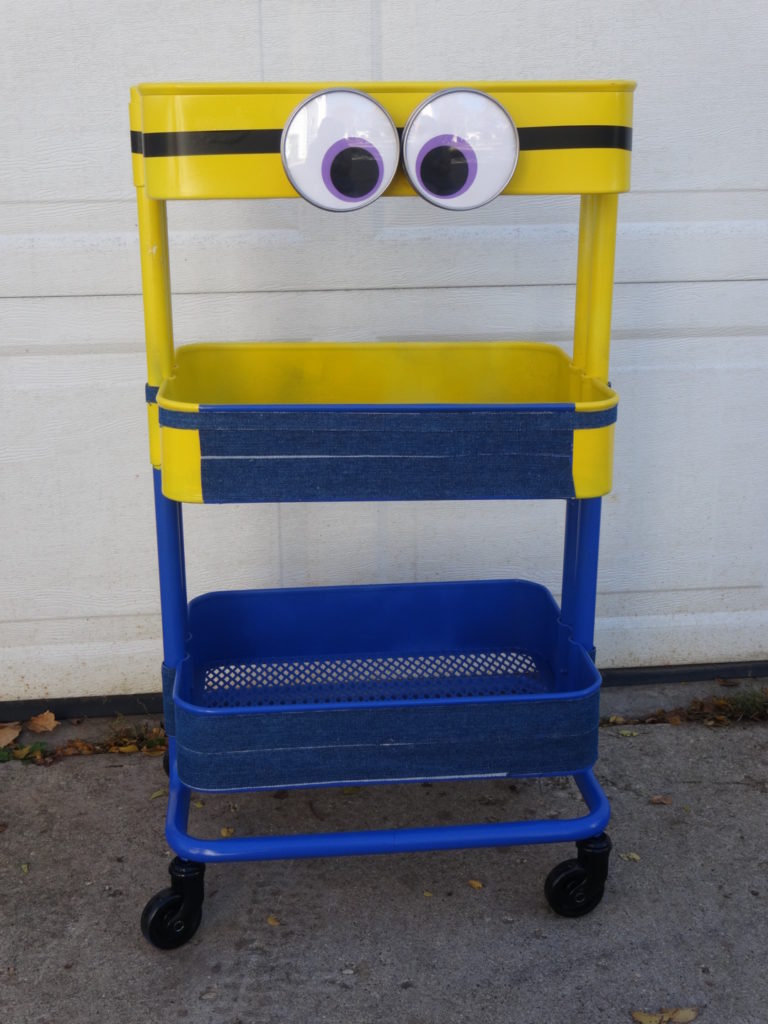 Minion Cart by Lisa Majewski
Isn't he adorable? Lisa calls her adorable cart creation, Dexter. He would look great in any creative space, kid's room, or playroom. His eyes are IKEA magnetic spice containers, the goggles strap is electrical tape, and the denim is sticky-backed denim ribbon – how inventive.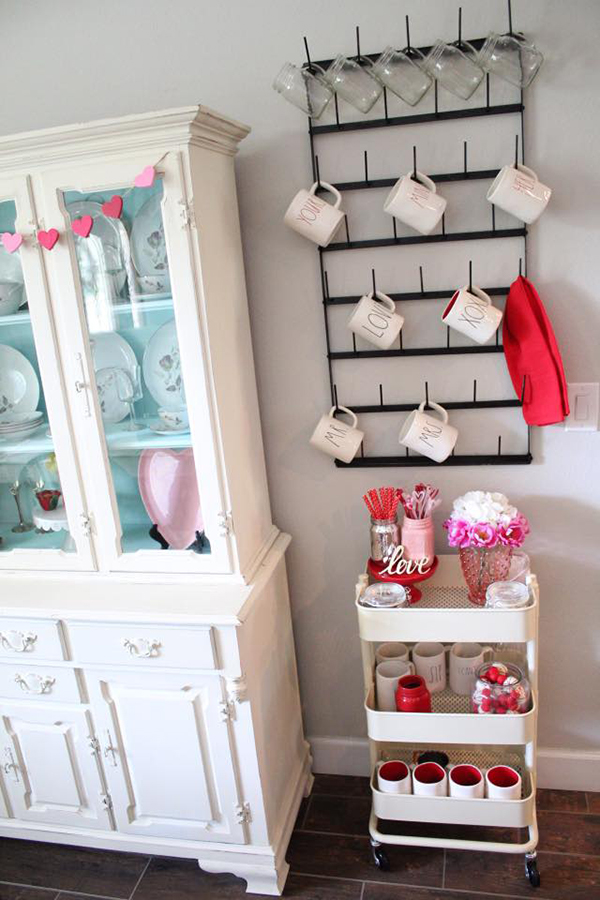 Suzannah's Rae Dunn collection is impressive. The Raskog is a great way to display your Rae Dunn. Plus, this shows just how easy it is to set up a holiday-themed raskog – you could change it out each season with just a little decor.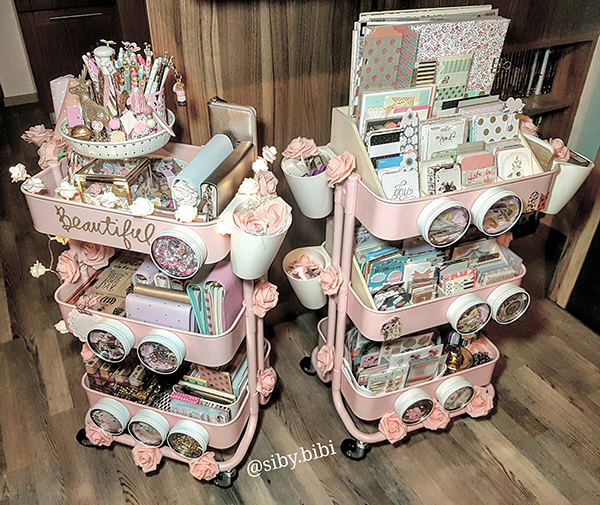 Could these planner/craft carts get any cuter? I love the colors and how well organized they are. It shows how you can add various containers to make the cart more functional.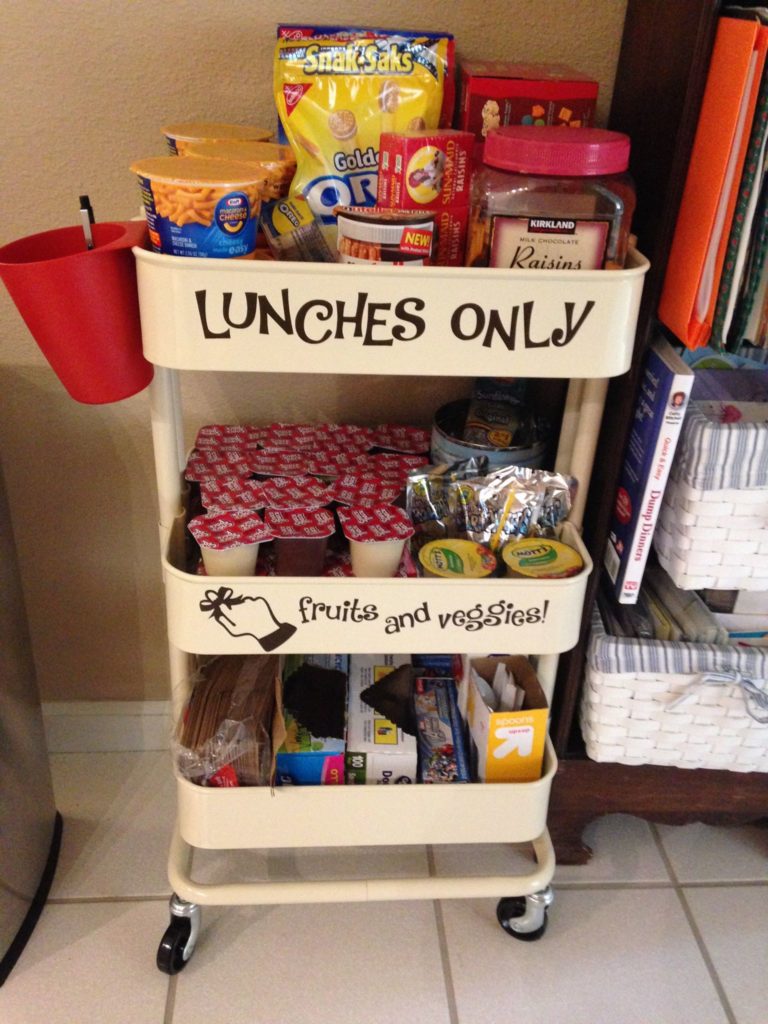 Lunch Cart by

Kathryn Lundrigan (PMR Group)
Lunches would be a breeze with this convenient cart. It has storage bags, paper bags, silverware, snacks, drinks, and even a pen. You could even print out some free lunchbox notes and place them in the container with the pen. I love that she used vinyl to decorate her cart including a reminder to add fruits and vegetables (which are kept separately from the cart).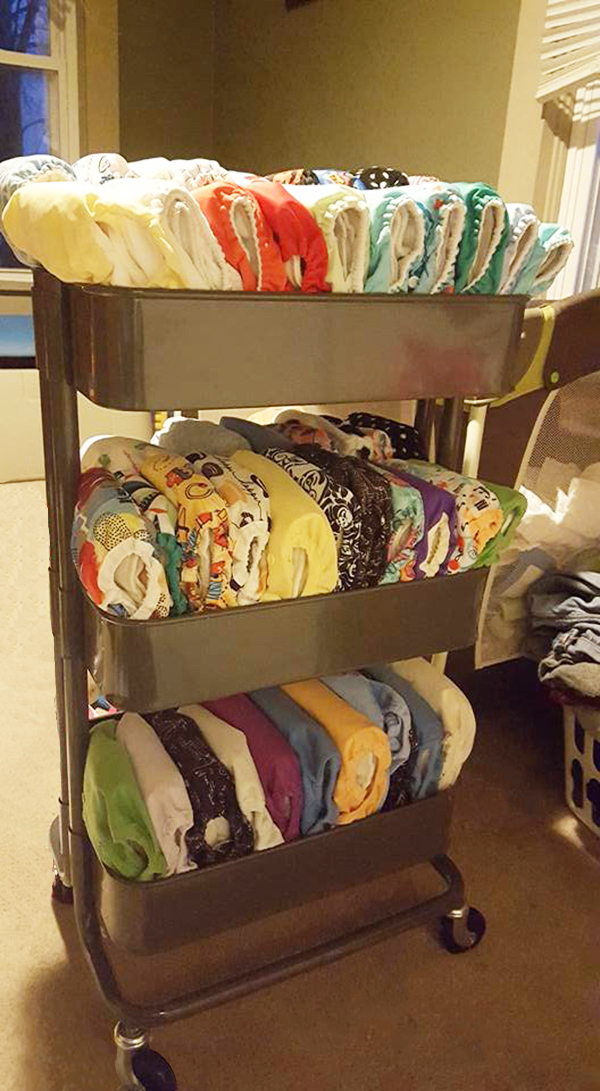 Cloth Diaper Storage by Missy Ward (PMR Group)
Keep your fluffies organized using this simple set up from Missy. It makes it super easy to pick out which one you want and also gives you a great idea of when it's time to do some laundry.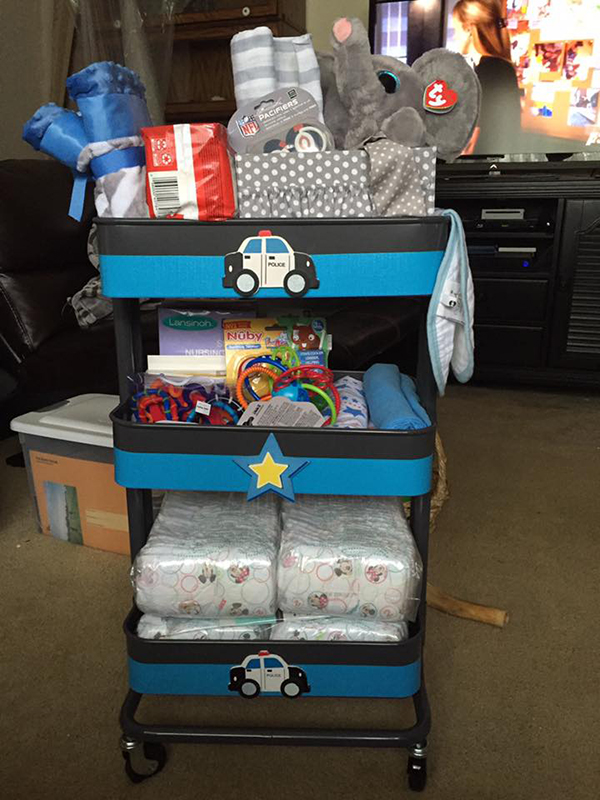 Sandy Clock Sharp (PMR Group)
Isn't this one of the cutest and most thoughtful baby gifts? I would have loved to have received a Raskog cart full of baby must-haves!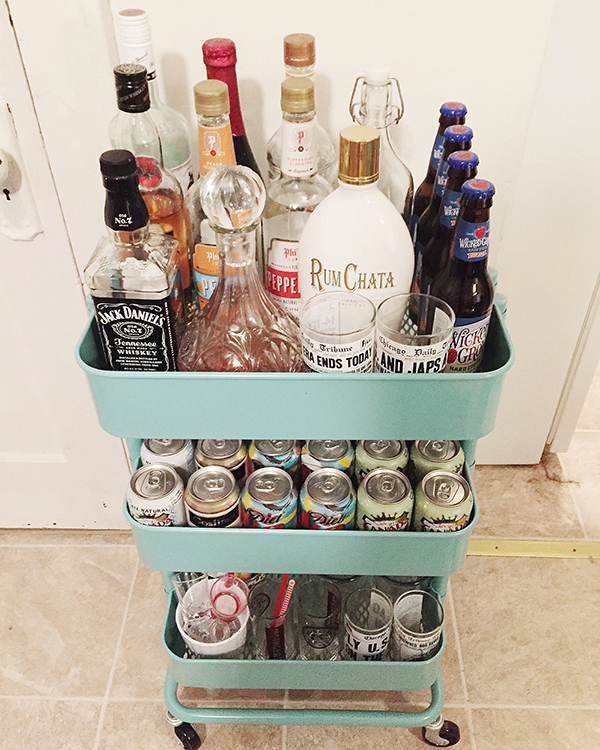 I love seeing the Raskog used for bar carts. I think it's such a great use of the three-tiered cart. My favorite part is that because it's on wheels, you can move it around as needed and store it someplace safe if you have kids.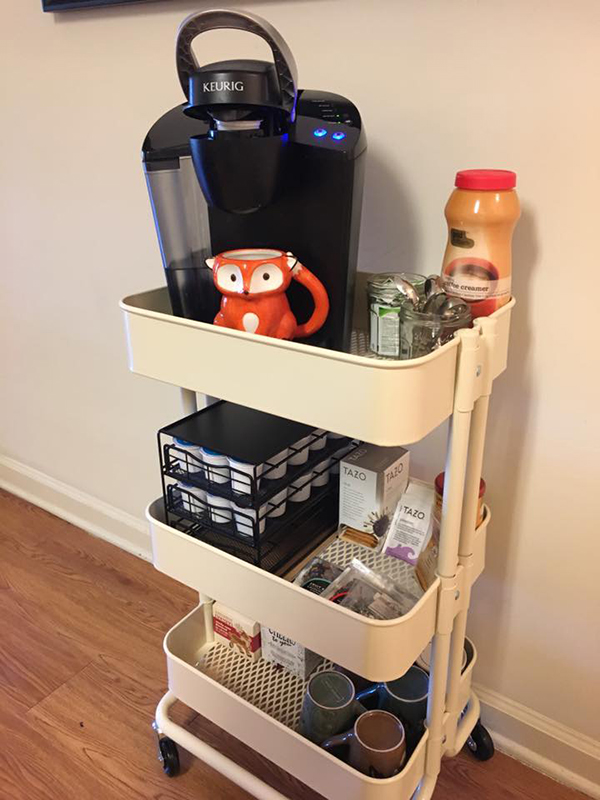 Coffee/Keurig Cart by Ivy Martin
(check out her IG with her amazing art creations @createdbycaffeine )
Coffee stations can be a great feature in any kitchen but it can be so hard to give up valuable counter space. Using a raskog will definitely help you save on counter space – plus you can move it to a different location for entertaining!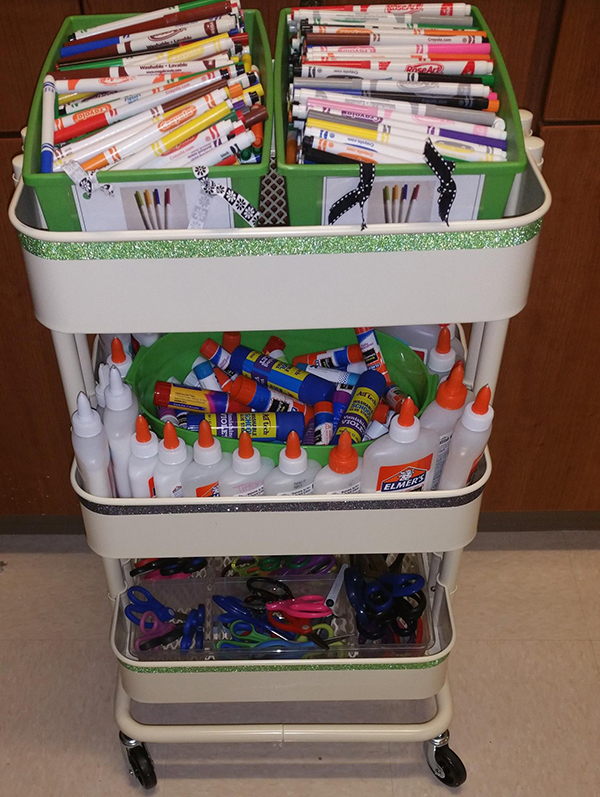 Classroom Supply Cart by Christine Mueller (PMR Group)
Looking for an easy way to store your classroom supplies? This cart could make such a difference for classroom organization. The students can easily access supplies, they can be moved around as needed, and you can adjust the cart to meet your classroom's needs (mine would have been filled with a whole lot of pencils).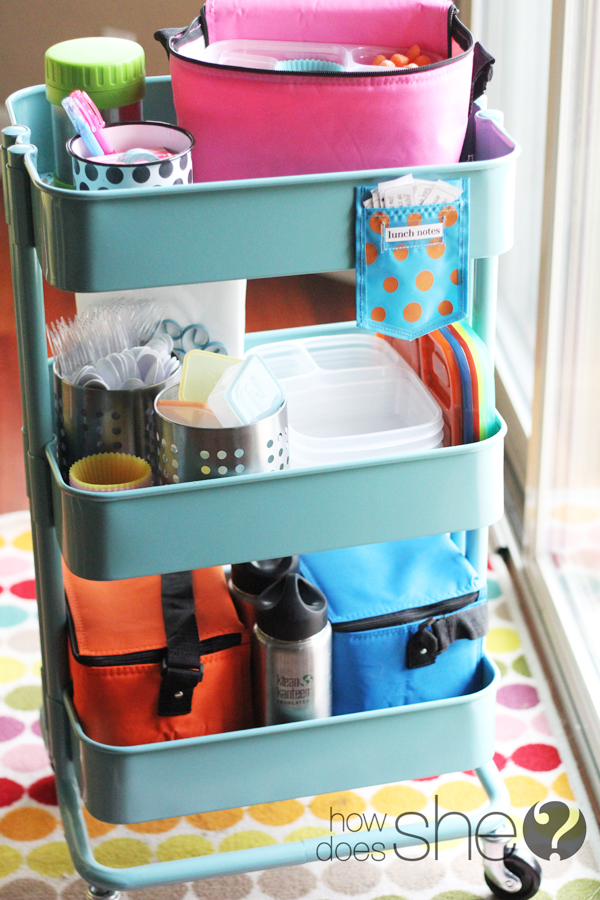 I love this second version of a lunchbox cart. I love that there is a special pocket, especially for lunchbox notes. Missy is able to store multiple lunch boxes, storage containers, silverware, and more.
When I heard people used a Raskog as a nightstand, I was skeptical. When I saw Homey Oh My's version, I realized just how wrong I was. Amy keeps the storage minimal which keeps it from looking cluttered or disorganized.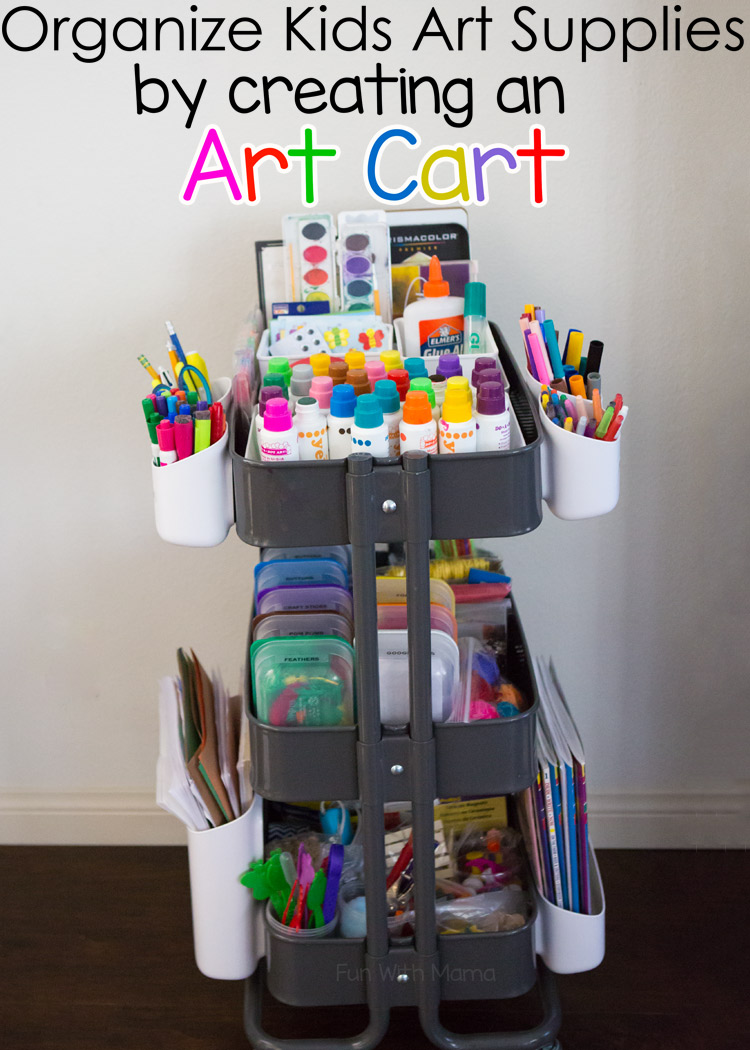 This art cart would be perfect for a playroom, kid's space, or classroom. The containers hanging off the side allow for even more storage.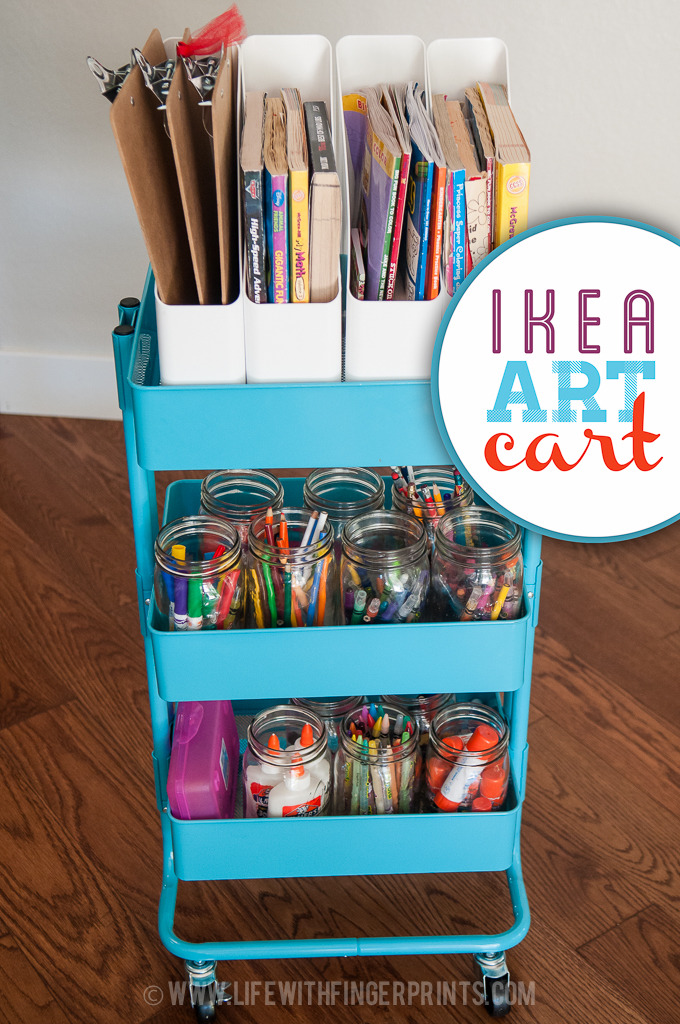 This is another way to use a raskog as an art cart but it is such a different take. Click here to check out where Kara got her magazine holders to make this neatly organized cart.
Using a raskog in a bathroom is so smart – especially if your bathroom is tight on storage. If you're in a rental and can't put up any additional shelving or cabinetry, this cart would be a great solution.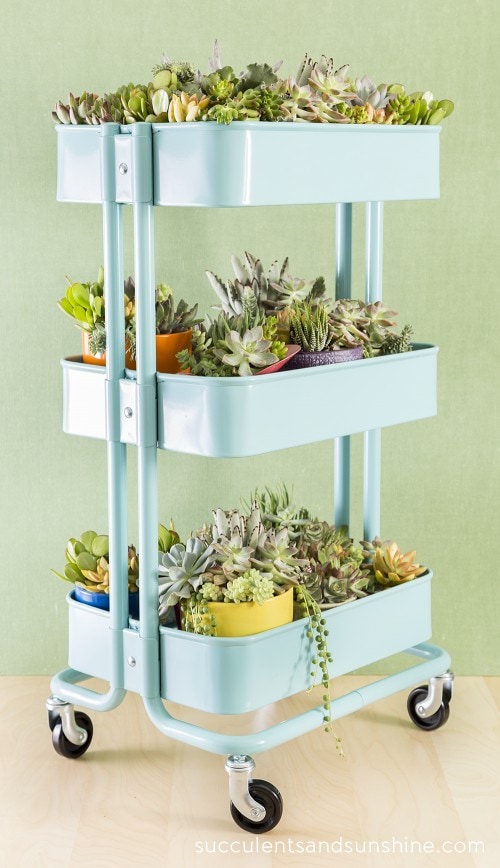 This cart full of succulents is so beautiful. It would really work out well at an event like a baby shower, to hold all of the favors for the guests or as decor.
Planner/Crafting Carts from Laura Vorlicek
Laura spraypainted her carts to make them even more magical-looking. They perfectly coordinate with all of her crafting gear. Click here to get all of the behind scenes info on how she created these beauties.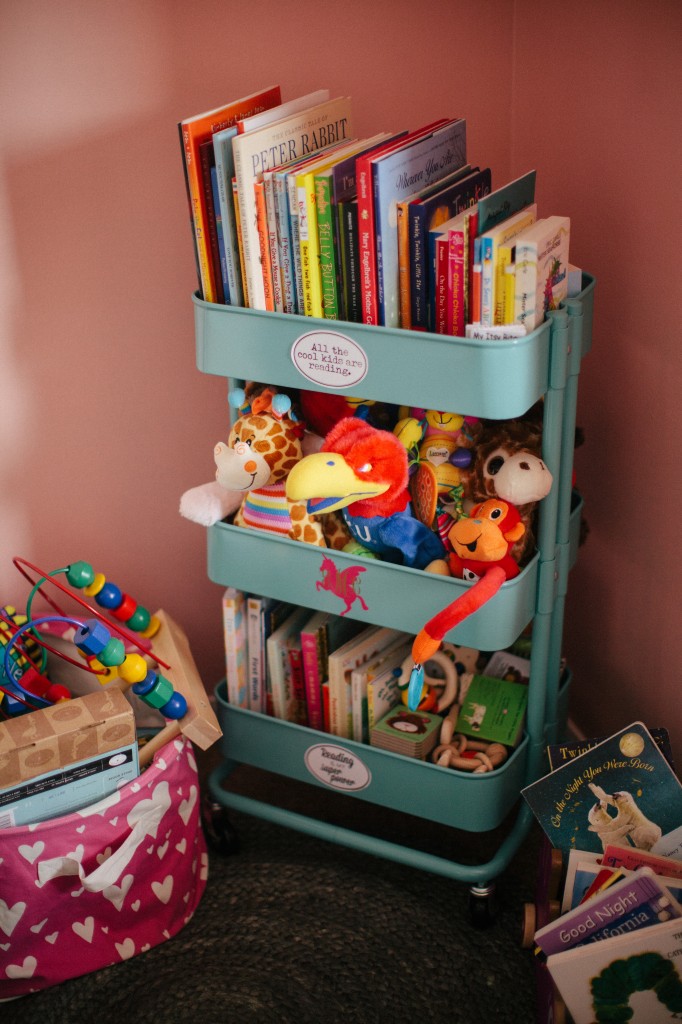 Nursery Storage from Project Nursery
Raskogs make great storage in a kid's room. They're a great height for children to access toys and books.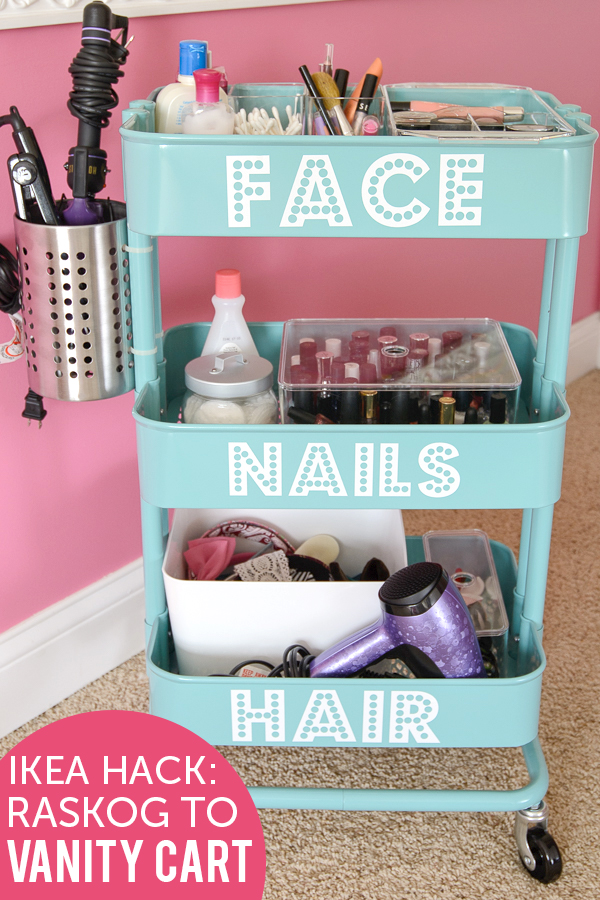 This has to be one of the more popular images I have seen for how to use a raskog. This vanity cart is unbelievable – how smart is that metal container hanging off of it for the straightener/curling irons??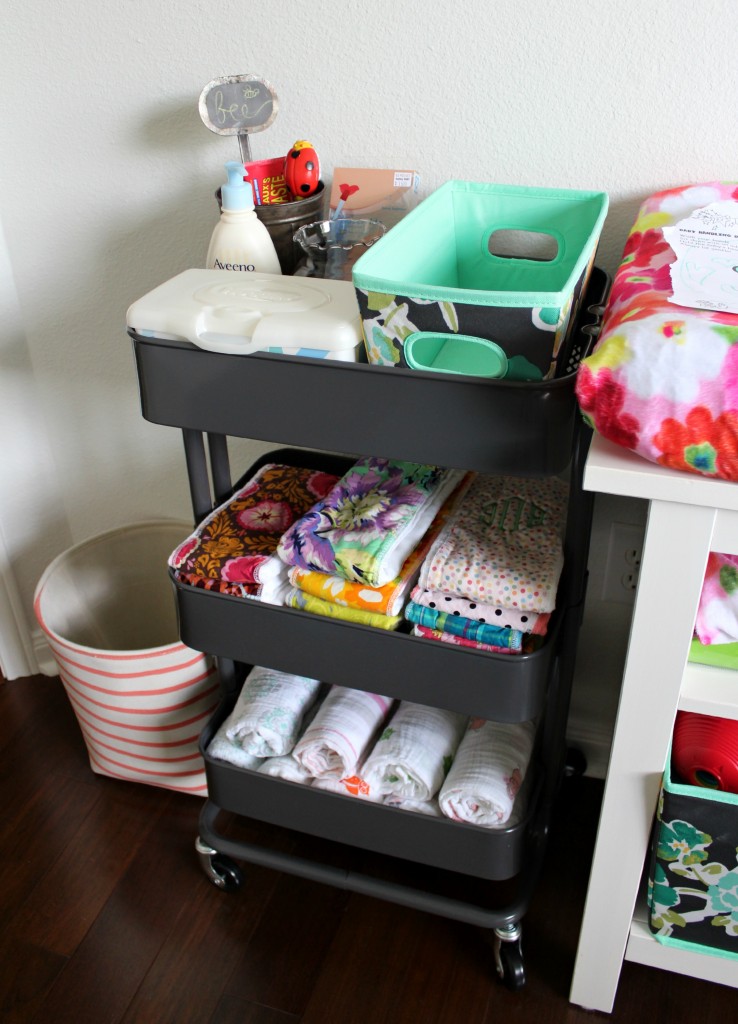 Raskogs just aren't great for toy storage, they can also hold baby supplies. When you're dealing with a fussy baby, you want their supplies to easy to get to. There's no need to riffle through a drawer when you use a raskog.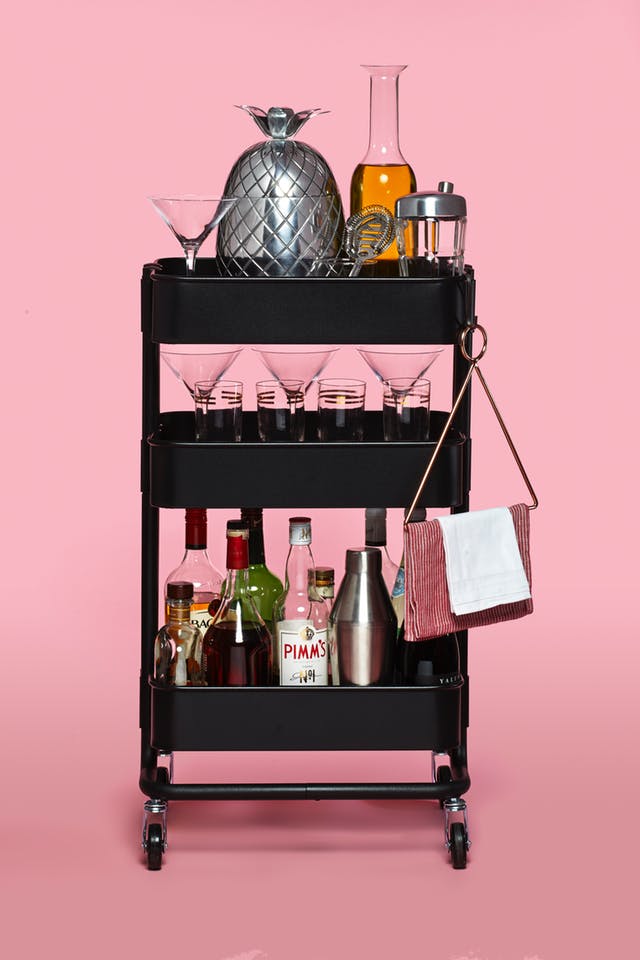 Seriously? Who knew a raskog could make such a chic bar cart. They have some great tips on how to create your own here.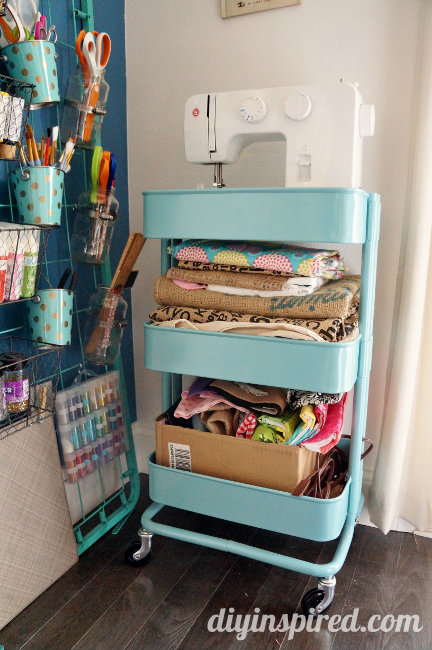 What a smart solution for storing a sewing machine, fabric, and scraps. No need to lift the machine down from a top shelf or off the ground – it's right at table height making it much easier to move back and forth as needed to a table.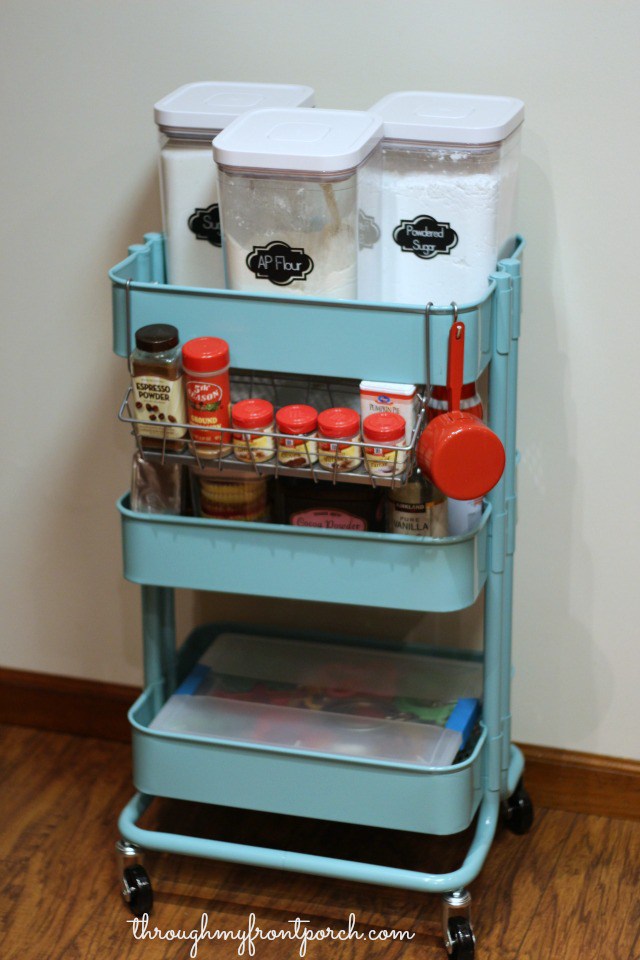 This would make holiday baking so much easier! I love the measuring cups hanging off the cart.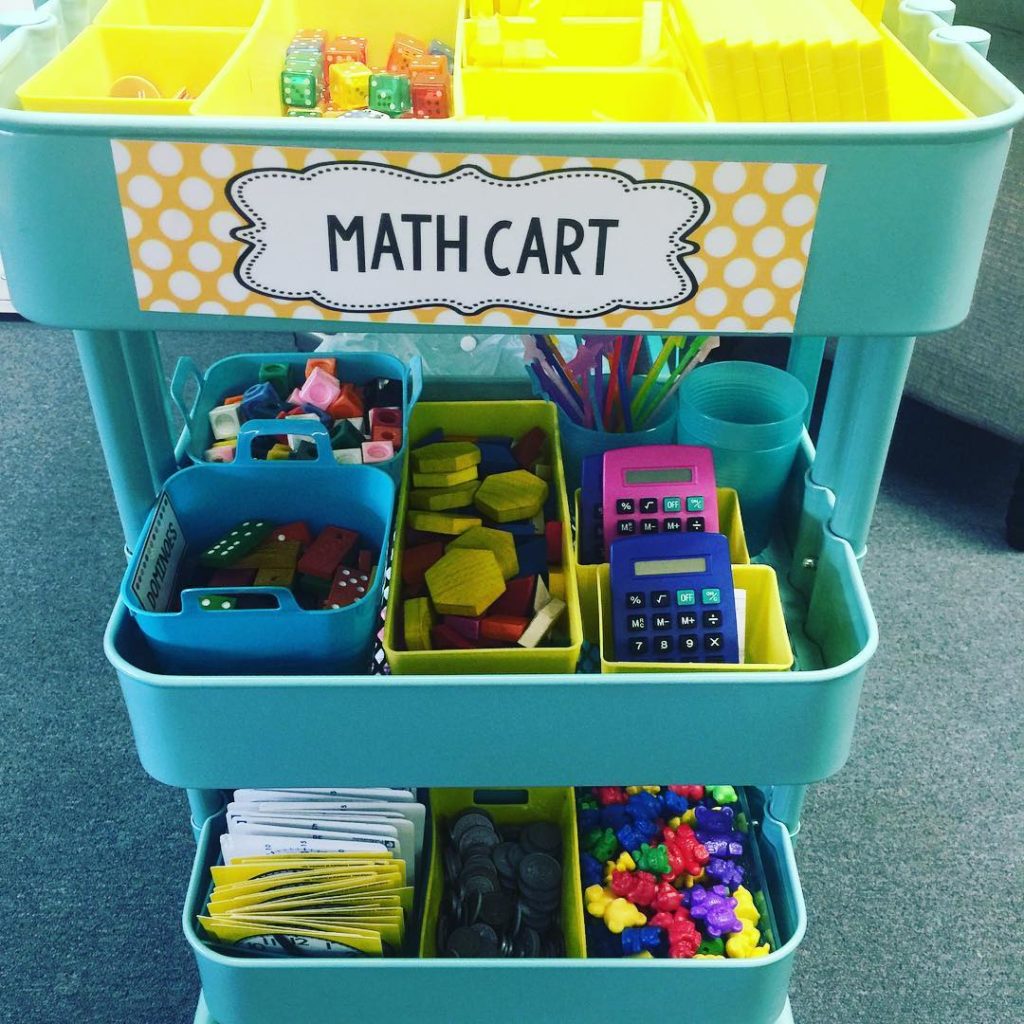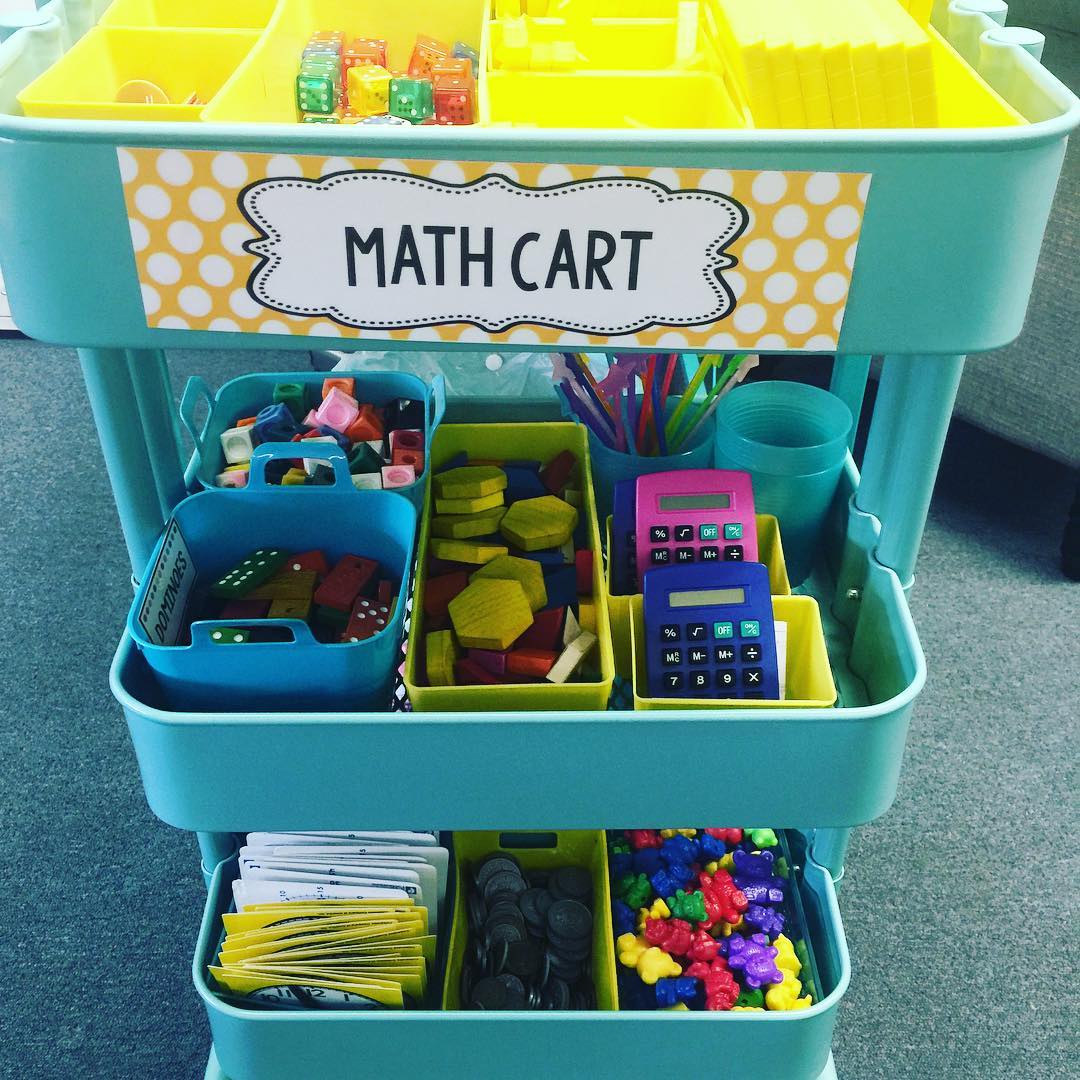 This is another great way to use a Raskog in a classroom. It holds math tools perfectly – from counters to calculators to tangrams. Everything you need is right within reach. This would really be great for a teacher that has centers or does small group lessons in math.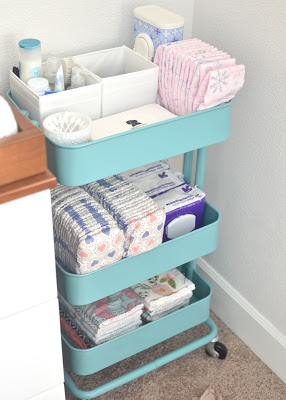 We've seen basic baby supplies, cloth diapers, and toy storage. This cart makes diapering so much easier. I love that you could easily see when you're running low on diapers or wipes.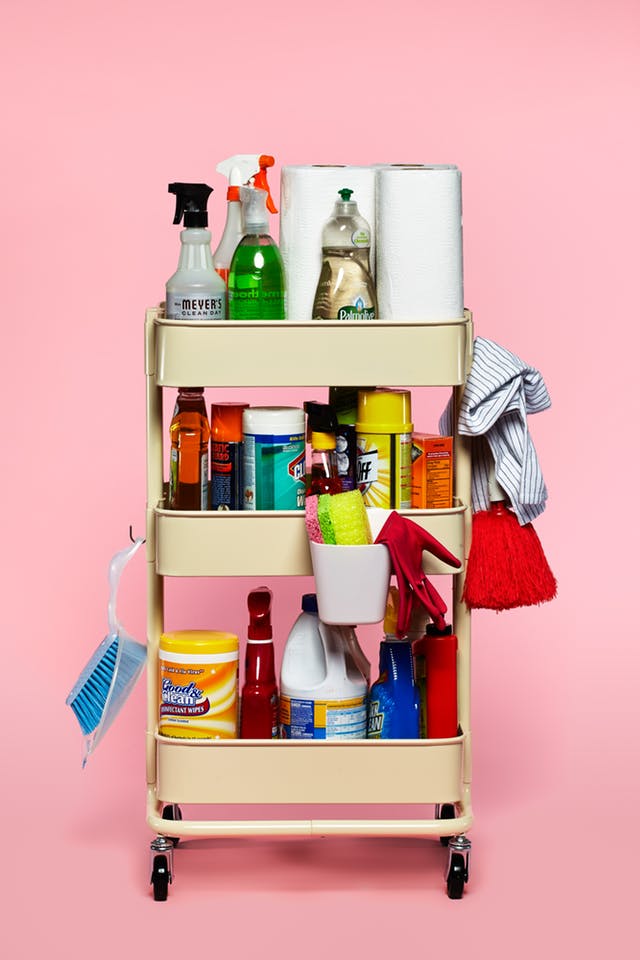 The Kitchn sure knows how to use a raskog to get organized. This cleaning cart would be perfect for a pantry, laundry room, or at a place of business.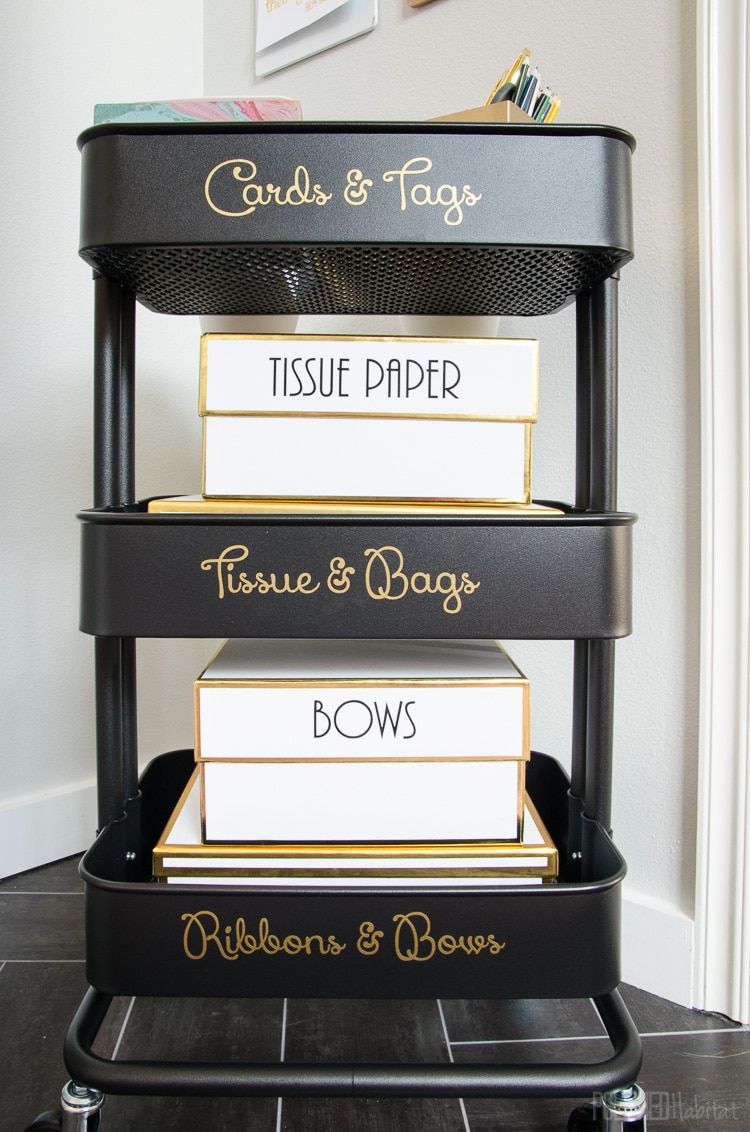 I have to admit, this is my favorite cart in the bunch. I dream of my gift wrap being this organized.
Ironing Cart by Chasing Mermaids
A portable iron station would be a dream for those in the sewing world. I love how easily it holds supplies underneath.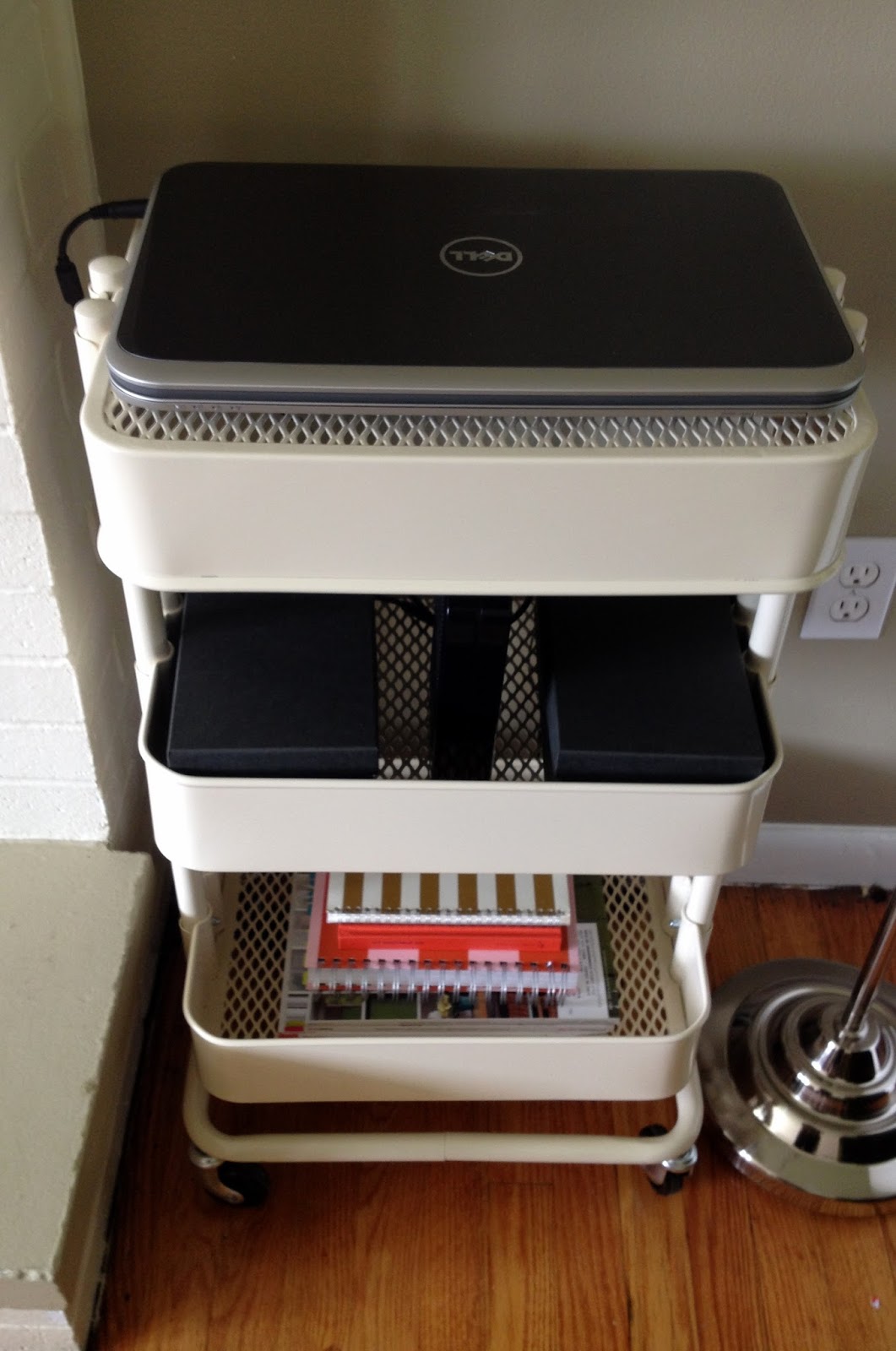 How smart is this?? They flipped the top shelf of the cart over to make a tabletop for a laptop. This would work so well in a small space or a house without an office space.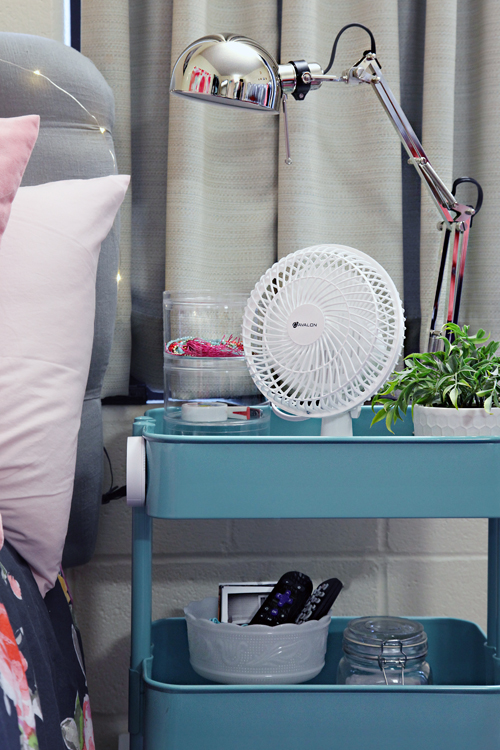 Dorms can be tricky to decorate. You have such a small space and it would be great if every piece could be stylish. This cart works perfectly in the space.
Shipping Station by Clarieabellamakes
Where are all of my entrepreneurs and ETSY sellers? How amazing is this shipping station??
Gaming Cart by @KENIXRETROGAMES
What a fun way to store gaming systems. It can hold not just systems, but games and accessories, too!
Produce Cart by Douce Addiction
Using a raskog to hold produce is a great use of the cart. Make sure to put your cart in an environment that meets the fruit or vegetable's needs (such as putting it in a cool, dry place for potatoes).
Weight Storage by Stephanie Ninah
What a smart idea! The raskog really holds up to holding this gym equipment. It really proves how durable this cart can be.
Cosmetic Storage by Stephanie Ninah
Stephanie does it again with this makeup and nail polish storage cart. She uses some great small containers to keep everything neat and orderly.
Bathroom Cart by Melanie Boyden
I love how Melanie makes use of her cart in the bathroom for storage. Plus, she added some plants to liven up the space a bit.
Plant Cart by Melanie Boyden
Melanie's bathroom cart was cute and functional but this plant cart is simply amazing. Who knew it could look so pretty filled with plants and flowers?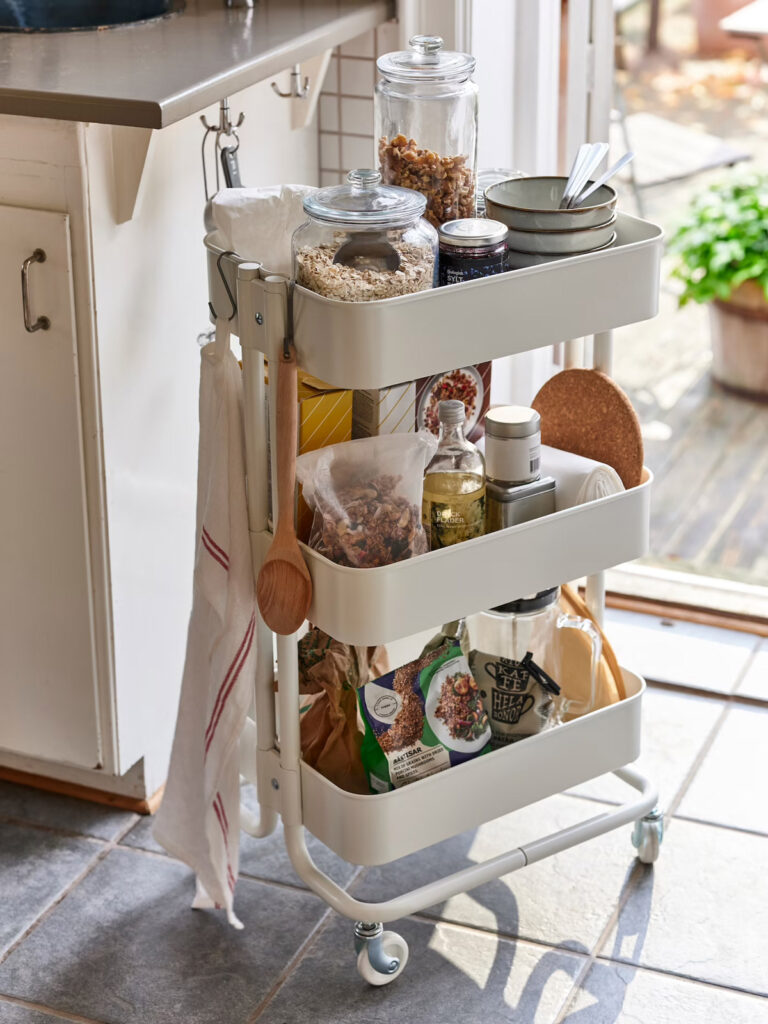 Pantry Cart from Ikea Magazine
I love the idea of this simple pantry cart. Often times pantries have some additional floor space that goes wasted. This way, you can get a little more storage in a pantry but have the ability to move it around to still get to everything.
Bookcart by Jessi Newell
Jessi uses her raskog like a bookshelf. It's an inexpensive way to store your books – it would be great for an apartment or dorm.
Bath Cart by Meubel Track
This cart is so simply organized with bath and beauty supplies. It really shows how versatile this cart is in both what it can store and in how it can be styled.
This is the ultimate snack cart perfect for a game night or party. You could easily switch out the snacks to match your menu.
Mini Stationery Storage by Karen (@Craftygirlsx2)
Believe it or not, this is a mini raskog cart. Target sells a doll set that comes with this cart – it makes such a cute desk organizer.
Paint and Stain Cart from Jacob and Bethany
If you have lots of smaller paint cans (think chalk paint, wax, stain, etc.) then this rakog cart idea may come in handy.
Craft Cart by WeRMemoryKeepers
WeRMemoryKeepers has some amazing options for cart add-ons. Look how they use their add-ons to hold craft supplies.
Decor Cart from Erika
The raskog doesn't have to only be about storage. It also makes an adorable display space for decor.
Desk Accessories Storage by Monica Barajas
I love how Monica used a standing file holder on the top of her cart. It would work well for mail or for filing.
See an Idea you Love? Recreate it at home!
Get your own today and get organizing and decorating with these fun metal carts. Use one of these ideas as inspiration to make your own unique storage space.