This past week I spent quite a bit ordering materials to complete our one room challenge (see the before here). We had to make some hard decisions about the products we were going to use.
The thing is, we have to create a bathroom space that will interest not just us, but our buyers as well. When completing projects to sell, it's more important to create an inviting space that will be enjoyed by the majority of people who see it.
What did that mean for our bathroom plans? I had to forgo the beautiful tile I really wanted. I am hoping that it's an upgrade option for our build. Let's see what we decided on.
DIY Bathroom Ideas – Our One Room Challenge Bathroom Plans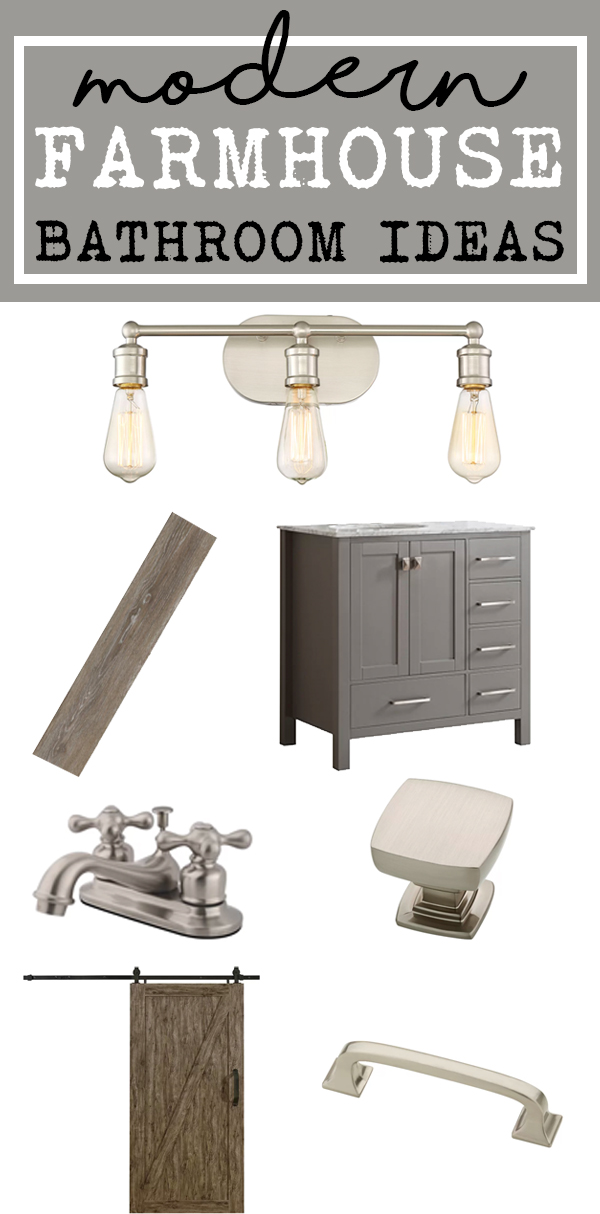 The Vanity
We've decided to keep our vanity base. We'll replace the top with a simple white marble top. Next, I'll paint the vanity in a gray and replace the hardware (pictured above). In addition, we'll replace the faucet with the one pictured above.
The Lights
The vanity light in the main portion of the bathroom as well as over the makeup vanity area at the end of the hallway is pictured above. You all voted in this post, and that is the light that won! We also have to do something with the ceiling light but I am not sure yet – most likely we'll just replace the globe.
The Pink Shower
This is the biggest project for me in the bathroom. I am going to paint the tile white. We considered so many different options for this project and ultimately decided this is what we will try first. If we don't feel it's up to our standards once it is done, we'll move on to plan B.
The Pink Floor
We found some great 100% waterproof vinyl plank flooring to install in the bathroom. It has become such a popular option for homeowners. It provides the waterproofing needed for a bathroom while being slightly warmer than tile.
The Rest of the Bathroom
Small other details will be added such as farmhouse decor, new towels, new bath mats, toilet paper holder, and a new towel rod.At the end of the hallway, we will reinstall a vanity top (we removed it when we first moved in). My favorite addition will be a barn door at the main bathroom entrance.
What Are your Favorite Master Bathroom Features?
I'd love to hear what your favorite master bathroom features are. We're still in the process of designing it and I'd love to get some tips! Tell me your favorite master bathroom addition in the comments below or send me a message!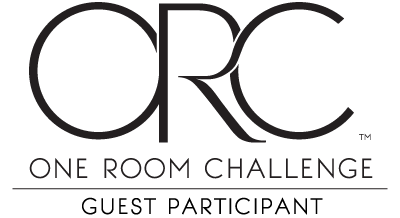 If you've never heard of the One Room Challenge before, make sure to check it out. Twice a year they select participants to redo a space in six weeks. Yep, six weeks. In addition, anyone can join as a guest participant (which is what I am doing now and also what I did when we made over our foyer in the fall). It's one of my favorite times of the year because I love to check out everyone's makeovers to get some new home inspiration. You can see all of the other guest participants entries for week one here.
Click the image below to visit one of my favorite posts from our foyer makeover from the fall 2017 One Room Challenge.