Using a digital or printable mood tracker is a great way to keep track of your mood. If you like the bullet journaling style but don't feel you have the drawing skills to draw your own cute mood tracker, this rain cloud mood tracker is for you.
We all have good days and bad days but sometimes we wonder if there is a pattern to our moods or any correlation to a specific time of the month, certain days of the week, and all sorts of things that may impact our mental health on a daily basis.
Being able to study our mood changes and search for patterns can help you discover things that may be triggering your bad days. And vice versa – you can see what brings on positive emotions.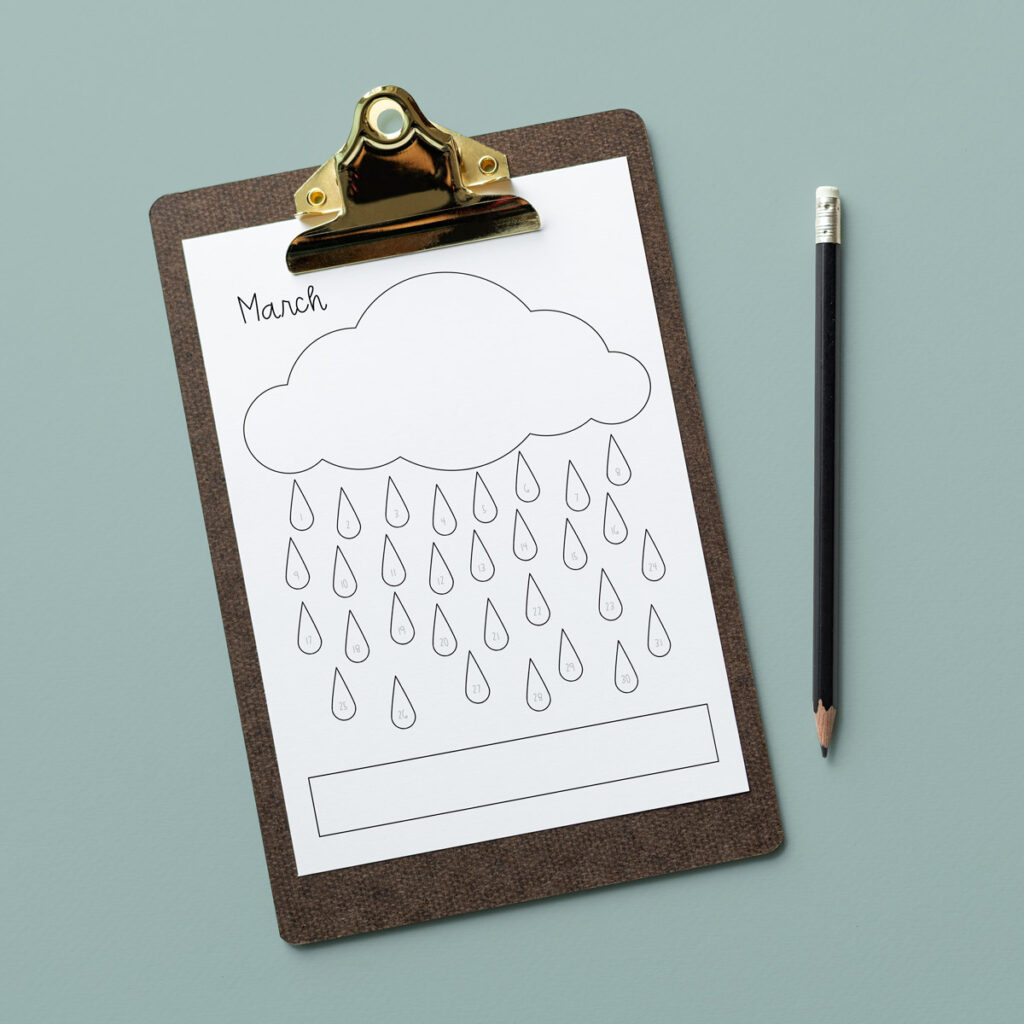 The good thing about finding any type of trigger can help try to either prepare for the moods or find different ways to handle the trigger so that it doesn't have a negative effect. You could add in some additional self care.
Just like finding what triggers bad moods, you can learn what is triggering positive moods and do more of those items.
While you can use a simple tracker like this free circular habit tracker, these cute trackers are a fun way to track. You still get the same information but with unique themes.
What Does the Mood Tracker Look Like?
While I have many themed mood trackers on my site, oftentimes they are seasonal. This monthly mood tracker is generic enough that it could be used any time of the year.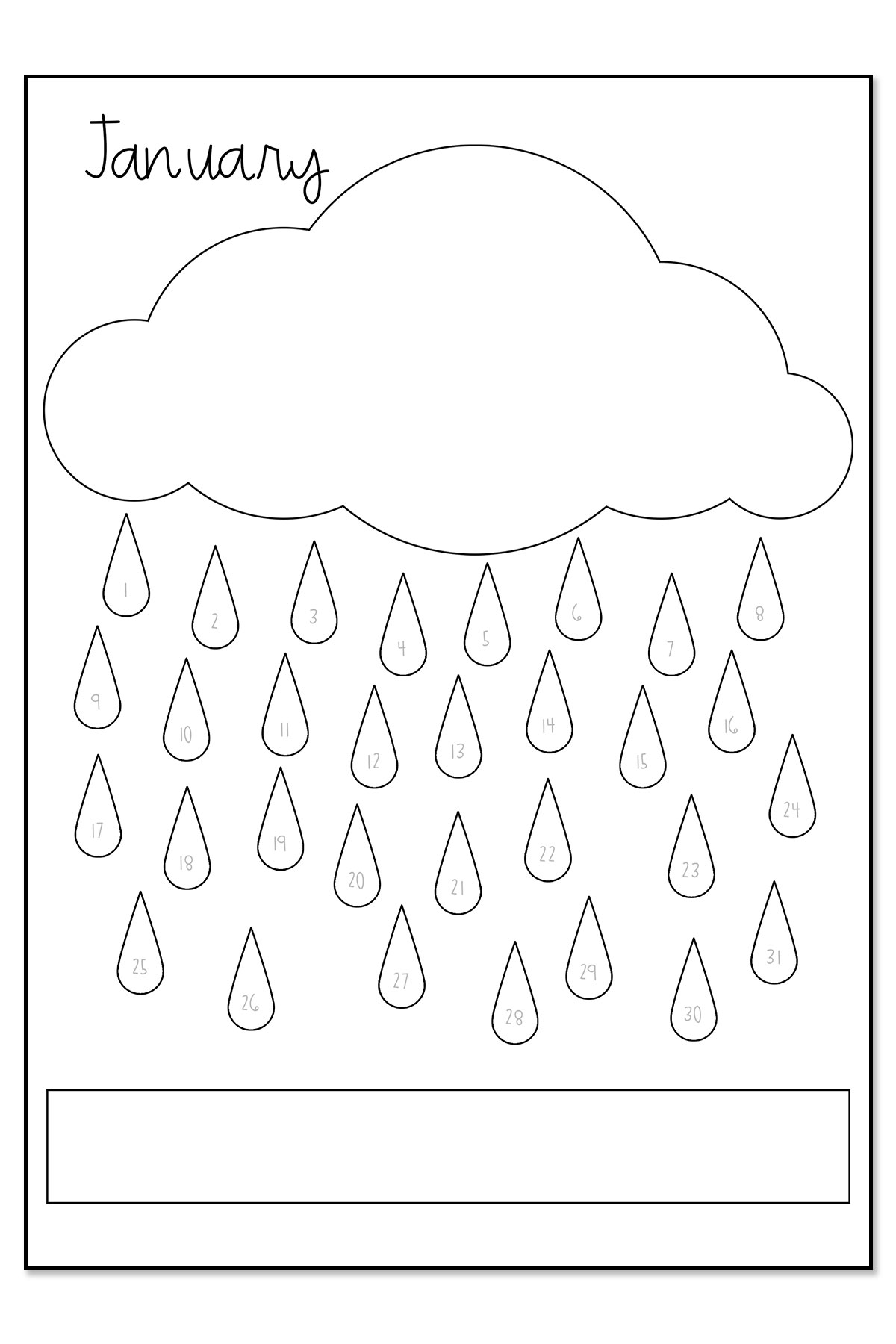 How Do You Use the Free Mood Tracker?
Using the tracker is really simple. First, you print the month that you are going to track.
In the key area, you will fill in different colors to represent all of the different moods you experience most often each month. You're not going to always feel all of the different emotions in the month, so just include the ones that are most common for you.
Then, at the end of each day, you will fill in the number (representing which day of the month it is) with the color that represents your mood for the day.
You will continue filling in each day until the end of the month. The next month you can choose to use the same mood tracker or select another one.
What Moods Could You Include?
Mood tracking is more than just tracking your good mood or bad mood. There are more moods than those two. Instead, focus on moods that are more defined. Here are some moods you could include:
Excited
Depressed
Down
Hyper
Lonely
Calm
Content
Energetic
Anxious
Happy
Focused
Angry
Jealous
Determined
Hopeful
Sad
Irritated
Frustrated
What Mood Colors Should I Use?
You can use any colors of your choice. It does not matter what colors you use, it's a personal decision.
Some people select colors that represent the mood itself (i.e… blue for sad, green for envy). While others choose any color they'd like for any mood.
It does not matter what colors you choose and which mood they represent. The only thing that matters it that you create a color code key for your chosen colors.
What is the Benefit of Using a Mood Tracker?
Using a mood tracker can be especially helpful to those that are struggling with their mental health or emotions. Whether you have mood disorders, ADHD, anxiety, etc. you may find mood tracker templates to be helpful.
These can be Habit Trackers, too!
These free printable mood trackers can also be used as a habit tracker. While they were designed for mood tracking, there is no reason they can't be used to track other things. If you are unsure of what type of habits you could track in your planner, check out my post on using habit trackers (which also comes with a generic habit tracker).
What Size are the Planner Printables?
The printables come in Letter Size and Classic Happy Planner.
Can I Resize the Free Mood Tracker Printables to Another SIze?
Yes, you can resize them for any size planner. If you are looking to print just a half letter sheet, all you need to do is set it to print 2 pages per page and it will automatically cut the size in half. If you would like a different size like A5, follow this how to resize planner printables post.
Can I use the Files in a Digital Planner?
Yes, you can use any of the files in your digital planning apps. If you have a digital planner, you can paste the transparent PNG files directly into your planner.
If you want to use them on your own, you can import the pdf file into your digital planning app and use it.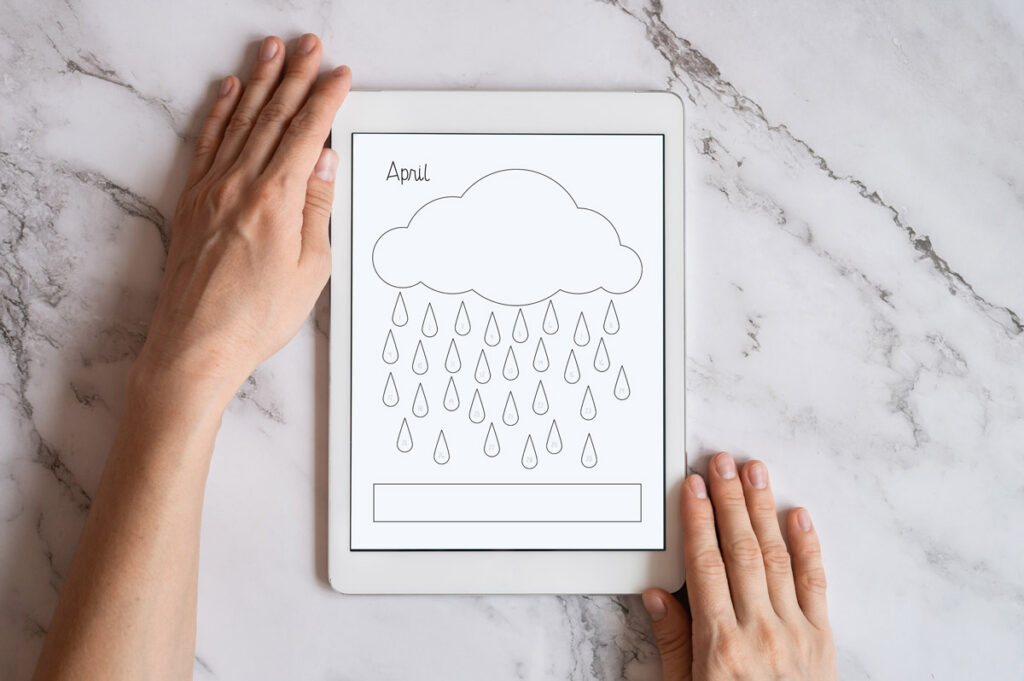 What File Types are Included?
You will get the following file types:
JPEG Files
PDF Files
Transparent PNG files
What Months are Included in this Daily Mood Tracker Set
You will get all 12 months and the leap year for February has been included as well just in case.
Create a Mood Journal
Instead of just including the single monthly tracker within a month's tab, you could put every month of the year together to create a Mood Tracker journal.
Reflect on the Entire Year
Just like how our moods can follow patterns based on the day or week, our moods can also follow patterns based on the month. You can really see this by tracking every single day or every single month. Then you can really tell if you have any mood patterns based on the time of the year.
For many people, the winter months can cause seasonal depression. Using a mood tracker will help you discover whether or not this is an issue for you.
Collect Data for your Doctors and Therapists
In addition to collecting data for yourself, you'll be able to take the data to your doctors and therapists as well. They can analyze your trackers and look for patterns as well.
Looking for More Free Printables and Digital Files?
Here are some more options you might like!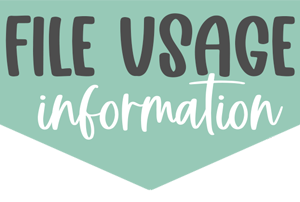 Copyright MOM ENVY 2022. Files may be used for personal use only. No commercial use of the file is available. Files may not be directly shared within Facebook groups, on websites, or in any other way. A link to the web page to download the files may be shared as well as one photo. The file may not be printed and then sold (including local yard sale sites and groups or at local craft fairs). The images may not be used in any way other than to share with a link to the original web page.